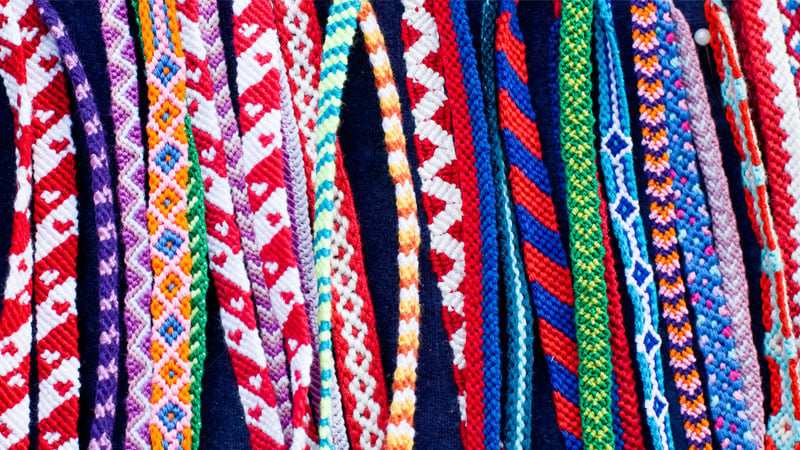 Friendship bracelets are an amazing way to celebrate your relationship with those closest to you, and gifting one of these bracelets will show your love and appreciation. There are multiple styles with varying levels of difficulty, including a symbolic heart bracelet or wave pattern. You can experiment with different colors and materials, from leather cords to embroidery floss, and add beads and other jewelry to make the bracelet more unique. Making friendship bracelets can also be very therapeutic and can help reduce daily stress in your life. If you love jewelry making, you can turn it into a business or even a little side hustle where you can sell at markets. Feeling inspired? Keep reading to find out everything you need to know about the different braiding patterns and how to create them.
Friendship Bracelet Patterns
1. Two-Tone Hearts Friendship Bracelet
Friendship bracelets are a wonderful way to celebrate the bond you share with your besties. There are many different types, but the two-tone heart bracelet is one of the cutest. It is a chevron-based pattern created with two colors. You can choose the two colors you like best, but classics like pink, red, and white are a great choice because they are often symbolic of love. To create this bracelet, you can use a craft cord which is inexpensive and easy to find. You will need four pieces, two of each color, and you will determine which you want as the background color. You can watch the video below for a step-by-step guide on how to create this bracelet.
2. Sliding Knot Friendship Bracelet
The sliding knot bracelet is one of the most popular designs because it is easy to wear and comfortable. This bracelet is defined by the knot which is used to secure it. The knot is adjustable, which makes it easy to fit multiple wrist sizes. It can be created in various fabrics, depending on your preference, this includes leather, elastic cord, and silk cord. You can choose which colors you want and even add jewelry for a more detailed finish. You will need around two feet of cord, create the shape for the bracelet around the middle point, and then follow the steps below to create the perfect sliding knot.
3. Chevron Friendship Bracelet Pattern
The chevron pattern friendship bracelet is a super cute option because it lets you get creative with different colors. You will need at least six strands of string to make the bracelet depending on the thickness of the strands you choose you could need more. They may look hard to make and have a striking finish, but they are surprisingly straightforward and something you can perfect after a few tries. Watch the video below to perfect the chevron bracelet with a teardrop loop.
4. Wave Bracelet Pattern
The wave pattern bracelet is an excellent choice for someone who wants something different. It is created with two colors and works well when made from embroidery floss. The bracelet will be around 15cm in length when completed. Waves are also symbolic and can show your love for the ocean. Or they can represent change, freedom, and travel. For a friendship bracelet, the wave pattern can remind you that no matter what changes and challenges you face in life, you will always have each other.
5. Arrowhead Bracelet Pattern
The Arrowhead bracelet pattern is an excellent choice for those who want a bracelet that is colorful and detailed. The pattern is intricate, and the video below will show you a step-by-step guide on how to create an Arrowhead Diamond Macrame bracelet with embroidery floss. You can choose your preferred colors, but the best results will be with contrasting hues to let the pattern stand out.
6. Triangle Friendship Bracelet
There are few patterns as striking as the triangle, and a triangle friendship bracelet can be created in bold and bright colors making for a statement piece of jewelry and a symbolic gesture of love and support. The pattern has varying levels of difficulty, but in the video below, it is a simplified approach using two colors, making this a pattern that is suitable for beginners. The result is a simple, minimalist bracelet made using embroidery floss, and it can be worn everywhere.
7. DIY Macrame Friendship Bracelet
Macrame is a form of knotting and techniques using textiles. The knots are often square and form full-hitch and double half-hitches. This is a beautiful way to make everything from hanging pieces of art to friendship bracelets and can be created in various thicknesses and colors. For your friendship bracelet, you want to use the rope of your choice that is 2mm thick. You will need three threads, one that is 60cm, another 150 cm long, and another 30cm long for sliding knots. You can watch the video below to create the perfect macrame bracelet, with a circumference of approximately 17.5 cm.
8. Heart Friendship Bracelet
What better way to show your love and support for your bestie than with a heart-patterned bracelet? This super cute tiny heart design is created using two colors, one for the background and one for the heart. You need three strings for the background and one string for the white color. Watch the YouTube video below for a detailed guide on how to create it. This bracelet is created using embroidery floss but can also be done using a craft cord. This is not the simplest pattern and will take some time to complete, but the result will be worth it.
9. Braided Stich Friendship Bracelet
Braided stitch bracelets are an excellent choice because they are created in three colors, letting you make a bracelet that is bold and bright or stick to neutral colors for a cute design that can be worn everywhere. They are made using embroidery floss, and you will need to cut three pieces that are around the length of your arm to the center of your chest. Watch the video below to learn how to braid the string to create this cute piece of jewelry.
10. Teardrop Loop Friendship Pattern
The teardrop loop has a striking effect, and it can be an excellent start to a friendship bracelet. The shape looks like an upside-down teardrop, and you will need to create it with a pattern that has an even number of colored strings. The video below gives you all the information you need to know how to create the teardrop loop, as well as helpful tips. For example, always cut the string longer than you think you need. You will cut the strings the same length, except for the one that you want to be on the hoop, which is longer. Fold the strings in half and take the piece that is longest and keep it separate from the rest. It will then be tied onto the bracelet, letting you begin creating your masterpiece.
11. Fishtail Friendship Bracelet
The fishtail pattern bracelet is smoothly woven and simple to create. It is done using two sections that are passed over each other, creating a stunning finish. You can use four colors for a basic bracelet or add more for more detail. You will cross each color over until you have a bracelet long enough to fit the wrist. It is best done with embroidery floss with a string that is cut the same length and should be around 91 cm. The appeal of this bracelet is that you can get creative with the colors you choose, and it is quick and easy to complete.
12. Simple Stripes Friendship Bracelets
The simple stripes friendship bracelet is created using one color and is an excellent choice for those who prefer a minimalist approach to color. You can wear several at once, and they can easily combine with other bracelet styles. This particular bracelet is the result of embroidery floss and pieces of string which are cut to be 220 cm long. The video below shows the creation of one of these bracelets and the knots and steps needed to complete it.
13. Diagonal Stripe Friendship Bracelet
The diagonal stripe bracelet can have a striking finish with different color combinations. You want to start with six threads in your chosen material and colors. They should be approximately 91 cm in length. For the first diagonal row, you want to start from left to right, crossing one color over and under another color and repeating this process until you include all the colors. The appeal of this bracelet is it only uses the forward knot, which makes it easier for beginners. The video below shows how you can add to the bracelet at the end depending on the result you want, including adding beads.
14. Spiral Yarn Friendship Bracelet
A spiral yarn friendship bracelet is a cute option and is striking because of its texture. It is made using yarn and can be created in one color or multiple colors of your choosing. To start, you want to line up your strands and cut them to approximately three arm lengths. Cut the yarn, fold it in half and create a loop at the top and secure it with tape or a clipboard. For this video, there are three colors, and you want to separate the one on the right first, using a backward 4-shaped knot, tuck the ends under the loop, and fasten it. You will repeat this step using different colors but watch the video below for a more detailed explanation.
15. Butterfly Friendship Bracelet
Butterflies are symbolic of beauty, freedom, and transformation and can make for a super cute and meaningful piece of jewelry. The butterfly friendship bracelet will take patience and skill to create, using embroidery floss in your chosen colors and forming a butterfly chain. The video below will let you see exactly how to make it, and even if it does not come out perfectly the first time, it will likely be a fun experience.
16. Friendship Bracelet with Alphabet Beads
Beaded bracelets are a great way to spell out special words and names and can make the bracelet more unique. You can make a simple square-knot bracelet with added beads and experiment with the colors and the word you want to spell. This can make a powerful statement and is an excellent gift for your loved one or even yourself. Watch the video below to find out how to create the bracelet and how to add the alphabet beads. This includes cutting two pieces of hemp cord measuring 60cm, folding both cords in half, and creating a loop using an overhand knot. You will then tie square knots and add the beads onto the two middle cords before securing them with another square knot.
17. Twisted Friendship Bracelet
The twisted friendship bracelet is one of the easier patterns for beginners. You want to start with your color choices and measure the cords between 50cm to 60cm, depending on the size of the wrist. It is best to create the bracelet with a minimum of four cords. As the name suggests, the cords are twisted instead of braided, starting from the top to the bottom and twisting in the same direction throughout. In this video, the twisted friendship bracelet is created using a cotton cord in various colors and with a thickness of 1mm.
18. Crochet Seed Braid Friendship Bracelet
Crochet seed braids make for a unique and often colorful friendship bracelet. They are created using embroidery floss and seed beads which have a hole in the middle of them; you want to ensure that the thickness of your chosen floss can fit through the hole. You will also need a needle to thread the beads and a 2.5 mm crochet hook. You can watch the video below to learn exactly how to create this bracelet and discover the crochet stitches you need to know.
19. Dreamcatcher Friendship Bracelet
A dreamcatcher bracelet is done to have the dreamcatcher design in the middle. It is a beautiful, intricate design that is also symbolic. A dreamcatcher is a handwoven object with roots in Native American culture. It is hung above the beds of small children, protecting them and filtering out bad dreams and negative energy. To make the bracelet, you need a keyring, your chosen colors of embroidery floss or thread, and a needle. You will start by adding the thread over the keyring to create the dreamcatcher design. Find out more in the video below.
20. Rainbow Stripe Friendship Bracelet
What better way to inject some color into your life than with a rainbow stripe bracelet? This is an excellent way to combine colors and will make for the cutest friendship bracelet. This particular bracelet is made using embroidery threads and created in a two-row repeat pattern to form the horizontal striped effect. This is not the ideal bracelet for beginners as you will have to familiarize yourself with knotting patterns, specifically the forward knots and forward-backward knots, but the video is great at showing you how to create this beautiful piece of jewelry. Rainbows are also symbolic of hope and joy. They can also represent diversity and inclusion and can make a powerful statement about your thoughts and feelings.
How to Make a Friendship Bracelet
Friendship bracelets are a sweet way to express your love for those closest to you. There are many braiding patterns to choose from, and you can experiment with colors, making it easy to find a bracelet that best suits your preference. There are varying levels of difficulty, with some designs perfect for beginners while others will take longer and more practice. To find out how to make a friendship bracelet and become inspired, watch the YouTube video below, which gives you a step-by-step guide for three simple patterns; chevron, striped, and twisted.
Friendship Bracelet FAQs
Is it OK to wear a friendship bracelet?
It is OK to wear friendship bracelets and it is a wonderful way to celebrate the bond you share with your friends. It can be a cute way to show your love and support for each other. You can also make the bracelets to best reflect your preference with the colors you choose or choice of beads and detail.
What do the colors on friendship bracelets mean?
The great thing about friendship bracelets is their versatility and they can be created in a wide range of materials, braided patterns, and colors. The colors can your favorite or could be chosen because of the symbolism associated with each hue. For example, blue represents serenity and calm, orange is associated with optimism and creativity, yellow is for joy and friendship, and pink is for love and femininity.
How long should the thread be for a friendship bracelet?
How long the thread for your friendship bracelet is depends on the size of the wrist and how intricate the braided pattern you are choosing is. Some styles require a minimum of 60 cm while others say 90 cm. It is also advisable to always cut the string longer than you think is necessary, as this can be easily adjusted once you have completed your bracelet.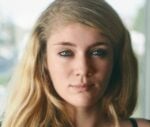 Cailyn Cox holds a degree in journalism and has been working with The Trend Spotter as a writer for over ten years. She has worked with some of the most prestigious women's and men's lifestyle publications. For her, writing is not just a job; it's a passion, which is why each article she writes is approached with such enthusiasm and dedication. She has extensive knowledge of hairstyles, tattoos, and beauty and has made a career out of creating informative articles that appeal to women and men of all ages.
SUBSCRIBE TO OUR NEWSLETTER
Subscribe to our mailing list and get interesting stuff and updates to your email inbox.