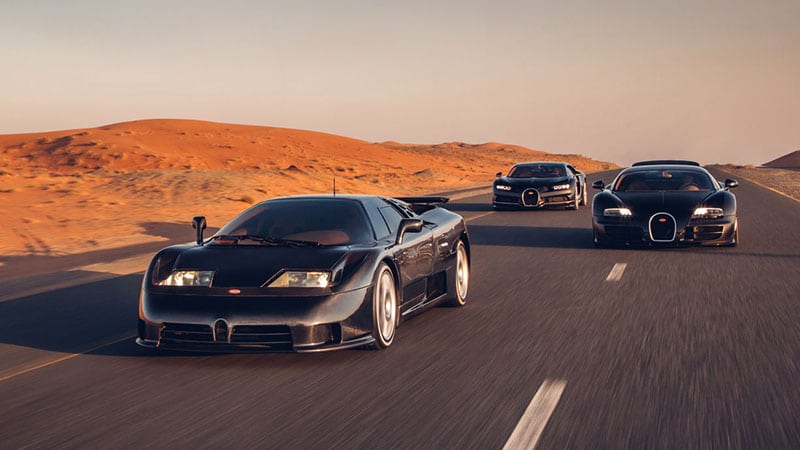 Thrill-seekers, rev-heads, and car-enthusiasts unite – it's the world's fastest cars. Spanning a range of years and manufacturers, the one thing these absolute beasts have in common is a need for speed. They also combine state-of-the-art technology, more power than any regular person really needs, and otherworldly design that takes luxury and aerodynamics to a whole new level. Each is a demonstration of the passion, skill, knowledge, and innovation of the respective production houses. Hop in, buckle up, and get ready for the ride of your life!
1. McLaren Senna — 208 MPH
Taking track dynamics and performance to the road, the McLaren Senna boasts the purest connection between car and driver. It's the lightest design since the F1 and is named after team legend Ayrton Senna. Boasting an 800PS, 4.0-liter twin-turbocharged V8 engine and staggering power-to-weight ratio, it's the most powerful road car McLaren has ever produced. Enjoy epic acceleration and speed with zero to 124mph in 6.8 seconds and a top speed of 208mph.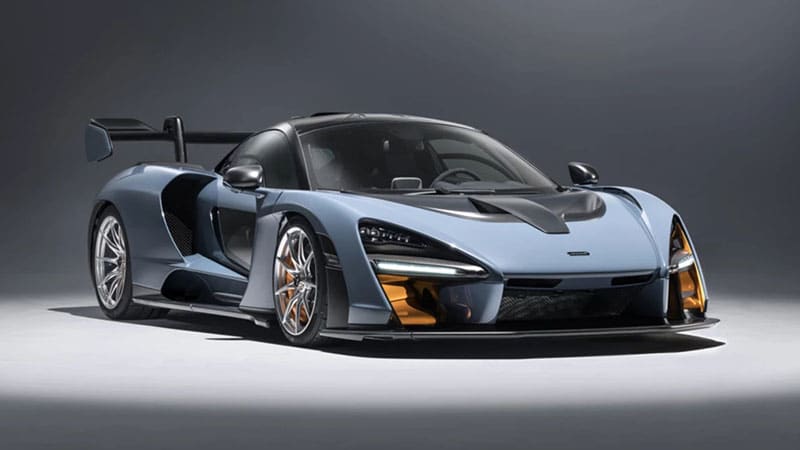 2. Aston Martin DBS Superleggera — 211 MPH
The Aston Martin DBS Superleggera is the ultimate production vehicle from the English brand. It combines incredible power, elegant performance, cutting-edge aerodynamics with enigmatic masculinity. Not to mention it's one of the fastest cars in the world. With a 715- horsepower V12 engine, you can accelerate from zero to 62mph in 3.4 seconds, with a top speed of 211mph—all while looking suave and sophisticated.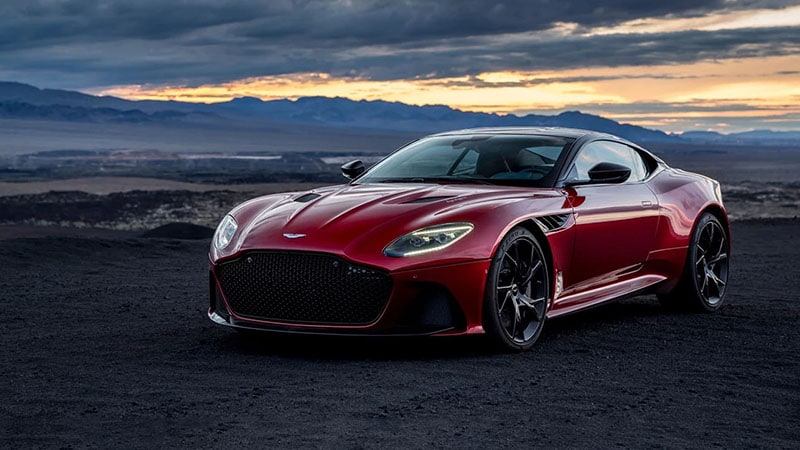 3. McLaren 720S — 212MPH
Within the McLaren 720S, with its teardrop shape inspired by nature, you'll find a 4.0-liter twin-turbocharged V8 engine with 750PS and 770Nm of torque. This means you can accelerate from 60mph in just 2.8 seconds while reaching maximum speeds of 212mph. Beyond the power, the design is fiercely elegant, boasting contemporary luxury and pure driver engagement. It's the culmination of an intense, evolutionary process with aerodynamic efficiency and outstanding performance.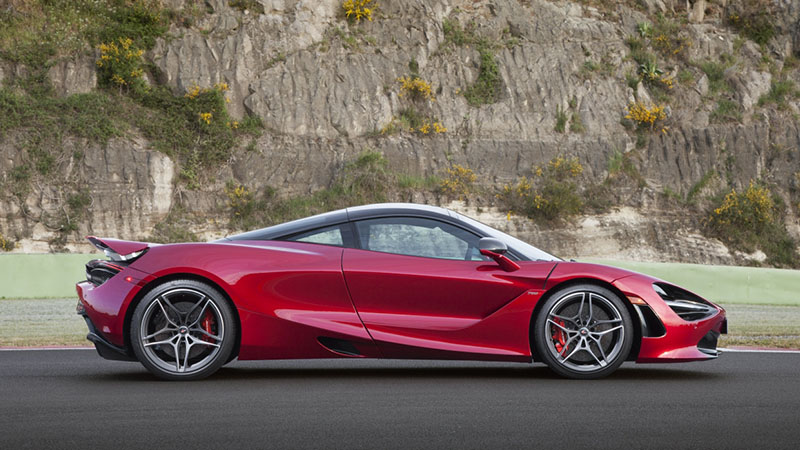 4. Ford GT — 216 MPH
The Ford GT is super light, super strong, and super fast. As such, it delivers incredible speeds up to 216mph. Enjoy the 647hp, 3.5-liter EcoBoost® V6 engine, combined with a carbon-fiber body, optimized rear wing, and sleek, aerodynamic design. It's the perfect combination of passion and innovation that has it feared on the track at Le Mans and envied in the streets of your home city.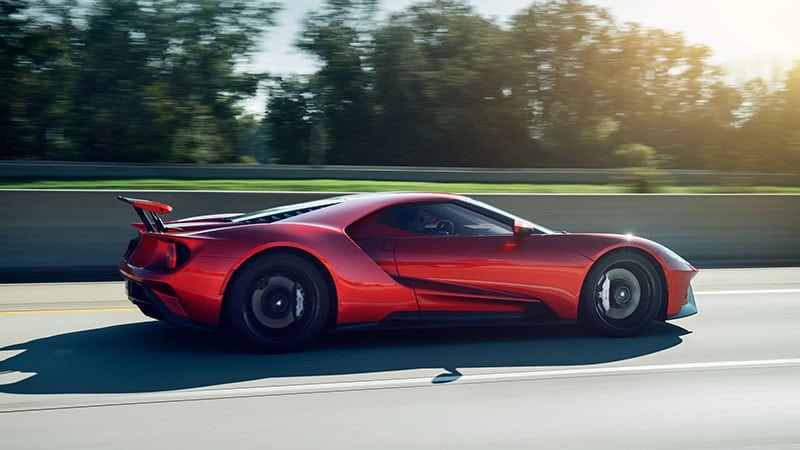 5. Ferrari LaFerrari — 217mph
Some of the fastest cars in the world are hybrids, as demonstrated by the LaFerrari. This model is the first production car from Ferrari to use the 963CV FI-derived hybrid engine. Combine this with ideal weight distribution and an aerodynamic design that reflects the brand's innovation; you can reach speeds up to 217mph. Plus, you can go from zero to 62mph in just 2.9 seconds. Originally released in 2013, only 499 of this ambitious car were made, so they're incredibly exclusive.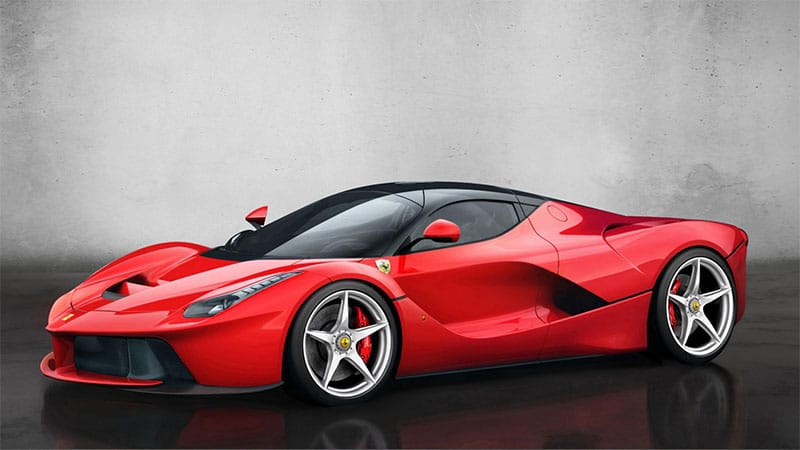 6. Lamborghini Aventador SVJ — 217mph
Lamborghini is synonymous with powerful and stylish supercars. Consequently, the Lamborghini Aventador SVJ is one of the fastest cars, clocking in a top speed of 217mph. Using an extraordinary design with ultra-lightweight materials and a redefined aerodynamic profile, this car perfectly demonstrates the thrill of driving. Meanwhile, the 770 CV V12 engine is formidable and takes you from zero to 62mph in just 2.8 seconds.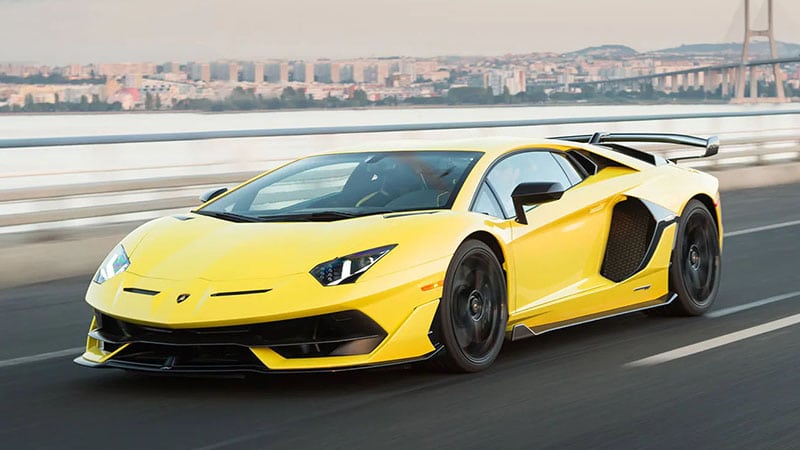 7. Porsche 918 Spyder — 218 MPH
Another excellent example of hybrids sitting among the world's fastest cars is the Porsche 918 Spyder. It was the second hybrid car from Porsche and is powered by a combination of the naturally aspirated 4.6-liter V8 engine with dual electric motors, producing a total of 875hp. This provides acceleration to 60mph in 2.1 seconds and a top speed of 218m. However, the 918 Spyder is a legacy model, with the production version launched in 2013, with limited models produced between 2014 and 2015. As such, to add one to your garage, you'll need to look for a pre-loved model.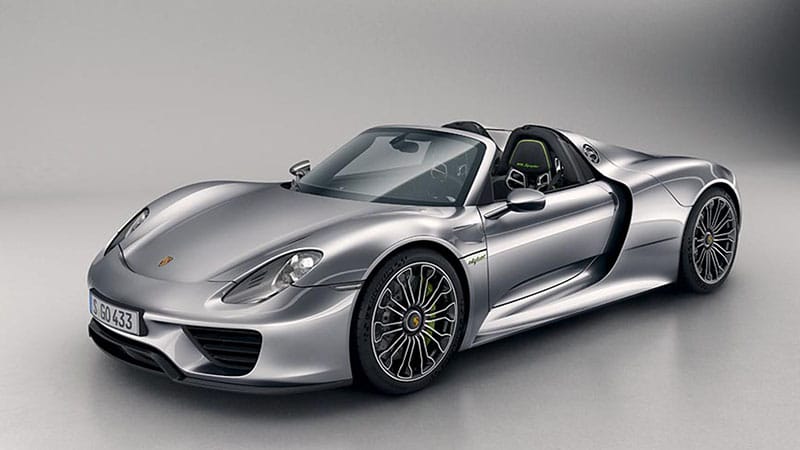 8. Ferrari Enzo — 218 MPH
The Ferrari Enzo was one of the most advanced supercars at its launch in 2002. Drawing on the brands' F1 experience, it boasts advanced features. This included a carbon-fiber body, minimal and functional interiors for better human-machine interaction, and active aerodynamics. Plus, it had a brand-new 65° V12 engine with 660hp output and a top speed of 218mph. With only 399 vehicles produced between 2002 and 2004, it's also exceptionally rare.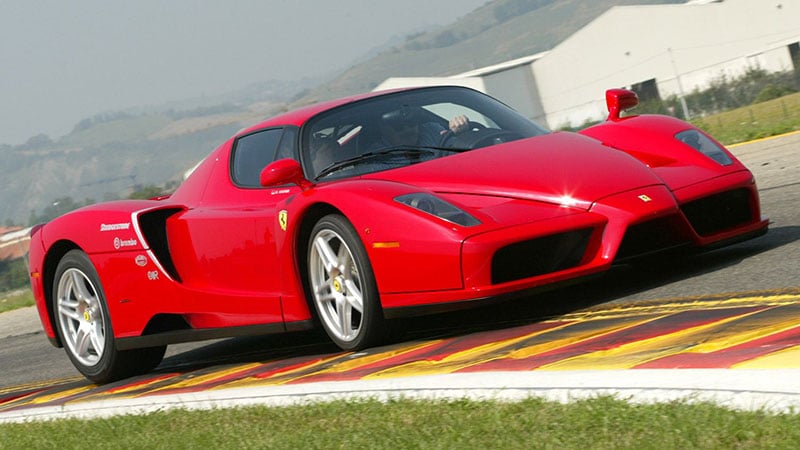 9. Aston Martin One-77 — 220 MPH
The exclusive flagship sportscar from British manufacturer Aston Martin is the One-77. Launched in 2008, there were only 77 units produced out of a special factory, with production completed in 2012. It featured one of the most powerful naturally-aspirated V12 engines in a production car, with a top speed of 220mph. Additionally, the design contributed to much of its appeal, with the carbon fiber monocoque and handcrafted aluminum body considered one of the finest examples of sportscar design. It even won the 2009 Concorso d'Eleganza Design Award for Concept Cars and Prototypes.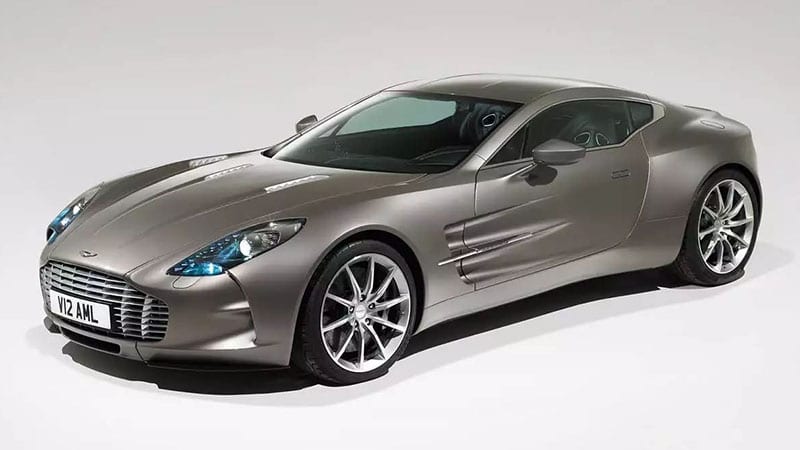 10. Rimac Concept_One — 221 MPH
Rimac's Concept_One is the first production model from the Croatian car manufacturer and the world's first electric hypercar. Packed full of innovations and technology patents, it demonstrates the potential of electronic vehicles in the fast car market. With four magnetic, electric motors (one for each wheel) producing an epic output of 1224hp, you can accelerate from zero to 62mph in 2.5 seconds, reaching a top speed of 221mph. Combined with sleek aesthetics and luxury interiors, it's a unique and thrilling driving experience. Plus, only eight examples have been produced (one of which Richard Hammond famously crashed while filming The Grand Tour), making it even more exclusive.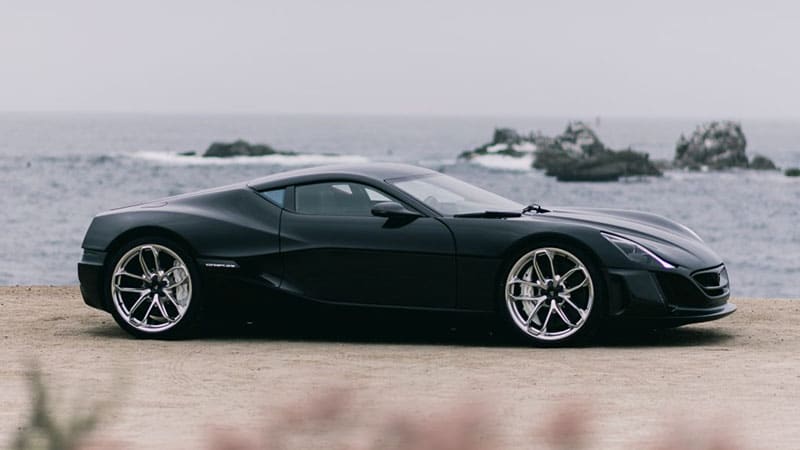 11. Pagani Huayra — 238 MPH
The Pagani Huayra boasts a top speed of 238mph, easily placing it among the fastest cars in the world. Only 100 units of the original Huayra were produced between 2012 and 2018, replacing its predecessor, the Zonda. However, more units have been made in the variants. The car's power comes from the Mercedes-AMG 750hp twin-turbocharged V12 engine, promising acceleration to 62mph in just 2.8 seconds. It also utilizes active aerodynamics, with four independently operating flaps balancing downforce and drag.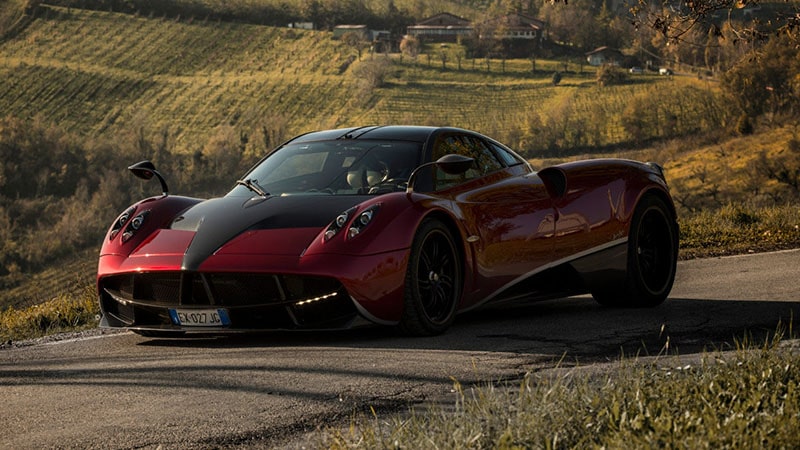 12. Pagani Huayra BC Roadster — 240 MPH
As a variant of the original Pagani Huayra, the BC Roadster launched in 2019. While it shares many similarities with the first expression, there are a few differences. Firstly, it's an open-top design for that wind-in-your-hair freedom, with aesthetics that combine art and science. Secondly, it maintains the presence of active aerodynamics; however, it uses 791-hp twin-turbocharged V12 engine, meaning you can increase the maximum speed to 240mph. Finally, production is limited to only 40 units, giving the manufacturing team space to focus on the details.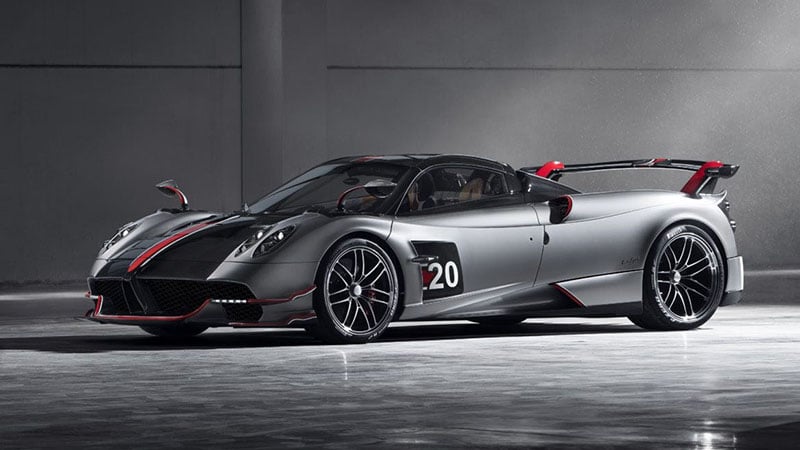 13. McLaren F1 — 240.1 MPH
The McLaren F1 was the pinnacle of supercars in the 90s and considered by many as one of the greatest cars of all time. It was engineered to perfection by a team of experts, taking four years to design and build, with only 106 vehicles produced. Unique materials including pure gold, titanium, carbon fiber, and magnesium alloy allowed a weight-saving design and sublime aerodynamics. A 618hp naturally aspirated 12-cylinder engine from BMW meant a top speed of 240.1mph, an unprecedented performance at the time. Plus, it could accelerate to 62mph in just over 3.3 seconds.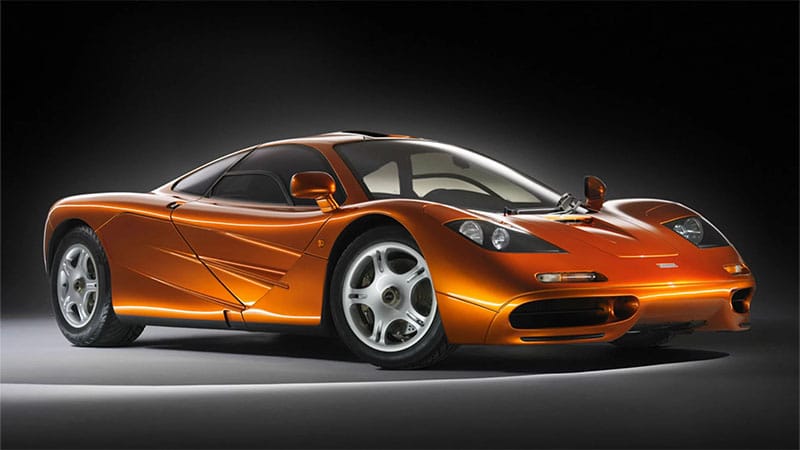 14. Koenigsegg Regera – 248 MPH
Swedish car manufacturer, Koenigsegg, unveiled the Regera in 2015. While it's designed as a more luxurious grand touring vehicle compared to the rest of the range, it's still one of the fastest cars with a top speed of 248mph. As a hybrid, it uses both a powerful twin-turbo V8 combustion engine and three electric motors, plus the Koenigsegg Direct Drive powertrain technology. Other innovations include being the first robotized car with all-automatic body closures. In 2019, it set the 0–249–0mph acceleration world record, with a time of just 31.49 sec.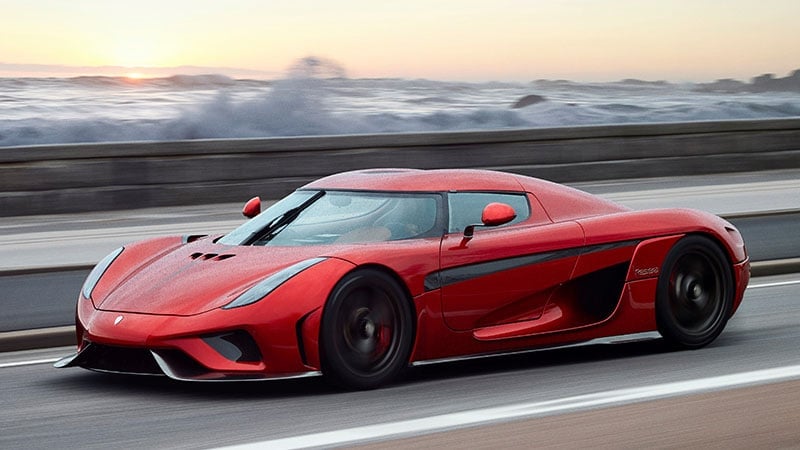 15. Saleen S7 Twin Turbo — 248 MPH
Many of the fastest cars in the world come from European manufacturers; however, the Saleen S7 Twin Turbo scores one for America. Hand-built in California from 2000 to 2009, this sports car has a top speed of 248mph and acceleration of zero to 60mph in 2.7 seconds. The carbon fiber body provides excellent weight savings, while aerodynamic features reduce drag and increase downforce.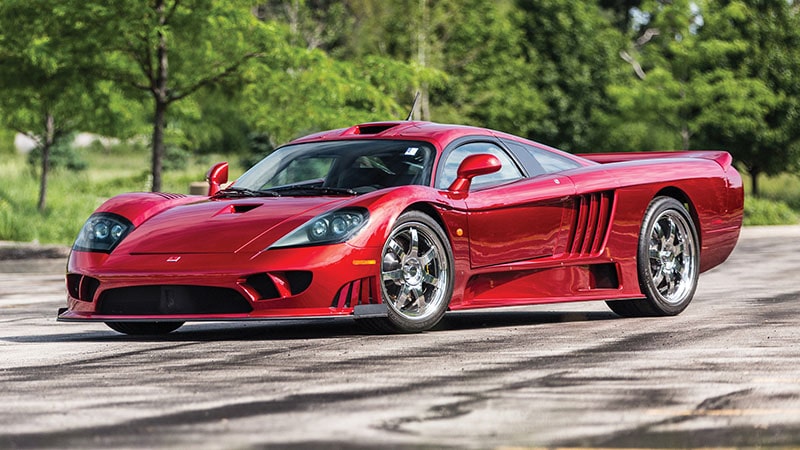 16. Koenigsegg CCXR — 249 MPH
Koenigsegg has many of the fastest cars in the world, including the CCXR, a legacy design, and the world's first green supercar, running on recyclable ethanol. The modified 4.7-liter twin-supercharged engine delivers 1,018bhp when running on E85 fuel, allowing even faster speeds up to 249mph. Beyond performance, it's also a stylish and elegant car, voted in the "10 Most Beautiful Cars" by Forbes Magazine in 2009.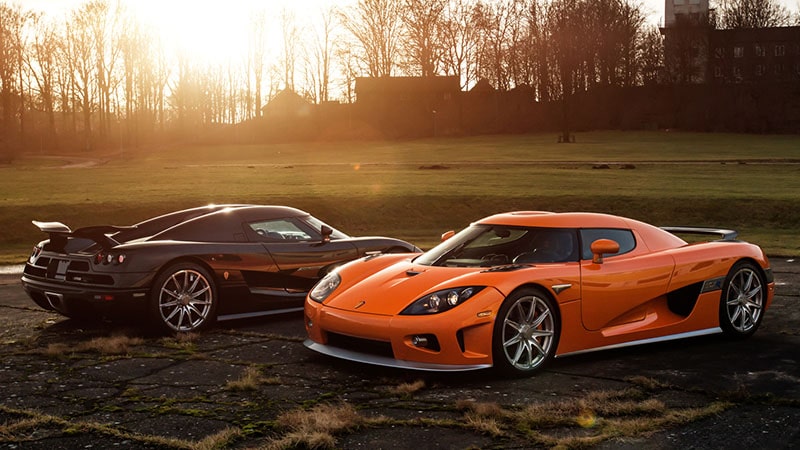 17. Koenigsegg Gemera — 249 MPH
The Koenigsegg Gamera is the brand's first four-seater hybrid mega car designed for touring. However, the spacious interiors and environmental consciousness don't detract from performance, with this car reaching speeds up to 249mph. It uses a compact camless piston engine nicknamed the Tiny Friendly Giant, as well as three electric motors, with a total output of 1,700hp, while running on E85 fuel. All-wheel steering, drive, and torque also result in a safe yet exhilarating drive. Production began in 2021, with an expected total of just 300 units.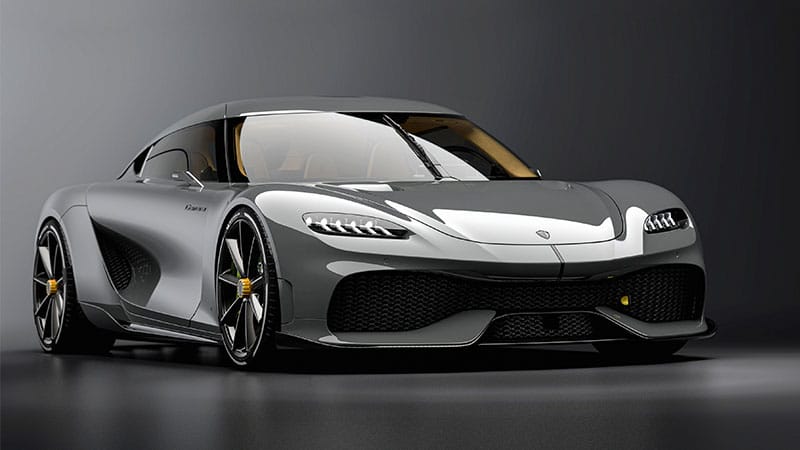 18. Tesla Roadster — 250+ MPH
Tesla is famous for pushing the boundaries and innovating in the electric vehicle space. As such, the second-generation Roadster is one of the fastest battery electric vehicles, set for production in 2023. It'll have a top speed of more than 250mph, zero-62mph acceleration of 2.1 seconds, and a huge range of 620 miles on a single charge. It features all-wheel drive with three motors, plus a removable glass roof, and four seats that will comfortably fit two adults and two kids (or small adults). Of course, it'll also have Tesla's iconic sleek and simple styling without compromising on a luxurious feel.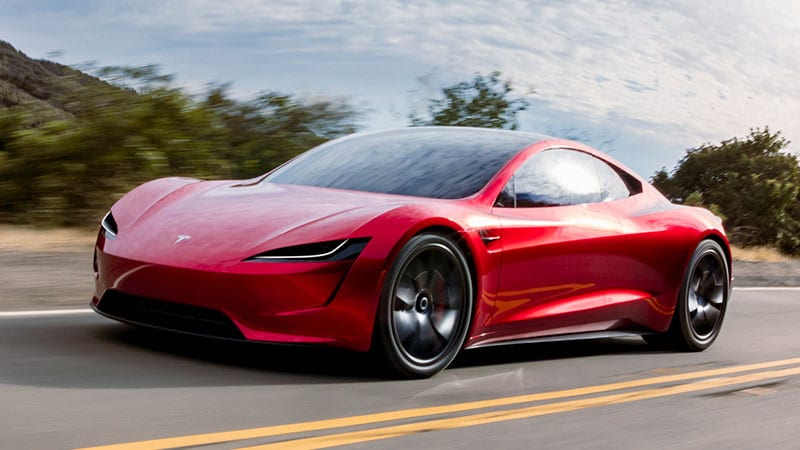 19. Aston Martin Valkyrie — 250 MPH
Exuding an essence of power and honor, the hybrid Aston Martin Valkyrie is the brand's first hypercar. Manufacturing on the production model began in 2021, with only 150 set for release. The design features a striking aerodynamic exterior, all carbon fiber bodywork, and technology in collaboration with Red Bull Racing Advanced Technologies. When it comes to performance, the 6.5-liter V12 Cosworth engine combines with a 160hp electric motor for an increased power boost and an anticipated top speed in excess of 250mph.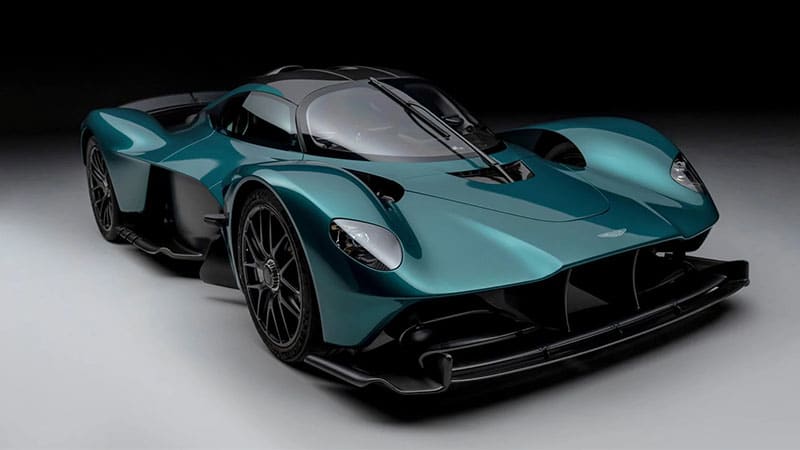 20. McLaren Speedtail — 250 MPH
Taking the reigns from the F1 is the stylish McLaren Speedtail. The central driver's position is similar to its predecessor with triple-seat configuration and remarkable engineering. However, unlike the F1, the Speedtail is the brand's first Hyper-GT and utilizes hybrid power. This means it has a 4.0-liter twin-turbocharged V8 engine with a parallel hybrid motor, producing 1,070PS. As such, the acceleration from zero to 62mp is just 3 seconds, with a maximum speed of 250mp. Finally, every element of the car is streamlined, from the aerodynamic shape to the replacement of the wine mirrors with discreet, retractable cameras.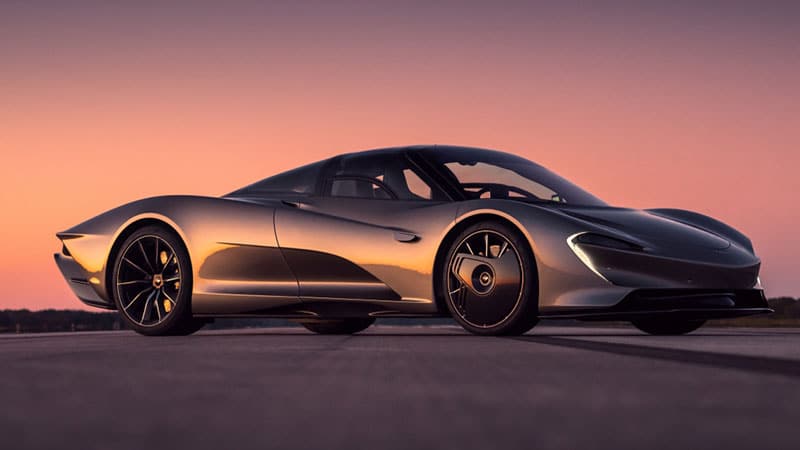 21. Bugatti Veyron — 253 MPH
Back in 2005, the Bugatti Veyron made history as the first production car to pass the 250mph mark with a top speed of 253mph. In doing so, it took the record for fastest car from the McLaren F1. Since then, it's continued to set benchmarks and inspire emotion. The 8.0-liter, quad-turbocharged, W16 cylinder engine produces 1,001hp, allowing such great speeds plus acceleration from zero to 62mph in 2.5 seconds. It's also specifically configured to tackle any driving scenario from smooth highway driving to winding country roads.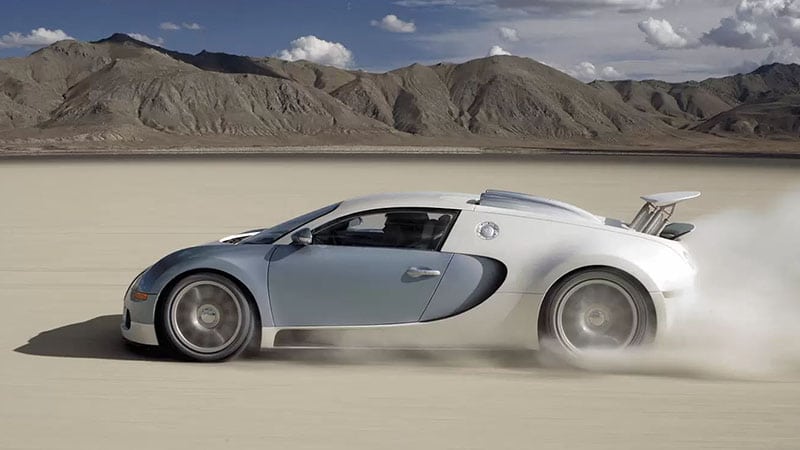 22. SSC Ultimate Aero TT— 256 MPH
The Bugatti Veyron's reign as the fastest production car only lasted two years before the SSC Ultimate Aero TT bested it with a top speed of 256mph. Using a twin-turbocharged Chevrolet Corvette V8 engine, the output was 1,180hp, while the car itself was much lighter than the Veyron. Consequently, while it's not been demonstrated, the theoretical top speed the brand has said the car could reach is 273mph, which saw upgrades to the engine in later models to increase the power.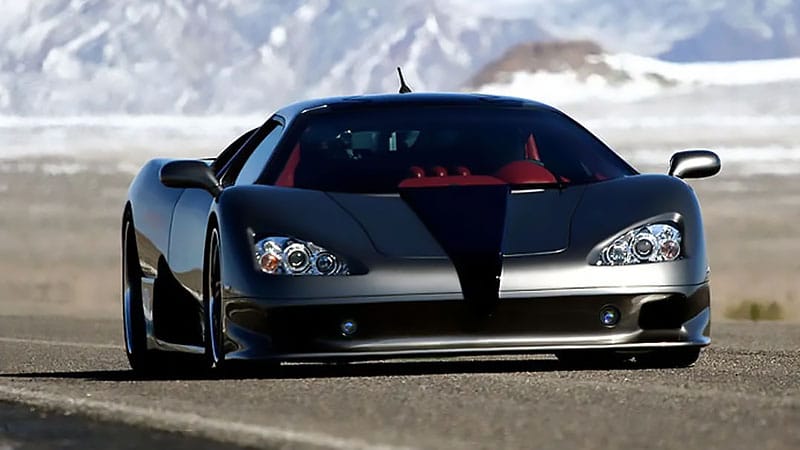 23. Rimac Concept Two (Nevera) — 258 MPH
The Rimac Concept Two is the follow-on from the debut model, the Concept_One from Croatian manufacturer Rimac Automobili. Unveiled in 2018 under the name C_Two, it evolved into the production vehicle now known as the Nevera. This all-electric hypercar boasts exceptional speeds with four independent surface-mounted, carbon-sleeve, permanent-magnet electric motors – one for each wheel. This gives a massive 1,914hp for a top speed of 258mph and a truly beastly performance from zero to 62mph acceleration of 1.97 seconds.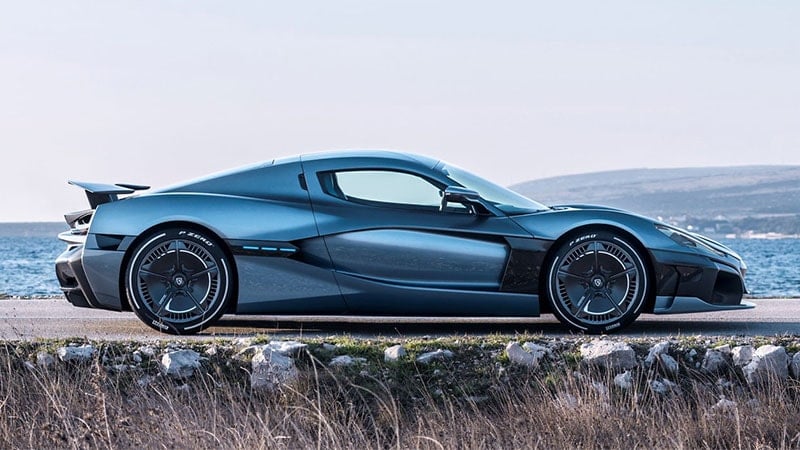 24. Bugatti Chiron — 261 MPH
Following on from the Veyron is the Bugatti Chiron, a strong contender on the list of fastest cars. This exclusive and powerful production vehicle showcases sophisticated design maintaining the Bugatti DNA and innovative, performance-focused technology. With a quad-turbocharged 8-liter W16 engine at the heart, it generates 1,500hp. Meanwhile, lightweight materials such as titanium and carbon fiber are used throughout to minimize the weight for maximum speed. As such, it can go from zero to 62mph in 2.6 seconds, with a top speed of 261mph.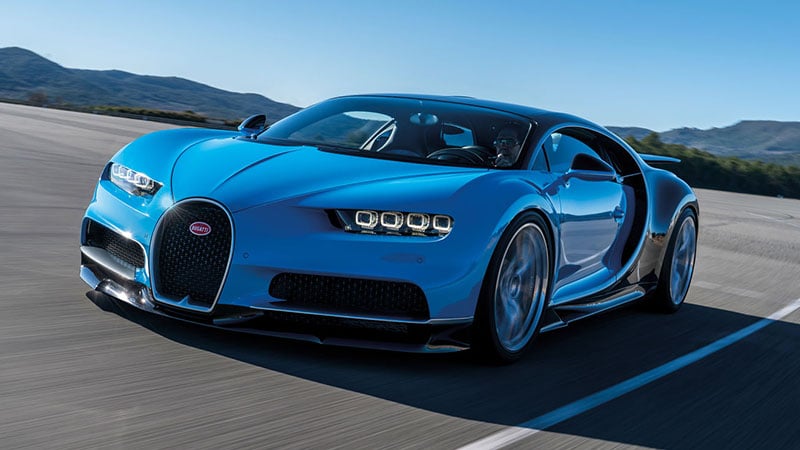 25. Bugatti Veyron Super Sport — 267.8 MPH
Bugatti's Veyron Super Sport is the upgraded version of the base Veyron model. Its exclusive and limited run produced only 30 units for the most discerning buyers. Having lost the title of fastest production car to the SSC Ultimate Aero, the Veyron Super Sport reclaimed the honor in 2010 with an incredible speed of 267.8mph, setting a new benchmark. This increased performance is thanks to improved output from the 16-cylinder engine and four larger turbochargers with intercoolers that lifted the horsepower to 1,200. The flat, elongated profile is easily recognizable and adds to the finely tuned aerodynamics of the body.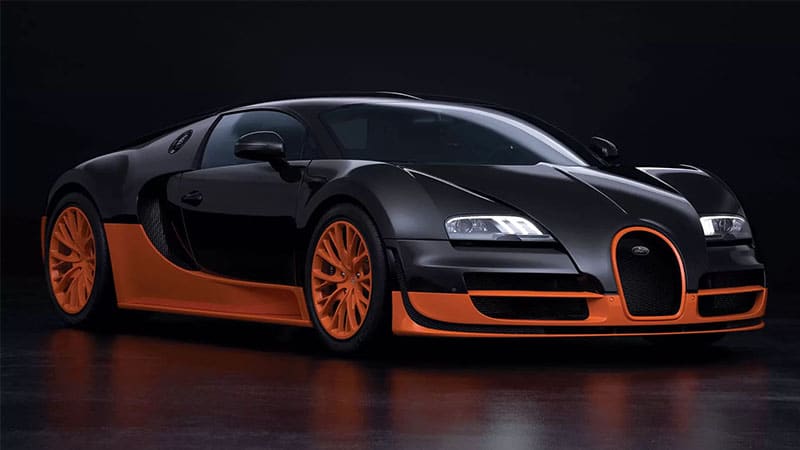 26. Hennessey Venom GT — 270.4 MPH
While it's not officially record-breaking, the Hennessey Venom GT recorded a top speed of 270.49mph in 2014. Testing took place at a NASA facility, but the results don't qualify for a production car record as insufficient units were produced, and the team only got the chance for a single run. The vehicle itself is based on the Lotus Elise/Exige, with significant modifications to make it into a powerful beast. This includes a modified chassis and a 7.0-liter twin-turbocharged V8 engine.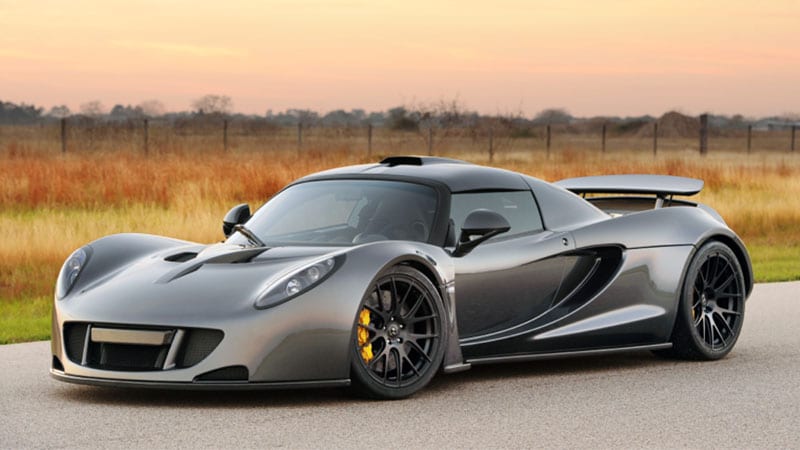 27. Koenigsegg Agera R — 273 MPH
The Koenigsegg Agera R is the successor to the CC series from the Swedish brand. Produced from 2011 to 2014, this exclusive model only has 18 units made. The performance, handling, and visual appeal were all enhanced, resulting in several land-speed records in 2011. These included the 0-300-0km per hour Guinness World Record with an impressive 21.19 seconds. The power output from the Koenigsegg aluminum 5.0L V8 is 1140hp with a theoretical top speed of 273mph. Plus, it even runs on bio-fuel, walking in the steps of the CCRX.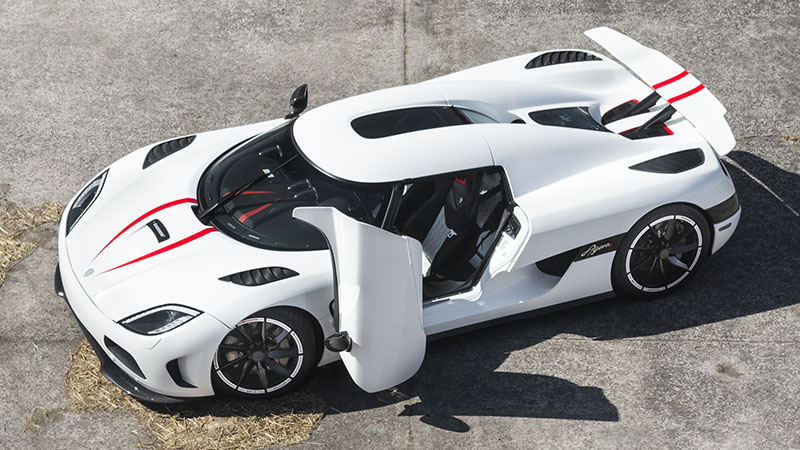 28. Koenigsegg Agera RS — 277.8 MPH
Sometimes more power is best, as evidenced by the record-breaking beast, the Koenigsegg Agera RS. This incredibly rare car has only 25 units handcrafted by the Swedish brand. It boasts a 1,341hp V8 engine, with a zero to 60mph acceleration of 2.6 seconds and a top speed of 277.8mph. As of 2017, it claimed the official fastest production car title and various other benchmarks, including the 0 to 200mph acceleration. It also incorporates technology from the Koenigsegg One:1 program as well as practical features such as luggage storage, making the ideal vehicle for both road and track.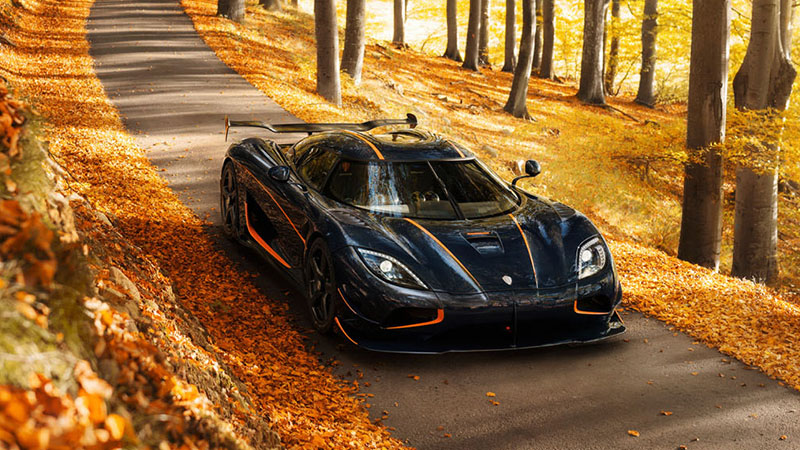 29. SSC Tuatara — 282.9 MPH
SSC's Tuatara has made multiple attempts for the world's fastest production car record. The official record, verified by Racelogic USA, stands at 282.9mph in 2021. However, a previous attempt that was surrounded by controversy and couldn't be officially verified claimed a top speed of 316mph. Either way, it's an exceptionally fast machine. The design takes inspiration from fighter jets and uses carbon fiber for the body, while the power comes from the 5.9-liter flat-plane-crank V8 engine product 1,750hp.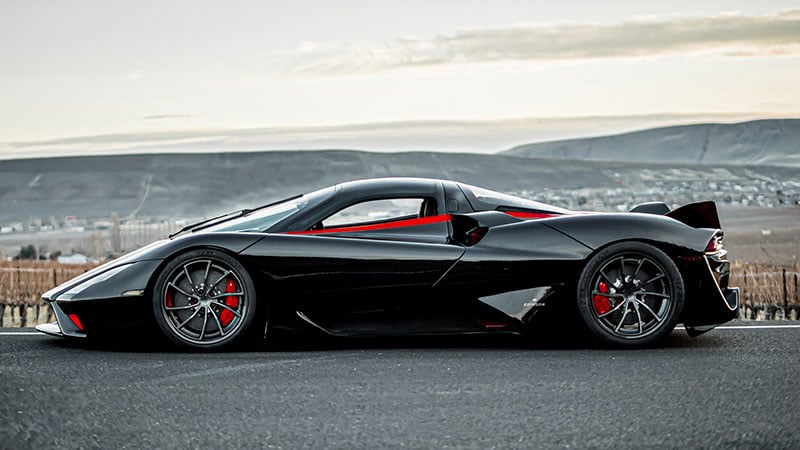 30. Hennessey Venom F5 — 300+ MPH
Everything is bigger in Texas, including the horsepower output of the Hennessey Venom F5, which sits at a whopping 1,817hp. With the goal of being "the absolute fastest car on earth," the top speed claim for this hypercar is 301mph; however, the ultimate aim is to exceed 311mph. With a carbon-fiber body and freshly designed chassis, the car weighs just 2,998 pounds. Within the vehicle, you'll find a rear-mid-mounted 6.6-liter twin-turbocharged V8 engine, nicknamed Fury. Production on the limited run of 24 vehicles began in 2020 for release in 2021.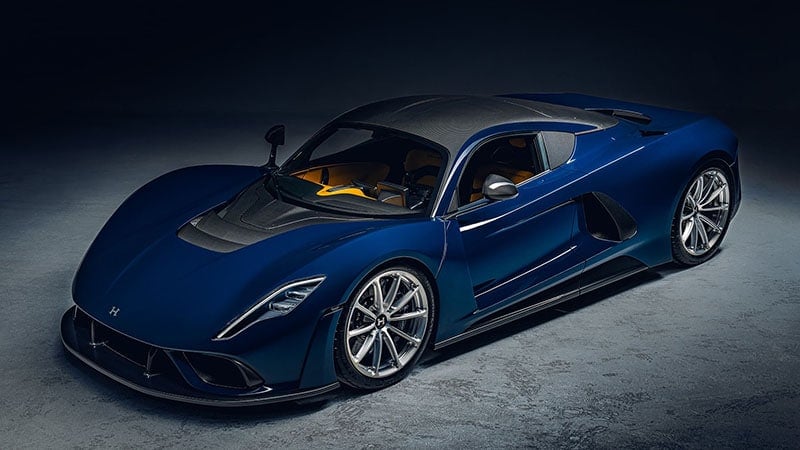 31. Bugatti Chiron Super Sport — 304.7 MPH
Bugatti's Chiron Super Sport is a record-setting monster of a fast car, breaking the 300mph barrier during official testing. While the model used was a pre-production prototype, the production model takes inspiration from this record-setting beast. The quadruple-turbocharged, 8.0-liter W16 engine delivers an incredible 1,600hp, exceeding the base Chiron by 100hp. Meanwhile, the lightweight body uses carbon fiber, magnesium wheels, and titanium exhaust to reduce mass, while the streamlined and svelte shape improves aerodynamics. Plus, it's incredibly exclusive, with only 30 expressions produced.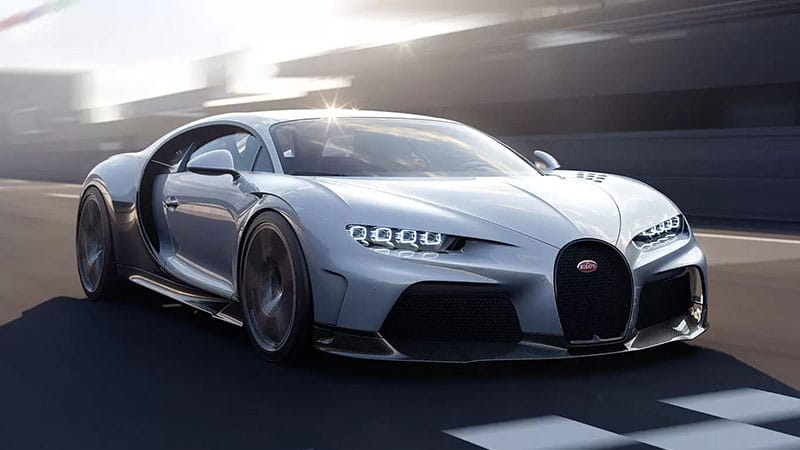 33. Bugatti Bolide — 310 MPH
In an effort to improve upon the performance of the Chiron Super Sport, Bugatti takes it to another level with the Bolide. This track-only vehicle is radically light (2733 pounds) with an 8.0 liter W-16 motor producing 1,825hp. That gives it a top speed of 310mph and a zero to 60mph acceleration of 2.17 seconds. Meanwhile, the athletic body combined with wings and flaps generates immense downforce and airflow optimization for even better performance, sticking to the track like glue. This is one of the fastest cars and takes the driving experience to a new dimension.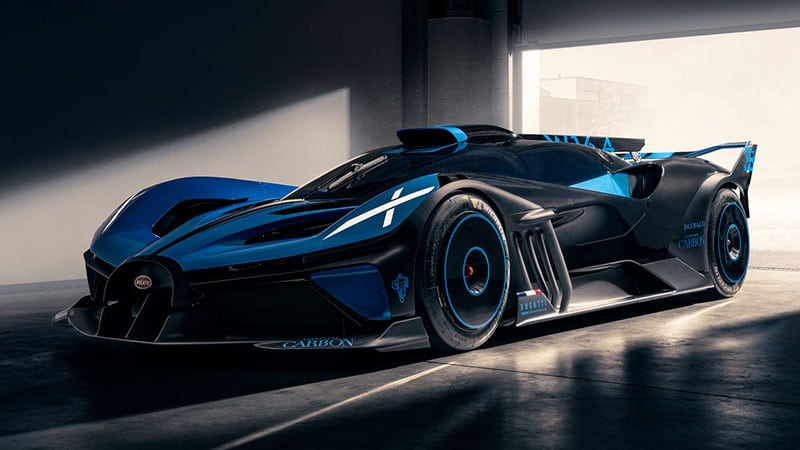 33. Koenigsegg Jesko — 310+ MPH
Track-focused, yet road-legal, the Koenigsegg Jesko replaces the Agera RS. As one of the world's fastest cars with estimates of more than 310mph, features include a 5.0 liter twin-turbo V8 engine producing between 1,280hp and 1,600hp (depending on fuel type) and 9-speed Koenigsegg Light Speed Transmission. Stay safe through the speed with active aerodynamics with more than a ton of downforce and carbon fiber chassis. Finally, with the entire monocoque stretched out, it's one of the most spacious designs Koenigsegg has ever created.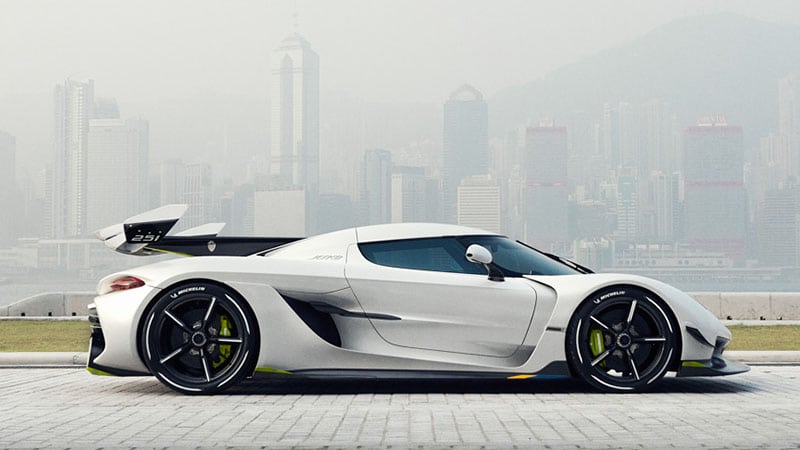 34. Koenigsegg Jesko Absolut — 330+ MPH
With an estimated top speed of 330mph, the Koenigsegg Jesko Absolut is one of the fastest cars made. The engine is a twin-turbocharged 5.0-liter V8 with 1,600hp, with the world's lightest V8 crankshaft. It also has the brand new Koenigsegg Light Speed Transmission (LST), which creates a smooth driving experience. Design-wise, this car represents more than 8,000 hours of fluid dynamics (CFD) and aerodynamics analysis plus design and engineering by a team of skilled experts. It's seamless, stealthy, and stylish, with a focus on reduced drag and high-speed stability.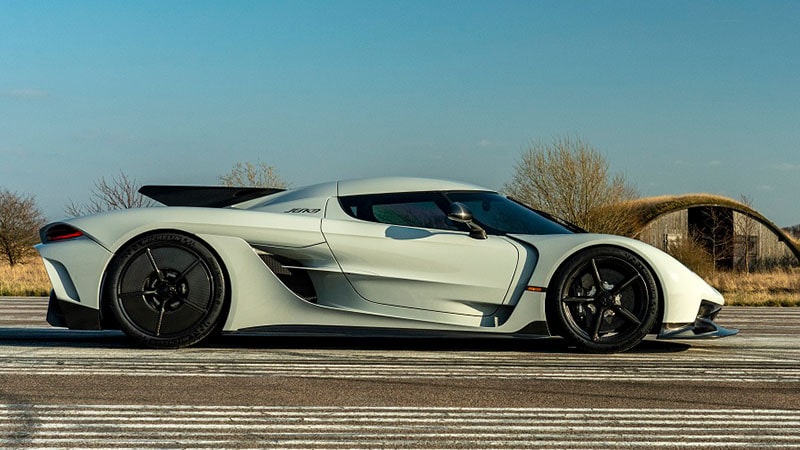 35. Devel Sixteen — 347 MHP
The somewhat mysterious and elusive Devel Sixteen is set to pioneer a new era in hypercars when it's eventually released. First unveiled at the 2013 Dubai International Motor Show, a production model made an appearance at the 2017 event, with claims of a top speed of 347mph. Massive amounts of power – 5007hp to be precise – come from the 81mm quad-turbo 12.3-liter V16 engine. Meanwhile, the otherworldly styling is inspired by fighter jets and uses lightweight, high-strength carbon fiber in the body. However, for the moment, it remains in the production and testing stage, with uncertainty surrounding its official delivery date.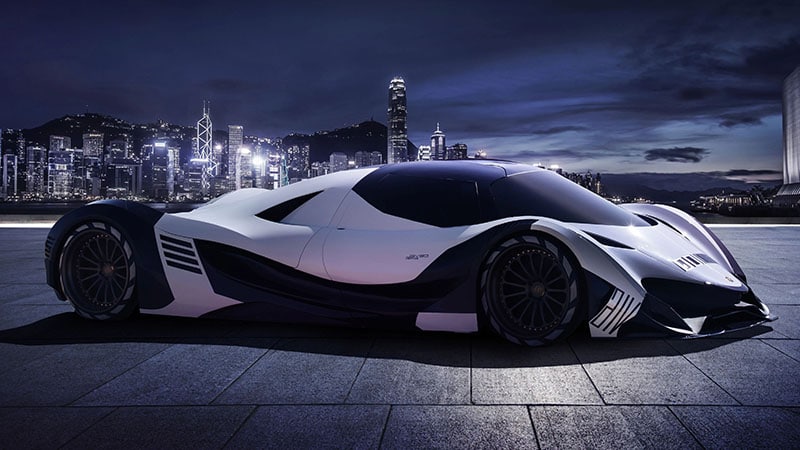 FAQs
What is the #1 fastest car in the world?
While the Devel Sixteen is theoretically the fastest car in the world, it's yet to be delivered. The Koenigsegg Jesko and Jesko Absolut claim speeds over 310 and 330mph, respectively, while the SSC Tuatara claimed a controversial 316mph, but in verified retesting pulled up shorter with 282.9mph. Meanwhile, the Bugatti Bolide and Chiron Super Sport 300+ pre-production model both achieved more than 300mph. 
What's the fastest legal street car?
The fastest street-legal car is the Koenigsegg Jesko Absolut, followed by the base Jesko, SSC Tuatara (depending on which record you want to believe), and the Bugatti Chiron Super Sport. However, requirements for road legality can vary between countries.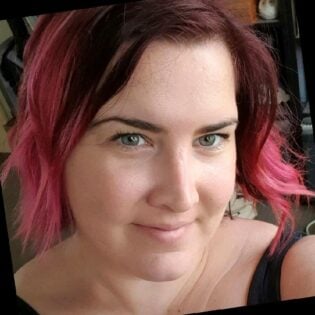 Alexandra Linde is an experienced writer holding a bachelor's degree in Journalism. She is the owner of Alexandra McKiterick Creative and has expertise in travel, fashion, fitness and lifestyle. Alex has previously written for Flightcenter, Travello, and Backpacker Deals.
SUBSCRIBE TO OUR NEWSLETTER
Subscribe to our mailing list and get interesting stuff and updates to your email inbox.