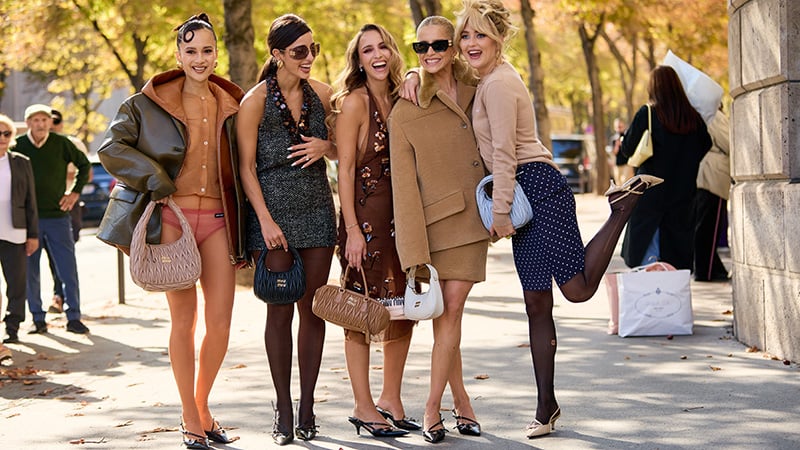 We're coming close to the end of the year, but it's only the beginning in the fashion world. We have watched the runways from New York to Paris and admired the street style, which was equally off the hook. Whether you're giving your closet an update and desperately need inspiration, or you're simply in the mood for some window shopping, have no fear. Here are the top fashion trends spotted during Spring/Summer 2024 Fashion Weeks, which we think you will love.&
1. Brief Shorts
Love them or hate them, brief shorts are one of the biggest trends of the season. This polarizing style has been worn by a plethora of celebrities, from the red carpet to the streets of LA, and at fashion weeks. This is proving to be a move for the boldest of risk-takers. Play with proportions with this style – a long-sleeve shirt with eye-catching embellishments will balance the barely-there bottoms. To play it safe, add a pair of black stockings or tights to elongate the legs and complete the look. Ultimately, anyone can pull this look off if they have the confidence to do it – life is short, forgo the pants!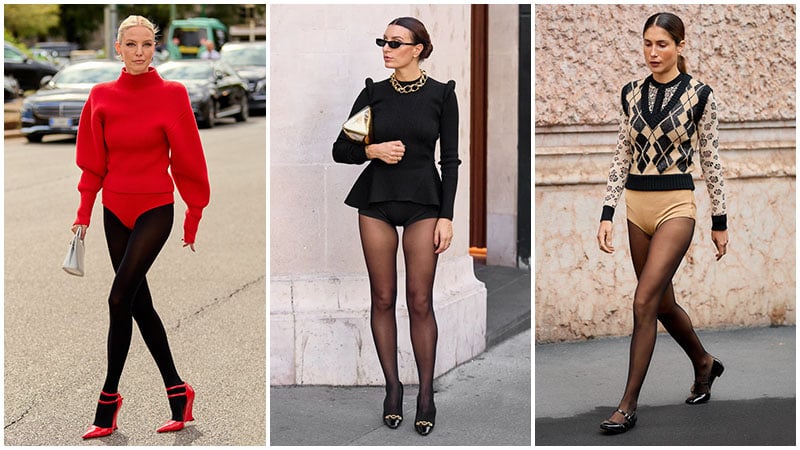 Get the Look
2. Vests as Tops
It may come as no surprise that suits and tailoring have become a staple feature of the fashion scene. With transitional season upon us, it's time to play around with styling, and there's no better way to do this than with a vest or a waistcoat. Thanks to its elegant buttons and tailored silhouette, this throwback piece can instantly change the mood you're achieving, no matter the occasion. Add jeans to keep it casual, throw on a pair of sneakers for an off-duty model touch, or tuck your trousers into knee boots to pay homage to Diana. You don't have to add a blazer or any shirt underneath, as its masculine lines juxtaposed with the bare skin will leave you feeling sexy and stylish.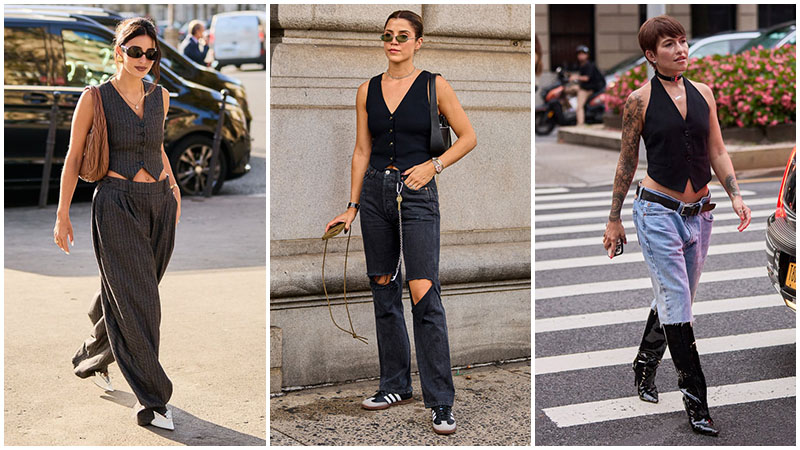 Get the Look
3. White Outfits with White Bag
If you want to stand out this season but aren't sure where to start, look no further than an all-white outfit. Now, we're not talking about a spectrum of cream or a combination of ochre tones; the same bright shade from head to toe, including your accessories. Be it an oversized coat that hits the floor or a loose-fitting pair of cargo pants, this eye-catching trend is sure to brighten your day. Thanks to its blank canvas appeal, we recommend experimenting with different textures and silhouettes, as you won't have the chance to add complexity with color. Fair warning – keep this outfit at home when you're planning to eat a messy meal; it won't end well!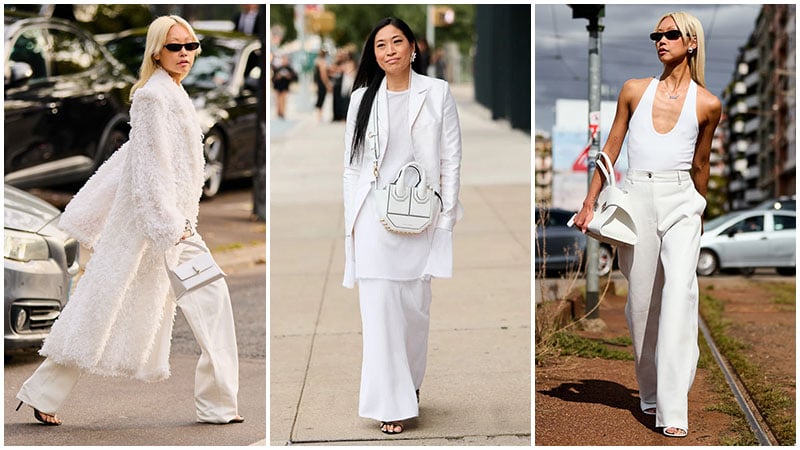 Get the Look
4. Black Maxi Leather Coat
Be your inspiration from Neo and Trinity or Christy Turlington, you really can't go wrong with a black leather coat. As we've seen from the runways (looking at you, Saint Laurent) and on pictures on Pinterest, there are endless ways you can wear this timeless garment. Therefore it has become one of the most sought-after investments of the season. Its versatility is so massive you can wear it with pretty much anything, be it a LBD or a pair of jeans, a mini skirt and boots, or your favorite yoga pants. We recommend doing research and finding a style that suits your frame best – you're going to keep this one for years to come.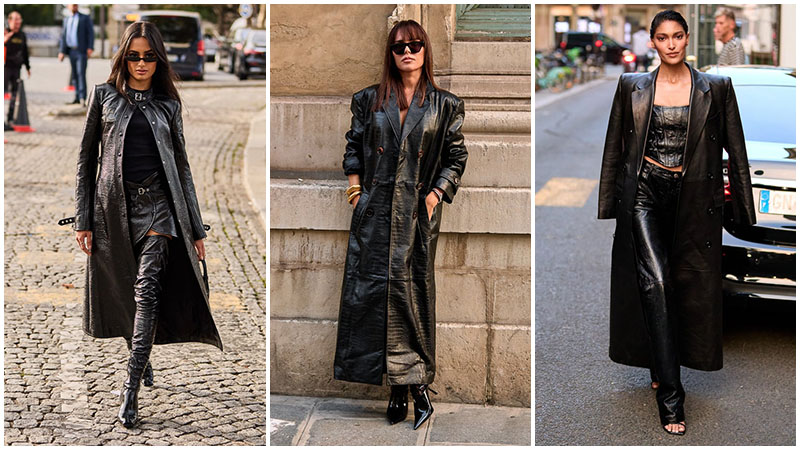 Get the Look
5. Silver Trousers
It wouldn't be fashion week without a few bold trends, and silver trousers are no exception. This look may not be for everyone, but it's not stopping the fashion girls from rocking it through the streets this season. Worn with simple white shirts and tanks, it's best to keep accessories and other colors to a minimum, as your bottom half is essentially doing all the heavy lifting. Thanks to the ongoing adoration of the Y2K aesthetic, you aren't subjected to a single silhouette of metallic pants – be it flares, straight-leg, or baggy, there's something that will suit your frame and style perfectly.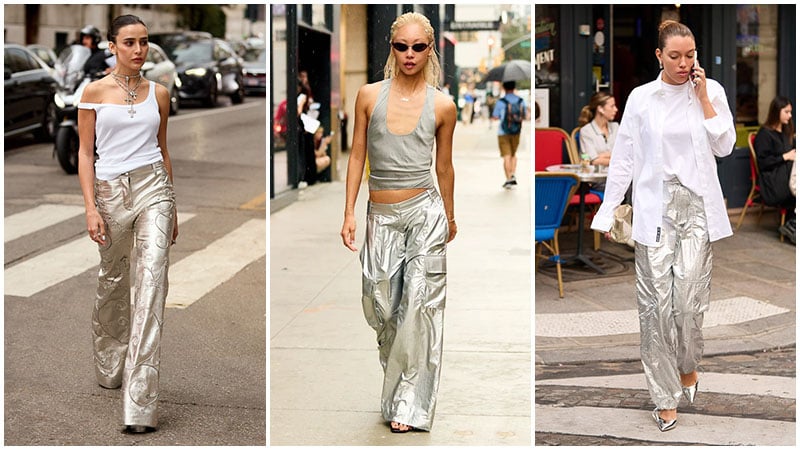 Get the Look
6. Ruched Red Dress
In the never-ending cycle that is fashion trends, we once saw an influx of skin-tight and body-hugging dresses. However, this year we're embracing ruched fabric, which is a flattering and timeless style that works with every body type. Sensual and classic, a red dress is an absolutely essential garment every fashion lover should have in their closet. It doesn't have to be a special occasion for you to give it a spin; make a splash at girl's night with strappy heels and black accessories. Alternatively, it can become instantly office-appropriate with a pair of tights and a coat to help fight cooler temperatures. Prepare to have all eyes on you in this one – it's a real showstopper.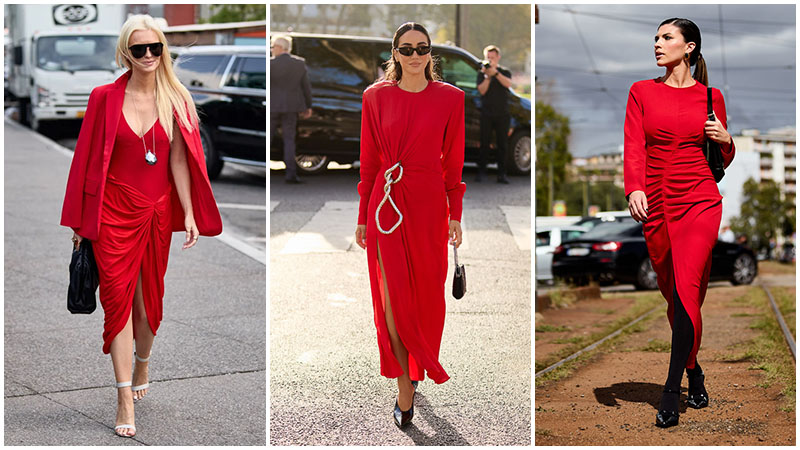 Get the Look
7. Lace Maxi Dress
Summer may be over for half the world, but that shouldn't stop you from dressing as if the heat is raging on. These beautiful lace maxi dresses are an eye-catcher, giving a certain flavor of sexiness that somehow isn't overwhelming. Worn with underwear or a slip underneath, you can rock this at the restaurant, to a semi-formal event, or just running errands – its versatility offers endless options for you to try throughout the year, no matter the weather.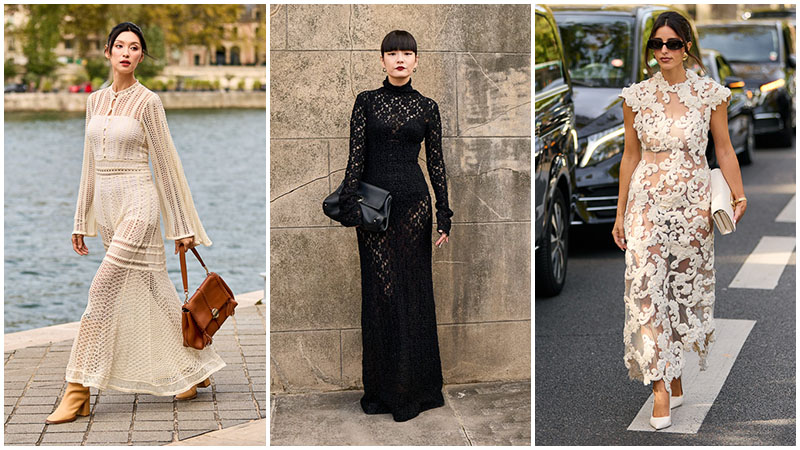 Get the Look
8. Back to '90s
As you're likely well aware, the fashion cycle usually happens every 20 -30 years, breathing new life into the styles we saw decades before. This season is paying homage, once again, to the '90s, and we couldn't be happier about it. With double denim and relaxed-fit sweatsuits, this era is all about embracing comfort and practicality while giving it a fashionable spin. As with all trend resurgences, modern styling is essential to make the ensemble feel fresh and new. Adding a pair of stilettos or cowboy boots to your vintage midi shorts, a slinky rosette top with your cargo pants, or your favorite chunky jewelry can help breathe new life into the pieces from the past.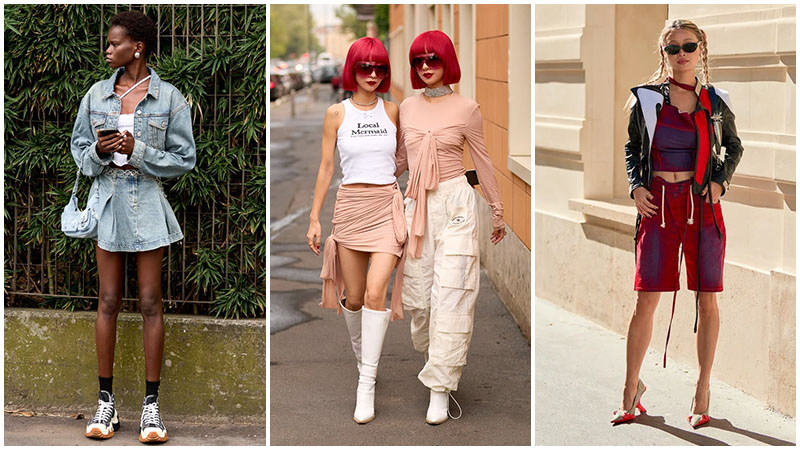 Get the Look
9. Camel Midi Coats
Meet your new favorite coat. Still hanging onto the quiet luxury trend, no capsule wardrobe is complete without a camel midi coat. Unlike maxi coats, this classic outerwear hits anywhere between the knee and mid-calf, giving you ample room to show off your pins, a pair of slouchy trousers, or a slinky maxi skirt. Come rain or shine, you can style this and look effortlessly put together, even if you're just running to the shops. Work with an assembly of likeminded shades, such as tan and beige, to achieve a timeless and elegant ensemble, or throw another neutral tone into the mix, such as gray or charcoal. But when all else fails, go for a white tank top and a pair of jeans or trousers.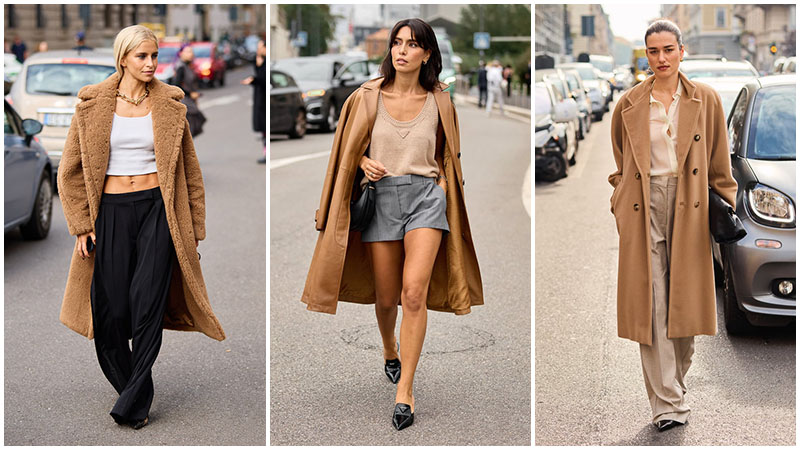 Get the Look
10. Pastel Co-Ords
You can't help but feel joy when you wear pastel colors. Fresh as a daisy and timeless, an ensemble made up of soft, buttery hues is a recipe for perfection. Contrary to popular belief, these light shades are flattering to all skin tones, but it's important to remember that not all pastels were born equal. In order to pull this look off, you need to know what shades work best with your skin. Purple and baby blue are universally flattering, whereas yellow is best suited to those with a deeper skin tone, as pale complexions may appear washed out. Keep the rest of your accessories neutral so they don't take any shine away from your exquisite outfit.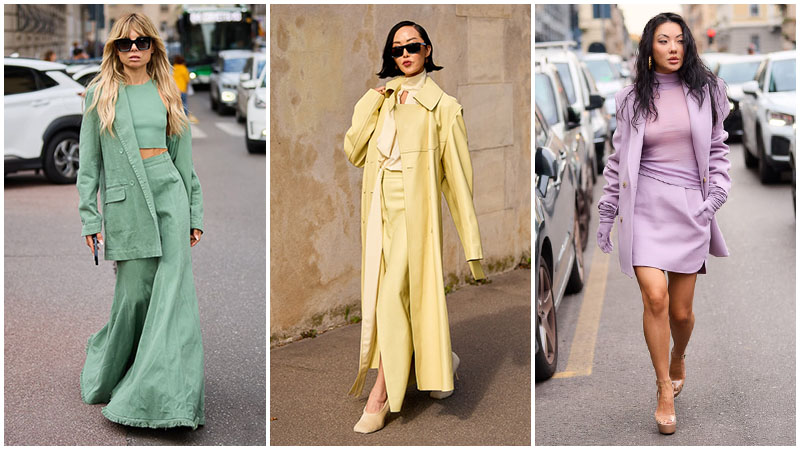 Get the Look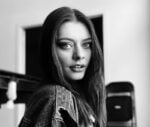 Alexandra Feiam is an experienced fashion writer who holds a degree in journalism. She has an impressive portfolio and expertise working as the Editor at Power Retail and Commercial Content Editor at Newscorp. Ally has been writing for The TrendSpotter since 2018, and her work has been featured in notable publications such as The Herald Sun, Arirang TV South Korea, Kidspot, The House of Wellness, and The Daily Telegraph.
SUBSCRIBE TO OUR NEWSLETTER
Subscribe to our mailing list and get interesting stuff and updates to your email inbox.