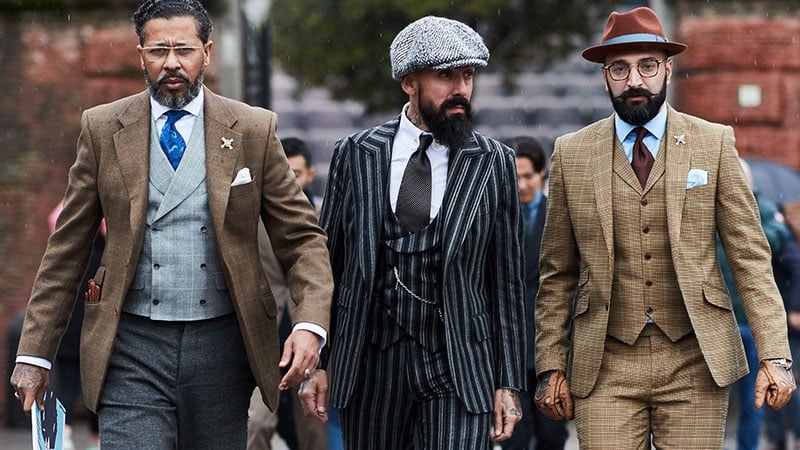 There's no denying that Pitti Uomo provides an abundance of menswear inspiration every time it comes around, and we're not just talking about the showcases. After all, the biannual Florence event draws the most stylish gents in fashion from across the globe. So, it's only natural that the street style is seriously enviable, and this season was no exception. From athletic accents and elevated casualwear to matching ensembles and charming classic accessories, this season saw many new fashion trends bloom. Luckily, we were there to catch the best of the best. So, if you're after a fresh wardrobe inspiration or ideas on what you should wear next, we can help with our roundup of the top trends spotted at Pitti Uomo 2018.
1. Athletic Accents
Pitti Uomo is renowned for its sophisticated menswear and impeccable tailoring. While both were still on show this season, there was also something else in the mix. Athletic accents were expertly injected into the usual sea of suits and smart essentials. The result was an incredibly stylish take on high-end streetwear. To nail the look yourself, try pairing formal and casual pieces together, such as smart trousers and a tailored coat with a hoodie and sneakers.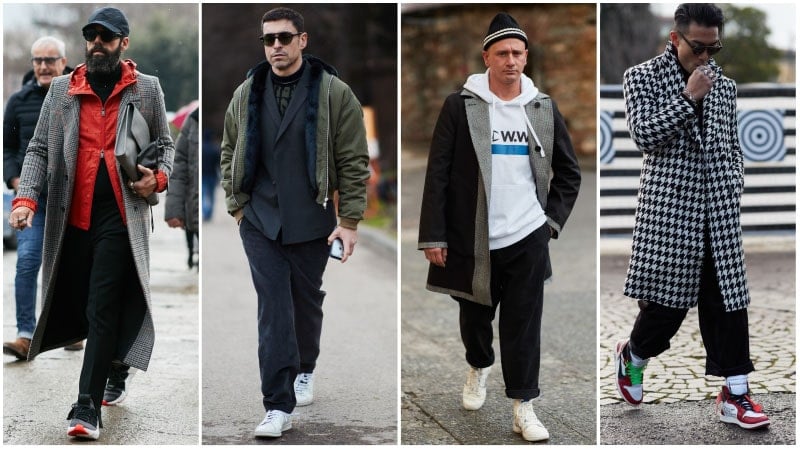 SHOP THE LOOK
2. Double Trouble
Style lessons were aplenty on the streets of Pitti Uomo 2018, including a demonstration of how to simultaneously stand out and fit in. Yes, matching looks were a favourite amongst showgoers this year, and rightfully so. The chic coordinated outfits provided a refreshing take on statement style. Instead of relying on bold colours or eye-catching prints, these looks turned heads with smart shades, sleek designs and, of course, a little duplication. So, if you have a similar fashion sense to your partner in crime, why not try a matching look together this season?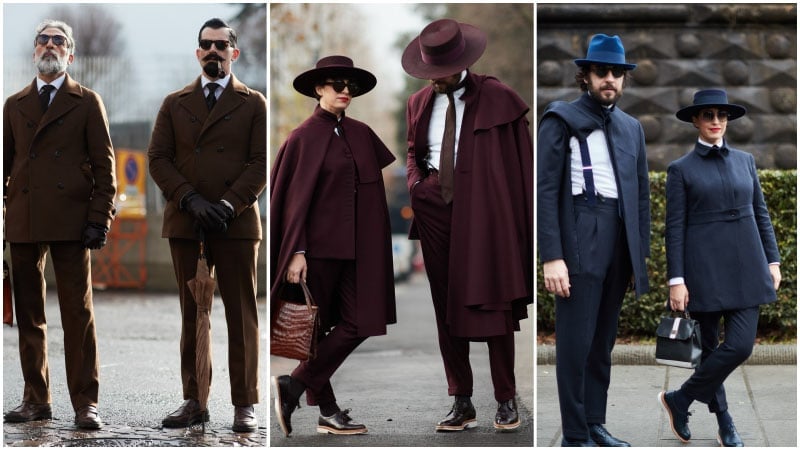 SHOP THE LOOK
3. Dressed Up Denim Shirts
The blend between casualwear and formalwear wasn't only about athletic accents at Pitti Uomo '18. The classic denim shirt was also elevated to a smart new level this season. The weekend essential was spotted dressed up with ties, trousers, blazers and coats to create looks that were sharp with a down-to-earth touch. To wear the trend yourself, select a light blue denim or chambray shirt. Then, pair it with formal or business pieces in shades of dark blue/navy or brown.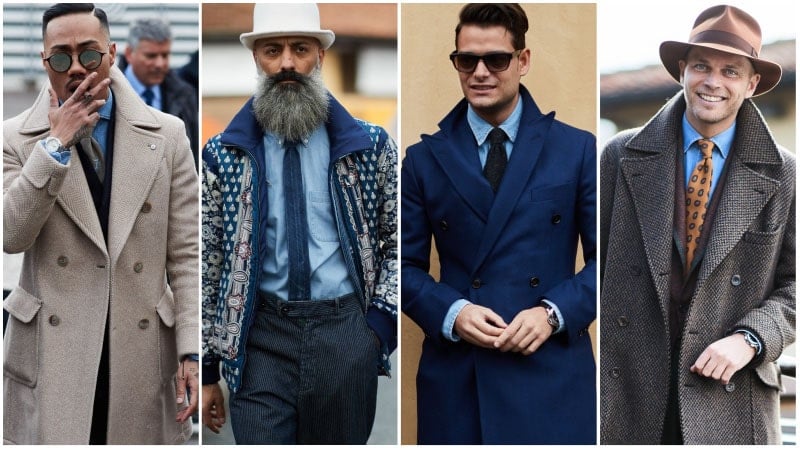 SHOP THE LOOK
4. Driving Gloves
Pitti Uomo's gentlemanly persona saw accessories take a walk back in time this season. In particular, driving gloves made a rampant return and were spotted on many stylish gents. For those who don't know, these classic gloves are typically made of thin and soft leather. They also feature open knuckles as well as ventilation holes, short cuffs, and a stud fastener on the back. While all these elements are designed to enhance the driving experience, no rule says you can't wear them outside of your vehicle.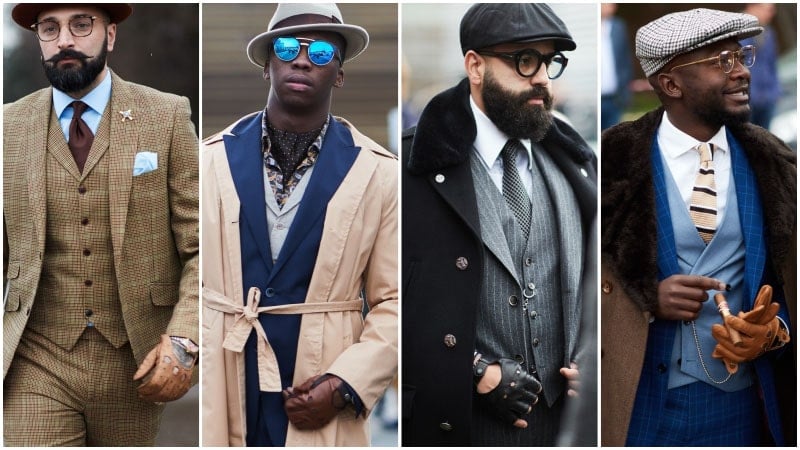 SHOP THE LOOK
5. Statement Rings
Men's jewellery was in fine form at Pitti Uomo 2018 with street style stars donning bracelets, necklaces, earrings and, most importantly, statement rings. Worn all in a row and looking like a very stylish set of brass knuckles, those statement rings were undoubtedly eye-catching. They also completed outfits with a fashionable dash of panache. To rock this jewellery trend like Florence's best, try choosing four statement rings. Each should be different but stylistically linked to form a unique but coordinated appearance. For instance, a set of silver rings with black detailing would make an excellent choice.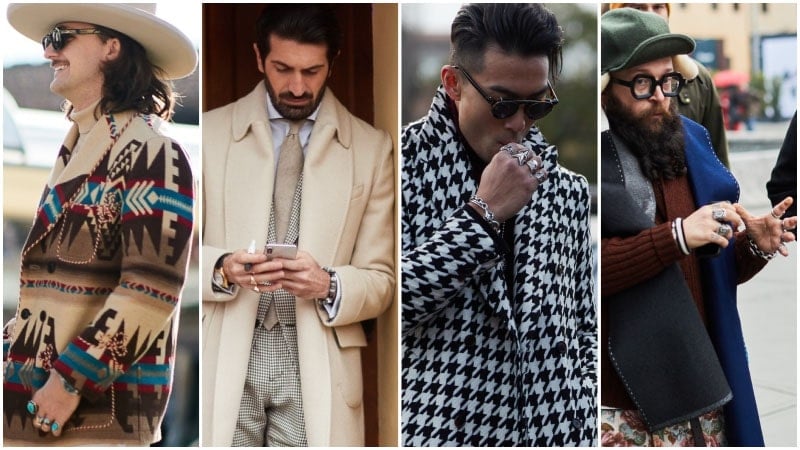 SHOP THE LOOK
6. Flat Caps
Hats were another major accessory for this year's Pitti Uomo visitors. While felted wool fedoras and other wide-brimmed styles were as popular as ever, it was the flat cap that truly shone. Like driving gloves, this accessory brought a traditional and gentlemanly touch to outfits. Perfectly paired with a suit or blazer and trousers, these classic caps appeared far from dated. In fact, they looked positively dapper on the heads of their well-dressed wearers. Our favourite type? The panelled newsboy cap.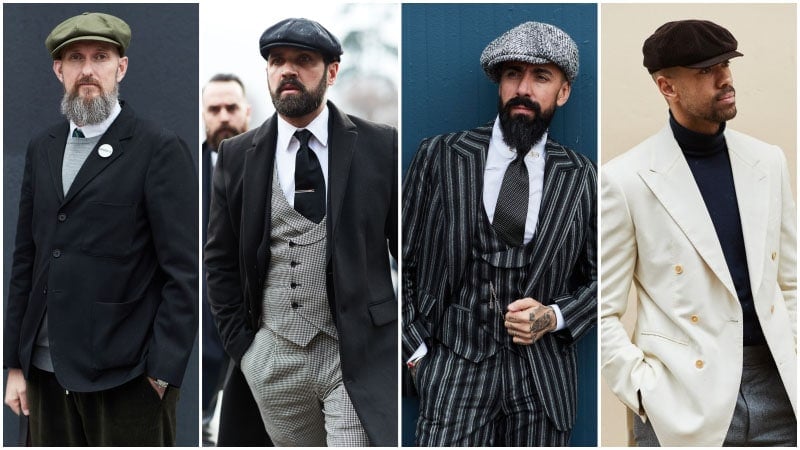 SHOP THE LOOK
7. Patchwork Coats
Although patchwork is not a new concept, it appeared incredibly contemporary when spotted on the coats of Pitti Uomo attendees last week. The unique designs looked stylishly eye-catching and offbeat. The only rule for wearing this trend is to keep the rest of your outfit simple and smart.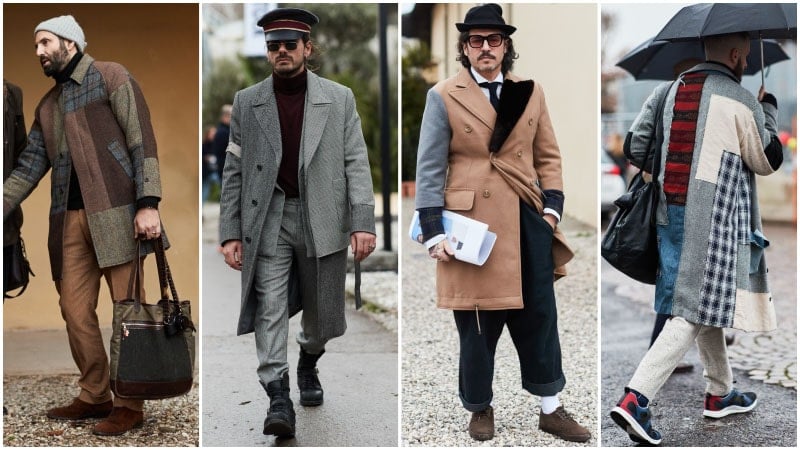 SHOP THE LOOK
8. Statement Camels
Who said camel colour was boring? The classic hue made quite the splash at Pitti Uomo 2018 with countless men choosing to don the colour. Light, rich with warm and seriously stylish, these tones of camel, caramel and more provided the perfect winter pick-me-up. To incorporate the trend into your wardrobe, try a tailored camel coat or opt for a bold head-to-toe look.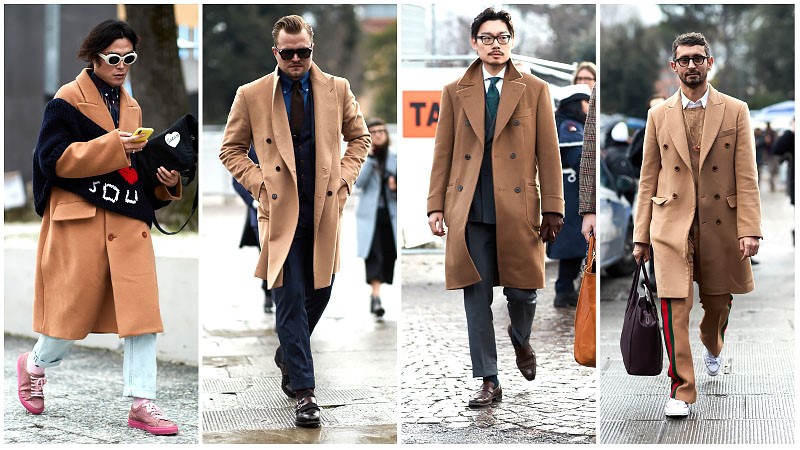 SHOP THE LOOK
9. Tote Bags
Every season, more and more gents seem to be spotted carrying bags, and rightfully so. After all, men have things to carry too, and there's nothing worse than a fat wallet or keys ruining that smooth line of your pants. This season, however, one bag reigned supreme for men: the tote. This classic bag was a favourite amongst the Pitti Uomo attendees thanks to its stylish appearance and practical appeal. Pick one up for yourself and discover all the benefits of having a well-sized bag with you throughout busy days.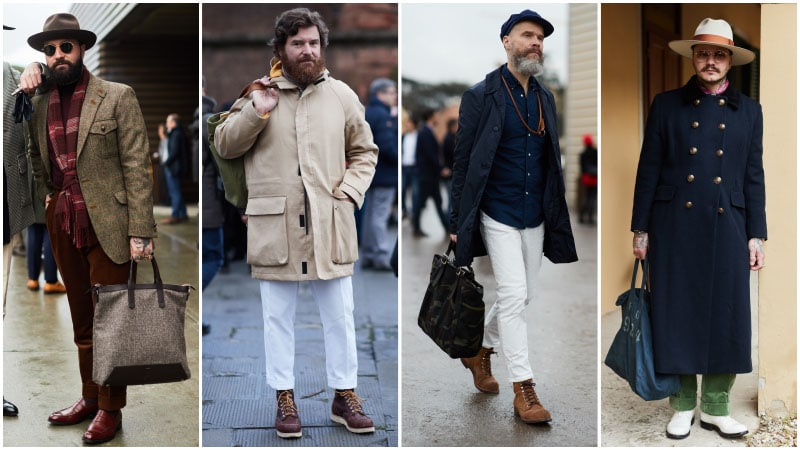 SHOP THE LOOK
10. Turtleneck Suits
While the cold weather may not have been overly comfortable for the attendees of Pitti Uomo 2018, it has resulted in some awesome winter outfit inspiration for gents. One cold-weather look that was spotted again and again this year was the turtleneck suit. The look, which combines a sleek suit with a cosy turtleneck sweater, achieved an appearance that was polished and an outfit that was appropriately warm.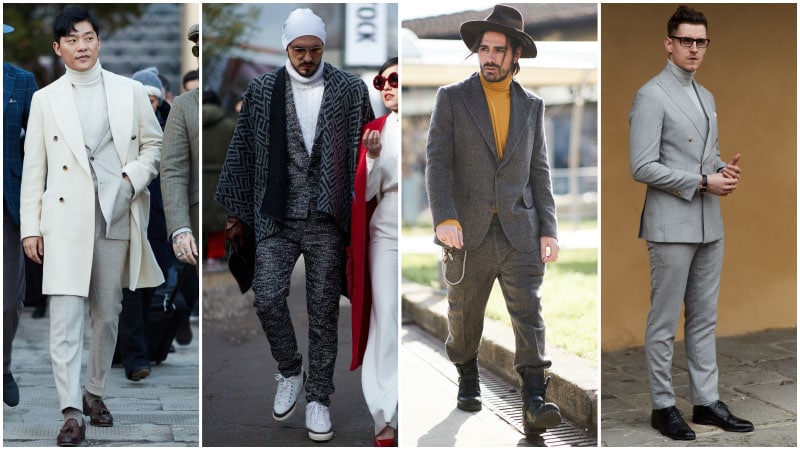 SHOP THE LOOK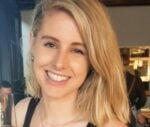 Taylah Brewer holds a bachelor's degree in fashion and business and is a skilled writer with several years of experience in the world of online content creation and copywriting. She is passionate about fashion, beauty, and all things lifestyle-related and has been writing for The Trend Spotter since 2016. She currently works as the Head of Digital & Ecommerce at White & Co.
SUBSCRIBE TO OUR NEWSLETTER
Subscribe to our mailing list and get interesting stuff and updates to your email inbox.