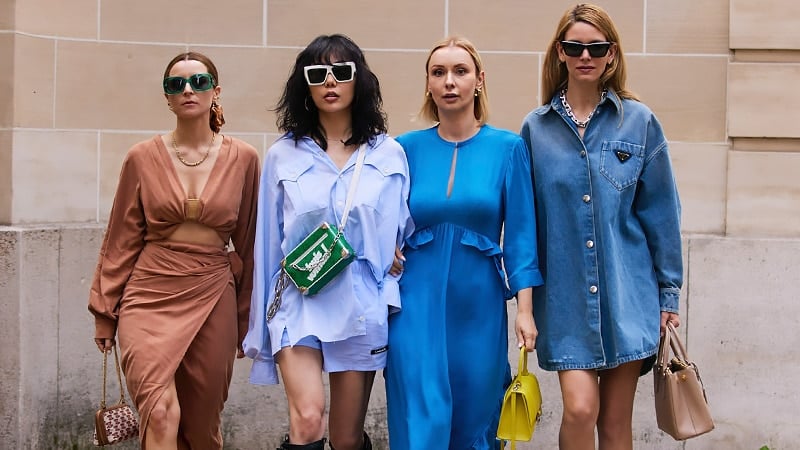 Fashion Week has finally returned, and there's plenty of inspiration that we're taking from it. This season's Haute Couture Fashion Week was full of new surprises and the return of go-to favorites, blending timeless and bold styles. Swapping out tracksuit pants for flared trousers, gray sweatshirts for bright blues and yellows, and slippers for brogues, the street style was turned up to an 11 this year. From vivid pops of color to chunky platforms and eye-catching handbags, there is something here that is sure to excite you. It's time to start dressing to the nines once again. We've curated eight top fashion trends from Haute Couture Fashion Week that you should definitely try!
1. Bleu de France
Add a touch of color to your everyday wardrobe with the classic Bleu de France. Although it is trending this season, the shade has been present since the 12th century. Thanks to its deep history, it makes for an incredible choice for your next brunch or shopping ensemble. On a warm summer day, combine the shade with whites and neutral hues – this will help the blue pop. If the temperature is starting to dip, swap out the lighter shades for gold or gray – they are complementary. Add a splash of citrus with a yellow handbag or pair of orange shoes – they are opposite on the color wheel, so they'll create a striking look.
2. Chunky Loafers
Taking inspiration from Aldo Gucci from the 50s, loafers are back in a big way. These shoes are now trending with chunky and platform soles, which elevate your look in more ways than one. Pair them with your favorite jeans, trousers, or a mini skirt for a fresh and casual feel. You can find designs with sparkling embellishments, horsebit buckles, and a wide variety of textures and colors. For a timeless feel, opt for either black or brown footwear – it matches most outfits, so you can swap them out for various occasions and will keep you comfortable all day.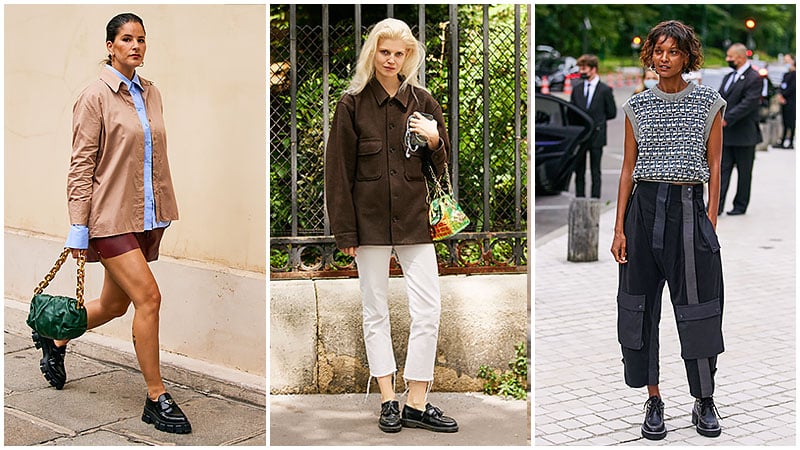 3. Green Accessories
From handbags in the bright shade to acrylic sunglasses to match your summer get-up, there are so many options that you can wear this season. When styling these items, you can wear an entirely monochrome look or brown, blue, or even white and gold shades – a pop of color has never hurt anyone! If you want to add a hint of vivacity to a neutral or muted look, you can't go past a set of emerald green earrings or a necklace. Experiment and play around with this hue – it's a lot of fun and will easily make any ensemble a bit more sophisticated.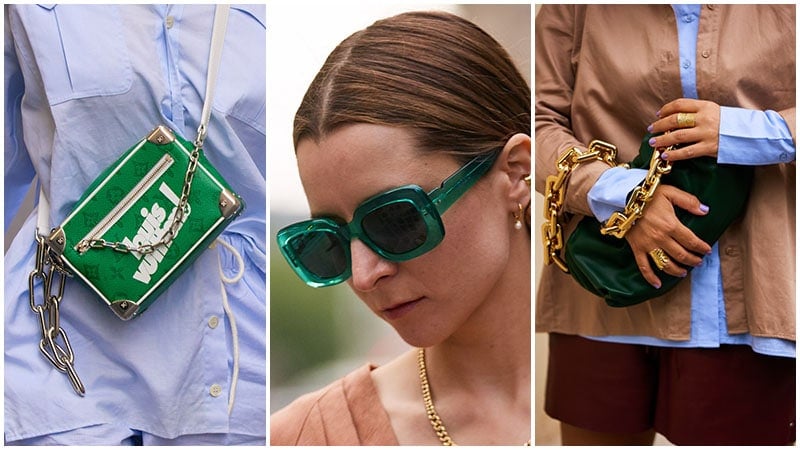 4. Headscarves
This trend has stuck around for some time, and we love that it's here to stay. With such versatility, you can wear them during every season of the year and create a different style depending on your attire. No matter if you're lounging on a yacht in Portofino or enjoying a day at the office, it's an easy piece you can replicate almost any time of the year. This accessory can effortlessly change around – from a simple bandana to a headband or a garnish to your ponytail. Iconic designers like Pucci, Dior, and Versace are some of the most popular choices if you're on the lookout for a timeless pattern or print. Still, many alternative brands offer similar designs, which is great for all budgets.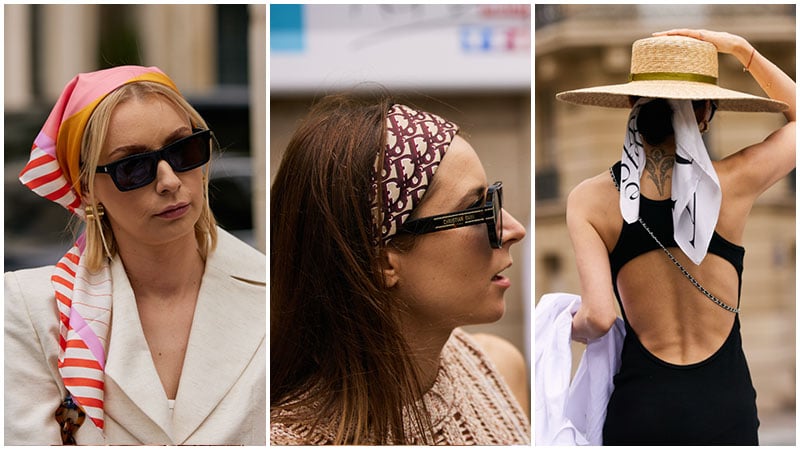 5. Metallic Fabrics
You are one in a million and you deserve to stand out – why not do it in silver or gold? Metallic fabrics have come and gone over the last few years, but we're starting to see them return in a big way. While you can stick to the traditional shades, why not be bold and try your hand at shiny blue, purple, or pink? The beauty behind it is its versatility. You can blend the fabrics with dark accessories or stick to your favorite chunky chain necklaces and earrings. This is the maximalist's dream outfit, so if you're ready to up the ante on your going-out ensemble, give this one a try!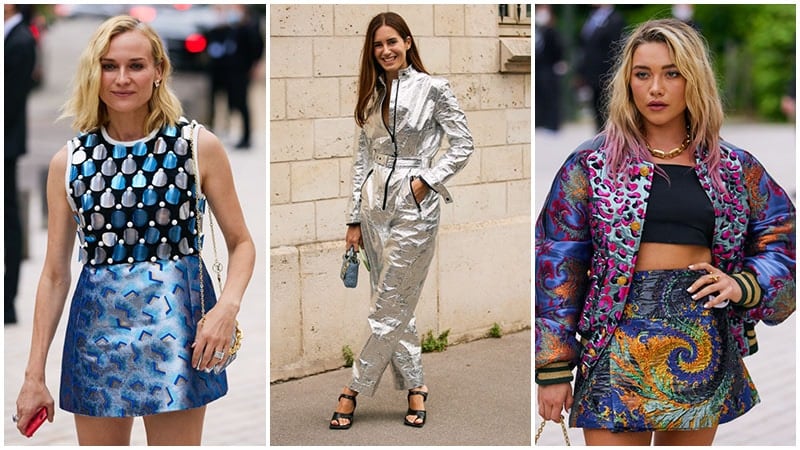 6. Oversized Boyfriend Blazers
If it isn't broken, why fix it? That's how we feel about oversize boyfriend blazers, which are holding strong this season. As a fashion go-to, this outerwear is a great staple piece for every wardrobe. Style it with your favorite jeans and a white t-shirt for a classic and chic outfit, or go all out in matching tailored trousers. For a flirty and feminine twist on the androgynous get-up, try the outerwear with a floral dress. Add a pair of knee-high or combat boots to finish the look. Be it pinstripe, lilac, or bright blue, there are so many occasions to rock these jackets, and we have a feeling it's here to stay.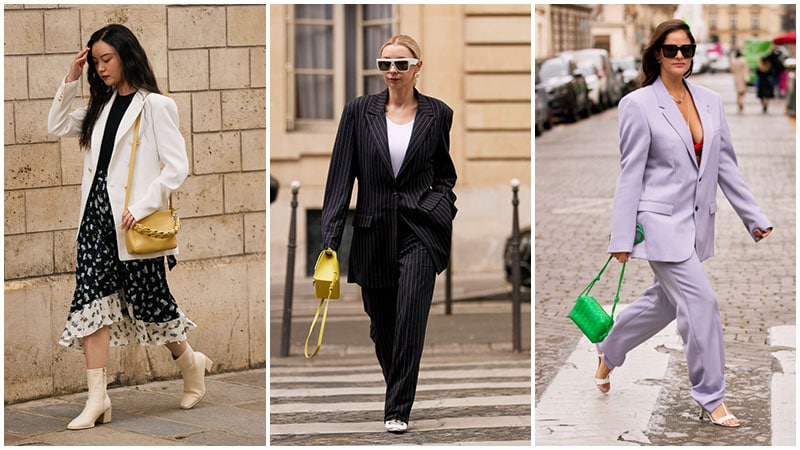 7. Pajamas Fashion
Beauty may be pain, but this style is here to challenge the status quo. Tell the world you woke up like this by putting a high fashion spin on your pajamas. Inspired by the stay-at-home looks from last year, this trend is a little bit sexy and a whole lot of fun. Style a set of satin PJs with an oversized trench coat in a matching shade and layered accessories, or create the illusion of nightclothes while looking effortlessly chic in a shirt with a similar silhouette. Match it with satin or linen pants and chunky boots for an edgy touch. The way to an authentic look with this trend is by keeping the hues matching from top to toe.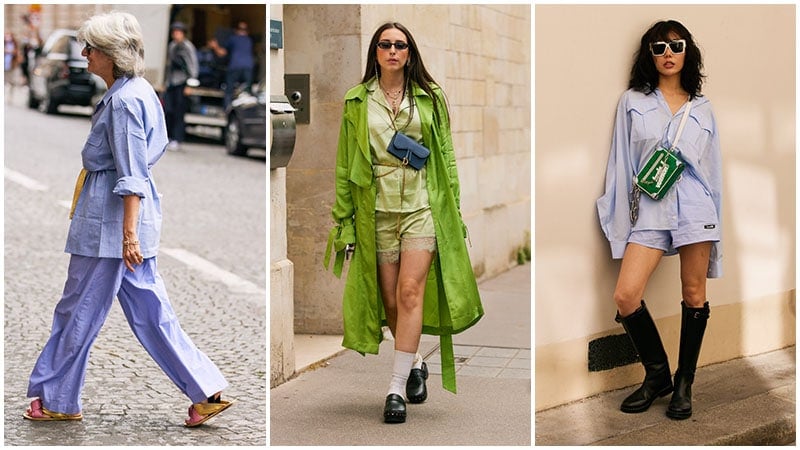 8. Yellow Handbags
Brighten up every room you walk into with a bright yellow handbag. We're seeing many pops of color this season, and this funky trend is clearly no exception. There are endless ways to rock this bold accessory, but the most popular choices include monochrome and black and white ensembles – such as a lemon shirt snd skirt combo, or a pinstripe suit. For an extra twist on the already vivacious shade, turn to the contrasting shades for your attire – think cool tones like Bleu de France or lilac. A fashion go-to we've noticed is wearing shoes and accessories in the corresponding hue, making it an elegant and complementary outfit choice.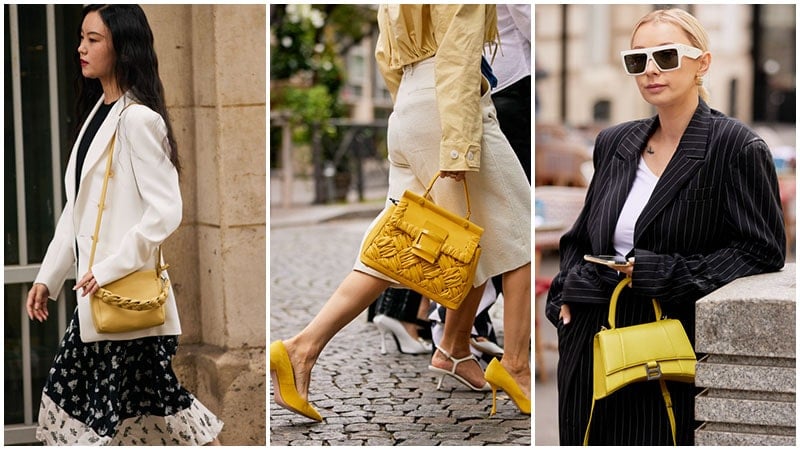 FAQs
What are the fashion trends for 2021?
This season it's all about creating fun and exciting outfits, using bright colors and reflective textures. A few of the most prominent choices from the runway to the streets include Fleur de France, buttercup yellow, and shades of green. As we've seen in previous seasons, some of the ongoing trends like boyfriend blazers, headscarves, and chunky footwear remain strong choices due to their versatility and timelessness. Style them with delicate satin and silk pieces for a sophisticated feel.
Why is haute couture so expensive?
Haute Couture is the French term for high fashion - this is essentially the most coveted and labor-intensive collection that a designer will create for the season. Each designer presenting during the Haute Couture Fashion Week calendar takes months, sometimes years, to source the perfect fabrics and embellishments for every garment. Typically, designers will attend a fabric fair several months before a collection is fully realized to gather further inspiration and selections for the collection. Unlike RTW fashion, which is produced at a larger scale, Haute Couture pieces are often hand-embroidered, which takes hundreds of hours to complete, with immaculate detailing applied to every garment - this goes for the added jewels, beads, stitches, and embellishments added. The quality of every piece determines a hefty price since many of the fabrics and materials are imported or crafted specifically for the occasion. Essentially, you're paying for a piece of wearable art. 
Do celebrities buy haute couture?
Typically stars will have the garments loaned to them for a specific occasion or event. However, this doesn't mean celebrities don't buy their own Haute Couture. In fact, many celebrities are famous owners of Haute Couture pieces, especially if they are one-of-a-kind, vintage, or collector's items. Well-known celebrities will often have a personal stylist that selects from a range of designer gowns and garments and will work with the client for the perfect look. Sometimes stars are gifted the pieces by the designers themselves, too. In this case, designers will send their latest pieces to certain famous faces, often straight from the runway - this is especially common if they are already aligned with that particular brand, such as Margot Robbie for Chanel or Zendaya with Valentino.
Who are the couture designers?
Haute Couture has been a staple in the Fashion Week calendar for decades, with many iconic brands leading the way. These brands include Chanel, Christian Dior, Giorgio Armani Privé, Givenchy, and Alexandre Vauthier. However, some of the up-and-coming designers and those not typically aligned with couture are becoming cult favorites among fashion goers, such as Ralph & Russo, Schiaparelli, and Balenciaga (just returned to Haute Couture after 53 years). Labels such as Viktor & Rolf, Iris Van Herpen, and Pyer Moss often make waves with their pieces as they step outside the box with their unique creativity, tongue-in-cheek references, and innovative technologies.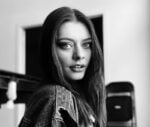 Alexandra Feiam is an experienced fashion writer who holds a degree in journalism. She has an impressive portfolio and expertise working as the Editor at Power Retail and Commercial Content Editor at Newscorp. Ally has been writing for The TrendSpotter since 2018, and her work has been featured in notable publications such as The Herald Sun, Arirang TV South Korea, Kidspot, The House of Wellness, and The Daily Telegraph.
SUBSCRIBE TO OUR NEWSLETTER
Subscribe to our mailing list and get interesting stuff and updates to your email inbox.