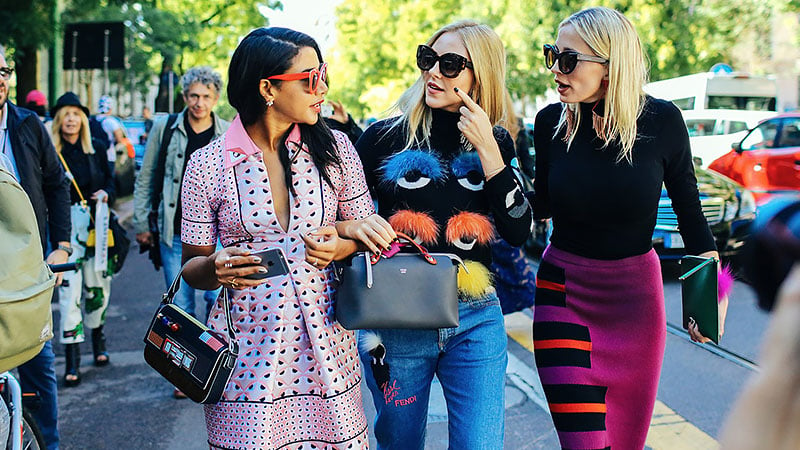 With 2016 drawing to a close, it's time to reflect on the fashion year that was. From statement sleeves to pyjama dressing, this year saw a range of trends that we won't be forgetting anytime soon. Evolving street style to a new level, minimal casual wear went maximal in 2016 and we loved it. Bold and unexpected while simultaneously relaxed and nonchalant, 2016's fashion trends have ticked all the sartorial boxes. Which of those trends will continue to tick boxes in 2017 you ask? Well, here's the rundown on which trends deserve to keep their spots in your wardrobe for the new year and which you should retire or rework.
Statement Sleeves – (Staying)
Statement sleeves have undoubtedly been one of the biggest trends for 2016, and, lucky for us, they look set to continue into 2017. While off-the-shoulder and bell styles continue to dominate the streets and shops, new shapes are joining the fray. Drop sleeves bring an element of relaxed and oversized styling to this statement trend and are perfect for layering. Tied sleeves work to maximise detail and take this look further into unchartered territories. As for split sleeves, well they're predicted to be the new must-have style next year. Deconstructing and opening up traditional sleeves into new shapes, split styles offer a reinterpretation of this trend by taking away fabric instead of adding it.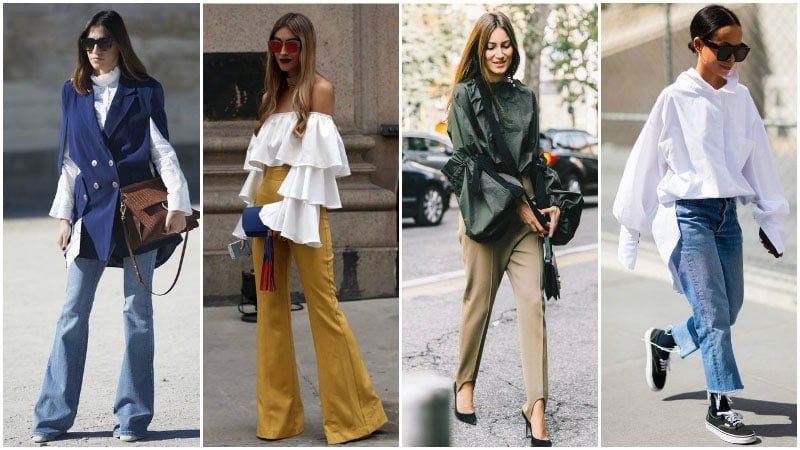 Ruffles and Folds – (Staying)
Ruffles and folds dominated the recent Spring/Summer 2017 runways, proving that they're going to be huge in the new year. While the design feature has already grown quite popular in recent months, this trend is still at it's beginning. Next year, you can expect way more from this style as it continues to grow. Fashion's definition of ruffles will certainly no longer mean a dainty frill or slight wave at the hem. In 2017, it will mean unusual, unexpected and unmissable fabric manipulation. Not content with being contained to our clothes, this trend will also soon find its way to our footwear and bags.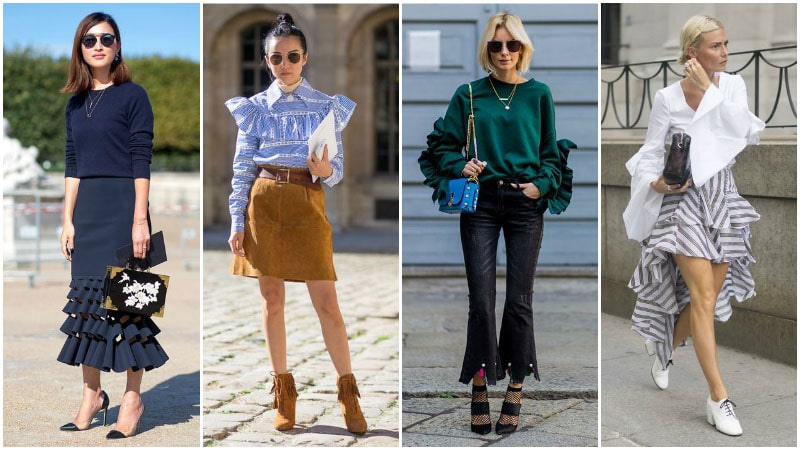 Unexpected Layering – (Staying)
Fashion feeds off the unexpected and will continue to embrace this modern layering trend well into the new year. While it may have kicked off in 2016 with a reincarnation of the '90s slip dress and T-shirt, this trend has evolved into something else entirely. Blurring borders and boundaries, layering has taken an unexpected and exciting turn. Blending retro with modern, tailored with relaxed, and constantly deconstructing and reconstructing designs, the art of layering has become abstract yet beautiful. Fabrics that convey different styles are played off one another to create an entirely new one while long and loose silhouettes are wrapped up and bound by structured designs to create unique shapes.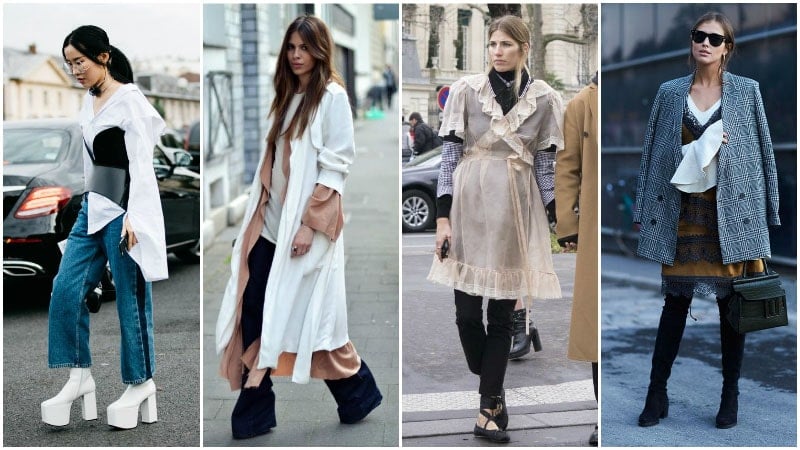 Pleated and Plisse Garments – (Staying)
From the runways to the streets, pleated skirts were spotted everywhere in 2016. In 2017, the pleated trend will continue while its focus shifts beyond the simple skirt towards plisse pants, tops, and dresses.The midi length that was popular with this trend in 2016 will continue into the new year, becoming the ideal length for both dresses and pants. The long and loose silhouette, which suits this trend so well will also remain supreme with long plisse culottes becoming a top investment piece. As for colour, metallics will continue to be popular for this style, but you can expect other, more gentle hues to also be introduced.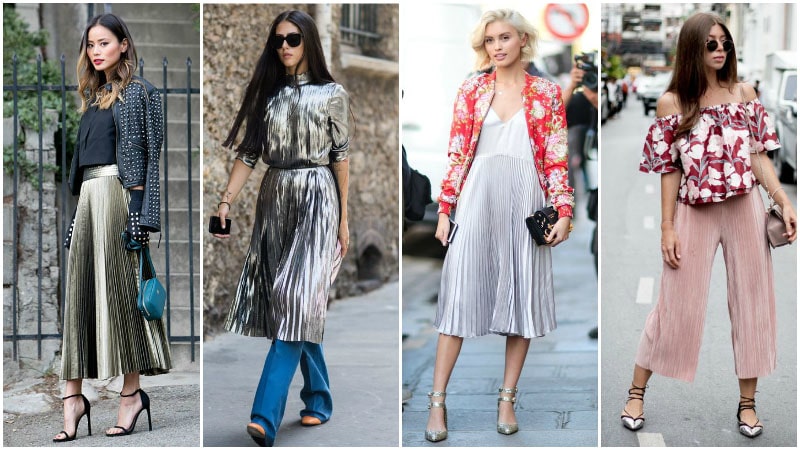 Pyjama Trend – (Staying)
Although it may have looked like a dream, pyjamas and pyjama-style clothes were a huge trend for 2016. Moving into 2017, this trend looks set to continue while evolving into a more luxurious interpretation. Lush velvets, luxe satins and silks, and natural linens, all take the fabric side of this trend to a new level of quality and decadence. Comfortable shapes and wide-leg styles allow silhouettes to become grander while the blending of pyjama pieces with structured daywear creates a more refined appearance. Patterns, such as checks and stripes are also added into the mix to take this trend to the next level.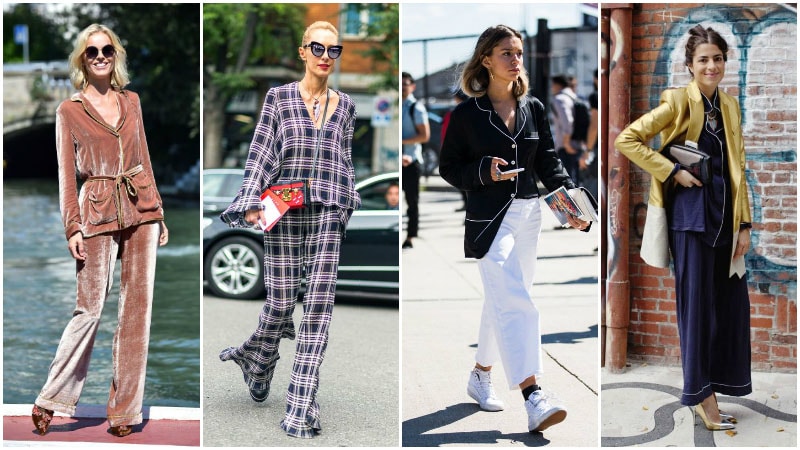 Oversized Trims and Details – (Staying)
Oversized trims and details are currently "in" in a big way and will definitely continue into 2017. The name of the game for this trend is minimal design with maximum detail as over-the-top meets understated. Extravagant fringing, radical frills, extreme fastenings, and decadent embellishments are but a few examples of where this multi-faceted trend is headed. Blend luxe fabrics with shocking elements as you turn up the drama on simple details and designs. Personalise your look and make it completely unique by mixing in oversized accessories and adding detachable pieces. Just remember, keep your style refined, but let the details run wild.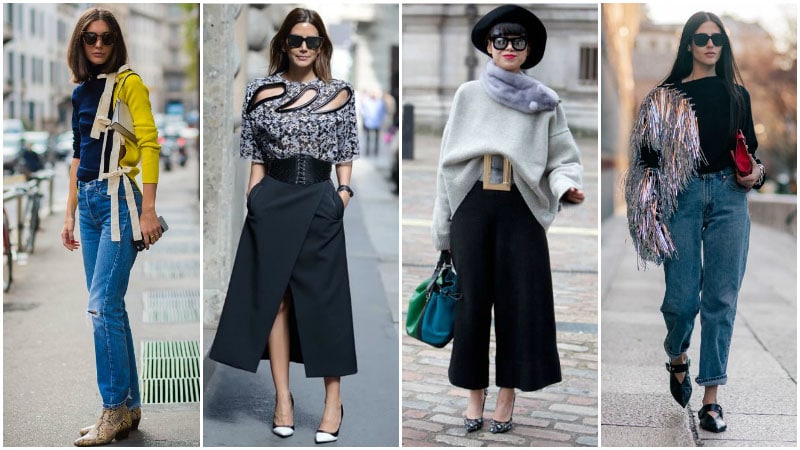 Band Tee – (Going)
Band Tee – (Going) Band tees were certainly popular in 2016. Not only did this trend catch on with the street style set, but celebrities thoroughly gave it their endorsement too. Although we're not positive that those celebs even liked or listened to the bands they were wearing, they still wore the tees and looked great doing it. Moving into 2017, there's no need for anyone to represent any bands they don't like, for the "band tee" trend won't actually have a band insight. Instead, this trend will feature non-music related visuals that look similar to those of band tees. Sticking to the same placement print aesthetic on a plain, black or white tee, this trend will look rock-and-roll while representing something else entirely.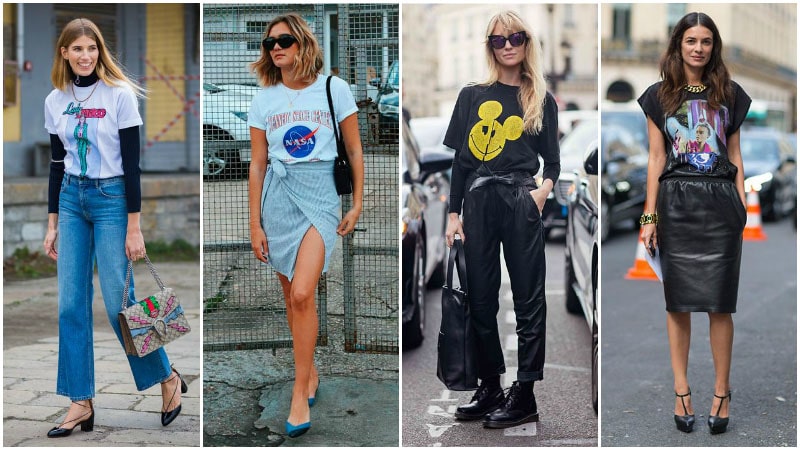 Patent Leather Bottoms – (Going)
This season, if you're looking for some bottoms that are a whole lot more trendy than your regular jeans, patent leather pants and skirts are your fashion go-to. Buy a cool pair, but don't spend up too big because this trend will disappear as quickly as it spreads. Predicted to last just one season, these bottoms will be in and out of fashion stores before you know it. Short but sweet, this trend, while it lasts, will be one of the coolest of the season. Bold, daring and a little bit sexy, patent leather bottoms can spice up any outfit and be matched with a number of looks. We recommend black and red bottoms with plenty of shine to make the most of this trend.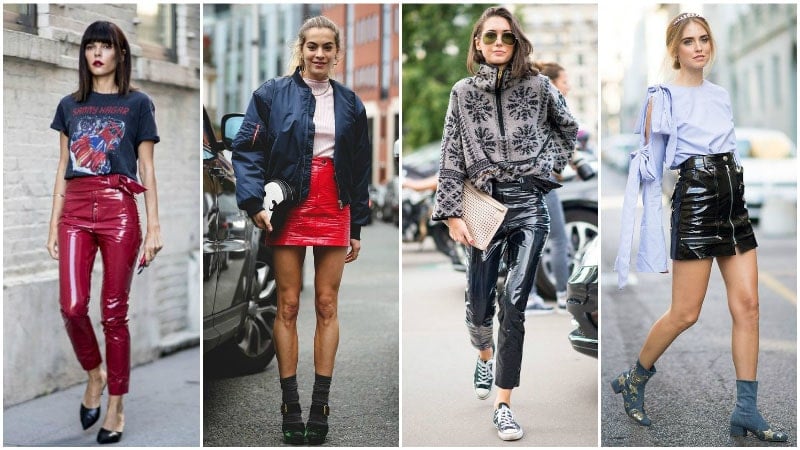 Cross Earrings – (Going)
Cross earrings have become a popular trend in Australia this season. Spotted on many stylish ladies attending the Spring Racing Carnival, these unique earrings are spreading rapidly throughout the fashion community. If you like this trend, be sure to get in quick. Although they may currently be available in all the typical fast fashion stores, cross earrings are expected to experience a drop in popularity in 2017. Despite not being a long-lasting trend, if you're after a quick injection of style, cross earrings can make an inexpensive solution this season. Simply choose between big and bold designs or sleek and minimal styles to provide your outfit with an appropriately chic accessory addition.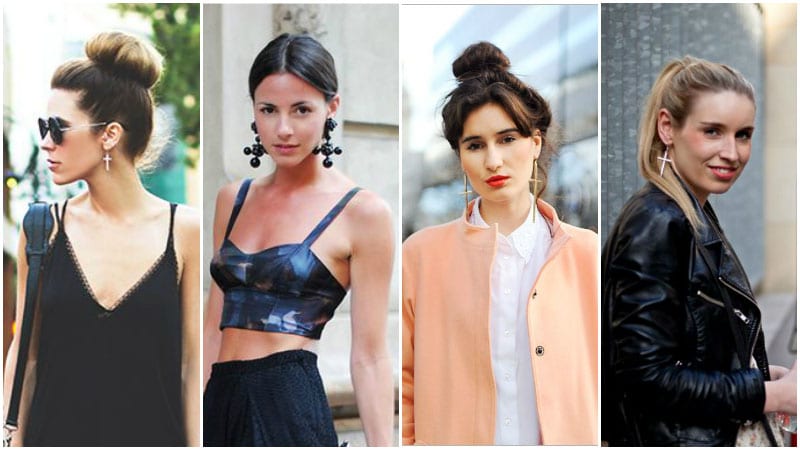 Fur Pom Poms – (Going)
It's time to say goodbye to your fur pom poms as this trend gets left behind in 2016's fashion history. Hugely popular throughout the year, fur pom poms were a fun accessory and must-have item. Now, however, they've had their day and left us ready to move on. Originally serving as cute charms for ladies' handbags, this trend began with a simple ball of coloured fluff. That ball then developed into furry characters and monsters with eyes and ears. Finally, though, these creations have disappeared from the streets making room for other unique handbag accessories to take its place next year.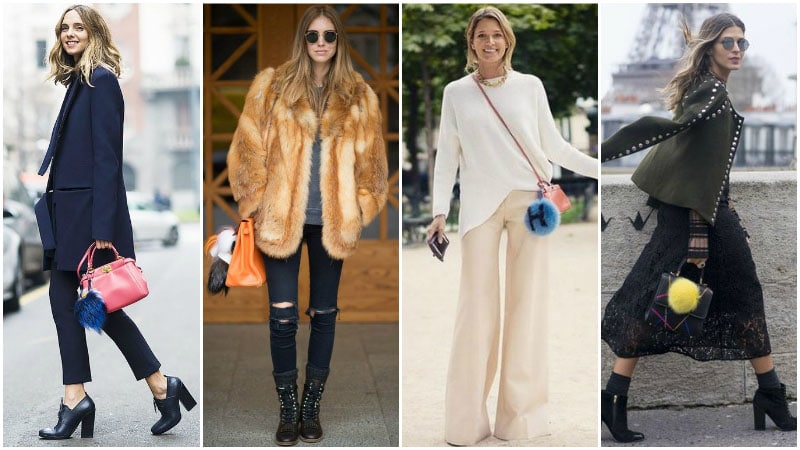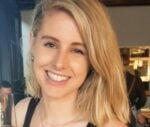 Taylah Brewer holds a bachelor's degree in fashion and business and is a skilled writer with several years of experience in the world of online content creation and copywriting. She is passionate about fashion, beauty, and all things lifestyle-related and has been writing for The Trend Spotter since 2016. She currently works as the Head of Digital & Ecommerce at White & Co.
SUBSCRIBE TO OUR NEWSLETTER
Subscribe to our mailing list and get interesting stuff and updates to your email inbox.