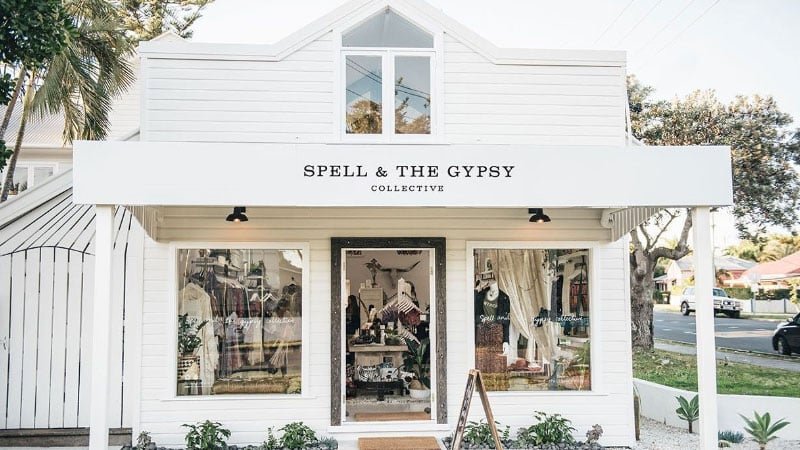 Byron Bay may have a reputation for its incredible natural beauty and stunning beaches; however, there's much more to the town than just surf and sand. If you're keen to support the local economy, why not check out some of the best fashion stores. There are plenty of locally-owned and run businesses that design and sell clothes to suit the coastal Australia lifestyle perfectly. In line with the culture and progressive, bohemian vibe of Byron Bay, many also embrace sustainable innovation, community engagement, and ethical practices, focusing on slow fashion that will stand the test of time. Both ladies and gents will find a vast range of stores catering to their needs, so remember to pack your credit card and reusable bags, and get ready to drop some dollars.
Fashion Stores for Women
1. Spell & the Gypsy Collective
Spell, and the Gypsy Collective is the passion project of sisters Elizabeth and Isabella. Their feminine designs, signature prints, and love of lace and florals are inspired by childhood memories. The range includes dresses, bottoms, swimmers, intimate wear, tops, jackets, and rompers, plus a range of bridal wear perfect for boho brides. Look for buttery, soft fabrics, ethereal prints, and plenty of romance. As a brand, they seek to continually balance the business operations with the most sustainable choices possible. This includes supporting local artisans, ensuring the use of only fair and legal labor, choosing preferred fibers, and following their 2025 Roadmap. Plus, they also give charitably, believing in profit for purpose. To date, they've given over $1.65m to organizations close to the brand's heart.
Website: www.aus.spell.co
Location: 15 Browning St, Byron Bay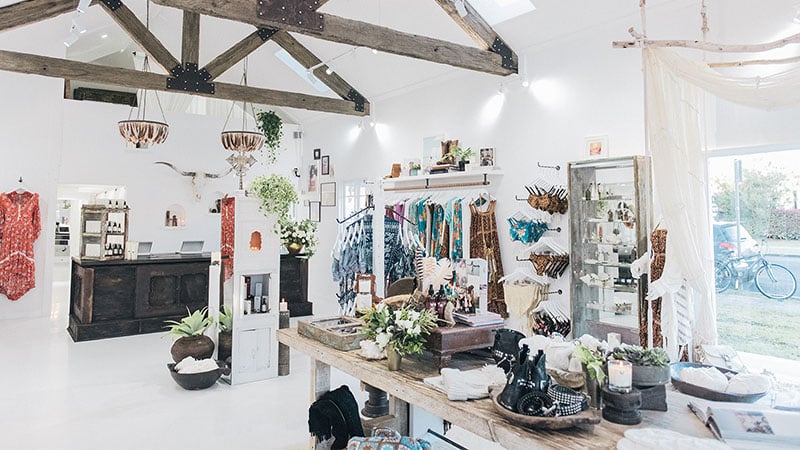 2. Hope and May
Travel inspires much of the beautifully curated collection of womenswear, accessories, homewares, and furniture at Hope and May. The company was founded in 2007 by Melinda Maguire, and the moniker comes from the middle names of her two children. Within the store, you'll find influences from Asia, the Caribbean, and the Maldives. Among a treasure trove of products, select from luxurious furniture, cushions, soaps, towels and blankets, glassware with woven holders, straw hats, and beautiful resort-style clothing. In addition to the Byron Bay store, there's a second shop in Bondi Beach, and online shopping is also available.
Website: www.hopeandmay.com
Location: 2/20 Fletcher St, Byron Bay, NSW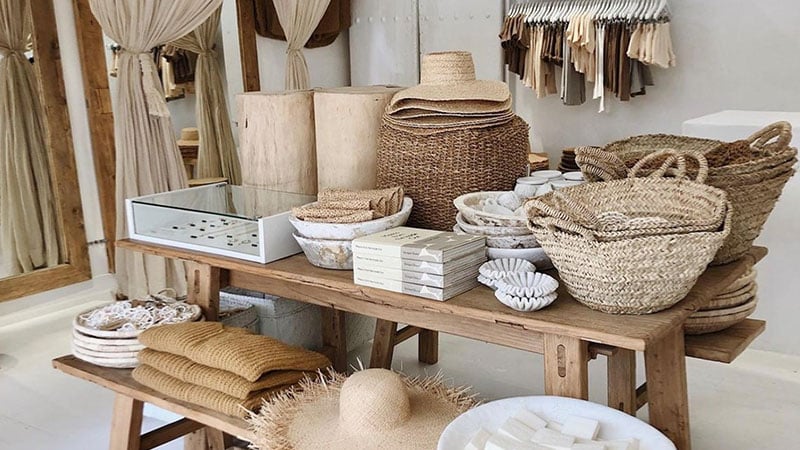 3. Auguste the Label
If you enjoy a vintage vibe with your clothes, then make your way straight to Auguste the Label. Founded in 2015 by Ebony Eagles, the brand designs vintage-inspired clothing for everyday wear. With a focus on the future, the styles are intended to be timeless, lasting for years to come. That ethos is part of the company's commitment to sustainability and rejecting the seasonality of fast fashion. They're proudly part of the 1% For The Planet movement to create positive change. In addition, they support other charities and organizations, such as One Tree Planted, the Alannah & Madeline Foundation's National Centre Against Bullying, the Port Macquarie Koala Hospital, UN Women National Committee Australia, and the Australian Marine Conservation Society, among others. As such, you can look beautiful and feel good knowing your hard-earned dollars are supporting a local business and giving back to society.
Website: www.au.augustethelabel.com
Location: 7/15-19 Fletcher St, Byron Bay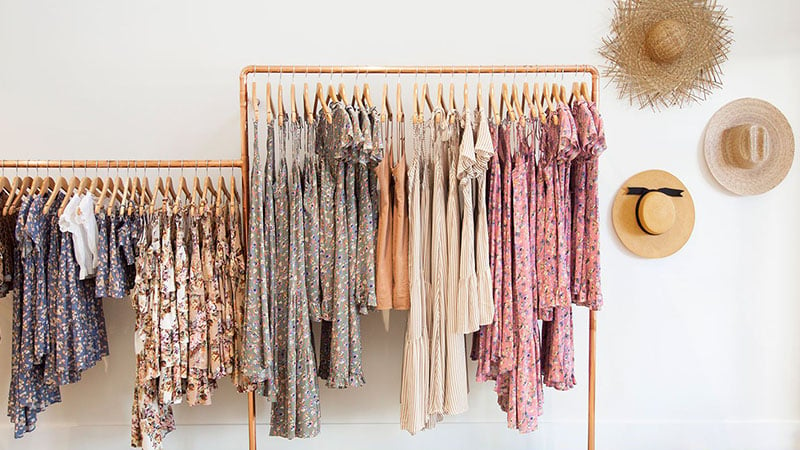 4. Arnhem Clothing
Bohemian babes will love Arnhem Clothing. Set up by namesake Arnhem Bickley, the designs reflect her free-spirited and creative childhood, combined with the natural beauty of Byron Bay. Expect to find bright colors, artistic prints, and easy-to-wear shapes that perfectly suit an Australian summer by the coast. In addition to dresses, skirts, tops, and other outerwear, there's also a line of stunning swimwear and sultry intimates. While the focus is on women's clothing, you can also invest in adorable pieces for your little ones as well. Similar to many other brands in the Byron Bay area, Arnhem Clothing has a strong focus on sustainability, using materials such as GOTS (organic) and BCI cotton, Lenzing Tencel from renewable wood pulp, and ECONYL, which is regenerated nylon waste. Through the 1% For The Planet, they also support Greenfleet, Rainforest Rescue, and Take 3 For The Sea.
Website: www.arnhem.co
Location: 1/19 Lawson St, Byron Bay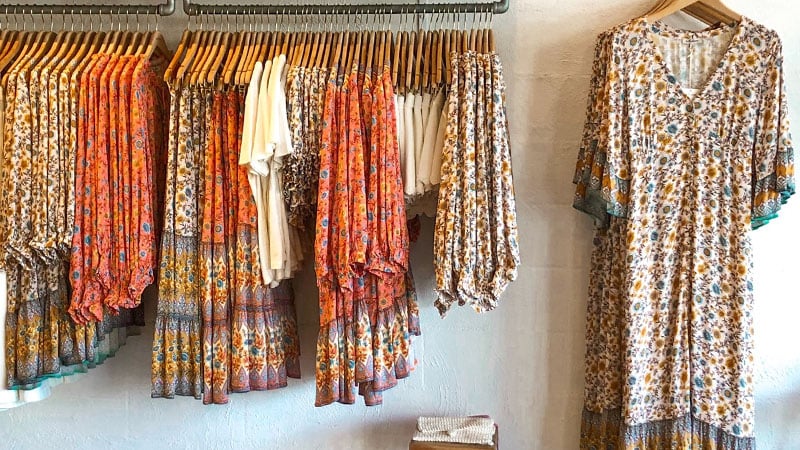 5. Kivari Boutique
Explore a range of feminine dresses, elegant tops, beautiful bottoms, and daring jackets at the Kivari Boutique. Owner Kiki's dreams of fashion design began in her youth when her mother taught her how to sew. Despite starting a career as a radiographer, her dream never faded, and after extensive travel, she launched the brand Kivari in 2010. Her range features soft cotton, beautiful prints, and silhouettes that perfectly combine a level of sensuality with simple elegance. In addition to the Byron Bay location, there's also a store in Freshwater NSW and hundreds of stockists across Australia, the United States, Canada, and Spain.
Website: www.kivari.com.au
Location: 3/25-27 Lawson St, Byron Bay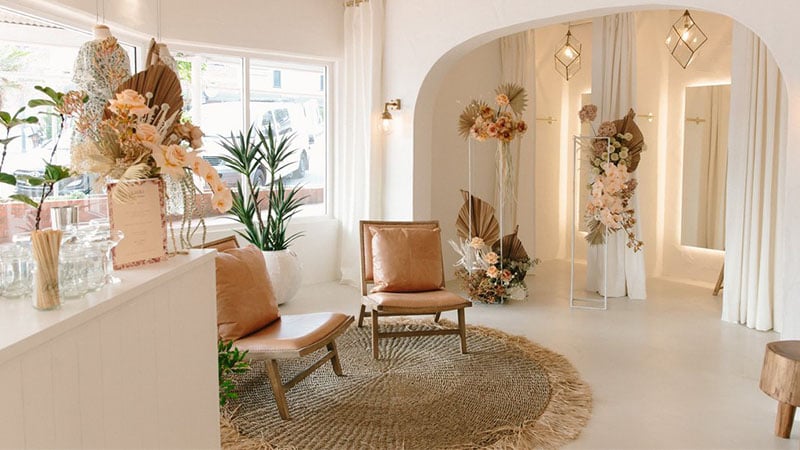 6. St. Agni
Lara & Matt Fells started the St. Agni fashion brand in Byron Bay in 2014. The goal was to fill the gap for functional and refined fashion pieces. Since then, their iconic woven footwear has earned a cult following, while their range of clothing and accessories is the perfect complement. The handmade products display an incredible level of craftsmanship and care. Additionally, every garment, shoe, and production process is carefully considered with sustainability and ethical responsibility in mind. The slow fashion movement is at the forefront of every decision made. This includes using sustainable materials such as linen, silk, Tencel, jute, and vegetable-tanned leathers, as well as embracing environmental measures such as carbon neutrality, minimized plastic, and no waste. Beyond the Byron Bays store, there's also a retail space on James St in Brisbane QLD.
Website: www.st-agni.com
Location: 4 Acacia St, Byron Bay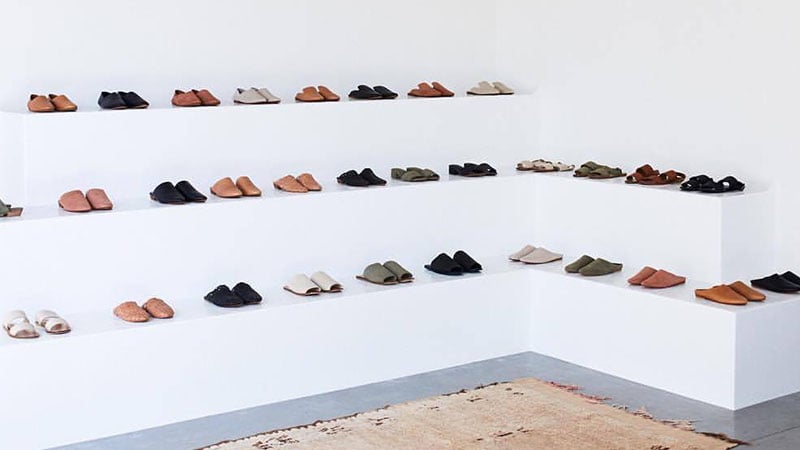 7. Ghanda Clothing
Ghanda Clothing was born in a surf shack in Torquay, Victoria. While the focus is surf and streetwear, their most iconic design is the hand-printed fleece tracksuits, hoodies, and crews. All of their fabric printing is done in-house in Australia by their expert team, which helps limit wastage and better cater to customer needs. In addition to hand printing, you'll find an excellent range of basics and fashion styles for women, as well as the whole family. The sustainability journey also includes keeping employment as local as possible, removing plastic bags and hangers from stores, using sustainable fabrics, and ensuring international partners adhere to safe and fair working conditions.
Website: www.ghanda.com
Location: 3/8 Lawson St, Byron Bay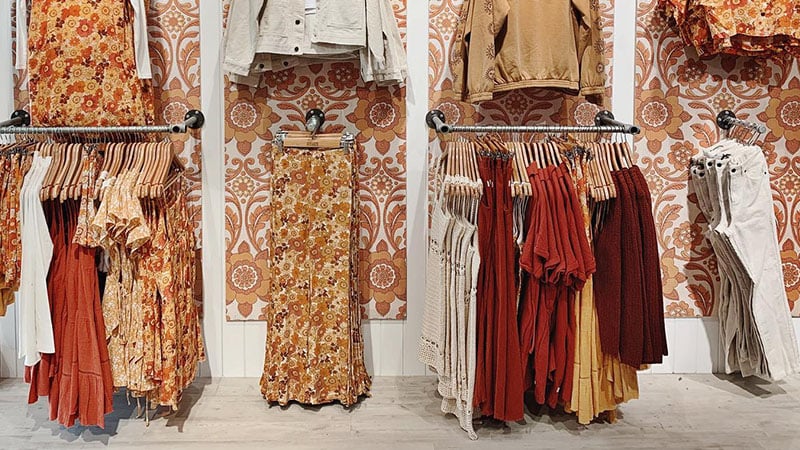 8. Annukka
It's all about the good life at Annukka. The focus of their clothing is certified organic cotton and no toxic dyes or treatments. As such, they have a healthy range of classic styles that match the lifestyle of Byron Bay perfectly. Plus, 95% of the manufacturing happens in Australia, with the remaining 5% occurring overseas through ethical and fair partnerships with companies in Asia. Choose from a range of dresses, singlets, tees, jumpers, shorts, and pants, as well as comfortable cotton underwear. They also have a small range of basics for men. The color palette is kept simple, so you easily tie their pieces in with your existing wardrobe— think black, white, grey, navy, stripes, and pastel pink.
Website: www.annukka.com.au
Location: 49/1 Porter St, Byron Bay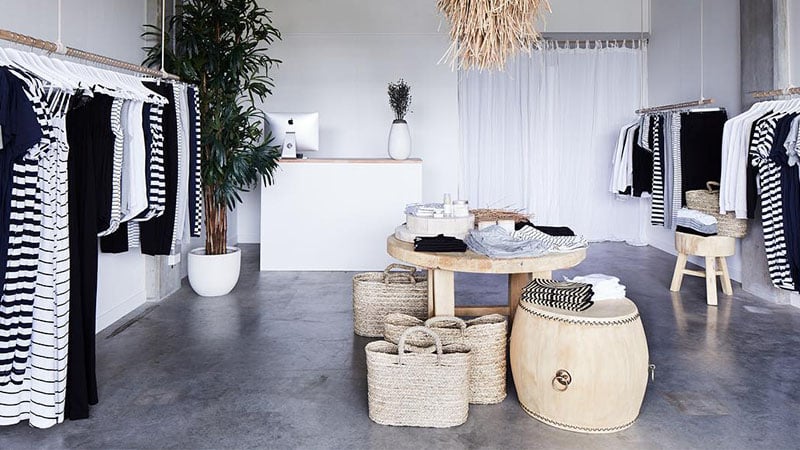 9. Dreamers and Drifters
Embrace slow fashion and timeless designs at Dreamers and Drifters. Owner, Verity, settled in Byron Bay with her love, who she met on an 18-month adventure traveling the world. It was here that she found inspiration in the bohemian and surf lifestyles that give Byron the character it's famous for. Within her range, you'll find classic, elegant silhouettes that won't date and you can continue wearing for years to come. They're designed in her local studio and are manufactured in ethical, safe factories using the softest, natural fabrics. Choose from dresses, skirts, rompers, tops, shorts, pants, swimwear, and leather footwear. Plus, the Dreamers and Drifters size ranges extend to a size 20 to include curvier boho goddesses.
Website: www.dreamersanddrifters.com.au
Location: 20 Jonson St, Byron Bay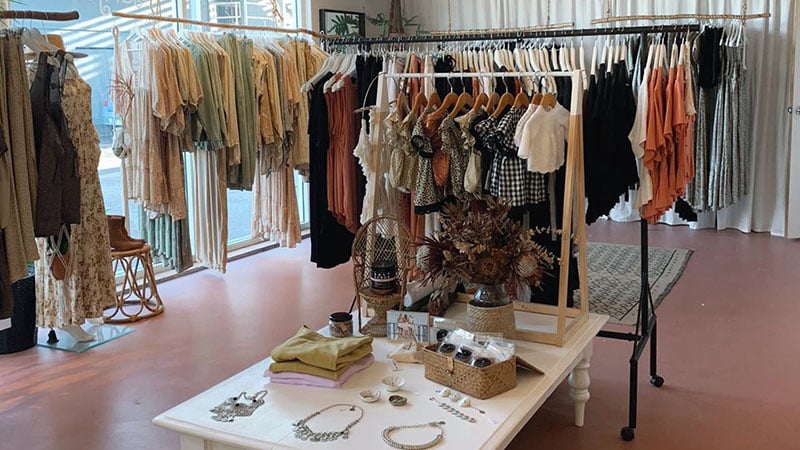 10. East Coast General
East Coast General is a relatively young company, founded in 2017. It began with a small collection of handmade leather accessories and has since expanded to a carefully curated range of womenswear, kids' clothes, homewares, beauty products, and accessories. The brand encourages consumers to buy less but buy better and to consider belongings as long term investments. Stocked brands include Apolinea, Cleopatra Bling, Courtney and the Babes, Debbie Bean, Everyday Oil, Jungmaven, Lacausa, and Nico Nico. Of course, they also have their original East Coast General brand of leather goods, which is hand-stitched in Byron Bay from 100% vegetable-tanned leather.

Website: www.eastcoastgeneral.com
Location: 3/1 Acacia St, Byron Bay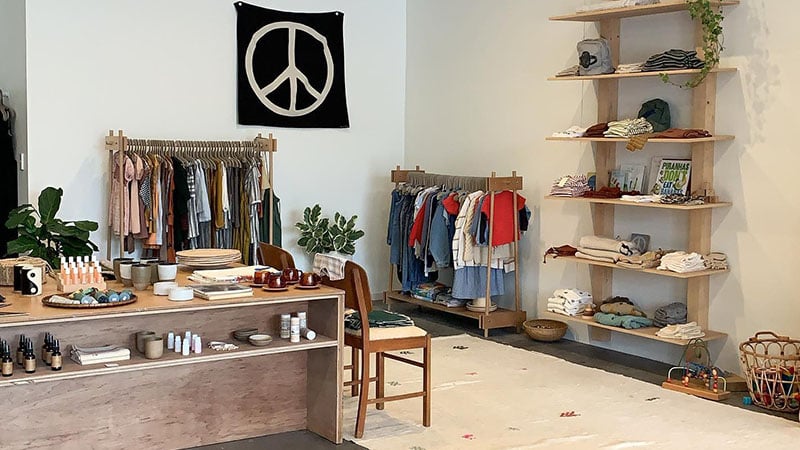 11. ROWIE The Label
Family-run ROWIE the Label features an all-female team of incredible minds and passionate creatives. Together, they take the designs and inspirations of designer Rowie Moore and turn them into stunning reality. Consequently, the brand produces a range of feminine, handmade clothing that channels the free-spirited nature of Byron Bay and embraces the unique beauty of all women. Shop for pretty pastel dresses and separates, distinctive and practical swimsuits, and accessories, including jewelry, shoes, and sunglasses. When it comes to reducing the company's footprint, all online purchases are shipped in comPOST bags and comPOLY garment bags, both of which can be composted. They also only use EcoStar paper for the necessary items. Visit the store in Byron Bay or Bangalow, or if you're in town on the first Sunday of each month, you can see their pop-up stall at the Byron Bay Community Market.
Website: www.rowiethelabel.com
Location: 1/1 Marvel St Byron Bay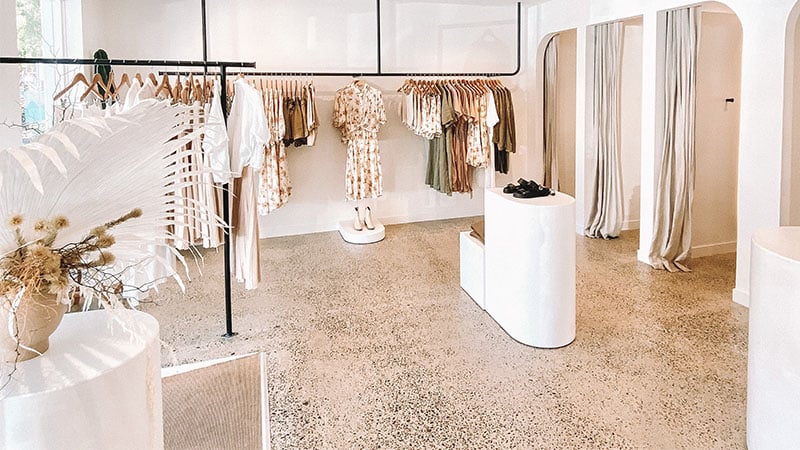 12. Mister Zimi
If you're looking for an injection of bright color into your wardrobe, go no further than Mister Zimi, where it's summer all year round. Owners Jimi and Zoe Paul take inspiration from 70s resort-style and far-flung destinations for their designs, meaning there is plenty of bold prints and easy-to-wear shapes. Invest in one of their flattering dresses, fun jumpsuits, casual denim jeans, or relaxed tops. Finish the look with a matching headscarf or scrunchie and a pair of beach-ready espadrilles. You can also grab a pair of tailored swimming shorts for the man in your life. While Mister Zimi's home is now laid-back Byron Bay, you can also find boutiques in Melbourne South Yarra, Armadale, Brisbane, the Gold Coast, and Bondi Beach.
Website: www.misterzimi.com
Location: 5/85-87 Jonson St, Byron Bay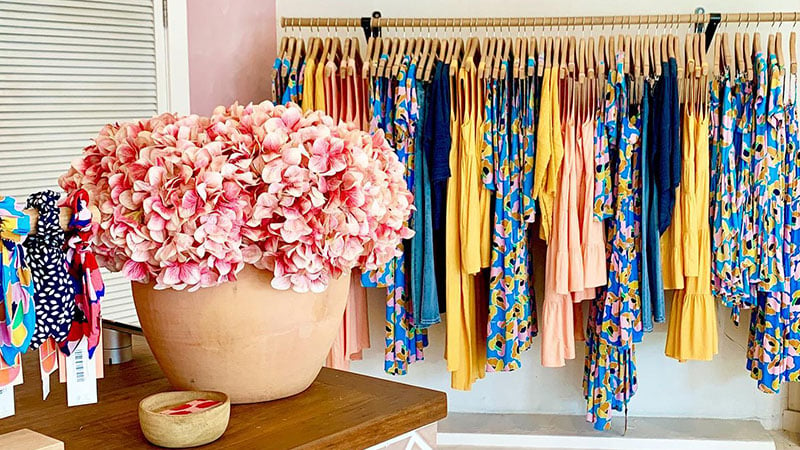 13. Yoli and Otis
Yoli and Otis began with one simple product — organic, herbal-dyed baby carriers. Since then, the brand has expanded to include women's' and children's clothing and accessories while maintaining a focus on eco-friendly, organic products that are simple, elegant, and effective. This natural approach means everything is 100% organic cotton, all packaging is made from recycled materials, and all dyes are herbal or plant-based with no chemicals. In addition to their own products, they also stock brands with similar values, such as Baserange, Faune, Fog Linen, and Reliquia. You can visit their showroom in Byron Bay, or if you find yourself in Bali, take a trip to the store in Canggu. Alternatively, there are stockists worldwide, including Japan, South Korea, and the United States.
Website: www.yoliandotis.com
Location: 2/97 Centennial Cct, Byron Bay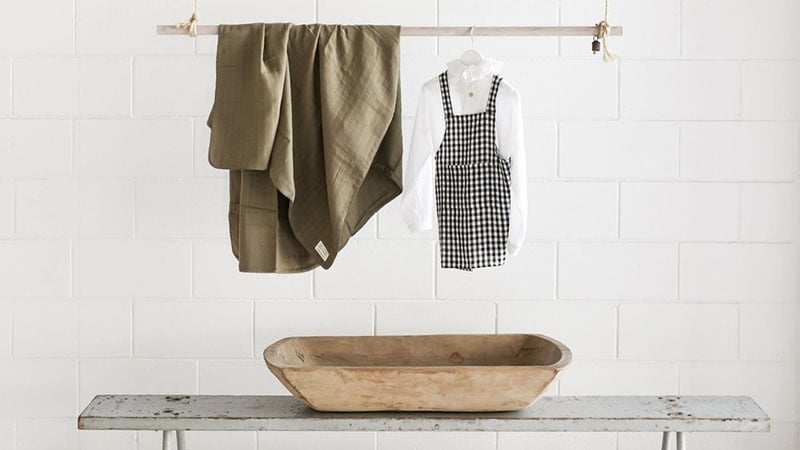 14. Attik Clothing
Attik Clothing combines a range of eclectic, unique, and vibrant designs with a collection of one-off vintage pieces. It's the perfect shop for women who are quirky, adventurous, and confident. Established in the early 2000s by Jacqueline and John Garrett, the first store was located on Pitt Street in Sydney. There are now five locations, including a second Sydney store, Byron Bay, Manly, and Brookvale. In addition to the vintage collection, there's an overall retro vibe to the collection, which is ideal for adding a pop of fun or color to your wardrobe. Don't forget, though, if you're eyeing off a vintage piece, don't hesitate, as they're all one-offs and won't be replaced if you miss out.
Website: www.attikclothing.com.au
Location: 2/9 Lawson St, Byron Bay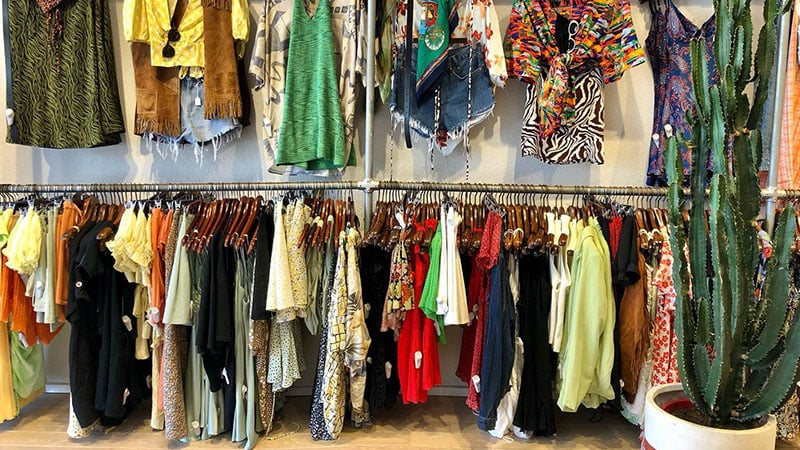 15. Enzo And Toto
Discover a showcase of Australian, European, and USA brands at Enzo and Toto. Established in Byron Bay in 2005, the cornerstone of the collection is small producers, emerging companies, and slow fashion. No matter what you buy, you'll be feeling comfortable, special, and stylish. Why not indulge in some new jewelry, a comfortable day dress for the beach, a pair of well-cut jeans, or a new leather handbag? There are items from dozens of brands to peruse. Check out Chalice, Dusky Robin Bags, fallenBrokenstreet, Indi & Cold, Liu Jo Jeans, and White + Warren. Plus, they have their own house brand of Enzo and Toto.
Website: www.enzoandtoto.com
Location: 2/15-19 Fletcher St, Byron Bay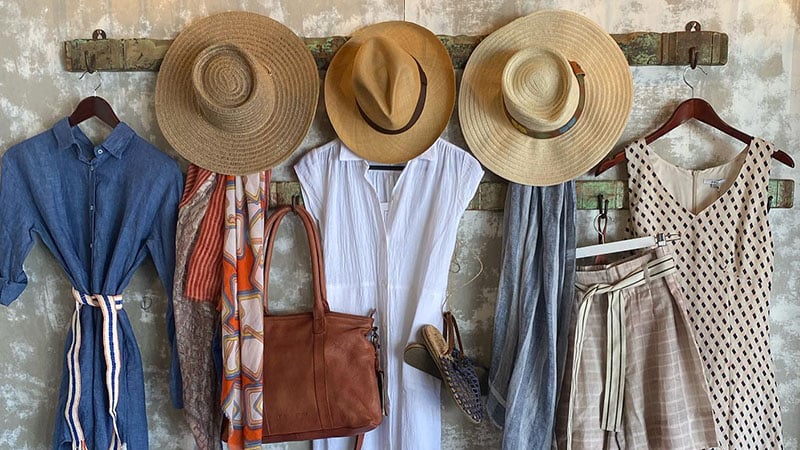 16. Belle and Ford
Just relax, chill out, and feel the ocean breeze on your skin with an outfit from Belle and Ford. There's a boutique in both Byron Bay as well as at Bangalow. Each features a curated collection of beautiful womenswear, beachwear, jewelry, and accessories. Most of the clothing is made from soft, breathable natural fabrics such as cotton, linen, and silk, making them ideal for the warm summer weather along Australia's east coast. Some of the brands available include Milena Zu, CP Shades, Frockk, DVE, Odd Molly, Chattral, and The Plavate. The shapes and silhouettes are also perfect for all age ranges, so if some of the other Byron Bay fashion retailers are a bit too young for your taste, then head on into Belle and Ford.
Website: www.bellandford.com.au
Location: 3/111 Jonson St, Byron Bay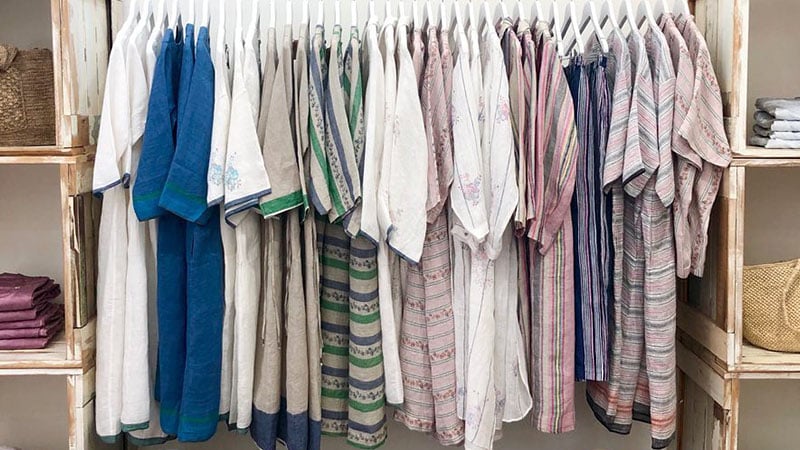 17. Driftlab
Uncover an array of urban styles for the whole family at Driftlab. This locally owned boutique was established in 2010 by Zane Grier with the dream of fusing city and coastal life together. The original store is located in Byron Bay, with a second outlet now open in the hinterland town of Newrybar. When browsing the racks and shelves, you'll be able to find popular labels such as Ayumi, Brixton, Peony, Outland Denim, and The Critical Slide Society. Not only do they stock women's clothing, but also menswear, accessories, and beauty and health products.
Website: www.driftlab.com.au
Location: 40 Jonson St, Byron Bay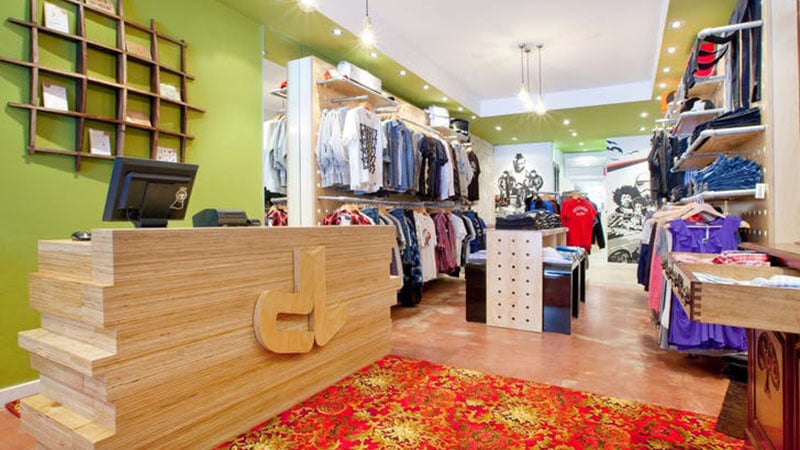 Fashion Stores for Men
1. Annex
Stylish men will love the sophisticated cuts, refined styling, and quality fabrics at Annex. The contemporary styles are classic yet modern enough for daily wear. Some of the best selling styles include basic t-shirts, tailored swimming trunks, and button-up shirts. The brand also has a range of clothes made from Supima cotton, making them the only Australian fashion brand to be authenticated with the Supima Certification. It's a luxurious material that is considered one of the finest kinds of cotton in the world. Grown only in a small microclimate in the southwestern United States, it boasts extreme softness, durability, and color retention, plus it won't shrink. Feel the fabric for yourself in either the Byron Bay store or further south at the Bondi Beach location.
Website: www.theannex.com.au
Location: 3/18 Jonson St, Byron Bay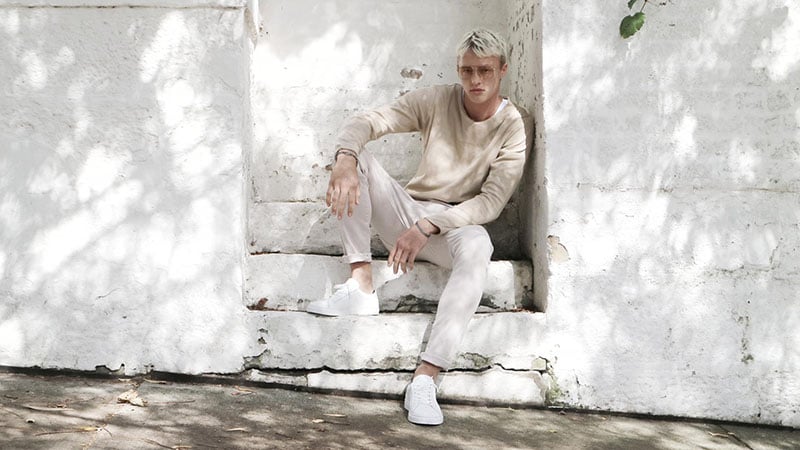 2. Island Luxe
A trip to Island Luxe is a journey in itself. Since its establishment in 2007, the brand has worked towards creating luxury lifestyles for men and women that embrace a nomadic feel. Everything in the retail space is designed to stimulate all your sences. The labels showcased range from local artisans creating one-off works of art, sculpture, furniture, and jewelry from up-and-coming international brands. When it comes to menswear, there's a selection of cozy knits, natural fabric shirts, masculine jewelry, customized kicks, and intoxicating fragrances. Visit the shop in Byron Bay, or make your way inland to the Bangalow location.
Website: www.islandluxe.com.au
Location: 1/11 Marvell St, Byron Bay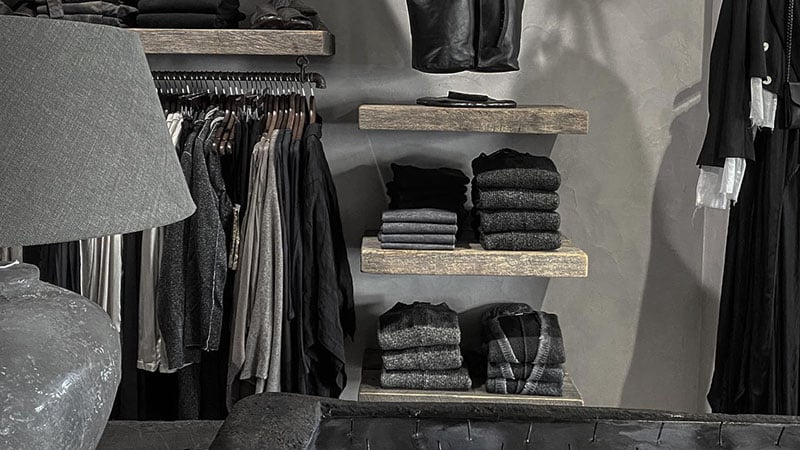 3. Assembly Label
Minimalist design and clean lines dominate the aesthetic of Assembly Label. Co-founders Damien Horan and Daniel Oliver started the brand in 2011 to create well-made clothing that reflected the relaxed Australian coastal lifestyle. It's luxury clothing that allows you to look good effortlessly. The pared-back color palettes make it easy to incorporate new pieces into your existing wardrobe. When it comes to the men's range, select from basic tees, joggers, jeans, chino shorts, swimwear, and cozy knits, among other styles. Assembly Label is also on the path to more ecologically sustainable practices and a fully transparent manufacturing process, with the goal of being a certified B Corporation that upholds the highest ethical standards across the company.

Website: www.assemblylabel.com
Location: 28 Jonson St, Byron Bay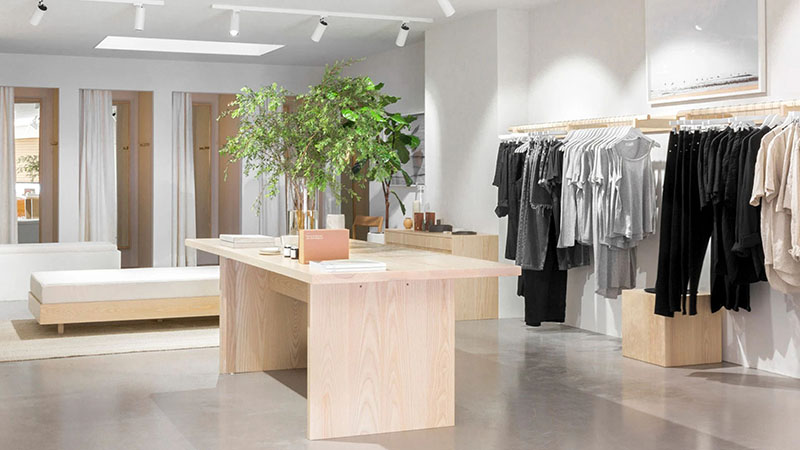 4. Stonemen
Build your outfit on a good foundation with Stonemen underwear in your wardrobe. This brilliant Byron Bay-based brand is consciously created and takes inspiration from the sun, ocean, and Mother Nature herself. Using the softest, all-Australian cotton for a comfortable and breathable fit, the range of men's and women's intimates showcase a collection of incredible curated prints. Photographers such as Sara & Rich Combs, Steve Cale, and Laura Alyce Bell have contributed their work to bless the booty with stunning imagery such as an Indonesian island paradise or stark Joshua Tree landscape. If simple is more your vibe, there are also excellent block color options. Styles include men's trunks, boxer briefs, and briefs, with cheeky briefs, thongs, briefs, bralettes, and bodysuits for women. Finally, with a focus on sustainability, Stonemen products are 99 percent plastic free.
Website: www.stonemen.com
Location: 2/25 Brigantine St, Byron Bay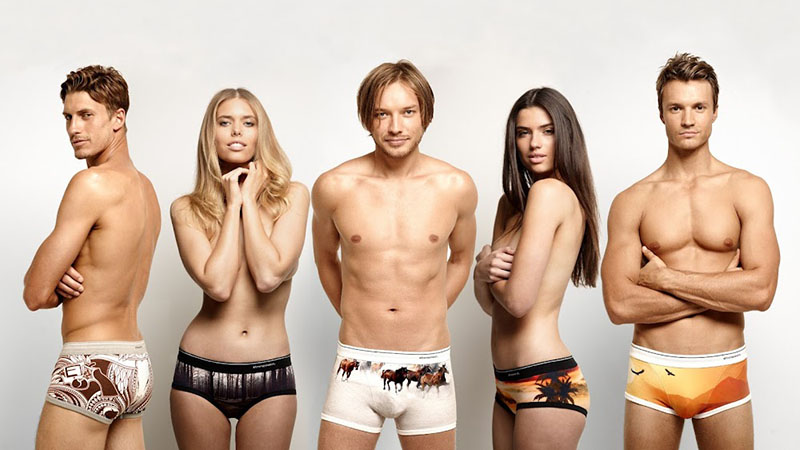 5. Department of Simple Things (Mr. Simple)
The concept is in the name of the company — Mr. Simple. Here it's all about simple, classic cuts, minimal branding, and excellent quality fabrics. All of this allows your personality to shine through and not be distracted by big, shiny logos. Tees, chinos, and sweats were the beginning, with the range expanding to include shorts, jeans, jackets, and button-up shirts. There are stores across the country, as well as in New Zealand. However, Byron Bay's Department of Simple things is so much more than a regular Mr. Simple shop. Here you'll also find an eclectic collection of things that Mr. Simple himself personally enjoys. It includes skateboards, hot sauces, books, eskies, motorbikes, and barbecues. There's even a barber on-site, so you can get a slick chop while you shop. It's the ideal place for any stylish man, so make sure to stop in next time you're in town.
Website: www.mrsimple.com.au
Location: 39-41/248 Bayshore Dr, Byron Bay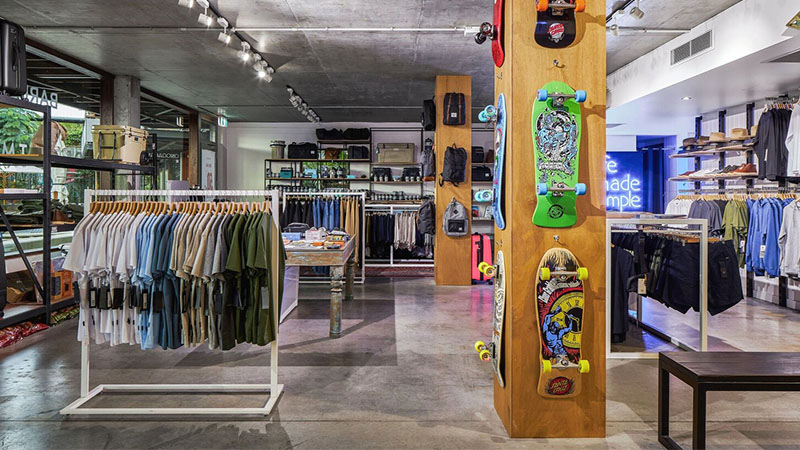 6. McTavish
While McTavish may be famous for their surfboards, they also have the perfect range of fashion kit to go along with the surfing lifestyle. The company has been around since 1962, when it was founded by local larrikin and surfing pioneer Bob McTavish. His name is synonymous with quality and craftsmanship, as well as leading the way in board shaping. The clothes on offer reflect not only the lifestyle but the local environment around Byron Bay. Choose from t-shirts, caps, and other surf accessories. The factory and shop, in the Byron Arts & Industry Estate, is also a social hub. After dark, the car park is turned into a friendly space to hang, enjoy some chill music, and indulge in a cheeky beer from Stone & Wood next door.
Website: www.mctavish.com.au
Location: 91 Centennial Cct, Byron Bay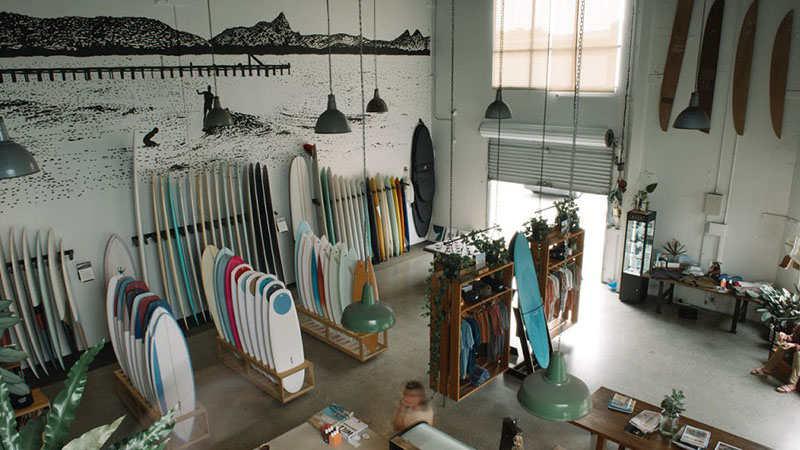 7. Afends
Surf-core brand Afends has two locations in Byron Bay, as well as one in Brunswick Heads, NSW, and Prahran, Victoria. They have a shopfront on Lawson Street, while their headquarters and warehouse, with an onsite cafe, is in the Byron Industrial Estate. The company was founded in 2006 and seeks to inspire its customers to travel, love, and live life to the max. The men's range features everything from swim shorts, tees, button-ups, trousers, jackets and jumpers. Plus, there's also an extensive women's range and a unisex offering that suits everyone, regardless of gender identity. Each piece is carefully considered, with sustainability at the forefront of planning and design. As such, fabrics like hemp and organic cotton feature heavily. Finally, the brand also supports organizations and movements such as International Women's Day, Plastic-Free July, Toys Change Lives, WildArk, and the Foundation for National Parks and Wildlife.
Website: www.afends.com
Location: 2/6 Lawson Street, Byron Bay, and Bayshore Drive, Byron Industrial Estate, Byron Bay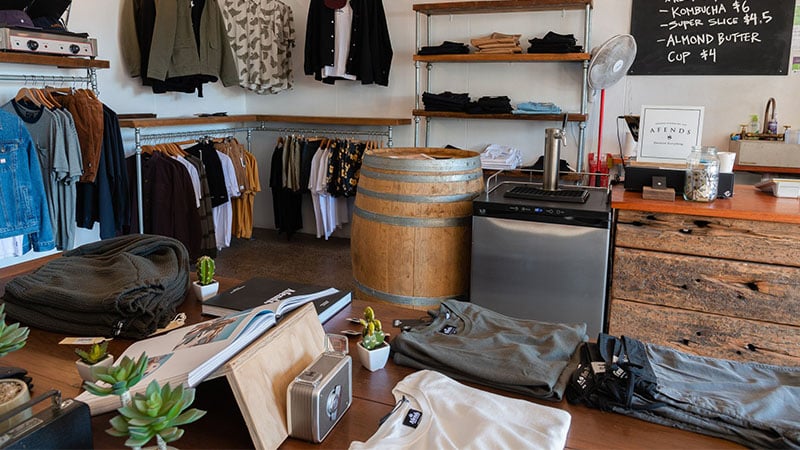 8. Ghanda Clothing
Just as hand-printed materials are prominent in the women's range from Ghanda Clothing, the same goes for the men's line. Button-up shirts, tees, singlets, hoodies, shorts, and joggers make up the majority of the men's options; there's also swimwear, shoes, skateboards, and accessories available. In terms of sustainability, beyond printing locally, they also use a lot of linen, one of the most sustainable fibers available. They also recycle samples and seconds and ship any items purchased online in recyclable packaging. If you find yourself outside of Byron but still wanting to check out Ghanda's range, they have dozens of stores across the country, in Western Australia, South Australia, Victoria, Tasmania, and Queensland, as well as New South Wales.
Website: www.ghanda.com
Location: 3/8 Lawson St, Byron Bay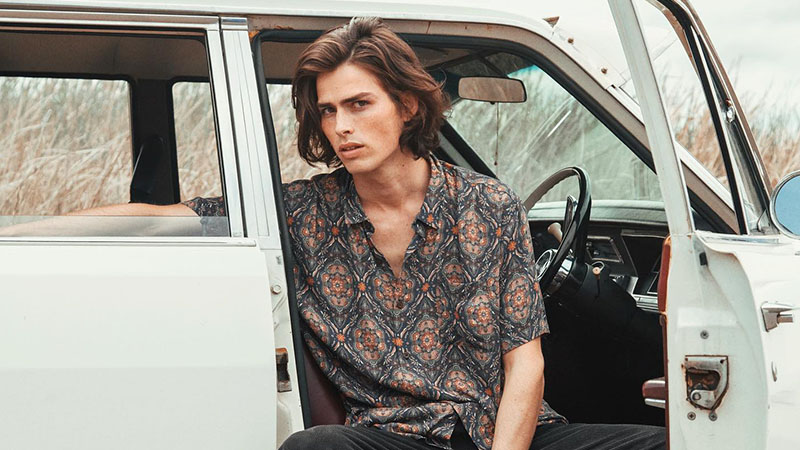 9. Etnix
Etnix is a collective and collaboration between some of the best clothing and jewelry designers that bring each artist's incredible wares into one, easily-accessible location. It was initially created by Hungarian-born Andras and is now run by him and his wife Nikolett, who also designs for the brand. It's a one-stop-shop for all things quirky and wonderful. The men's line boasts plenty of fun and inspiring prints for shirts, vests, jackets, shorts, and pants. It's also an absolute must-visit before any festival, thanks to the selection of festival-specific clothing for both men and women.
Website: www.etnix.com.au
Location: 2/85-87 Jonson St, Byron Bay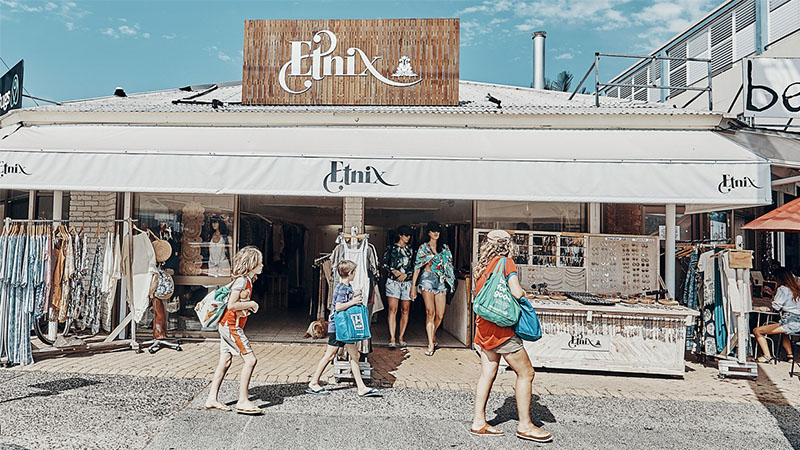 10. Mr. Vintage
Take an afternoon and delve into the treasure trove that is Mr. Vintage. Located in the Byron Arts & Industry Estate, it's home to a plethora of vintage and donated clothing, shoes, and accessories. It's the ultimate demonstration of sustainable fashion, which takes what might otherwise be a landfill, and gives it a new life. Of course, like any kind of op-shopping or vintage hunting, it can require patience and a good chunk of time to find that perfect piece or elusive gem. However, it's also a great way to spend a chilled out afternoon, and you'll never know what you'll be rewarded with.
Website: www.mrvintageaustralia.com.au
Location: 3/6 Centennial Cct, Byron Bay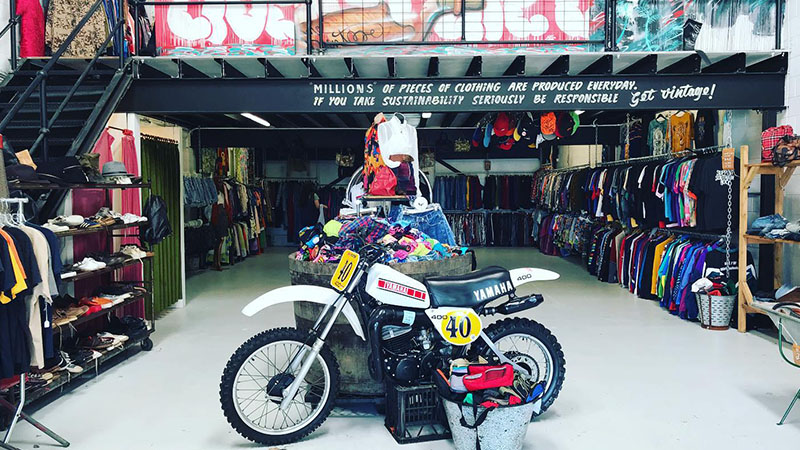 11. Stoked Byron
Up your street-style with a visit to Stoked Byron. They have both men's and women's clothing, with a focus on denim and lifestyle. The men's range features tees, shirts, jackets, jeans, shoes, and accessories. Keep an eye out for brands like Epokhe, Calvin Klein, Thrills Co., Stich & Hide, Industrie, Afends, and Vissla.
Website: www.stokedbyron.com
Location: 22/24 Jonson St, Byron Bay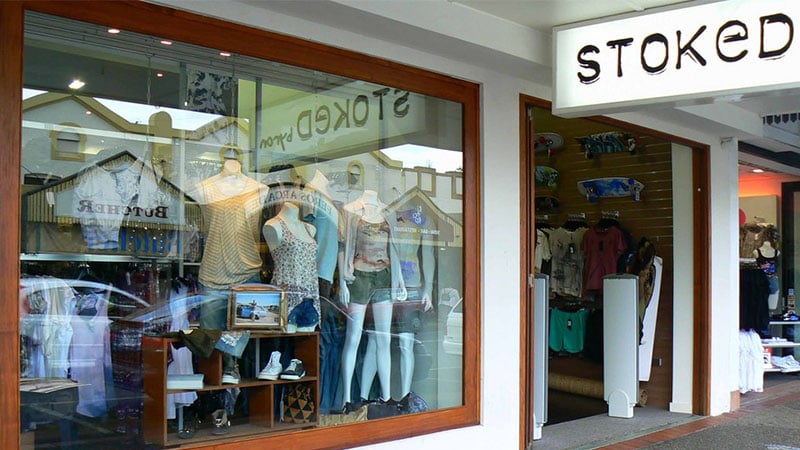 FAQs
What is the main shopping street in Byron Bay?
The main street of Byron Bay, Jonson Street, is also one of the main shopping streets. It's in the heart of town, and along with Lawson and Fletcher streets, and it makes up the central shopping precinct. Outside of this, there is also the Byron Arts & Industry Estate, where you'll find stores like Habitat, Yoli and Otis, Mr. Vintage, and McTavish Surfboards.
What should I wear to Byron Bay?
Byron Bay is a pretty laid back coastal town, with a big surf scene, bohemian vibe, and reasonably warm weather most of the year. As such, keep it casual, light, and colorful. Opt for breathable fabrics such as cotton and linen, especially in summer. Don't forget to pack your swimmers and boardshorts, as you'll surely be hitting the beach at some point. It's best for guys to take shorts, tees, and a couple of button-up shirts for fancier occasions. Meanwhile, for the ladies, now's the time to embrace floaty, floral designs in pretty pastels or vibrant hues. Lastly, take a hat to protect yourself from the hot Australian sun.
Are there any good fashion stores in Byron Bay?
While Byron Bay has an excellent reputation for sun, surf, sand, nature, and food, it's also a shopping lover's paradise. While there aren't huge malls, there are plenty of Byron Bay gems that make shopping a delight for both men and women. Many locally-owned fashion brands embrace ethical and sustainable practices, as well as positive workplace cultures, so you know your cash will be supporting good businesses.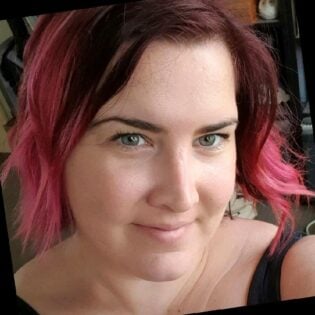 Alexandra Linde is an experienced writer holding a bachelor's degree in Journalism. She is the owner of Alexandra McKiterick Creative and has expertise in travel, fashion, fitness and lifestyle. Alex has previously written for Flightcenter, Travello, and Backpacker Deals.
SUBSCRIBE TO OUR NEWSLETTER
Subscribe to our mailing list and get interesting stuff and updates to your email inbox.