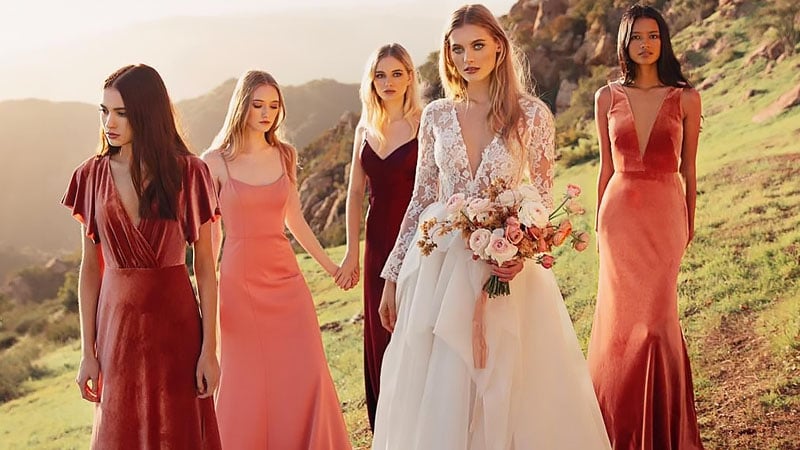 Fall is one of the most prevalent times of year for a wedding. With the falling leaves, stunning sunsets, and cooler evenings, this season is a beautiful time between summer and winter. But what do you wear to one of these events as a guest? What are the best shades to choose, and how do you decide on a length? We have found the most stunning fall wedding guest dresses for you to explore, on various wedding themes and locations so that you can arrive in style. You'll look like a superstar from the dancefloor to the professional photos.
1. Wedding Guest Dresses with Sleeves
Adding sleeves to a wedding guest outfit is an excellent option for cooler temperatures. Stylish and sophisticated, you can style it to suit any theme. You can choose puffy sleeves and give off a princess vibe, which is best suited for warmer fall weather in a garden – the best colors include soft pink, lavender, or cream. Alternatively, you can decide on sleeves that sit closer to the skin, which will create the illusion of longer limbs and a more elongated silhouette – green, blue, and charcoal are great shades for this style.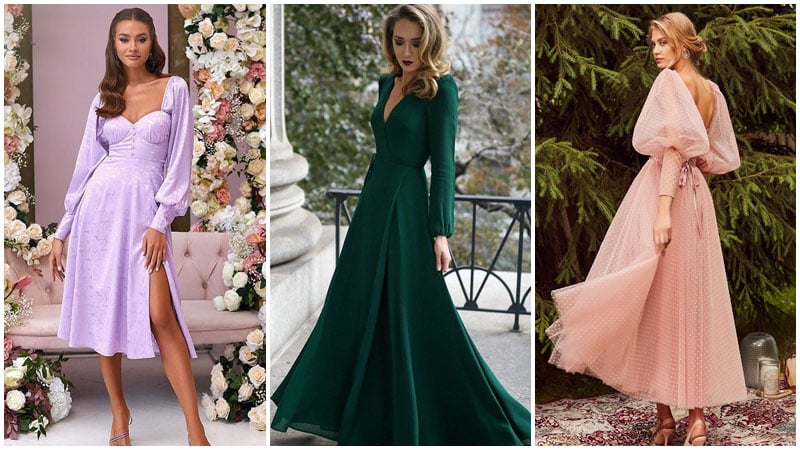 Get the Look
2. Formal Wedding Guest Dresses
For some weddings, the invite will state formal dress attire, which is the perfect excuse to get all jazzed up. These dresses provide glitz and glam, all while suiting the fall weather perfectly. A sparkling column dress or something simple with a high slit is great choice. They will look not only great in photos, but they'll be subtle enough to give shine to the bride on their big day. Depending on the theme, you can experiment with accessories – an asymmetrical neckline looks best with hair up and a pair of dangly earrings. In contrast, something strappy can be worn with hair down and a beautiful necklace.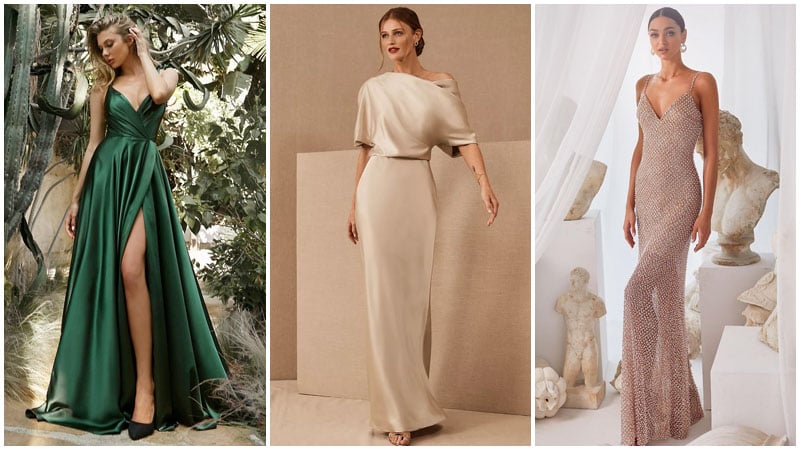 Get the Look
3. Semi Formal Wedding Guest Dresses
A wedding that takes place during the day or in an outdoor setting, such as a vineyard, will often call for a semi-formal dress. These cute dresses can be dressed up or down with accessories and various shoes – kitten heels work well for an open-air event, and sky-high heels are best suited for indoors. Opt for satin, lace, or a blend of different textures for a more complex look, and try your hand at unique shades, such as mauve, terracotta, or forest green. From the Town Hall to an intimate gathering with close friends and family, you will look the part and celebrate the nuptials in style.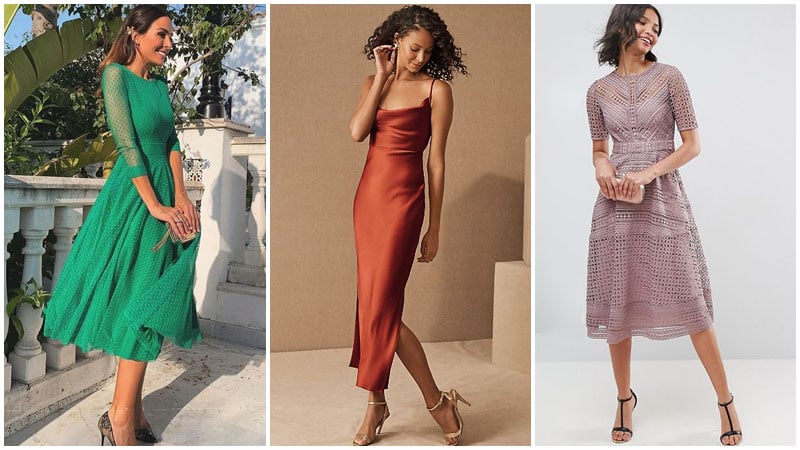 Get the Look
4. Casual Wedding Guest Dresses
Attend a laid-back wedding in one of these cute casual dresses. If the dress code calls for casual, no need to pull out your favorite jeans – these dresses will do the trick. Flattering and flirty, choose something long and flowy with a delicate pattern such as florals, and keep the accessories to a minimum. Style it with a pair of strappy sandals and a mini bag that suits the color palette for a well-rounded look. Alternatively, opt for a mini dress in a bold shade like coral or green, and use color blocking to create a statement – a black pair of heels and bag will tie the look together without going overboard.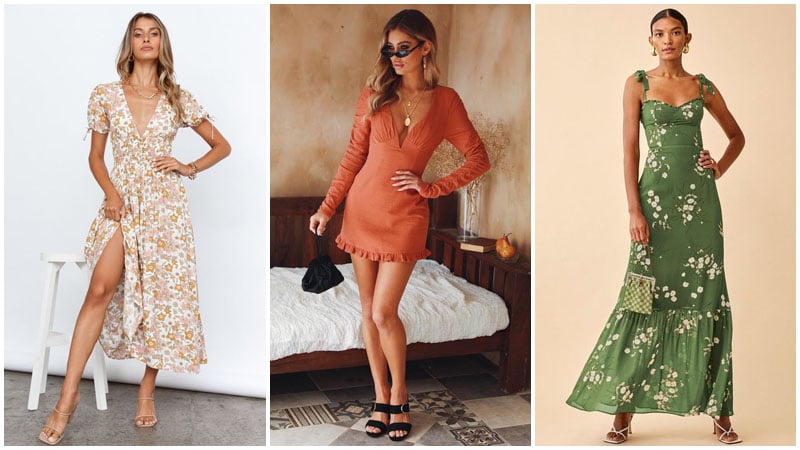 Get the Look
5. Maxi Wedding Guest Dresses
Many confuse a maxi dress with a gown, but the two are actually quite different. You can wear a long dress to a wedding without feeling too overdressed, and this is the way to do it. Find a great color that suits you best, such as teal, red, or champagne, and work from there. Simple silhouettes such as a plunging neckline with a high slit or flowing sleeve will have a maximized effect without feeling too dressy and can be dressed up or down with subtle styling or bold accessories. To go one step further, pick something with a pattern or key feature and work your trimming with it, such as a statement bag or earrings.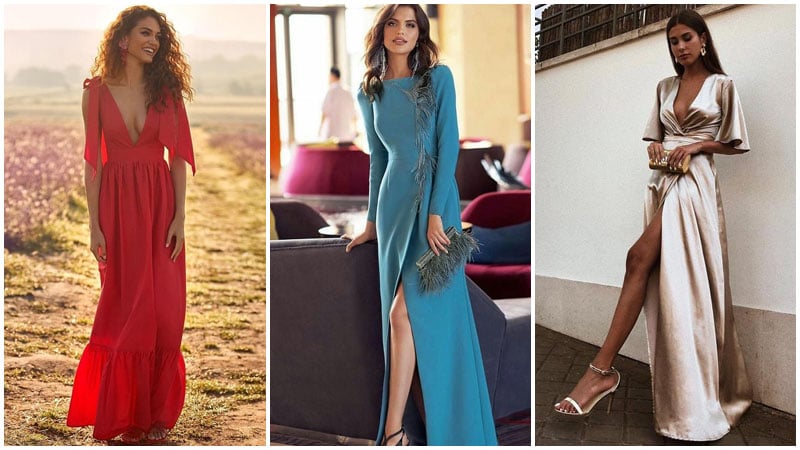 Get the Look
6. Midi Wedding Guest Dresses
Channel your inner '50s Audrey in a Givenchy-inspired midi dress, or go slinky in something a bit more revealing – either way, this calf-skimming silhouette is a great choice for a wedding. This style is charming and ultra-feminine, with the opportunity to go all out or keep it more casual. If you want to unleash your inner Hollywood darling, you can't go past a corseted bodice and full tulle skirt that hits the calf or ankle – add strappy heels and delicate jewelry for the finishing touch. A modern update of this dress is a satin bias cut slip with an asymmetrical neckline or unique straps. Go minimal with your hair and accessories with these looks – let the dresses do the talking.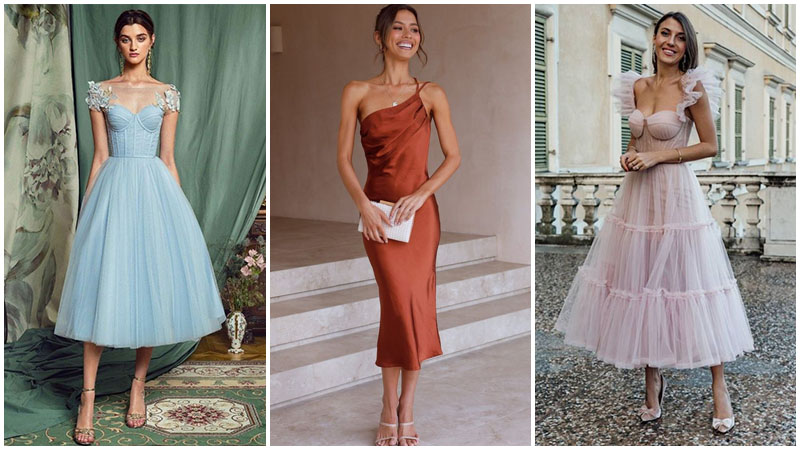 Get the Look
7. Fall Beach Wedding Guest Dresses
It can be difficult deciding what to wear to a beach wedding, especially in the fall. However, these long dresses provide maximum coverage for wind and cooler temperatures while giving you summer vibes in the right places. A longline dress is best for this season, with cut-outs at the torso or a strappy neckline for a seaside feel. Opt for a bright shade such as orange, yellow or green to curb gray skies – add a pattern if you prefer, with something joyful such as florals or a '60s pattern. These styles call for delicate jewelry – a simple gold necklace or delicate chain earrings are the perfect match.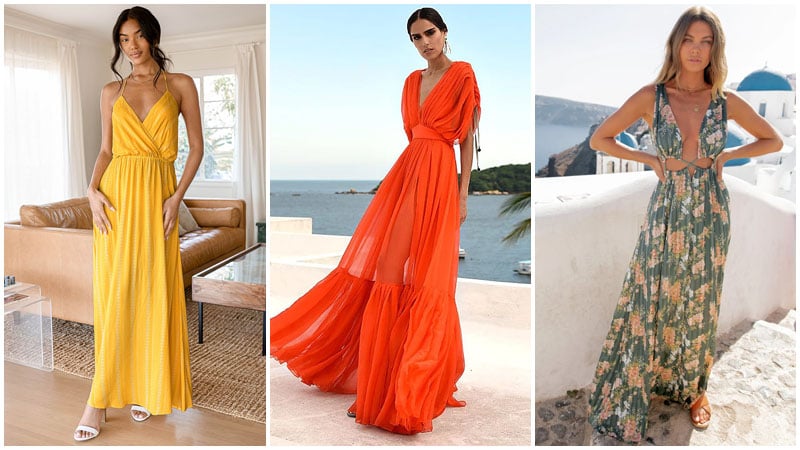 Get the Look
8. Outdoor Fall Wedding Guest Dresses
From a garden to a winery, there's something magical about a fall wedding outdoors. With the golden leaves falling around you, you must choose a dress that reflects the theme and your personality. An asymmetrical dress with a single sleeve or a high slit (or maybe both) is a great option – choose a sultry shade such as olive green, fawn, or mauve for maximum impact. Depending on the temperature, you can pull out a maxi dress with a high leg slit or plunging neckline – long sleeves are the best option for cooler days as they will keep you warm and give you a streamlined silhouette.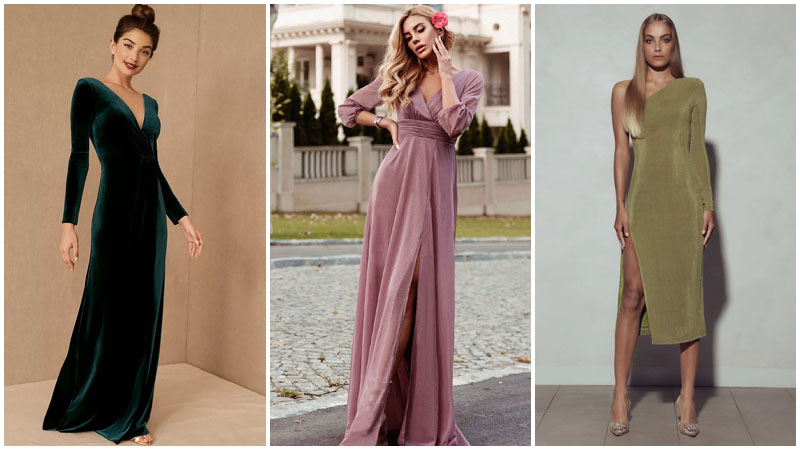 Get the Look
9. Plus Size Wedding Guest Dresses
From chilly days to warmer nights, dressing for a wedding has never been easier for girls with curves. These dresses are flattering and comfortable, so you can dance all night and look incredible from every angle. Gowns covered in sequins will capture light to the top half of your body, accentuated by a flowing skirt underneath – the best colors for this style include soft dust rose, burgundy, or navy blue. You can also try a bodycon dress that skims your silhouette and showcases your amazing figure – add a pair of sky-high heels to elongate your legs and give you a supermodel-like posture. Find shades that flatter your skin tones, such as jewel tones or pastels. This also depends on the theme of the wedding – an outdoor event calls for floral and fun shades, whereas a church setting prefers more conservative shades like navy or bottle green.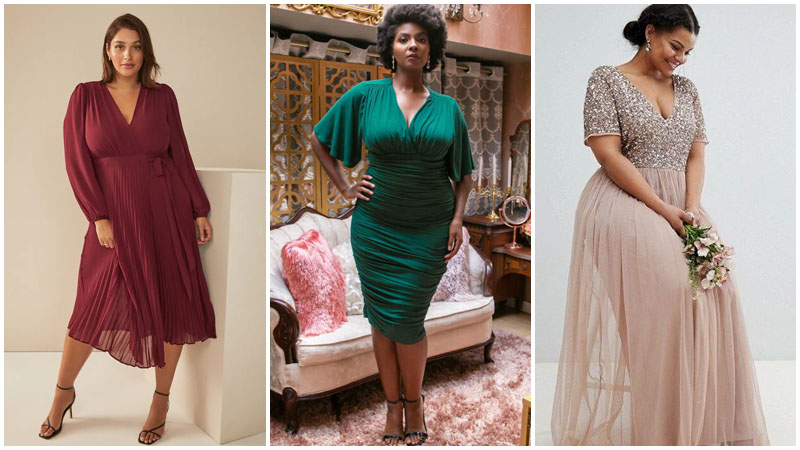 Get the Look
10. Wedding Guest Cocktail Dresses
Cocktail dress codes can be tricky to master but are easy to handle once you've tried them a few times. Acting as the bridge between formal and casual, the goal is to find a dress that is elegant but still comfortable. Dresses in this category include bias-cut satin midi silhouettes that flatter the figure and show off your curves perfectly. Alternatively, you can try something with an asymmetrical neckline or long sleeves – ruched fabric will skim the body but isn't too sexy for a ceremony or reception. Add some delicate heels, and try a pop of color with your makeup for a fun twist.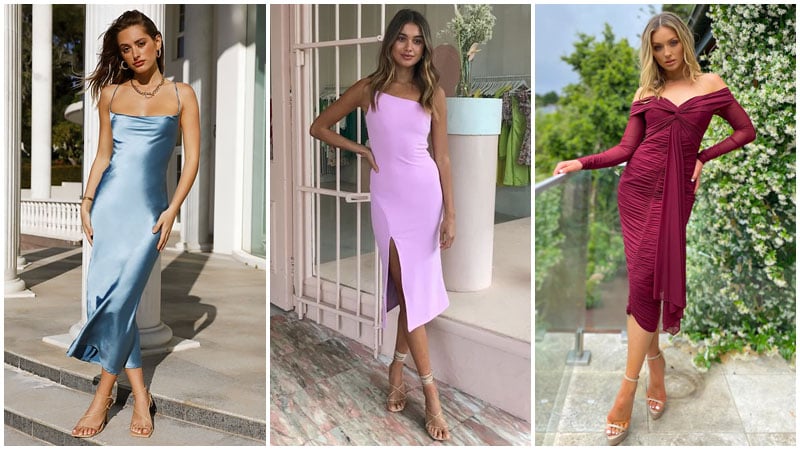 Get the Look
11. Cute Wedding Guest Dresses
From the dancefloor to the Instagram feed the next day, these cute dresses will garner a compliment or two. There are many ways to look and feel gorgeous, from something flippy in a golden hue to a ballerina-esque aesthetic. Opt for an ultra-feminine shade, such as mint, cream, or baby blue. Pick a silhouette to flatter your frame. A corset and flowing skirt will accentuate an hourglass figure, whereas an A-line is best-suited to those with an inverted triangle or column figure. Add strappy heels in a complementary shade, or choose something that contrasts entirely, and work your accessories with it.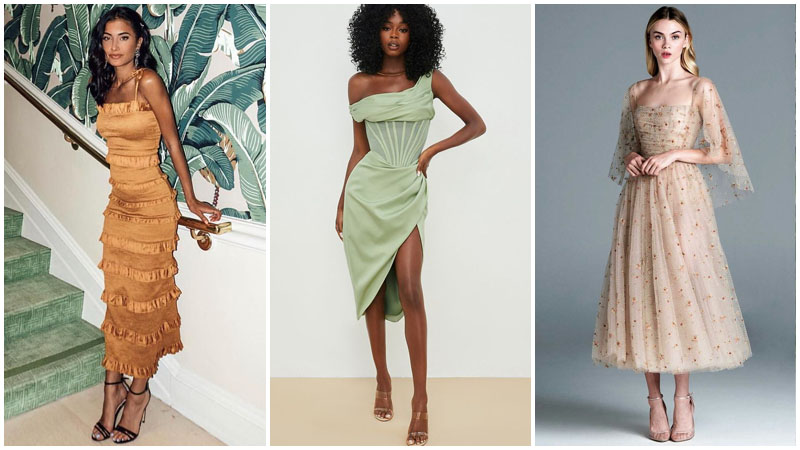 Get the Look
12. Maternity Wedding Guest Dresses
Stars worldwide have shown that you don't need to shy away from showing off your bump. This is especially true when it comes to a formal event such as a wedding. These dresses celebrate and accentuate your curves in the best way. Choose something that clings to your frame, such as a one-shoulder gown or lace midi dress. These highlight your bundle of joy, no matter how far along you are, and are a great way to mark the moment with your bub-to-be. However, a flowing dress that hides the stomach is also a great option, thanks to its added comfort and style. You can wear heels or opt for something more secure, such as sandals or flats. You can also go easy on the glam, too – your natural glow is enough.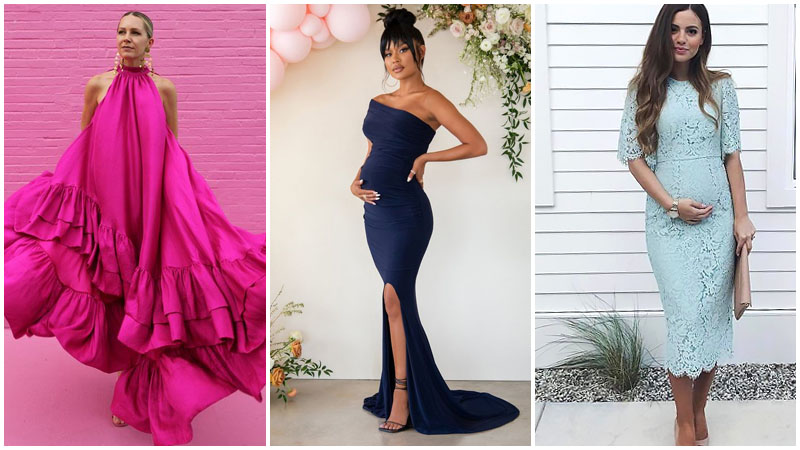 Get the Look
13. Barn Wedding Guest Dress
Country weddings make for a fantastic wedding destination. Not only are they gorgeous to look at, but they're also a great way to mix up your style. These dresses combine classic elegance with a touch of outdoor fun, but they still look beautiful enough for photos down the line. Start with a floral or patterned dress – these occasions are usually semi-formal, so you can pick a dress that hits at the knee or slightly below. Next, you'll want to add a belt in a similar or complementary shade – brown or taupe are usually the best options, as they match almost everything. Secure it where your natural waist sits to cinch yourself in, creating an hourglass shape. For the ultimate barn finish, add Western boots in the same shade (either of the dress or accessories) – this will prevent mud from getting on your finery, plus it looks great.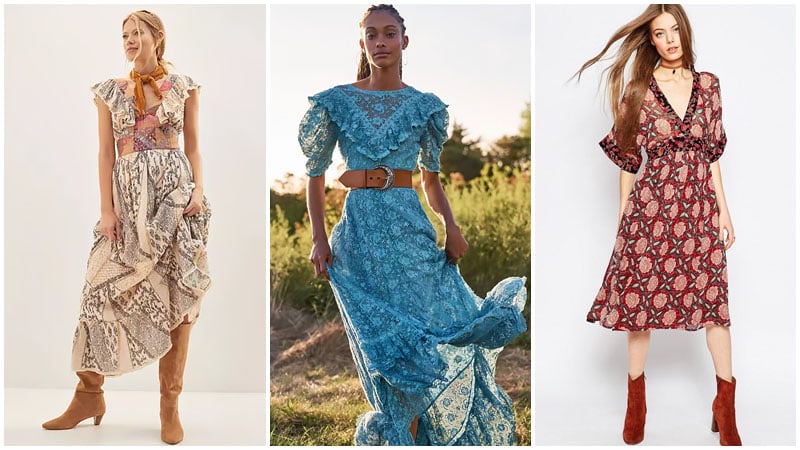 Get the Look
14. Evening Dresses
When the sun goes down, the glamorous side comes out. These evening dresses are elegant and sleek, showcasing a soft and stunning side. Usually, you will wear a gown such as these if the dress code is formal. When choosing a garment, ensure that the silhouette matches your body shape – an hourglass figure looks best with an open neckline and cinched waistlines. For a column figure, try a sweetheart neckline or something fitted with frills or embellishments. A-lines look great on a pear-shaped body or someone with a wider midsection.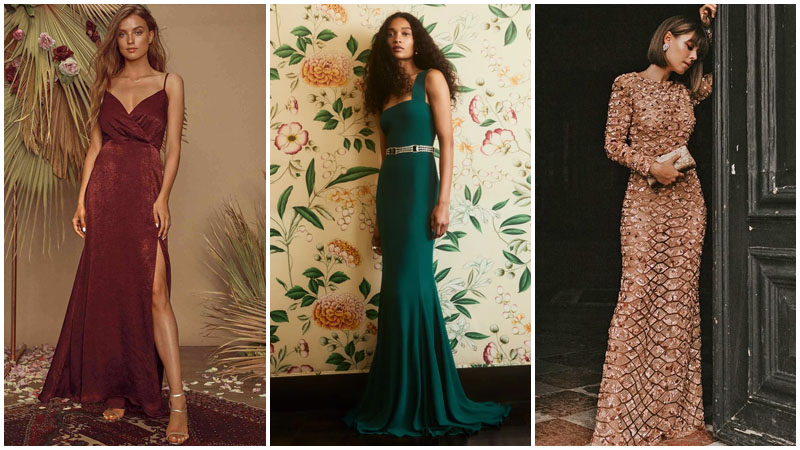 Get the Look
15. Petite Wedding Guest Dresses
Accentuating your smaller figure doesn't have to be difficult when you see dresses this beautiful. Before choosing your outfit, consider the theme and location of the wedding. For an outdoor occasion, choose a dress that hits mid-calf – this will elongate the legs and keep your body in proportion. A shorter dress is a very sexy option and makes for a great choice if you're heading to the beach or attending a laid-back event. In the same theme, to create the illusion of longer legs, opt for a maxi dress that hits the floor, and has a strappy top half – this way, it will not swallow you whole and make you feel tiny. Always choose something that cinches your waist and shows a little skin – it will allude to longer limbs.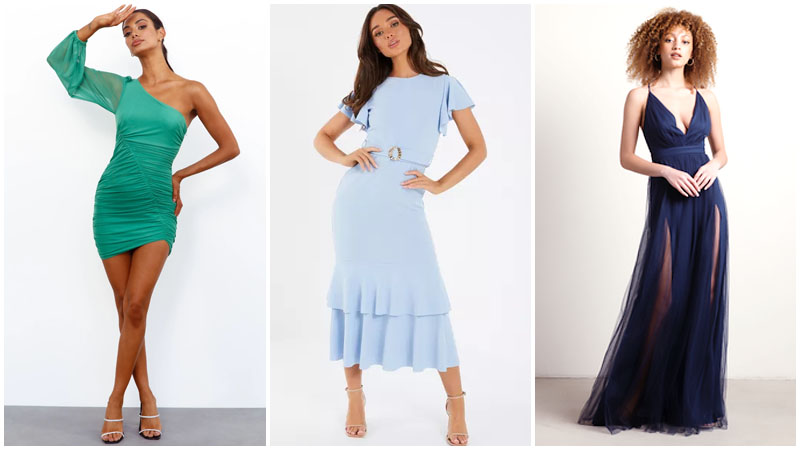 Get the Look
16. Country Wedding Guest Dresses
From the midwest to the highlands, a country wedding is something everyone should experience at once in their lives. As such, dressing for the occasion is equally as important – you want to fit the theme and look great in photos (obviously). First, find out where the wedding is located – pink or floral dresses are best suited for a rose garden, winery, or a ranch. Another thing to consider is the weather. A fall wedding that is closer to summer allows for something floaty and fun, whereas a date closer to the cooler months may call for something with sleeves.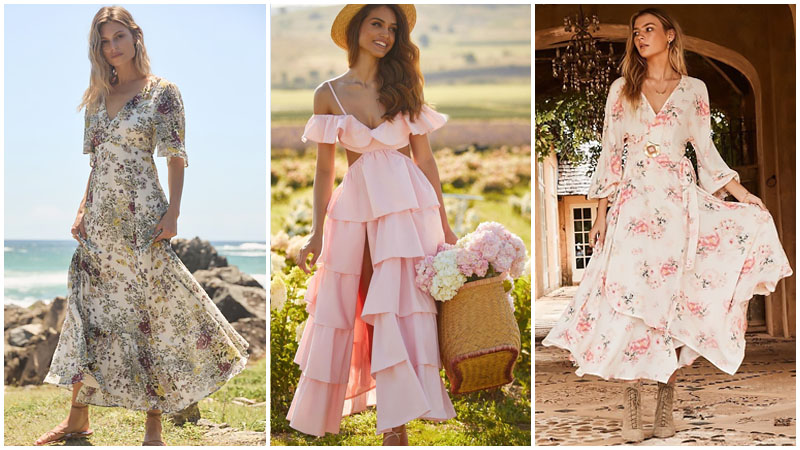 Get the Look
17. Rustic Wedding Guest Dresses
Often associated with country weddings, a rustic theme is often laidback and simple in style. These dresses don't need a lot to say something big. A simple linen dress is a great place to start – choose a shade that suits your skin tone, such as olive, fawn, or dark pumpkin. Then, find a belt that matches the shade exactly – bonus points if it's the same fabric or something very plain. It's important to stay simple with your accessories to fit the theme. Choose a pair of delicate drop earrings, a wide-brimmed hat, or a straw bag. You can't go wrong with a pair of flats or some cute kitten heels for extra height for shoes.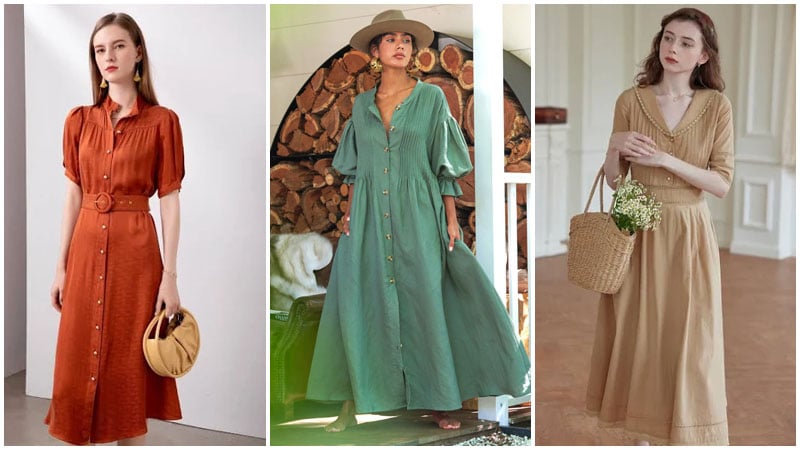 Get the Look
18. Boho Wedding Guest Dresses
The boho style is innately free-spirited and eclectic. If a wedding calls for this style, don't be afraid to let your creativity unleash. Experiment with mixing patterns, such as paisley, florals, and patterns from other art styles. Alternatively, you can go print-free and opt for a flowing dress with intricate detailing with fabric. Typically, this style incorporates loose-fitting silhouettes juxtaposed with shoes such as Western boots or sandals – if the wedding takes place on a beach, feel free to go shoe-free! For your makeup, the less, the better. The same goes for jewelry – keep it simple with some gold necklaces or a pair of stylish earrings.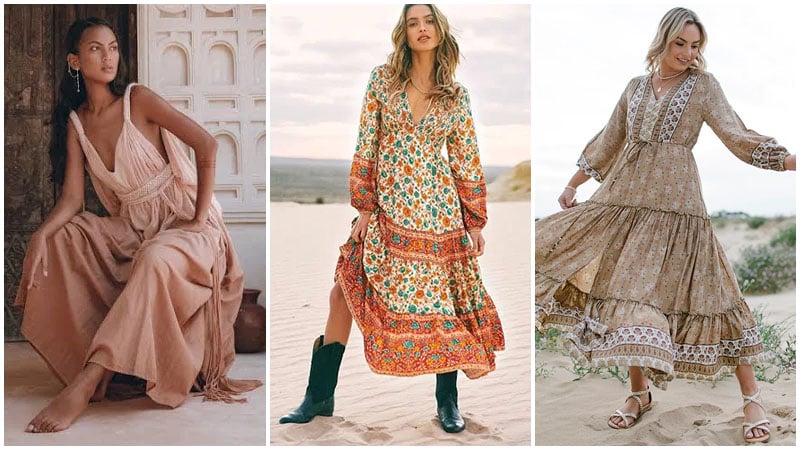 Get the Look
19. Floral Wedding Guest Dresses
Although usually reserved for spring, florals are a great choice for a wedding in fall, too. Delicate and elegant, they make for a fantastic guest dress and will surely garner a compliment or two. Without upstaging the happy couple, choose something that is show-stopping, such as an asymmetrical dress in a soft lilac or lemon color. Experiment with different textures, such as tulle – it will add a bit of drama to your look without overdoing it. Be delicate with your accessories here – the dress is so stunning that you don't need to add too many frills. But a touch of color in your makeup, such as pink lipstick or some cream blush, is always a good idea.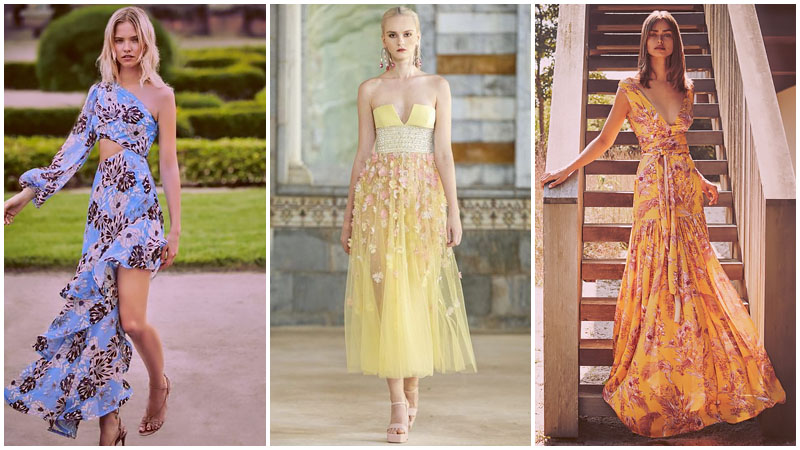 Get the Look
20. Affordable Wedding Guest Dresses
Shopping for a wedding guest dress shouldn't break the bank, but these dresses certainly look like they cost a pretty penny! Begin your search online with options such as the ones below or on sites like Pinterest. There you can find the style you prefer and work from there. Then, check out affordable retail sites and stores – if you have a goal in mind, you can find something that flatters your taste and budget. The most popular choices include wrap dresses, bias-cut silhouettes, or cut-out maxi gowns, which compliment most figures and can be worn repeatedly.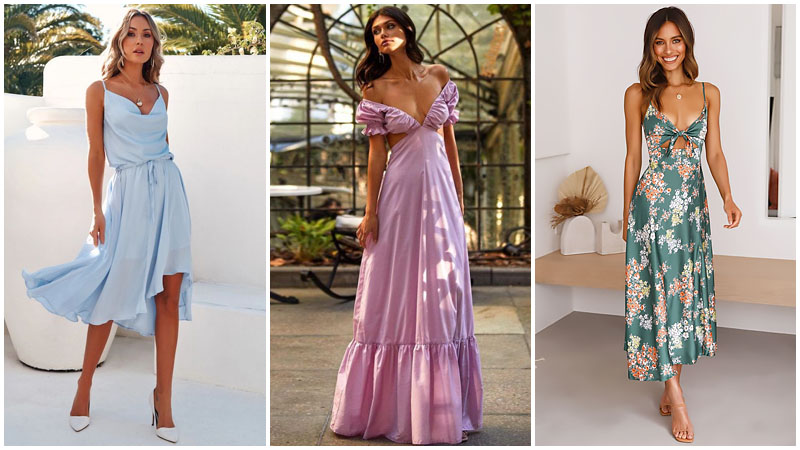 Get the Look