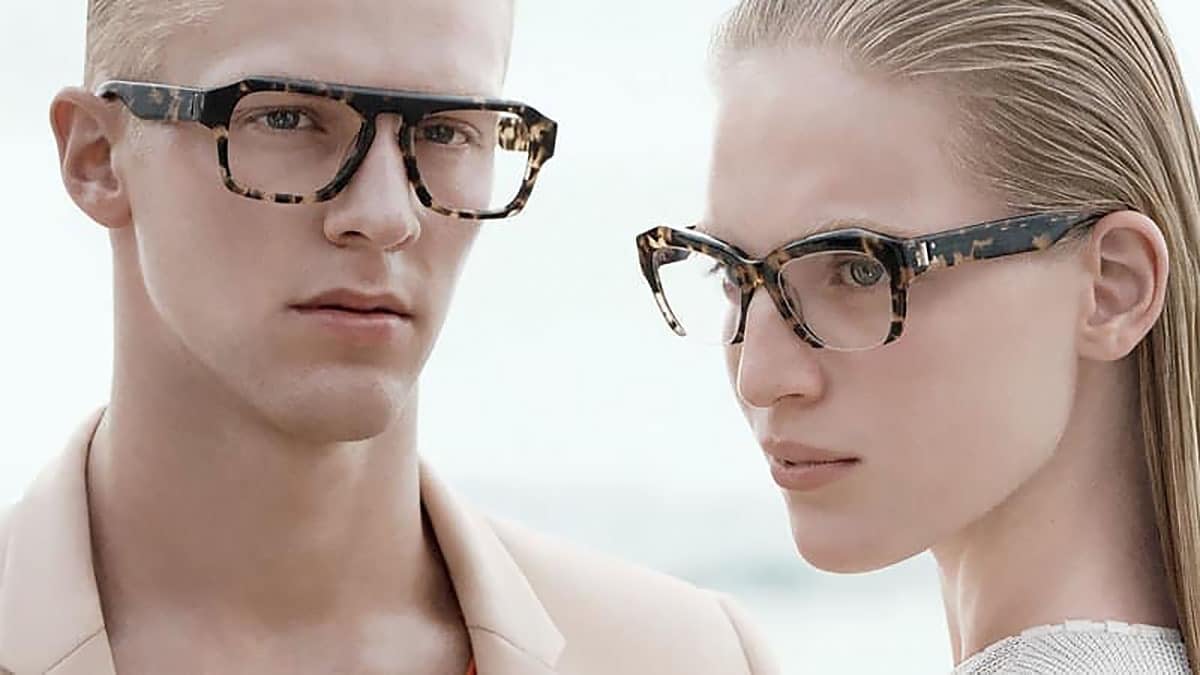 The right eyeglasses are as much about improving your eyesight as they are for enhancing your features. You want a pair of functional glasses that also complement your face shape and draw attention to your eyes, and the different frames and shapes can make all the difference when it comes to finding the perfect pair. When deciding on your glasses there are several things to consider, these include your face shape, the color, frame shape and style, and the reason you need glasses. Glasses should be practical but also reflect your personality and lifestyle and these eyeglass style ideas for men and women will inspire you and help you find the perfect look.
Eyeglass Frame Types
Full-Rimmed Frames
Full-rimmed glasses are when the entire lens is supported by a frame. This is great because it gives the lens more support and it is less likely to break or pop out of the frame. They are also sturdy and resistant to damage. The frame can be created using various metals depending on your preference, from strong and durable options like titanium to plastic or polycarbonate frames. They can vary in thickness and there are many color options, making it easy to find a pair of glasses that reflect your style. These glasses can also be more comfortable and molded to the face.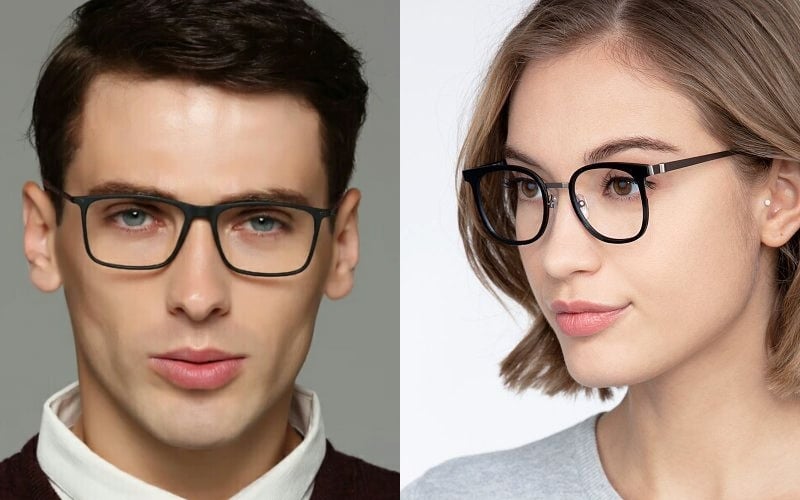 Rimless Frames
When choosing the perfect pair of glasses there are many options, this includes rimless frames. This means the lenses are mounted onto the bridge or temple and there are no frames. These glasses can be very modern and stylish, drawing attention to the eyes, they are also lightweight and ideal for those who want a pair of glasses that can be worn for long periods. However, they cannot be personalized in the same way as glasses with frames and are prone to breakage.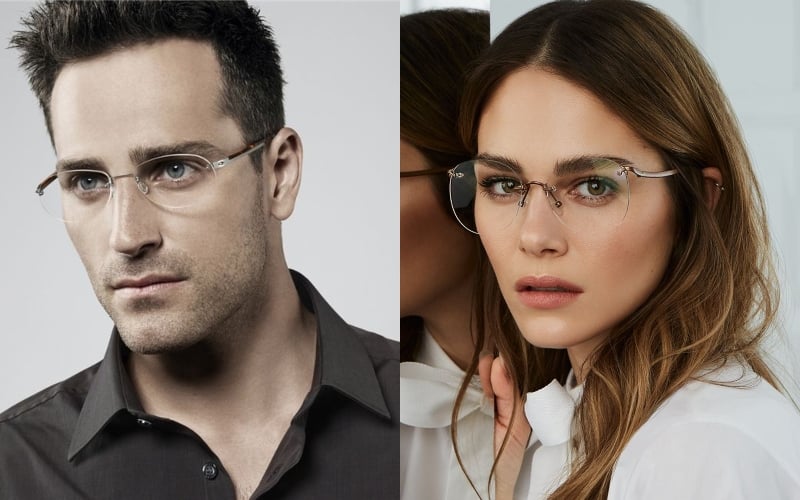 Semi-Rimless Frames
Semi-rimless frames can reduce the distraction that comes with wearing glasses and have a frame at the top of the lens and not on the bottom or sides. This is an attractive option for glasses and will draw attention to your face but also give you the desired support and can be stronger and more durable than fully rimless glasses. This option will also give you more versatility with the materials used and the colors and shape, letting you reflect your sense of style.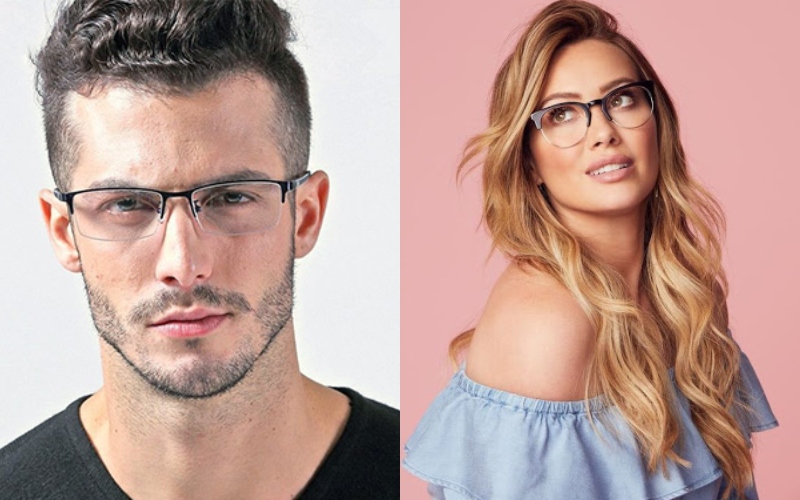 Wire Frames
Wire frames have a vintage appearance and are classic, timeless designs that can complement many face shapes. They are thin frames created from metallic textures and are often lightweight and comfortable. The retro details can make a statement or you can opt for something clean and minimalist. When deciding on the perfect pair of glasses, consider your face shape to find a frame that complements it. For example, rounder frames are ideal for angular faces.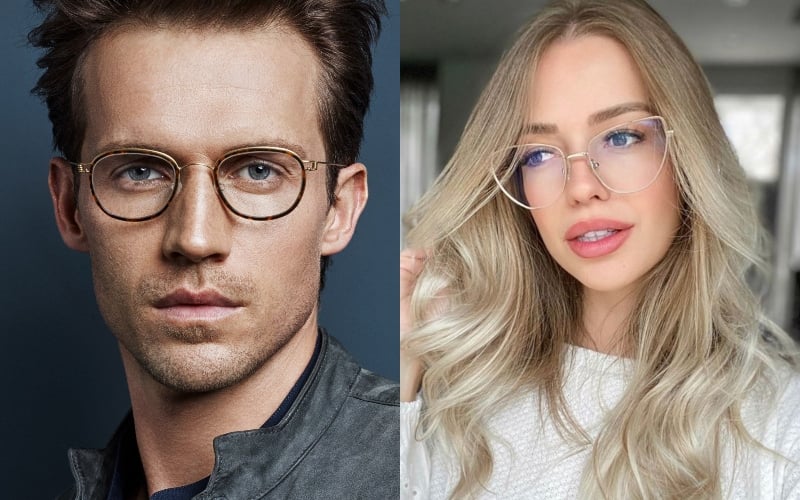 Lightweight
Practical and stylish, lightweight frames are designed for those who prefer a minimalist aesthetic. As the name suggests, these glasses are designed with lightweight materials, weighing less than standard metal or plastic options. Lightweight glasses are comfortable and will not put unnecessary weight on the bridge of the nose and ears. They are also easy to keep in place and unlikely to fall or need to be readjusted often.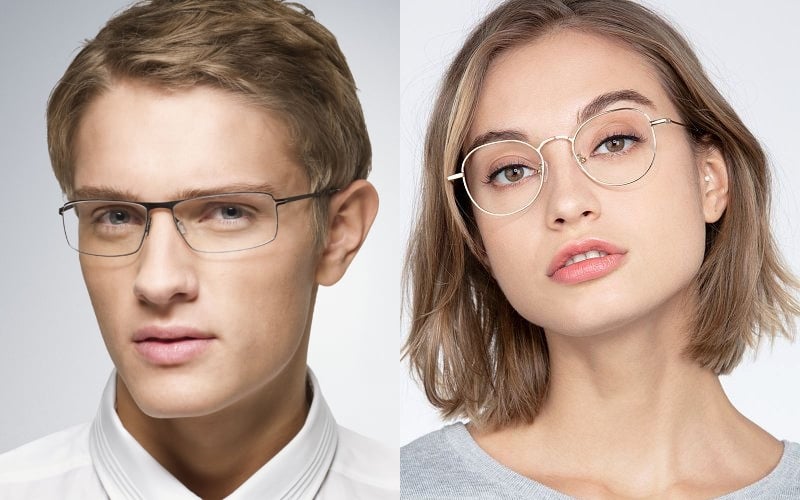 Eyeglass Frame Shapes
Rectangle Glasses
Rectangular glasses are often wider and have sharp angles. These glasses are flattering on most face shapes, but are especially suited to those with oval, round, and diamond face shapes and the shape of your glasses can balance your features. The style comes in different colors and materials, letting you easily find the option best suited to your preference.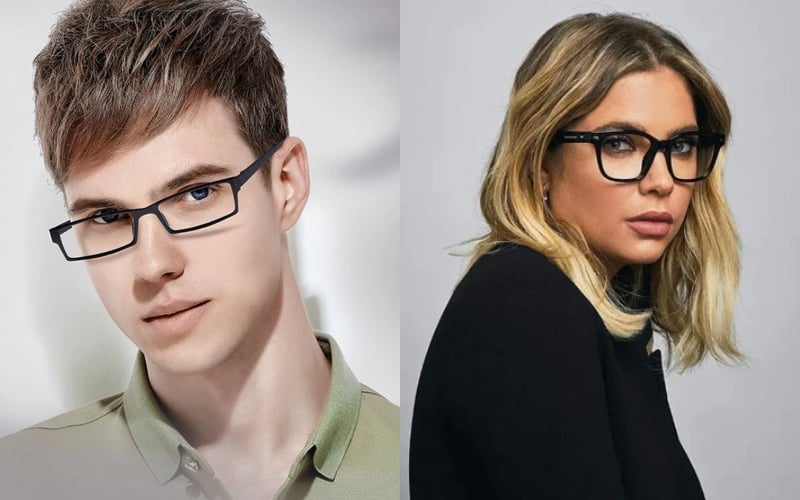 Oval Glasses
Oval glasses have an oval shape and are wide, rounded frames that complement sharp and angular features like square and triangular face shapes. It is a stylish and versatile option for your frame and you can choose from different colors and materials, including plastics and wire.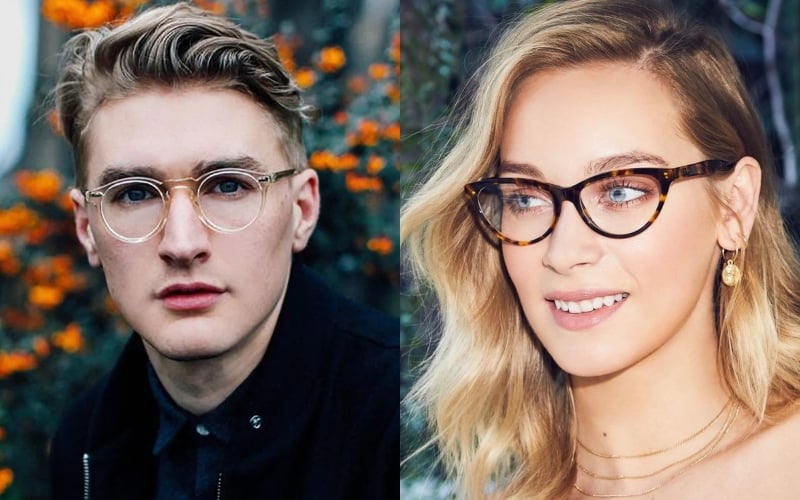 Round Glasses
Round glasses are curved and circular in appearance. They are the ideal choice for those who want to highlight their features and have retro details to them. Round glasses are best suited to those with sharp features as they can soften them, creating balance. The shape also complements square face shapes, pear shapes, heart shapes, and those with prominent jawlines.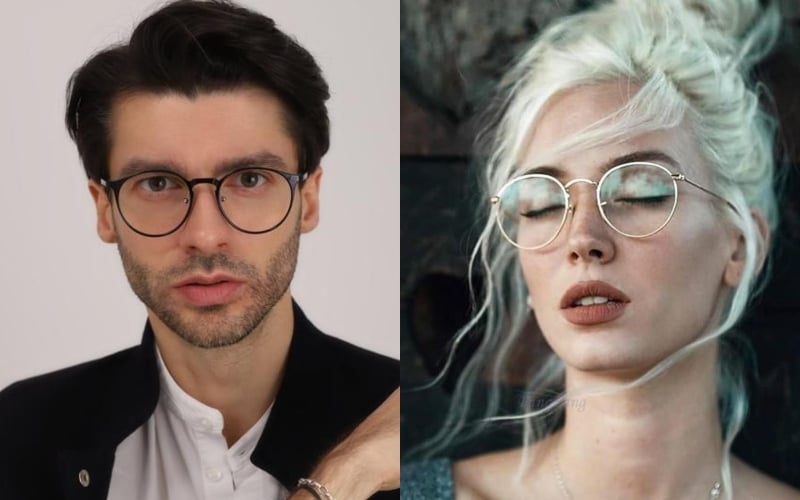 Square Glasses
Square glasses have a distinct shape but are stylish and versatile and can be created in a range of sizes, including oversized for those who want to make a statement and draw attention to their eyes. The angular shape complements oval, round, and oblong face shapes. On square and rectangular shapes, square glasses can highlight strong facial features.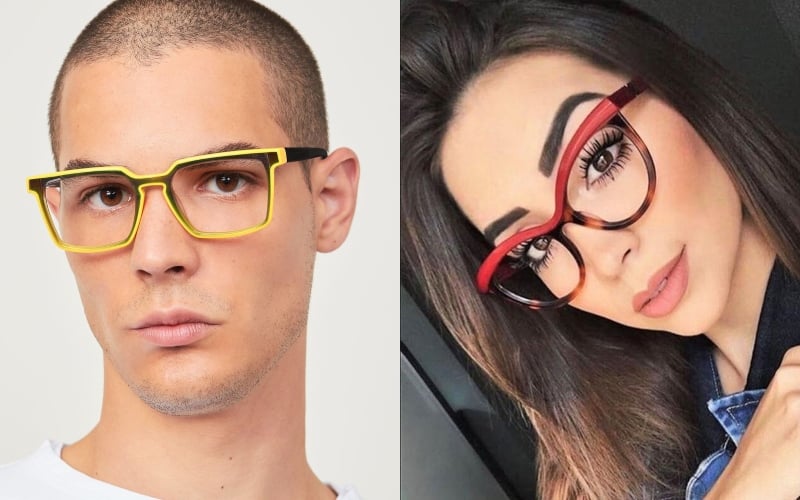 Aviator Glasses
Aviator Glasses are one of the most popular shapes and are a timeless, classic design that can be created in a range of colors and metals. These glasses get their name because they were worn by pilots and gave coverage for their eyes. They are tear-drop shaped and feature thin metal frames and large lenses. They complement most face shapes but are especially flattering on those with heart, square, and oval faces.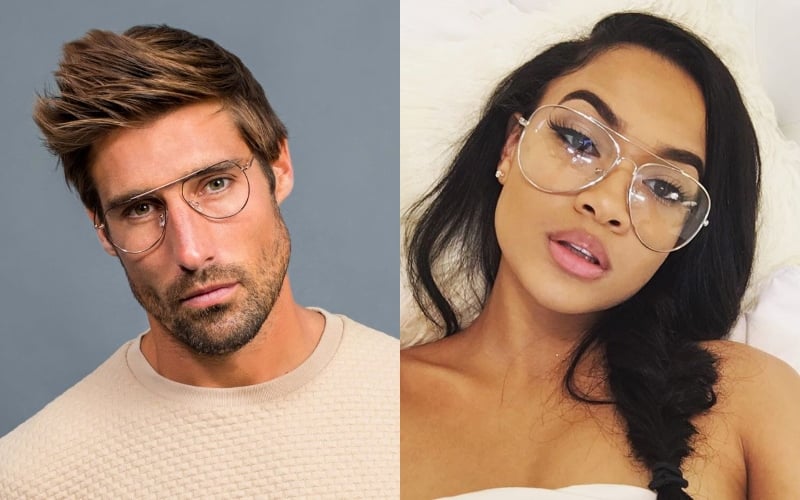 Cat Eye Glasses
One of the most glamorous shapes for your glasses is the cat eye. It has retro details and has been favored by some of Old Hollywood's most glamorous stars. The outer edges of the frame give it its distinct shape because they are upturned. They are ideal for drawing attention to the eyes and can be incredibly flattering. These glasses are best suited to those with oval, square, and diamond face shapes.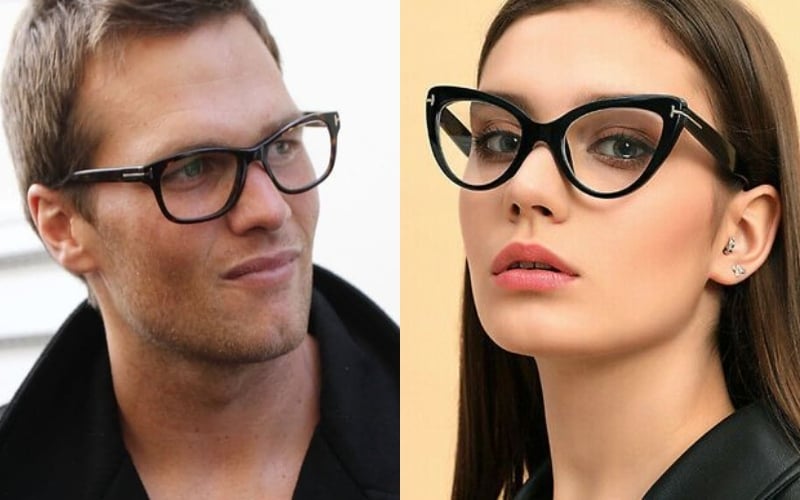 Oversized Glasses
Oversized glasses are all about making a statement with their larger-than-average frame and lenses. This shape can have a vintage appearance and covers more of the face than standard eyeglasses. It is flattering on most face shapes except for small faces as it can be overwhelming. It is also important to find the right glasses because ones that are too big can cause issues as they do not fit the face correctly.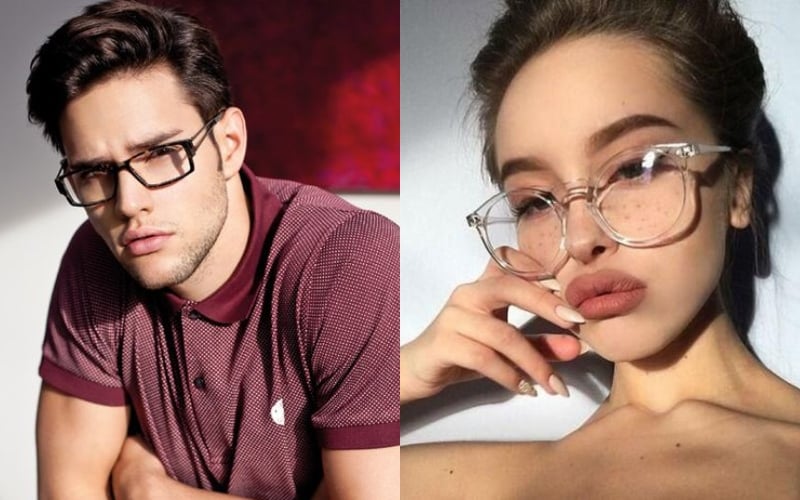 Geometric Glasses
Geometric glasses is a broad term given to several shapes of glasses that have an angle, and these include octagonal and hexagonal-shaped frames. The point of the design is to create angles that can be incredibly flattering on most face shapes including round, square, and triangular. These are trendy designs and are available in different materials including metals and plastics.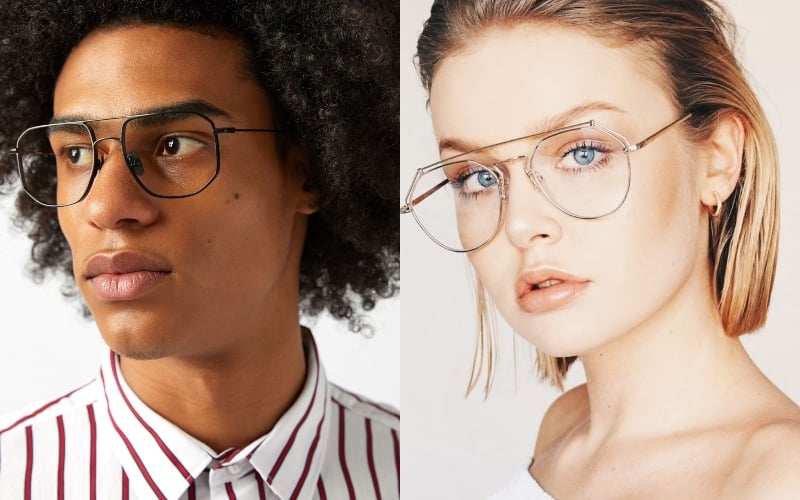 Eyeglass Style FAQs
What type of eyeglass frames look best on your face shape?
Deciding on the right frames should be a combination of functionality and style. Different frames complement specific face shapes and it is important to work with your optician to determine which glasses are going to look best on you. First, you need to understand the different face shapes and which one you have, then you can choose the right frame. Cat eye glasses suit those with oval, square, and diamond face shapes, oversized and aviator shapes are flattering on most people, and square glasses are ideal for oval, round, and oblong face shapes.
How do I choose the right glasses for me?
The right glasses for you should depend on several things, including comfort and practicality. If you are going to be wearing them for extended periods, not just for reading or watching TV, you want to choose lightweight frames for added comfort. You also need to consider your face shape, lifestyle, and style and find frames that complement your features or highlight them.
What are the different types of eyeglasses?
There are several types of eyeglasses including bifocal lenses, single-vision lenses, progressive lenses, and trifocals. In addition to the lenses, there are also various shapes, and materials to choose from depending on your personal preference, style, lifestyle, and face shape. These include aviator, square glasses, round, cat eye, oval glasses, rectangular, and oversized.
SUBSCRIBE TO OUR NEWSLETTER
Subscribe to our mailing list and get interesting stuff and updates to your email inbox.