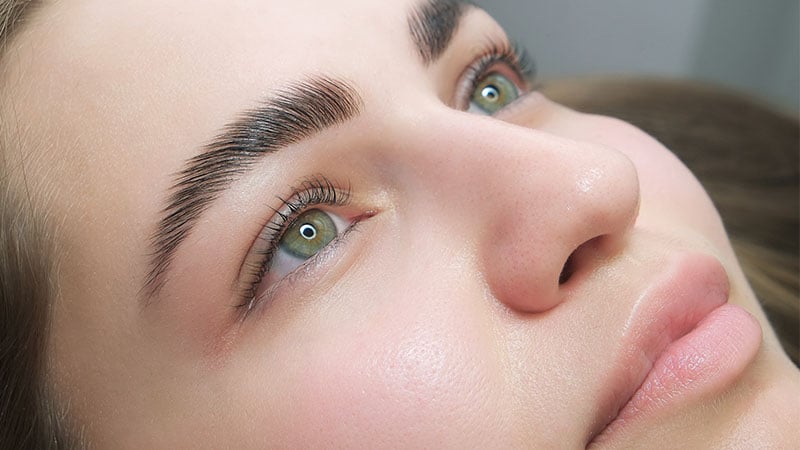 Eyebrow lamination is one of the newest trends in beauty and is a brilliant way to help get unruly brows under control. It's a non-invasive process that creates fuller, fluffier-looking brows in less than an hour. It's similar to a perm and uses a couple of different solutions to produce the desired effect. It's ideal for eyebrows with inconsistent growth directions and for disguising patchiness or thinning. Plus, it's painless and less expensive than some more permanent options. Read on for the low-down on everything you need to know before you walk into your favorite beauty salon.
What is Eyebrow Lamination?
Eyebrow lamination is a brow enhancement process that uses a chemical solution to shape and set the hairs, similar to a perm or chemical relaxant. The two-step process includes the application of keratin-based cream to 'lift' your brows, then a setting lotion to lock in the shape. The goal is to create thicker, fuller-looking brows, with the hair growing in the same direction. It can help fill out patchiness and thinning as well as control unruly shapes. It's an excellent, non-invasive, pain-free alternative to other brow styling options like micro-blading, micro-shading, and eyebrow tattoos. It's also more permanent than penciling or using makeup every day.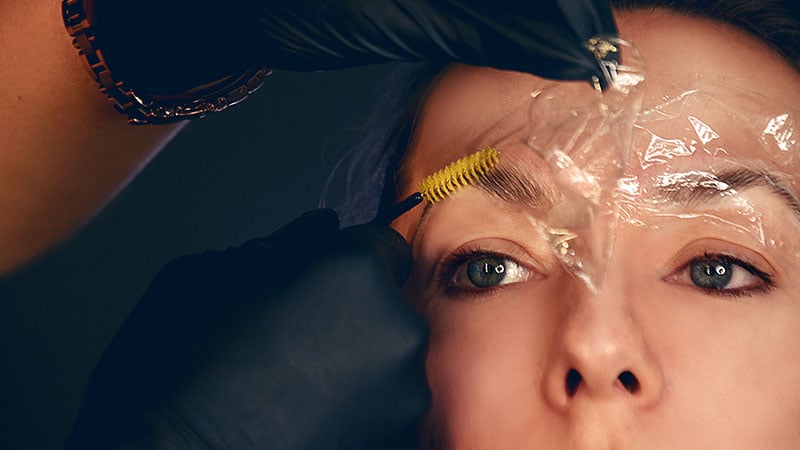 Benefits of Eyebrow Lamination
The main benefit of eyebrow lamination is thicker, fuller-looking brows. It can help camouflage thinning and patchiness, fix the overall shape, and correct hairs that just won't behave themselves. It also saves you time because the procedure is quick, taking less than an hour. Plus, you don't have to spend time every morning filling your brows in with a pencil or makeup; just brush them and go!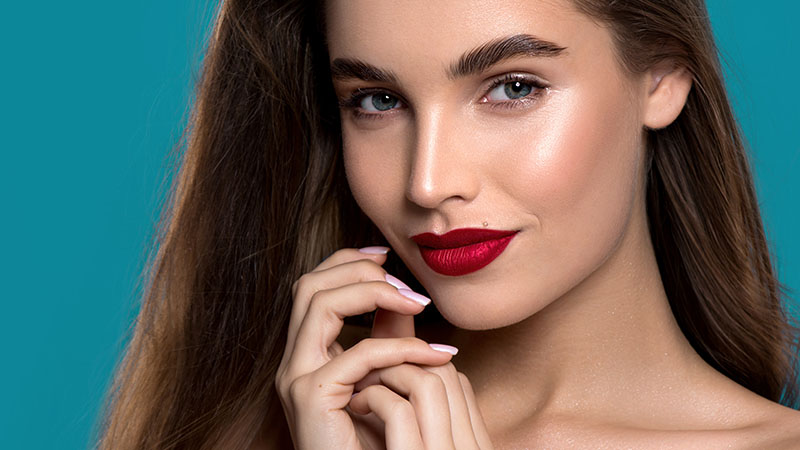 Side Effects and Risks of Eyebrow Lamination
Anytime you're applying chemicals to the body, there is a risk for adverse reactions. While eyebrow lamination is non-invasive and far less intense than some other procedures, there can still be side effects. These can include redness, swelling, peeling, itching, and bumps around the eyebrow and even eye area. You may feel a slight tingling when the solution is applied; however, it shouldn't be painful. If it is, alert your stylist immediately. If you have sensitive skin, rosacea, eczema, a history of contact dermatitis, or any other concerns, it may be better to consider an alternative brow treatment. You can always ask for a patch test before your appointment.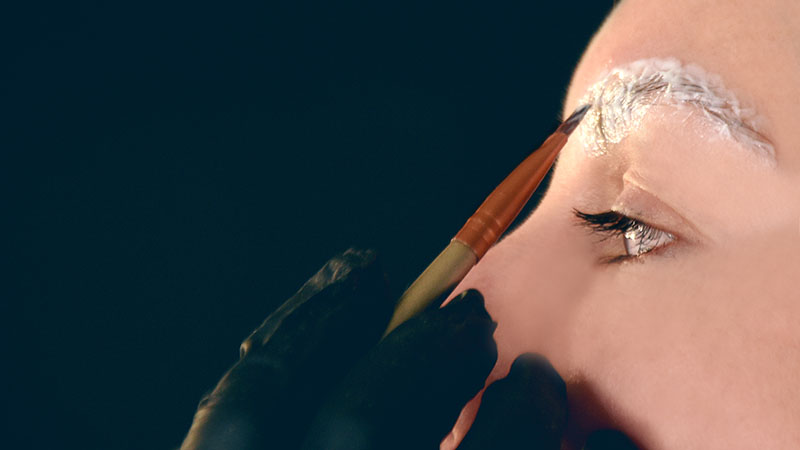 Who is the Treatment Best Suited To?
Eyebrow lamination is great for everyone. However, if you have particularly unruly brows or hair that grow in different directions, you'll see the most significant change and best results. It's also great for people with patchy or fine brows, as the straightening and brushing can help hide imperfections and give the illusion of fuller, fluffier brows. Finally, it's also an excellent option for anyone hesitant about more intense brow treatments such as microshading or microblading.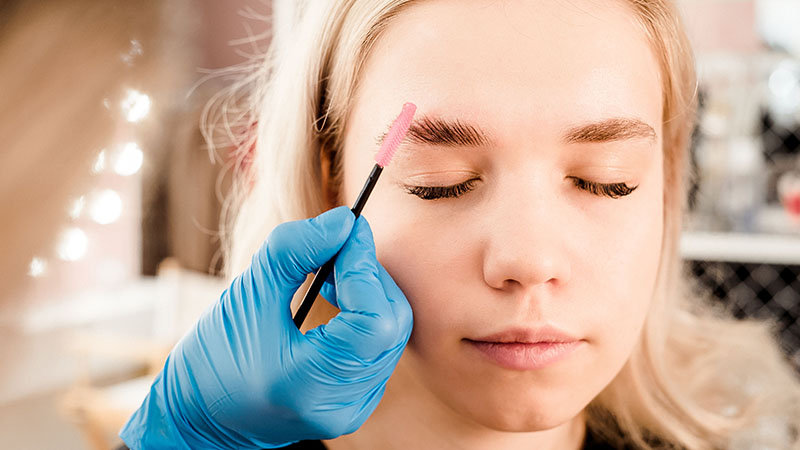 How Long Does Eyebrow Lamination Last?
You can expect your eyebrow lamination to last around eight weeks. If you have fine eyebrow hairs, you may need longer between appointments; however, eight weeks is generally perfect for thicker hair. Keep in mind that your hair growth cycle will also affect longevity, as your eyebrow hairs fall out naturally. The intent of the treatment, though, is to coach your eyebrow hairs to grow in the direction you want. As such, with regular treatments, you should be able to extend the time between appointments.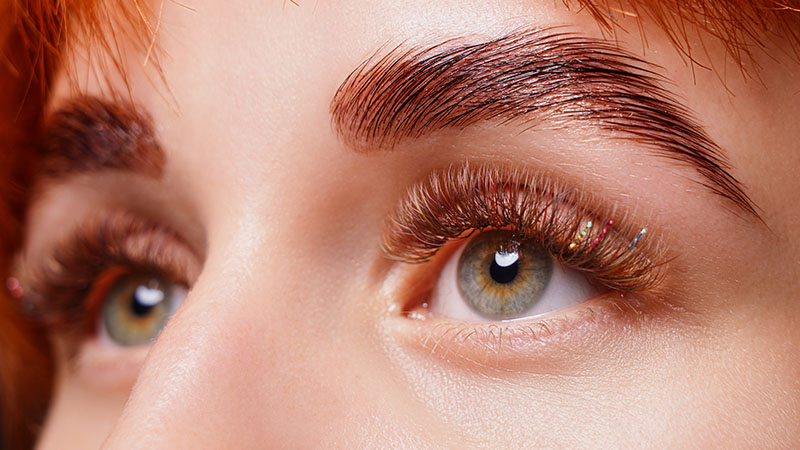 What Happens at the Eyebrow Lamination Appointment?
When you arrive at your appointment, you'll get to either sit in a comfy reclining chair or bed. Your stylist will thoroughly clean your eyebrows to accurately assess what they are working with and establish the natural shape. You'll discuss your goals and what outcome you'd like before moving onto the actual process. The first step is applying the brow lift cream, which is a keratin-based formula, to your brushed brows. This gets covered in cling film and sits for around five to ten minutes. Then, a neutralizing cream is applied over the top to lock in the style and shape. The final step is a shape and tint, which might be optional depending on your salon, but really gives you a fresh and polished look. Expect to have wet-look eyebrows at the end; however, this will only last for around 24 hours.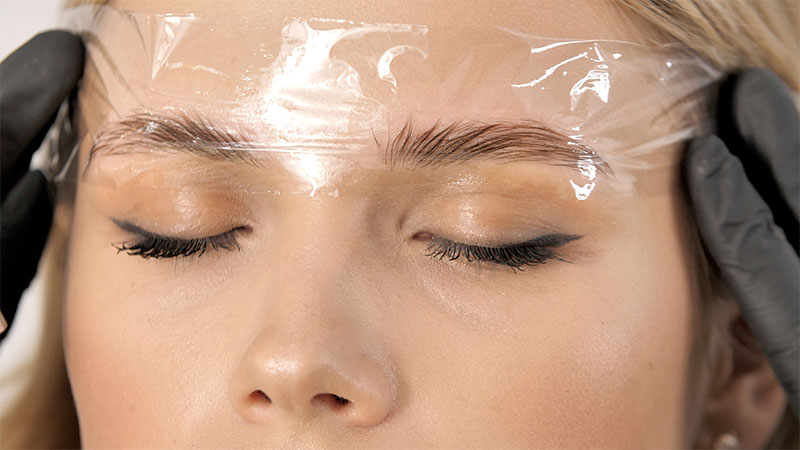 Aftercare
There are a few things you need to do for aftercare; however, it's not complex. Similar to a perm or relaxant, you can't get your brows wet for the first 24 hours after treatment. As such, avoid hot steamy showers, exercise, and saunas. You'll also want to avoid rubbing your brows, extended sun exposure or applying makeup during this time. The chemicals used can be drying to both the skin and hair, so incorporate a nourishing serum or oil into your daily routine to replenish the moisture. Finally, all you need to do to style them each day is brush through in the set direction with a clean spoolie, and you're ready to go!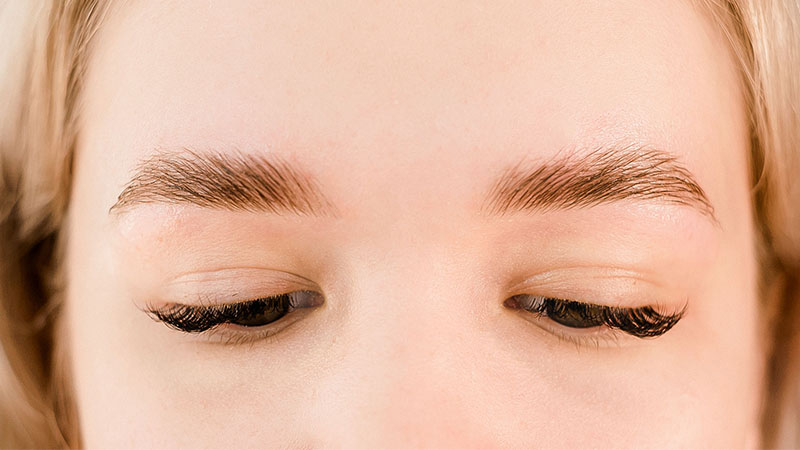 Eyebrow Lamination Before and After
This latest brow trend creates excellent results, taking sparse, unmanageable hairs and turning them into thick, beautiful, and uniform brows. In the first 24-hours, your brows will have a wet look, but this will subside the first time you wash them.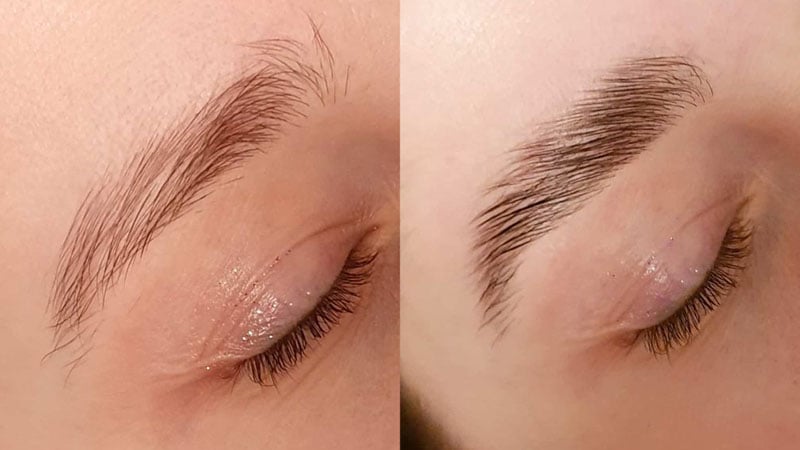 Alternatives to Eyebrow Lamination
Eyebrow Penciling
Eyebrow penciling is one of the easiest and cheapest options and often the first foray into eyebrow maintenance for most people. You use a colored pencil to draw a better shape and fill in any gaps in your brows for a fuller, more defined look. The best results come from using a pencil in the same shade as your brows, as this gives the most natural look. However, you can give yourself darker brows by using a slightly deeper shade. The pencil lasts until you wash your face and will need to be done every day.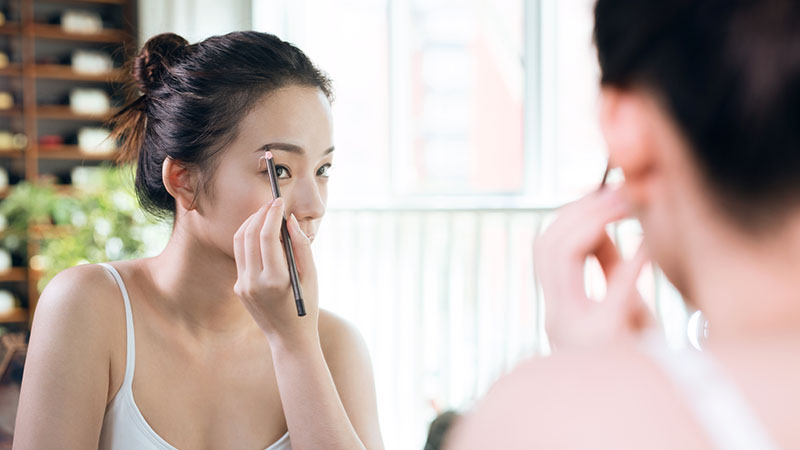 Tinting
Eyebrow tinting is very similar to dying your hair. It's non-invasive and painless, giving you darker, more defined eyebrows. Head into a professional salon for the best results, where your stylist will also advise the best shade for your coloring. The tint will last for several weeks before requiring a touch-up, but it's a relatively inexpensive option. Keep in mind that it just makes the existing hairs darker and won't necessarily make your brows look fuller.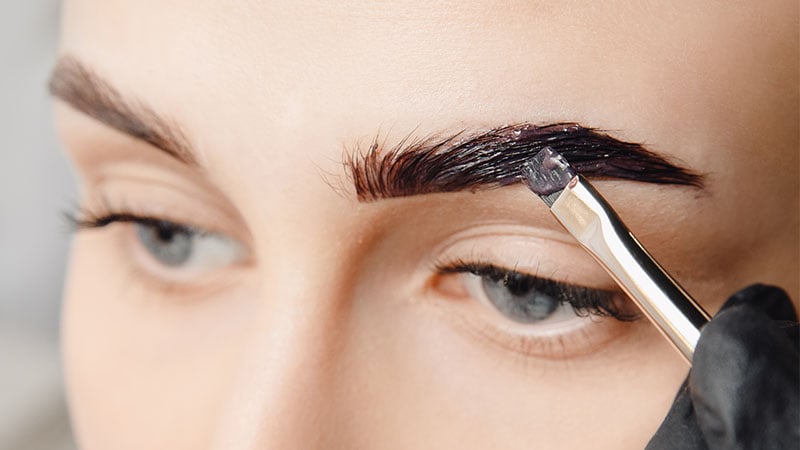 Brow Gel Sculpting
Eyebrow gel is a great way to shape your eyebrows. The formula is often waterproof and either clear or lightly colored. You apply it directly to your brows using a spoolie and an upwards-outwards brushing motion. It looks very similar to eyebrow lamination. Similar to penciling, it does need to be done every day, as it only lasts until you wash it off.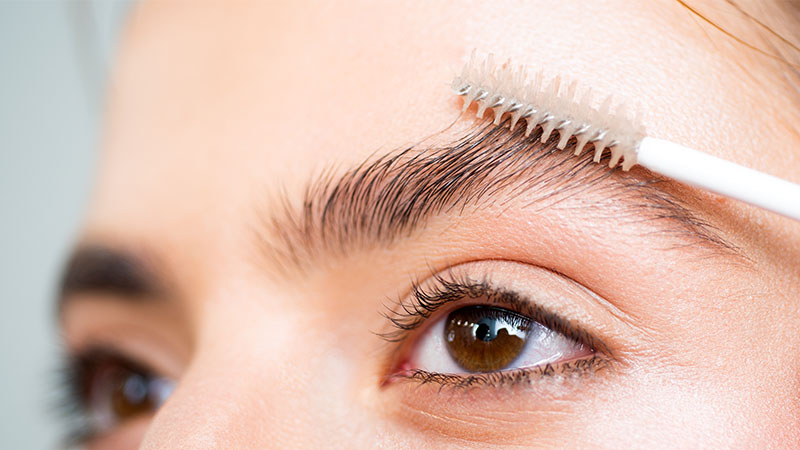 Microblading
Microblading uses a handheld blade made with 10 to 12 needle heads to create micro-cuts in the skin of your eyebrows. A pigment is then deposited into these cuts, similar to a tattoo. The fine needles accurately replicate the look of hair, so it's a very natural look and great for filling in fine or patchy eyebrows, as well as reshaping. It is a more intense, time-consuming, and pricey treatment, but the results can last up to three years, especially if you get a touch-up done at 12-15 months.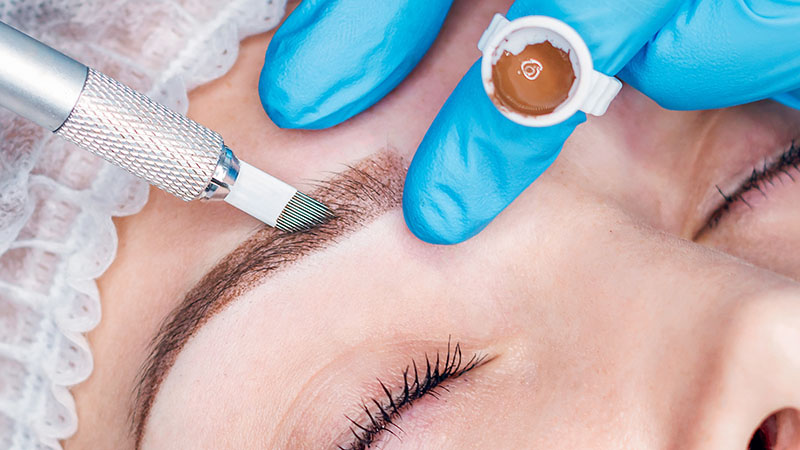 Microshading
Microshading is also known as powder or ombre brows. The process is similar to microblading in that your stylist makes small incisions in the skin and deposits pigment. However, it differs in that the goal is to look like your brows have been filled with make-up. As such, the dotted incisions create a stippled effect. It's excellent for filling in gaps and sparse or thinning brows. The procedure suits people with oily or mature skin or who just prefer the make-up look. Like microblading, you'll enjoy results for up to three years but will need a touch-up every so often.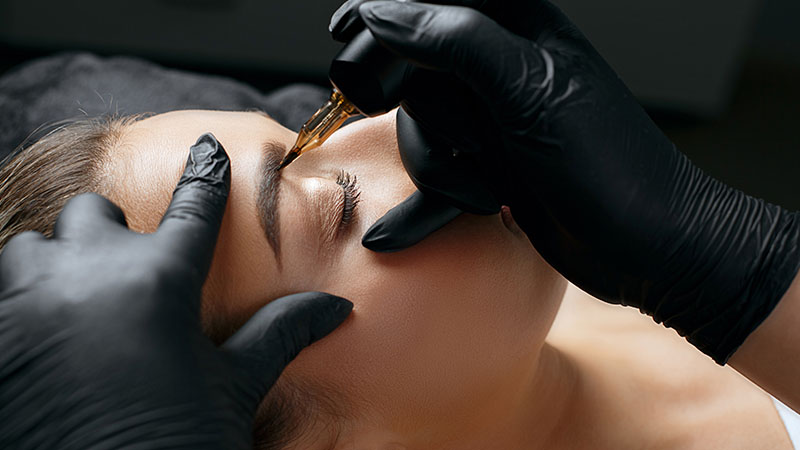 Eyebrow Tattoo
If you're after a more permanent solution, eyebrow tattooing is another option. Your beautician uses a high-vibration gun or pen to penetrate the skin with a needle, depositing color. The most significant difference between this and microblading or shading is the use of ink rather than pigment. Ink is designed to be permanent and won't fade or shed like pigments. Tattooing is becoming a less popular option, as there can be downsides. This includes the fact that it's a less natural, more 'drawn on' look, and the color can bleed over time like a regular tattoo. It also doesn't necessarily age well either and can turn a greenish color.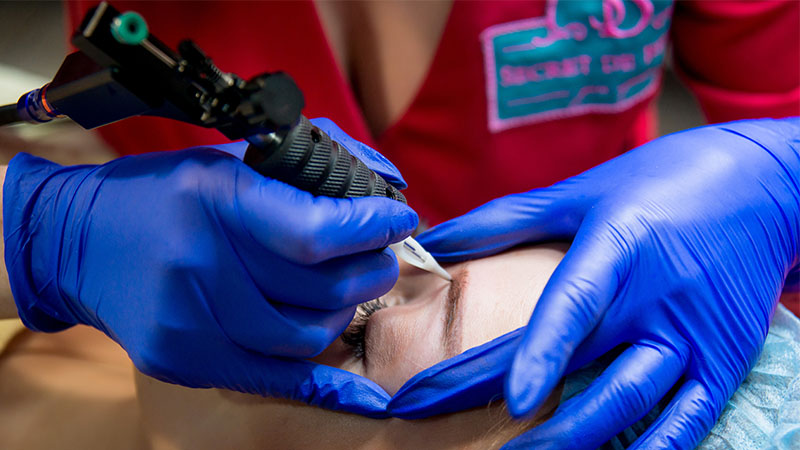 FAQs
What is brow lamination good for?
A brow lamination is good for creating fuller, fluffier-looking eyebrows. It helps to control unruly hairs and coaxes new hair to grow in the desired direction. You can also use it to help conceal patchiness or thinning and improve the overall shape. It lasts longer than penciling and gel but is less intensive and painless compared to micro-blading or shading.
What is brow lamination, and how long does it last?
Brow lamination is a two-step process, similar to perming, but for your brows. A beauty therapist applies a keratin-based brow lift cream to clean hair and lets it sit for a short period while covered with cling film. Next, they use a neutralizing cream to lock in the shape. Your appointment should take around an hour in total, and generally with proper aftercare, the results last for up to eight weeks.
Does laminating eyebrows hurt?
No, eyebrow lamination doesn't hurt, which makes it an excellent alternative to micro-blading or shading. You may experience a slight tingling when the creams are applied because it is a chemical. However, if it does hurt or burn, you might be having an adverse reaction, and you should notify your stylist immediately.
How long do you leave brow lamination on for?
The amount of time your beautician leaves the cream on will depend on your hair's thickness and texture. The average amount of time is five to ten minutes, but your stylist will decide once they've thoroughly examined your cleaned brows.
How much is eyebrow lamination?
The average price for eyebrow lamination ranges from $70-$120.
SUBSCRIBE TO OUR NEWSLETTER
Subscribe to our mailing list and get interesting stuff and updates to your email inbox.