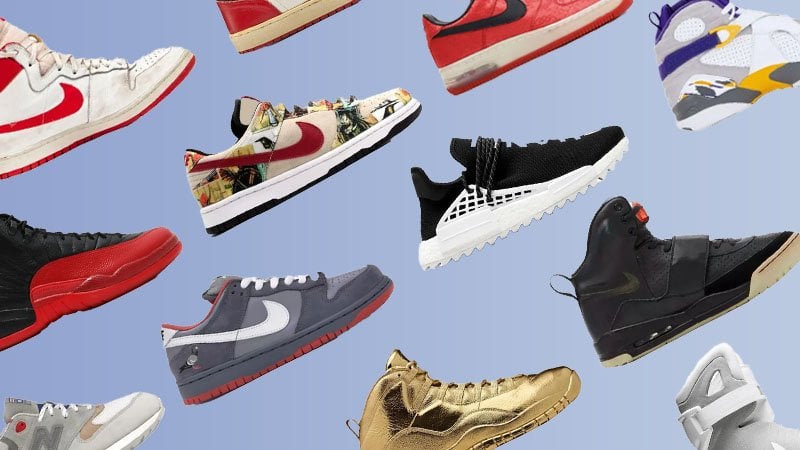 Sneakers are one of the most important parts of the streetwear scene. Just like designer bags and jewelry, they often increase in value over time. However, some shoes are more valuable than others and can reach astronomical prices at the auction table. Pairs that were worn by the GOATS of basketball to extremely limited-edition runs can play a huge role in determining the value of an item. With diamonds, 24k gold finishes, and signatures, these shoes have it all. From Kanye's prototype Yeezys to Nikes worn by Michael Jordan while he had the flu, here are the most expensive sneakers ever made.
1. Solid Gold OVO x Air Jordans -$2M
Crafted from 24k gold, these OVO x Air Jordans are the most expensive sneakers in the world. The custom pair of shoes were sold to Drake in 2016, and while an ordinary pair would cost you roughly $500-4,600, these sneakers are one of a kind. They were crafted by artist Matthew Senna, especially for the musician and actor. Because they're made from solid gold, they are unwearable, but they're certainly museum-quality footwear.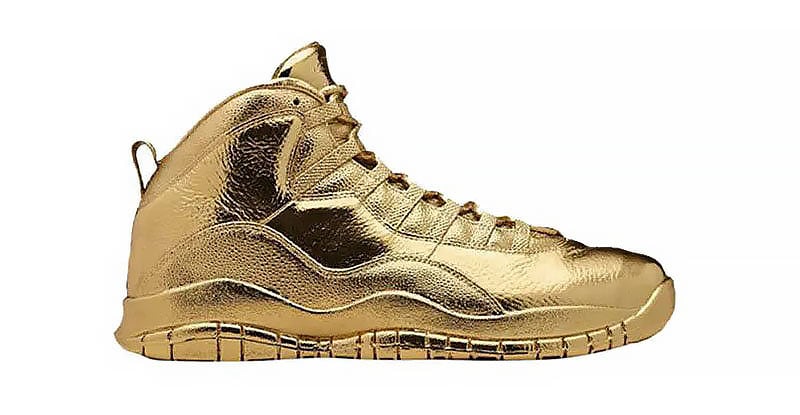 2. Kayne West Nike Air Yeezy 1 'Prototype' – $1.8M
Coming in a close second to the most expensive sneakers in the world, this pair of Yeezys was worn by Kanye West at the 50th Annual Grammy Awards. The Nike Air Yeezy 1 Prototype features a high-top silhouette with black leather, which was built in Nike's 'Innovation Kitchen'. This slick footwear was worn by West during the 2008 Grammy Awards, where he won four awards, including Best Rap Song and Best Rap Album. The pair was sold at Sotheby's auction house, and it is the only pair that is known to exist.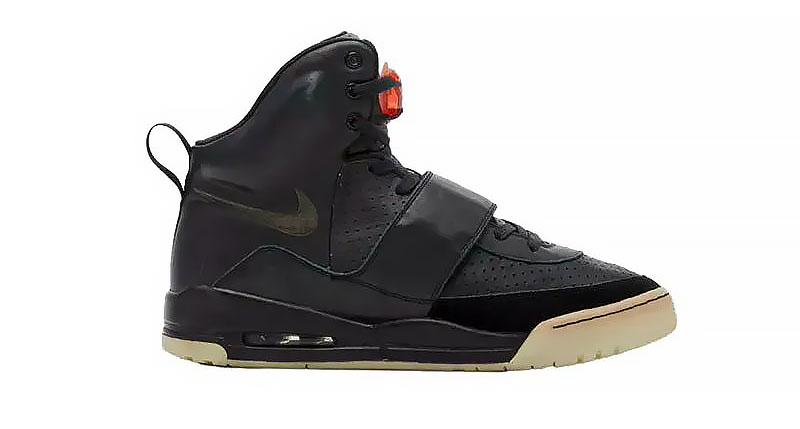 3. Michael Jordan Nike Air Ships – $1.47M
The Nike Air Ship show is legendary in its own right. The key part of the original Air Jordan, these red and white sneakers were worn by Michael Jordan in his rookie era in 1984. He also wore a similar pair of Air Ships in black and red for the infamous 'Banned' commercial for Nike, which helped catapult the design into the history books. These autographed shoes were sold in 2021 at Sotheby's for a whopping $1.47 million to a sorts paraphernalia collector, making them some of the most expensive shoes in history.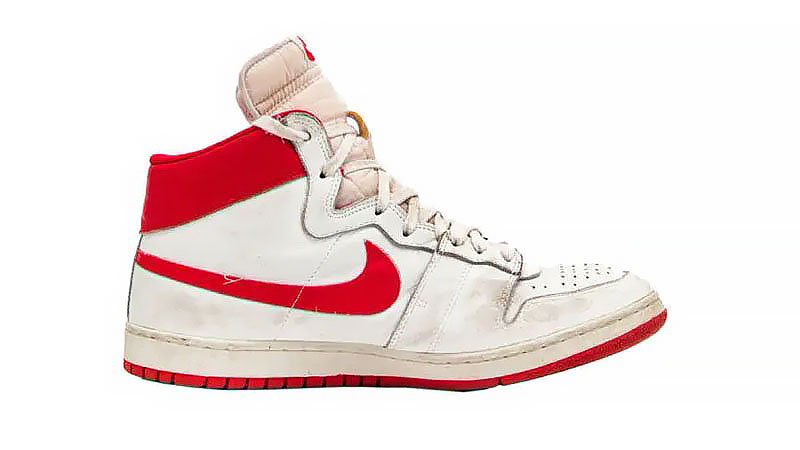 4. Air Jordan 1s Game Worn – $560,000
Worn by Michael Jordan in his 1985 season, this pair of sample Air Jordan 1s are some of the priciest shoes on this list. Sold by Sotheby's in 2020 for $560,000, they became the most expensive shoes sold at the time. What makes these sneakers special is their height. There are many unique features to these sample shoes, including the 'Mid' height, the extra sleek Swoosh, and the colorway. They're also signed by Jordan himself in permanent marker, which has better lasting power than others signed in ballpoint pen.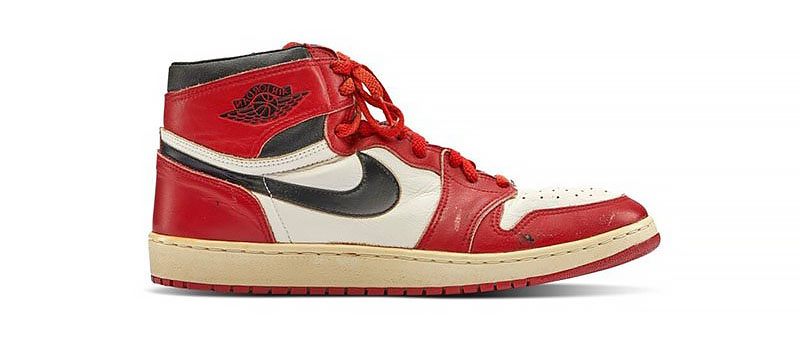 5. Air Jordan Retro 'Kobe Pack' – $800,000
Limited edition sneakers are always going to fetch a high price, especially when they're designed as a tribute to one of the greatest basketballers in history. With a white leather upper and purple, gray, and gold accents, it became one of the rarest does in Nike's history. These Air Jordan Kobe Pack were dedicated to Kobe Bryant in 2016, celebrating his 20th anniversary in the NBA. The shoes were not available to the public and were only distributed to friends and family.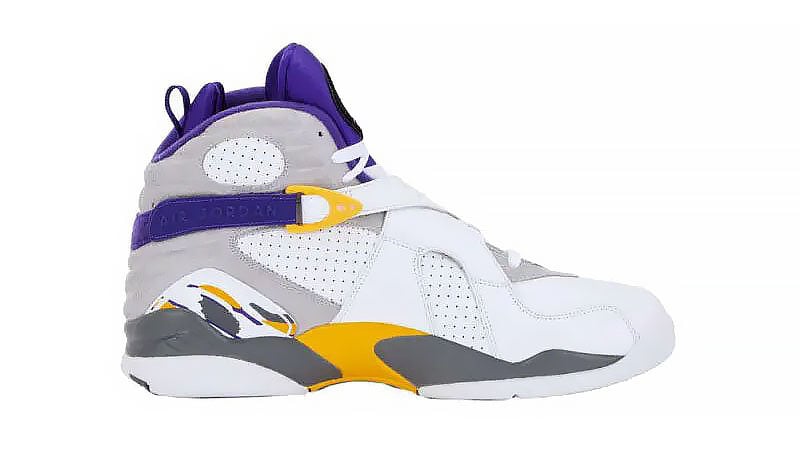 6. Jordan 1 Retro High Charlotte Hornets Foundation Black/White – $250,000
These Air Jordans are like no other. The super rare pair of sneakers were designed by Michael Jordan in honor of his 56th birthday, these shoes feature a white quilted leather silhouette with black accents. There were only 300 pairs made, which makes these shoes extra special. The NBA superstar wore these shoes in Charlotte in 2019, making them some of the most expensive shoes in the world.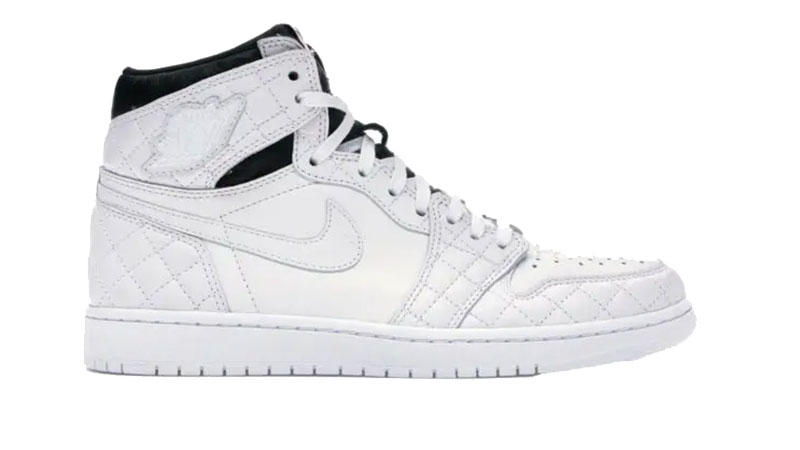 7. Michael Jordan Converse Fastbreak – $190,000
Considered some of the most important shoes in the world, these unassuming pair of Converse Fastbreaks are worth a pretty penny. According to reports, they were worn by Jordan during the 1984 Olympics in Los Angeles, when Team USA took home the gold. The design features a white and teal colorway and includes an autograph by the GOAT on the side. The shoes went up for auction in 2017, surpassing the expected $100,000 goal by selling for more than $190,000.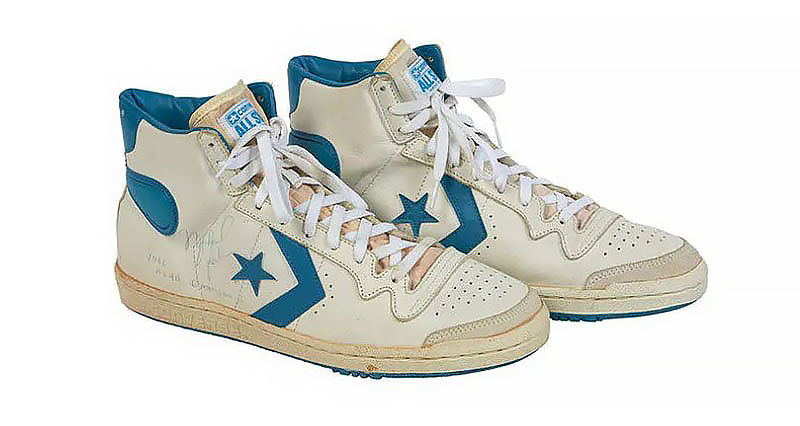 8. Buscemi 100 MM Diamond – $132,000
A tennis shoe isn't complete without a piece of jewelry attached. This rare find of Buscemi tennis shoes features 11.5-carat diamonds in an 18k gold locket on the front and side, plus the plush white leather silhouette. Sold in the pristine collection, it's unlikely anyone will want to hit the courts in these kicks – they're more likely going to spend time in a glass case or museum-quality conditions.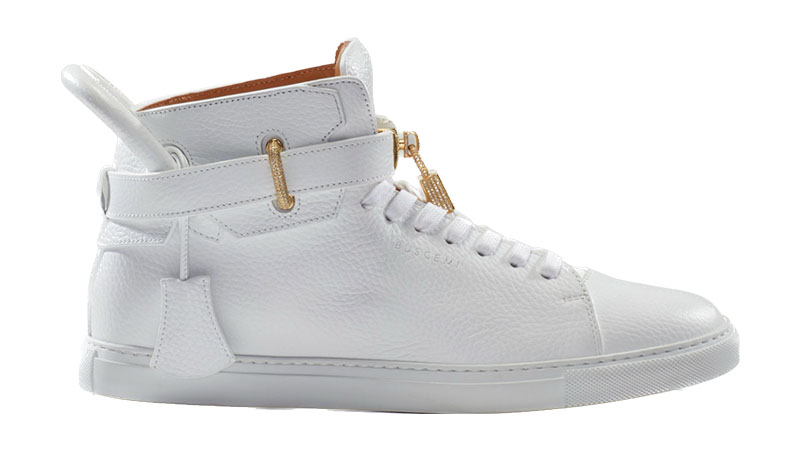 9. Nike SB Dunk Low Paris – $130,000
Any lovers of sneakers understand why these shoes are so special. The Nike SB Dunk Low "Paris" is an exceptionally rare find, with only 150-200 pairs around. They were released in 2002 with a design by the late French expressionist Bernard Buffet, and no two pairs are the same. In 2021, a pair sold for $130,000, and there is another pair currently expecting to reach $150,000.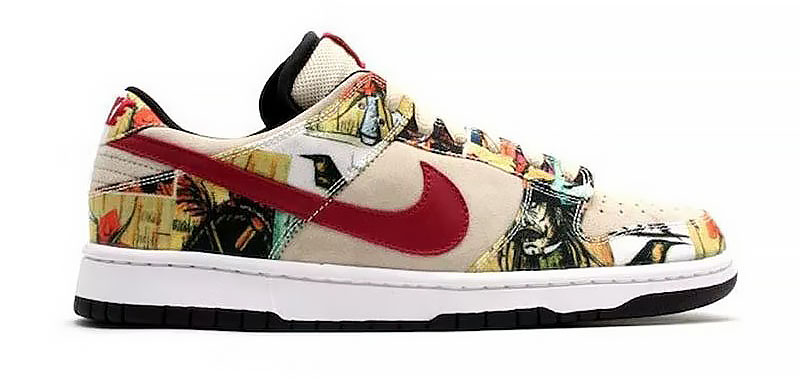 10. Michael Jordan Flu Game Air Jordan 12 – $104,765
When Michael Jordan helped the Bulls win the 1997 Game 5 finals, he was sporting flu-like symptoms. Through dehydration and a lack of breath, Jordan fought on and scored 38 points while sick. While he didn't actually have the flu (it was actually a stomach virus), the game has been considered one of the most important in NBA history. So when the black and red Air Jordan XIIs he wore in this famous game came up for auction in 2013, there was no doubt they'd sell for a hefty sum – $104,765 to be precise.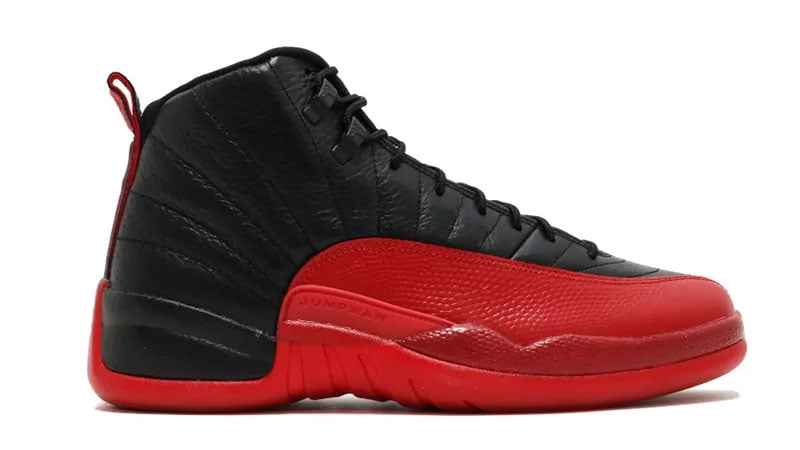 11. Nike SB Dunk Low Staple NYC Pigeon – $86,000
The Nike SB Dunk Lows are scarce in the sneaker world, but the NYC Pigeon is one of the rarest. Often cited as the sneaker that brought footwear into the mainstream, these shoes were designed by Jeff Staple and released in 2005. What makes these sneakers so special is their honor to the NYC pigeon, which is seen in the colorway and embroidered bird on the heel. These shoes were signed by Staple himself, which also adds to the high price point.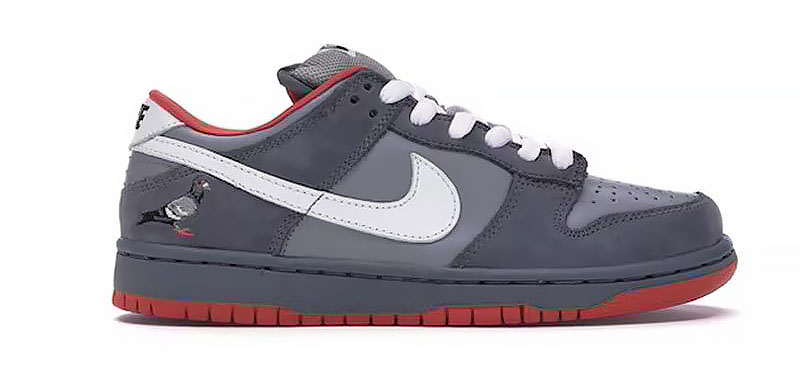 12. Air Jordan 1 Retro High OG Spike Lee Fort Greene – $83,000
The Spike Lee special edition of Air Jordan 1s came seemingly out of nowhere. Exclusively sold in Fort Greene in Brooklyn, this limited edition sneaker was released in 2017, with a strictly limited run available. These shoes were also signed by Spike Lee himself, making them even more valuable. With a black and midnight colorway, they feature the surprised face of Mars Blackmon on the side and '1/3' branding on the tongue.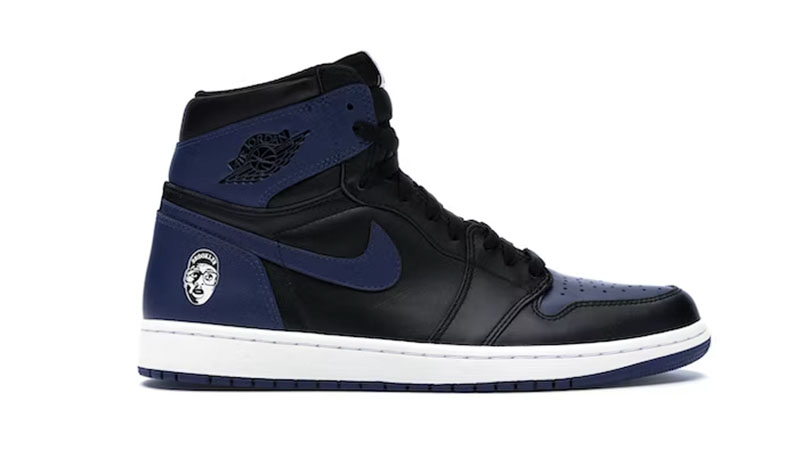 13. Nike Air Mag 'Back to the Future' Sneakers – $81,000
Marty McFly's shoes from the second Back to the Future film are no longer a dream. The Nike Air MAG shoes have been produced since 2007, released in 2011 and 2016, with futuristic technology to boot. These sneakers feature the auto-lacing seen in the film and look exactly like the ones worn in the cult classic. These rare shoes were initially released to the public in 2011, with only 1,500 pairs available. The proceeds went to benefit the Michael J. Fox Foundation for Parkinson's Research. Then in 2016, another 89 pairs were available, making them ultra-rare to sneakerheads.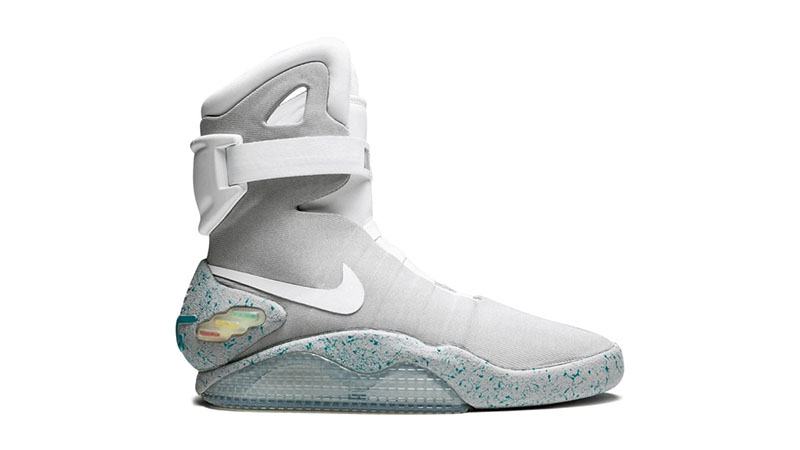 14. Jordan 10 Retro Grimm Gala White – $64,000
These Air Jordans come with a good cause. The sneakers were sold along with a black pair for charity – there were four available per pair, making them extremely rare for sneaker collectors. Each foot was signed by Tinker Hatfield and Michael Jordan, with one autograph on each shoe. These women's shoes feature brilliant all-white leather construction with a plush white fur lining.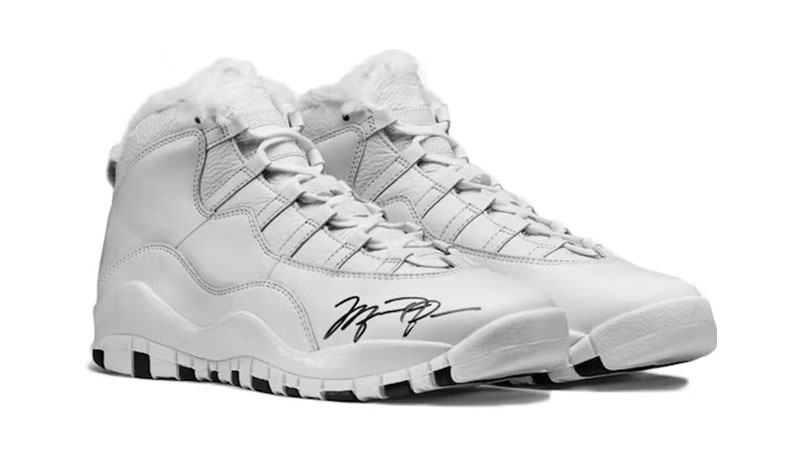 15. Nike Dunk High Pro SB Flom – $63,000
The FLOM (For Love or Money) shoe may be one of the hardest to track down, and that's why it goes for such a high price. These Nike Dunks feature prints of cash notes on the side and a high-top design with brown accents and an elongated Swoosh. They were created in 2004, and while 24 pairs were made, only three were released to the public. The lucky people that own these are sure to take extra care of these rare finds.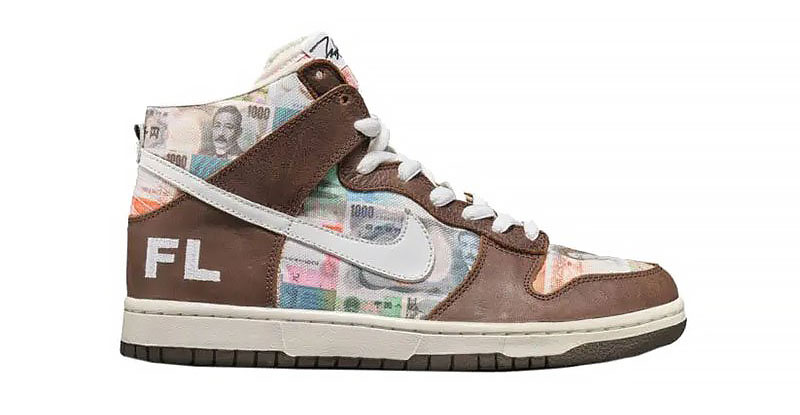 16. Nike Air Force 1 Low 1 WORLD CLOT – $62,000
In honor of the Lunar New Year in 2009, Nike collaborated on a pair of limited edition Air Force 1s. The traditional design features exceptional artwork from Eric So and Lui Lui, inspired by Chinese calligraphy on the plush red leather and high-quality Chinese Silk throughout. This special edition pair of sneakers also come in a box inspired by Chinese candy boxes, complete with intricate artwork on the sides in black.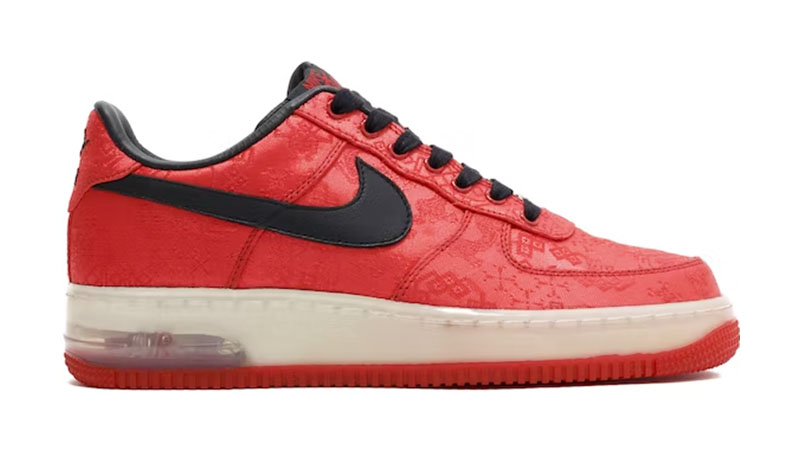 17. Diamond Encrusted Air Force 1 – $50,000
The rapper Big Boi made history by acquiring a pair of Nike Air Force 1s covered in diamonds. The original design was released in 1982, and are some of the most recognizable Air Force 1s in the sneaker world. So what makes thee so valuable? These shoes have the Swoosh lined in small champagne diamonds, 13 carats worth to be exact. In 2007, the rapper was given the 'So Cal' shoes, which were valued at $50,000, making them the most expensive Air Force 1s at that time.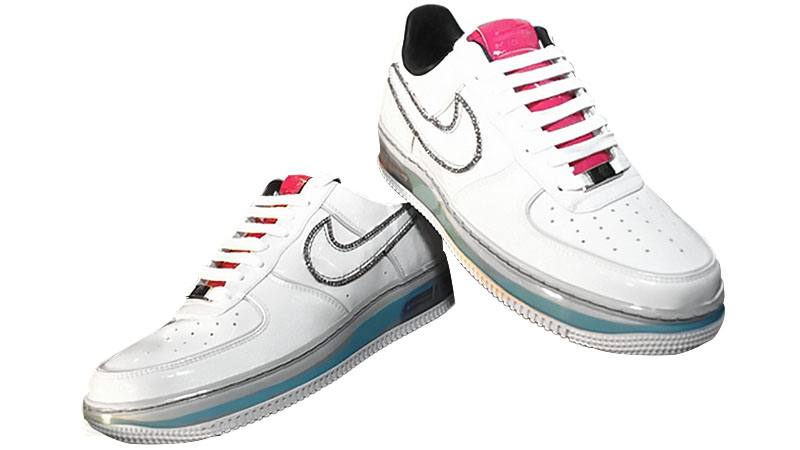 18. Nike SB Dunk Low London – $46,000
Another one of the rare finds for sneaker lovers, the Nike SB Dunk 'London' are some of the most sought-after shoes on the planet. Just like its other city-based designs, only 202 pairs of these sneakers are known to exist. These 2004 shoes are some of the most scarce shoes in the world, which drives up their price tag. The footwear consists of a gray and white colorway to commemorate the city's gloomy skies and a blue embroidered River Thames on the heel.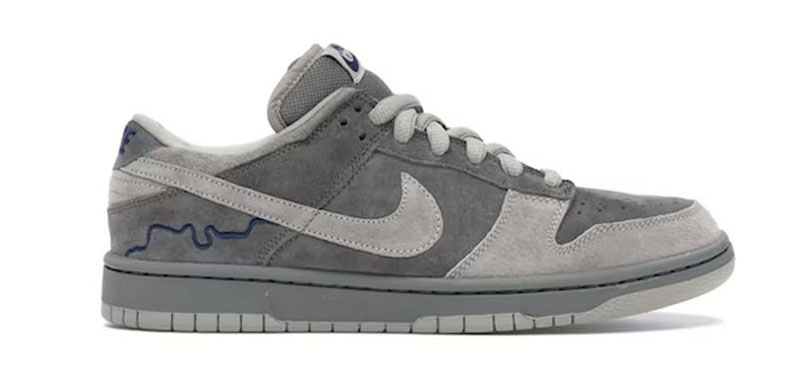 19. Air Jordan 1 OG Chicago (1985) – $46,000
There's nothing like an original pair of Air Jordan 1s, and this pair from 1985 is some of the most celebrated. Designed by Peter Moore, the 'Chicago' 1985 OGs are first edition honors, with the sleek black Swoosh engulfing the back of the shoes. The colorway is black, red, and white, commonly known as Bred. As these sneakers are exceptionally rare, you can expect to pick up a pair for roughly $46,000 today.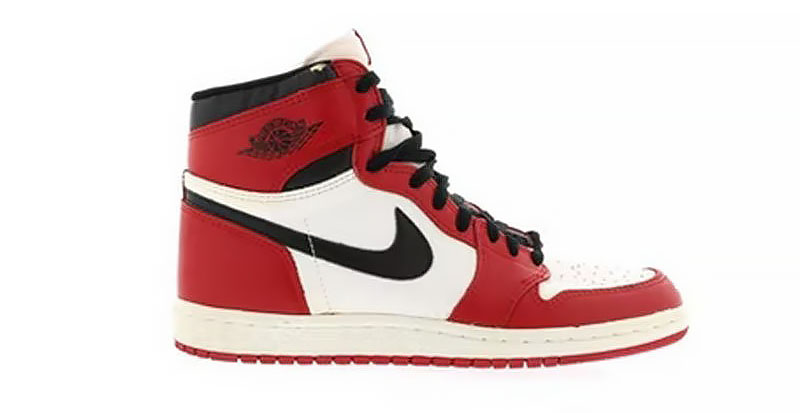 20. Nike Kobe 9 Elite Premium Low HTM Milan – $41,000
Released in 2014, the Nike Kobe 9 Elite Premium sneakers are some of the most expensive around today. Available in four colorways, these shoes feature a low-top silhouette with a black and gray Flyknit upper with splashes of red, green, and blue on the front. You can also find pairs in white, gray, and solid black. However, this colorway is extremely rare and is what helps make it so expensive to purchase.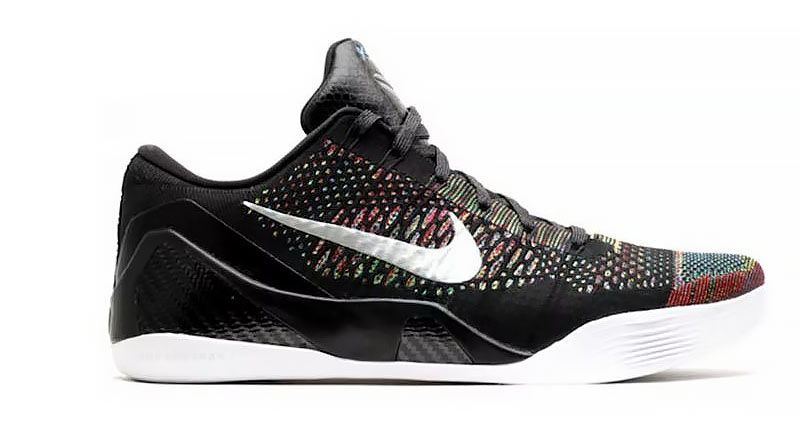 21. Air Yeezy 2 SP 'Red October' – $40,000
By the time Nike and Kanye West released this shoe in 2014, the ties were already severed between the two names. The Air Yeezy 2 SP 'Red October' sneaker is a truly rare find, and thanks to its unique design and complicated yet historic release, they're some of the most valuable shoes on the market. These sneakers feature a monochromatic design, with an anaconda texture and small studs along the heel. These sneakers were delayed for months on end before being released unexpectedly in February 2014.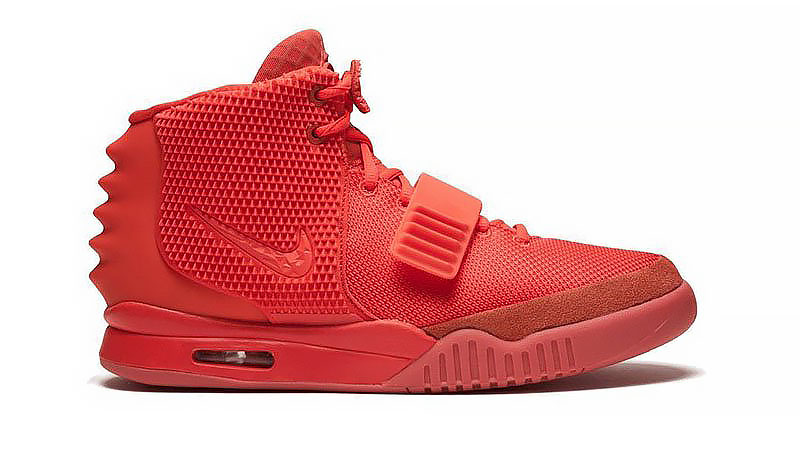 22. Nike SB Dunk Low Green Hemp – $39,000
Another pair of Nike SB Dunks to add to your list. Only this time, these rare sneakers are made from something a bit unusual – hemp. Inspired by the 4/20 informal holiday, these 2004 sneakers are crafted using natural fibers and are extremely rare. In fact, only 450 pairs of this shoe were sold to the public, hence the hefty price tag. The 'Green Bonsai' colorway includes a green Swoosh logo and a unique matching game. As this combination of shades is rarer than the others, you can expect to pay a pretty penny for these.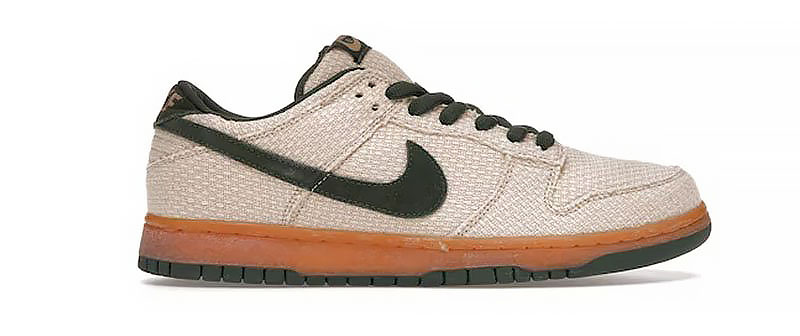 23. Nike SB Dunk Low Tokyo – $36,000
The Nike SB Dunk sneaker collection from 2004 continues to be some of the rarest in the world. The Tokyo edition, also released in 2004, is inspired by the Japanese city. They were released only in Tokyo and were available in strictly limited numbers. Only 200 were released and feature no other logos apart from the iconic Swoosh on the side. A variation of these sneakers was released in 2015 but lacked the cream colorway of the originals, thus increasing the resale price of the 2004 edition.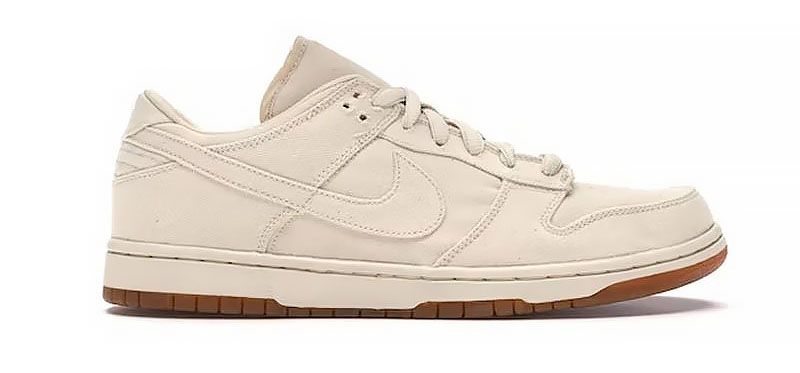 24. Nike Dunk SB Low Freddy Krueger – $30,000
Halloween fans rejoice! This special edition of the Nike Dunk SB features artwork inspired by the iconic villain of 1984's A Nightmare on Elm Street, Freddy Krueger. Krueger's recognizable sweater pattern is printed onto the footwear, with splatters of blood complementing the colorway. What makes this pair of sneakers so unique is that these are only a sample – they were never released to the public, and therefore some of the rarest shoes ever.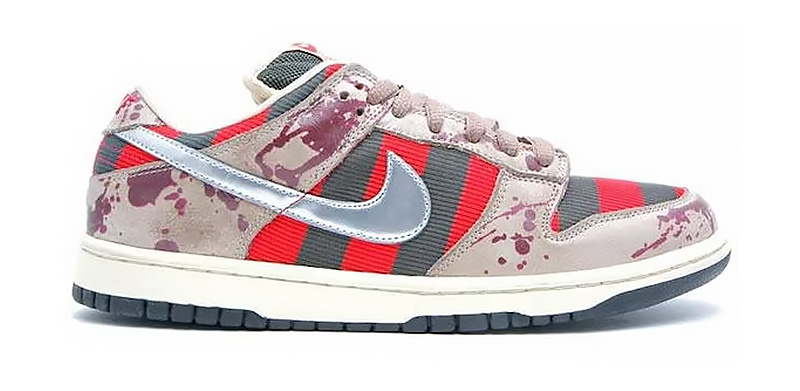 25. Adidas x Pharrell Williams NMD – $29,000
When stars like Pharrell collaborate with Adidas on a pair of sneakers, you know it will be a hit. And that's exactly what these NMD sneakers are. Fetching roughly $29,000 today, these unique shoes feature a black and white colorway with front-lace fastening and a co-branded design. While there are plenty of other colors available on the market, these are some of the most sought-after, therefore expensive shoes today.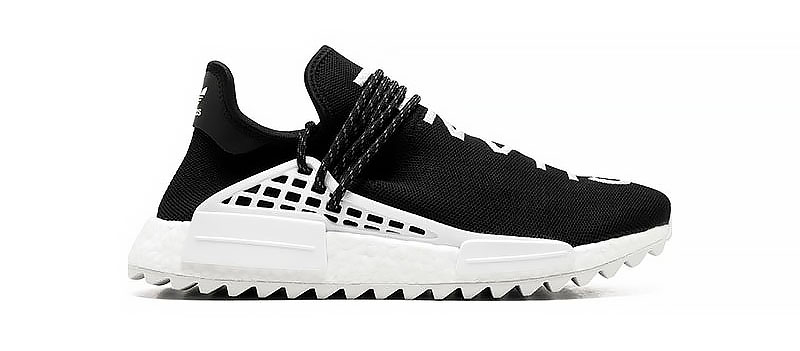 26. Off-White x Air Jordan 'The Ten' – $28,000
Created by the late Virgil Abloh, the Off-White x Air Jordan 'The Ten' is one of the most loved pairs of shoes by the designer. These were the most hyped release from the two brands, featuring a high-top silhouette in the iconic Bred colorway. What makes this footwear so unique is its Abloh-esque unfinished feel, including the Swoosh stitched in two places, and a white zip tie on the collar. Of course, it wouldn't be an Off-White design without the name of the item in quotation marks on the sole. These were a limited run, with celebrities like Jay-Z and Spike Lee owning a pair, hence the hefty price.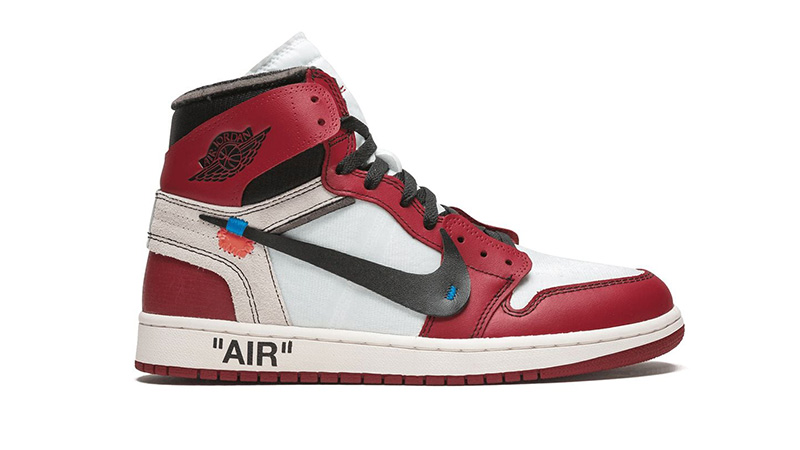 27. New Balance 999 Concepts 'The Kennedy' – $27,000
The New Balance 999 Concepts 'The Kennedy' was born in 2011 by New Balance and Concepts. The shoe is inspired by the Kennedy family, who often enjoyed sailing at Hyannis Port. The colorway includes tan, beige, gray, and blue giving it a nautical effect. The massive popularity of these shoes inspired the two brands to work together again and again. Like other special edition sneakers, these came in a strictly limited run, with around 450 available in the world.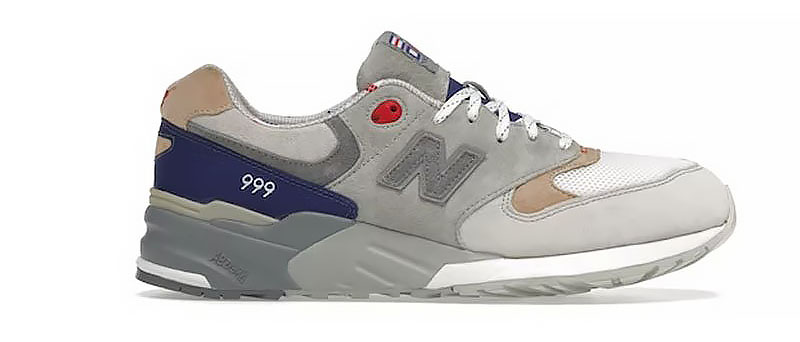 28. Nike Air Max 1 Kidrobot – $27,000
Toy lovers rejoice. This 2005 sneaker totally changed the game, combining the legendary status of Nike and the vinyl toy retailer, Kidrobot. The Nike Air Max 1 Kidrobot features a black, yellow, and pink colorway, with the majority of the body in a dark hue, including the Swoosh. A pink tongue, inner sole, and lace-up front make the shoe stand out, with small yellow accents on the rubber sole and on the front. The limited edition packaging included a Kidrobot figurine and was exclusively sold in Barneys New York.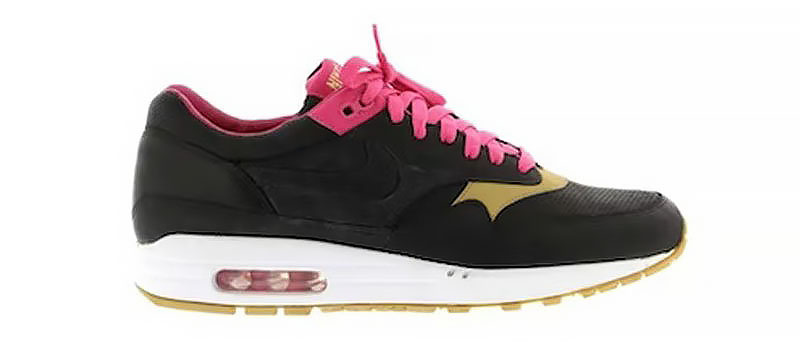 29. DJ Khaled x Air Jordan 3 'Grateful' – $25,000
The Dj Khaled Nike Air Jordan 3 'Grateful' sneakers are some of the priciest ever. The bright red, black, and elephant-print sneaker was released in 2017 to commemorate the DJ Khaled album of the same name and the birth of his son. In the tradition of the producer's branding, the shoes also feature 'We the Best' placed on the heel in black. As they're limited edition, they're quite rare to find and therefore quite expensive to purchase.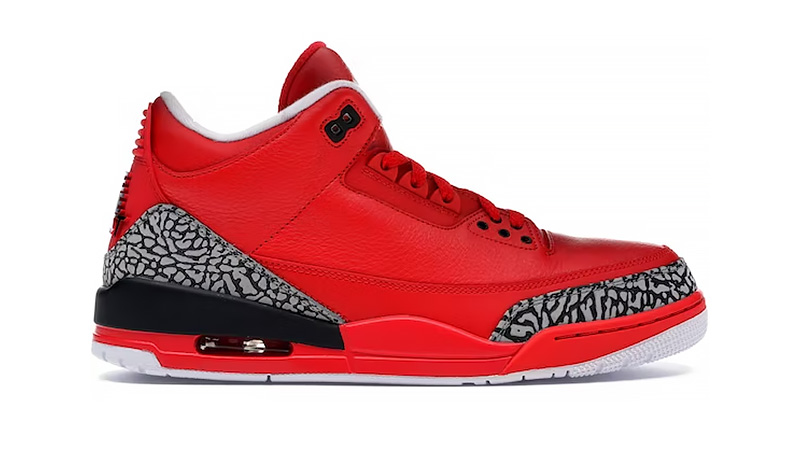 30. Jordan 4 Retro Undefeated – $20,000
A unique and hard-to-come-by pair of sneakers, the Air Jordan 4 Retro Undefeated aren't just rare; they're expensive. This shoe was born from a collaboration between Jordan and Undefeated, creating military-inspired footwear. Taking its influence from the MA-1 Flight jacket, it features a khaki, black, and orange colorway and a Velcro tongue patch to reflect the style of outerwear. There are only 72 pairs of these 2005 sneakers available, so it's safe to say they're going to get more valuable with time.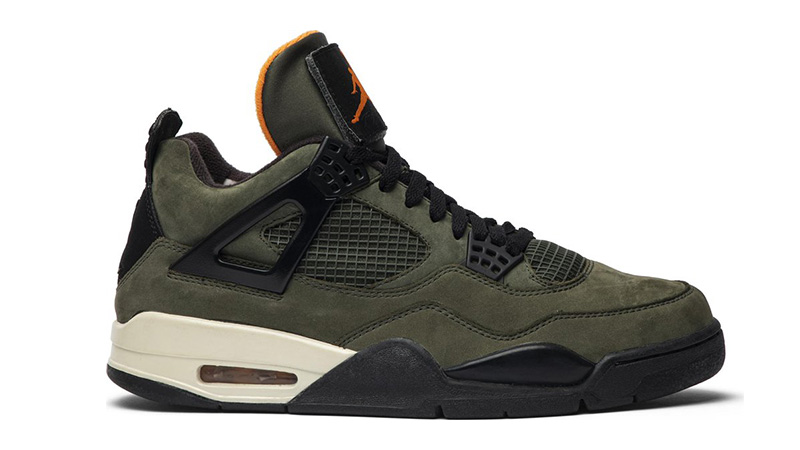 Expensive Sneakers FAQs
What is the most expensive sneaker of all time?
The most expensive sneakers belong to Drake, who paid $2 million for a pair of solid gold OVO x Air Jordans in 2016. The second most pricey pair of sneakers is the Nike Air Yeezy 1 'Prototype', selling for a whopping $1.8 million. 
What is the most expensive pair of sneakers in the world?
The most expensive wearable sneakers in the world are the Nike Air Yeezy 1 Prototype. These shoes sold for $1.8 million at Sotheby's auction house.
What is the world's most expensive shoe?
The most expensive shoe is the solid gold OVO x Air Jordan, which sold to Drake for $2 million in 2016. 
Why are Jordan 4s so expensive?
Air Jordan 4 are very expensive sneakers due to a few factors. First, they cost a lot to make - the technological advantages of these shoes have a higher manufacturing cost. Second, Jordan 4s have a deep history in the sporting and fashion scene. Importantly, this footwear has a deep connection with Michael Jordan, who inspired the shoe itself and is considered the greatest basketball player of all time.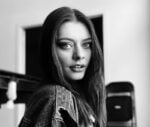 Alexandra Feiam is an experienced fashion writer who holds a degree in journalism. She has an impressive portfolio and expertise working as the Editor at Power Retail and Commercial Content Editor at Newscorp. Ally has been writing for The TrendSpotter since 2018, and her work has been featured in notable publications such as The Herald Sun, Arirang TV South Korea, Kidspot, The House of Wellness, and The Daily Telegraph.
SUBSCRIBE TO OUR NEWSLETTER
Subscribe to our mailing list and get interesting stuff and updates to your email inbox.