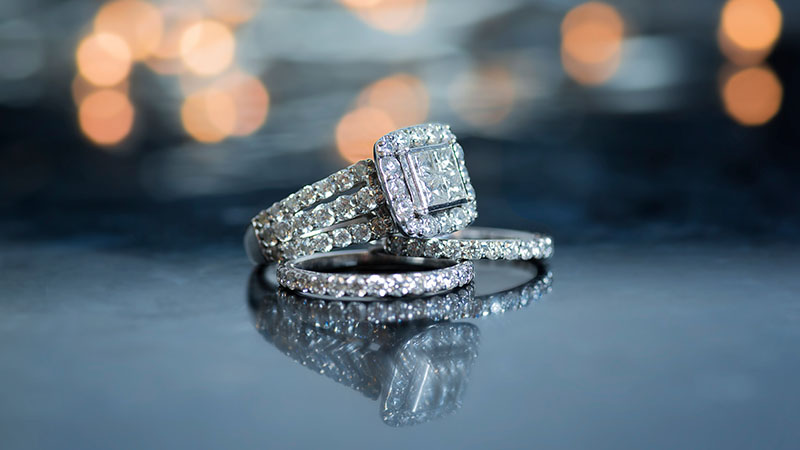 Choosing an engagement ring can be anxiety-inducing. What style does your partner want? Do they prefer a princess cut or a halo setting? And what about brilliance and color? Clarity? It's all too much. However, have no fear. Choosing a ring online is a great way to get everything sorted and ensure you are checking every box. Get the ring of your dreams and do it with just a few clicks! Here are the best places you can buy an engagement ring online.

1. Angara
Finding a unique engagement ring has never been easier, thanks to Angara. This store features a wide range of styles, available in various colors and shapes that will make anyone happy. For the unique partner, choose colored gemstones, such as blue diamonds, ruby, or emeralds. There are nature-inspired designs and silhouettes with a vintage flair or something traditional.

Return Policy
If, for any reason, you need to return the ring, Angara offers 30-day returns. There are a few exceptions to this, however. The ring must not have been worn by the customer, damaged, or modified. The refund policy does not apply to custom pieces or Special Orders. Anyone who needs to return their ring must generate a Return Merchandise Authorization number and fill out an online return form.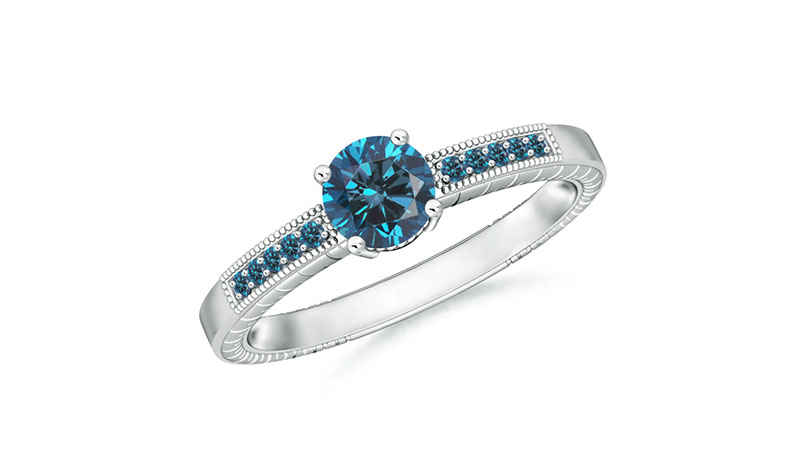 2. BlueNile
From designers like Zac Posen to Bella Vaughan, Blue Nile is the ultimate destination for an engagement ring. First, you start with the diamond you want. Then, you move on to your preferred shape – be it a princess cut, pear, or marquise. Choose the setting, cut, color, and clarity (plus your price range), and you're good to go. This is a wonderful option if you want to create a unique and personalized ring for the big moment. There are other options, too, if you don't want to create something yourself. There is an endless choice here.
Returns Policy
There is a 30-day returns policy at Blue Nile. This company accepts both returns and exchanges as long as the item is returned in its original purchase condition. Before sending back the item, it must have an RMA and needs to pass the returns requirements before a refund is made. Special Orders can not be exchanged or refunded. However, engraved rings (outside the EU) can qualify for an exchange or a return.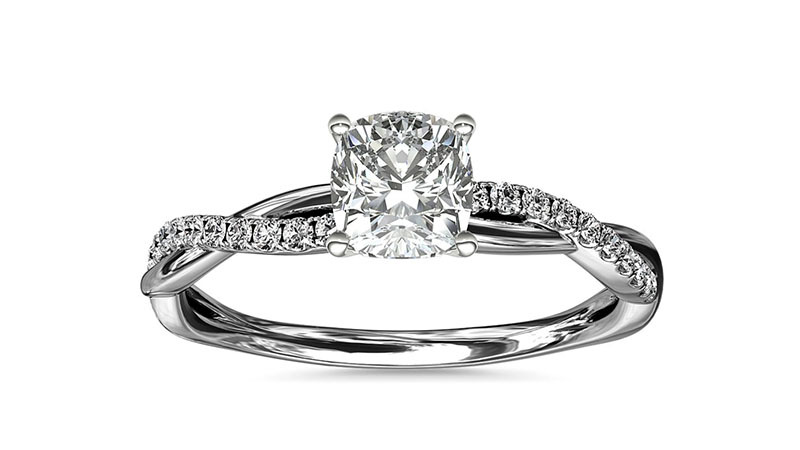 3. Taylor & Hart
Happiness is just a moment away, thanks to Taylor & Hart. This brand carries its own stunning collection. If unique pieces are more your thing, why not try their bespoke pieces, created using incredibly detailed designs? The colorful gemstones are delicate, with exceptional clarity and cuts. The jewelry professionals are with you every step of the way, ensuring the entire process is perfect, from start to finish. Each ring is unique in its own way, giving every wearer a personalized story to tell.
Returns Policy
Taylor & Hart offers a 90-day return policy. Most pieces are eligible for standard returns, but there are a few exceptions. For example, natural diamonds with a value of greater than $20,000, lab-grown diamonds with a value higher than $6,000, or colored gemstones valued at more than $5,00 will not be accepted. Moreover, certain shapes such as Hexagonal, Old Europan or Kite, Old Mine, and Rose Cuts also fall outside the returns category. The customer must file the correct paperwork for any returns and pay the delivery fee.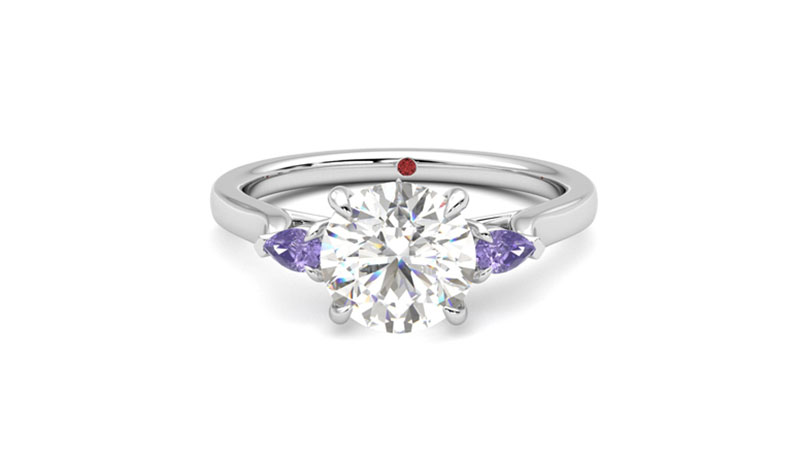 4. Brilliant Earth
Whether you want something traditional or out of this world, the rings at Brilliant Earth need to be seen to be believed. These engagement rings aren't your typical jewelry – they're crafted using ethically-sourced gemstones. This means that they're kinder to the planet but look as incredible as the most expensive options. Begin your search by selecting the diamond's setting, shape, and clarity – there are nature-inspired designs, bridal sets, and classic designs to choose from.
Returns Policy
Brilliant Eart offers a 30-day refund if you are unsatisfied with your order. It must be returned in the same condition that it was bought, with no damage or signs of wear. Certain styles and types of jewelry cannot be approved, such as engraved goods or modified and resized rings. Be sure to include all certificates and original packaging when completing the return.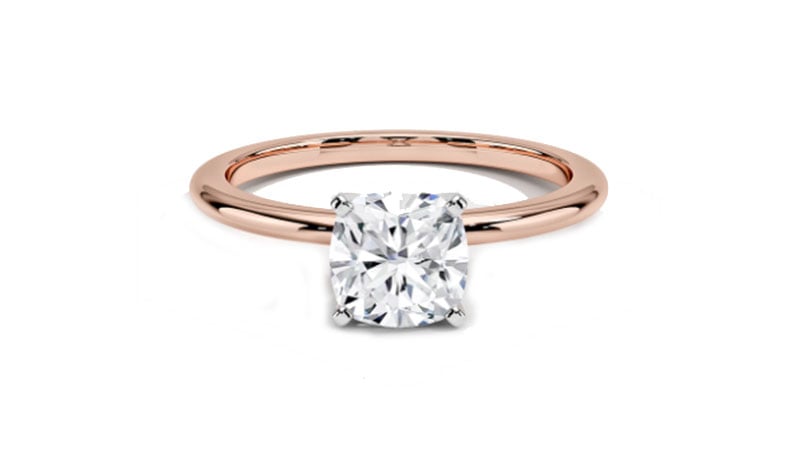 5. VRAI
Fun fact: Vrai in French translates to 'true,' which is exactly what you should expect when ordering from this ring company. These engagement rings are timeless and stunning, with bespoke and best-selling options to choose from. There are 15 shapes to choose from, four metals, and endless possibilities. Plus, these designs are crafted using lab-grown diamonds, so it is better for the planet. These rings are just as beautiful and brilliant as natural gems, and they're custom-created for the wearer. This way, each design is crafted especially for the individual.
Returns Policy
TO complete a return with Vrai, you must begin the process 15 days after purchase. The ring must include the diamond certificate, arriving in its original condition and with an original purchase receipt. An important note – the diamond will be unset from the band, and the gold will be melted down. As such, a $200 fee will be deducted from the refund as part of the process.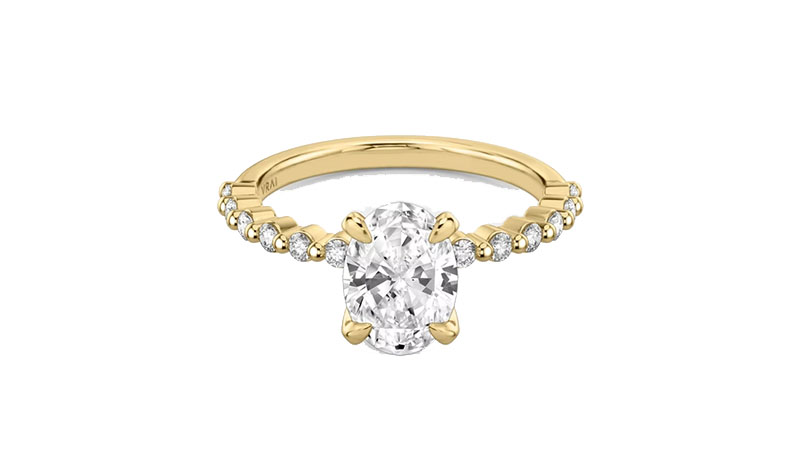 6. Jared
There is nothing quite like a ring from Jared. This jewelry specializes in engagement rings, crafted to suit the wearer on an individual basis. From black and white diamonds to two-tone gold and everything in between, there's something here for everyone. Jared offers affordable prices, too, so it can flatter a wide range of budgets. If diamonds aren't their thing, there are plenty of other gems to choose from, such as opals, aquamarine, and even chocolate diamonds. Designer brands like Vera Wang and Pnina Tornai create unique and brilliant pieces that are sure to make the wearer smile!
Returns Policy
Jared offers a 30-day returns policy. The standard regulations apply, such as ensuring the ring is in the same condition as purchased, with the required receipt, warranty, and packaging as received. Returns by the mail are free, but any and all exchanges must be completed in a store.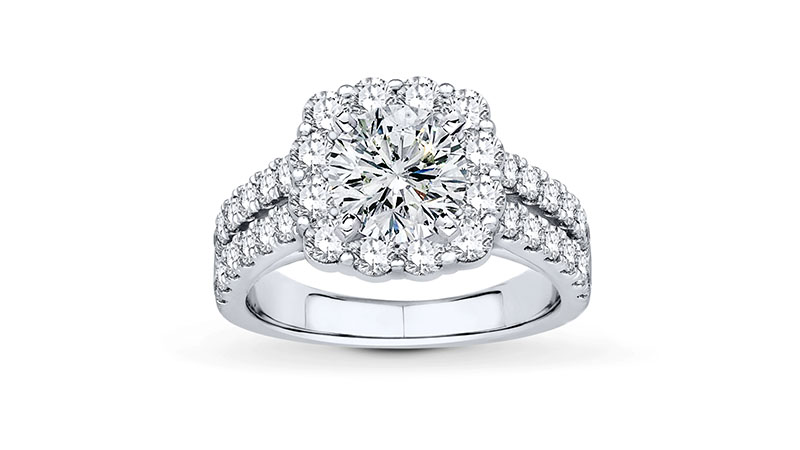 7. Ritani
For the person who wants a unique engagement ring, Ritani is the place to begin the search. Solitaire, halo, or French-set styles are just the beginning here. The bands here are unlike any other – twisted, beaded, open band, or something more traditional. If you prefer a colored gemstone, then look no further. This brand offers yellow diamonds, which catch the light in a totally different way. You can find lab-grown, ethically-sourced, and conflict-free diamonds available as loose or set rings. All earth jewels are certified either by the GIA, or AGS, so you know you are getting the highest quality.
Returns Policy
All returns are accepted 30 days after the diamond arrives at your home. Before you begin the process, you must call the store and let a team member know who will send a pre-paid FedEx return label via email. Drop the ring back in its original condition (otherwise stated otherwise), and it will be processed within two weeks after its arrival at the store.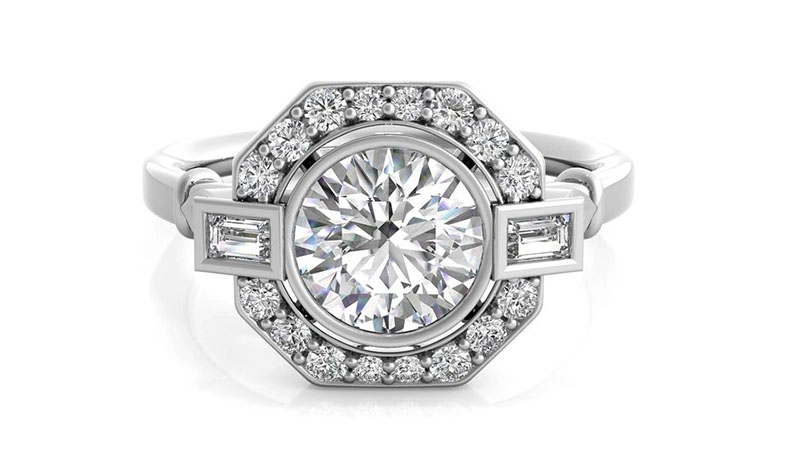 8. Wolf & Badger
Wolf & Badger doesn't do 'typical' engagement rings. In fact, a piece of jewelry from this store is unlike anything else. With colored gems, unique settings, and designs, there is nothing quite like a piece from this retailer. Here, you will find jewelry beyond the traditional – hand-crafted pieces, each with its own unique touches and styles will be all yours. There are endless options available – you can find lab-grown diamonds, sapphires, morganite, and opals. What's more, they cater to all budgets, so you can guarantee an incredible design without breaking the bank.
Returns Policy
Wolf & Badger offers free returns worldwide, which can be made 14 days following delivery. To qualify for a refund, the product must be returned in its original state with all necessary documentation and certificates. This also includes any boxes and dust bags provided by the designer.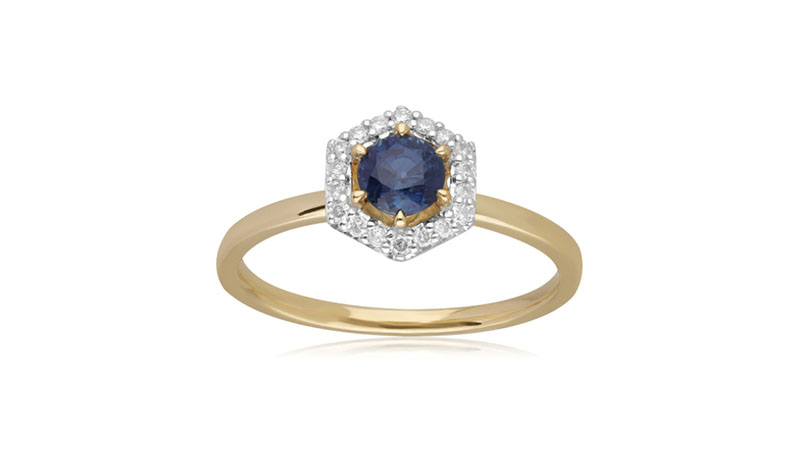 9. Zales
Unsure of where to start for the perfect engagement ring, Let Zales guide you along the way. This retailer offers a huge range of designs and can offer advice for the perfect design. From Marquise to an Asscher-Cut, there are endless choices available. Designers such as Vera Wang, Enchanted Disney Fine Jewelry, and Zales Private Collection are some of the most popular choices, as they celebrate the wearer's personality. Colored gems, brilliant sparkles, and superior styles will make this the ideal choice for any diamond enthusiast.

Returns Policy
Any order made from Zales must be returned either by mail or in-store. There is a 30-day returns policy for jewelry, starting from the moment the ring arrives at your home. Exchanges can be made 60 days after purchase. Customers can begin their returns process if the engagement ring is in good condition, unworn and unaltered.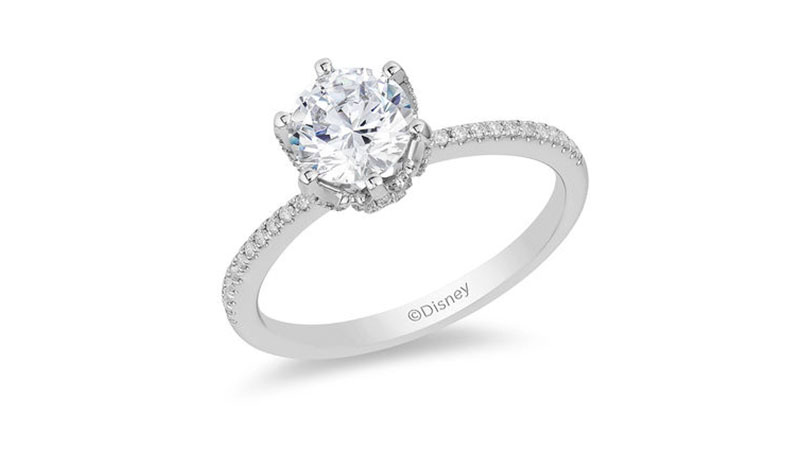 10. Kay Jewelers
If you are looking to create a custom ring, then Kay is the place to be. Here you can play with different shapes and designs, letting your creativity shine. There are endless choices to be made, such as various settings, diamond shapes, and colors. But if you have no idea where to start, take the engagement ring quiz! Here, they will take you through the ring-choosing process step by step and make the process painless and enjoyable.
Returns Policy
If something isn't right and you need to make a return, Kay's will accept it 30 days after the purchase. All certificates, receipts, and proof of purchase must accompany the ring, and the ring must be in its original condition. Before it is approved, the team at Kay's will undergo an assessment to ensure that everything is correct.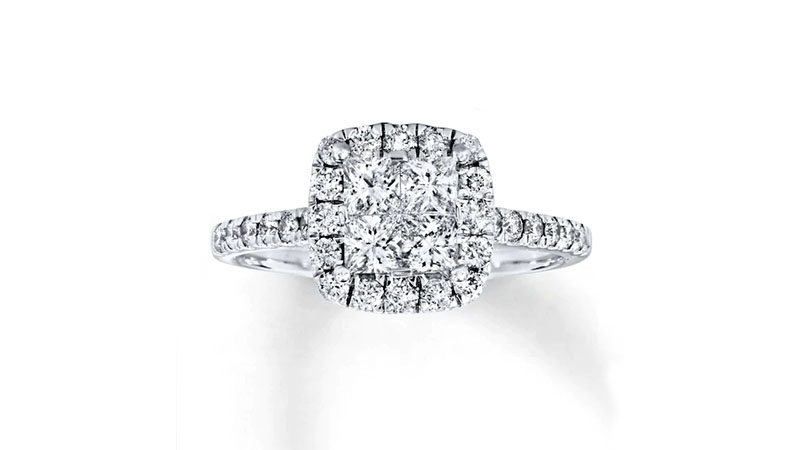 11. Catbird NYC
Catbird's engagement rings are simple, elegant, and timeless. Be it a yellow gemstone, a classic diamond, or a rich ruby – there are endless possibilities to choose from. Unlike other stores, this jeweler takes uniqueness to the next level. Remaining simple in style, the pieces exude elegance while remaining totally different from the rest. Choose from different shades, brickwork settings, stacked gems, or clusters of jewels – you will find something for everyone here.&
Returns Policy
Domestic returns can be made within ten days of purchase. As always, the item must be unworn and in its original condition, complete with all of its packaging. As part of the returns process, a $5 shipping fee will be deducted from the total refunded amount.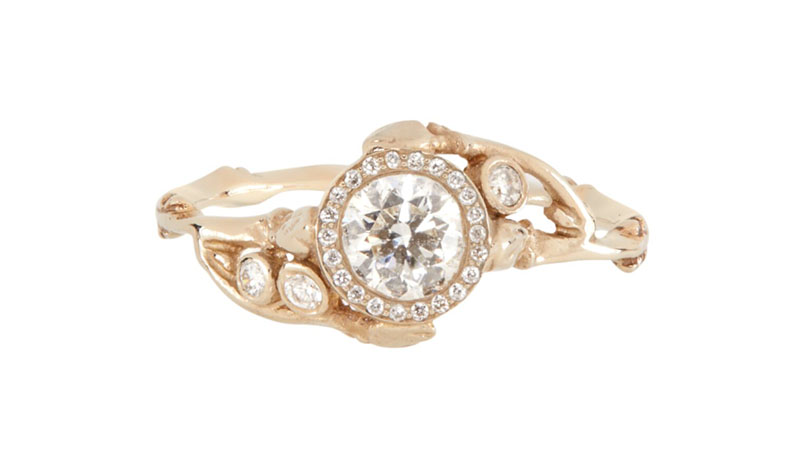 12. Gemist
Taking designing an engagement ring to a whole new level with Gemist. This ring specialist understands what it means to be unique, so they will go through the whole process with you. From choosing a gemstone to the setting and metal customization, it's a fully-personalized experience from start to finish. Customers can have three samples sent to their homes and choose their favorite. Alternatively, you can create the custom design online – choosing either a simple design, modern rings, or a cocktail silhouette. Colored gems such as champagne, blue or green are knock-outs, but you can always opt for a lab-grown diamond instead.
Returns Policy
If you want to return these rings, you must do so 30 days after purchasing. All items must return to the store in their original condition and cannot be worn or altered in any way. Please note that made-to-wear pieces with 14K gold with diamonds and precious or semi-precious gemstones are non-refundable. There is also a 15% re-stocking fee that will be deducted from the refunded amount.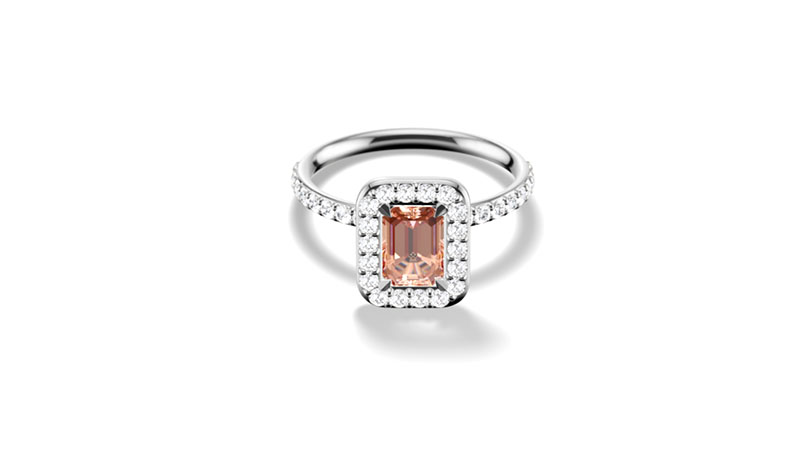 13. James Allen
Engagement rings aren't just for women. James Allen offers rings for all genders, each exquisite in its design. Choose from a wide array of metals, settings, and gemstones. If you love a touch of yellow, the luxurious diamonds with a yellow hue are perfect for you. Alternatively, you can opt for something traditional, with bezels, a halo, or a solitaire setting. You can also decide whether you want white gold, yellow gold, or even platinum for the band. The choices are endless, and the possibilities are untold.
Returns Policy
Returns can be made up to 30 days after the item has arrived at your home. The ring must be returned in its original condition, and in the case of an engraved item, there is a $25 repolishing fee. Local customers can return their goods for free, but international shoppers must pay a $50 shipping fee. Please ensure that you include the ring's certificate. Otherwise, you will incur a $150 replacement fee.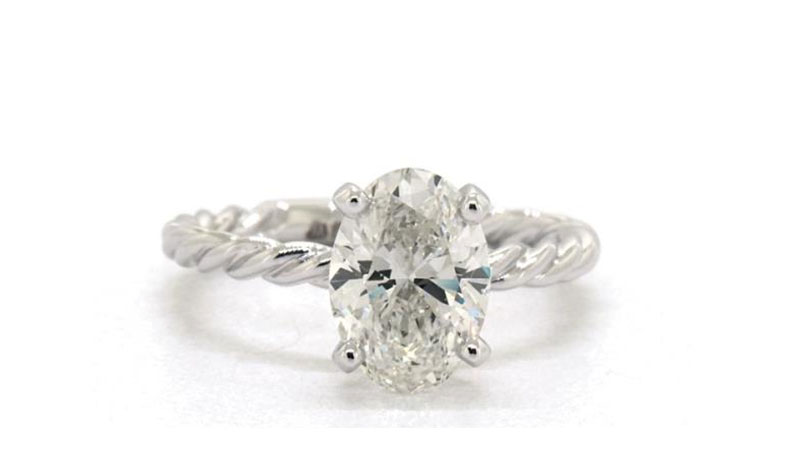 14. Georg Jenson
Georg Jenson is a designer worth celebrating, and when it comes to choosing an engagement ring, there's no better place to begin. The pieces range from simple and elegant to ultra-sleek and extravagant. Prices here are on the more expensive side, but you are paying for the highest quality materials, such as platinum settings and heritage spanning back over a century.
Returns Policy
There is a strict 14-day return policy for Georg Jenson goods. All items must be returned in their original condition, with the packaging and documentation as required. You can either apply for a refund or store credit. If you choose the latter, you will have 12 months to use the credits, and they must be applied in-store and not online.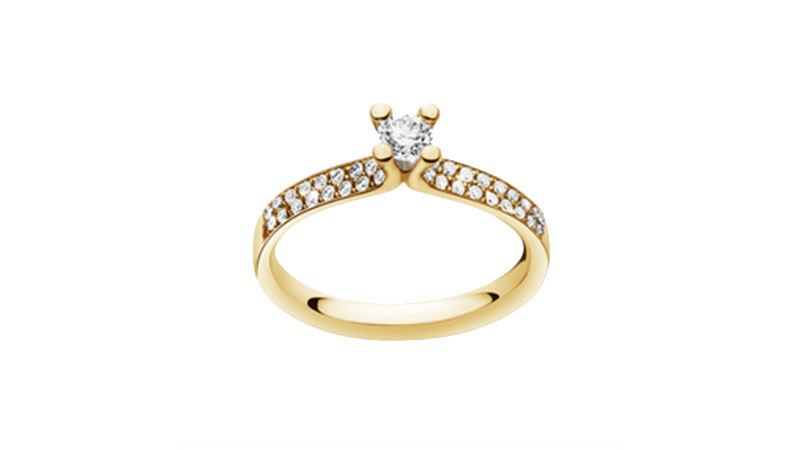 15. Diamonds USA
Diamond enthusiasts rejoice. This store is the ultimate place to go for all things sparkly. Diamonds USA specializes in engagement rings crafted using the finest materials and gemstones. From solitaires, pronged settings, or something with a bezel, there's a piece that will suit anybody. You can design something yourself for a personal touch, or you can choose a design that is ready to ship. You can also find a replica of some of the most sought-after rings in engagement history, like Pippa Middleton's!
Returns Policy
There is a 30-day returns policy for Diamonds USA. If you press to the store that you wish to return the item within this time frame, you will receive a full refund. However, it does not have to be returned within those 30 days. The customer must pay for the shipping fees, but Diamonds USA will cover the insurance costs in case of a missing or damaged item.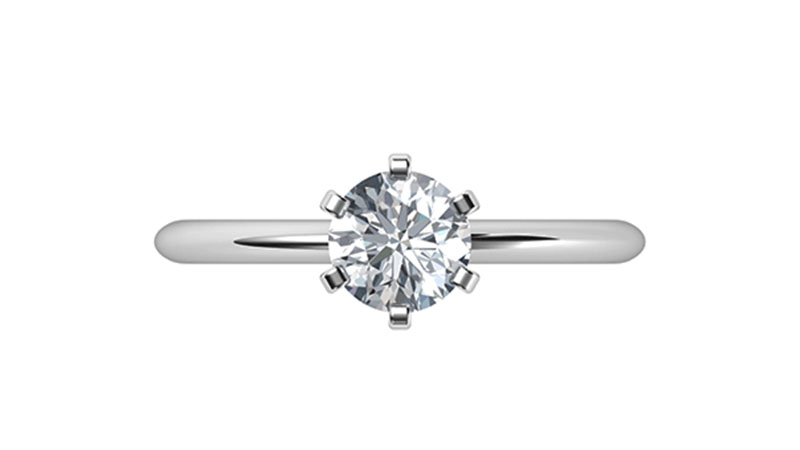 16. Helzberg Diamonds
An engagement ring symbolizes the start of a journey with your partner, so why not choose a ring that signifies your love for them? A ring from Helzberg Diamonds ticks all the boxes. The pieces are affordable, stunning, and unique. From 1/4ct solitaire diamonds to a lab-grown marquise in 14K rose gold – there is something here for everyone. You can shop by style, diamond cut, gemstone color, or price range – you can even choose a piece from a designer such as Zac Posen or Jenny Packham.
Returns Policy
Shoppers at Helzberg Diamonds have 30 days to make a return. The jewels must be shipped in their original condition, unworn, and with the original receipts and any certificates. There are a few exceptions to the returns policy, such as custom designs, pre-owned pieces, or orders paid with PayPal. For the latter, returns cannot be made in-store – please contact the customer service line to organize a refund.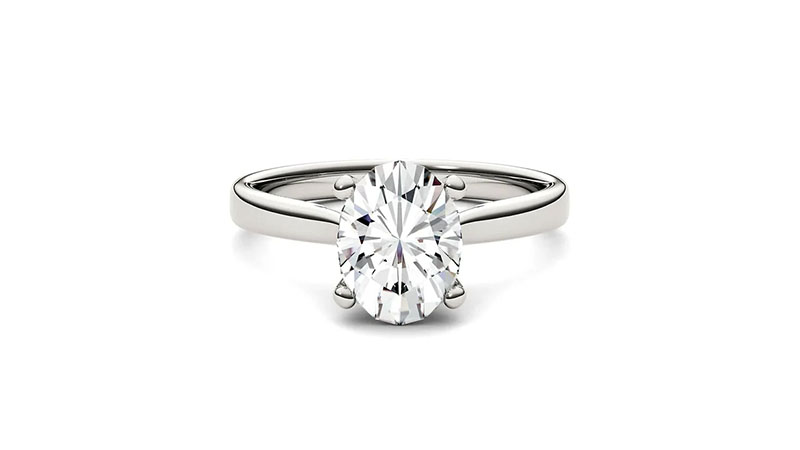 17. Astley Clarke
Your partner is unique in so many ways, so why settle for a boring ring? The jewels from Astley Clarke are stunning yet unusual, delicate yet unexpected. With stackable designs with opals and single-cut diamonds, flared diamond designs, or classic halo settings, there is something for everyone. Prices are relatively affordable (as far as engagement rings go), and they are created with an individual in mind, with critical attention to detail and brilliant results.
Returns Policy
Returns can be made 14 days after purchase (excluding personalized items). You can return these items for any reason, as long as they are sent back in an unworn and unaltered condition, with their original packaging. Be sure to include any and all items you are returning in a single package, and be sure to include the returns form inside the parcel. Note that engraved items and bespoke or special orders do not apply to this returns policy and can't be exchanged or returned at all.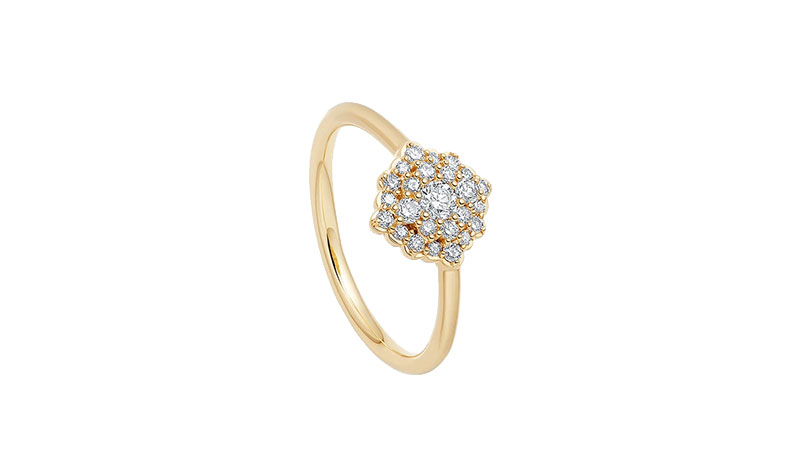 18. Gabriel & Co.
Unique in design, engagement rings from Gabriel & Co are like no other. These beautiful and precious jewels feature stunning and intricate details, such as twisted bands, vintage-inspired settings, and endless sparkle. Shop by varying styles, such as a solitaire, three-stone halo, or a split shank – the possibilities are limitless. You can even choose mixed metals for the band – why have white or yellow gold when you can have both!
Returns Policy
Gabriel & Co offers a 30-day return policy but has some exceptions to the rule. The items must be returned in their original and saleable condition, complete with all packaging that came with it. If you would like a full refund, the amount will be transferred back to the original payer. However, if you would prefer an exchange, you will have to contact the customer service team and make a new order on the Gabriel website.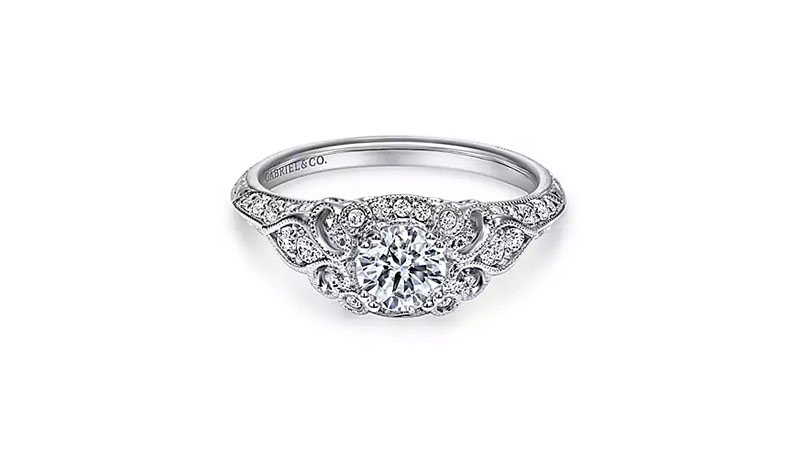 19. Macy's
Macy's is a fantastic place to purchase an engagement ring, as they have endless choices available. From a princess cut to a classic oval or pear, you will find something that suits your taste and budget. Colored gems or brilliant diamonds are available for different settings, with gemstones including citrine, black sapphire, aquamarine, and many more. You can select a lab-grown diamond or something made naturally – each design has its own clarity, color, and brilliance.
Returns Policy
For international purchases, shoppers can return an item 180 days after purchase. However, you must first email the customer service team so they can set up the returns process ahead of time for complete instructions. Items cannot be exchanged at Macy's. They only offer a full refund.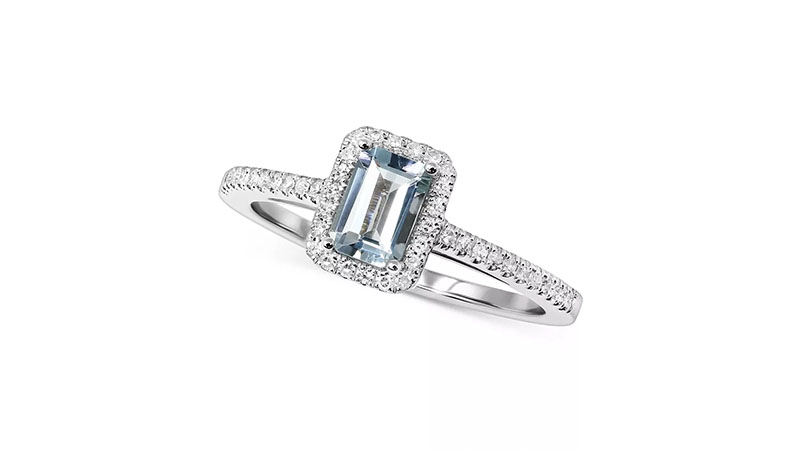 20. Keyzar
Keyzar is the perfect place to begin your search if you're looking for conflict-free diamonds. This collection of unique and dazzling engagement rings aren't just stunning, but they're also affordable. With designs featuring paves, baguette settings, and everything in between, there is something here for everyone. Each design is crafted using the finest materials, and they're unlike anything else. This company also offers a lifetime warranty for peace of mind.
Returns Policy
Keyzar offers a return policy of 30 days. The items can be returned as long as they are in the original condition that the customer purchased them. They must also return the goods with all packaging and documentation. There are two types of items that are not accepted under this policy. First, engraving costs will not be refunded. Second, custom-made jewelry will not be accepted.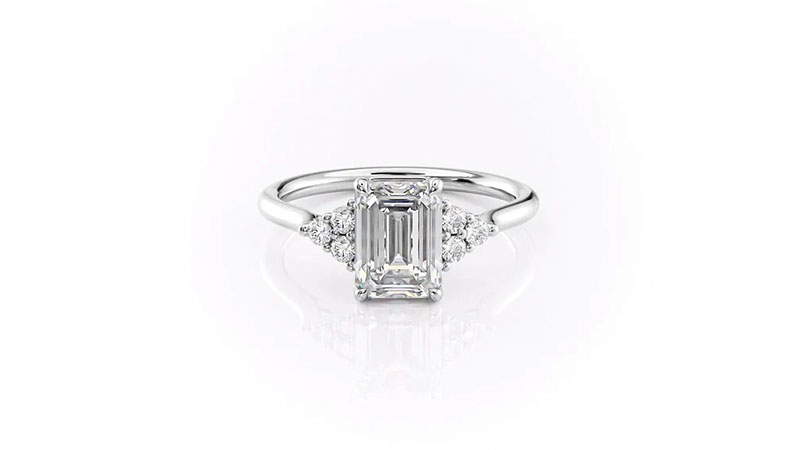 Engagement Rings FAQs
Is it safe to buy an engagement ring online?
Yes, it is safe to buy an engagement ring online, as long as you make sure the brand is reputable and trustworthy. The diamonds should come with a certificate of authentication. Before you buy, make sure you have the wearer's finger measurements written down perfectly! Also, ensure it has a good returns policy and plenty of reviews before you make a purchase. 
Are online engagement rings cheaper?
Many online retailers do not have stores so that they can cut costs on factors such as rent. This means you can find diamonds 30-40% cheaper than in traditional stores. However, this all depends on the jewelry you are purchasing - a designer brand may not offer the same discounted prices as other brands. 
What to Look for When Buying an Engagement Ring Online?
When shopping for an engagement ring online, be sure that you are shopping from a reputable retailer. A trustworthy site will have great reviews, offer returns, and send a certificate of diamond authenticity with the ring. Be sure to certify the clarity, cut, and color of the diamond before you buy it, so you can ensure it is the right stone when it arrives. 
Can I return an engagement ring that I purchased online?
Yes, you can return an engagement ring that you have bought online. However, before you commit to the purchase,e make sure you check the returns policy from that store. Some offer 30-day or 60-day returns, whereas others may offer only 10. 
SUBSCRIBE TO OUR NEWSLETTER
Subscribe to our mailing list and get interesting stuff and updates to your email inbox.