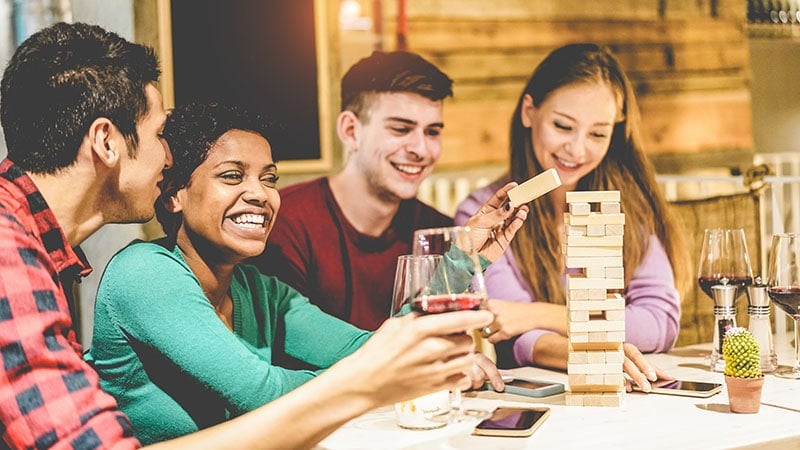 The next time you hang out with friends or family and want a laugh, a drinking game could be just what you are looking for. Great with two or three people, or with a bigger group, they can be played at BBQs, house parties, and dinners. There are many to choose from, from classics with a fun twist to unique and exciting ones. There are challenge drinking games, truth and dare cards, ways to uncover secrets about your friends, and ice-breakers for a new crowd. Plus, the standard games that require some luck or skill to win. These are some of the most fun drinking games on the market, but you probably don't want to play them with your parents because things can get seriously awkward quickly. Just be sure to drink responsibly and be of the legal drinking age in your country.
1. DRINK-A-PALOOZA Board Games
DRINK-A-PALOOZA is a fantastic game for gathering with friends because you can play with two to 12 players. The nice thing about this drinking game is it combines classics like flip cup, pong, and kings cup but puts its own twist on it. It comes with playing cards, ping pong balls, dice, game pieces, and mini bottles. Right, so how do you play? The aim is to collect all the mini bottles; once your game piece is full, you win. It is highly rated by people who have used it before and are raving about how fun it is. Although it is great for adults who want to party, the game can work just as well with soda or juice.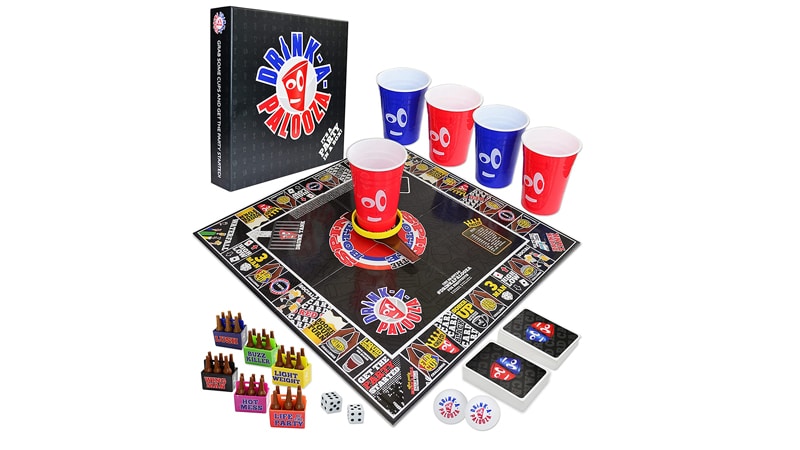 2. Drinkopoly
Drinkopoly is a social game to play when you have friends over for a gaming night or at a party. Actually, with this game, you are likely to become the life of the party! You can play with up to six players, and it requires you to complete different tasks that vary in difficulty. There are 44 fields and cards that involve additional tasks to help you progress through the game. The tasks can be anything from funny to crazy, so you don't know what you will get, making this game even more fun.

3. Don't Get Drunk
Created by Envy Born Games, Don't Get Drunk is a fantastic way to get to know your friends better because there are four categories; trial, quiz, dare, and luck. This means that you will likely be doing many things that may push your boundaries and take you out of your comfort zone. It can be played by two to eight players and takes around 60 to 90 minutes to complete; if you get that far, of course. Play it for a game night, at a family gathering, a birthday party, or buy it as a gift for someone searching for the ultimate party game.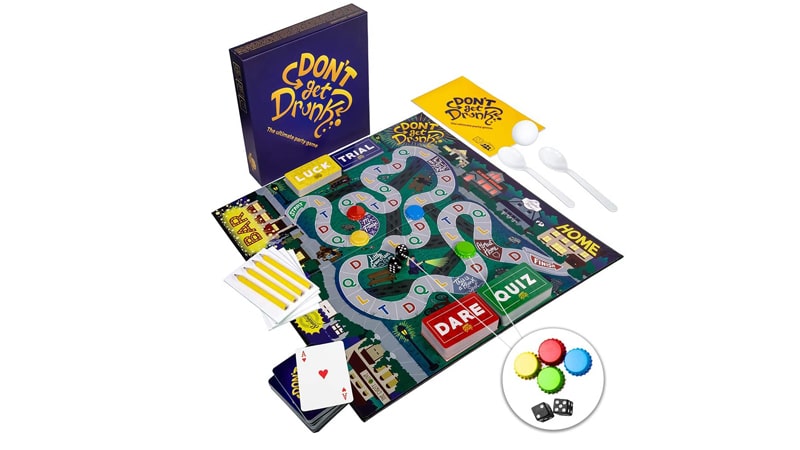 4. Out Of Commission
Out Of Commission is a board game like no other. The concept is simple; you need to complete all three layers and be the first to cross the finish line, although it is easier said than done as you have obstacles and challenges that will come up along the way. There are 30 Face Off cards, 30 Mystery Cards, 6 Pawns, and one dice. Each tile that you land on will have a different instruction that you need to follow, which can be anything from taking a big gulp of your drink to rolling again. Remember not to take yourself too seriously because this game will likely make you feel silly when Facing Off with your friends; this can include a dance-off or trying to make your opponent giggle. That said, it will also have you laughing until your tummy hurts.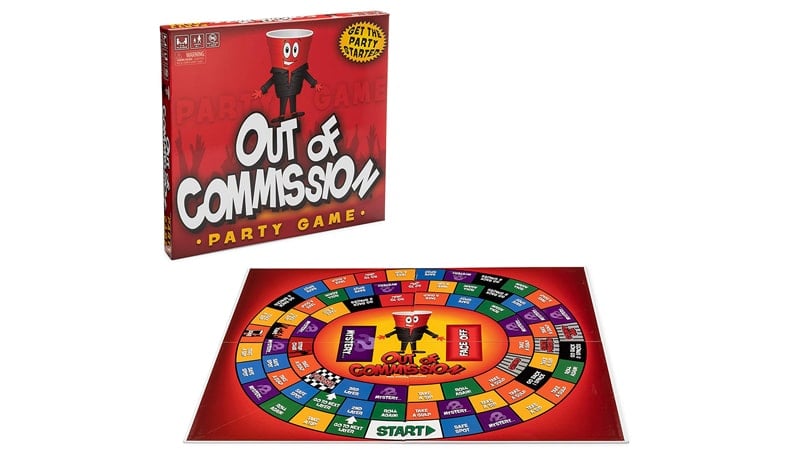 5. Beer Run
Beer Run is created by Towpath gaming, and it is a strategy-based drinking game. This makes it the perfect choice for those who want to have fun with their friends and think about winning tactics. The aim is to race against your friends, and you can have up to eight players and collect a Booze Token from each store and return them. These tokens can get stolen by other players, and there are Chance cards to either help you out or make the whole process even more difficult. Obviously, the more you lose, the harder it will be to stay alert and think clearly. It is a great party game, but please drink responsibly.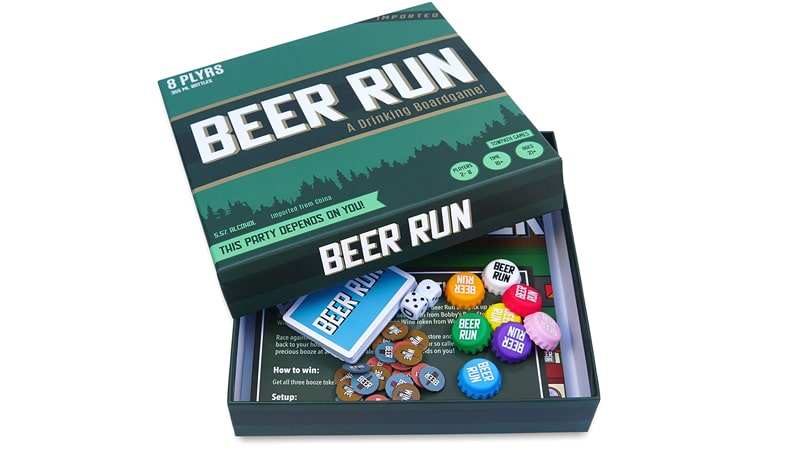 6. Matty's Toy Stop Ludo Drinking Game
Do you think Ludo is great fun? Well, Matty's Toy Stop Ludo Drinking Game is a strategy board game but with a twist. Much like the classic game, you have to get all your pieces on the board by rolling a six and moving around until you get to the starting point, except now there are shot glasses filled with your favorite liquor to contend with. The game can be played by two to four players and is excellent if you are gathering with just a few friends or looking for something fun to do with your partner at home. It is also affordable and will make a fantastic gift for someone who is of drinking age.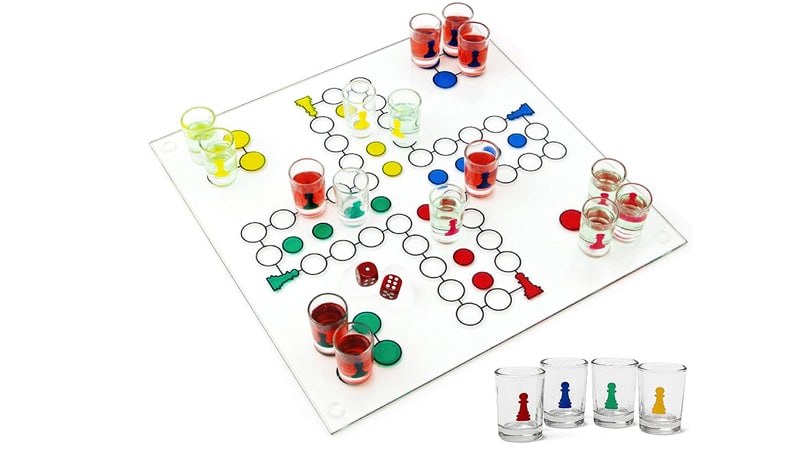 7. Buzzed
Buzzed is one of the most popular drinking games and has been highly rated by thousands of customers. It contains mature content, which is bound to make you laugh. How it is played is that when it is your turn, you pick a card and read it aloud, and what the card states will determine your actions. There are 250 cards and instructions. It can be played by three up to 20 players, making it the perfect choice for small gatherings or big parties.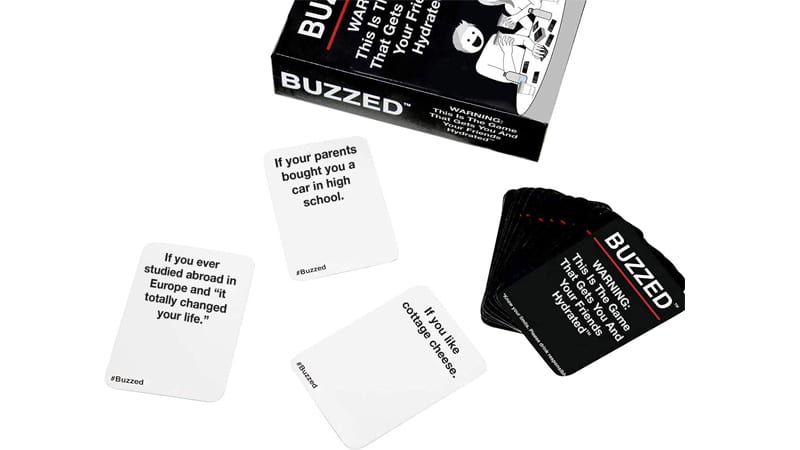 8. Tic Tac Toe Shot Glass Drinking Game
If you want to play an old classic, look no further than the Tic Tac Toe Shot Glass Drinking Game by Dondor Enterprises. Most of us will have some experience playing Tic Tac Toe, except the difference this time around is if you lose, you drink; if you get three shot glasses in a row, the loser has to drink. The product comes with a board and nine shot glasses. It is also one of the more affordable drinking games you can buy, so you do not have to break the bank for this one.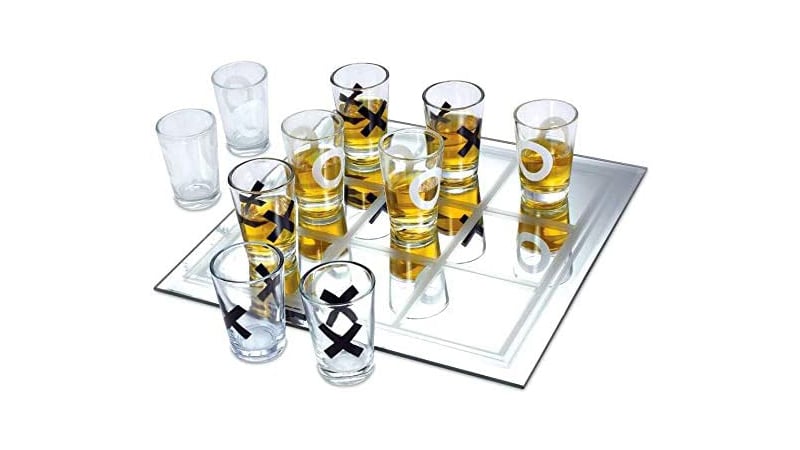 9. Tipsy Tower Drinking Game
ShouldWeDrinkTonight has brought us the Tipsy Tower Drinking Game, a stacking game for adults. Trying to keep block towers stable is hard enough when you're sober, but add booze to it, and this task becomes near impossible. There is also a twist, each block has a rule described on it, so you have to follow the description when you choose a block. There are 54 wooden pieces and over 35 different rules to follow; these include truth or dare, nicknames, and storytime. Buy it for yourself or give it to a friend; it is perfect for gatherings with or without alcohol.
10. Sotally Tober Card Game
The name of the Sotally Tober game should be a giveaway; this is a product designed to make you embarrass yourself and drink up. But it is also a great way to bond with friends as you take part in challenges. There are 125 cards that fall into five categories: Activity, Secret, Curse, Decree, and a Skill. You need a minimum of two people to play, and the winner is the person who has drunk the least drinks. Always drink responsibly.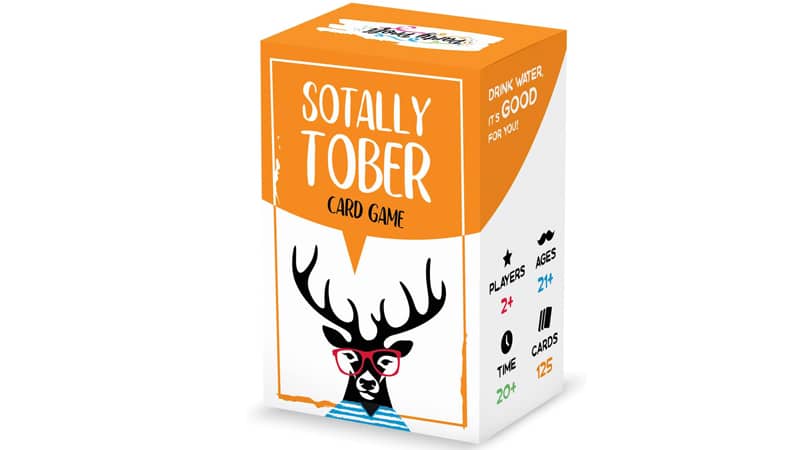 11. These Cards Will Get You Drunk
If you're looking for a game to make you laugh, then look no further than These Cards Will Get You Drunk. It is a simple and easy game that can be used by up to eight players and includes 100 unique cards. To play is simple; draw the card, follow the rules, and then drink. If you want to make it more personal, for example, for couples or adult family members, you can purchase an expansion pack as an addition to the original game.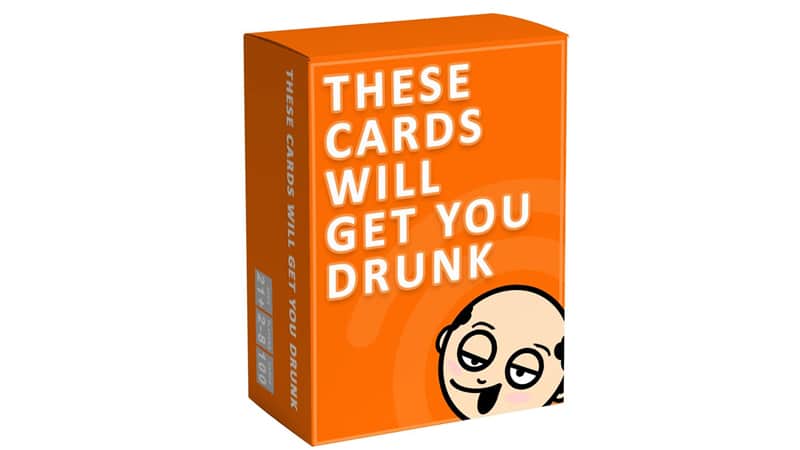 12. Incohearent
Brought to you by the brand, What Do You Meme?, Incohearent is the game where you will be left trying to make sense of the nonsense. You need at least two people to play, but more will be better. The idea is simple; One person will judge each round, using a timer and holding the card up so that they see the answer, while everyone else sees the phrase. The other players read the card aloud, trying to figure out what the phrase means, and whoever gets it correct first wins the card. There are 500 cards to choose from, but be warned, some parts contain mature content, so you may not want to play with your parents or anyone sensitive.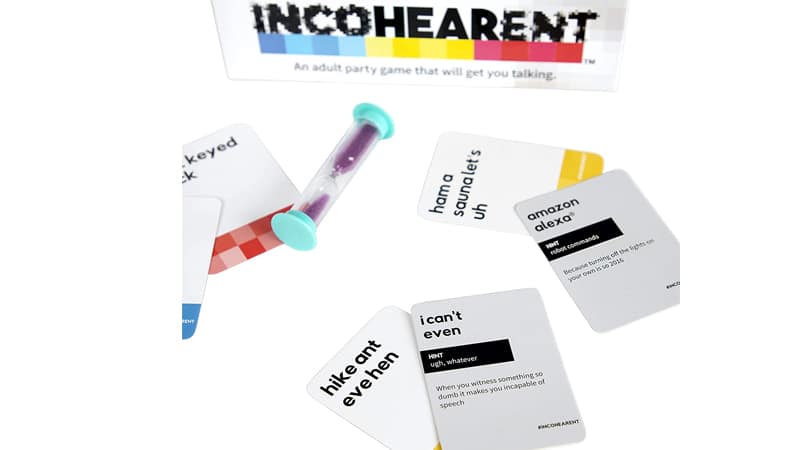 13. You Laugh You Drink
The idea behind You Laugh You Drink is simple; using 150 cards with prompts, you have to follow the instructions of what to do. You pick a card, read what it says and then choose a person from the group. You then have 30 seconds to make them giggle. This could be something silly like dance moves or pretending to be someone or something. If you make your fellow players laugh, they drink. Or maybe they can keep a straight face. This game works best with more than three people and is great entertainment with friends or family.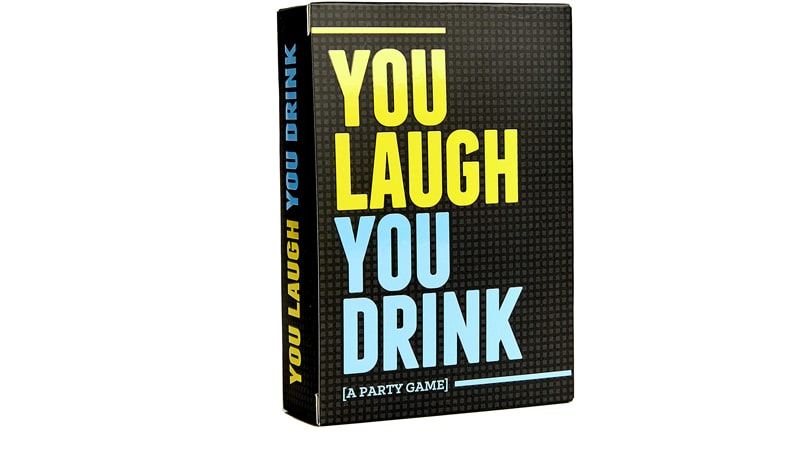 14. Under The Influence
Under The Influence is a game created by Shots No Chaser and designed with challenges and dares and questions to answer. There are 200 cards in total, so you are not sure what you will get, and it can range from tame to wild. You need a minimum of four players and can have up to 12, and the great thing about this game is you can alter it to your audience. For example, if there are cards that you feel are inappropriate for a particular group of friends, you can remove them beforehand. Simple and fun, what more could you want?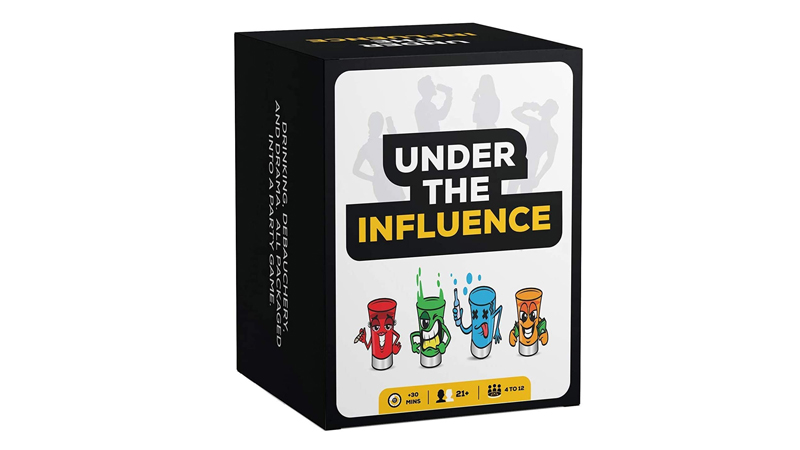 15. Do Or Drink
If you don't like games that involve dares and do not want to be pushed out of your comfort zone, then this option is not for you. If you do, then Do or Drink is exactly what you have been looking for. It has thousands of reviews from people who have played it before and love it, and it makes for a hilarious and potentially very awkward night with friends. There are no skip cards, so if you get a dare, you need to complete it, and there are 350 cards with challenges and dares to keep you entertained. If you have played the game several times and want to add to it, you can purchase expansion packs with new cards. This is great as a gift, and the different themes can cater to the occasion — for example, couples and bachelorette parties.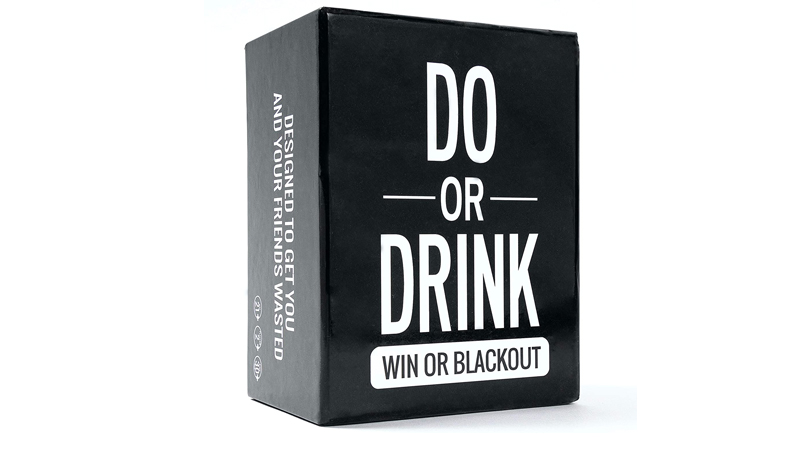 16. Fairly Odd Novelties Shot Glass Roulette
Fairly Odd Novelties Shot Glass Roulette comes in two options, a 16 piece set or a six-piece set, depending on your preference. The idea is simple; you play roulette the way you would normally, except this has a boozy twist as the glasses are banded with colors and numbers. Each glass holds one fluid ounce of liquid. The game can be played with two people or up to eight.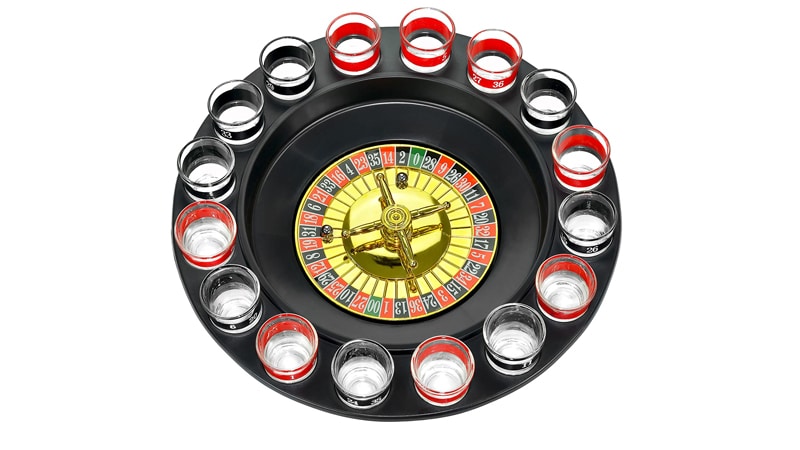 17. Fear Pong: Internet Famous
Fear Pong: Internet Famous is a game of dares, which can get wild and interesting very quickly. The product contains 200 dares that have been printed on 100 waterproof plastic cards; no need to worry about spills. There are also several blank cards to make up your own dares, which allows you to tailor the game to your liking and makes it even more fun. Plus, there is a pair of red ping pong balls. What more do you need for a night of fun?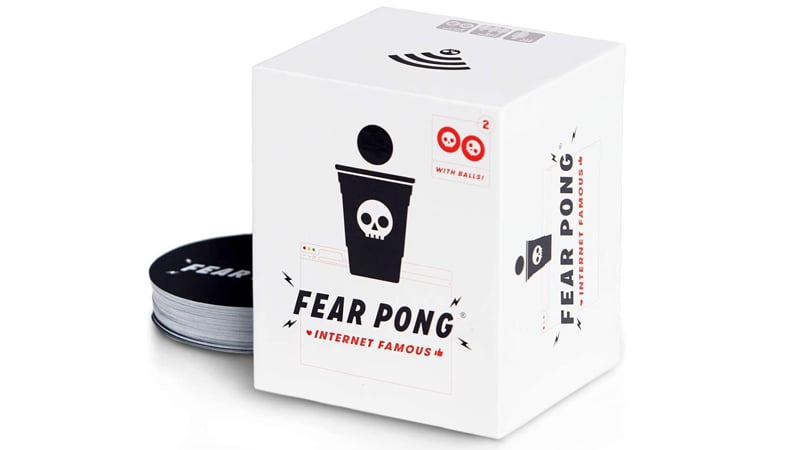 18. Talking Tables PROSE-Pong Prosecco Pong
Talking Tables PROSE-Pong Prosecco Pong is much like the standard game of beer bong you have come to know and love, except with better drinks. For those who don't like beer or want something different, this is an opportunity to add your glasses full of prosecco, champagne, and cava, or even with fancy cocktail mixes. The product contains 12 wide-neck plastic glasses and three ping pong balls, so you can test your skills and make your opponents drink. This is an excellent kit for parties, whether it is a birthday bash or a bachelorette. The packaging is pretty, making it fantastic for a gift for a friend, or buy it for yourself.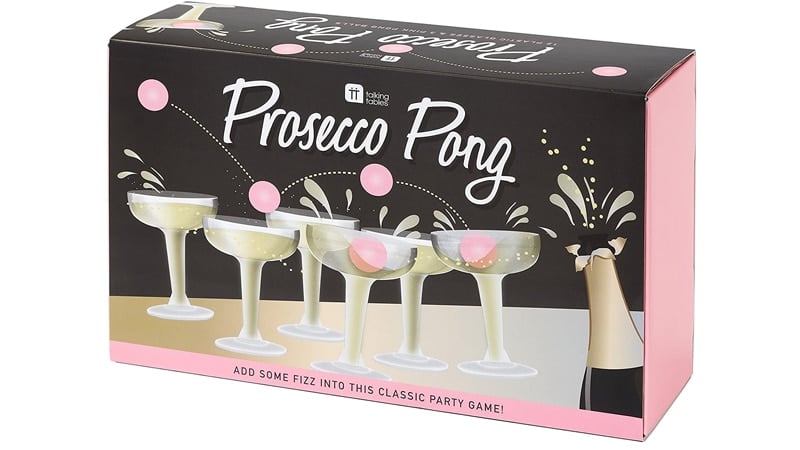 19. Stop Thinking Start Drinking
Stop Thinking Start Drinking is an adult game for up to 10 players. To play is straightforward, pick a card and follow the instructions. There are six categories to choose from: Skill Challenge, Truth or Dare, Most Likely To, Wild Card, and more. There are 150 cards, so that you can expect a lot of different scenarios, and each game will be unique. It is fantastic for a range of different occasions, including birthday parties and dinners at home.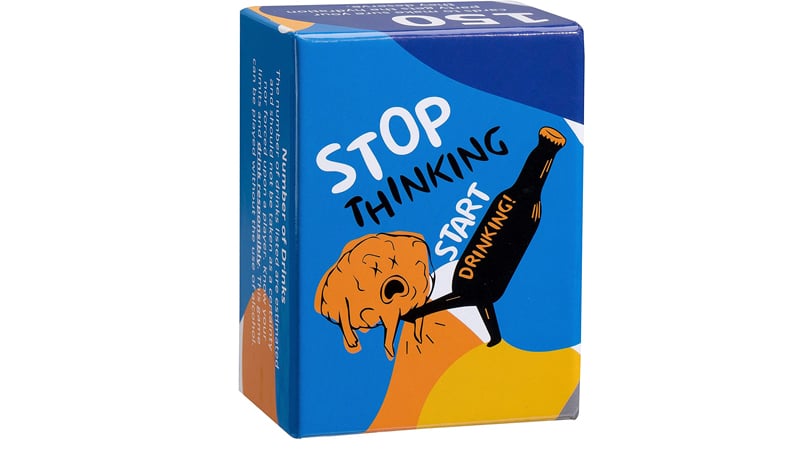 20. Drunk Stoned or Stupid
Drunk Stoned or Stupid doesn't have the most flattering name, but it is a lot of fun. There are 250 prompt cards that you will read and then decide who is the one Most Likely To. Questions include "Have a 20-minute conversation with Siri" or "Shame people for going to bed," so there is some PG content. This game can be embarrassing and wild, but you are bound to get many laughs from it and bond with your friends. You need three or more people to play, and there are several expansion packs to purchase separately.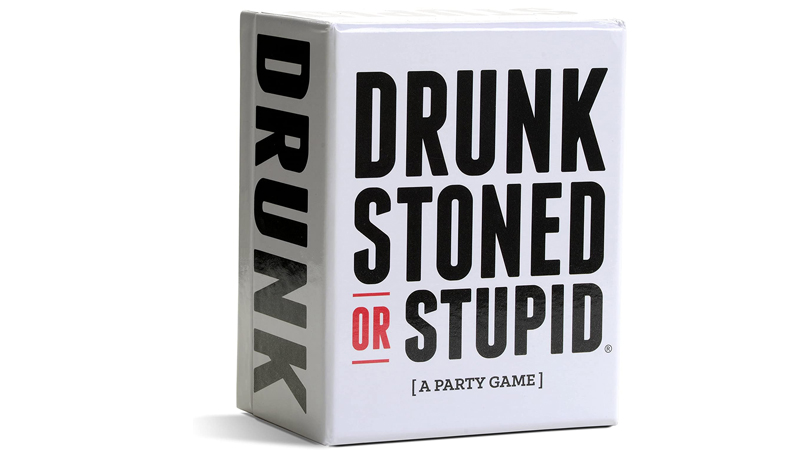 21. Loaded Kings
Loaded Kings is a cheap and easy way to have fun when you are gathered with friends or family. It works best with a minimum of two adult players, but you can have up to ten participants. The game is effortless to understand and straightforward. It comes with 54 waterproof cards, so they don't get ruined, and you don't need to stress about spills. It is also one of the more affordable games on the market and is easy to transport.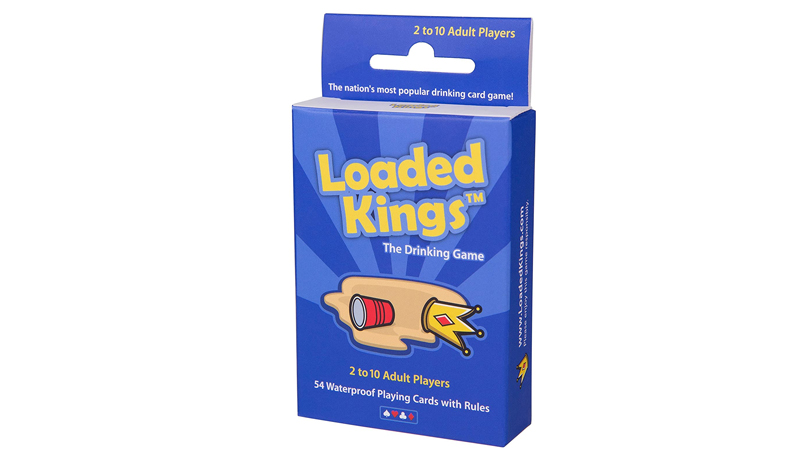 22. Barbuzzo Wheel of Shots
Barbuzzo's Wheel of Shots makes you take a spin and do whatever the outcome is. Several scenarios can play out, with silly actions like singing a song, drinking shots, or losing your turn. Each shot glass holds two ounces of fluid. If you want, you can also make up your own rules, allowing you to modify the game to your personal taste and ensuring it will be a unique outcome every time. You can play with a minimum of two players, up to six. The packaging is superb, too, making this an excellent gift for friends or family.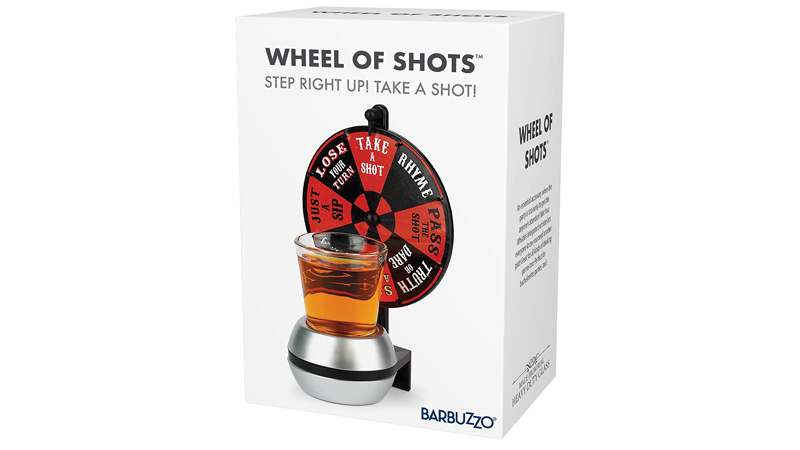 23. I've Never…?
Do you want your friends to spill their most outrageous secrets? Well, then you need I've Never…? The party game is definitely NSFW. The pack contains 110 questions and truth and dare. You can get to know your friends better by asking them these questions, which tend to lead to embarrassing moments and funny stories. You need to answer truthfully whether the question that is asked applies to you by stating True or Not True. If it is true, you need to follow the instructions of what to do next. This could be to take a drink or make someone else drink. If someone lies about the answer, they have to endure a punishment decided by the group. It is a great ice breaker and fun for a small or large group of mates.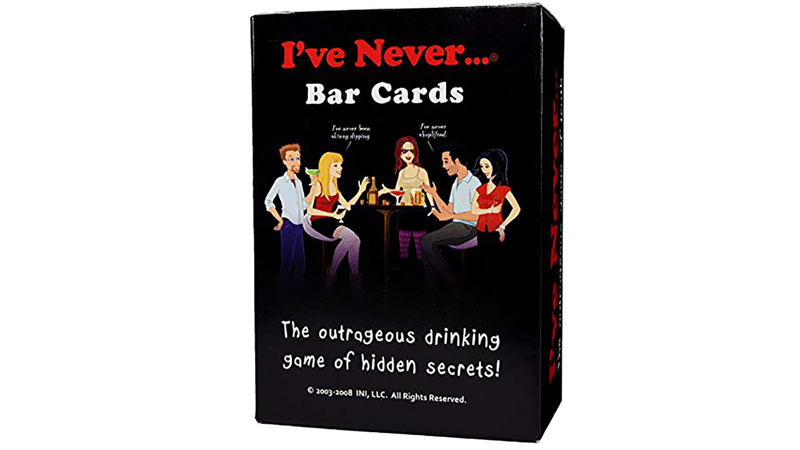 24. Quick And Dirty
If you don't mind potentially offensive questions and have a quick wit, then Quick And Dirty is the game for you. It is probably not advised to play with your parents or a group of relatives, but it is a great way to laugh with your friends. It can be played by two to 20 players and is straightforward to learn. There are 70 cards, each unique, ensuring that you can play this game multiple times with a different outcome. You can play on three different levels, from easy to hard, and because it is so small, it is easy to transport with you anywhere; Take it on holiday or to a friend's house.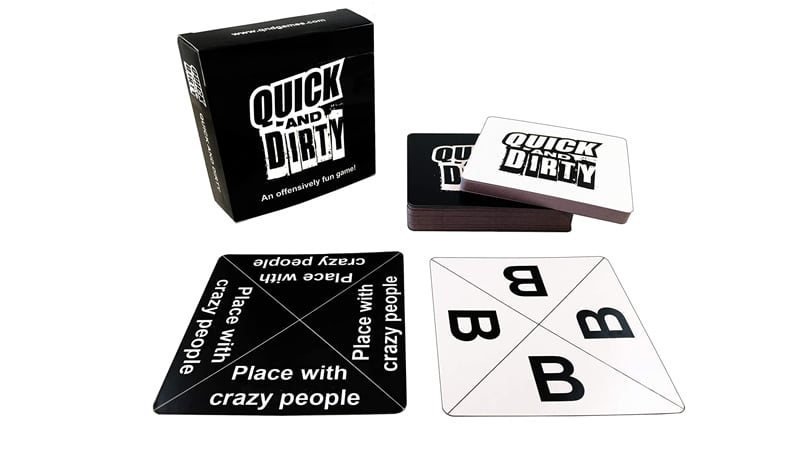 25. Stuwce Wellin Party Drinking Dice Game
Stuwce has created one of the cheapest drinking games on the market that is fun and easy to transport. Let us introduce the Wellin Party Drinking Dice Game, which is, as it sounds. It includes two different dice made of lightweight acrylic. The dice have different instructions, which could be Sip, No Drink, or Bottom Up. The idea is to follow them accordingly. Simple, fuss-free, and can be taken anywhere.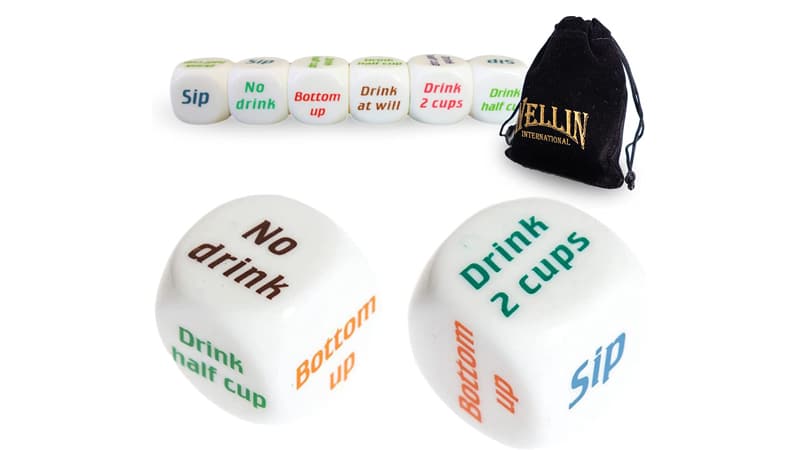 FAQs
What board games can you turn into drinking games?
If you do not want to purchase a game specifically for drinking, then there are some classics you may already own that you can turn into a drinking game. This includes a standard deck of cards, UNO cards, ludo, and Tic Tac Toe. Another option is Jenga, and if the blocks fall, you have to drink. There are many ways to play, so just get creative.
What are good games to play when drinking?
There are many great games to play when you are drinking, and there is an option for every occasion. There are some classics like shot roulette and beer pong, but with twists, and then there are games with truth and dare and challenges. Some games have mature content, so be aware of your audience before playing, as you may not want to do it with relatives or your parents.
What drinks are good for drinking games?
The drinks you choose for drinking games will depend on a few things, such as your taste preference, budget, and creativity. For those who want something different and fun, jello shots are a great option. You may opt for premixed drinks or a spirit and mixer if you prefer easy-drinking, while others prefer straight liquor like vodka shots or whiskey. The decision is entirely up to you, but it is important to remember to drink responsibly.
What are dirty drinking games?
If you are looking for a dirty drinking game, there are several to choose from. These include Sotally Tober, which is designed to make you embarrass yourself and bond with friends while taking part in challenges. One of the most NSFW games you can purchase is I've Never...?, which involves a series of questions to help discover your wild and funniest stories. Another option is Do or Drink, which will take you out of your comfort zone with its dares.
SUBSCRIBE TO OUR NEWSLETTER
Subscribe to our mailing list and get interesting stuff and updates to your email inbox.