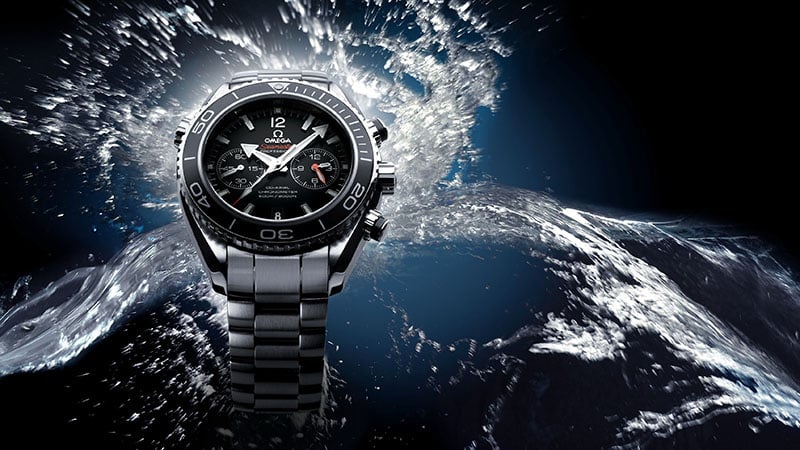 Specifically designed for underwater activity, diver watches in a modern era have surpassed the technology of traditional underwater timepieces, combining appealing aesthetics with functionality. Traditionally, diver watches have a water resistance of 200-300m and are specifically designed for aquatic use. With classic designs and highly technological features, the diver watch is anything but limiting or difficult to wear.
RELATED: 16 Best Waterproof Watches for Men
1. Ulysse Nardin Diver Chronometer Blue Dial Men's Watch
Combining elegance with supreme performance, this Ulysse Nardin diver watch provides a brilliant addition to your wrist. Designed with tradition in mind, the luminescent hands and markers sparkle brilliantly with the uni-directional rotating titanium bezel and blue ring. Its 60-hour power reserve and 300-meter water resistance will allow the wearer to complete daily activities and do it without compromising on style.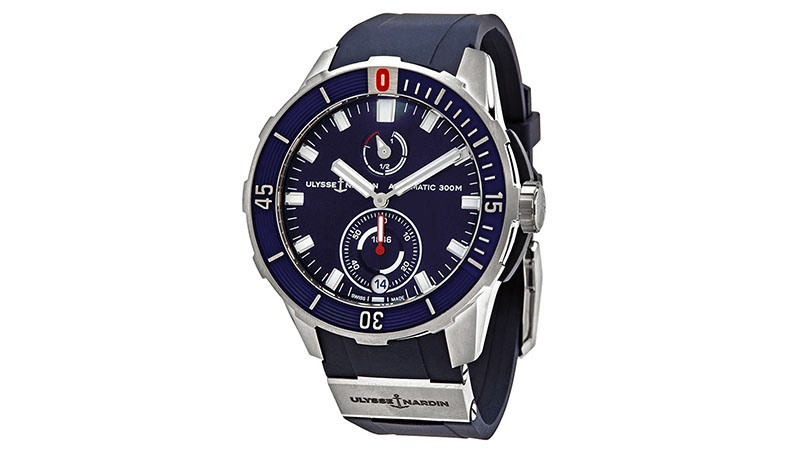 2. Breitling Superocean Chronometer Blue Dial Men's Watch
If you're after a sleek and timeless diver watch, the Breitling Superocean is for you. Featuring a cool blue band, luminescent hands, and markers, 25 Jewels, and bitting at 28800 vph – it's a serious timepiece for a guy on the go. It also includes a power reserve of 42 hours, complete with 500-meter water resistance and classic design. The face of the piece is slightly smaller than average, so it will fit snug in a suit jacket or wetsuit.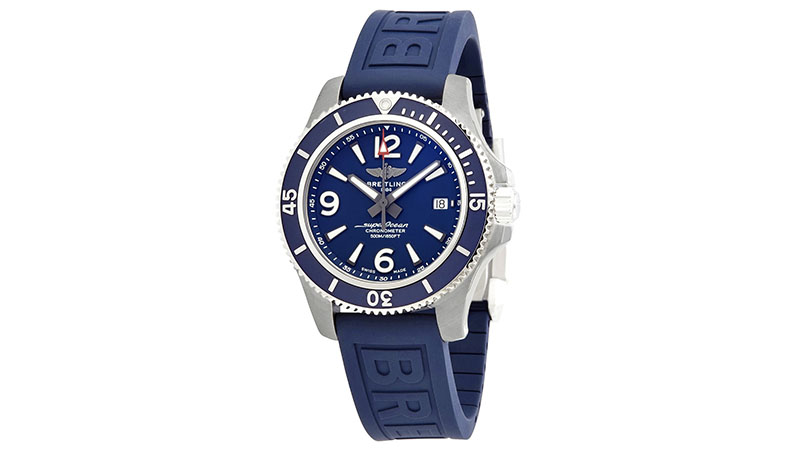 3. Citizen Men's Eco-Drive Promaster Diver Watch
With a seamless blend of style and functionality, the Citizen diver watch is one to keep an eye on. Without the need for a battery, this elegant timepiece relies on eco-drive technology, using the power of the sun to keep it going. Complete with Mineral Crystal and Japanese-quartz Movement, it can be used for swimming, snorkeling, or even just hopping into the shower. The sleek black face matches every outfit you wear, so you can rock it from day to night.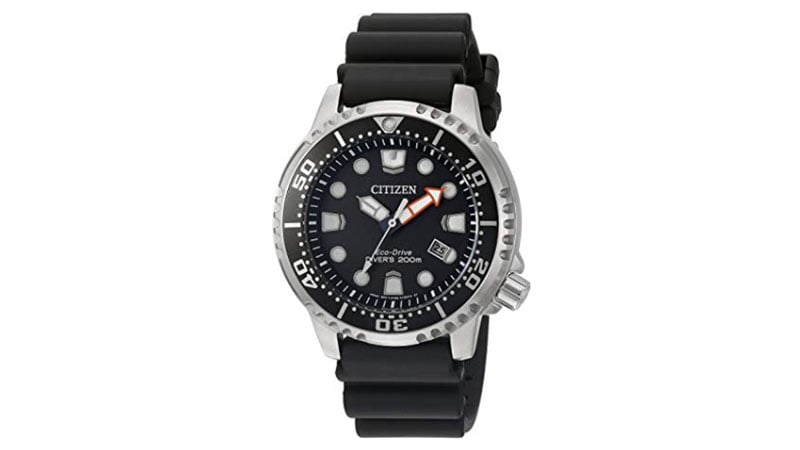 4. Invicta Men's Pro Diver Collection Silver-Tone Watch
Who said diver watches had to look clunky? This sophisticated and masculine rendition of a swimmer's timepiece offers all the features of a traditional piece, with a subtle twist. It's water-resistant to 200m, which makes it suitable for recreational scuba diving, and looks the part with its flame-fusion crystal dial window. The Japanese Quartz movement is smooth, and the stainless steel band will look fantastic for any occasion.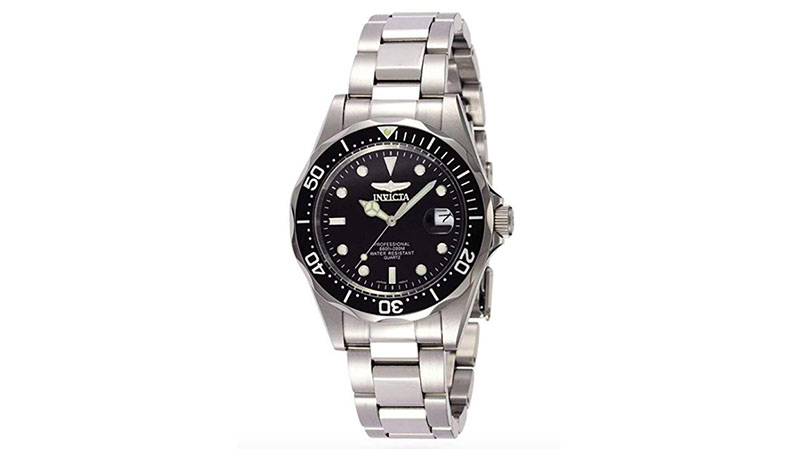 5. Longines Legend Diver Automatic Men's Watch
Putting a modern twist on the classic diver's watch, the Longines Legend belongs in every man's collection. On the surface, its black lacquered dial features luminescent hands and markers, surrounded by a stainless steel band. Furthermore, it's complete with scratch-resilient sapphire crystal and a bi-directional stainless steel bezel. The technology within allows the wearer to swim, scuba, and shower – complete with water resistance up to 300m. The automatic movement provides a 64-hour power reserve, so you can enjoy big adventures without losing track of time.
6. Davidoff Velocity Diver Automatic Blue Dial Men's Watch
The Davidoff Velocity Diver series watch provides performance unlike anything else. The timeless silver and blue color combination look striking with the red and white hands and markers – making it perfect for a deep dive or a day at the office. If those shades aren't your cup of tea, there's a myriad of hues for you to select. Enjoy water-resistance up to 300m and a sapphire-crystal face, meaning it's scratch resilient and ready for anything.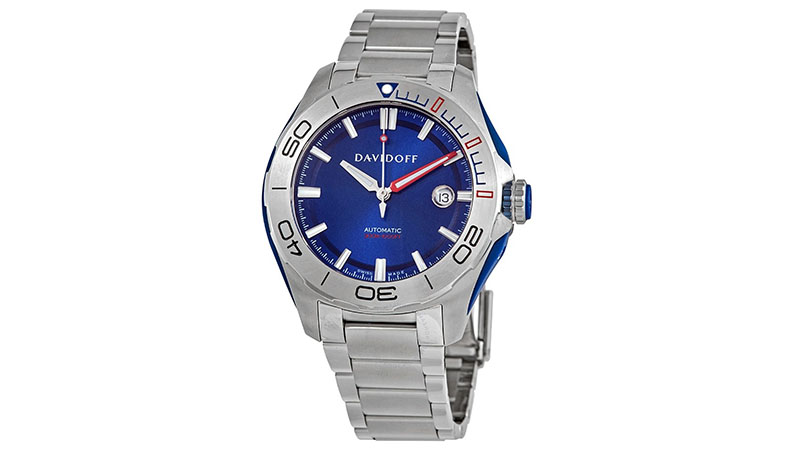 7. TAG Heuer Men's Aquaracr Display Swiss Silver Watch
If you're going to invest in a watch worth showing off, look no further than the TAG Heuer Aquaracr. It offers a design that's easy to read, and looks fantastic in any setting – from the ocean to the golf course. The face of this timepiece won't blind you in the sun, thanks to its anti-reflective and scratch-resilient sapphire dial window. The water resistance reaches 30m, and the uni-directional rotating bezel allows the wearer to read the elapsed time at a more comfortable angle.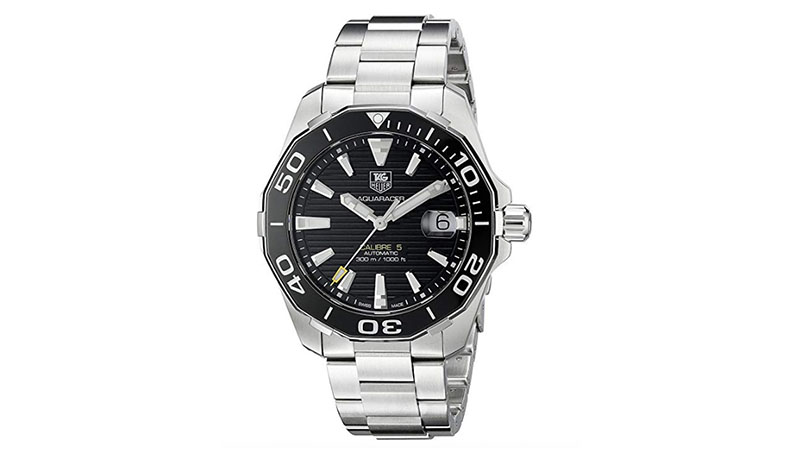 8. Certina DS Action Diver Black Dial Men's Watch
For the guy who loves adventure as much as he loves style, the Certina Action Diver ticks every box. The uni-directional bezel allows free-flow reading from all angles, whether you're underwater or running for the bus. Perfect for recreational scuba divers and swimmers, this timepiece has a water-resistant level of up to 300 meters, and the luminescent hands and markers keep the watch face luminous on most occasions.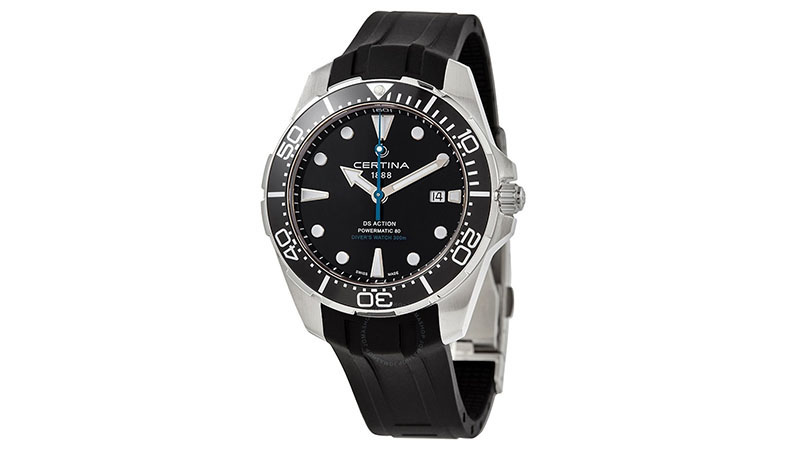 9. Bell and Ross Diver Automatic Men's Watch
You were born to stand out, so why get yourself a regular watch? This Bell and Ross diver offers a unique twist to the traditional design, with a square face set in polished satin steel. The black dial is filled with metal applique skeleton Superluminova numerals, completed with an anti-reflection sapphire crystal coating. Head underwater in style up to 300 meters, and keep your head in the one place thanks to its multi-directional bezel.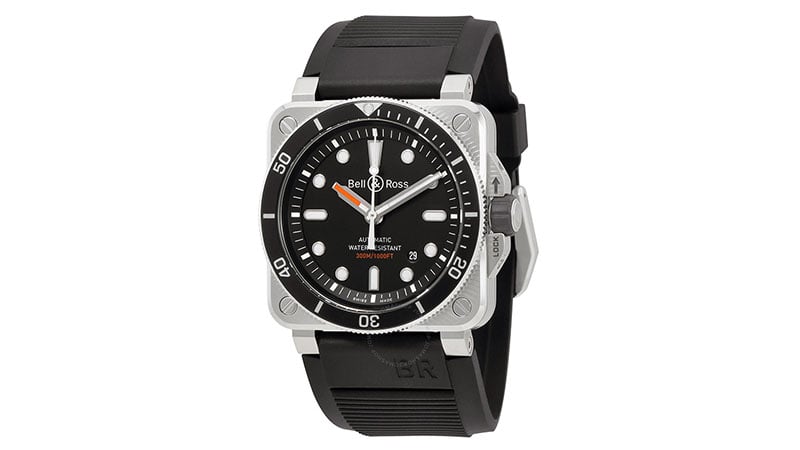 10. Cartier Calibre Diver Automatic Men's Watch
Combining sophistication and modern designs, the Cartier Calibre is a diving watch unlike any other. The calfskin and rubber strap keep your wrist locked in place, and its unidirectional bezel allows the wearer to read the time with ease. Dive, swim, and snorkel without worrying, thanks to its water-resistance level of 300 meters. With a sleek blue finish and sapphire crystal polish, it's a timepiece that belongs in every guy's collection.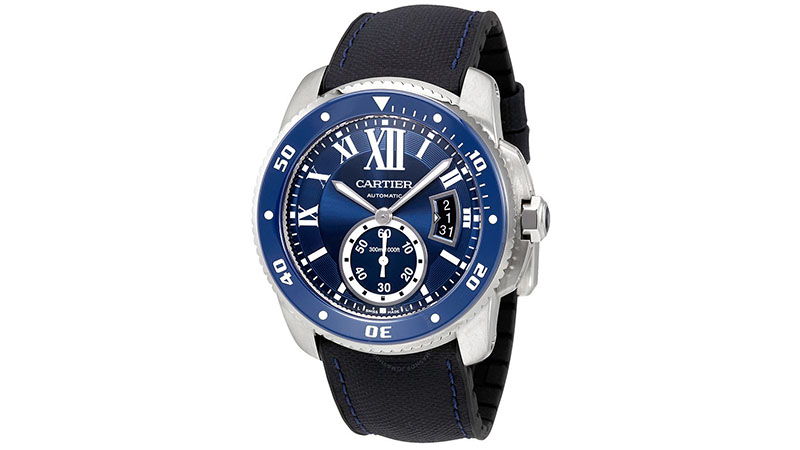 11. Orient Diver Nami Diving Black Dial Men's Watch
Make a statement with this Orient diver watch. With a sleek black uni-directional bezel and durable leather strap, it makes for an excellent everyday timepiece or a gift. It features a 60-hour power reserve, mineral crystal glass, and water resistance of 200 meters, so whether you're an avid snorkeler or you just enjoy its technology, you won't be able to look past this fantastic accessory.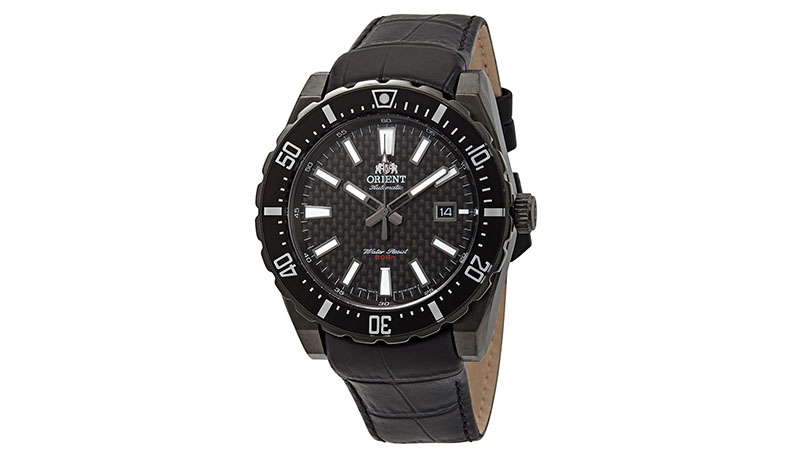 12. Swiss Legend Aqua Diver Chronograph Black Dial Watch
Add a touch of elegance to your diver's watch with the Swiss Legend Acqua Chronograph. The sturdy and stylish timepiece offers water resistance up to 300 meters, and provides a black and rose gold bezel and dial. It's scratch resilient sapphire crystal coating and screw-down crown allow the wearer to enjoy optimum enjoyment without worrying about damage.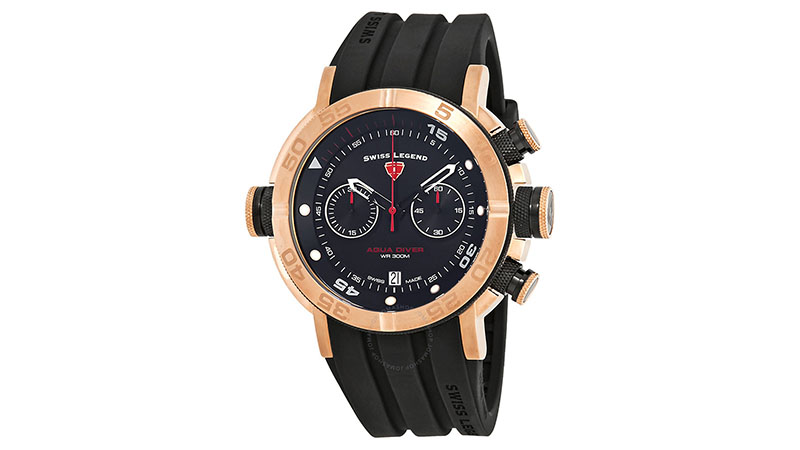 13. Ulysse Diver Chronometer Black Dial Men's Watch
Unlike your regular watch, the Ulysse Diver Chronometer is an excellent companion to take with you on your next aqua adventure. This Swiss-made timepiece offers water resistance up to 300m and is complete in a grey titanium case with a uni-directional bezel. Its transparent back and luxury design look fantastic with casual clothing or scuba attire.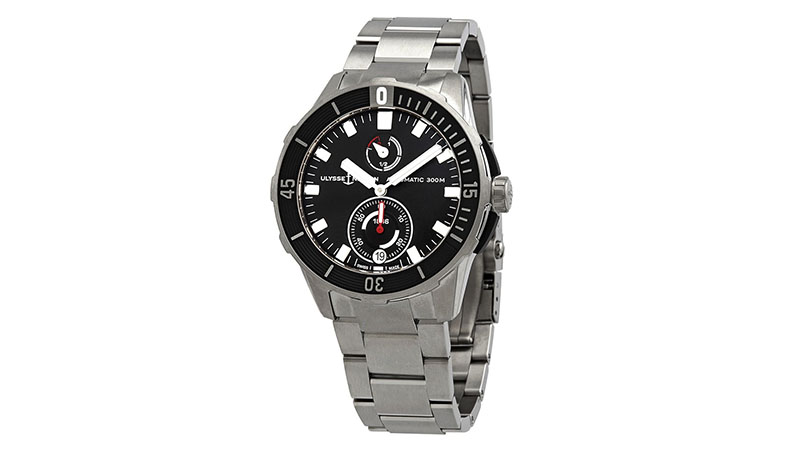 14. Deep Blue Watches Nato Diver 300 Men's Watch
Hit the ocean with this Deep Blue Nato Diver watch. The duo-chrome face and band compliment every ensemble in your wardrobe, and its unidirectional bezel makes it easy to read the time from every angle. Don't worry about getting this timepiece wet, it offers 300-meter water resistance and a 38-hour power reserve. The sleek Seiko Caliber NH36 automatic movement creates a smooth and timeless piece, perfect for your next adventure.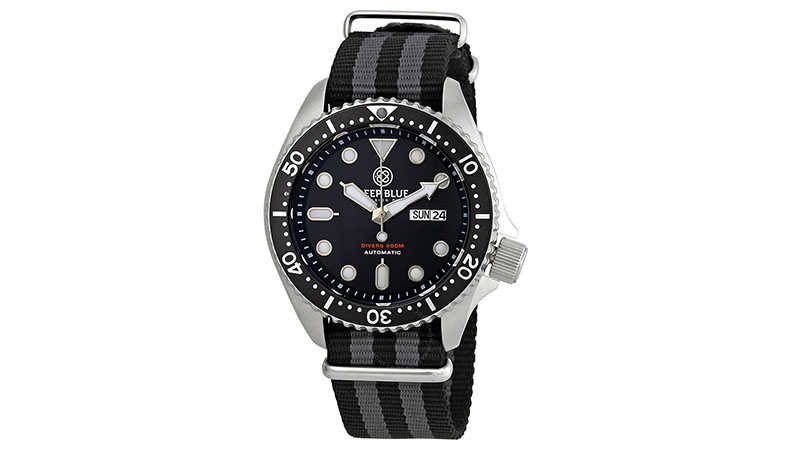 15. Chopard L.U.C. Pro One Diver Black Dial Men's Watch
Whether you're an amateur surfer or an avid snorkeler, this Chopard Pro One watch is the perfect companion for your next swim. Featuring a scratch-resistant crystal face, black dial, and silver case, it offers water resistance up to 300 meters. The luxury design makes it perfect for everyday use, so you can head from the office to the beach without needing to change.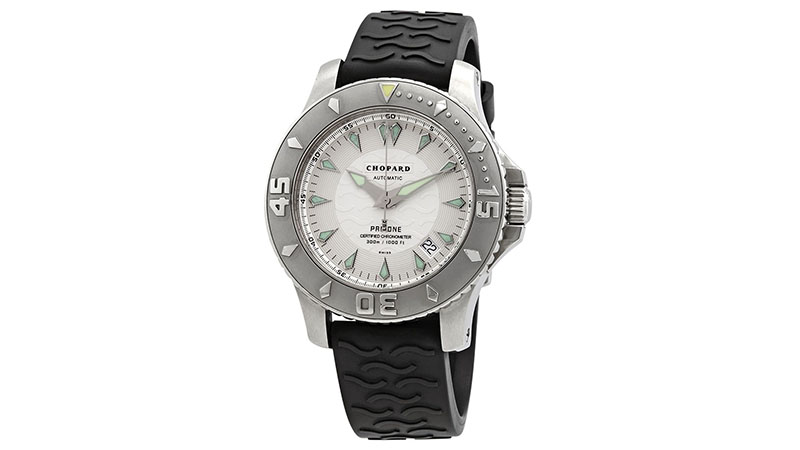 16. Harry Winston Ocean Diver Chronograph Men's 18k White Gold Watch
For the guy who wants the best of everything, they can't look past the Harry Winston Ocean Diver. The solid 18kt white gold and zalium case offers premium styling to the professional-standard timepiece. With the capability of reaching depths up to 200 meters, its unidirectional bezel and automatic movement will keep the wearer feeling in control of his time. Its exceptional design will have the owner wanting to wear it every day.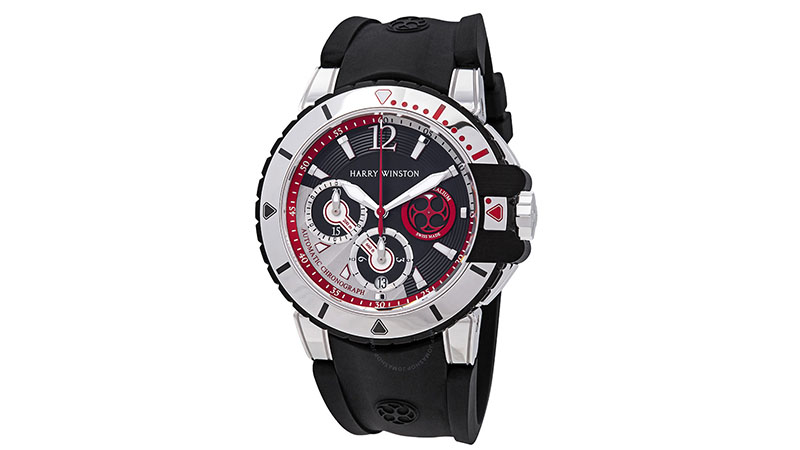 17. Revue Thommen Diver Chronograph Men's Watch
Sometimes, you can't beat the classics. The Revue Thommen diver watch offers serious performance with the sleek design of a traditional timepiece. The unidirectional rotating black bezel allows the wearer to see the time from any angle. Providing state of the art ETA-Valjoux Caliber 7750 automatic movement and sapphire crystal finishings, this is a sporty and stylish design that will never lose its cool.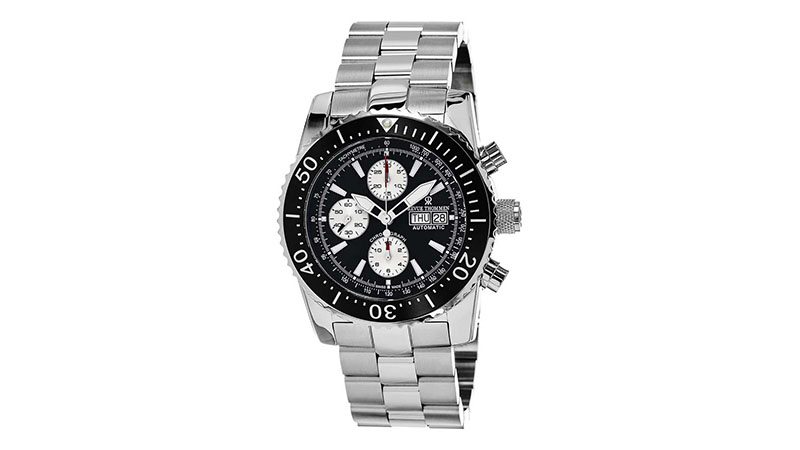 18. Ball Engineer Master II Diver TMT Men's Watch
If you love state of the art design, the Ball Engineer Master II watch is the right choice for you. Featuring an out of this world design, it combines style and world-class technology in the one spot. Its diamond-like carbon case (DLC) in a matte black finish looks extra cool, in or out of the water – the fixed black DLC bezel makes for easy reading, too. The sapphire crystal finish protects from scratches, and it's water-resistant up to 300m. If that weren't enough, it offers thermometric indication subdials, BALL Calibre RR1601 automatic movement, and a 68-hour power reserve. This is a masterpiece that belongs in every guy's collection.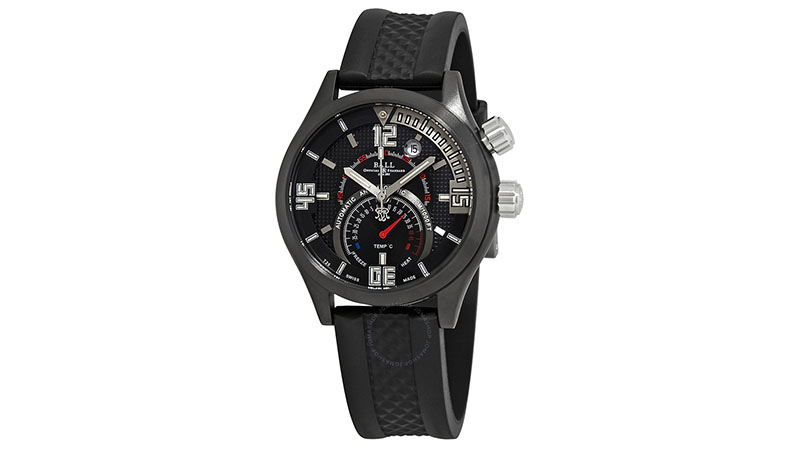 19. Victorinox I.N.O.X. Professional Diver Men's Watch
Some styles never go out of fashion, and the Victorinox I.N.O.X diver watch is proof of that. The sleek blue and silver case and band provide a professional feel to the timepiece, but its sporty engineering makes it the best companion for scuba divers and swimmers. Hitting water depths up to 200m and providing Quartz movement, it'd be hard to turn this fantastic accessory down.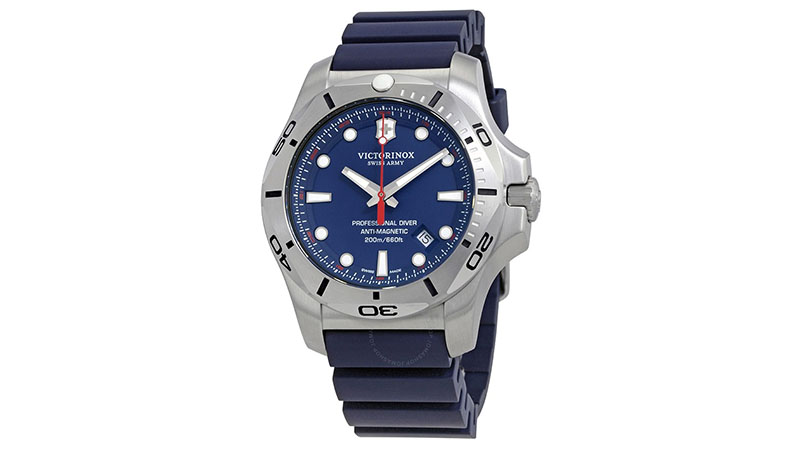 20. IWC Aquatimer Chronograph Edition "Expedition Charles Darwin."
We won't lie; the name is a mouthful, but this wristwatch is the perfect tribute to the famed naturalist Charles Darwin. Playfully designed, the Aquatimer Chronograph Edition "Expedition Charles Darwin" works off a bronze tone to anchor its aesthetic, making it an unexpected timepiece for aquatic activity. Other features include a black rubber strap, mechanical chronograph movement, self-winding, a 68-hour power reserve, and a water-resistant to 30 bars.
.BUY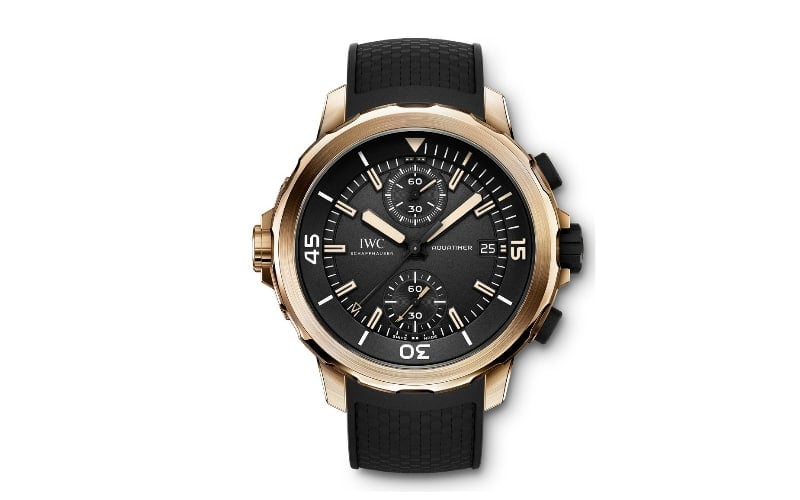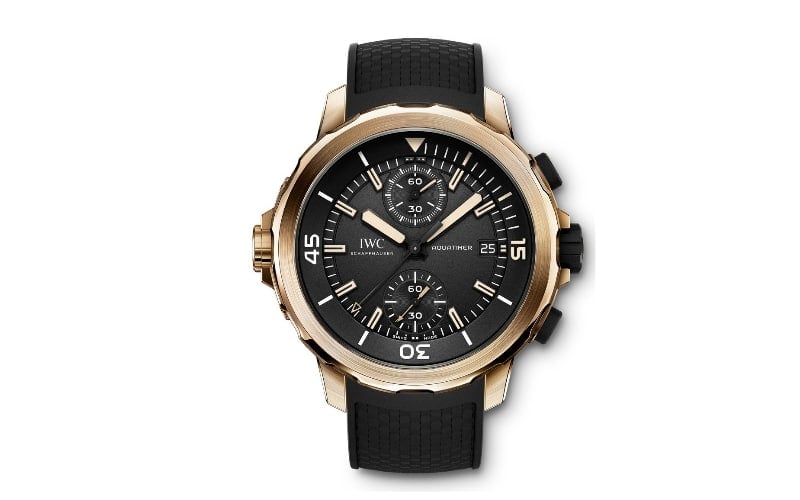 21. Stuhrling Aquadiver Divers Watch
The Stuhrling Aquadiver Divers Watch is another great model that can be worn outside of your diving experiences. Quartz movement, 200m water resistance, and Krysterna Crystal all make this a great option. Other features include its stainless steel unidirectional ratcheting bezel, screw-down fluted crown with Stuhrling S Logo, stainless steel link bracelet, and deployant with safety clasp.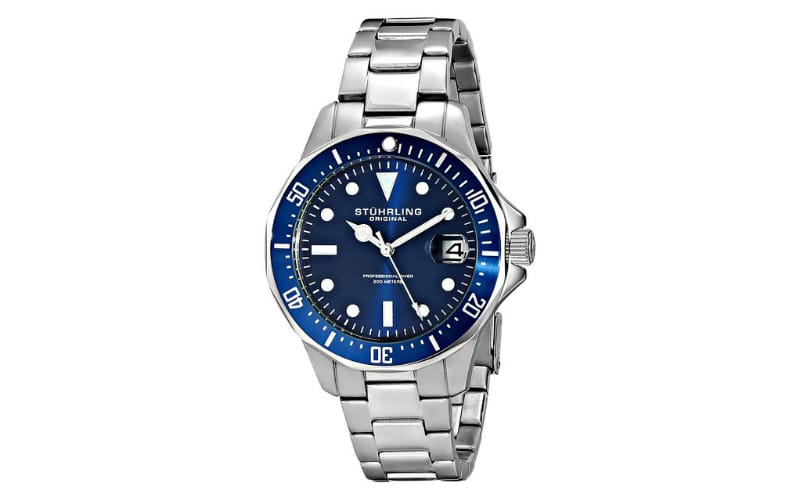 22. Tag Heuer Aquaracer Diver Watch
The Aquaracer by Tag Heuer flaunts a fine-brushed and polished steel case, black ceramic bezel, black dial, and steel strap. This wristwatch also has a power reserve of 38 hours, a date window, and an automatic caliber. This is also another model that you wouldn't typically think looks like a diver watch. Sleek, classic, and bold this model is one that will fit perfectly in a personal collection that requires a diver watch but doesn't want to compromise on looks.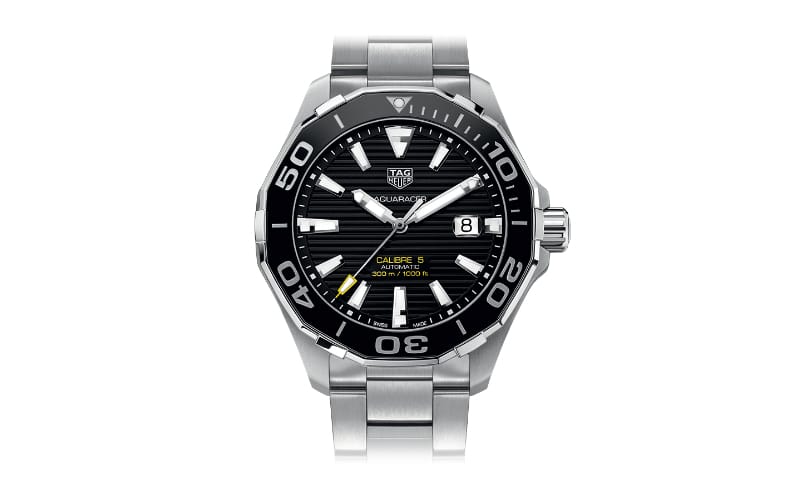 23. Rolex Oyster Perpetual Rolex Deepsea Diver Watch
The Oyster Perpetual Rolex Deepsea is ultra-resistant; waterproof to a depth of 12,800 feet for this model. The Deepsea is also perfect for weekend or corporate wear, given its sleek steel coloring and classic design. This model also features a helium escape valve and 904L stainless steel case. Interestingly, the Oyster Perpetual Rolex Deepsea was the result of Rolex's decades of collaboration with diving professionals to get their models right.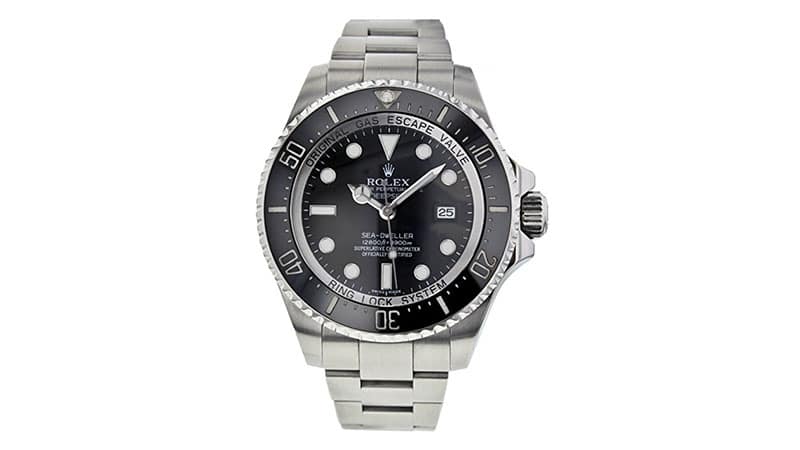 24. Breitling Superocean Heritage 42 Diver Watch
The Superocean Heritage 42 is available in two sizes, 42mm and 46mm. The Breitling model is also water-resistant to 200m and flaunts either black, blue or green unidirectional rotating bezel matching the respective dial colors. Aesthetically, the Superocean Heritage 42 is based on a fifties design concept. This model is an excellent choice for gents who want a diving watch that pays tribute to the past but are after more modernized features.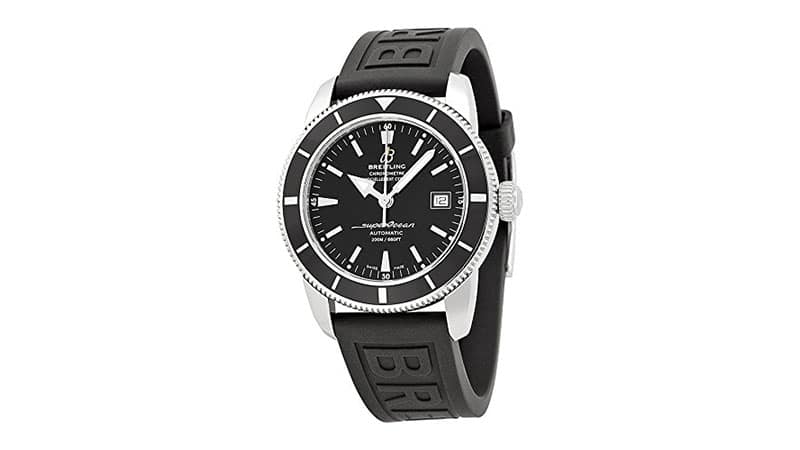 25. Oris ProDriver Chronograph Diver Watch
Dubbed by Oris as an 'uncompromising action hero', the Prodriver Chronograph lives up to the hype. Flaunting an innovative Rotation Safety System that is said to be one of the safest on the market, the timepiece is also equipped with a chronograph, super visible counter displays, and an automatic helium valve. A titanium case and strap, automatic winding chronograph movement, and black dial are other great features.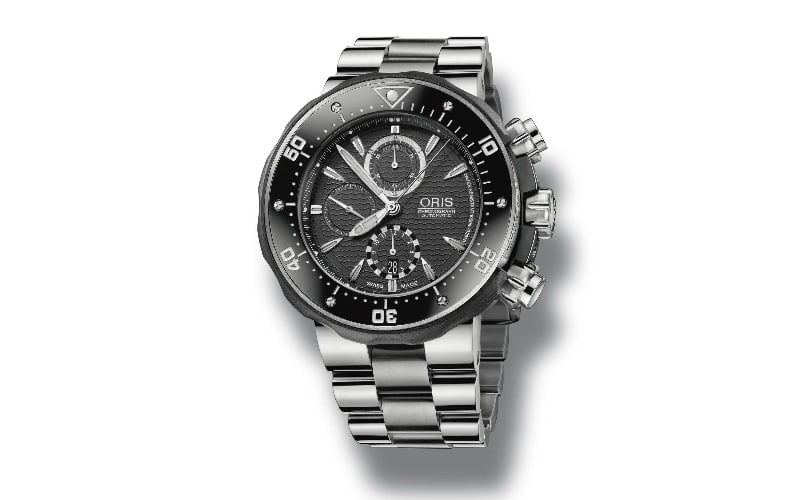 26. Casio G-Shock Frogman GWF-D1000 Diver Watch
The G-Shock Frogman model by Casio is ideal for basic timing information and more. Tough Solar light-powered movement, atomic clock radio signal accuracy control system, and strong case durability add to the Frogman's strength and reliability. With water resistance to 200m and diving function modes, this timepiece is a great all-rounder.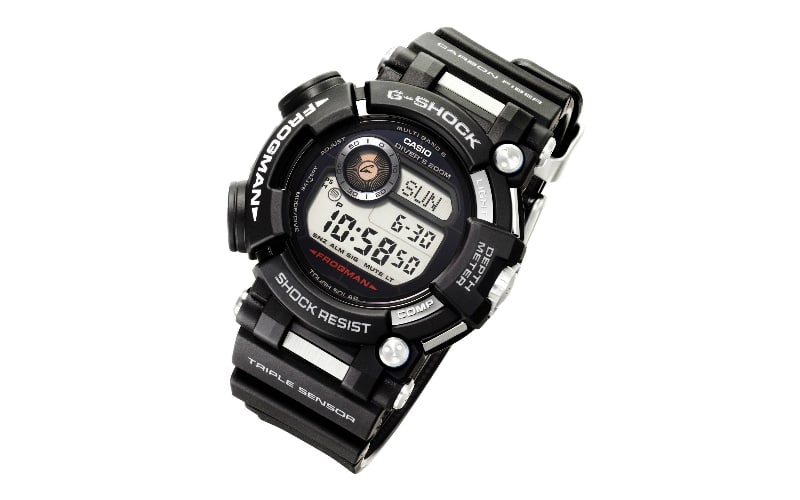 27. Seiko Prospex SRP775K1 Diver Watch
The Seiko Prospex SRP775K1 is a stylish diving watch featuring maximum legibility. It boasts a stainless steel case and band and also comprises of Hardlex glass. With a water resistance of 20 bars, a rotating bezel, a screw-down crown, and a three-fold clasp with a secure lock, the Seiko Prospex SRP775K1 is a great option if you're after a diving watch with ample features.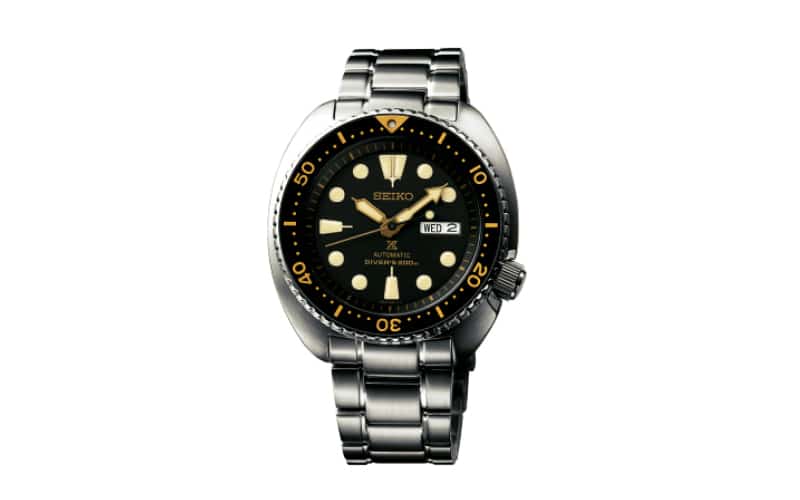 FAQs
What makes a watch a dive watch?
The feature that makes turns a functional timepiece into a dive watch is a unidirectional rotating bezel. This allows the wearer to calculate how much oxygen they have left while underwater. Dive watches also have luminous hands, numbers, and bezel to make them visible in dark water, and larger case sizes so that the bezel can be turned while wearing diving gloves. 
Do divers use dive watches?
Today, wearing a dive watch is generally not necessary as divers will wear a dive computer instead. However, some divers like to wear both, as the watch acts as a backup if the computer fails. 
Can you swim with a dive watch?
Dive watches are designed to be water-resistant, so you can wear them swimming or in the shower. 
What makes a diving watch?
Diving watches have a unidirectional rotating bezel that allows the wearer to track the time they've spent underwater and therefore how much oxygen they have left. 
SUBSCRIBE TO OUR NEWSLETTER
Subscribe to our mailing list and get interesting stuff and updates to your email inbox.