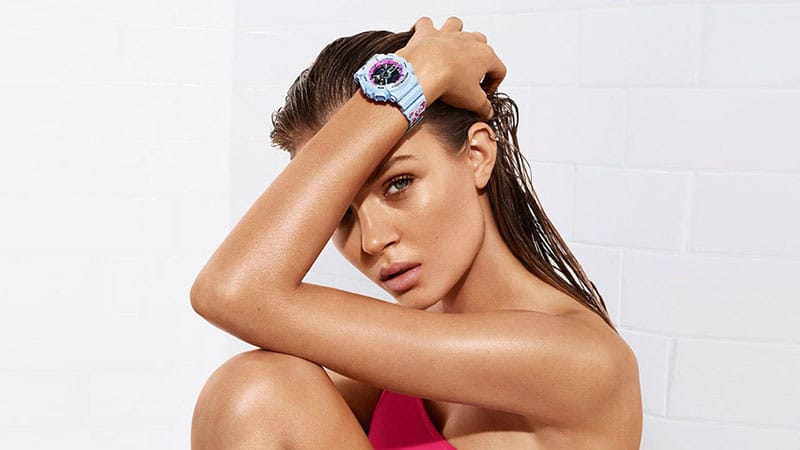 For busy women who are always on the go, a digital watch is an ultimate accessory. Providing instant time-telling along with a host of useful features in a chic package, these watches are practical and modern. As such, they're perfect for everyone from sports-lovers to boss ladies and all those in between. So, if you're looking to switch up your traditional analog timepiece for something a little more exciting, you should choose a digital design. All you need to do is find the right one for you, and we can help with that. Here's our list of the best digital watches for women.
1. Casio Women's BA-111-1ACR Baby-G Digital Watch
Casio's Baby-G Digital Watch is ideal if you're after something durable. It is shock-resistant and water-resistant up to 100 meters and will withstand nearly anything you throw at it. As such, it's perfect for thrill-seekers, travelers and those who are a little rough on their wrists. Featuring a classic black and pink design and made to fit the feminine wrist, this watch is perfect for stylish ladies. It is constructed using various layered materials to create a multidimensional aesthetic. Its functionality is also fantastic, allowing you to track 29 different time zones.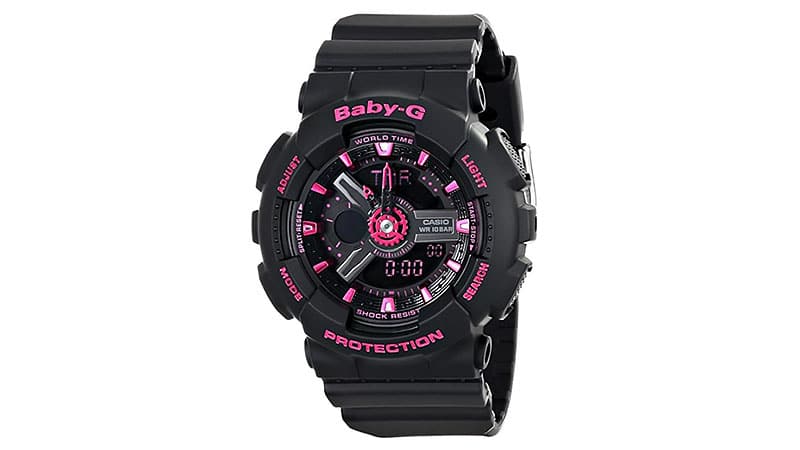 2. Guess Women's Stainless Steel Digital Silicone Watch
Guess has gifted us one of the sleekest and most elegant digital watches on the market. The Women's Stainless Steel Digital Silicone Watch features a classic black strap and large face with gold accents. The minimal and functional design is perfect for professional ladies and lovers of simple accessories. It features a stopwatch, durable mineral crystal case and Quartz movement. It is not water-resistant but has all the other functions you need, including day, date and alarm.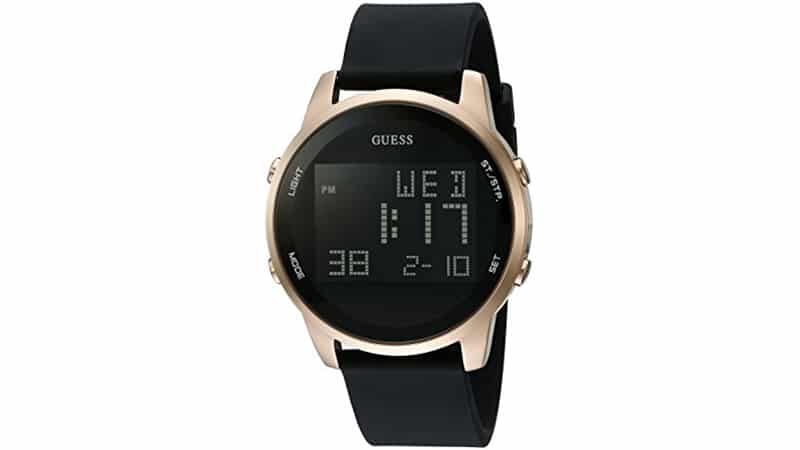 3. Casio Women's LA11WB-1 Sport Digital Watch
Casio's LA11WB-1 is a functional watch that also features a stylish, classic black resin design. Constructed without any unnecessary buttons and frills, this watch is made to be minimal. Its features include a stopwatch and timer with daily alarm, hourly time signal, and auto calendar. It is ideal for any sport and everyday use too. The face features a quartz-powered digital time display and a perpetual calendar. Casio specializes in solar-powered radio-controlled watches, so you'll never need to replace the battery or worry about resetting the time.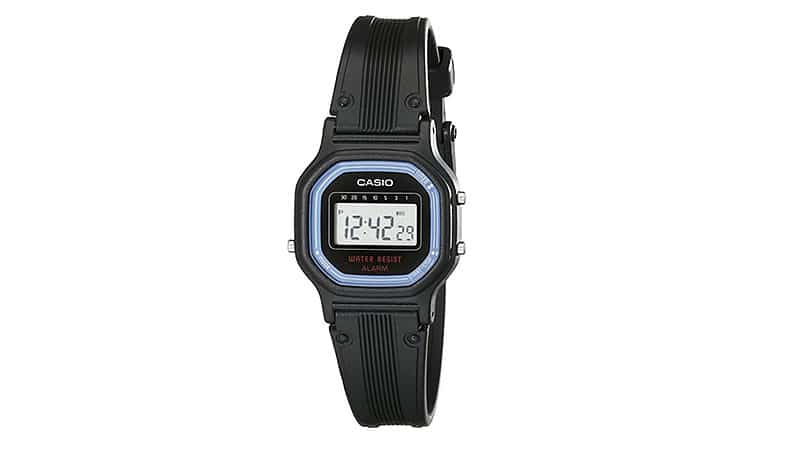 4. Armitron Sport Women's 45/7012 Digital Watch
The Armitron Sport Women's Digitial Watch is minimal and classy. Its sleek design is ideal for professionals and those on the run and features an easy-to-read face, backlighting, and a day/date display. Because it is silicone and water-resistant, it's also easier clean than other watches. The dual time zone feature also makes this an excellent option for frequent travelers and expats who want to keep in time with their homeland. And did we mention that it is super affordable?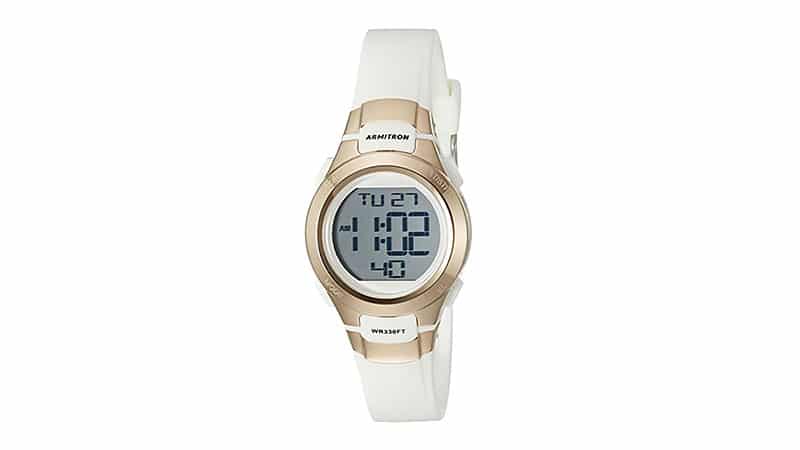 5. Moulin Ladies Digital Jelly Watch
The chic Moulin Ladies Digital Jelly Watch features a smooth silicone strap for added comfort and a sleek aesthetic. Its matte white colour and simplistic design make it a particularly minimal and elegant digital watch. Though it may appear lightweight, the face of the timepiece is relatively heavy to prevent it sliding around on the wrist. It comes with a stopwatch and alarm and a button-activated LED display. The display is easily visible during the day and appears at the push of a button at night.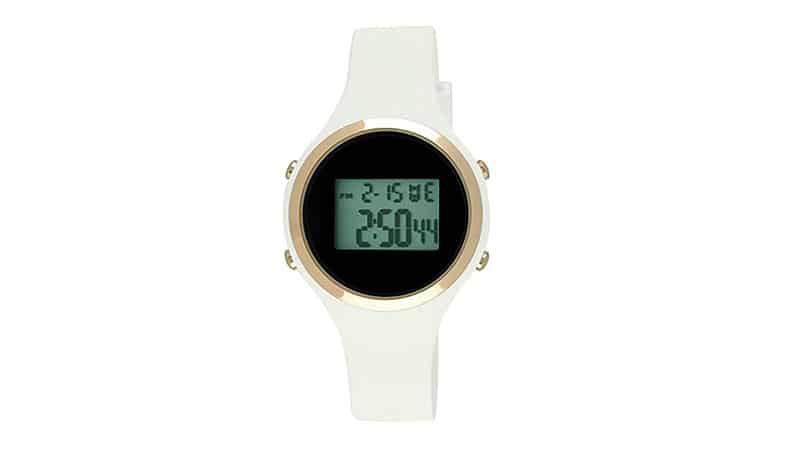 6. Timex Unisex Expedition Classic Digital Watch
The Timex Unisex Expedition Watch is made to survive the stress of everyday use. It is highly reliable and virtually indestructible. It also features a chronograph, alarm, and countdown timer, making it excellent for sports and outdoorsy activities. Its casual design boasts a resin case and velcro strap, which is comfortable and easily adjustable to get a better fit. The watch is also water-resistant up to 100 metres so you can wear it swimming and snorkelling with zero worries.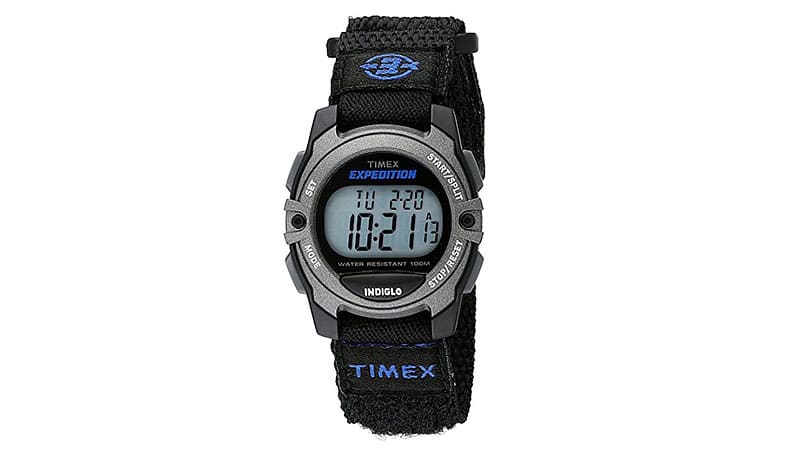 7. Pebble Time Round Watch
The Pebble Time Round Watch is a lighter, more delicate take on the traditional smart timepiece. It offers you all the functionality and app-processing ability of a larger watch, but with a sleeker more stylish frame. It comes with quick-change bands and downloadable digital watch faces. As a bonus, it also provides calendar alerts, notifications, and silent alarms and will last two days without needing to be charged.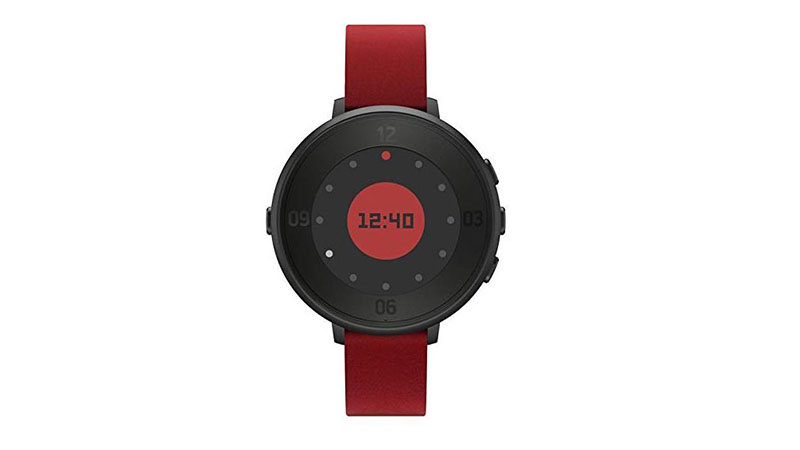 8. Armitron Sport Women's 45/7030 Digital Watch
The Armitron Sport 45/7030 is an affordable and functional digital watch that comes in three fun colorways With a standard black band and metallic silver-tone bezel, you can choose from purple, orange or pink accents. It features an LCD face, showcasing the day, date, time, and seconds. It also comes with an alarm, chronograph with lap time, dual time zone, and backlight, and is water-resistant up to 330 feet.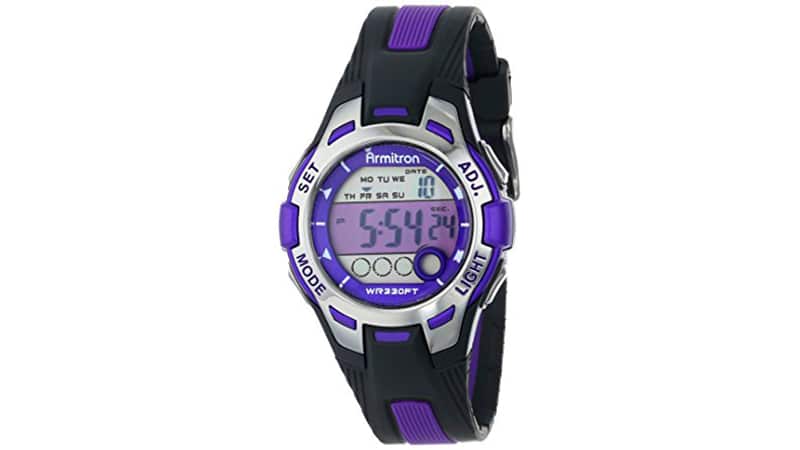 9. Hi Watch LED Digital Watch
The sleek, unisex design of the Hi Watch LED Digital Watch makes it an excellent choice for modern ladies. Of course, a clean and contemporary appearance isn't all there is to love about this top digital timepiece. With a clear display, which showcases time and date, and an energy-saving standby mode, this wristwatch is functional and practical. On top of all that, 50m of water-resistance ensures this watch won't get wrecked from everyday activities, such as washing your hands and showering.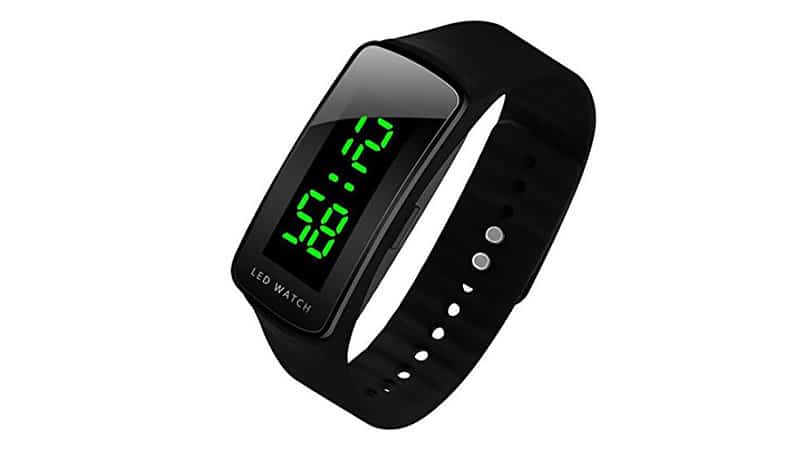 10. ETEVON Women's Multifunction Digital Watch
If you're in need of a Mother's Day, Christmas or birthday gift for a special lady, this watch comes gift-ready in a fancy box, no wrapping required. As for the timepiece itself, the stylish and sporty design features a bold band and face with a classic white and grey body. As it is also waterproof, this timepiece can be worn rain, hail or shine, making it perfect for outdoorsy ladies. A stopwatch, backlight and long-lasting battery, also add to this wonderful wristwatch's appeal.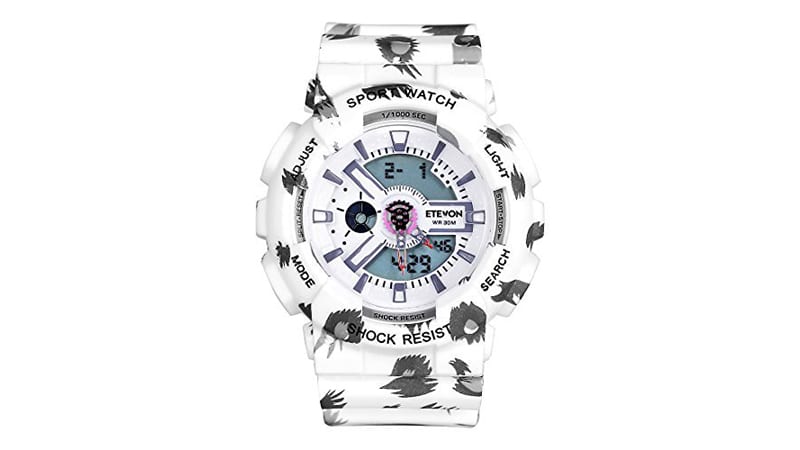 SUBSCRIBE TO OUR NEWSLETTER
Subscribe to our mailing list and get interesting stuff and updates to your email inbox.