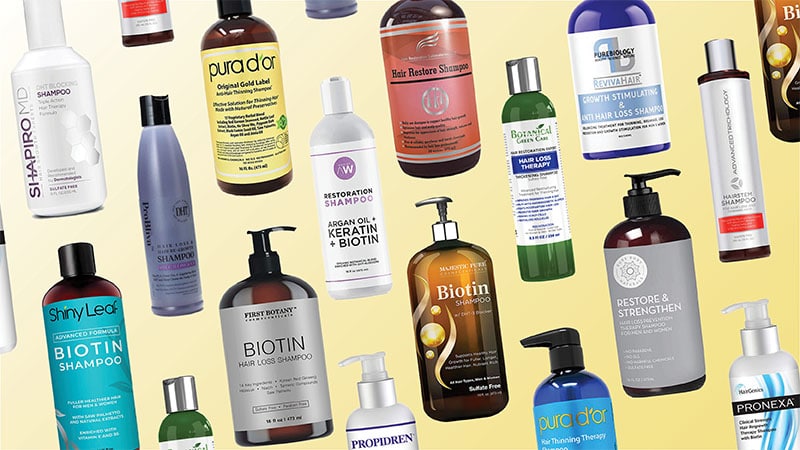 Thinning hair happens to many men and women, and it can be a bit of a hit to confidence. If you find that your locks look less luscious than they used to, add dihydrotestosterone (DHT) blocking shampoo to your daily haircare regime. These shampoos help stop the hormone DHT from binding to the hair follicles, causing them to shrink, resulting in thinning and eventual hair loss. They also contain all kinds of other nourishing ingredients like biotin, anti-oxidants, and anti-inflammatories that will help clean and stimulate the scalp while restoring strength, thickness, and vitality to every strand.
DHT Blocking Shampoos
1. Botanical Green Care Hair Growth/Anti-Hair Loss Sulfate-Free Shampoo
Botanical Green Care's Anti Hair Loss Shampoo is made in the United States. The specially developed formula contains ingredients that control DHT levels locally, promote better blood circulation in the scalp, and encourage hair follicles to maintain their growth stage for longer. Both rosemary and lemongrass essential oils are known for being anti-inflammatory, anti-fungal, anti-microbial, and stimulating for blood circulation. Additionally, apple, argan, and grape stem cells help renew hair cells and slow down the aging process. It's also paraben and sulfate-free.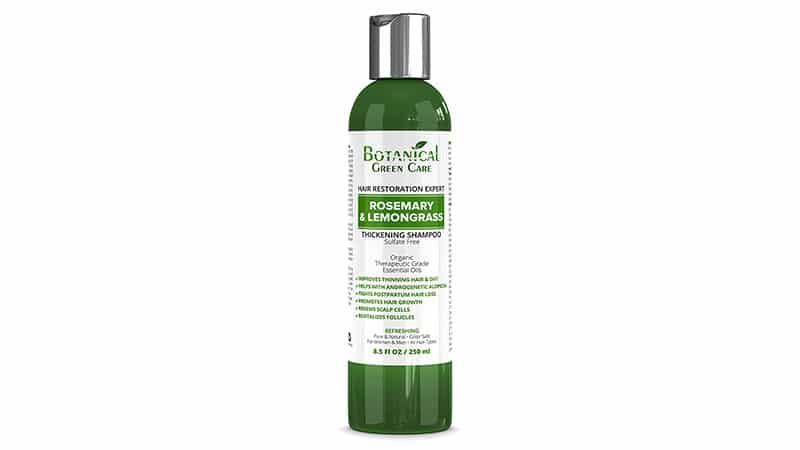 2. PURA D'OR Original Gold Label Anti-Thinning Biotin Shampoo
Ingredients like biotin, argan oil, saw palmetto, and red seaweed makes up PURA D'OR's Original Gold Label Anti-Thinning Biotin Shampoo. There are actually 17 natural DHT blockers in the formula, as well as herbal ingredients to promote stronger, thicker hair with increased volume. It also helps keep the scalp hydrated, protect it from irritation, and lock moisture in all day long, which helps prevent hair breakage. Plus, it's vegan and free from sulfates, cruelty, and gluten.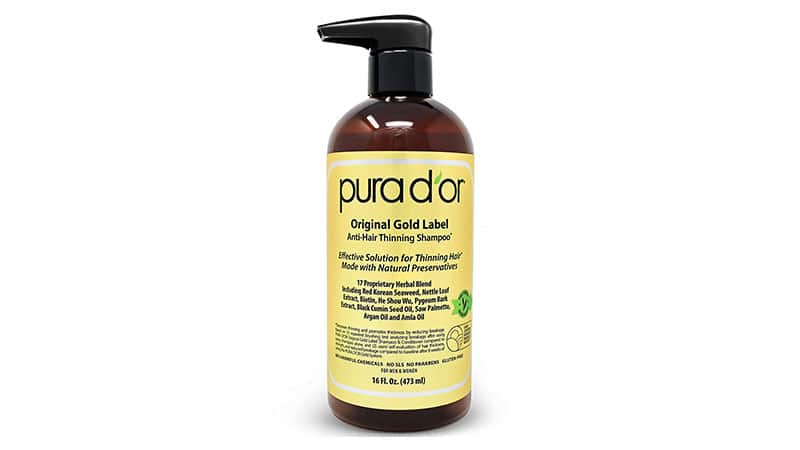 3. Hair Restoration Laboratories Hair Restore Shampoo
Get your luscious mane back with the Hair Restore Shampoo from Hair Restoration Laboratories, even if you have chemically treated or colored hair. Use it daily for best results and leave it on for three to five minutes. The active ingredients will help the regrowth of stronger, thicker, and healthier hair. The proprietary blend has plenty of DHT halting components like saw palmetto, biotin, pumpkin seed extract, caffeine, green tea extra, black cumin seed oil, and more. Plus, it doesn't contain harmful things like parabens, sulfates, phthalates, and other toxic chemicals.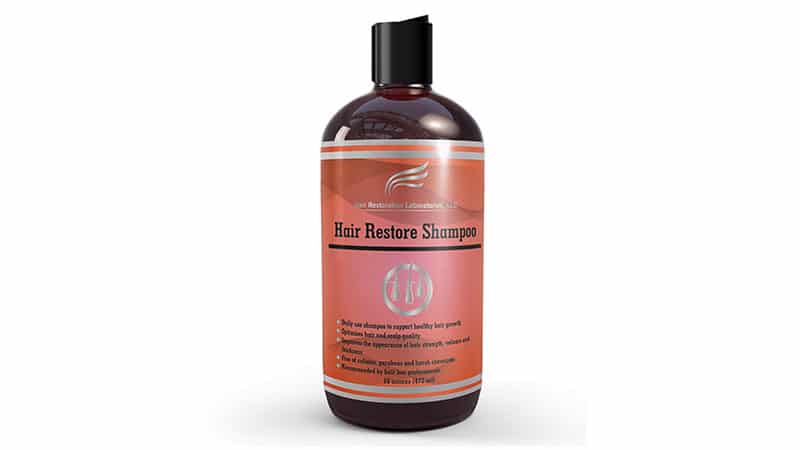 4. Shapiro MD Vegan Hair Loss Shampoo for Thinning Hair
Saw palmetto, green tea, and caffeine combine in this hair loss shampoo from Shapiro MD. Together they shield hair follicles from DHT, support the natural growth cycle, and revive under-active follicles. It also cleanses without drying your hair and scalp so that you can use it daily. Plus, it protects your locks against environmental stressors like sun and heat damage. Finally, it's great for both men and women and doesn't contain sulfates or parabens.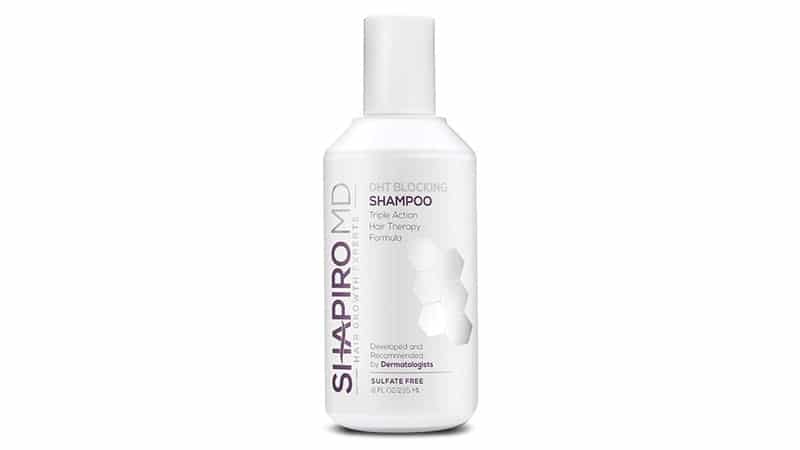 5. Pure Biology Hair Growth Stimulating Shampoo
Pure Biology uses several breakthrough complexes in this hair growth shampoo. Your hair is strengthened and revitalized with the Amino Kera NPNF Keratin, which has a different molecular weight distribution to alternatives that penetrates further. Then, the 3hc Stimulation complex is a mix of plant-derived ingredients that encourage the cells responsible for hair follicle development and lifespan, and fiber growth. At the same time, elements like saw palmetto and green tea block DHT, while rosemary oil stimulates blood flow.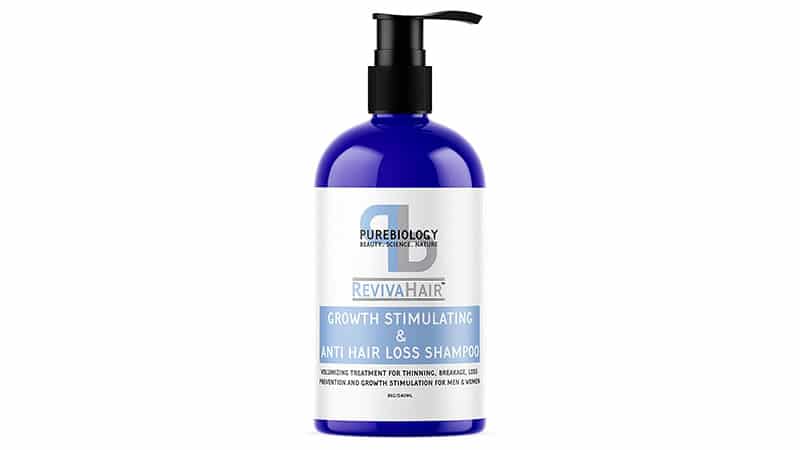 6. Majestic Pure Biotin Shampoo for Hair Growth
Biotin is one of the main active components in Majestic Pure's Biotin Shampoo for Hair Growth. You'll enjoy fuller, healthier hair because it can stimulate keratin production and enhance the growth rate of the follicle. Other ingredients include rosemary and castor oil to stimulate blood circulation in the scalp and add moisture and shine. The sulfate-free formula is gentle, designed for daily use, is safe for colored hair, and suits various hair textures.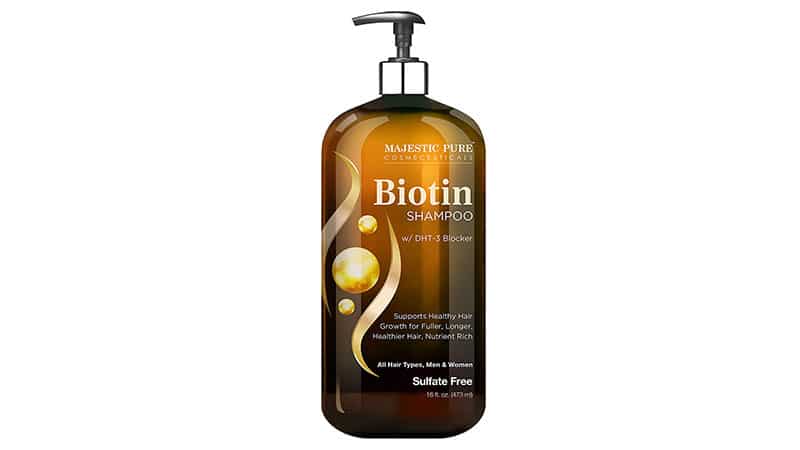 7. Hairgenics Pronexa Clinical Strength Hair Growth & Regrowth Therapy Hair Loss Shampoo
Stop hair from thinning with the Hairgenics Pronexa shampoo. DHT blocking ingredients include saw palmetto to prevent the hormone from binding to the follicles and shrinking them beyond repair. Additional components include biotin, vitamin B5, and collagen peptides. These help to maximize regrowth, prevent dryness, minimize breakage, and improve elasticity. The result is stronger, fuller, healthier-looking hair. This shampoo is made in the United States, is cruelty-free, vegan, and gluten-free.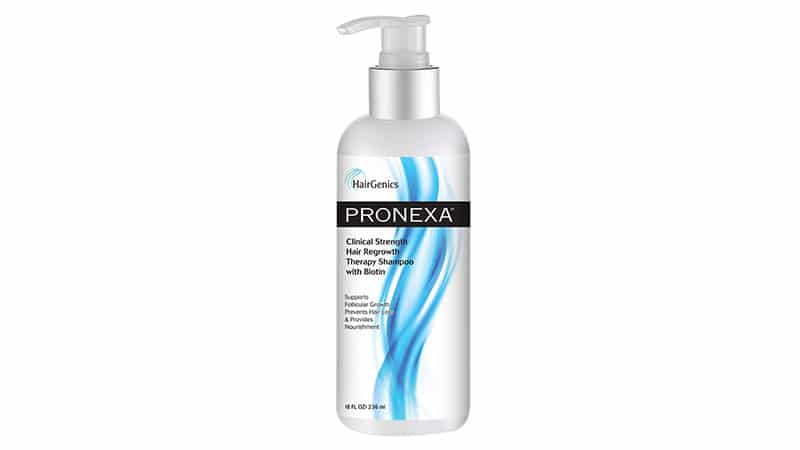 8. Advanced Trichology HairStem DHT Blocker Hair Growth Shampoo
Powerful ingredients make Advanced Trichology's HairStem DHT Blocking shampoo effective. The clinically developed formula includes saw palmetto, aloe vera, biotin, vitamins B and K, tea tree oil, and grape seed extract, which are anti-inflammatory, anti-microbial, and DHT suppressing. You'll get stronger and healthier hair with a 120-day moneyback guarantee. Use it daily, letting it sit for three to five minutes before rinsing for the best results.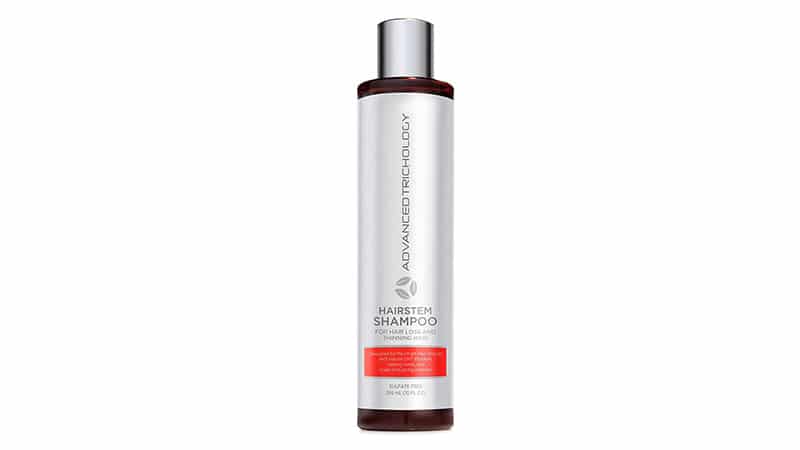 9. ProBliva DHT Blocker Hair Loss & Hair Re-Growth Shampoo
Restore your hair and confidence with regular use of the ProBliva DHT Blocker Hair Loss & Hair Re-Growth Shampoo. The formula has ingredients that block the enzyme that creates the hair-loss-causing DHT. This includes zinc PCA, green tea, and kapilarine. Other than blocking the DHT, these also regulate the sebaceous glands, stimulate regrowth and clean deeply. Finally, vitamin E, B5, keratin, jojoba oil, and collagen amino acids protect, lock in moisture, and maintain healthy hair.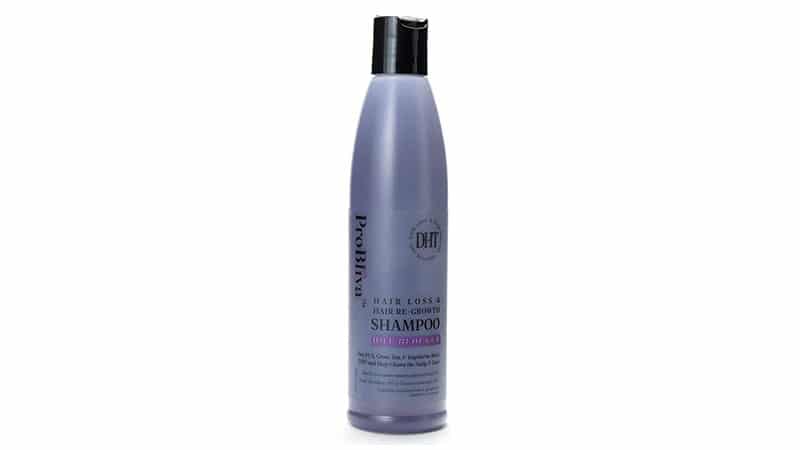 10. Active Wow Hair Growth Shampoo
Get smooth, full hair with the Active Wow Hair Growth Shampoo. It's packed full of all kinds of goodness. Firstly, biotin preserves the hair's strength and texture, while keratin repairs damage and restores moisture. Argan oil contains antioxidants and nutrients like omega-3 fatty acids that are excellent for moisturizing. At the same time, botanical extracts such as green tea, saw palmetto, nettle, caffeine, and pumpkin seed have been shown to block DHT from further damaging the follicles. With regular use, this US-made formula will have your hair game back on point in no time.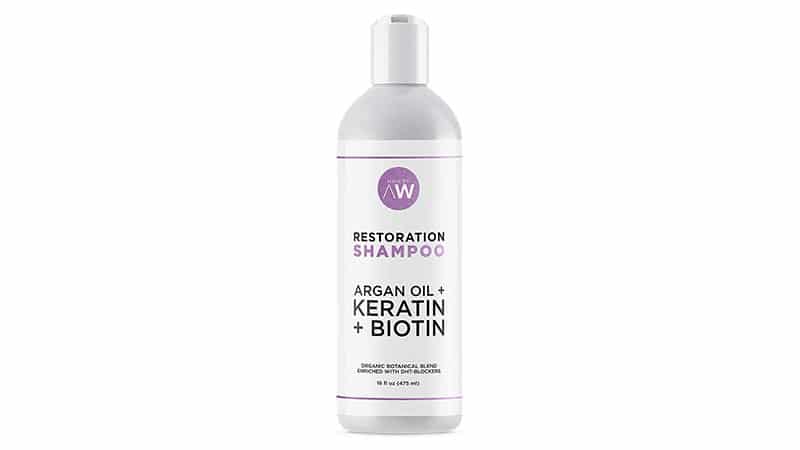 11. Hairgenics Propidren Hair Growth Shampoo
Nourish your hair and rebuild its thickness and vitality. The Hairgenics Propidren Hair Growth Shampoo contains natural DHT blockers, including saw palmetto, to prevent further follicle miniaturization and hair fall. At the same time, it also contains biotin that produces keratin and increases elasticity. It protects your strands from damage and breakage and induces new growth. Enjoy the best results by using this daily for at least three months.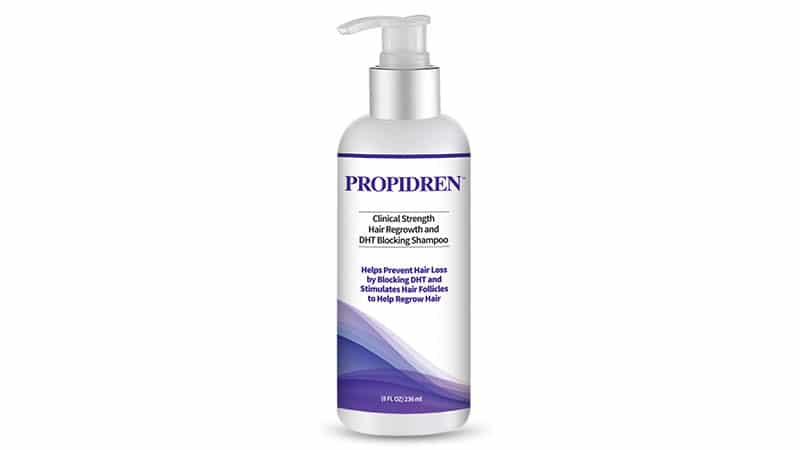 12. Shiny Leaf Biotin Shampoo For Hair Growth With DHT Blockers
Six powerful anti-hair loss ingredients combine in this formula from Shiny Leaf. This shampoo contains DHT blocking ingredients like saw palmetto and green tea extract, as well as other nourishing components that bring thinning hair back to life. Biotin provides essential nutrients for thicker, strong strands, while coconut fruit extract helps your mane become longer, stronger, and less prone to breakage. Finally, vitamin E adds moisture while hydrolyzed oat proteins coat each strand in a protective layer.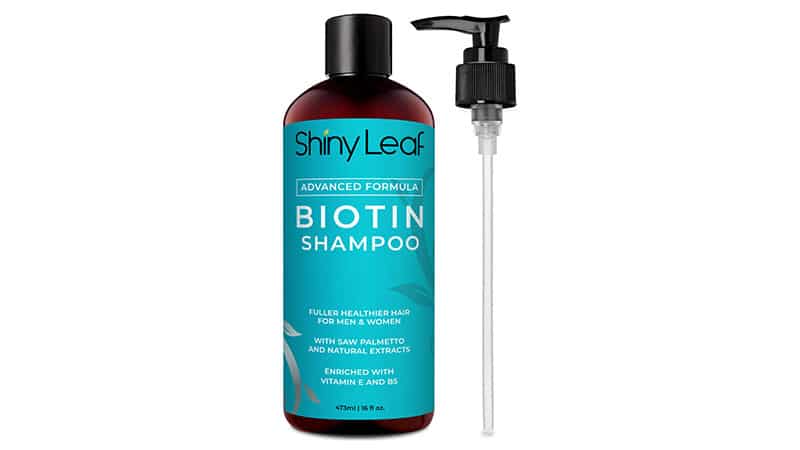 13. First Botany Cosmeceuticals Hair Regrowth and Anti Hair Loss Shampoo
First Botany's hair loss shampoo is a gentle product free from harsh chemicals. It has 14 DHT blockers in the herbal formula. This includes Korean red ginseng, hibiscus, niacin, turmeric compounds, and saw palmetto, plus a good dose of biotin to strengthen the existing hair strands. Regular use will stimulate hair growth on all kinds of hair included colored or chemically treated and curly locks.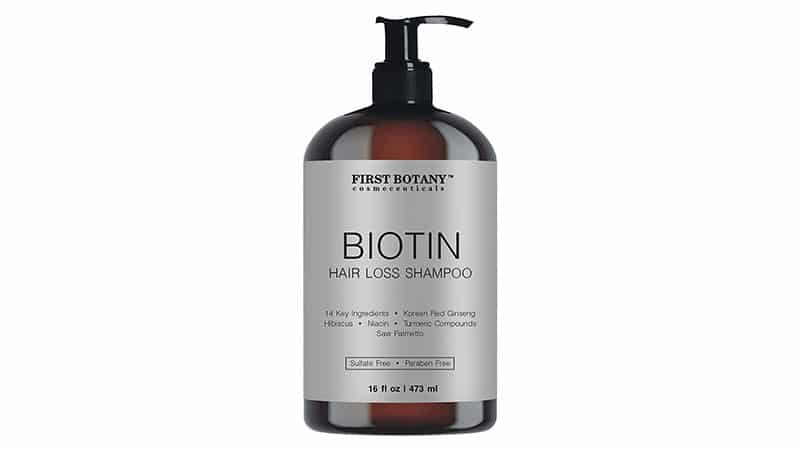 14. PURA D'OR Hair Thinning Therapy Biotin Shampoo
Increase your hair's thickness, volume, and shine while reducing thinning, breakage, and dullness. This Thinning Therapy shampoo from Pura D'or is packed full of exotic herbs, extracts, and essential nutrients. An invigorating blend of biotin, argan oil, niacin, and antioxidants purify the scalp and promote healthier growth. Meanwhile, 15 DHT herbal extracts help reduce further damage to the follicles. It even comes with a 365-day money-back guarantee if you're unhappy with your purchase.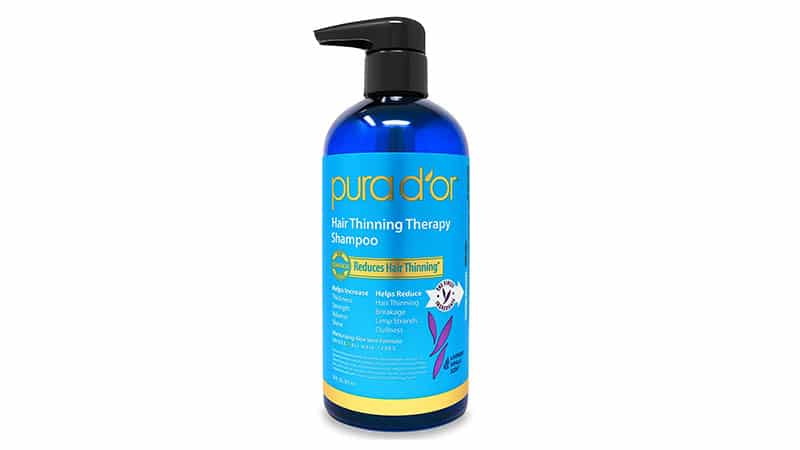 15. Pure Body Naturals Hair Loss Shampoo to Restore and Strengthen
Restore and strengthen your hair with this shampoo from Pure Body. It's formulated with naturally sourced DHT blockers that help prevent further follicle damage and hair fall. The addition of niacin, biotin, argan oil, and anti-oxidants also improves your current strands' condition, strength, and shine, helping them look and feel fuller and volumized. Plus, it stimulates circulation in the scalp for increased blood flow that aids healthy growth.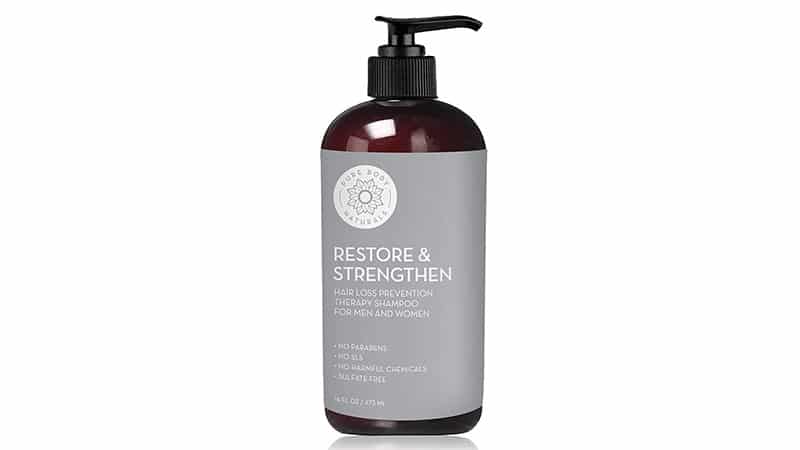 What is DHT?
DHT refers to dihydrotestosterone, a male sex hormone. It's created in the body when enzyme 5-alpha-reductase converts testosterone into DHT. It's an androgen responsible for male characteristics such as body hair, increased muscle mass, deeper voice, and the development of male genitalia in utero. Both men and women have this hormone (just as both have regular testosterone). However, DHT can cause hair loss, especially in men and people susceptible to hair loss. It binds to the androgen receptor in the hair follicles, causing them to shrink. The result is first thinning hair, then eventual hair loss.
How Does DHT Blocking Shampoo Work?
There is no one magic ingredient when it comes to DHT blocking shampoos; however, some ingredients can lessen hair loss. They work by preventing the DHT from binding to the follicle, causing negative effects. Ketoconazole is one of the main ingredients to look for. It's an anti-fungal that can disrupt the DHT from attaching while also treating dandruff. Saw palmetto acts similarly. Other ingredients like biotin and rosemary oil help in other ways, promoting healthier hair growth and stimulating circulation in your scalp. Avoid products that contain sulfate and parabens, as these can cause irritation and have links to other health issues. The key to success is consistent and extended use to achieve the best results. Plus, like other hair loss products such as minoxidil, once you start, you need to maintain your use; otherwise, your hair will revert to its previous condition.
What about Thickening Shampoos?
Thickening shampoos won't decrease hair loss but can improve what you still have. Shampooing, in general, makes your hair look thicker and healthier because it removes dirt, grease, and product build-up that weighs your hair down. It also helps remove pollution on the scalp that can irritate your follicles. Many thickening shampoos are protein-based because hair is basically just keratin. The protein fortifies the outer layer of the hair shaft, while other ingredients such as panthenol (a type of vitamin B5) attract moisture plumping the hair. Then, other components like biotin, amino acids, and botanical extracts add more moisture, shine, and elasticity to lessen breakage.
How to increase DHT Blocking Shampoo Effectiveness
Using a DHT-blocking shampoo can just be one step in battling hair loss. There are also other measures you can take to increase the effectiveness, which should be used in conjunction with the shampoo. These include finasteride, minoxidil, LLLT devices, and scalp massage. Keep in mind that with hair loss remedies, individual results will vary.
Finasteride
Finasteride is an oral medication that stops the enzyme 5-alpha-reductase from converting testosterone to DHT. The less DHT in your system, the less there is that bind to your hair follicles, and therefore the less hair loss. Keep in mind that Finasteride isn't an over-the-counter medication in most countries, so you will need to consult a health care professional for a prescription. Like any pharmaceutical treatment, it can also have other side effects and interact with other medications, so make sure you get all the information before commencing.
Minoxidil
If you prefer a topical treatment, minoxidil is another excellent option. This is often a foam or liquid that's applied once or twice daily and is most commonly sold under the brand name Rogaine. There's debate about how it actually works, but some theories suggest it stimulates blood flow, increasing oxygen and nutrients to the scalp. Others ideas are that it increases the enzyme ATP that extends the follicle growth phase. Similar to DHT blocking shampoos, you do need to continue treatment once you start.
LLLT device
An LLLT device stands for low-level laser therapy. It's either a rod or cap that emits red LED lights, which can increase blood flow to the scalp and follicles and reduce any inflammation. It can also encourage cell growth and improve the condition of the follicles. It's a non-painful, non-surgical option that is done at laser clinics. It does take multiple sessions over time, with continued maintenance recommended for the rest of your life.
Scalp massage
Scalp massage not only feels fantastic but can help prevent hair loss and encourage healthier growth. It stimulates the blood vessels around your head, increasing blood flow and bringing more oxygen and nutrients to the area. The best part is you can do it yourself, using either just your hands or a massage brush with rubber bristles. Aim for at least five minutes every day for the best results.
FAQs
What shampoos block DHT?
Look for shampoos containing ketoconazole or other natural DHT blocking properties like saw palmetto, green tea, and caffeine. Other nourishing ingredients like biotin and antioxidants will also help strengthen and improve your current hair. Try Botanical Green Care Hair Growth/Anti-Hair Loss Sulfate-Free Shampoo, PURA D'OR Original Gold Label Anti-Thinning Biotin Shampoo, Hair Restoration Laboratories Hair Restore Shampoo.
Do DHT blocking shampoos really work?
Many companies have run their own clinical trials to establish the success of their products, while there's also lots of anecdotal evidence that these products do work with consistent and long-term use. However, like many health issues, individual results will vary and will be influenced by many different factors.
Is blocking DHT Good?
With any treatment that can affect hormones, there can be side effects; however, they're generally very mild and barely noticeable in the case of DHT blocking shampoos. Oral hair loss treatments like Finasteride have the greatest chance of negative impacts. However, with topical treatments like shampoo that are left on for such short periods, the risk is very low. As such, blocking DHTs is generally not harmful.
Is banana a DHT blocker?
Bananas are a DHT blocker because they contain fructooligosaccharides (FOS), which help reduce overproduction. They're also a great source of biotin and potassium, which help hair growth and stimulates the circulatory system to provide essential nutrients and oxygen all around the body. Not to mention, they're super tasty and known as nature's energy sticks. 
How can I naturally reduce DHT?
There are foods that you can consume that will help naturally reduce DHT production. This includes anything high in lycopene such as tomatoes, mangoes, and carrots, plus foods high in zinc like spinach and kale. Lysine can also have this effect, so add in green tea, pumpkin seeds, and flax seeds. Finally, if you also increase foods rich in biotin, like berries, oily fish, and legumes, this will help improve the condition of your existing hair, as well as new growth.
SUBSCRIBE TO OUR NEWSLETTER
Subscribe to our mailing list and get interesting stuff and updates to your email inbox.