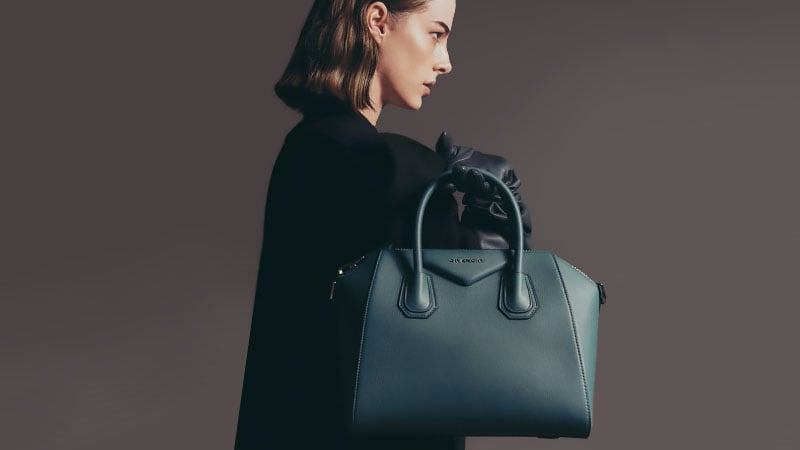 Wake up in the morning, stumble to the kitchen and grab yourself the perfect office accessory. From the daily grind to the next steps on your career ladder, it's important to keep the essential items safe and secure. From a backpack to a sleek leather tote, there are a wide variety of styles that you can sport every day and feel like an off-duty supermodel. Go from nine to five in style with the 20 best designer work bags for the professional lady.
RELATED: How to Wear Business Attire for Women
1. Saint Laurent Uptown Small Tote
Take on your big workday in style, thanks to this elegant Saint Laurent bag. This black tote features timeless gold accents and the iconic logo printed on the front – the craftsmanship of its Italian leather is worth showing off. The removable envelope is ideal for your keys and cards, and the large size is perfect for your documents and important files. With such an incredible accessory by your side, you'll ace every meeting with grace.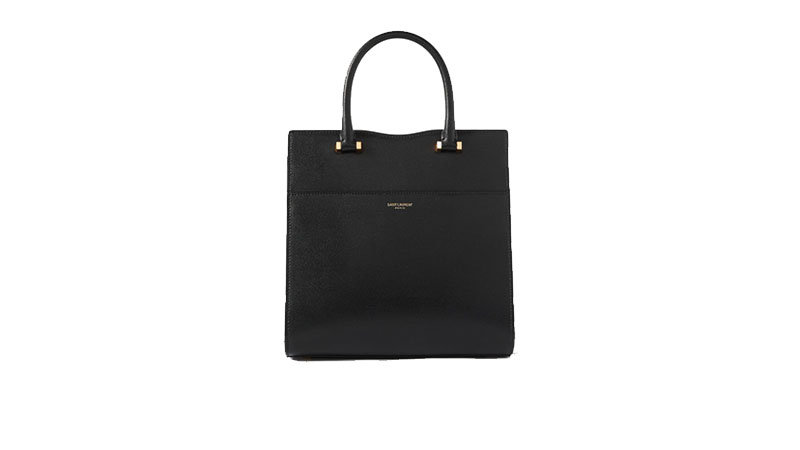 2. Fendi Leather tote
Elevate your everyday office ensemble with this sleek Fendi bag. The oversized tote boasts polished Italian black leather, and the gold double 'FF' logo hardware is sure to turn heads. You can switch from handheld to your shoulder, thanks to its adjustable strap. This tote is effortless in style, meaning you can wear it with almost any outfit and look timeless. Take your laptop with you, keep important documents by your side and do it with a fashionable twist.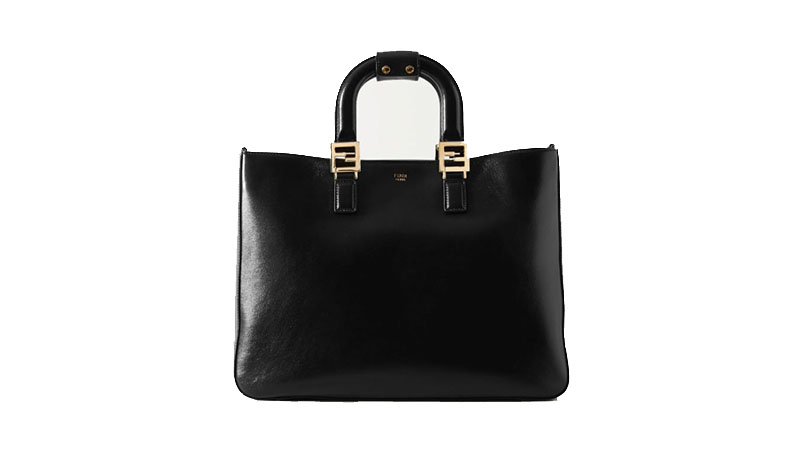 3. Gucci Marmont Top-handle Tote
For an iconic and fashionable work ensemble, this Gucci Marmont tote will be the perfect companion. Large in size and timeless in design, you can dress it up or down. It will be an ideal accessory for your next big meeting. The black leather construction features a diagonal matelassé effect and gold-tone signature double G logo hardware. The beauty behind this bag is its longevity – you can wear it for years and always look like an off-duty supermodel.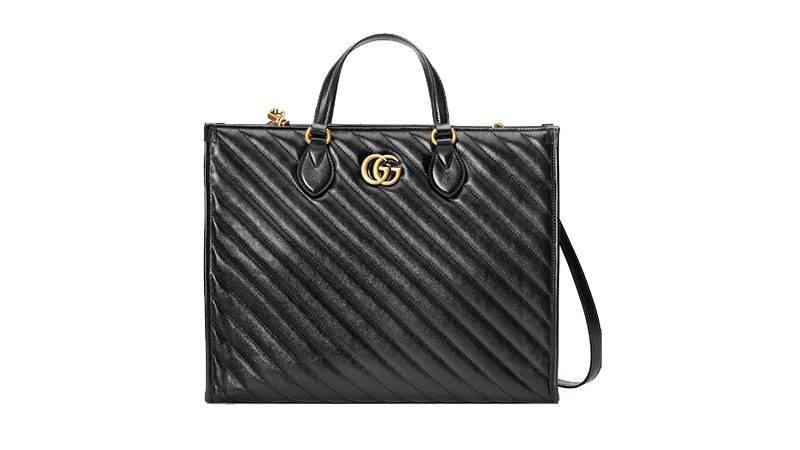 4. Tory Burch Perry Leather Tote
Go from the office to dinner with friends without having to change your bag – this Tory Burch tote does it all. The timeless design is lightweight, with a rich pebbled leather finish and a stunning red pop of color. The size is suitable for a 13″ laptop, and the long strap sits perfectly on your shoulder. It also features a flat base, so you can easily store some of your important documents inside.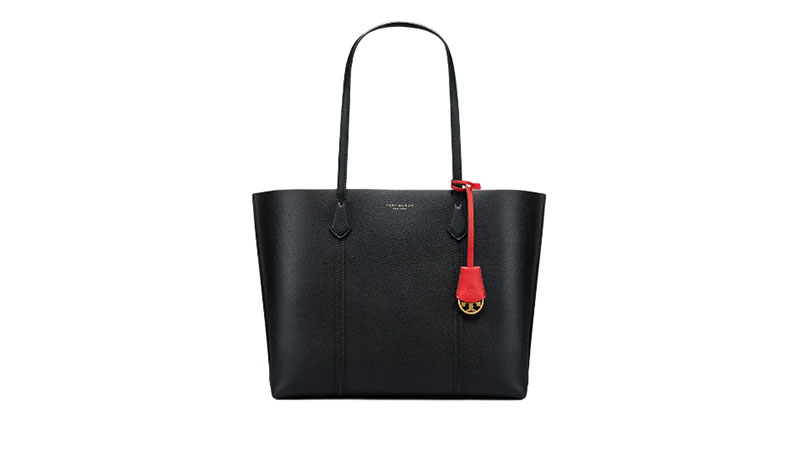 5. Burberry Medium Society Leather Tote
Take your everyday essentials with you wherever you go, and do it in style. This Burberry tote is roomy so that you can fit a small laptop or tablet, files, and plenty of other documents. The calfskin leather is soft to the touch, and the trims on the side snap close to keep your belongings safe and secure. It's the perfect accessory for your daily routine and is sure to garner a compliment or two.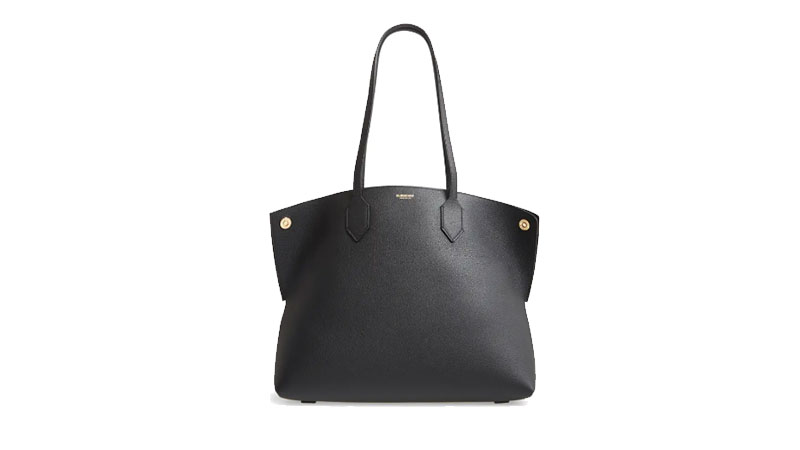 6. Tom Ford T Screw Shopper Canvas Tote
Take your outfit ensemble to the next level with this stunning Tom Ford bag. It features an outstanding canvas construction with beautiful leather trim and T Screws along the top. With two strap sizes to choose from, you can carry it on your shoulder or in your hand. It's large in size, meaning you can carry your laptop, papers, and any other important files needed for a productive day at work.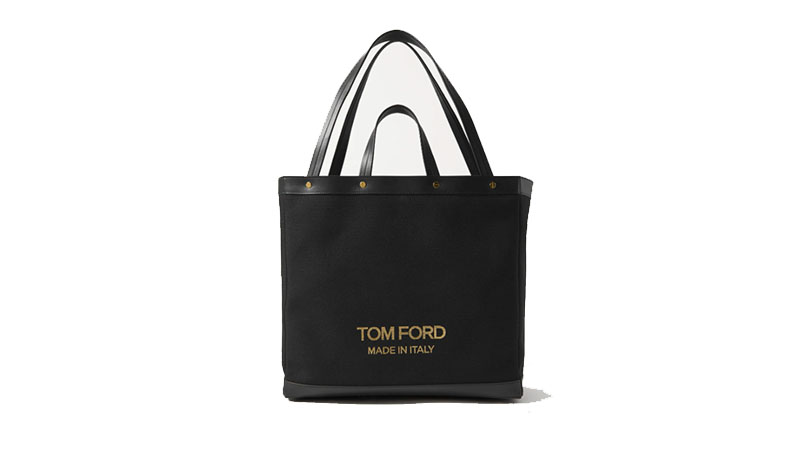 7. Valentino Rockstud Tote
Add a bit of rockstar to your everyday office outfit – this Valentino tote bag is ideal for your big meeting or work event. There is a wide range of colors to choose from, and the leather construction is sturdy enough for daily wear. The Rockstud accents across the top add the perfect finishing touch to this stunning bag, and the magnetic closure keeps all your assets secure.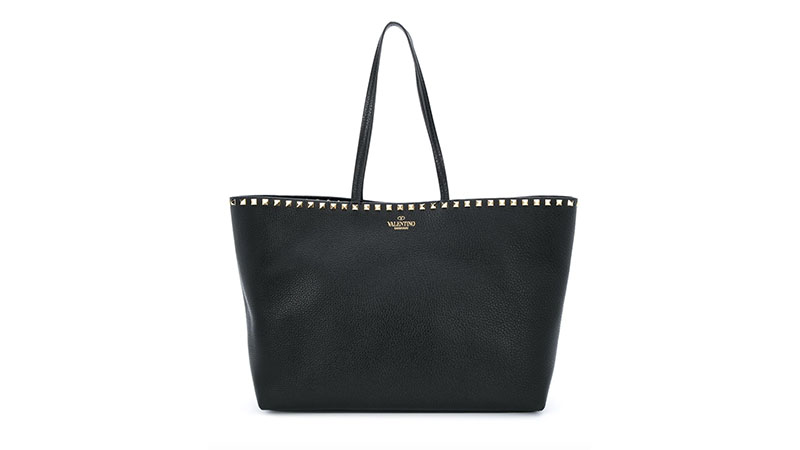 8. D&G Large Sicily 62 Tote
From the board room to a lunch meeting, keep your stuff secure and stylish with this sleek D&G bag. The large Sicily design features smooth and sturdy leather construction, complete with gold hardware and a stylish logo on the front. Keep the handbag scratch-free, thanks to the feet on the bottom, and the detachable shoulder strap keeps you feeling comfortable all day.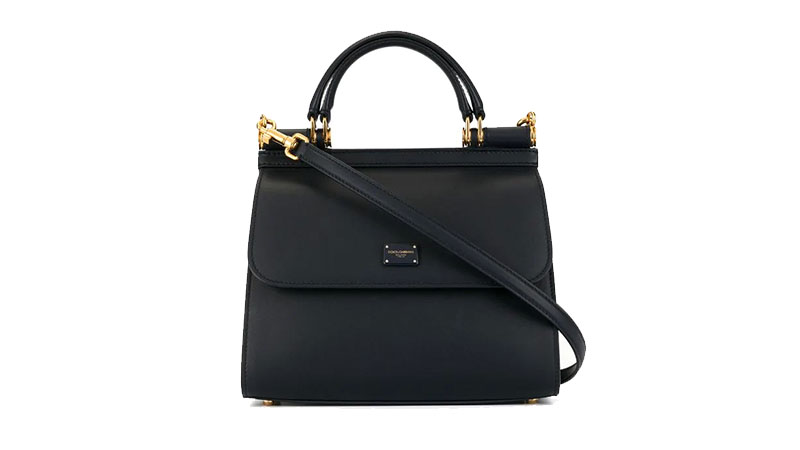 9. Prada Double Bag
Instantly elevate your daily outfits, from the office to an important meeting with your clients. This Prada Double bag offers a timeless design, and the stunning powder pink Saffiano leather will last for years to come. If you often wear dark shades, this is the best way to add a pop of color. You can fit a small laptop or tablet in here, with plenty of room for extra items to help you along your way.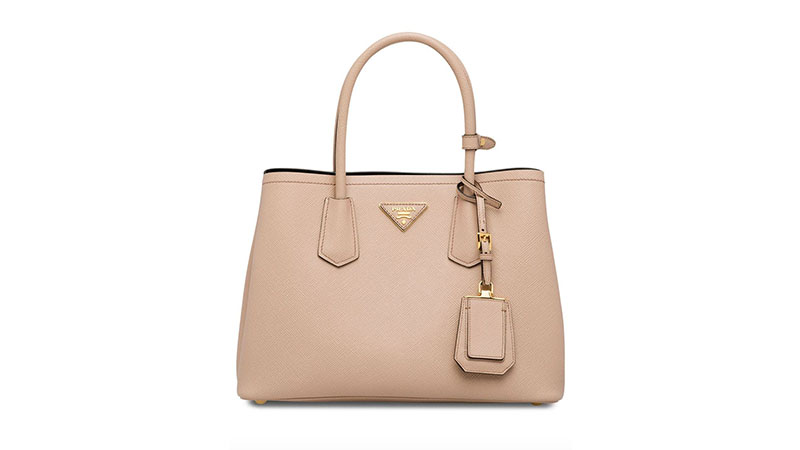 10. Alexander McQueen Signature Leather tote
For the fashion lovers who want a bit of extra spice to their everyday work lives, this Alexander McQueen is the perfect fit. The tote shape allows for extra items such as a small laptop, tablet, or documents – the smaller zipped pouch is perfect for lipstick, your phone, or some coins. The embossed logo adds a subtle punk feel, so you can walk into the office with a high fashion twist.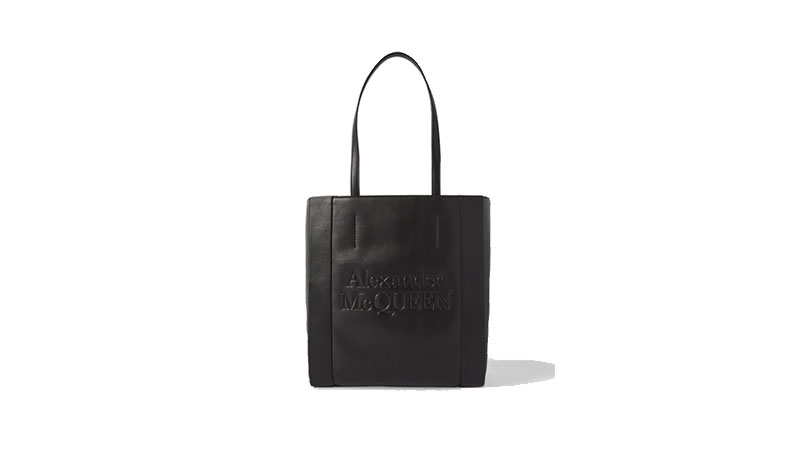 11. Salvatore Ferragamo Satchel Bag
Show your boss you mean business with this stunning satchel from Salvatore Ferragamo. With a hinge lock handle, flap, and gold accents, it's the perfect combination of style and functionality. The black Italian leather will endure the daily grind and help you feel organized, thanks to its large pockets. Don it with a pantsuit, semi-formal attire, or a stylish casual Friday get-up.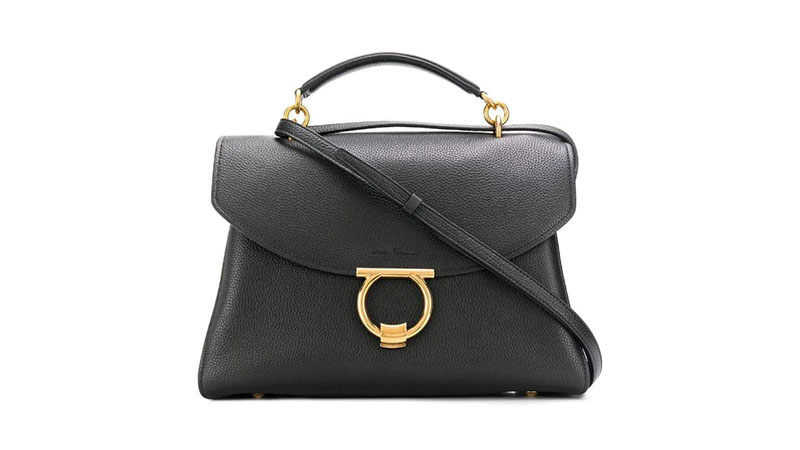 12. Givenchy Antigona Leather Tote
Keep classic pieces alive with this Boston-inspired Antigona bag by Givenchy. The angular shapes create an instantly interesting vibe, and the roomy interior is perfect for your documents and work needs. Its large size is perfect for a work trip, a big day at the office, or an important event. The sleek black leather matches any outfit and is chic enough to take you from your desk to a restaurant in the blink of an eye.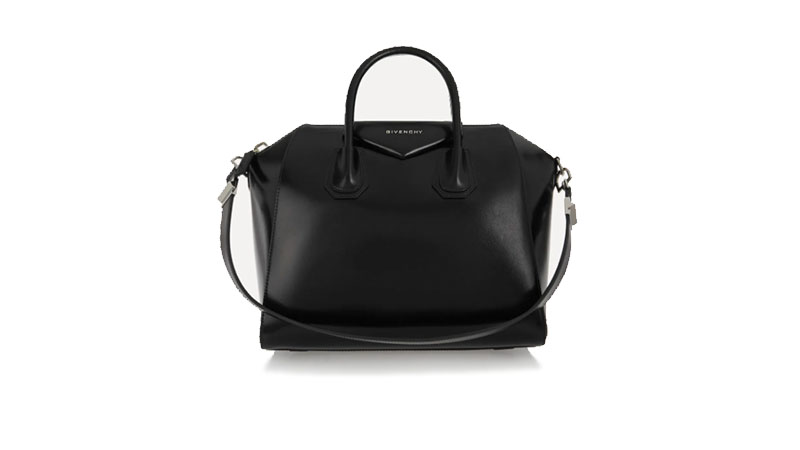 13. Chloé Zipped Tote
Feel in control of yourself with this Chloe bag. The motty grey calfskin construction is effortlessly beautiful, and the gold 'C' logo completes the design. With various compartments inside and a large internal cavity, you can store your important documents and a laptop or tablet inside. The top handles are easy to hold, and it also comes with a detachable strap to carry it on your shoulder.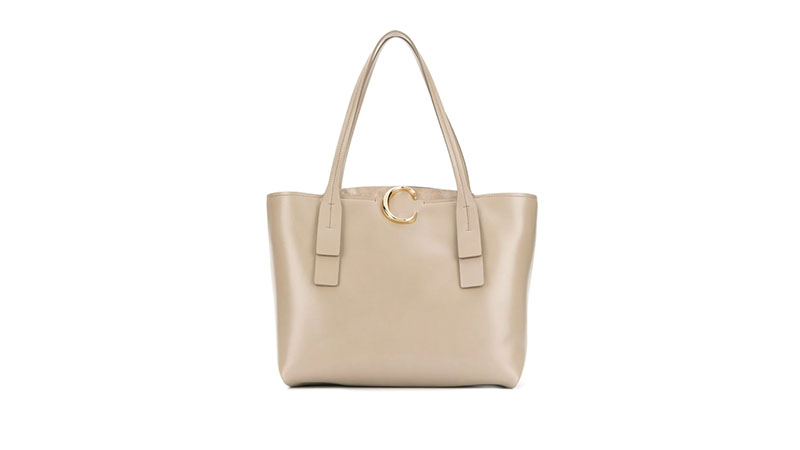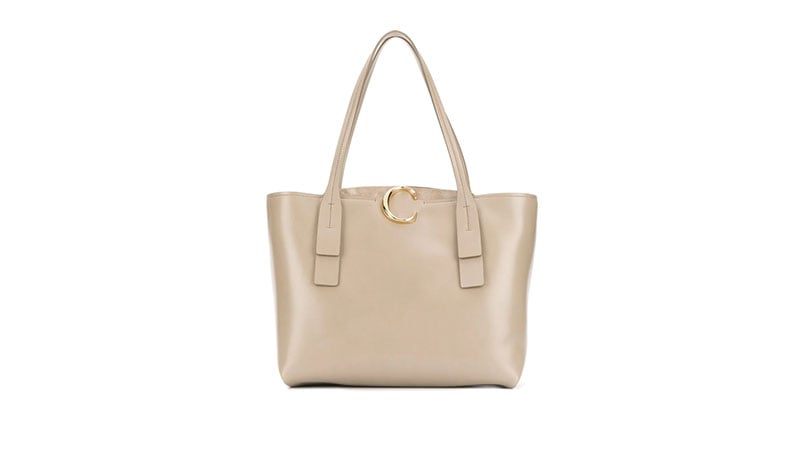 14. Furla Tote
Take the humble work accessory and put a high fashion spin on it. This tote bag by Furla presents the best parts of a high fashion handbag with the functionality of a briefcase. Add the adjustable shoulder strap for a more relaxed feel. Constructed with black leather and complete with a round top handle and gold hardware, it's easy to take this from day to night without a fuss.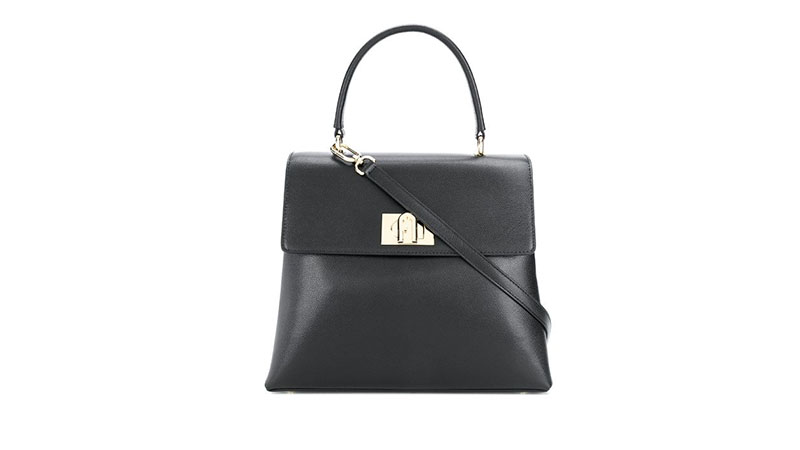 15. Tommy Hilfiger Modern Faux Leather Work Bag
Secure your laptop as you take it to your important meetings, and do it in style with this Tommy Hilfiger bag. The large size will keep your electronics safe on a business trip or on the way to the office – the extra storage compartments are perfect for papers, pens, and anything else you need. Its pebbled texture is sophisticated and timeless – you'll keep this accessory with you for years to come.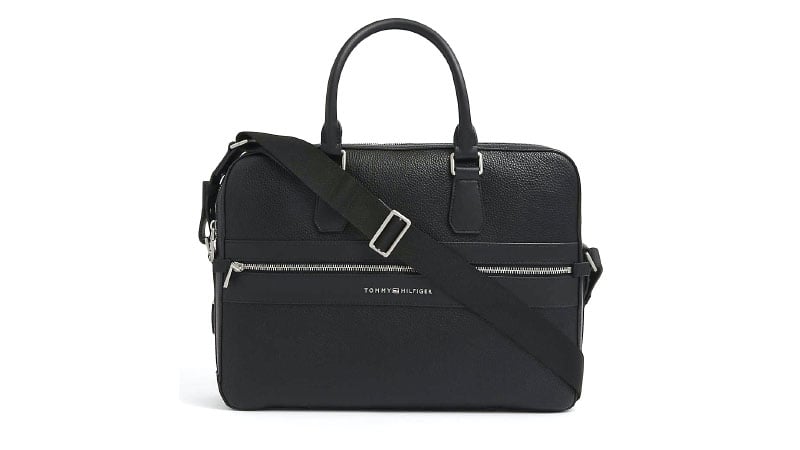 16. DKNY Sullivan Tote
Secure your work-life balance with this DKNY Sullivan textured-leather tote bag. The large size makes it easy to travel to and from the office, and you can store a wide range of essentials inside without a fuss. The black leather design matches any outfit and is so timeless that you can keep it as a staple item, no matter the season.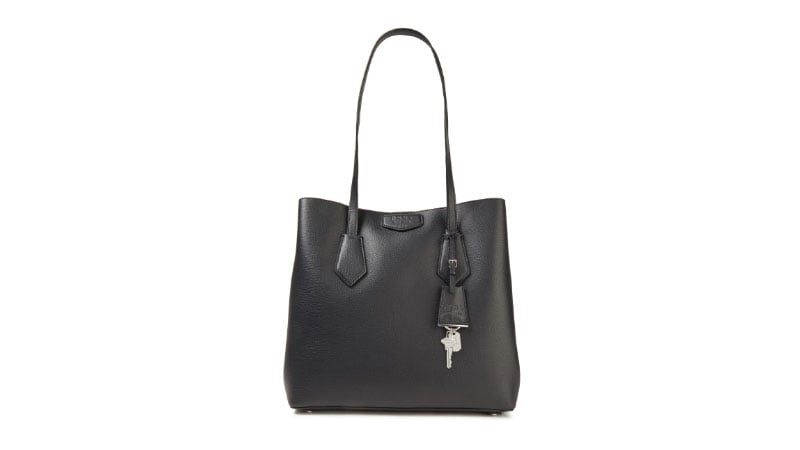 17. Michael Kors Manhattan Satchel Bag
This Michael Kors satchel is perfect for the girl on the go. With a unique and standout design, the bag offers the right amount of space for daily essentials. The gold hardware, buckle front, and top handle make it the best accessory for any ensemble. Its internal pocket, adjustable strap, and flip-lock closure offer comfort for a day at the office.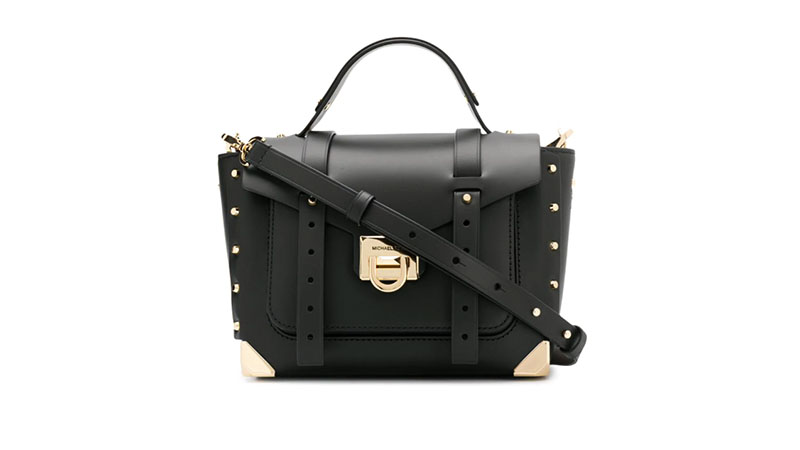 18. Mansur Gavriel Elegant bag
Some designs never truly go out of style, which is the case with this Mansur Gavriel Elegant handbag. Taking its inspiration from the Corde design of the '30s, its sturdy construction and gold hardware are effortlessly stunning. This essential accessory offers ample room, so you can keep your important items close by, and is beautiful to wear when you're out of the office or having a work lunch. What more could you want?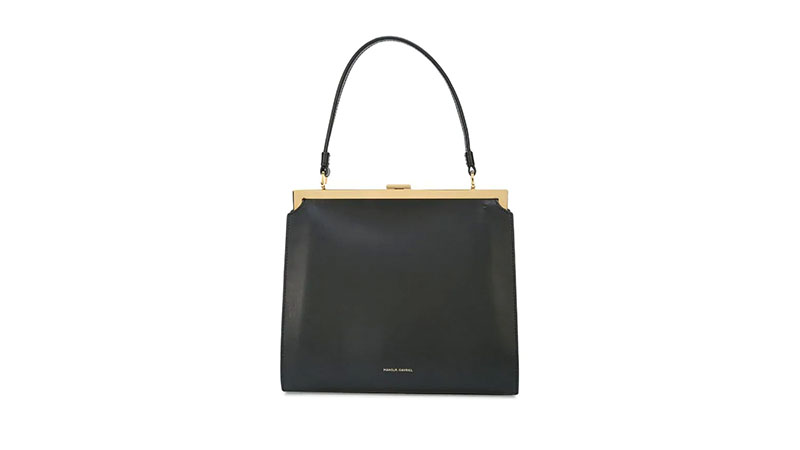 19. Senreve Voya Textured-leather Tote
The Voya tote from Senreve is sure to help you feel in control at work. With a stunning white Italian leather construction, detailed paneling, and a top handle, you can carry this bag on your shoulder or by your side. Keep your valuables safe and secure, thanks to its large size. You can style this bag with almost any ensemble, and it flatters every season of the year.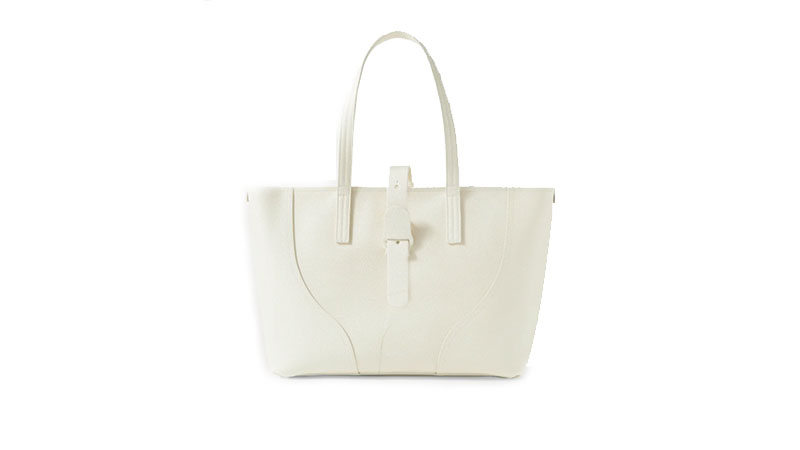 20. Salvatore Ferragamo Double Flap Backpack
For those who are on the go but don't want to carry a handbag, this double flap backpack is the perfect alternative. With a sturdy leather construction and stylish gold accent, you can easily rock it to and from the office. The laidback, effortless style is easy to dress up or down, and you can take it anywhere with you. Bring your tablet, work essentials, and maybe a lipstick or two – this bag does it all.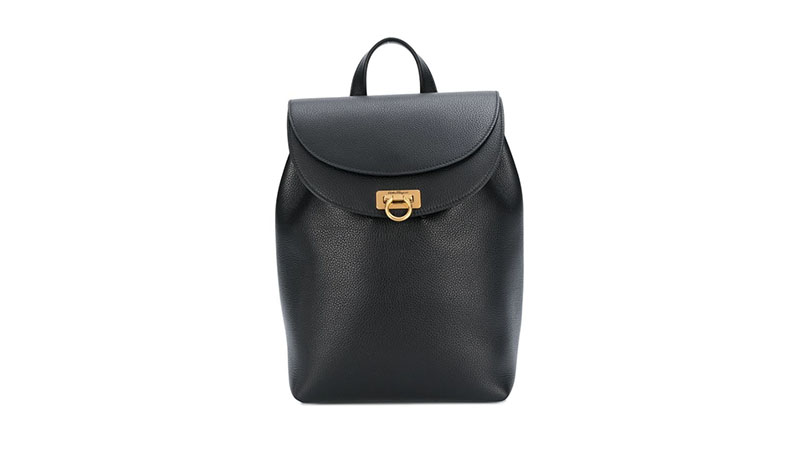 FAQs
What are work bags?
A work bag is a perfect way to carry your office essentials with you. Other than a traditional handbag, these are often larger inside to accommodate for a laptop or documents. You can get varying styles, such as a satchel, a tote, or a backpack. 
What are tote bags used for?
Tote bags are used to keep larger items safe and secure. The parallel straps on the top allow you to carry them on your shoulder or in your hand. Although the sizes often vary, you can carry papers, files, electronics, and other essentials inside without the need for another bag. They come with an open-top, so you can slip things in and out as you please. 
What is the difference between a tote and a satchel bag?
The main difference between the two styles is the top of the bag. A tote features an open-top, whereas a satchel sports a flap to keep the items inside secure. While both can be carried on the shoulder or in the hand, a satchel features a long shoulder strap so you can carry the handbag across your torso. 
What is the ideal size of a work bag?
While it depends on the work you do, the ideal size of these bags is big enough to carry the essential items you need for a day at the office. This can mean a laptop, a tablet, documents, pencils, or a camera. Your best bet is checking the dimensions before you purchase your work bag, but be sure it can fit the minimum of your laptop. 
Can I use a work bag for school?
If you attend university or college, a work bag is a great way to stay stylish and keep your daily items with you. If you find yourself walking from one side of campus to the other, you could try a backpack for comfort. Another great alternative is the satchel or tote bag, as you can secure them on your shoulders and carry your items with confidence. Be sure to choose a bag that can accommodate your school needs, such as pens, paper, and a laptop.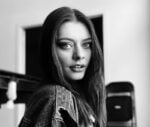 Alexandra Feiam is an experienced fashion writer who holds a degree in journalism. She has an impressive portfolio and expertise working as the Editor at Power Retail and Commercial Content Editor at Newscorp. Ally has been writing for The TrendSpotter since 2018, and her work has been featured in notable publications such as The Herald Sun, Arirang TV South Korea, Kidspot, The House of Wellness, and The Daily Telegraph.
SUBSCRIBE TO OUR NEWSLETTER
Subscribe to our mailing list and get interesting stuff and updates to your email inbox.