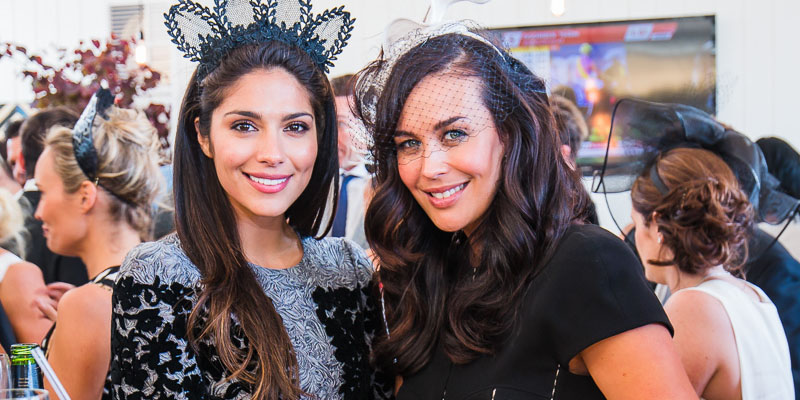 Saturday 1st November and a palpable mood of excitement was tangible in the air. Though the Melbourne skies loomed ominously grey, a flurry of activity was seen in the early hours of the morn as stylists, make-up artist and hairdressers rushed about town preparing eager damsels and dandies in a fervent effort to have them looking in prime form for the annual pilgrimage to 'High Altar' of Australian Racing, Flemington Racecourse. It was the dawn of the four-day extravaganza that is the Melbourne Cup Carnival with Derby Day auspiciously kicking off a week long celebration of fashion, lavish entertainment and naturally all things 'race horsey'.
No where is the celebration and festive mood more evident than in the elusive 'Birdcage' enclosure where the 'Beau Monde' congregates, vying to be seen or see the endless sartorial parade that occurs. Those lucky to be chosen, floated in and out of the luxuriously appointed marquees where such big names as Emirates, Lexus, Mumm, Scweppes, Myer and Swisse entertained, doled out canapés, endless champagne and myriad cocktails in opulent style that would see the legendary soirees of Louis XIV seem shabby by comparison.
Derby Day by tradition calls for a monochromatic dress code and and this year the Birdcage was awash in black and white clad glamorous attendees. The starkness of the colour scheme in direct juxtaposition to the famed roses of Flemington Racecourse. In a nod to the restrained elegance of yesteryear race wear, a return to classic '50' silhouettes with cinched bodices and voluminous skirts on dresses in silk, neoprene and variety of lace very much in evidence in the chosen apparel of the ladies. Those not choosing to ride the wave of larger skirts opted for figure-hugging contoured pencil skirts with hemlines neatly on or just below the knee.
Maticevski, Ellery, Nicola Finetti and Thurley seemingly won in sheer number of their garment's omnipresence as did the millinery creations of Gregory Ladner, Richard Nylon, Jonathon Howard of Hatmaker, Natasha Bauer and upcoming hat making superstar, Danica Erard.
The humble fascinator also now a long forgotten phenomenon as the more substantial pill box hat, worn low and forward on the hairline or more wider brimmed hats that framed the wearer's face making a nostalgic return. Abstract coiled shapes in fabrication of fine stray and cinnamay towering above perfectly coiffured hair also a much favoured head adornment.
The menfolk didn't disappoint either as well cut and most importantly impeccably fitted suits in classic black, mid-blues or a variety of checked greys with carefully curated ties, kerchiefs and cuff-links rendering the men extremely debonair. The Derby Day custom of wearing full 'Morning Suit' was also largely observed.
Derby Day 2014 where racing and fashion collided in spectacular style inspite of Mother Nature's not so kind weather gift. With black and white day over thoughts now turn to what may be worn and who will be seen over the next three days of grand racing.
Amongst The Trendspotter's, frenzied air-kissing and flute-waving, favourited attendees at the Birdcage this year and captured for their indomitable sartorial good taste are :
Photography by Colin Gold
SUBSCRIBE TO OUR NEWSLETTER
Subscribe to our mailing list and get interesting stuff and updates to your email inbox.