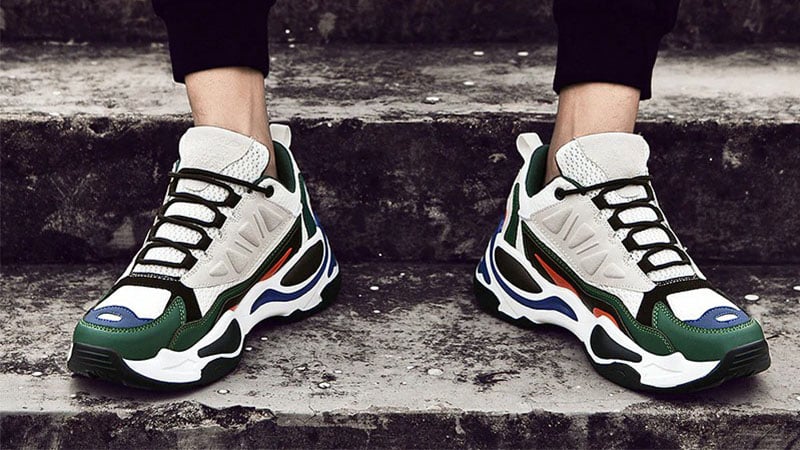 Dad shoes have been in fashion for a couple of years now and are very much here to stay. While traditionally considered "ugly," they've had a resurgence with the 90s nostalgia and normcore trends. Plus, they're exceptionally comfortable and great for all-day wear. A typical dad shoe has thick, chunky soles and throwback paneling that can boast bright colors or a more simple palette. However, unlike previous iterations, this time around, you can style them in an endless number of ways, not just with dad jeans. Try a sporty look, teaming them with your activewear, or rock them casually with jeans or joggers and a t-shirt. Alternatively, if you're brave, dress them up with tailored trousers and a well-cut blazer.
What are Dad Shoes?
Originally created as an affordable and stylish footwear option, dad shoes were born in the backyards of the American mid-west. During the 1980s, renowned footwear giants like Nike and Adidas introduced a range of lace-up sneakers with thick soles that were known for their incomparable comfort. Adorned with a white and navy colorway, these iconic sneakers became a staple. However, as the world approached the new millennium, the chunky design became less fashionable.
Skating brands shifted to canvas slip-ons, leaving the '90s behind. Only fathers who were out of touch with fashion remained loyal to the out-of-vogue trainers in a desperate attempt to hold onto their youth, giving rise to the Dad shoes meme. Trivial as it may seem, it's hard to find an American father without at least one pair of New Balance dad shoes hidden in the closet. But fashion has a funny way of making a comeback, and even your dad's old Nikes aren't exempt from it.
In 2014, Adidas re-released the Stan Smith sneaker, sparking a new era of all-white court shoes and design. Although not originally considered dad shoes, the Stan Smiths became the gateway to a revolution, one that Balenciaga eagerly embraced. In 2017, this high-fashion brand introduced the Triple S sneaker, which triggered a frenzy for oversized, chunky sneakers with thick soles. Since then, Yeezy, Louis Vuitton, and other footwear giants have scrambled to create the next big thing in dad shoes. Demna Gvasalia, the mastermind behind Balenciaga, even ventured into creating knitted or sock sneakers.
Perhaps the most fascinating aspect of this trend is how oblivious its main followers are. Suburban dads who bought numerous pairs of their favorite shoes in the '90s are now discovering that their pristine models, intended for gardening, are worth a fortune!
Best Dad Shoes
1. New Balance 624 Sneakers
The New Balance 624 is the king of cookout footwear, perfect for all dads out there. Featuring the iconic N logo, these shoes are versatile and ready for any occasion. Combining vintage style with modern technology, these New Balance dad shoes utilize IMEVA (injection-molded EVA foam) midsole for both firm support and flexibility, ensuring endless comfort.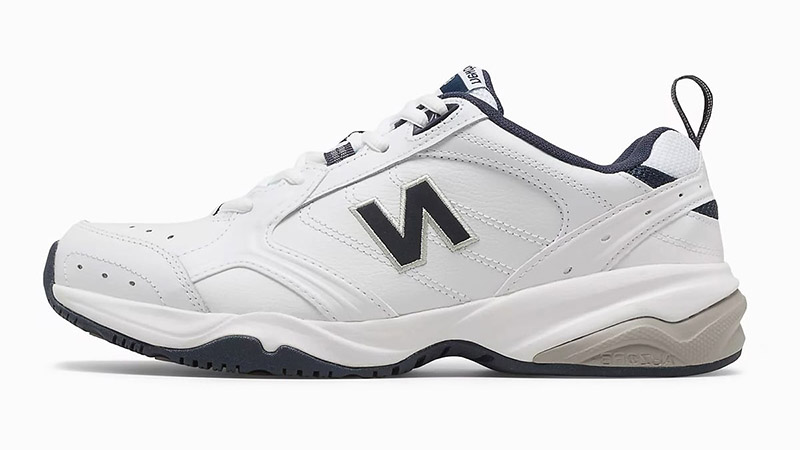 2. Nike Air Force 1 '07 Sneaker
If you're after a more subtle look than the regular chunky dad shoes, go no further than one of Nike's most classic models, the Air Force 1 '07 Sneaker. Its low-cut profile sits more in the realm of a casual 80s tennis shoe, therefore fitting easily into a street-savvy wardrobe. The uppers are made from soft, durable leather, while the platform sole is rubber for grip and traction. Wear this with a pair of relaxed jeans and a sweatshirt, or dress it up with chinos and a blazer for something more modern.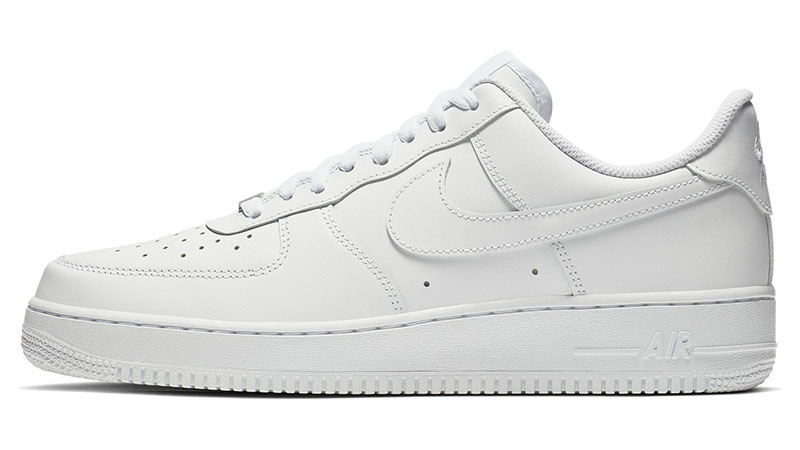 3. Nike Men's Air Monarch IV Cross Trainer
Falling firmly into both the fashion and function categories is the Nike Men's Air Monarch IV Cross Trainer. It's an excellent shoe for general walking, as well as hitting the gym. The leather uppers are stylish and durable, with perforations for cooling airflow. You'll also enjoy maximum comfort with lightweight foam and Nike Air cushioning, as well as rubber outsoles for grip and traction. Rock these with a pair of comfy joggers, or throw them on with your favorite type of jeans and hoodie.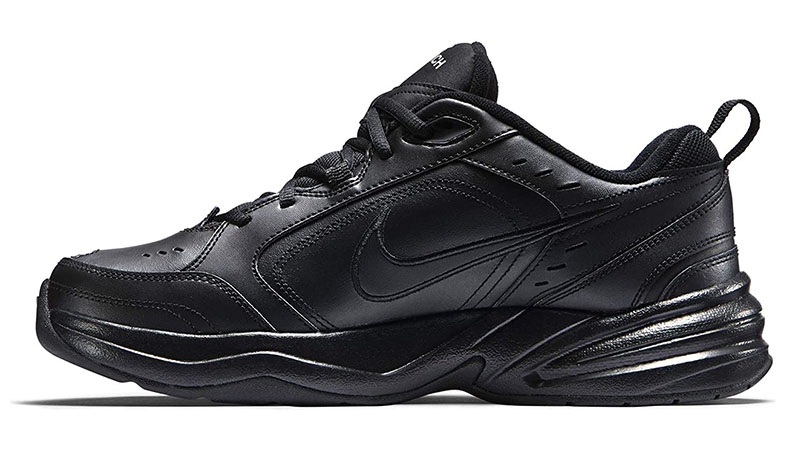 4. PUMA Select Men's RS-X FD Sneakers
The PUMA Select Men's RS-X FD Sneakers is a new, improved version of the previous RS style. The design throws it right back to the '80s with the multi-colored paneling that includes a paint-splash-inspired tongue and feature panel. You'll also stay exceptionally comfortable thanks to the cushioning system, molded footbed, and chunky sole. For guys with discerning taste who enjoy a bit of fun, this is the perfect dad shoe to add to your wardrobe.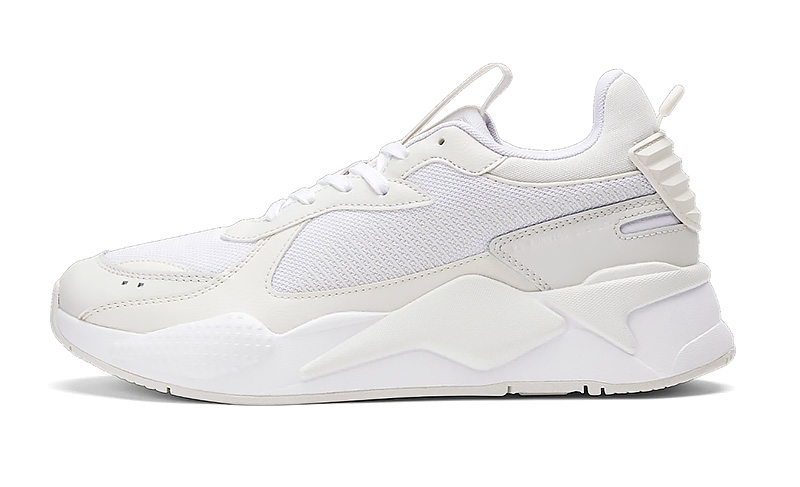 5. Skechers Afterburn Sneakers
Those who criticize Skechers probably haven't experienced the incredible comfort of their ultra-lightweight and ergonomically designed footwear. Skechers Afterburn, with its iconic white on white silhouette, pays homage to the chunky shoes of the '90s. The name itself reflects the indigestion from dad's Busch Light and brisket after a cookout.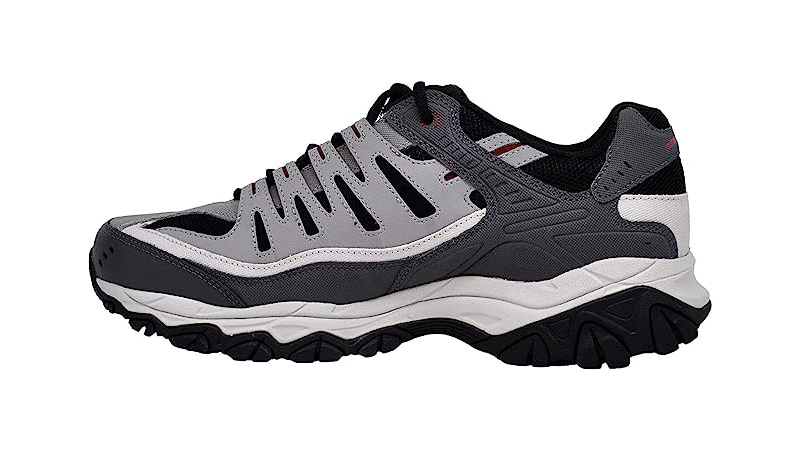 6. Fila Men's Strada Disruptor
Fila's Strada Disruptor are iconic dad shoes that fits the chunky athletic sneaker brief perfectly. While the all-white is an excellent option, it does come in various other colors, including black, red, grey, beige, and fluoro variations. Styling features include embroidered logos, a thick rubber sole, lace-up closure, and statement paneling. It's a robust and durable shoe that will stand the test of time. Pair it with your favorite sports shorts, or mix it up with tailored trousers and a turtle neck jumper.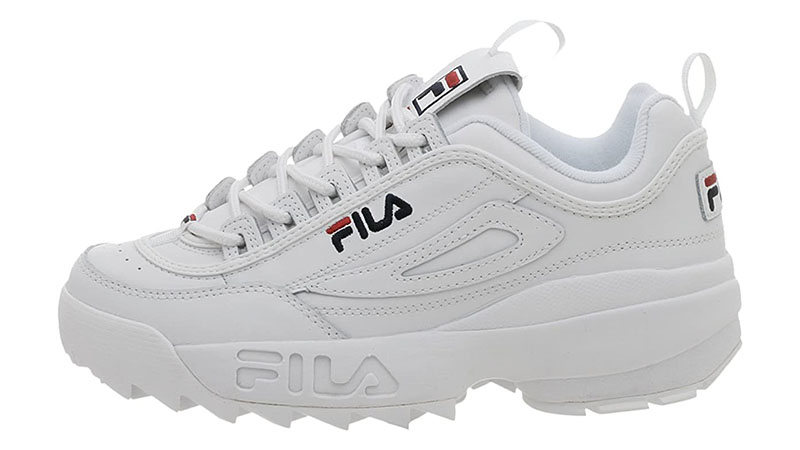 7. Skechers Men's Energy Afterburn Lace-Up Sneaker
Skechers is another great brand making the ultimate dad shoes. The Energy Afterburn is a flexible trainer that looks great both at the gym and when worn casually. A padded heel gives you extra comfort, while the non-slip rubber sole keeps your feet firmly on the ground. Leather uppers ensure you look fashionable while also being durable. It also comes in various colorways that feature varying combinations of black, white, and grey, so the monochromatic look works well with most wardrobes. Slip these on for all-day comfort and style.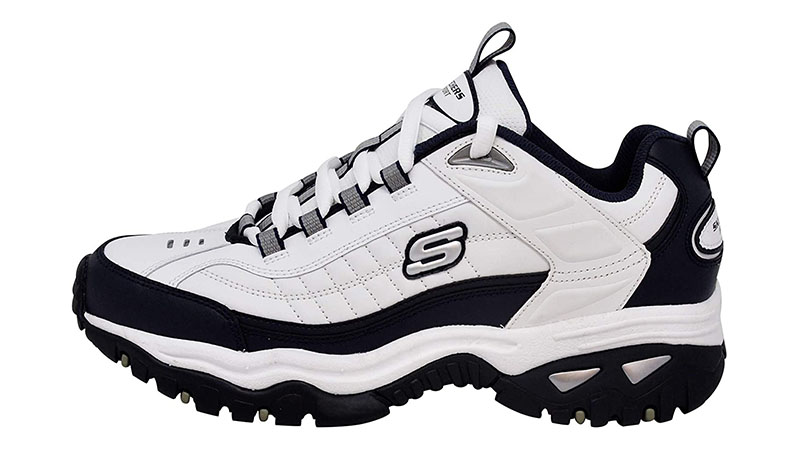 8. PUMA Men's Thunder Sneaker
The silhouette of the PUMA Thunder sneaker pays homage to the 90's CELL running shoe, as well as other collaboration styles. It's an attention-grabbing dad shoe that's sure to make you stand out from the crowd. The exaggerated outsole not only draws focus but provides cushioning and support. Meanwhile, the uppers are a combination of mesh and leather, complete with bold color blocking. Additional comfort comes from the IMEVA midsole and inner heel support. It's an iconic shoe that's a perfect fit for the dad shoe trend.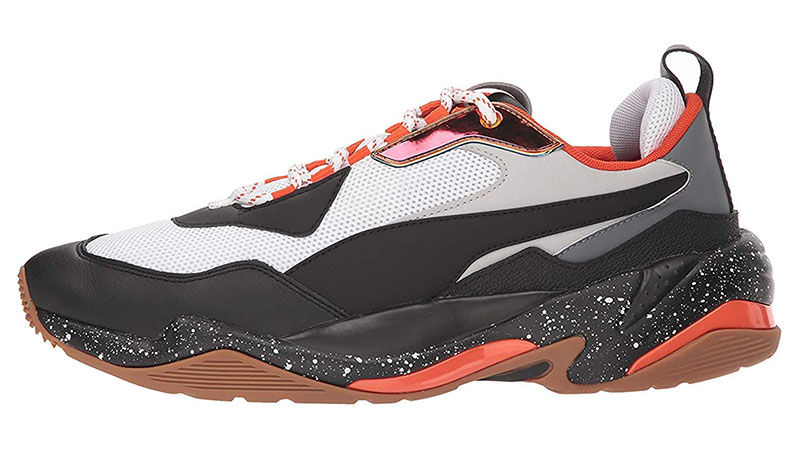 9. Adidas Strutters Sneakers
The Adidas Strutter strikes a balance between style and comfort, bridging the gap between NMD and DAD sneakers. With a chunky design, these Adidas dad shoes ensure all-day comfort, featuring a sleek leather upper adorned with cutouts, overlays, and the iconic 3-Stripes. Get them primarily for the KISS song experience.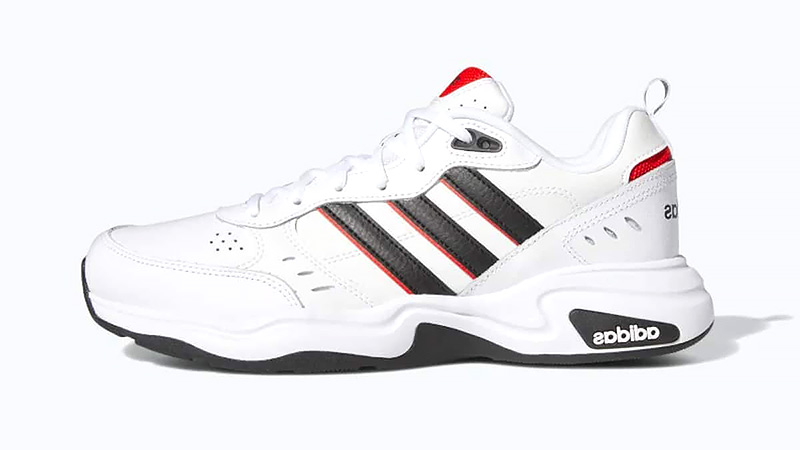 10. Balenciaga Triple S Mesh
Balenciaga brings a touch of luxury to the dad shoe trend. Their Triple S Mesh sneakers have a cult following, repeatedly selling out in each new colorway release. This latest version brings white and cream nubuck, mesh, and leather together in a stylish combination. Its red and black triple-stacked soles are inspired by running, basketball, and track joggers. Enjoy extra comfort with the padded collar and tongue and fully adjustable lace closure. A luxury shoe like this deserves an ultra-stylish outfit. Try combining them with patterned trousers, a plain white T-shirt, and a denim bomber jacket.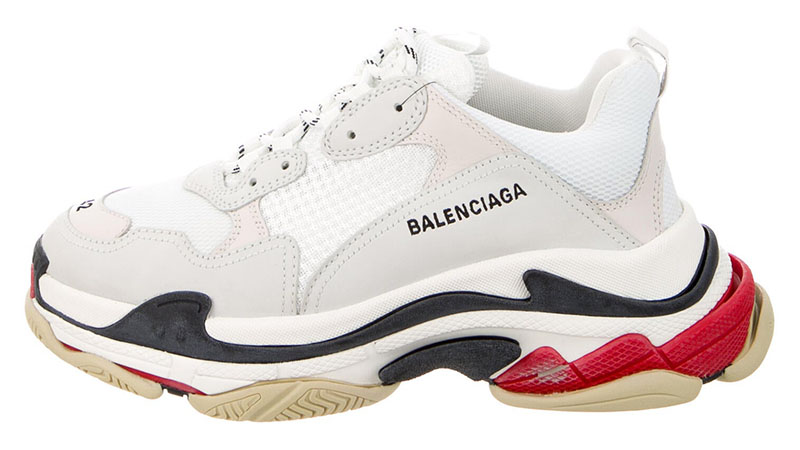 11. Raf Simons Antei Sneakers
If you're looking for a sneaker that fits the dad shoe trend, yet you still want it to be edgy and urban, then Raf Simons' Antei Sneakers are brilliant. This neomodern design has a touch strap panel across the top, giving it a futuristic vibe. While the white faux leather uppers are sleeker, the chunky rubber sole elevates your foot slightly and provides stylistic contrast. Plus, it helps keep your feet comfy for all-day adventures. It's the perfect choice for guys who want to stay ahead of the pack.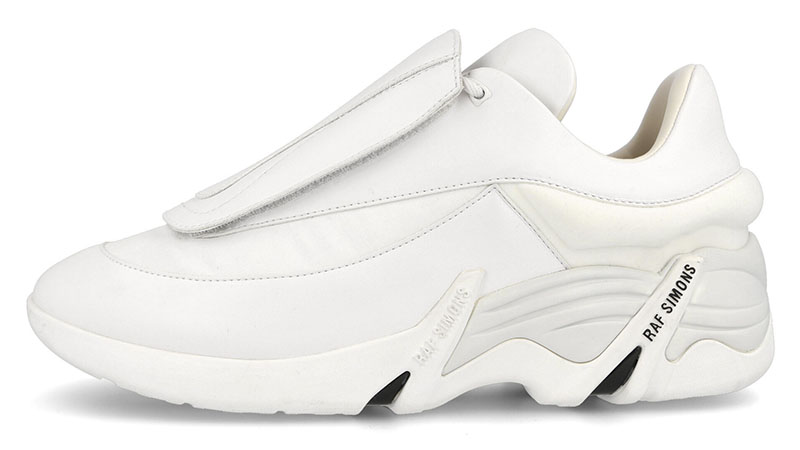 12. Maison Margiela Future Low-top Sneakers
Turn heads with Maison Margiela's incredible conceptual designs. The basketball-inspired Future Low-top sneaker is minimalistic yet ultra-cool. White leather encompasses your foot, while subtle black edging and red accents provide visual interest. Indulge in supreme cushioning underfoot and exceptional traction thanks to the ridged rubber sole. The laces also stay partially hidden under the brand's distinctive guard panels, increasing the sleekness of this design. Rock these dad shoes with a pair of slim-fit black joggers and a smart blazer for a fresh-off-the-court style.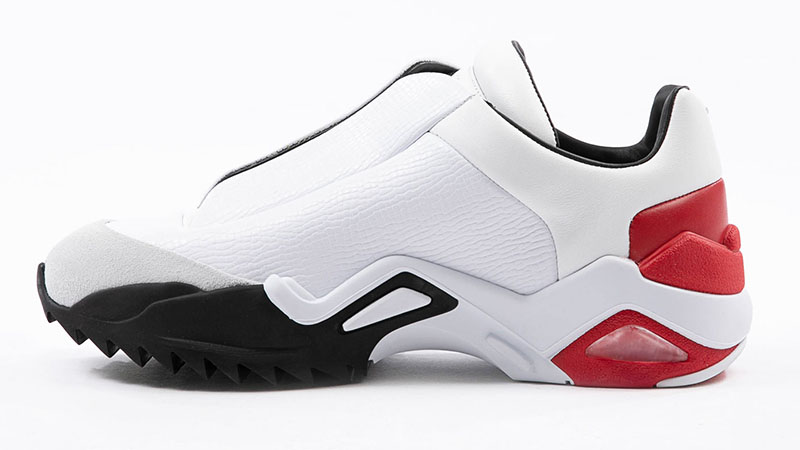 13. Y-3 Kaiwa Suede-Trimmed Canvas and Neoprene Sneakers
Worlds collide with these Y-3 Kaiwa Suede-Trimmed Canvas and Neoprene Sneakers. Designer dad shoes Yohji Yamamoto has teamed up with Adidas's brilliant minds to bring innovative and performance-based materials together with his signature street style. These chunky-soled Kaiwa shoes have a black sock-like upper made from canvas and neoprene. It luxuriously hugs your foot for the ultimate fit. Meanwhile, the tongues are printed with Y-3 branding, and the sole is made from molded rubber for traction and support.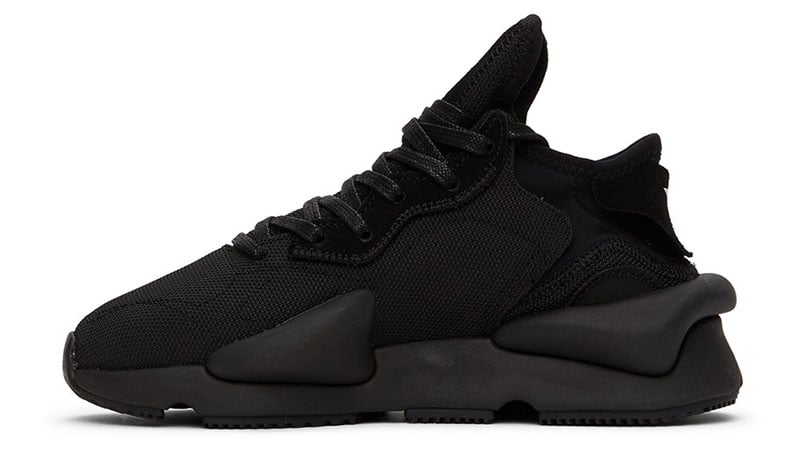 14. New Balance Men's 3000 V4 Turf Baseball Shoe
New Balance is perhaps one of the most iconic sneaker brands as popularised by tech-daddy Steve Jobs. The Men's 3000 V4 Turf Baseball classic new balance dad shoes fit easily into most wardrobes. Comfort is a focus with a foam midsole, rubber soles, mesh uppers, and a built-in lace cage. The simple paneling makes for a distraction-free design. Best of all, it comes in a vast range of colors, including black and white, bright red, forest green, royal blue, black and yellow, and simple grey, among others.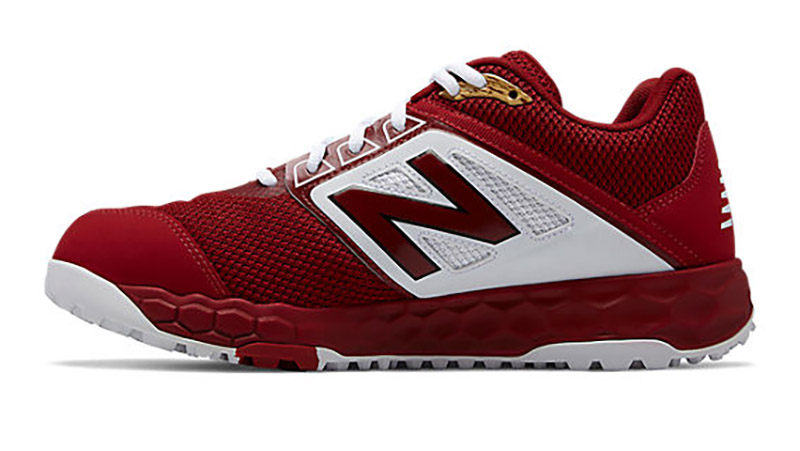 15. Calvin Klein Jeans Men's Marvin Sneaker
Looking for the perfect sneaker to rock the dad shoe trend? Look no further than the Calvin Klein Jeans Marvin Sneaker. This sporty sneaker features a unique combination of mesh, suede, and lycra in a stylish white and beige combo that's anchored by a bold burgundy sole. The geometric paneling and pull tab on the tongue link are also distinctive of the dad shoes, making these sneakers the perfect sneaker for anyone looking to blend athleisure and streetwear. Pair them with some slim-fit light joggers and a blouson jacket for a look that's both on-trend and comfortable.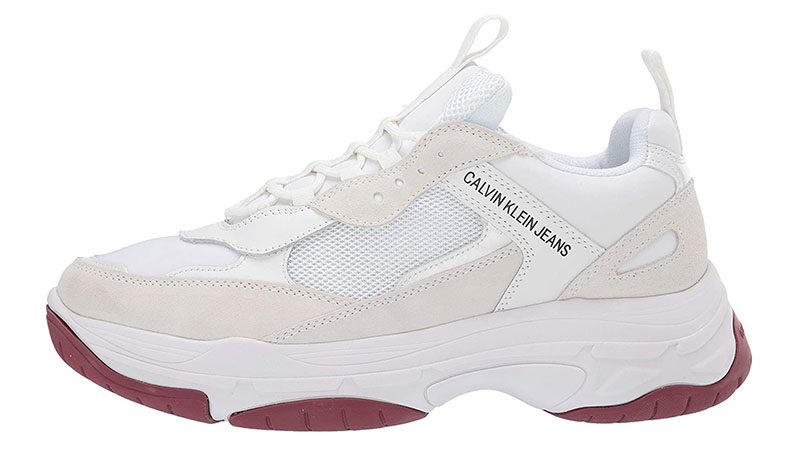 16. Reebok Royal Turbo Impulse 2 Sneaker
Another throwback to the 90s, the Reebok Royal Turbo Impulse Sneaker is a great choice for embracing dad shoes. Its low-cut ankle gives you plenty of mobility, while the laces keep your foot secure. The thick rubber sole has a plush foam midsole for the ultimate cushioning. Plus, the uppers feature iconic mesh, leather, and suede layered paneling to create detail yet still breathe. These Reeboks are the perfect fit for a sporty look or wear them with your favorite pair of jeans and a sophisticated polo shirt.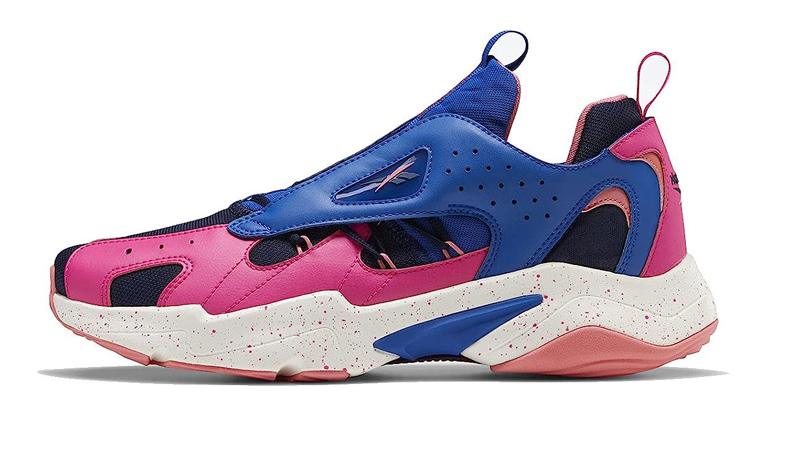 Dad Shoes FAQs
Why are dad shoes so popular?
Dad shoes are popular because they're both comfortable and trendy. They allow for self-expression through bright colors and interesting patterns. Additionally, because many of them feature retro styling inspired by the 1980s and 90s, they fall well within the resurgence of other throwback trends such as oversized t-shirts and scrunchies.
Who started the Dad Trainer Trend?
It's hard to pinpoint exactly who started the dad shoe trend. Of course, Steve Jobs was famous for wearing New Balance 992, but his preference was hardly a fashion statement at the time. Other reasons for the resurgence include 90s nostalgia that's seen the return of bike shorts, scrunchies, and oversized tees. The normcore and athleisurewear trends have also contributed to the rise in the popularity of these shoes. Big brands like Nike, Adidas, and Balengiaca met increased interest with an increase in the production of chunky sneakers, thereby fueling even more demand.
Are dad shoes still in?
Dad shoes are absolutely still in. The variety of styles, comfortability, and ease of wearing means that they won't be going away any time soon.
SUBSCRIBE TO OUR NEWSLETTER
Subscribe to our mailing list and get interesting stuff and updates to your email inbox.