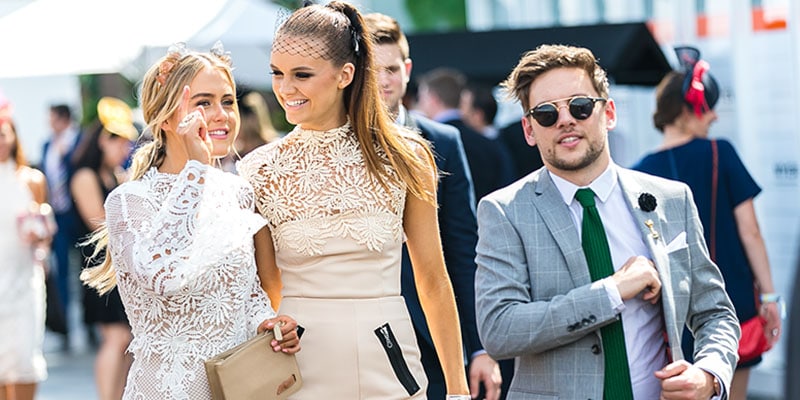 Fashionable Melbourne woke in a worrying state yesterday, as months of planning for the perfect outfit looked to be gone to waste, thanks to the looming grey clouds that veiled the sun. Yet, some 65,000 braved the elements to attend Crown Oaks Day 2015. A day that will be remembered for contrasts of weather, fine racing but above all the sartorial defiance of the glamour set who unfailingly appeared in fabulous garments that rendered the day ever so elegant.
The Birdcage again remained the epicentre for the social set to congregate though this time under armed by a sea of umbrellas. Given the weather, the trend this year for larger hats gave way to crowns and tiaras in varied fabrication perhaps best exemplified by the many who had chosen to wear the popular laser cut Perspex versions made by the ebullient milliner, Danica Erard of DE Millinery. Other milliners whose coronal splendour adorned the heads of many included; Studio Aniss, Hatmaker, Richard Nylon, Gregory Ladner, Natali Bikicki and Kerrie Stanley. The other popular silhouette is hats, the boater also made a resounding appearance with best examples stemming from internationally renowned milliner, Philip Treacy and Sydney based, Nerida Winter.
Once inside the glorious corporate marquees, where in spite of the rain, hosts managed to throw lavish parties and guests blossomed like the roses for which Flemington is famous for. Oaks Day also known as Ladies Day is traditionally when the girls wear their best frocks of the racing week and we were not to be disappointed.
At the Swisse marquee, an ode to modern China and celebrating the recent sale of the Health brand to Chinese investors, brand ambassador, model, Ashleigh Hart set the fashion stakes high in a Dolce & Gabbana mini length dress of azure blue with crystal embellished rose embroidered on the bodice, paired with red roses in her hair and shoes in same hue with rose detailing. Hart was ably supported in ambassadorial duties by visiting American star, Kevin Dillon from hit show, Entourage.
At the Lexus Design Pavillion where the hanging tulips blossomed, Chyka Keebaugh of Real Housewives of Melbourne fame, held court in Roksanda Ilincic. Other notable guest here included VAMFF CEO, Graeme Lewsey, in MJ Bale and advertising and branding queen, Stasia Raft in a dramatic red silk Kaftan and Melissa Jackson headpiece.
Lavazza's Vincent Fantauzzo cloud covered marquee was thronging with beautiful people including Thurley's designer, Helen O'Connor wearing an 'eau de nil' dress of her own creation in lace, a recurring trend in fabrication along with sheer, and crystal or gold headpiece. Other notables here included, Rebecca Judd in Toni Maticevski, Emma Rusciano in a black lace dress also by Thurley, stylists Lana Wilkinson who has been responsible for much of what was worn by celebrities over the racing carnival this year and the ever dapper Tre Dallas.
Shweppes' bijoux marquee, an ode to London, think V & A meets Alexander McQueen was also a thriving hub of beautiful people. Lauren Brain and several bachelorettes and bachelors were seen swirling cocktails in the uber cool surrounds.
Peter Rowland Catering hosted an enclave where champagne and food flowed like the Tiber. Seen enjoying the delights here were milliner Richard Nylon, Kristine Live also known as The Human Chameleon. Sketching guests was Estelle Michaelides, the designer behind Micky In The Van.
Retail giant Myer, hosted in their mint walled, floral bedecked marquee their ambassadors Jennifer Hawkins in ice-blue Toni Maticevski and Kris Smith. Other friends of Myer included Jodi Anasta and Rachael Finch in a Self Potrait dress.
Observing the endless fashion parade and social frenzy in the marquees, TheTrendSpotter's own Dasha and Colin Gold wore outfits from The Outnet and Calibre.
Just one more day remains before the Spring Racing Carnival draws to a close. With Stakes Day looming remember: its all about relaxed chic on the day. TheTrendSpotter team hope to see you there as we say adieu to Flemington Racecourse for the year.