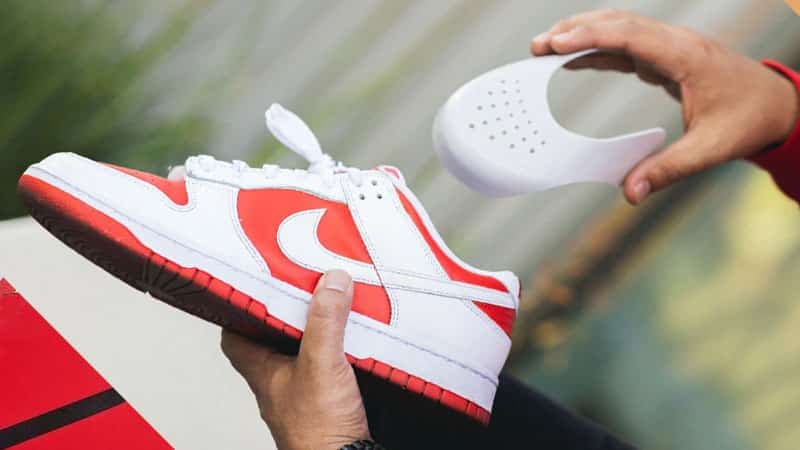 Have you ever purchased a cool pair of sneakers only to have them crease over time? This happens because of the natural movement of your feet, but it's no fun because it changes the shape and makes your favorite footwear lose its freshness. What if we told you there was a way to counteract this, and it was simple and affordable? Well, there is, and it's called crease protectors or sneaker shields, or guards. The design is added to the toe box to maintain the shape and will keep your kicks looking as good as new for as long as possible. In the article below, find out everything you need to know and familiarize yourself with these different products.
Best Crease Protectors
1. Sneak Geek
A crease protector's appeal is that it helps keep your kicks looking new and maintaining their shape. There are different options, including Sneak Geek's Shoe Crease Protector (designed for men's shoe sizes 8 to 12 but can be trimmed for smaller sizes), which will extend the life of your sneakers. How does it do this? The answer is simple, with a special material that can flex and mold to the shoe, helping to keep it smooth. It is also durable and washable. The black color is also great and will not show signs of dirt or wear.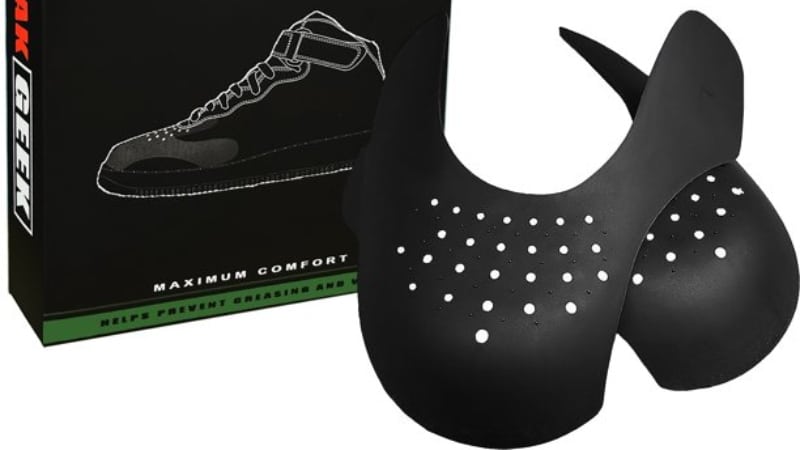 2. +Protect | Shoe Crease Protector
Designed to be long-lasting and durable to keep your sneakers looking their best, the +Protect | Shoe Crease Protector will fit many styles and brands, including Air Force 1s, Jordans, and Dunks. The product is lightweight and comfortable and is created to be one-size fits with adjustable sizing compatibility. It is a simple and affordable purchase, which will go a long way to keeping your kicks looking good as new.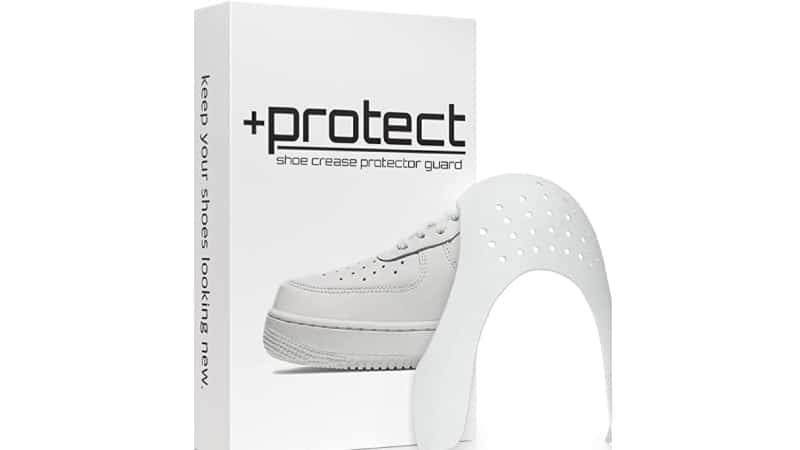 3. SOL3 Crease Guards
Sneaker shields will cover the toe area of your footwear to prevent creases and maintain the shape. This is an excellent way to ensure the longevity of your favorite shoes, and because they are simple and affordable, there is no reason not to get a pair of SOL3 Crease Guards. They are available in different sizes for a better and more comfortable fit. In addition, they are lightweight and durable. As a pro tip, you should be a half-size bigger than your regular fit to allow for more space and comfort.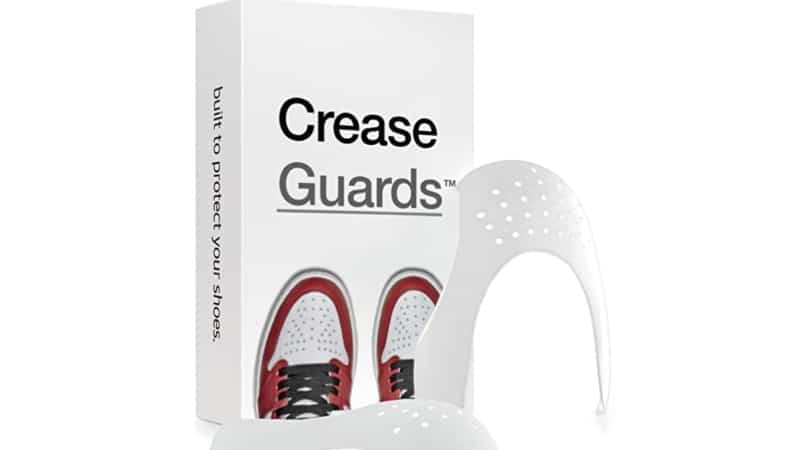 4. Aduksa 2 Pairs Crease Protectors
When searching for a way to maintain the shape of your sneakers and keep them looking their best, you will come across crease protectors. A simple design that keeps the upper toe box flat and your footwear looking great for longer, especially if it is an expensive or limited edition design that you want to get the most out of. There are different products on the market, including Aduska, which sells their easy-to-use creation in a pack of two, which are washable and reusable. They are made using thermoplastic elastomer, which is strong and resilient.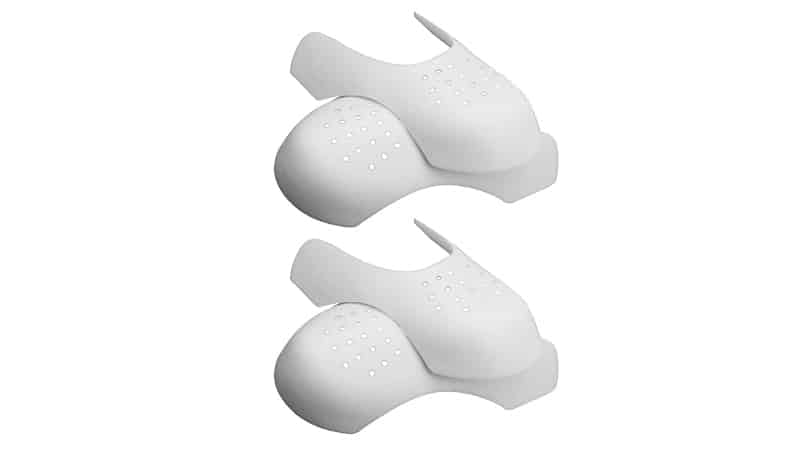 5. GOOUDO 4 Pairs of Shoe Crease Protectors
If you like the idea of purchasing in bulk, the GOOUDO crease protectors come in a box of four. This will let you try them with multiple sneakers, or they can be used to replace a pair once they become worn. This is a great product to prevent dents and creases, and it is easy to insert into your shoes and take out. Other stand-out features include breathability for maximum comfort, and they are easy to clean, simply wipe with a dry cloth. Choose size S for women or L for men's shoes.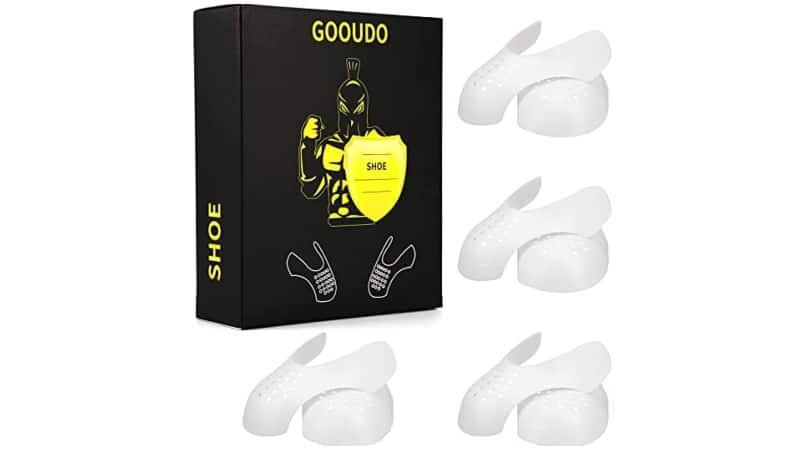 6. Crep Protect Ultimate Sneaker Guards
Created using plastic, the Crep Protect sneaker guards will do their intended job. They have a focus on comfort, and they are designed using gel-tech cushioning. Simple and easy to use, you insert them into your favorite footwear by pressing the ends of the protector first and then inserting it into the toe area of the shoe. The product will fit most but can be cut to size if needed. But perhaps the best part is that there is a built-in tropical fragrance, ensuring fresh feet.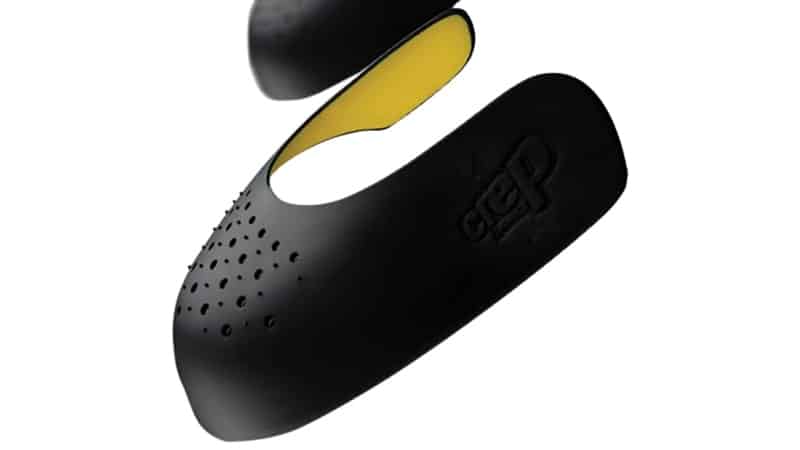 7. TUPEED 6 Pairs Shoe Toe Protectors
You have bought those brand-new sneakers you've wanted, only to find they start to get a crease around the toe area after a few uses. There is nothing more annoying! The good news is this is easily preventable with shoe protectors like the TUPEED brand that sells theirs in a box of six. They use a patented design to give you strong support. Plus, it will enhance comfort with additions like small raised stripes and venting holes; this ensures breathability. The product is marked to indicate left and right and made with PE and TPR, which is safe, durable, and comfortable.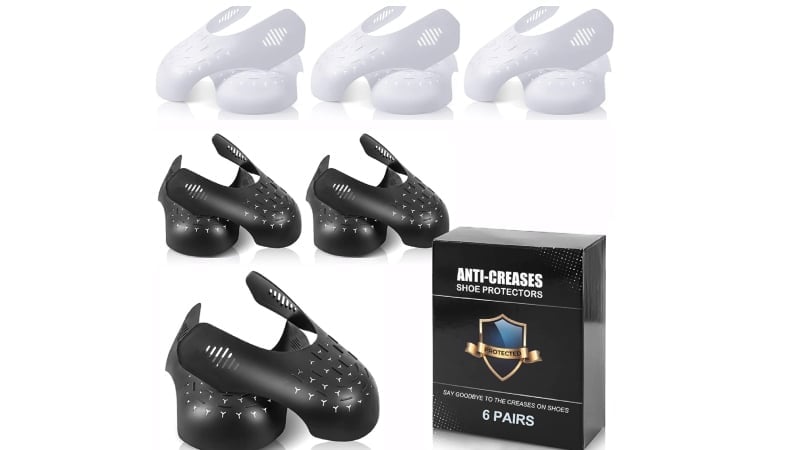 8. STLFLX – MetGUARDZ™ Metatarsal Guard
The STLFLX – MetGUARDZ™ Metatarsal Guard crease protectors come in different designs, including pull-on, straps, and lace-up, which gives you versatility. They are created not for fashion but for function and are safety footwear tools made using molded proprietary nylon blend with a hinged feature. They will protect your shoes and laces from damage. It also protects your feet from workplace hazards to prevent compression injuries.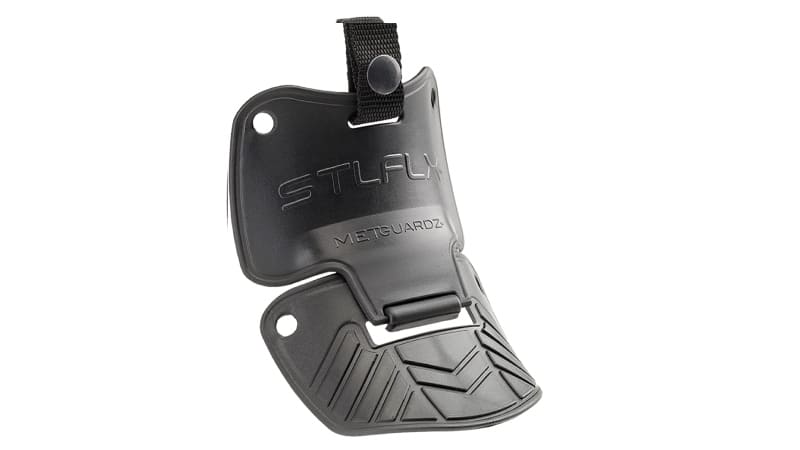 9. Vquand Store Shoe Crease Protectors
The toe box decreaser can be used for footwear and is a game-changer! It will ensure your favorite shoes look good for as long as possible. The material is soft yet strong and resilient and is created with TPE (Thermoplastic elastomer). To improve your fit and comfort, they are 1.5 mm thick and feature auxiliary cutting lines to be trimmed. There is also anti-slip dots to prevent sliding. In addition, they are breathable, reusable, and washable. Despite being versatile, you should not use them for sporting activities.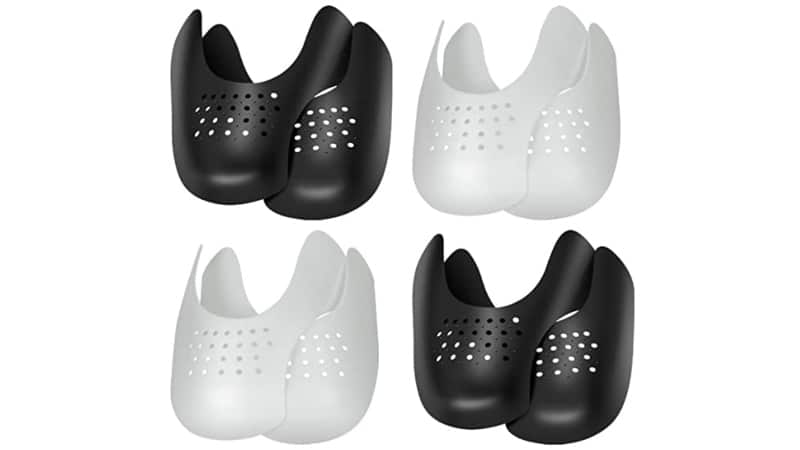 10. Qidie 2 Pairs Shoe Crease Protector in EVA Foam
Qidie is a brand that offers different styles of crease protectors, depending on what you are looking for. This particular product is created from EVA foam, ensuring a soft and durable fit. This is important because the wrong size or fabric can make your sneaker guards incredibly uncomfortable. In addition, close attention has been to the creation, which features 24 venting holds for a more breathable and cooler design. They are secured with an adhesive to prevent slipping, and you simply need to tear off the tape before sticking it in place.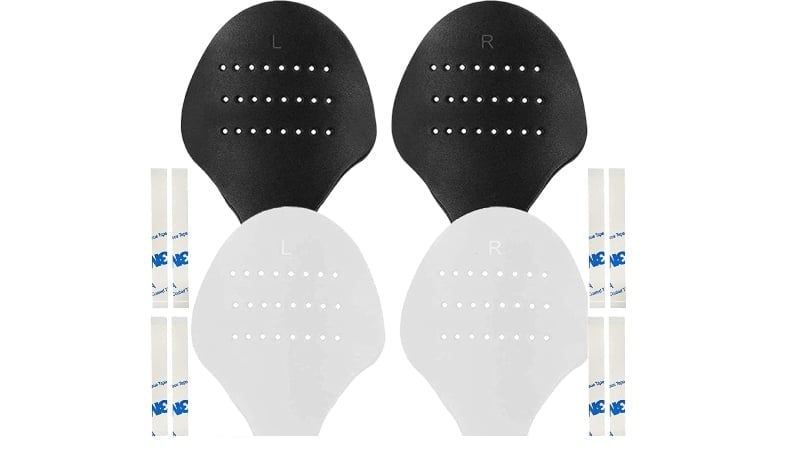 11. Qidie 2 Pairs Shoe Crease Protector with PE and TPR
We bring you another Qidie brand but a completely different aesthetic. These crease protectors are crafted with the same intent and will keep your sneakers looking good for longer. The difference is they were designed using a thickness of 1.5mm and made from PE and TPR breathable material. It is not hard to see why this is a top choice and is compatible with 95 percent of shoes on the market, including big brands like Airforce1 and Puma. There are 26 vent holes to make the product more breathable. The size can be easily modified using auxiliary cutting lines to trim it down to find the perfect fit.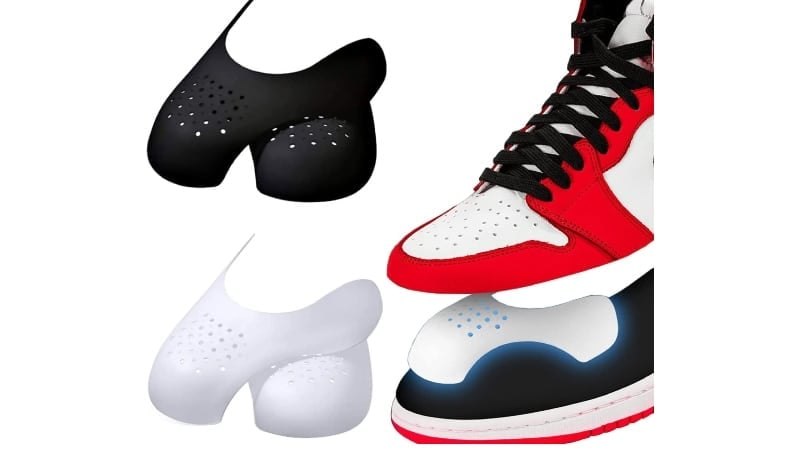 12. Culture Kings Sneaker Guards
Culture Kings sells sneaker guards that customers highly rate. They will prevent lines on your favorite footwear, and some of the standout features include left and right markings to ensure the perfect fit. A non-slip grip on top will prevent it from sliding, and debossed guidelines can help you trim the product (if necessary). For breathability and added comfort, it features pre-cut ventilation holes. They are crafted using premium, durable material and come in two sizes.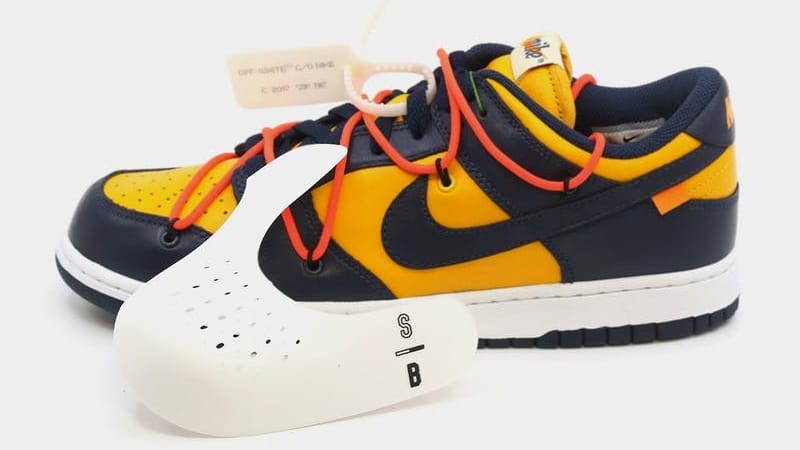 What is a Sneaker Protector?
Have you heard of a sneaker shield, crease protector, or sneaker protector? These terms often all refer to the same thing: a design inserted into your favorite pair of shoes to prevent them from creasing. This is an excellent way to prolong the life of your footwear and will keep them looking fresh for longer.
How to Use a Crease Protector
Crease protectors are not a new design, but they are a brilliant one, and they have the ability to revolutionize your footwear! How is this done, you ask? Well, the answer is simple. All you need to do is insert the product into the toe box area of your shoes. They are different products on the market, but the general approach is much the same, you will determine left and right, place it into the toe of the shoe by sliding it in, and voila! Watch the YouTube video below for a demonstration.
Crease Protectors Buying Guide
Fit and Comfort
The point of crease protectors is simple; they will maintain the shape of your sneakers, preventing creases and making them look brand new for as long as possible. These affordable inserts will slide into the shoe's toe box and are created to stay in place when you walk. Most products offer a range of sizes to fit women's or men's shoes but can be cut to size. For the most comfortable fit, you may want to size up your shoes (this is because they will take up space at the toe area).
Material
Crease protectors come in various materials, most commonly plastic or soft EVA foam. When choosing the perfect design, you want to ensure that you are picking something that is flexible yet still strong and resilient to maintain the shape. They should feature cutout designs to encourage breathability and result in greater comfort.
Washable
The materials used to create sneaker guards can be easily wiped clean with a dry cloth or are washable. You can learn more about your product by reading the care instructions and familiarizing yourself with the material used in its creation.
Best Sneaker Shields FAQs
What does a crease protector do?
A crease protector is used to prevent your shoes from creasing and will maintain their shape. This is done by inserting the device into the toe area of your sneakers.
Are crease protectors worth it?
Many crease protectors are on the market, and not all are created equally. Some will work better than others and ensure comfort and durability. The right sneaker guards should be comfortable and fit well, and then they will definitely be worth it. In general, these products are affordable.
Are crease protectors compostable?
Crease protectors are usually created from soft foam or plastic and would not be compostable unless the label tells you otherwise.
Do crease protectors stop creases?
Yes, crease protectors are designed to stop your shoes from getting creases around the toe area.
What size of crease protectors should I get?
The size of your crease protector will depend on your shoe size. Multiple brands are available in different sizes, but you will generally find smaller and larger products designed for women's footwear and larger and designed for men's. If you do not have the right fit, it is likely that your protectors can be trimmed and cut to size. They may even feature auxiliary cutting lines to make the process easier.
SUBSCRIBE TO OUR NEWSLETTER
Subscribe to our mailing list and get interesting stuff and updates to your email inbox.