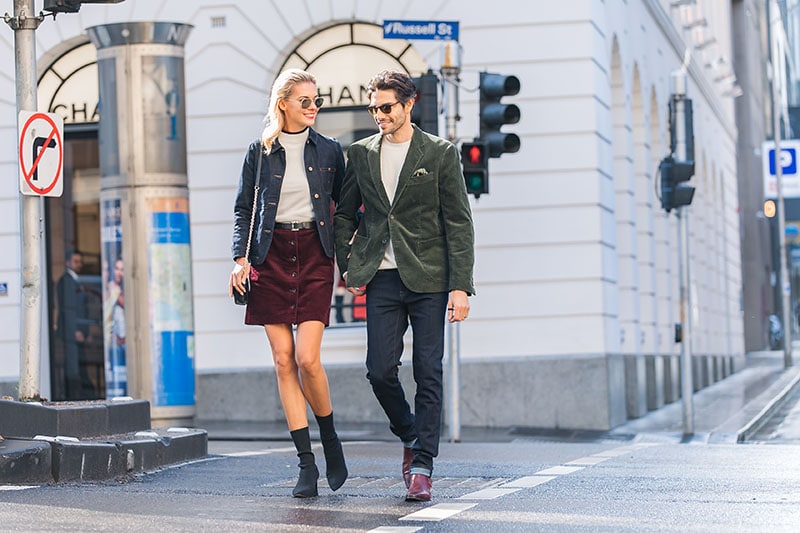 When you have a partner, it's only natural to begin dressing in a matching and harmonious fashion. Doing so is a subconscious act that typically occurs at around the six-month mark of a relationship. While this may seem strange as we are all unique individuals, wanting to appear as a united partnership that fits and belongs together is innate. This desire to match can also help you to appear more stylish and fashionable thanks to its focus on complementary and cohesive aesthetics. After all, how can either of you expect to look well-dressed if your outfits are clashing?
This notion of clothing that loved ones can enjoy and wear together is something that Uniqlo has achieved with its collaboration with French model and designer Ines de la Fressange. This season, the collection, which includes menswear for the first time, is inspired by the Danish concept of hygge and the idea of creating heart-warming, happy memories with those we love. In this spirit, TheTrendSpotter has teamed up with Uniqlo to style the new Ines De La Fressvvvvvange collection which launches next Thursday, August 31st at UNIQLO Emporium, UNIQLO Chadstone, UNIQLO MidCity and www.uniqlo.com/au which is available on September 1st.
How to Match Couple Outfits
Earthy Tones & Corduroy
When it comes to dressing as a couple, choosing a consistent colour palette for both you and your partner's outfits will allow you to project a stylish, matching aesthetic. It will also appear much more impactful and fashionable than two separate and uncoordinated outfits. For the fall and winter seasons, earthy tones are particularly chic and can provide a range of choices that can work perfectly together. Likewise, selecting items in the same fabric, such as on-trend corduroy, will also provide a consistent and unified appearance.
When using colour and material to create a coordinated look with your significant other, don't become so focused on achieving a matching ensemble that you forget about your style. Instead, aim to find a look to suit both you and your partner's tastes and pick pieces that represent this aesthetic. Also, beware of appearing too similar with garments that are identical. Twinning is only stylish if it's subtle and understated. So, if one of you is rocking blue denim jeans, the other may want to opt for a blue denim jacket. Doing so will ensure a harmonious style without making it look as though you're wearing a uniform.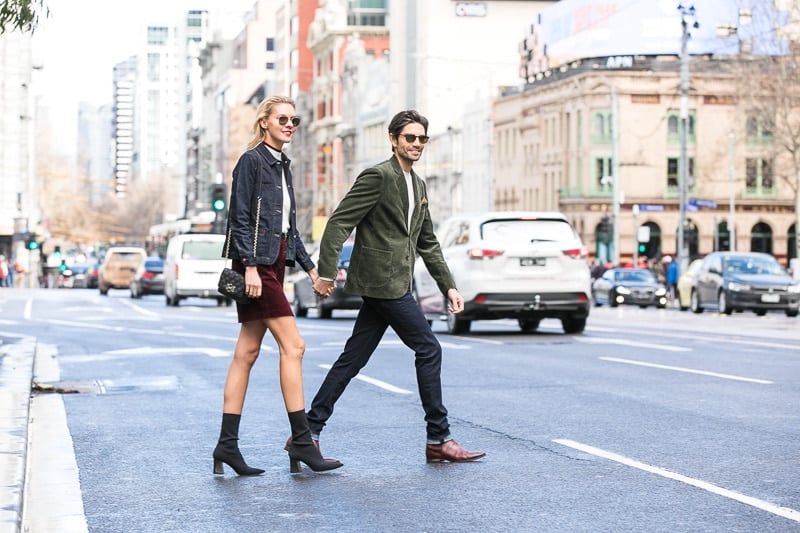 Sports Luxe Couple
If you and your significant other love the look of a sports-luxe style, creating coordinated outfits can be easy and fun. Remember though, achieving a matching appearance that's also stylish doesn't mean buying and wearing clothes that are identical. Although you are part of a couple, you're still individuals and, as such, you should aim for outfits that are different yet complementary. To do so, focus on the overarching sports luxe theme and ensure that both your outfits suit this style with their shapes, colours, and designs.
To achieve a sports-luxe aesthetic with your special someone, you should both select garments that feature a relaxed style of tailoring. These comfortable yet chic silhouettes will help to create an elegant and consistent appearance for the two of you. Don't forget to consider colour as well. Try choosing block colours that suit the sports theme, such as navy, white, and red, and carrying them across both of your outfits for a cohesive appearance. Don't overlook the details either. Adding athletic touches like sneakers or stripes will give your ensembles an impressive athleisure aesthetic (see women's & men's).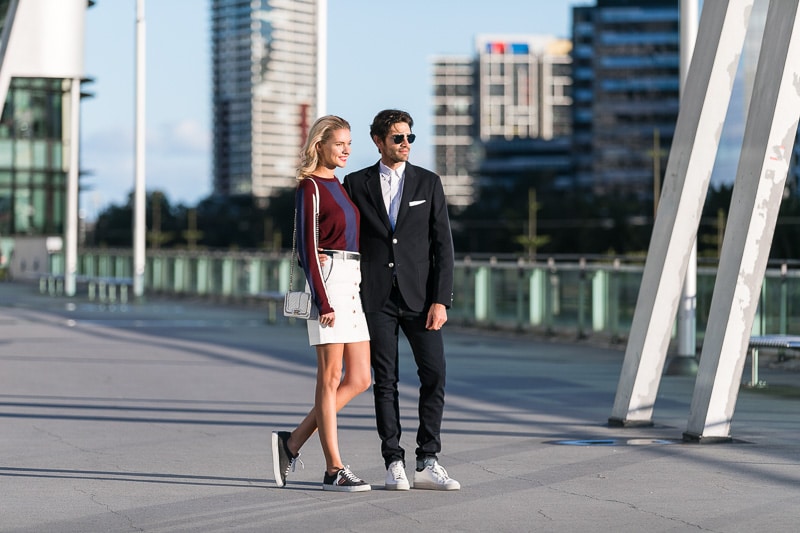 Classic Monochromes
Creating a coordinated appearance with your significant other is an important consideration for formal events and functions. Whether you're heading to a wedding, party or the races, you'll likely be spending most of your time together. As such, choosing outfits that complement one another is an excellent decision. Such looks also appear better in photos, which are a common occurrence at these types of events. Opting for a monochromatic look can make a perfect outfit choice for these times. Not only will you appear matching, but you'll both also look sleek, stylish and appropriate for the occasion.
Sticking to a palette of black and white will allow you to project a style that's chic, sharp and balanced. While other opposite colours can easily clash, these neutral shades offer a complementary contrast that's simultaneously fashionable and traditional. This minimal palette will also ensure that both of your outfits shine together instead of one dominating the other. If you wish to inject more interest into your looks, you should consider adding a pattern, such as polka dots or stripes. Doing so will add more excitement to your entire aesthetic without disrupting its cohesive and unified appearance.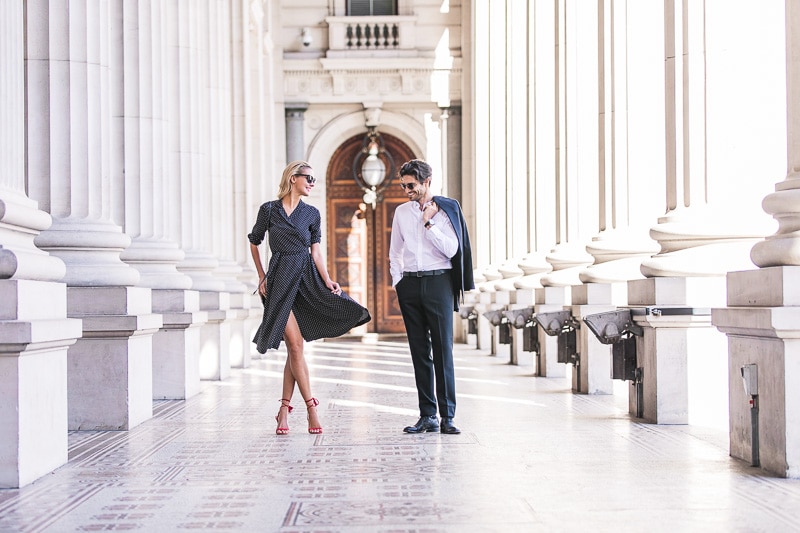 Add a Pop of Colour
Choosing a coordinated couple's outfits needn't be boring. In fact, it can be a lot of fun, especially when a pop of colour is involved. Colour is a great way to give your outfits an exciting and fashionable edge. Just ensure that you keep your ensembles balanced and colour-coordinated to avoid any awful clashing. The last thing you want is to end up looking like a terrible Christmas card because one of you decided to wear a pop of green while the other chose red.
For an impressive and balanced appearance, consider selecting one pop of colour to wear between the two of you. Then, just choose flattering pieces that feature the hue. To avoid an excess of one shade, one of you can wear the hue in a vibrant, block colour while the other rocks it more subtly, such as in a soft print. Alternatively, choose pop colours that are coordinated yet different, such as orange and yellow. Just make sure that you're not battling to overpower each other's outfit with your shades. Also, to ensure your colourful additions get the attention they deserve without competition, keep the rest of your look basic with understated items, such as jeans.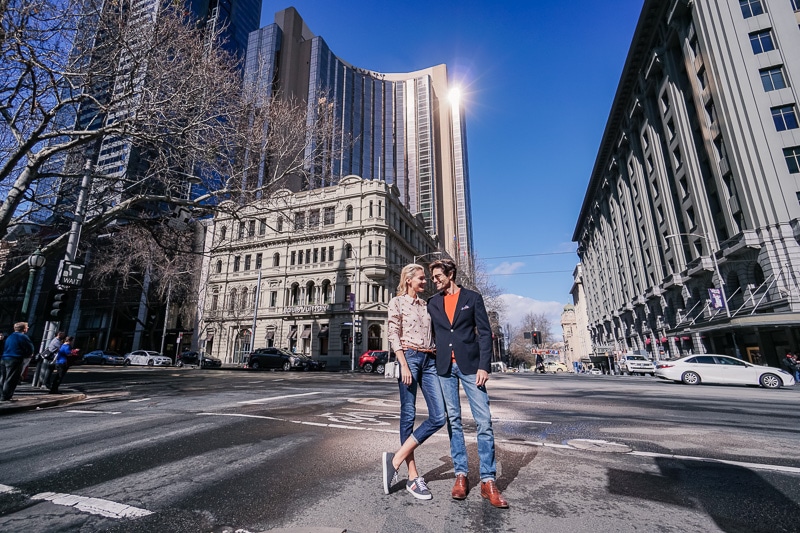 SUBSCRIBE TO OUR NEWSLETTER
Subscribe to our mailing list and get interesting stuff and updates to your email inbox.