Heels will always have a place in our hearts and closets, but right now, it's all about the sneaker. The humble sneaker is undoubtedly the biggest footwear trend of the year and has kicked off a total fashion revolution. Spotted on the feet of everyone, from models and celebrities to bloggers and designers, sneakers are the most popular that they've been in years.
Perfect for every occasion, sneakers are another step forward in the current direction of gender neutral, trans-seasonal dressing. Capitalising on this popularity are the footwear giants who are now locked in a sneaker war with each other. From Adidas, Yeezy, and Nike, to Puma, Converse, and Reebok, brands are offering more and more styles. So, which ones should you pick to wear? Find out here.
Chunky Sport Sneaker Trend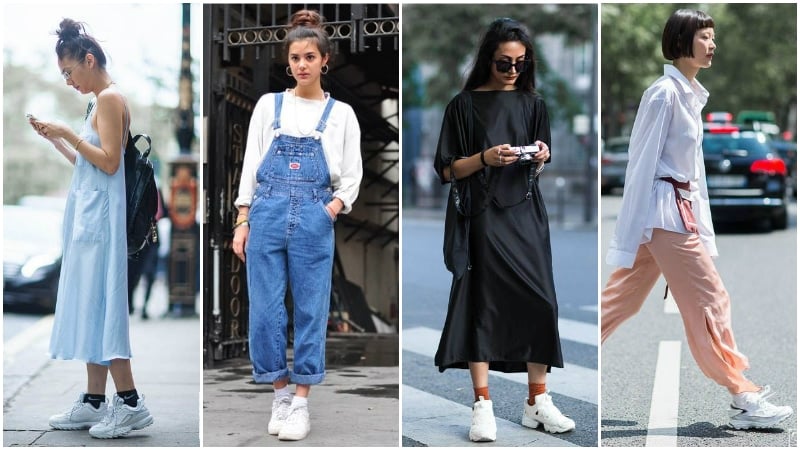 As represented by the recent influx of mum jeans, "dorky" is the new cool, which is why fashion elite are loving chunky sports-style sneakers. The padded shoes, which feature grooved, high-grip soles and athletic details are perfect, putting the spring back into your step. While they may remind you of the '80s and women in skirt suits power walking to work, or even take you back to your old days of playing netball, we promise that when styled right, chunky sports sneakers can be totally chic.
How to Wear Chunky Sport Sneakers
The best way to pull off the look of chunky sports sneakers is to balance them with light, feminine pieces. The contrast of styles will modernise this shoe and bring it from 1986 to 2016. A super chic way to achieve this look is by pairing your sneakers with light cotton and satin pieces, such as the pyjama styles that are currently trending. The elongated and loose silhouettes of these pieces will create a fresh and relaxed style when paired with these chunky sneakers. Just remember to choose cropped pants and midi dresses for a flash of skin that will balance out these heavy shoes. Finally, finish off your look with chunky sports socks, preferably in a contrasting colour, to work this fashion throwback.
Get The Look
High Top Sneaker Trend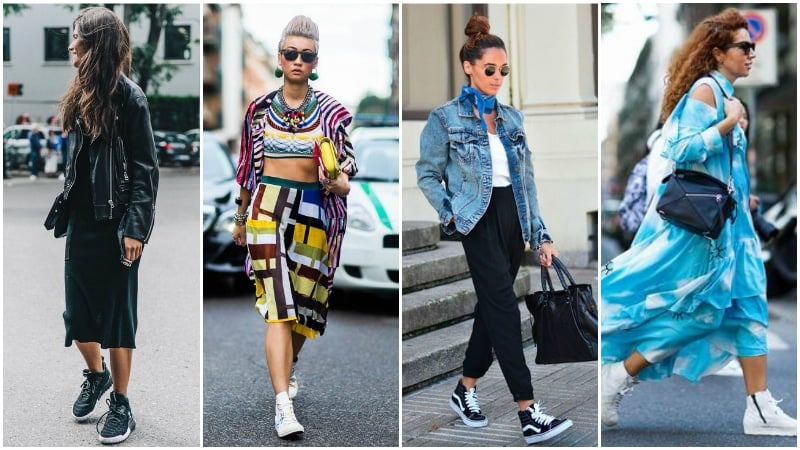 While men have no problem embracing high top sneakers, women have been more reserved about the style. This season, however, the style is a favourite amongst female fashion stars. They have proven that high tops can work, and now it's your turn to try the style. There's no need to feel unsure or afraid of this sneaker, as long as you know the look that you are after.
How to Wear High Top Sneakers
When shopping, choose from different varieties of high top sneakers to find the ones that best suit your style. Slim, canvas-style high tops, such as the classic Converse shoes give a retro look that is best paired with vintage denim, simple t-shirts and high waisted pants. Chunky and padded high tops, on the other hand, have a more hip hop look about them. They look best when paired with modern styles that have a bit of attitude. Still unsure? Try a midi trapeze dress paired with a leather or bomber jacket. Also remember that high top sneakers demand a flash of skin at the bottom of the legs to balance their tall style.
Get The Look
Statement Pop Colour Sneaker Trend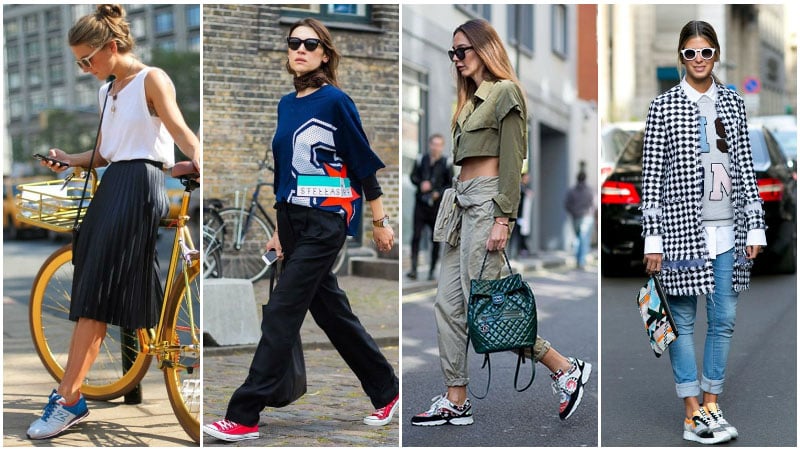 Fashion loves a statement, and the current sneaker trend is no exception to this rule. While the seas of white sneakers prove the undeniable popularity of the simple and clean shade, there's always room for a pop of colour in the wardrobes of fashion elite. Whether you're a fan of red, blue, now's your time to make a statement with your shoes. Not a fan of bold colours? No problem. How about just some coloured laces? There's a sneaker style to suit everyone this season.
How to Wear Statement Pop Colour Sneakers
Once you've picked your statement sneaker, all that's left to do is style your outfit. Choose simple and casual pieces of clothing that will keep the attention on your show-stopping shoes. Cropped and boyfriend jeans are perfect for achieving this look, as is a simple, pleated midi skirt.
Get The Look
Metallic Sneaker Trend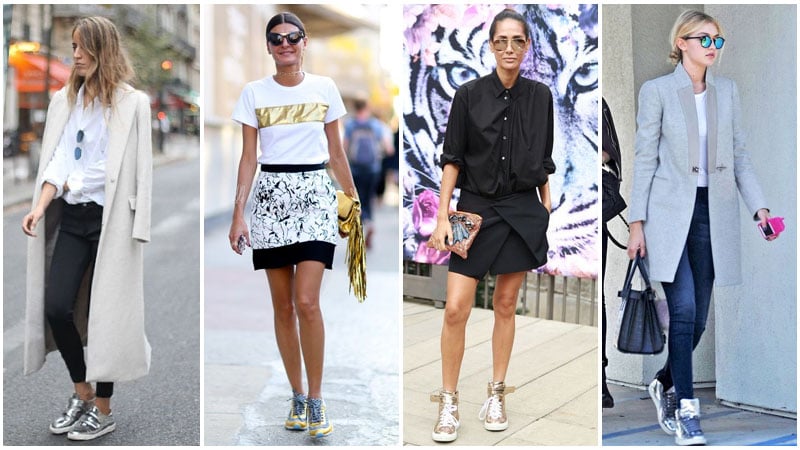 While the world's best athletes have been going for gold in Rio, the world's top street style stars have been going for gold on their feet. High shine, metallic sneakers have popped up as one of the top shoe trends of the season with all our favourite fashion girls sporting them. While gold is undoubtedly a winning colour, silver and rose gold are also top picks for these fashionable pieces of footwear. Pick up your own metallic sneakers now to add an injection of "look at me" style into your everyday wardrobe.
How to Wear Metallic Sneakers
Like statement sneakers, metallic sneakers easily draw attention with their unique colour and must be styled accordingly.  Allow your sneakers to become the focus of your look by pairing them with simple garment styles and classic silhouettes. Choose pieces in neutral colours, such as white, black, beige, grey and navy, as to not clash with the bold metallic hue. To finish off your chic look, add accessories with matching metallic accents, such as jewellery, bag buckles and metallic rimmed sunglasses.
Get The Look
Flatform Sneaker Trend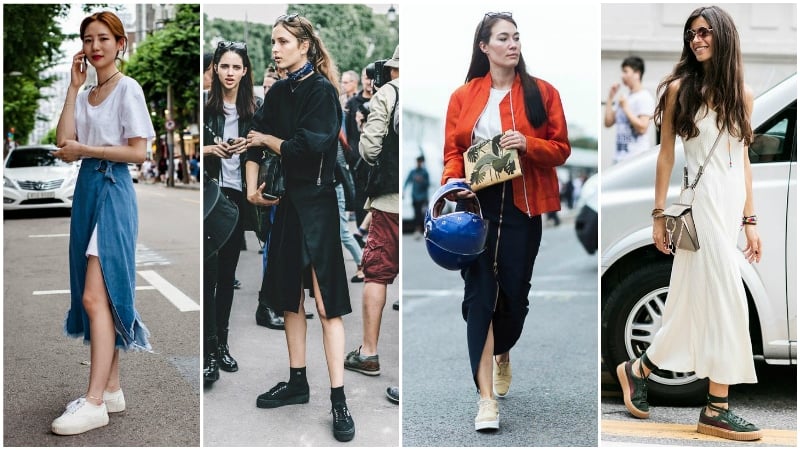 If you're looking for a shoe that's a bit edgier than your regular sneaker, why not try a pair of flatform sneakers? Flatform (flat+platform) sneakers are regular sneakers that feature a flat sole that is thicker than average (usually about an inch or so). The unique look has a heavy and somewhat masculine appeal that is perfect for creating an outfit with attitude. With so much attitude in one shoe, it's no wonder why Rihanna's Fenty creeper-style flatforms are so popular.
How to Wear Flatform Sneakers
To pull off the look of flatform sneakers, your styling needs to focus on balance. Choose lightweight styles of dresses and skirts to counteract the tough and bold appearance of these shoes. These garments will soften your overall look and make it appear more "fashion" than "anti-fashion". For the same reason, avoid pairing flatform sneakers with jeans, especially boyfriends, as the look will become too tomboyish.
Get The Look
SUBSCRIBE TO OUR NEWSLETTER
Subscribe to our mailing list and get interesting stuff and updates to your email inbox.