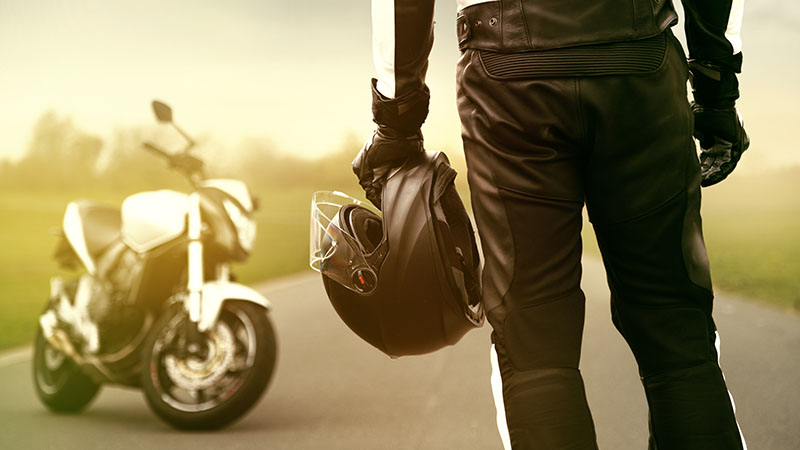 There's nothing like hitting the road – or the trail – on your bike. And you need the best gear to match. While your motorcycle helmet could be another piece of safety equipment, why not find one that reflects your style. Whatever your budget, there's a helmet out there to make you feel like the king of the road. Here are our picks of the best ones to buy right now.
1. Storm Modular Full Face Motorcycle Helmet with Dual Visor
Looking for a helmet that can be customized to your needs? The Modular model from Storm gives you plenty of flexibility with its advanced design, which converts from a full-face to a half-face helmet. The dual visors – one clear, one smoked – can be removed and installed as needed for a day or night ride. Meanwhile, the six-opening ventilation system is adjustable so you can choose your optimum level of intake.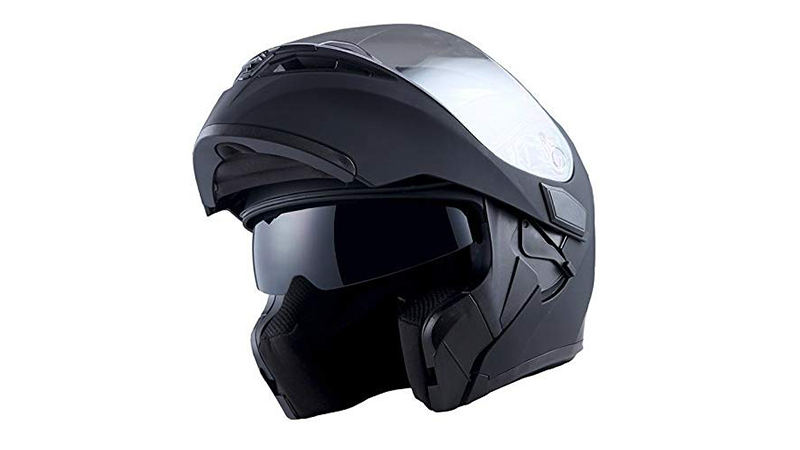 2. Bell MX-9 Adventure MIPS Full-Face Motorcycle Helmet
Bell has a strong reputation among riders everywhere, and the MX-9 Adventure MIPS Helmet shows why. It gives superior protection from angled impact and speed crashes while blending a variety of features into one sleek package. Made from lightweight polycarbonate with an innovative three-shell design, it is adjustable for both dirt and street rides. As the ultimate go-anywhere helmet, it's perfect for both professionals and beginners.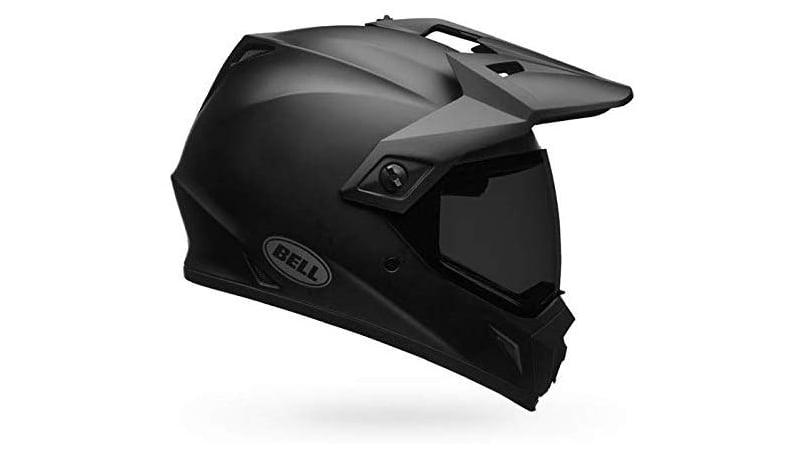 3. HJC CS-R2 Helmet
Created specifically for snowy conditions, the HJC CS-R2 includes a double lens snow shield and breath box, as well as an adjustable forehead and chin vent. Like other HJC models, it is very lightweight and compact, making it ideal for those with smaller heads. The shell is an advanced polycarbonate composite to keep you secure while riding on icy roads.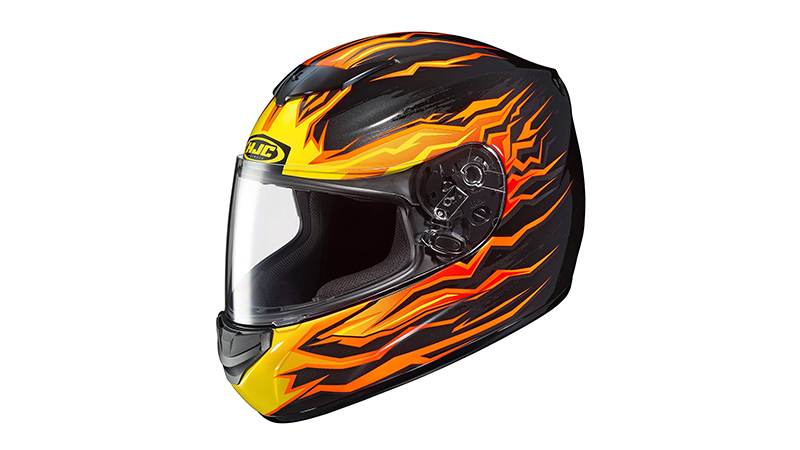 4. Scorpion Exo Covert Half-Size Matte Black Helmet
Scorpion engineered its advanced polycarbonate shell to disperse impact while remaining lightweight and comfortable. But that's not the only feature of the EXO Half-Size Helmet. You can also convert it a 'three-quarter' open-face model or a full helmet with the detachable magnetized front mask. Plus, the helmet is lined with an anti-microbial fabric that not only remains odor-free but keeps you warm in winter and cools in summer.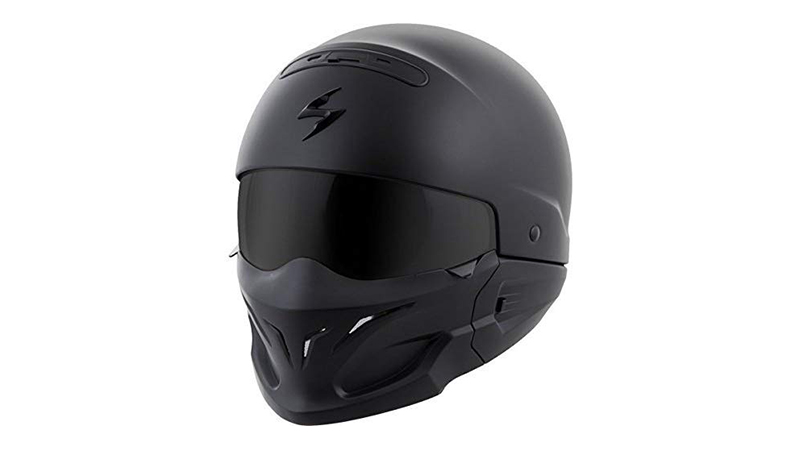 5. Yema Modular Racing Helmet
For those who need a professional-grade helmet, the Yema Modular Racing Helmet is ideal. It's approved for Motocross, ATV and dirt-bikes, as well as street bikes. Features include a high-quality ABS shell and multi-density padding, as well as a reinforced chin strap and quick-change sun visor system. Plus, it has adjustable ventilation to ensure you're always comfortable.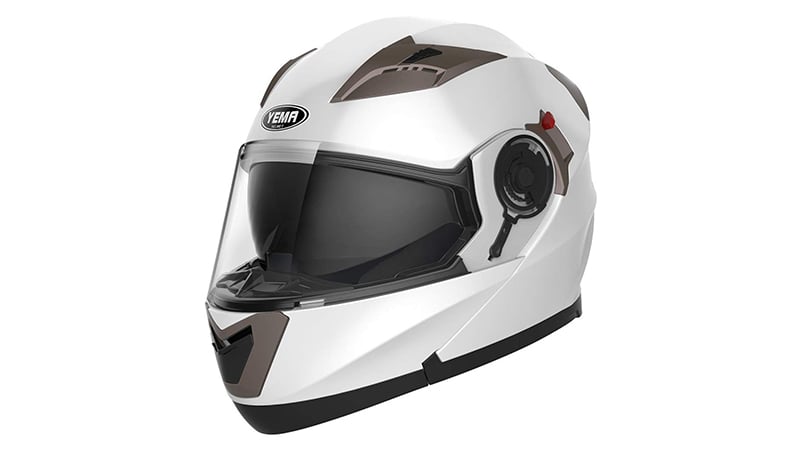 6. ILM Full Face Matte Black Motorcycle Street Bike Helmet
ILM is known for making high-quality helmets at an affordable price, and this model is no exception. Extremely lightweight yet durable, the helmet's shell has an aerodynamic design to reduce wind noise and drag. Both clear and smoked visors help prevent glare. Meanwhile, you'll also ride in comfort, as the helmet has a removable winter scarf and lining pads.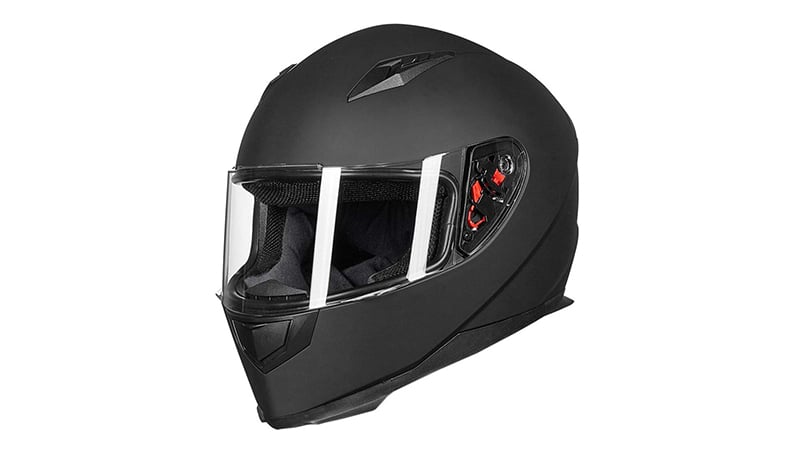 7. Vega Rebel Warrior Motorcycle Half-Helmet with Sunshield
Half-helmets don't get more badass than the Rebel Warrior model from Vega. The skull-cap design can be adjusted for the perfect custom fit and comes with a high-density liner to absorb impact. The strap has quick-release functionality and comfortable padding, while the drop-down inner sun shield protects you from glare, bugs, and debris while you're on the road.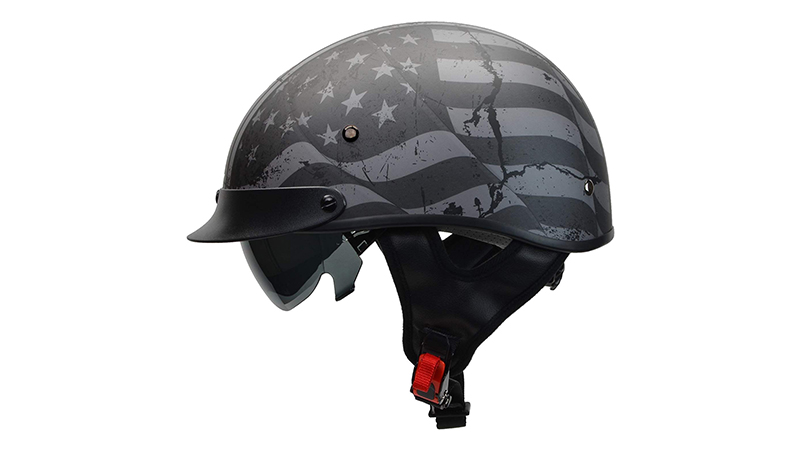 8. ILM Dual Visor Modular Full Face Helmet with DOT LED Lights
For extra safety when riding at night, choose a helmet with LED lights. ILM's Modular version contains adjustable battery-powered lights that flash at different speeds. However, it's not just for low-visibility journeys. Sleek and lightweight, the helmet comes with a wide-view, flip-up visor coated in anti-scratch, and anti-fog materials – ideal for days as well as night.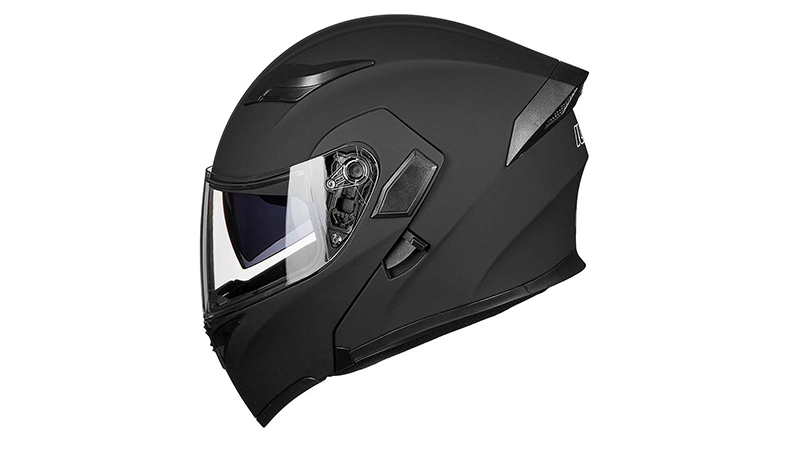 9. Scorpion EXO-R710 Golden State Street Motorcycle Helmet
One of the most advanced fiberglass helmets on the market, the EXO-R710, combines the best features of Scorpion's R-series helmets with new features. The shell blends fiberglass with Aramid fibers – usually used in military-grade body armor – and the shock-absorbent layer extends through to the chin bar for the ultimate protection. Meanwhile, best-in-class anti-scratch and no-fog coating allow for superior visibility.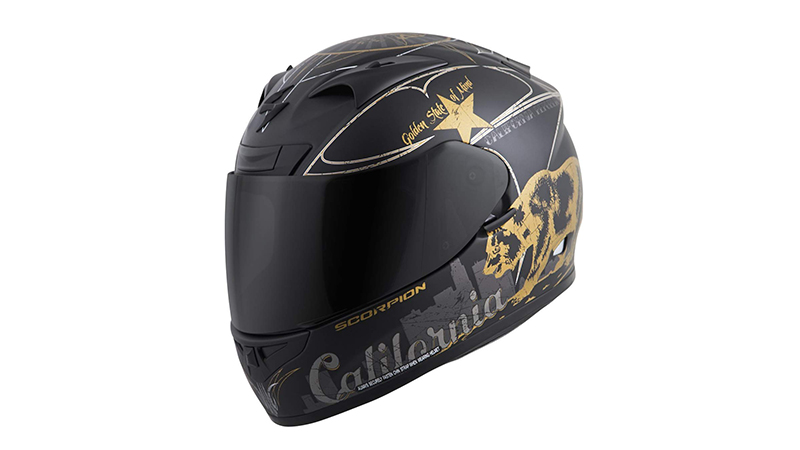 10. Triangle Graffiti Cross Full Face Helmet
The Triangle Graffiti Cross Full Face Helmet combines an advanced ABS shell with a multi-density liner and laser-cut padding, giving you superior cushioning, comfort, and protection. Plus, its ventilation system has both top and rear extractors, while the visor has a quick-change mechanism.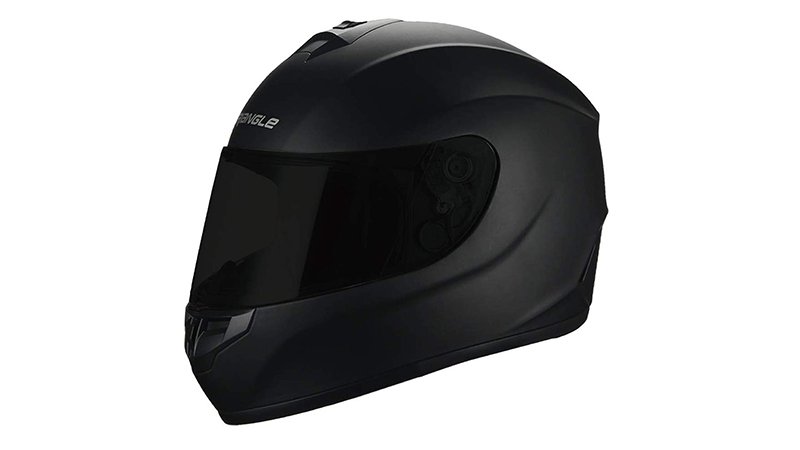 11. Mophoto Bluetooth Integrated Helmet
The Mophoto Helmet has built-in Bluetooth technology, which can connect with your phone so you can access GPS and music, as well as communicate with up to two other riders via its intercom. Combining fresh design and technology, the model has all the other features you would expect from a high-quality helmet. It's heavily cushioned and comfortable with a lightweight, ventilated shell, anti-fog and waterproof lens, and a quick-release strap.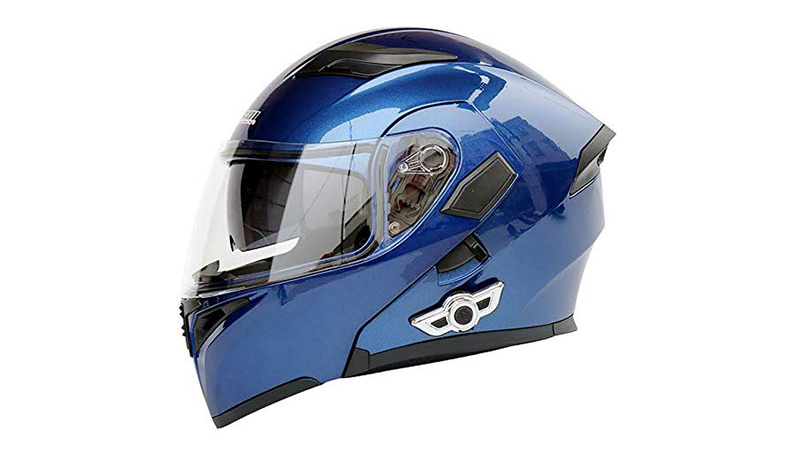 12. Storm Street Bike Dual Visor/Sun Visor Full Face Mechanic Helmet
Fans of the Storm Full Face Mechanic Helmet praise its aerodynamic shape that keeps fogging, whistling, and buffering to a minimum. The design is also perfect for glasses wearers as the visor neatly fits over the top. Plus, there's a quick-release buckle and a glossy UV protective finish. For a high-quality helmet that presents excellent value for money, you can't go past it.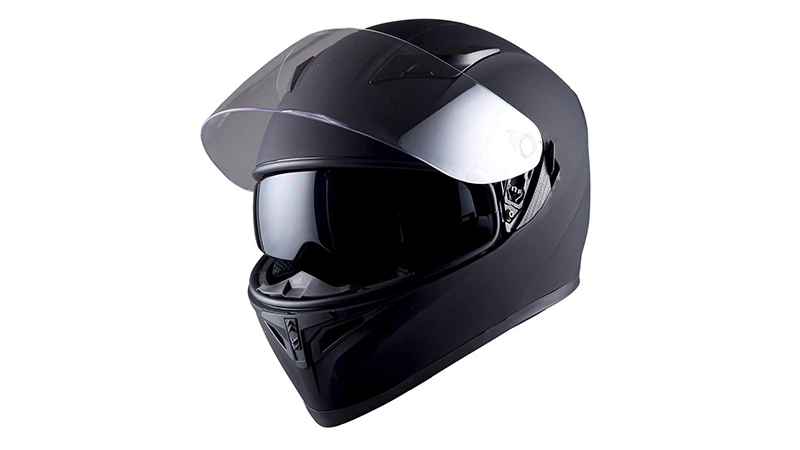 13. TORC Flat Black Bullhead Full Face Helmet
Warm and quiet, the TORC Flat Back Bullhead is the ideal helmet for fall and winter. Plus, the retro styling ensures you'll attract attention for all the right reasons. Fans love the streamlined, high-quality finishing, generous padding, and flip-down smoked screen to block glare. It also has a convenient lever system for making adjustments.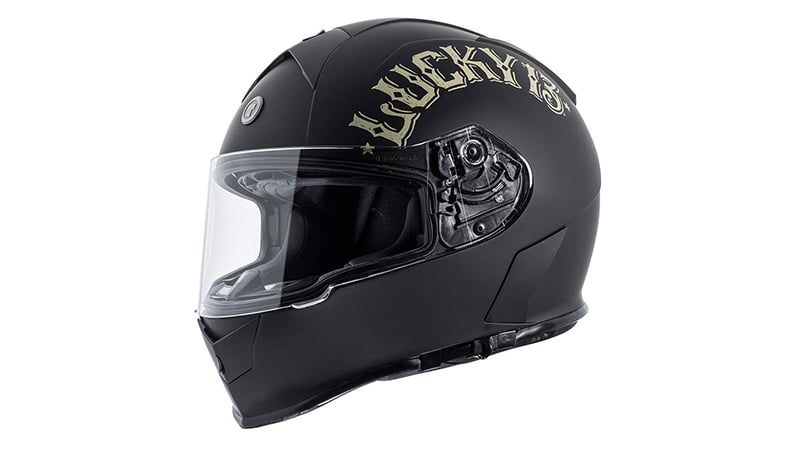 14. TORC Mako Flat Black Force Full Face Helmet
TORC's Mako helmet is named after the fastest species of shark and shares its sleek bodyline. Lighter than other TORC models, the Makko also has a dual-density shock-absorbent system and laser-contoured padding for ultimate comfort. Plus, its flat-panel shield is engineered for optically correct precision, giving you superior visibility.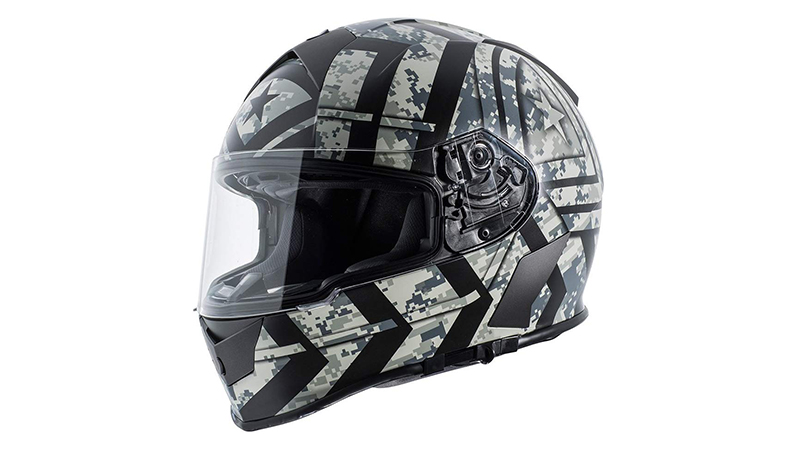 15. Westt Rover Open Face Motorcycle Helmet
The Westt Rover Open Face Helmet is ideal for men who want to customize their helmet to match their bikes. The helmet comes with three interchangeable side parts in black, gray, and blue. The rounded helmet shape gives a unique and futuristic finish, while shock-absorbent internal padding ensures crash protection and comfort.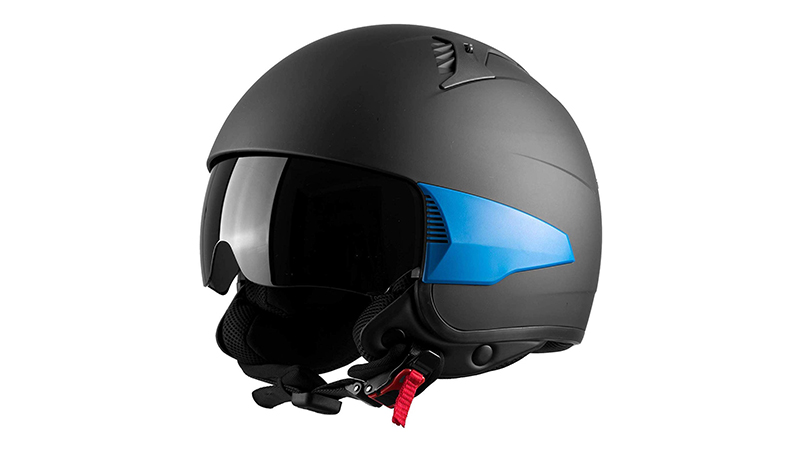 16. ILM Modular Bluetooth Integrated Full Face Motorcycle Helmet
Bluetooth integration is one of the most useful features in a motorcycle helmet, and this model from ILM includes integrated Bluetooth functionality and two high-quality stereo speakers. With one touch, you can control calls, use the in-built intercom, listen to music, or access your GPS navigation. Plus, it has echo cancellation and noise suppression, so your voice will be heard even at high speed.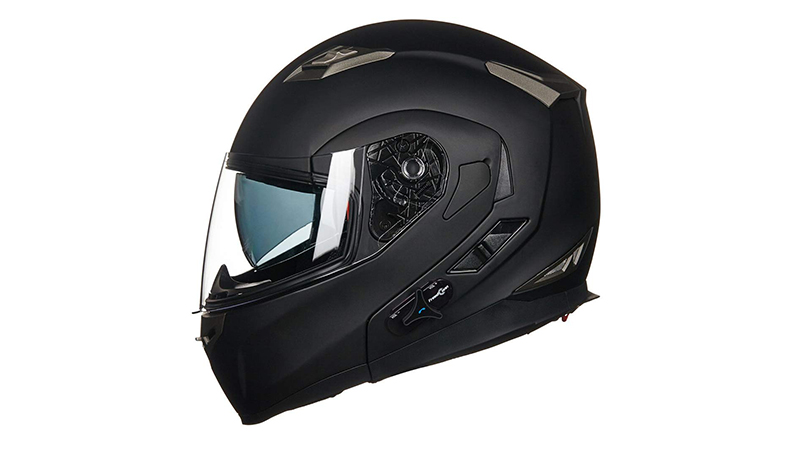 17. LS2 Rapid Full Face Helmet
One of the best value full-face helmets on the market, the LS2 Rapid, is exceptionally lightweight and aerodynamic with fully adjustable ventilation channels. The unique design includes two shells, so the helmet is smaller and lighter than others with the same protective properties. Plus, it comes in a wide variety of different designs and finishes, so you can choose the best helmet to match your bike and style.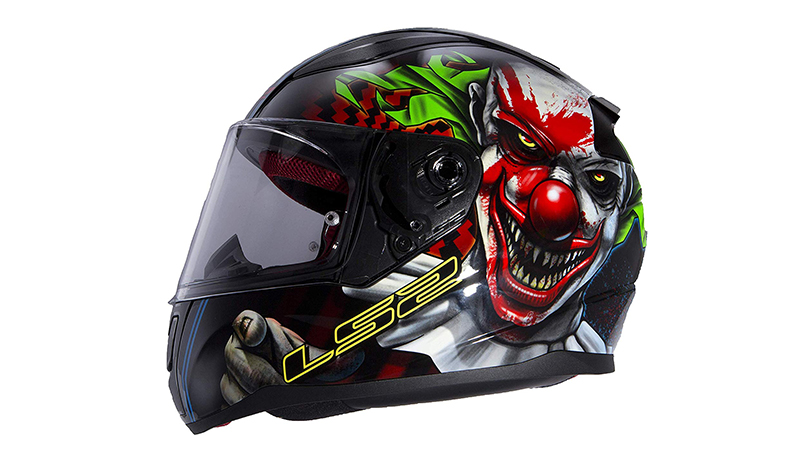 18. YEMA Full Face DOT Motorcycle Helmet
The YEMA Full Face DOT Motorcycle Helmet is all about style. The shell's stylishly smooth angular finish provides outstanding aerodynamic qualities while remaining durable and lightweight. The helmet also features classic dual visors that you can retract with ease, as well as an adjustable ventilation system and inner lining pads.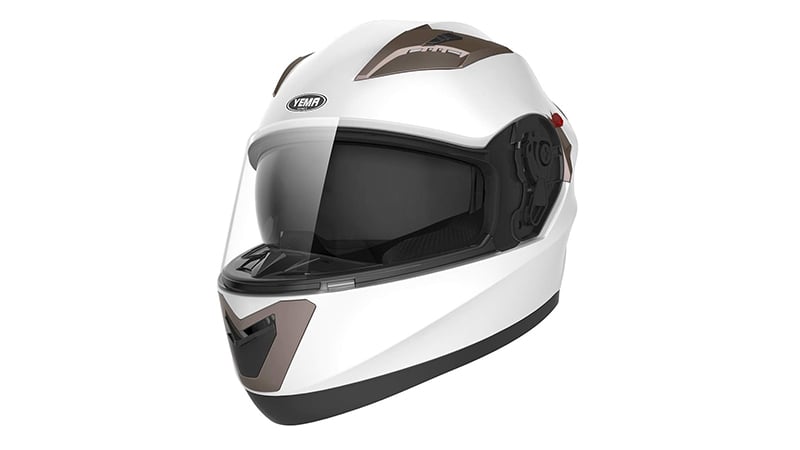 19. AHR Open Face German Style Half-Helmet
If you love the classic styling and attitude of your Chopper, consider a retro German-style half-helmet to match. These helmets never go out of style! The AHR Open Face Helmet has a domed look for extra visual impact. Plus, it's made from high-quality ABS with a dense buffer layer, so it's as durable as it is cool.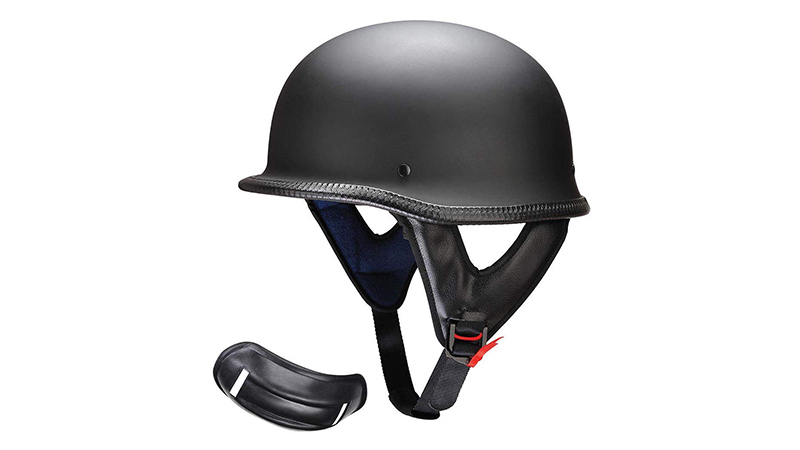 20. HJC CL-17 Helmet
HJC has nearly 50 years of history manufacturing motorcycle helmets that are high-quality and stylish, while still being affordable. The shell of the CL-17 model is made from an advanced polycarbonate composite, making it lightweight and comfortable, as well as aerodynamic. Front-to-back ventilation means heat and humidity are drawn out of the helmet, ensuring total comfort. Choose your favorite decorative finish – like Marvel's The Hulk – and you're ready to hit the road.
Cool Motocycle Helmets FAQs
Which brand makes the best motorcycle helmets?
The best motorcycle helmets use high-quality materials, advanced manufacturing techniques, and aerodynamic design to create extremely safe, secure, and stylish helmets. There are several brands which are favored by both professionals and enthusiasts alike, including AGV, Arai, Shoei, and Bell.
Do motorcycle helmets come in different types?
There are six different types of motorcycle helmets: full-face, modular, off-road, half, open-face, and dual-sport. The full-face helmet offers the greatest degree of protection in a crash, giving your face, head, and neck the most support and coverage, including a chin guard. Half helmets only protect the top of your head and are considered the least safe option. 
What features should I look for in motorcycle helmets?
Each type of motorcycle helmet is designed for a different purpose, whether it be day-to-day riding, off-roading, motocross, and more. So, the features you should look for will depend on how you ride your motorcycle. However, there are some safety features that are recommended for all motorcycle helmets, including a rigid outer shell made from tough materials like Kevlar, carbon fiber, or molded plastic, an impact-absorbing layer, padding, a face shield, and a chin strap. 
Are cheap motorcycle helmets safe?
More expensive helmets don't necessarily perform better than cheaper ones on government-regulated safety tests. That is because the more expensive brands may be focused on improving the helmet's design, aesthetics, and comfort, rather than its safety mechanisms. Plus, all helmets go through rigorous safety testing and assessment. When shopping for a helmet, you don't need to break your budget to stay safe – simply check your preferred model's rating from the regulator. 
SUBSCRIBE TO OUR NEWSLETTER
Subscribe to our mailing list and get interesting stuff and updates to your email inbox.