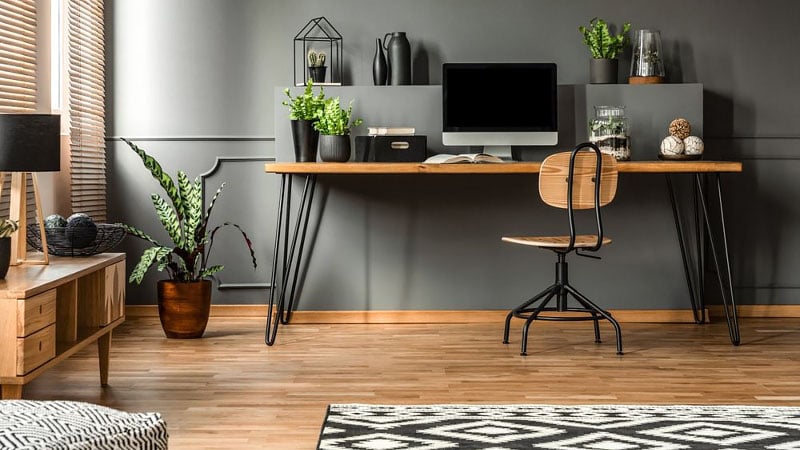 Finding a home office desk you like can be a tricky business. Not only does it need to be practical, but it also needs to suit your house and your style. After all, how can you expect to feel inspired to work, study, design, or create while sitting at an uninspiring desk? So, to ensure optimum productivity, we've rounded up a list of the coolest desks for your home office.
1. Tenon Smart Adjustable Desk
If you're on the hunt for cool office desks, you won't want to miss the Tenon smart luxury desk. This innovative piece of furniture is the first-of-its-kind modular, sit-stand smart desk designed for home offices. Equipped with a touch screen, companion app, power and USB outlets, the Tenon desk comes standard with all the high-tech features today's modern workforce demands. It's also highly customizable, allowing you to tailor it to fit your unique work style and needs. Best of all, with add-on accessories designed to help you stay organized and boost productivity, this desk is like having Marie Kondo herself tidying up your workspace.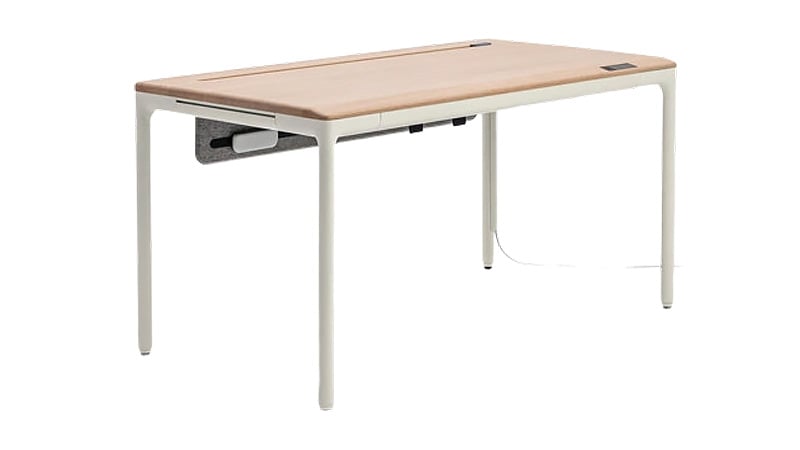 2. Boconcept Cupertino Office Desk
Looking for a cool home office desk that's both functional and stylish? Look no further than the Cupertino Executive desk! With its ample tabletop and spacious drawers, this office desk has everything you need to keep your workspace organized and clutter-free. Plus, its clean, minimalist design means it won't take up too much space in your home. But that's not all: the Cupertino Executive desk also features reversible lids, allowing you to change up the look of your workspace whenever you want. And with integrated storage compartments and cable drillings, you'll be able to keep all your essential items neatly in place.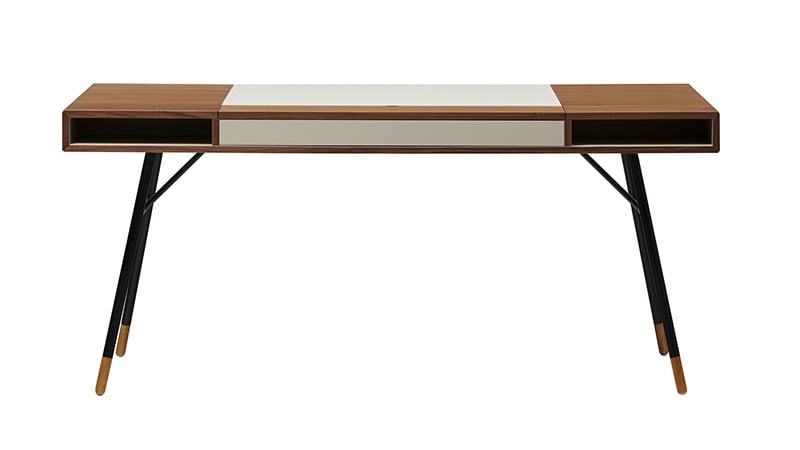 3. Strick and Bolton Luella Desk
Forget sitting on the sofa with your laptop; the Strick and Bolton Luella Desk will take your home office to a whole new level! Although it is not one of the biggest desks on the market, it will be perfect as a writing desk or a stylish place to study. The combination of tempered glass and wood makes this product incredibly eye-catching, and the bamboo legs support the design, making it robust and durable. Some assembly is required.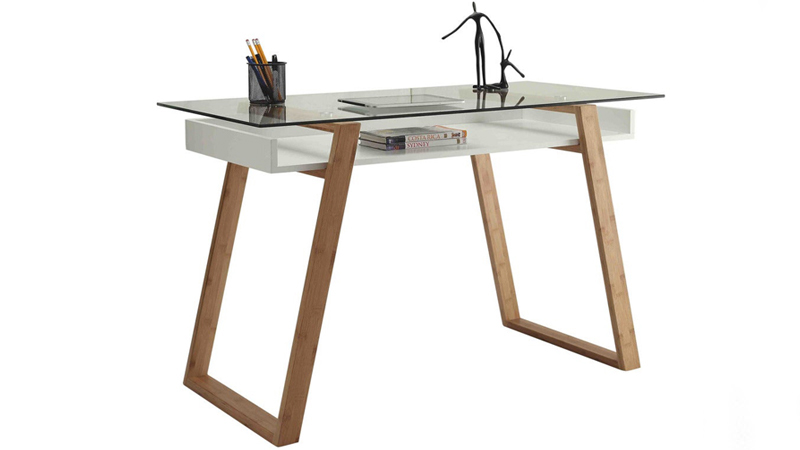 4. Cubiker Writing and Computer Desk
The Cubiker desk may look like a standard rectangular desk, but there are many reasons why it is a product to consider. There is plenty of room for writing or gaming, and the design is crafted using MDF boards and a steel framework for stability and functionality. The simplicity of the desk also allows for easier assembly. The product is sold in various colors and sizes to suit your preference. If you do have a problem, for whatever reason, Cubiker encourages customers to contact their dedicated support team to help resolve the issue.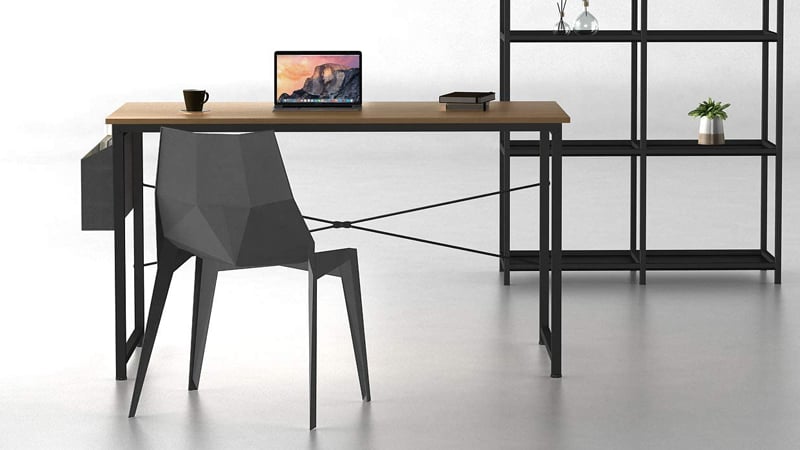 5. Tribesigns Desk with Hutch and Bookshelf
L-shape designs are particularly appealing for those who want to fill a corner space and tend to be quite versatile. Tribesigns Computer Desk with Hutch and Bookshelf is one of the best on the market and features 2-tier shelves to store your paperwork. The desk itself can support your laptop and other necessary hardware, such as a printer, but still have space for books and writing materials. The product is designed with a thick steel frame making it stable and reliable!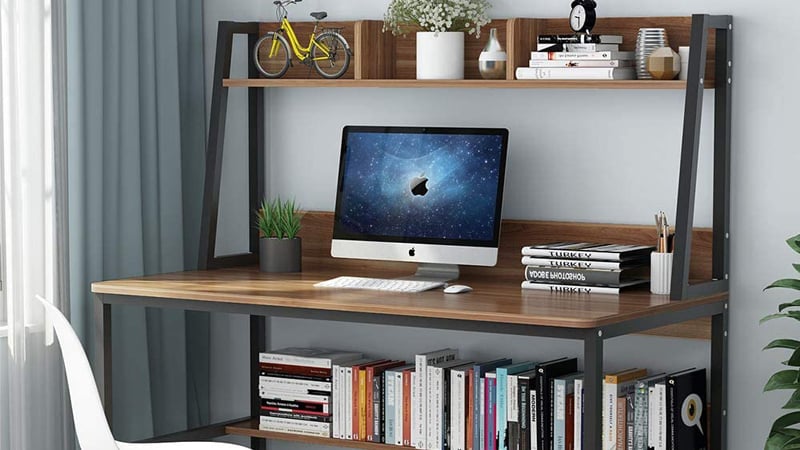 6. Modern Corner L Shaped Glass Desk
If you want a simple but efficient product for your home office use, then the Walker Edison Furniture Company's Modern Corner L Shaped Glass Desk may be just what you need. The frame is made from metal, with a black finish — which is exceptionally versatile and will work well with any color scheme — and completed with a glass top for a more contemporary look. The desk can be joined with a second product if you need more space, but it can comfortably accommodate several monitors.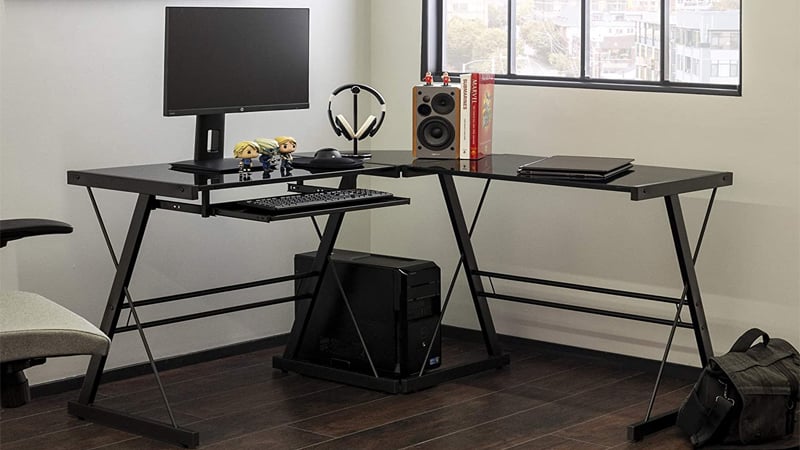 7. Omnidesk Pro
Say goodbye to an aching neck and back with the Omnidesk Pro 2020. This fully customizable office furniture can help you boost productivity and improve your overall mood thanks to its electric height control. With increased stability and an anti-collision mechanism, you can be sure your items on top of your table stay secure, even while adjusting the height. This will be the best desk you've owned, featuring an ergonomic curve for comfort, sleek cable management, and a stunning overall design. Watch as your overall performance and mood improves every time you stand up.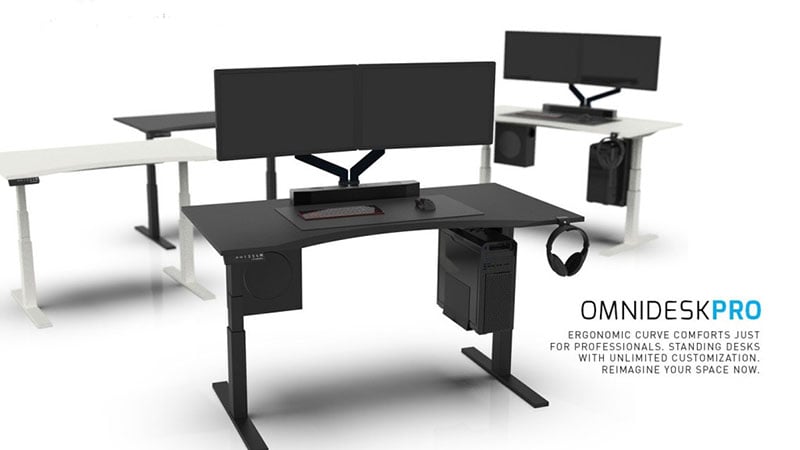 8. Vaiz Contemporary Walnut Desk
The Furniture of America's Vaiz Contemporary Walnut Desk is a fantastic product that can be used for writing, studying, or computer usage. The simple design and wooden veneer will likely complement the rest of your decor nicely. It's a versatile piece that doesn't take up too much space, as it is 60 inches wide and comes with two drawers for extra storage. Use the drawers to keep all of your stationery essentials handy.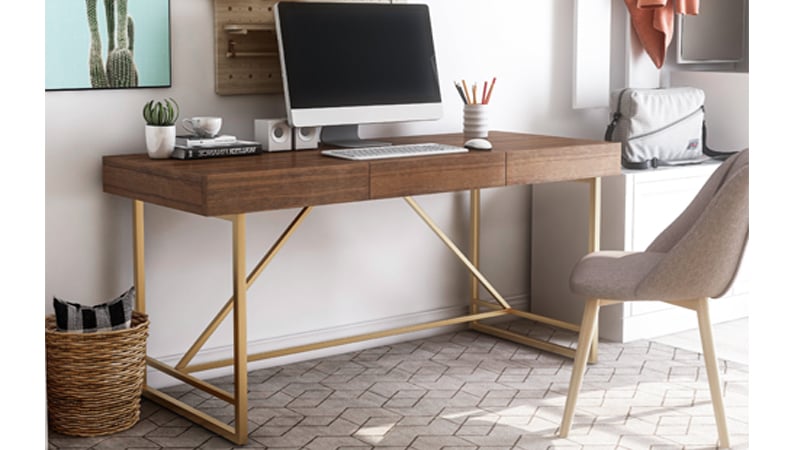 9. Lad Mid-century Modern Brown Coated Desk
Are you looking for a design that is modern yet clean? The Furniture of America Lad Mid-century Modern Desk is just what you need. It is both functional and attractive, taking style inspiration from mid-century modern designs. Although it looks impressive, this desk will be perfect for a home office as it comes with a spacious tabletop, plenty of legroom, and a built-in USB outlet for convenience. Assembly is needed, but it is relatively easy to complete and well worth the effort.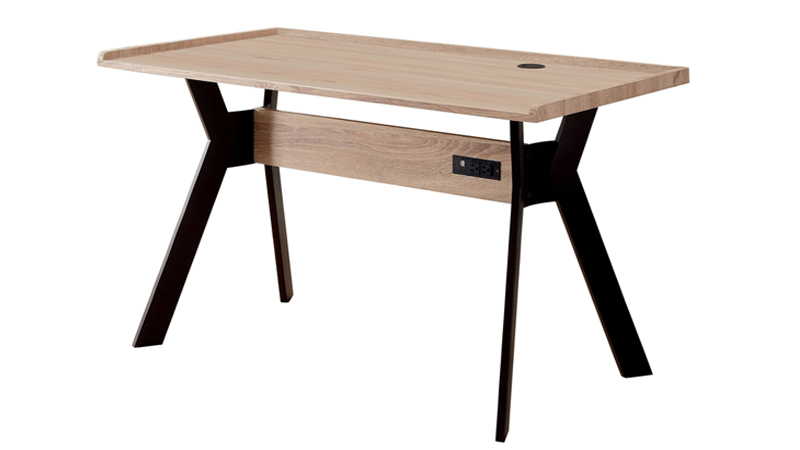 10. Alpha Battlestation Gaming Desk
Alpha Battlestation Gaming Desk is well made, comes with a 2-year limited manufacturer warranty, and has everything you need if you want to use it for games, or standard computer usage. Highlights include the matte carbon fiber top surface, which aids the use of a mouse as well as a monitor shelf, which is big enough to fit two screens. For extra convenience, the desk includes a built-in USB power hub, a cable management system to keep your cords co-ordinated, and headphone hooks.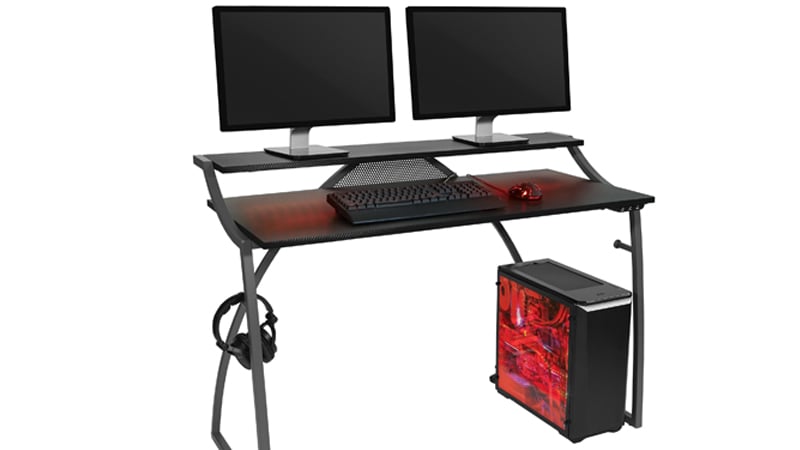 11. Bush Business Furniture Desk
Jamestown Desk by Bush Business Furniture may cost a little more than some of the other desks on the market, but it is designed to be minimalistic and functional. Not only does it look good, thanks to the combination of white and wood finish, but it also created with storage space in mind. It is coming with several drawers that offer plenty of space, which can be locked, ensuring the safety of sensitive and essential documents. Other highlights include the built-in wire management and the adjustable levelers in the storage drawers. You will also get a Bush Business Furniture 10 Year Manufacturer's Warranty!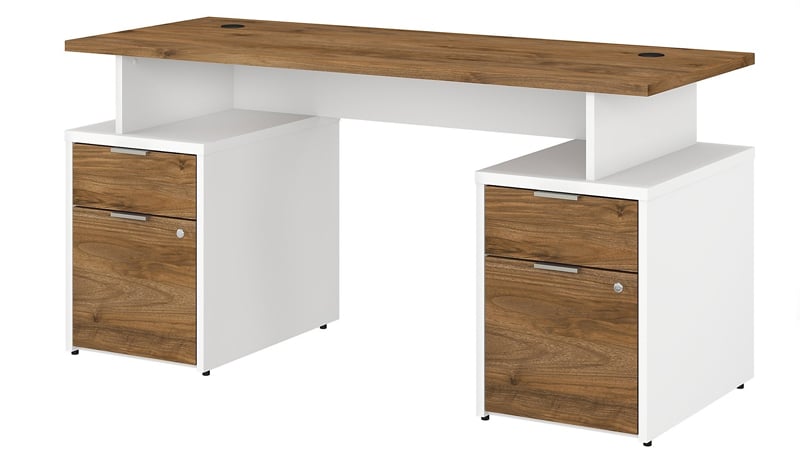 12. Madison Avenue Writing Desk and Chair Set
The good quality Madison Avenue Writing Desk and Chair Set can be purchased in a range of different finishes, including pure white, walnut, or our personal favorite, the modern gray. It has been tested to meet ANSI/SOHO quality standards for safety and performance and is a fantastic desk for all your computer and paperwork needs; the product can support around 90kgs. There is also a built-in shelf for convenience, and you can choose to install it on either the left or right side. The scratch-resistant work surface is another highlight. Plus, it comes with a chair, saving you the hassle of having to purchase one separately. You can adjust the seat height and tilt to suit your needs.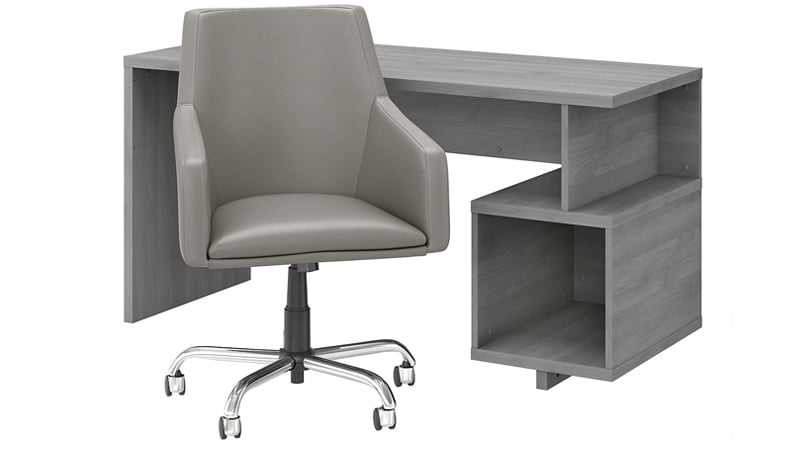 13. Carbon Loft Brandenberger with Left or Right Facing Desk
The L-shape design of the Carbon Loft Brandenberger desk may be what you like the most about it because it fits easily into the corner of a room. The layout is also functional and features ample storage drawers and a file cabinet, which you can choose to assemble on either the left or right-hand side. The desktop finished with a gray cement look and has all the space you need for your laptop as well as stationary and paperwork. It the perfect home office item!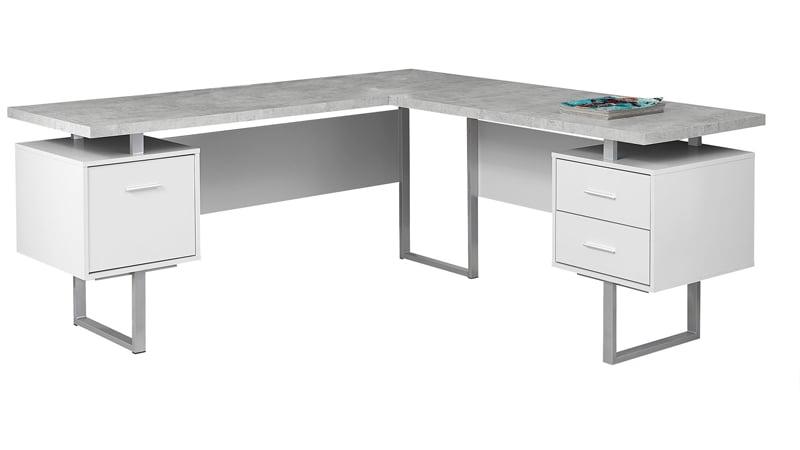 14. Computer Desk in Wood Grain and Black Metal
If you want a simple desk that doesn't take up too much space but is still practical, this may be the piece you need. The laminated wood finish gives it a stylish and modern appearance, but the design is also very functional. Crafted with two storage drawers and a filing drawer to store essential documents, you have everything you need close at hand. The drawers will allow you to keep the desktop free of clutter, and give more space for the computer and hardware. Choose from one of three colors, either a gray, taupe, or brown finish.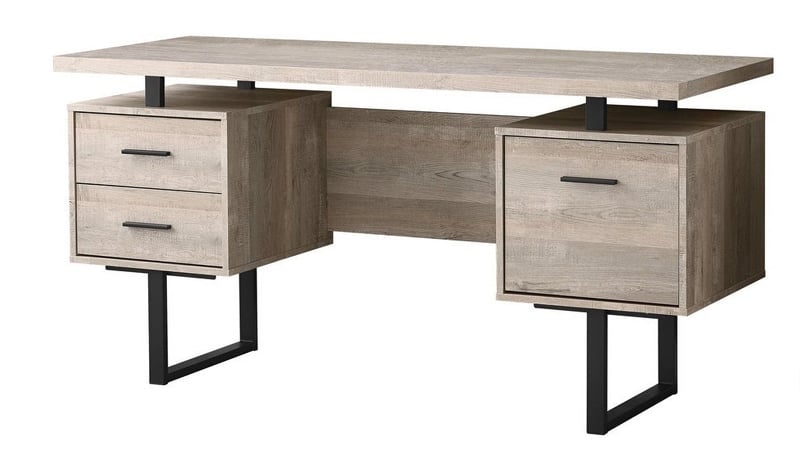 15. GreenForest L Shaped Desk with Moveable Shelf
A desk with a moveable shelf allows you to fit the product into your desired space. That is not the only highlight of this product, though, and the desktop also has plenty of room, allowing for multiple monitors, screens, and whatever other hardware you may need. The steel frame supports the desktop so that you can expect stability and durability. Use it for writing, gaming, or data input and emails!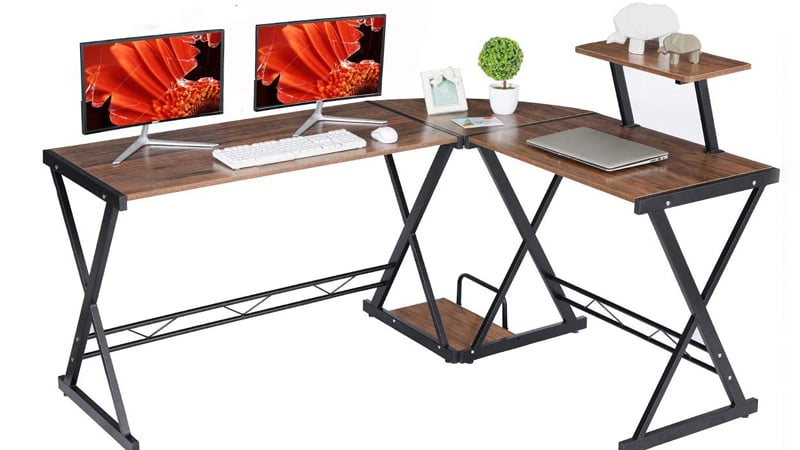 16. Light Oak Finish Computer Desk
The Light Oak finish Computer Desk is a basic design, but the beauty is in its simplicity. The modern wood finish veneer top, combined with the metal legs, makes it an eye-catching design, but it is also a product that is perfect for smaller spaces. If you don't have a large home office or bedroom, this piece will fit in nicely as it's designed for space-saving and is super easy to assemble. Choose from either light oak or dark oak finish, depending on your preference.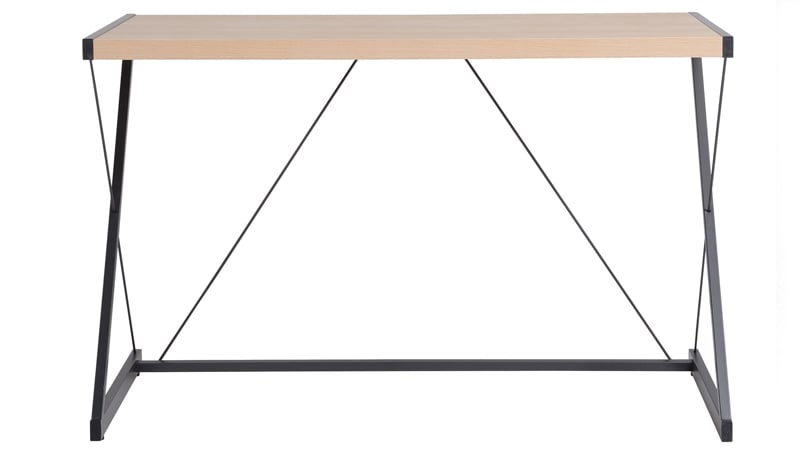 17. Vitesse Gaming Desk with Free Mouse Pad
The Vitesse Gaming Desk has plenty of space for all of your hardware and will appeal to gamers in particular because it comes with a mouse pad that covers the entire surface. The creators of this desk had functionality in mind, which is also why it comes with a cup holder, a headphone hook, and a storage rack for controllers. Another highlight is the four USB ports, and four leveling feet to keep the desk horizontal.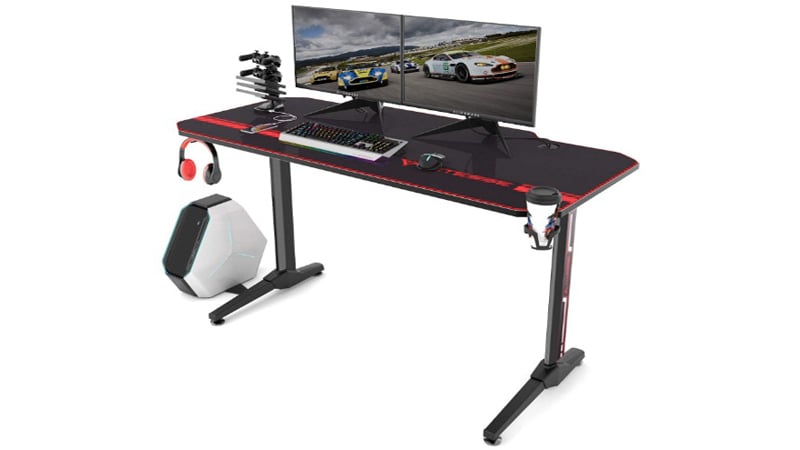 18. Yary Transitional Brown Metal Writing Desk
Furniture of America has a wide range of desks to choose from, but this piece, from their Yary collection, is one of the best. The design is stylish and straightforward, and the chrome and brown finish wood grain details would compliment any office color scheme. Highlights include the two open compartments below the desk, which can be used for storage, creating a more efficient use of space. You can also make use of the built-in USB and power outlet for computers, a desk lamp, or even to charge your phone.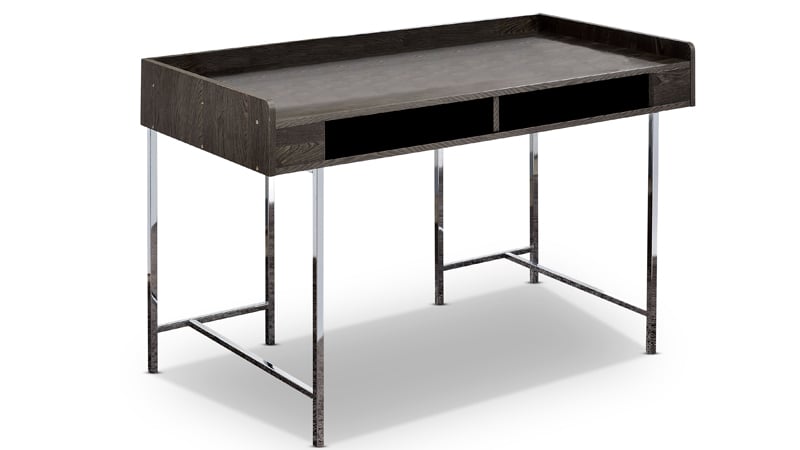 19. BON AUGURE Rustic Wood Desk
The BON AUGURE Rustic Wood Computer Desk will not be out of place in a stylish, minimalistic home. The simple 55-inch wide design is chic, yet functional, and can be used to do work and study, or for writing. It is also surprisingly strong thanks to the heavy-duty metal base and can hold a maximum of around 150kgs, making it very convenient to store books and other supplies that you may need. You also won't feel as though you have a lack of space underneath the desk, and there is plenty of legroom or an area for extra storage. Other highlights include easy assembly, and comfortable desk height to allow your arms to bend at 90-degree angles.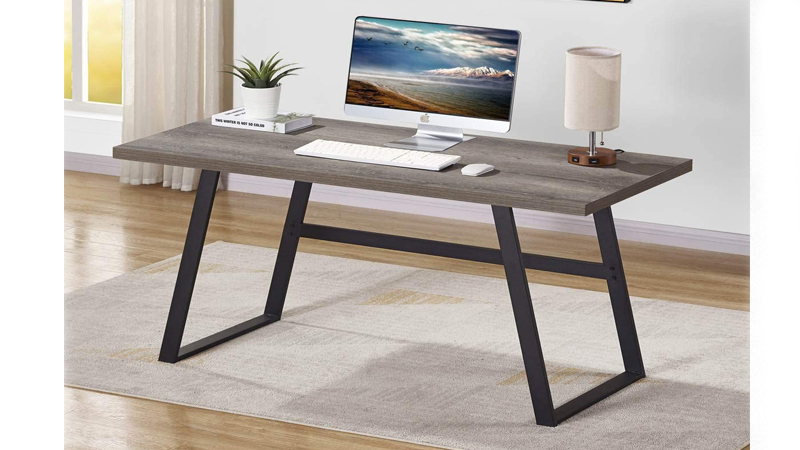 20. Ida White Adjustable Height Sit/ Stand Desk
Sometimes the most straightforward designs are the best, and the Ida Adjustable Sit/Stand Desk will be a welcome addition to your home office. The worktop has multiple stopping points, so it can be adjusted to your height, allowing you to either sit or stand, which is very beneficial if you have a lot of work to get through and want to be able to stretch your legs. The white chrome finish is modern, and the storage space under the desktop makes it a functional and appealing design.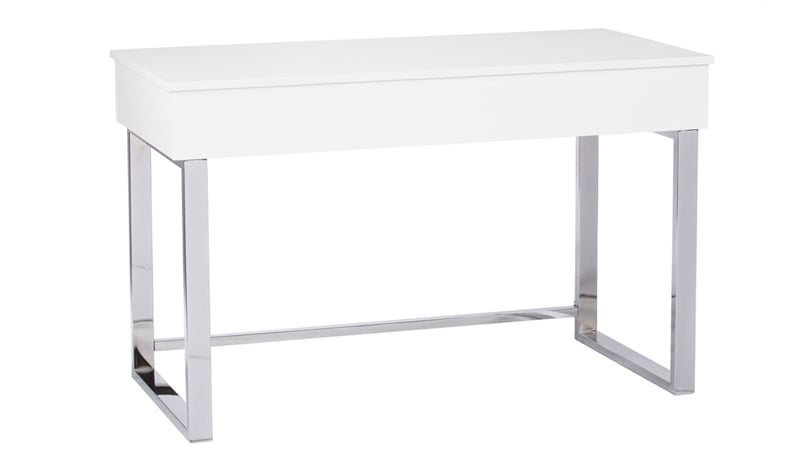 21. Gaming Desk with Large Carbon Fiber Surface
There are several features gamers want, and when it comes to choosing a suitable desk, it helps if it has been designed with these things in mind. The Computer Gaming Desk with Large Carbon Fiber Surface has ample space for gaming monitors and other hardware; it can also endure a lot of weight, up to 100 kgs, which is essential or stability when gaming. Need a cup holder? No problem! The computer desk also features a controller stand, headphone hook, and a clean workstation.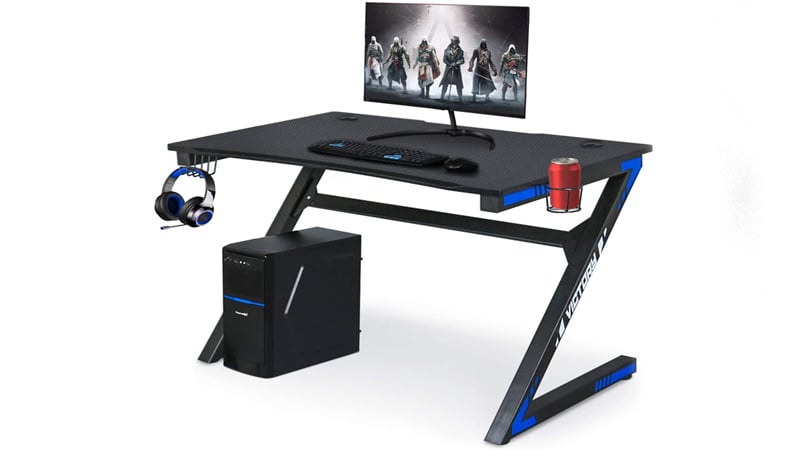 22. HSH Rustic Desk
The combination of metal and wood makes the HSH Rustic Computer Desk stylish and clean. It has an individual minimalistic aesthetic and will lend itself well to a variety of rooms and decor styles. The product is good-quality, spacious, and is stable, with the ability to hold up to around 135kgs of weight. Assembly is simple, and it will take only a few minutes to put together the home office desk of your dreams.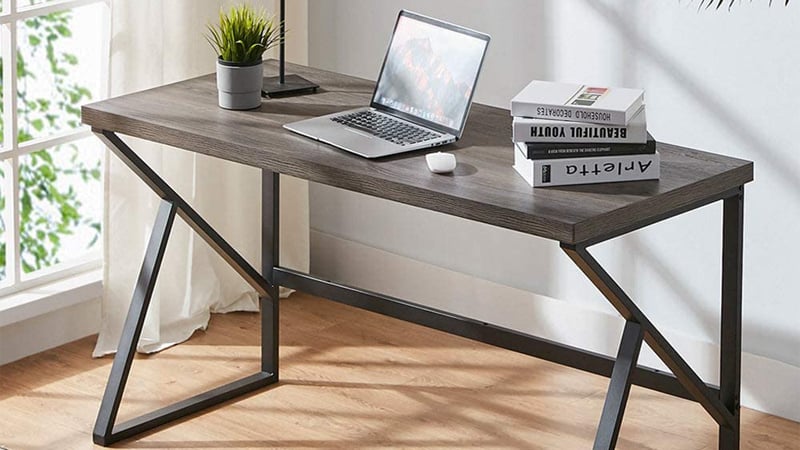 23. Teraves Reversible L Shaped Desk with Shelves
Need a desk that has the perfect space for your books, your decorations, and your laptop? Teraves Reversible L Shaped Desk with Shelves is that product, and so much more. The dark walnut coloring is attractive, and when combined with the sturdy metal desk legs, this product becomes both beautiful and functional. The design can fit a laptop or desktop, as well as various office tools you will need. You will also love the open bookshelf, which is excellent for storage and will help create a clutter-free work environment.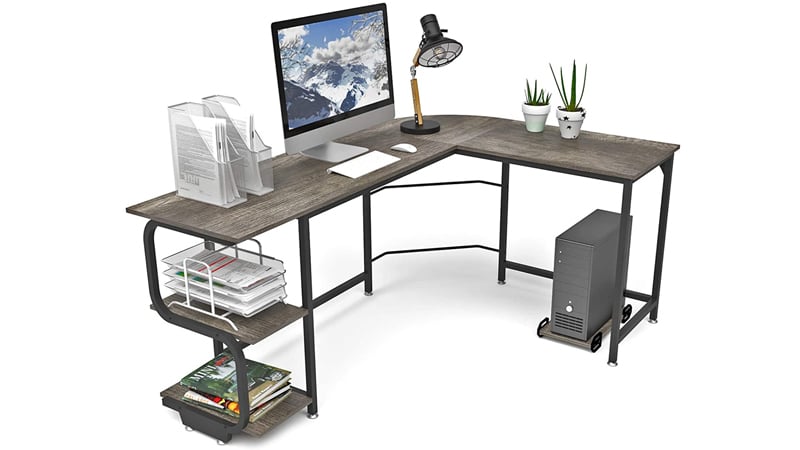 24. Contemporary Faux Wood Desk
Wooden finishes are appealing because of how versatile they are, and how it lends itself well to a more traditional aesthetic; thus, the Gallaudet Contemporary Faux Wood Computer Desk by Christopher Knight Home is a great find. The design is incredibly functional, allowing for storage space while the construction is sturdy and practical. The faux wood finish is moisture resistant, and the iron legs allow for durability. The cabinet and two drawers can be used to keep all your relevant documents close.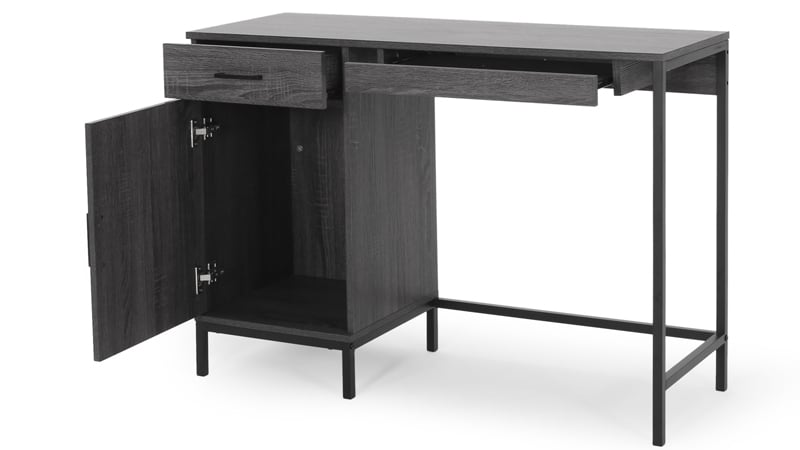 25. Oria L-Shape Tempered Glass Office Desk
If you require a modern, contemporary desk for your home office, look no further than the Oria L-Shape Tempered Glass Office Desk. It is a piece that not only looks impressive but will do the job it is intended for, and the iron base will ensure that the desk can hold the weight of your computer and other work essentials. The glass top is also handy as it's easy to wipe clean, so you don't have to worry about bringing a cup of coffee to your desk, and it leaving little rings on the surface — caffeine is always handy when you're trying to meet a deadline.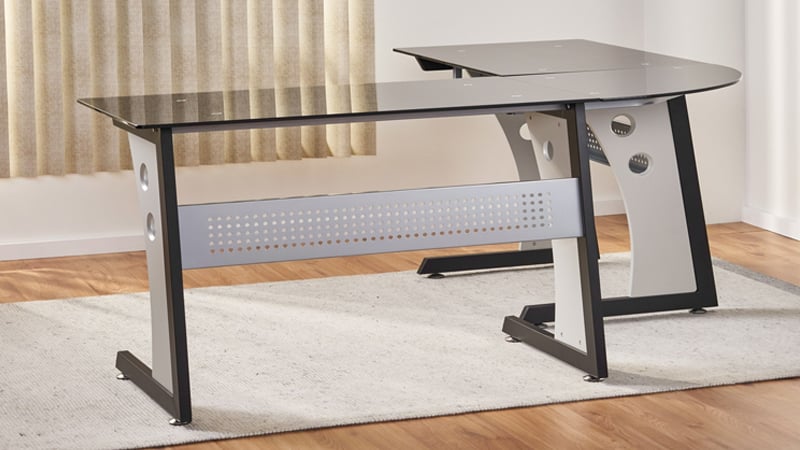 26. Ashley Baraga L-Desk White Desk
Signature Design by Ashley Baraga is an L-shaped desk, with a frosted tempered glass top. The combination of the glass and white finish gives the design a crisp and clean appearance, and the shape makes it the perfect work station for all your home office needs. You will find a decent amount of space both on the desktop and below, which can be used for extra storage space for documents.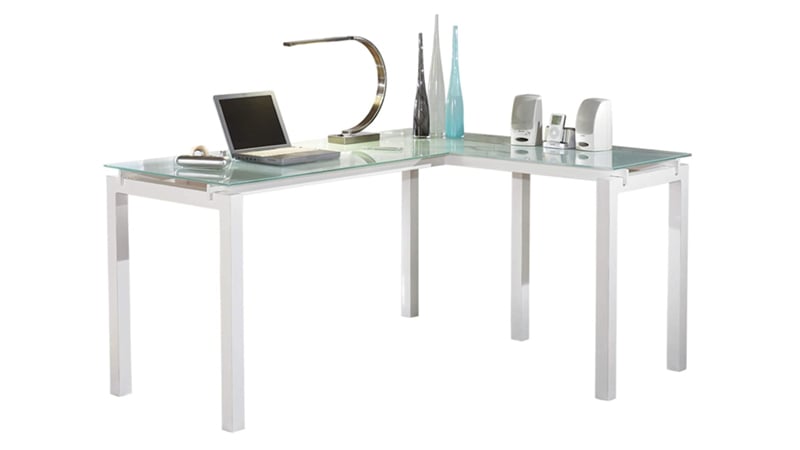 27. AuAg Modern L-Shaped Home Office Desk
Working from home just got a whole lot better thanks to the stylish AuAg Modern L-Shaped Home Office Desk. The product is crafted using a metal frame and wood desktop, a design that is incredibly sturdy and long-lasting. It ensures not only a tabletop with plenty of space for all your computer needs but also an item that is strong enough to hold around 200 kgs. The L-shaped design is simple yet modern and will be a welcome addition to your office, efficiently utilizing space. It is easy to assemble and comes with all the instructions you need to do it on your own.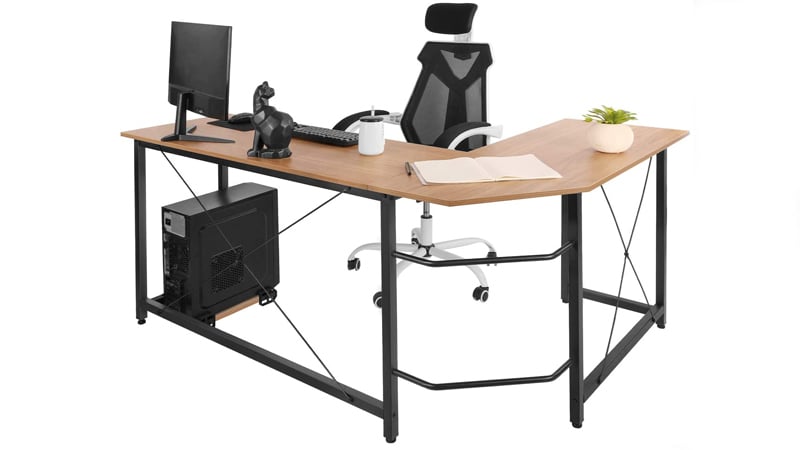 Cool Desks FAQs
What is the best home office desk?
Some of the best home office desks include the Omnidesk Pro, AuAg Modern L-Shaped Home Office Desk, and the super stylish Strick and Bolton Luella Desk.
What is a good size office desk?
The best-sized office desk will suit your needs and fit your space. A large standard desk is 30x60-inches and will suit most requirements, including dual monitors. If you have a more simple set-up, such as just a laptop, then a smaller desk will suffice. Corner desks can make the most of a larger space and let you store extra items such as printers and scanners.
What should I look for when buying a desk?
There's a lot to consider when buying a desk for home. First is use and your computer set-up, as this will help determine the size you need. Then you need to think about the space you have. Will your desk be against a wall or floating in the middle of the room? Next are extra features. Do you want a sit/stand desk, draws, printers, shelving, or other storage? Finally, you should look for a desk that will suit your personal style and the style of your home, so it makes you happy and doesn't feel out of place.
How much does a good desk cost?
You can get some great budget desks from retailers like Ikea that are less than $200. However, if you want something a little more advanced, sturdy, or with more features like storage, then you'd want to budget between $500 and $1000. Of course, you can also get some very expensive desks that cost up to $10,000!
SUBSCRIBE TO OUR NEWSLETTER
Subscribe to our mailing list and get interesting stuff and updates to your email inbox.