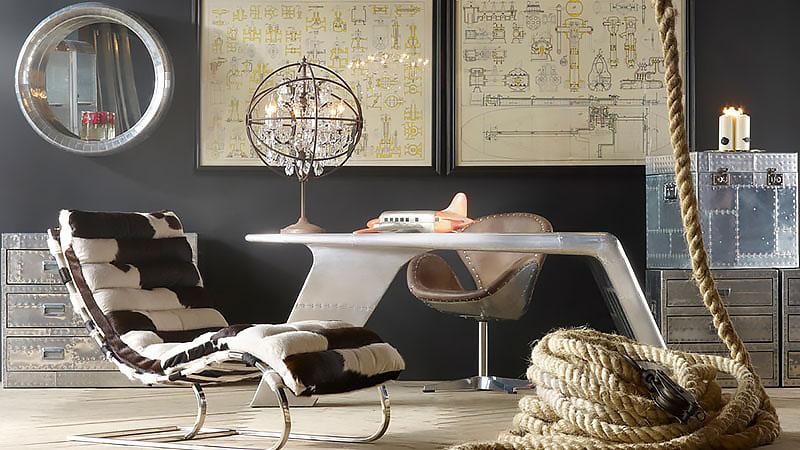 Finding a home office desk you like can be tricky business. Not only does it need to be practical, but it also needs to suit your house and your style. After all, how can you expect to feel inspired to work, study, design or create while sitting at a desk that's uninspiring? So, to ensure optimum productivity, we've rounded up a list of coolest desks for your home office that'll have you dying to do work. 
1. Simple Workspace Desk
The Desk 02 from Artifox makes simple stylish with its minimalist design and white oak frame. Functionality hasn't been forgotten either with a built-in dock for your devices, cable grid, and handy hooks.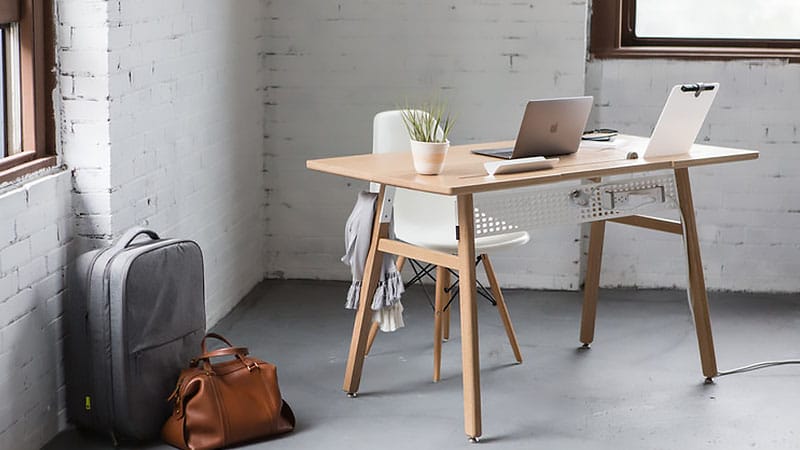 2. Contemporary Writing Desk
This contemporary writing desk is known as the Zine Desk by 6ixty. Its sleek and functional design affords you the use of a modern, glass worktop and a handy compartment beneath.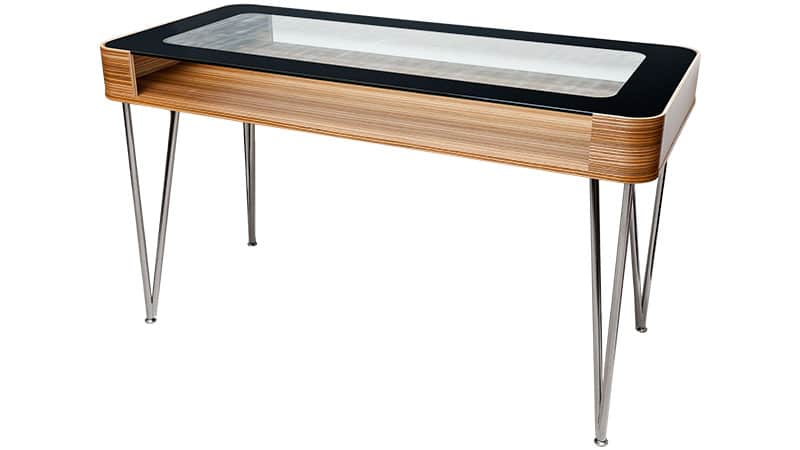 3. Minimal Wall Desk
Your home office doesn't need to be big to be impressive. This Minimal Wall Desk by Orange22 Modern boasts a sleek, floating design with just the right amount of space to be fully functional.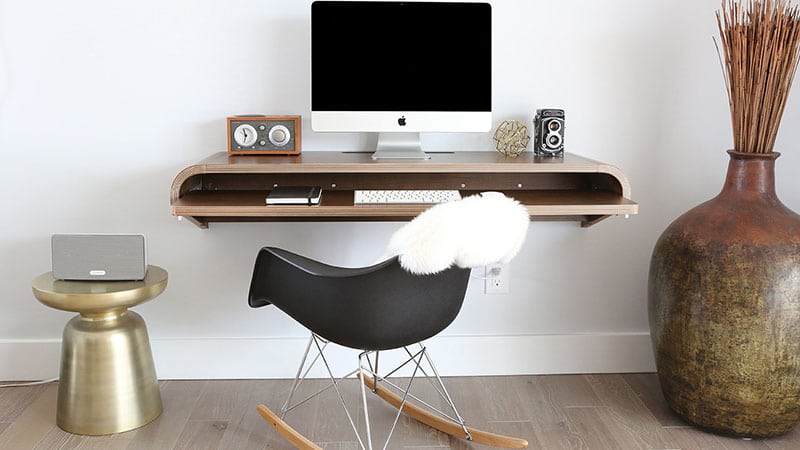 4. Large Transitional Desk
If you're looking for a large desk to suit your home office needs, the Marquetry Desk from Coco Republic may just be for you. While its simple design makes it easily transitional for different purposes, its intricate top and 'X' shaped legs keep it stylish and unique.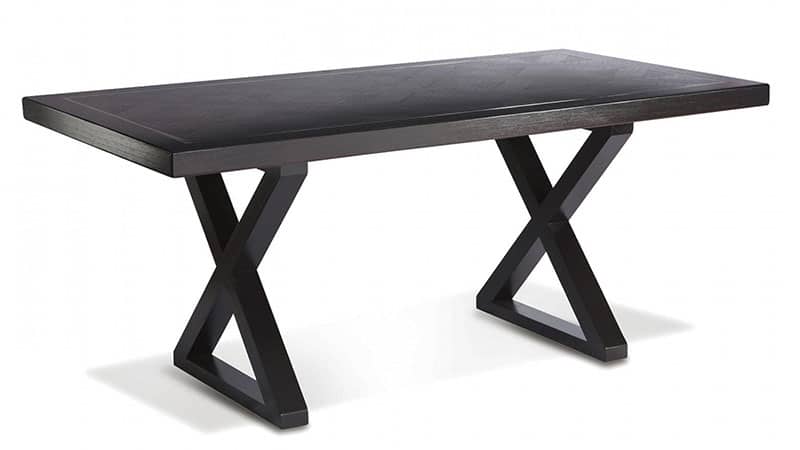 5. Long Scandinavian Desk
Where conventional designs fall short, Raft by Kasper Rønn and Jonas Bjerre-Poulsen succeeds. This Scandinavian style desk is an incredible two meters long and promises to fit every book, paper, device, and laptop, that you need when working from home.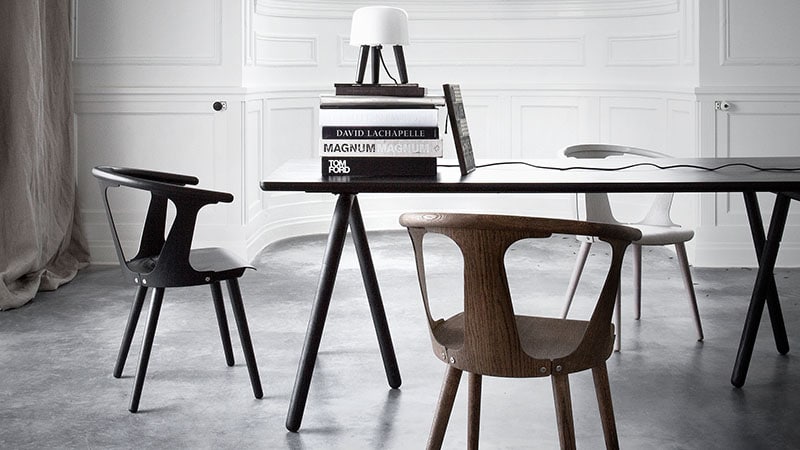 6. Modern Writing Desk
Despite being created as an homage to Carlo Mollino's original design from 1949, the Cavour is incredibly modern in appearance. The desk's sleek and stunning design features a glass top combined with an innovative oak frame, drawers, and compartment.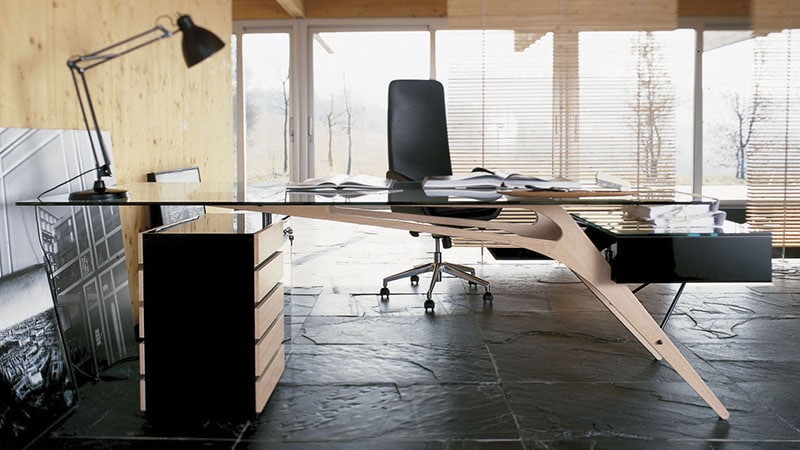 7. Treadmill Desk
For those who can't choose between a home office and a home gym, the Walkstation Desk by Steelcase will solve your problem. By combining a computer desk with a treadmill, this innovative product allows you to work and workout at the same time.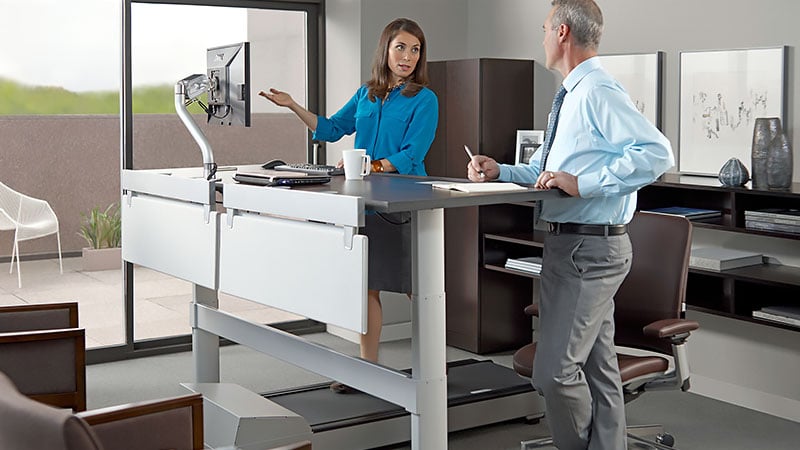 8. All-In-One Desk
The Cupertino from BoConcept has all your desk needs in one stylish package. As well as great storage space and easy cable management, it also features integrated Bluetooth enabled speakers so you can listen to your favourite tunes while working.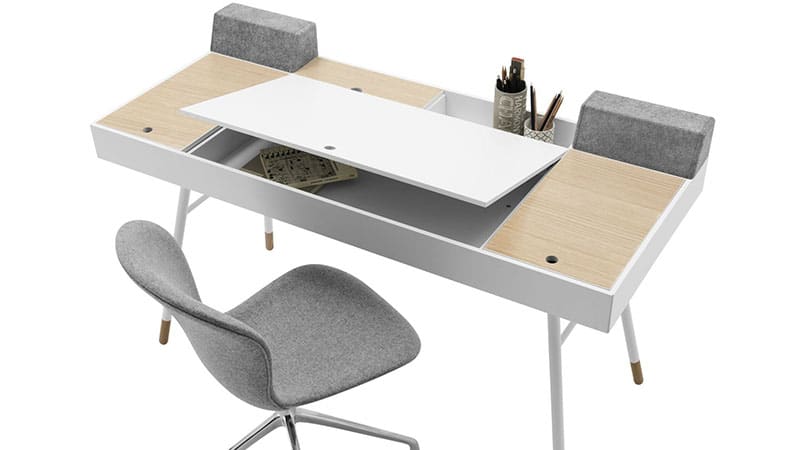 9. Space-Saving Computer Desk
The OneLess Desk by Dean Heckler is designed to help you find a stylish place for your computer while saving space. The cool, nested counters slide neatly beneath each other when not in use to help keep your room clean and organised.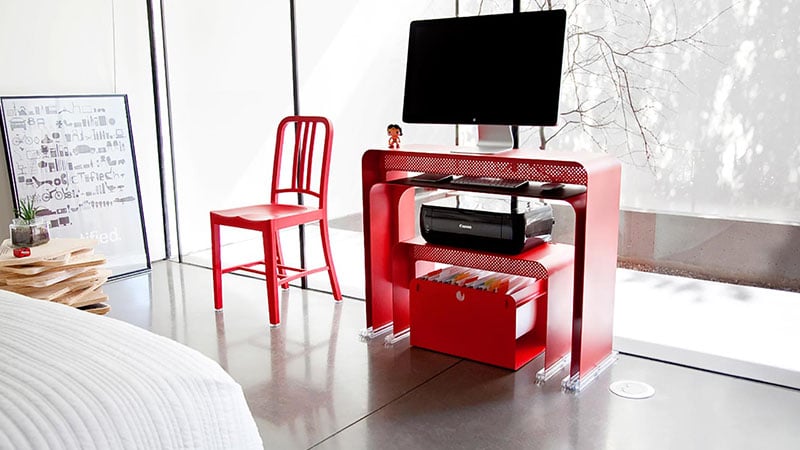 10. Multi Desk with Shelves
The Nadia Soares Multi Desk with Shelves provides function and storage in a new and intriguing way. Where other designs provide shelving under or above the desktop, this innovative design utilises the legs to provide extra space.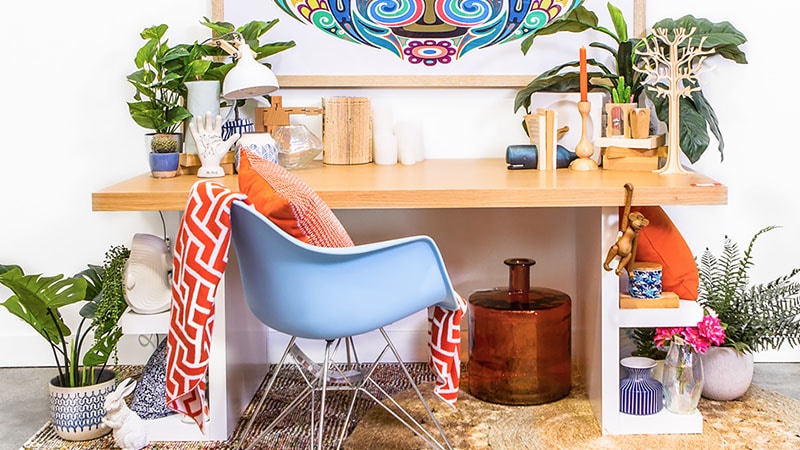 11. Executive Desk
While the Clybourn Walnut Executive Desk by Blake Tovin has everything you require regarding functionality, its design is what makes it stand out. American walnut and stainless steel combine with a unique silhouette to make the Clybourn a contemporary and sophisticated piece of furniture.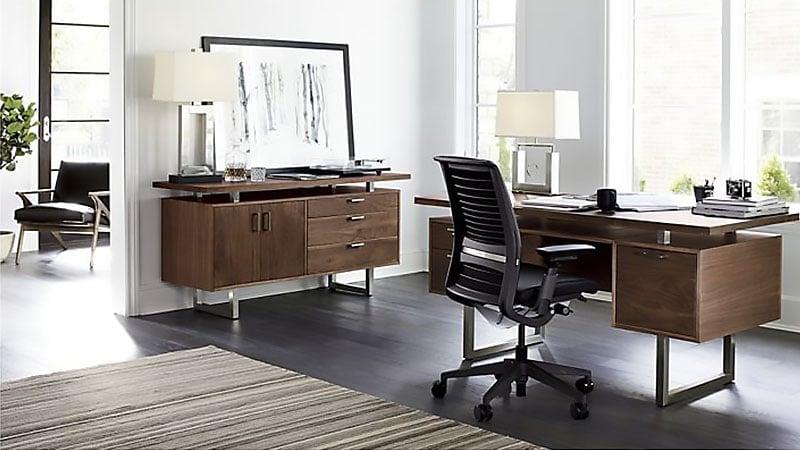 12. Sleek Contemporary Desk
The sleek, Contemporary Desk from Innova Australia is the perfect fit for the modern study. While its combination of wood and metal creates a striking appearance, its minimal structure and design add balance and simplicity.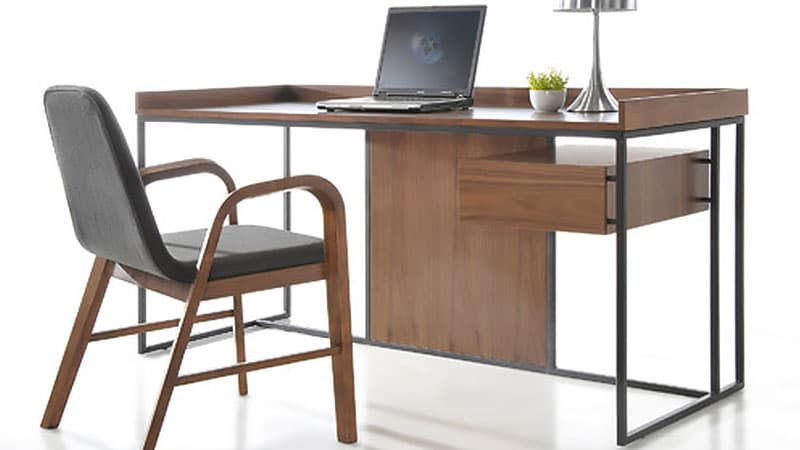 13. Chic Computer Desk
The Nadia Soares Multi Desk with Trestles is the perfect option for anyone looking for a chic computer desk. Although its functionality is limited concerning storage and cable management, the clean, eye-catching design more than makes up for any shortcomings.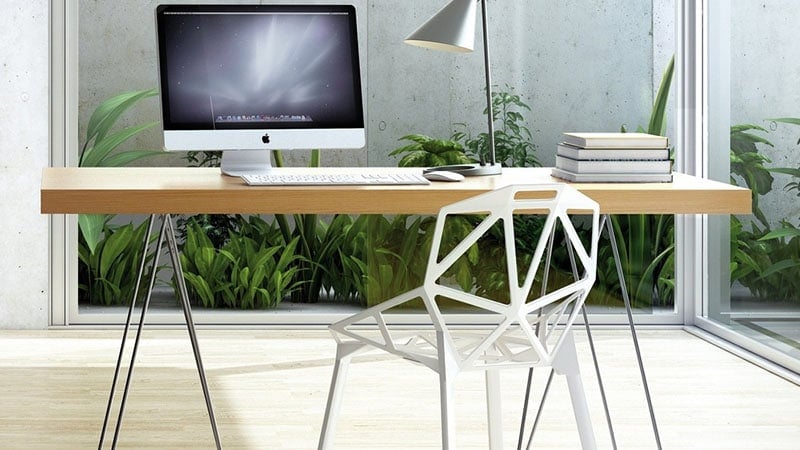 14. Scandinavian Style Office Desk
The versatile and stylish Johanne Scandinavian Style Office Desk by Milan Direct fits right in with any modern decorating scheme. Its clean white, natural oak design simultaneously complements its surroundings while making a statement on its own.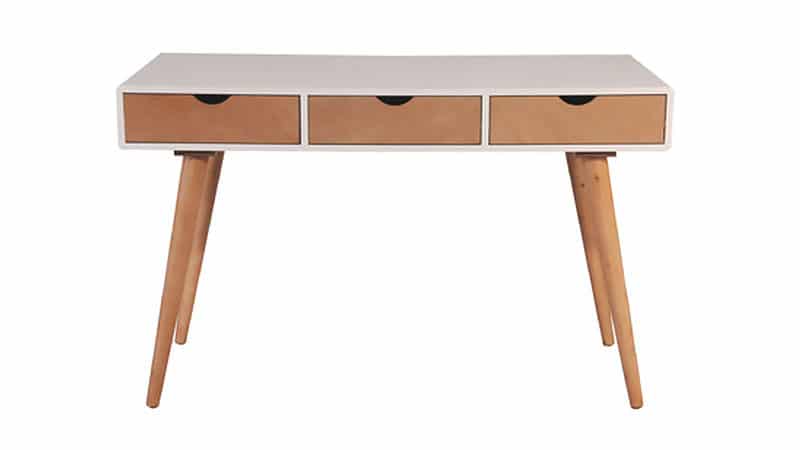 15. Minimal Home Office Desk
The Covet Desk by Shin Azumi perfectly integrates useful and practical storage without compromising any design. Along with a discreet drawer, the desk also boasts a cool storage system between the frame's legs that can act as a paper and magazine organiser.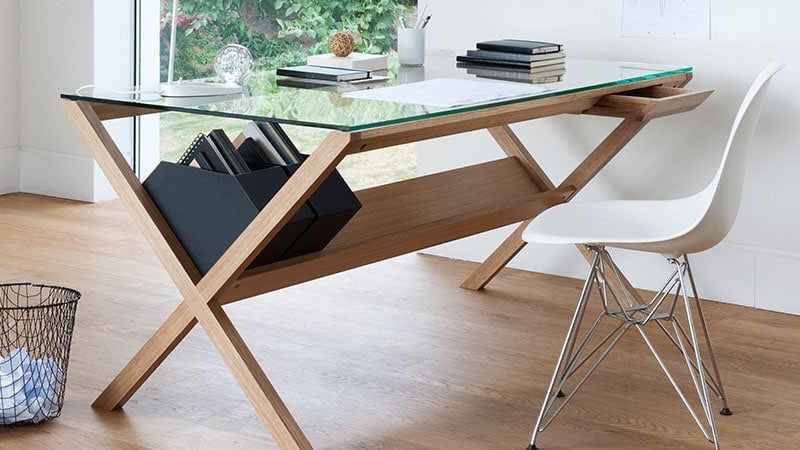 16. Small Foldable Wall Desk
For those short on space, the FJU Desk by KaschKasch is just what you need. The modest but useful desk mounts on the wall and can fold up when not in use to free up space and unveil extra storage.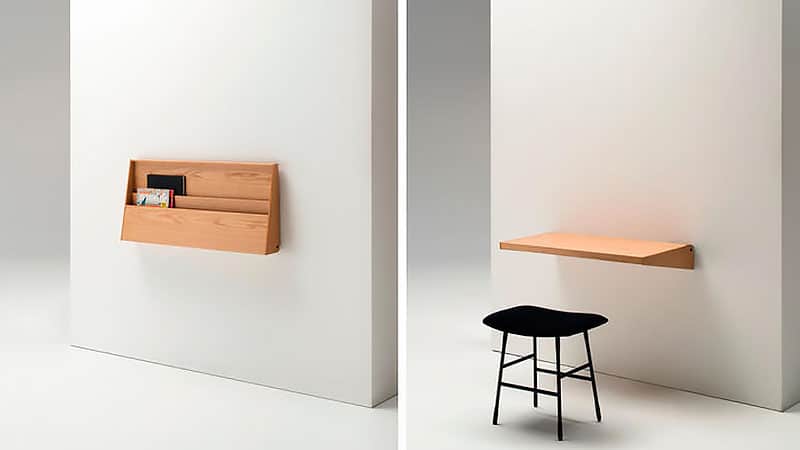 17. Modern Vintage Desk
This Jacob Pemble Modern Vintage Desk straddles two worlds of time. Its standout design has a personality of its own with clean and sharp lines and a stylish blend of materials.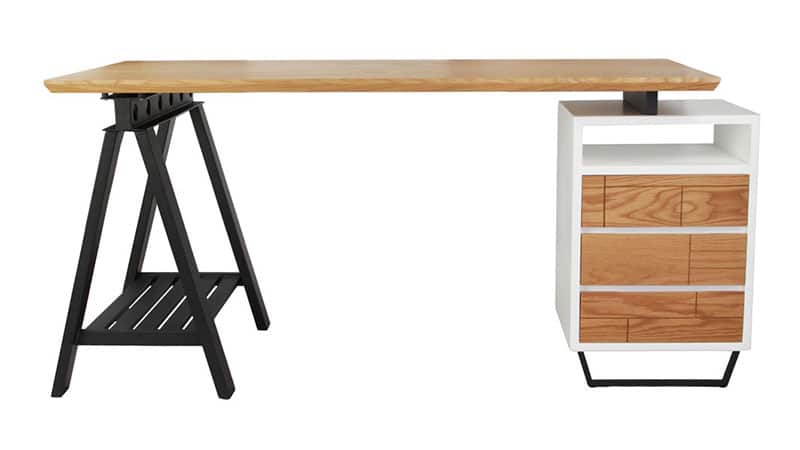 18. Unique Aviator Desk
Desks don't get much cooler than this unique design. Named the Aviator Valkyrie Desk and designed by Timothy Oulton, this aeroplane inspired table is handcrafted from aluminium for an incredibly eye-catching result.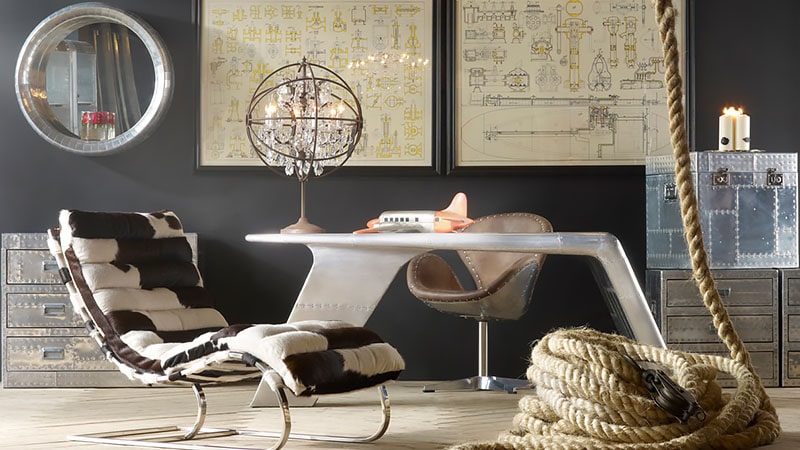 19. Unique Wooden Desk
Made from reclaimed solid timber, the Walter Desk from Coco Republic oozes style. Boasting a bold and unique appeal, this desk would be a stylish addition to any home office.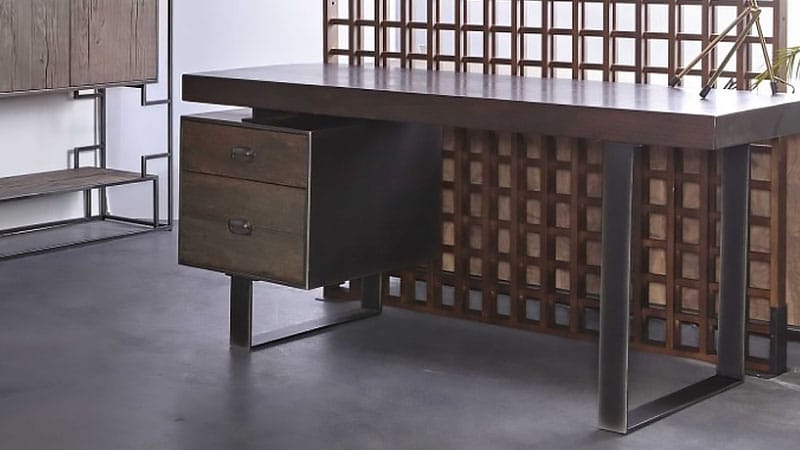 20. Scandinavian Style Timber Desk
Scandinavian inspired furniture has taken over the design world and continues to dominate the interior style stakes. For those who can't get enough of the trend, this Ash Marc Desk by Milan Direct will be a worthwhile purchase.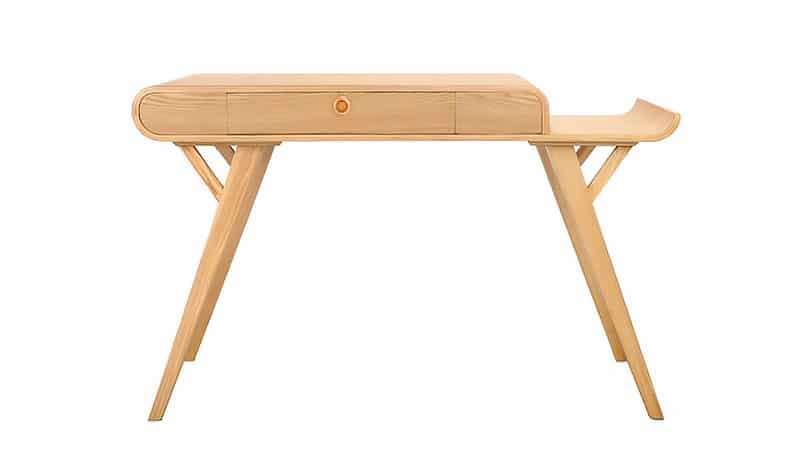 21. Reclaimed Wood Desk
The Atwood Desk from Crate and Barrel is a cool table made with reclaimed wood. Its rustic-meets-contemporary style lends a one-of-a-kind type of character to home offices while its unique, open back doubles as a shelf for books and objects.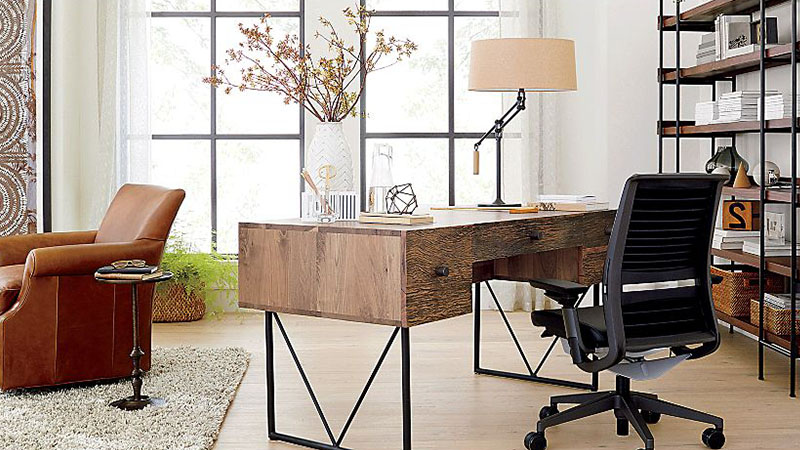 22. Innovative Wooden Desk
The coolest feature of the Cartesia Desk from Colors is its drawers. The innovative design sees them open in two different directions to allow you to access multiple drawers at the same time and eliminate blind spots at the back.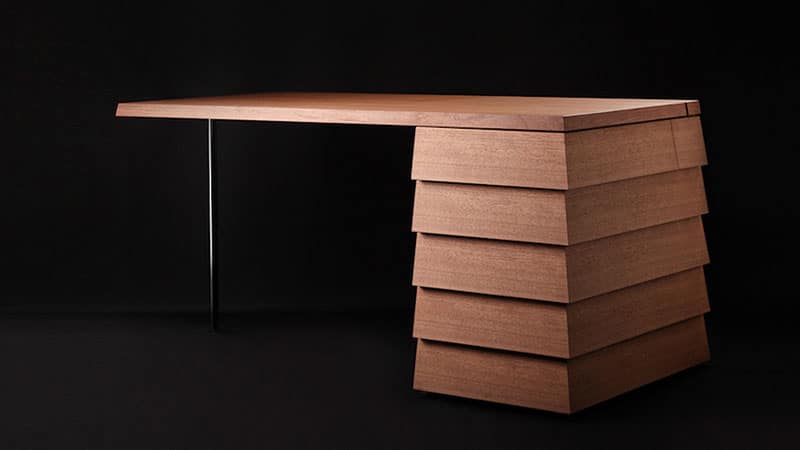 23. Rose Copper Nesting Desks
These Audrey Nesting Desks by Milan Direct combine fashion with function. While they easily fit together to save on space, their stylish rose copper frames add an unbeatable wow-factor.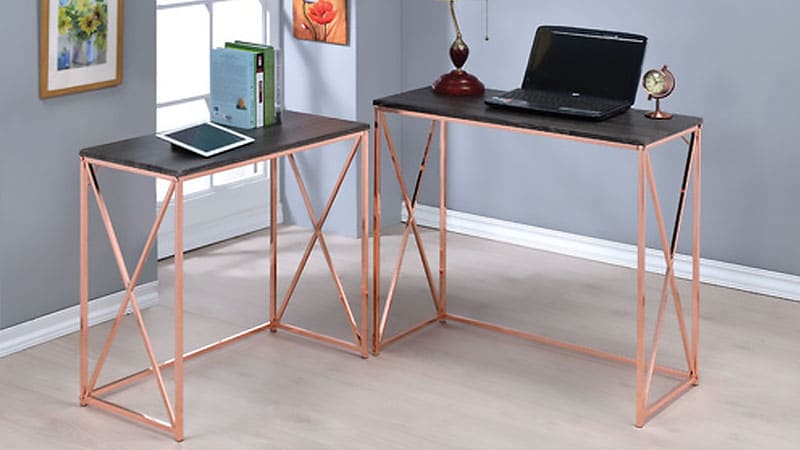 24. Sleek Skinny Desk
Only have a narrow space for your home office? The Calamo by Gabriele Rosa for Zanotta is sleek and skinny enough to fit right in.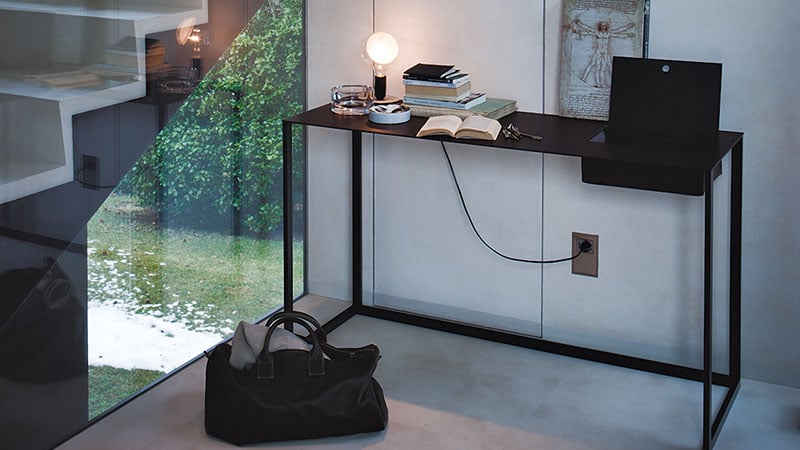 25. Sit/Stand Desk
These days, we're smart enough to know that sitting at our computers all day isn't good for us. That's why companies, such as Stir, have created adjustable sit-to-stand desks like the Kinetic Desk.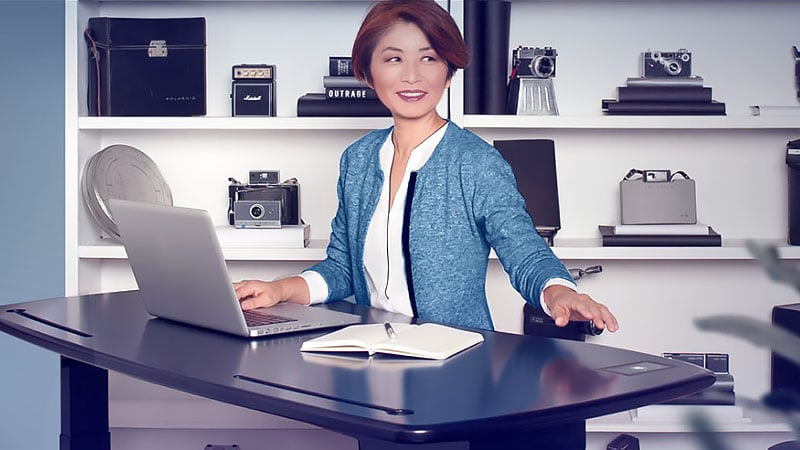 26. Retro Work Desk
Minimalist design meets maximum functionality in this Work Desk by Sean Dix. While the clear workspace and handy drawers are undoubtedly useful, it's the stylish, retro design that makes this desk a standout piece.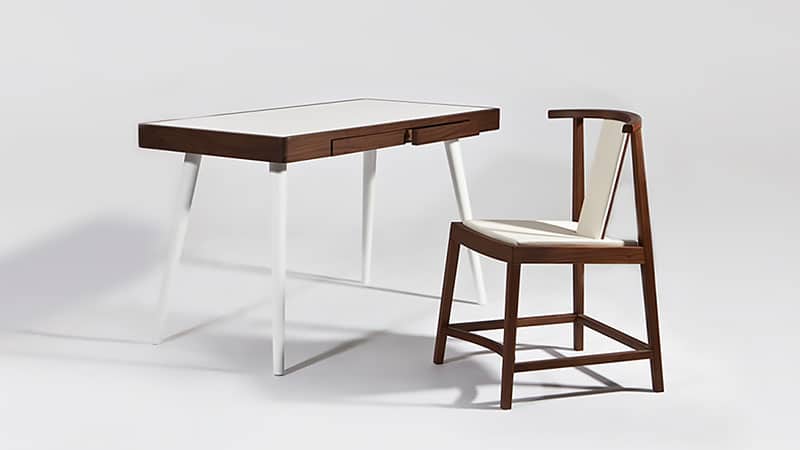 27. Handcrafted Work Desk
Not just any old piece of furniture, the Phoenix 72″ Work Table from Crate and Barrel is handcrafted from reclaimed Brazillian telephone poles. It's this history and natural ageing that gives this desk its incredible character.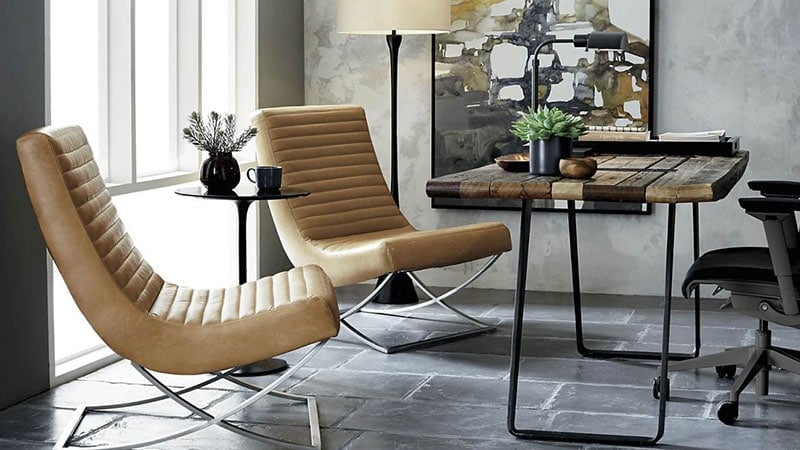 28. Elegant Writing Desk
The Parker Writing Desk by Oly is as beautiful as it is unique. Whether you place it in a dedicated study or elsewhere in the house, it's sure to become a talking point for the room.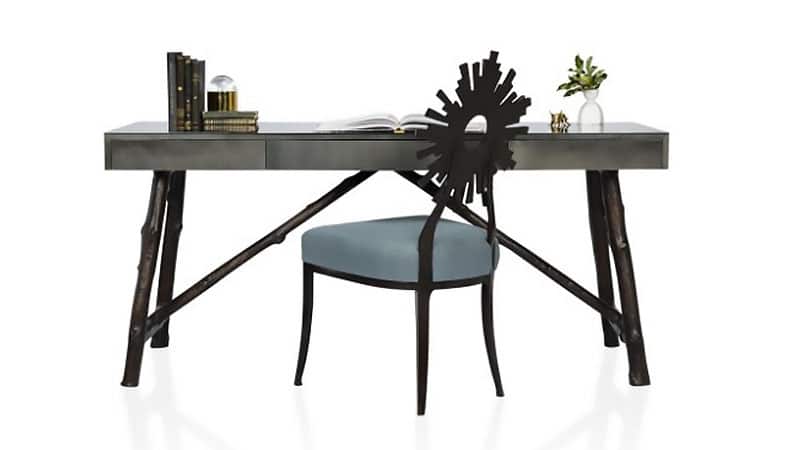 29. 2-Tier Writing Desk
Keep clutter organised and neat with the 2-tier, Gloucester Writing Desk by Milan Direct. The lower tier can be reserved for items you're currently using while the top level and three drawers are perfect storing everything else.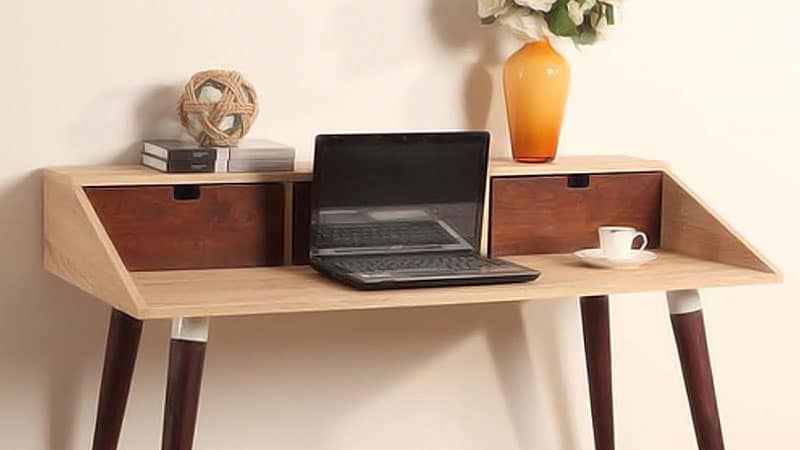 30. Unique Writing Desk
The Recipio '14 Writing Desk by Antonio Citterio for Maxalto promises to inspire your writing with its unique design. Despite being clean and simple, the desk's unusual shape and details make it a truly modern piece of furniture.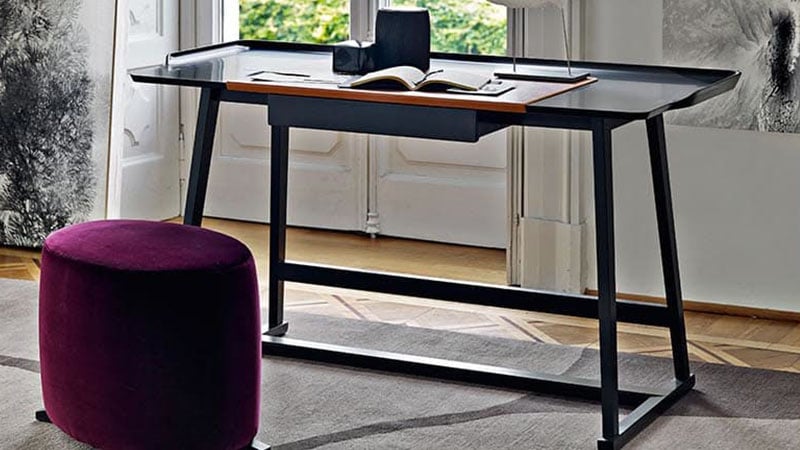 SUBSCRIBE TO OUR NEWSLETTER
Subscribe to our mailing list and get interesting stuff and updates to your email inbox.