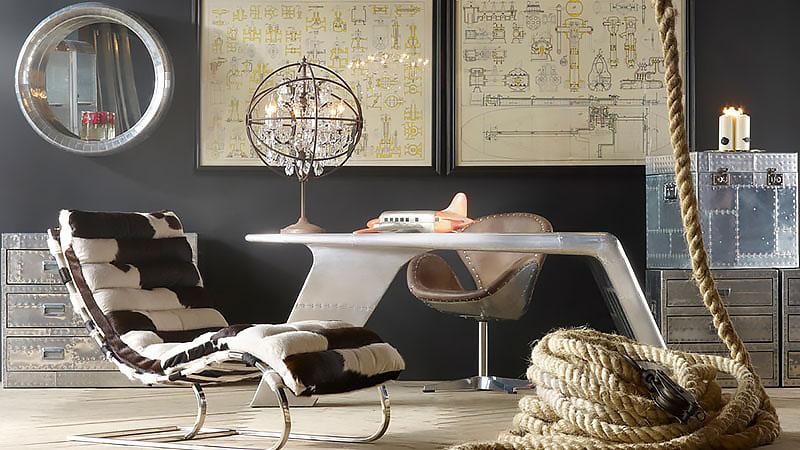 Finding a home office desk you like can be a tricky business. Not only does it need to be practical, but it also needs to suit your house and your style. After all, how can you expect to feel inspired to work, study, design or create while sitting at a desk that's uninspiring? So, to ensure optimum productivity, we've rounded up a list of coolest desks for your home office that'll have you dying to do work.
1. Sequel Executive Desk
You'll never want to leave the office with a desk this stunning. Not only is it multi-functional, but it also looks great in any room. Tuck away your wires with the management tray and any other items with its two spacious drawers. This piece of furniture sits at 6 feet in length, so you'll have a multitude of space for all of your papers and books alike.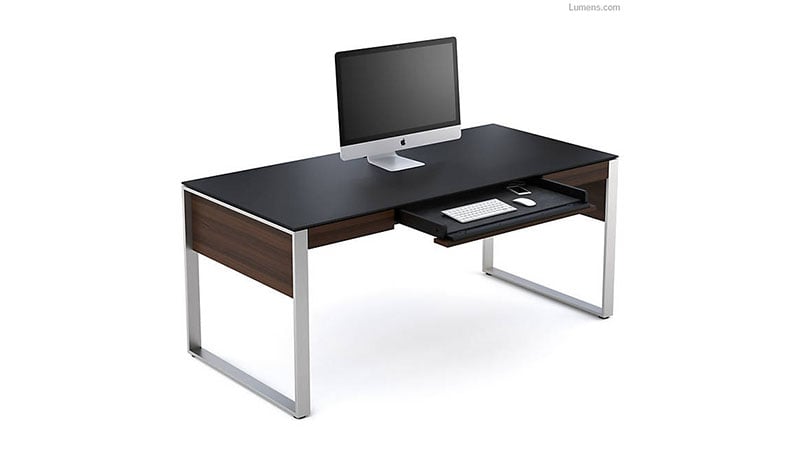 2. Unique Furniture 400 Collection Executive Desk
Executive in name and nature, this desk is for the lover of modern design. Completed with a crisp white finish and scratch-free surface, you'll be the boss as soon as you sit down. It's functional with multiple storage solutions and left-sided return, so you have endless space for your computer, documents and other good stuff.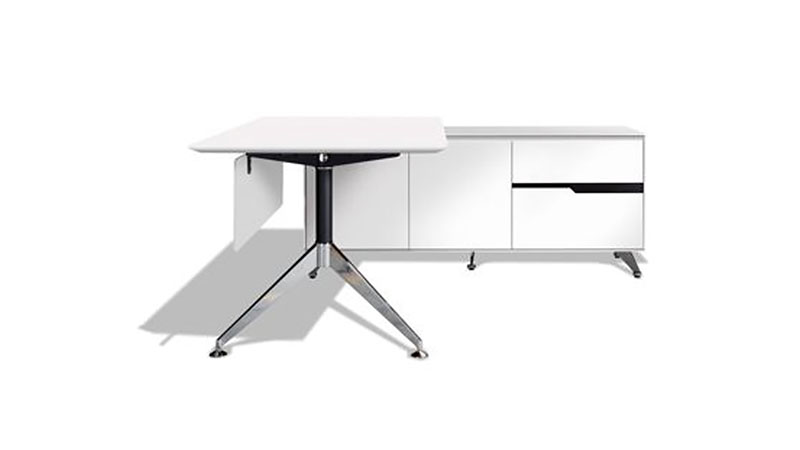 3. Cascadia Desk
Sometimes you just can't beat the classics. This desk is a sure-fire way to get you focussed to the task ahead and do it in style. With clean and modern lines, a sleek wooden build and satin finish, you'll be hard-pressed finding a piece of furniture as good. It features a combination of an industrial and traditional aesthetic, making it the perfect option for a home office.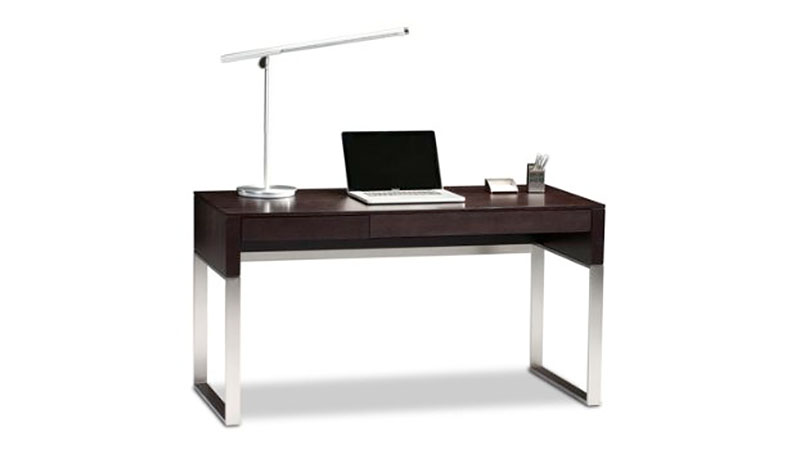 4. Cupertino Desk
The Cupertino from BoConcept has all your desk needs in one stylish package. As well as great storage space and easy cable management, it also features integrated Bluetooth enabled speakers so you can listen to your favourite tunes while working.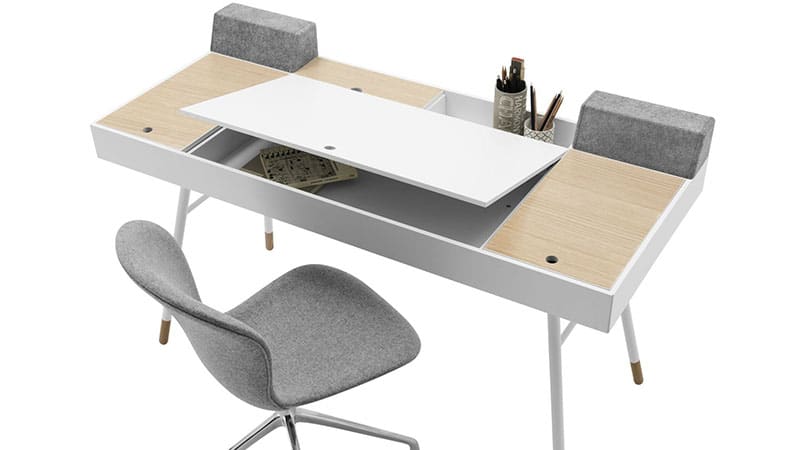 5. Sequel Wall-Mounted Desk
Think outside the box and sit at a desk worth talking about. This wall-mounted office furniture offers functionality with a modern design. Ideal for those who are short for space, you can create the most practical choice without compromising on style. Where else would you find a piece like this?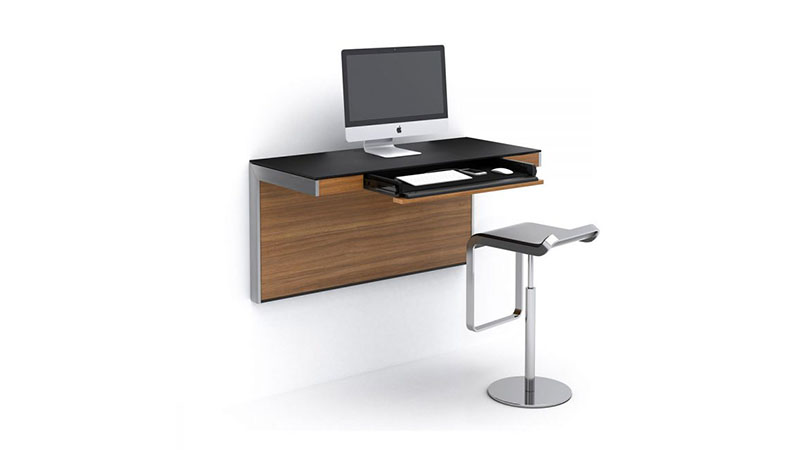 6. Computer Desk – 48″L Silver Metal
Combine function and style with this super sleek desk. Featuring a wooden finish and silver accents, this is an essential piece of furniture for every home office. Store away your notebooks and other work in the two drawers, and keep your keyboard tucked away in the middle pigeon hole. Who would have thought practicality could look so good?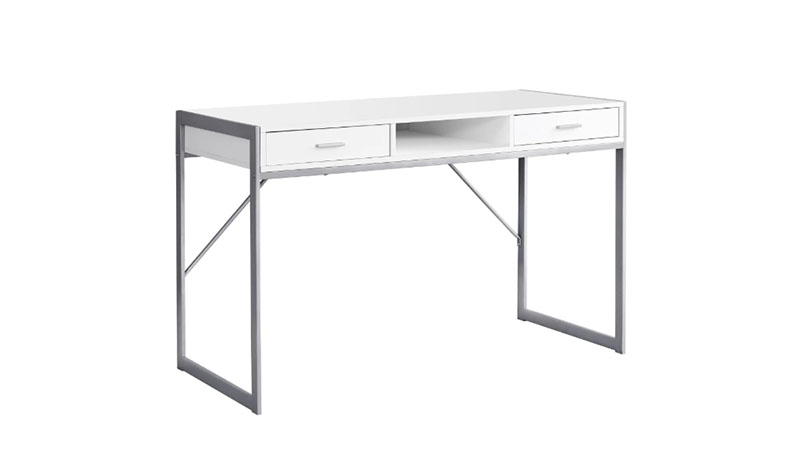 7. LifeSpan Fitness TR1200-DT3 Desk Treadmill
Who said you couldn't have a desk job and keep fit? Have the best of both worlds with this state-of-the-art treadmill. Rather than planning time to exercise, you can now power walk while you're in a power suit. This equipment sits underneath your desk, allowing you to go for a brisk walk while you're working. This takes working out to a whole new level.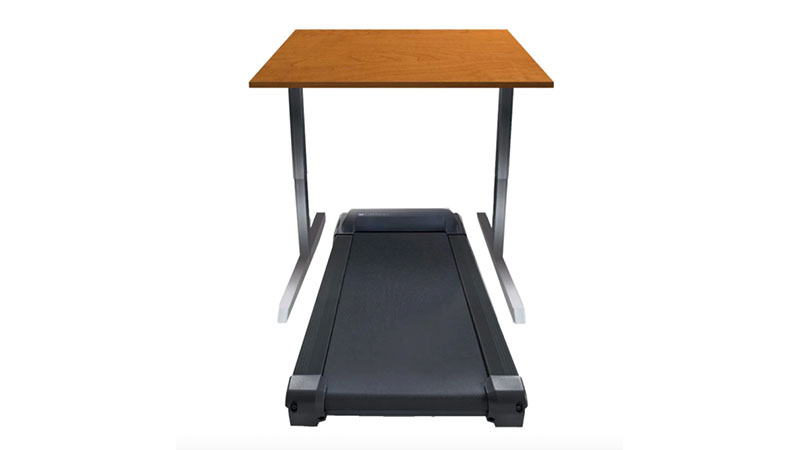 8. Clower Desk
Freshen up your home office with the Clower desk. Get some of your best work done on this unique piece of furniture – it's rectangular shape is complemented by its curved edges. Complete with a sleek white finish and plenty of storage, you'll never want to leave the office again!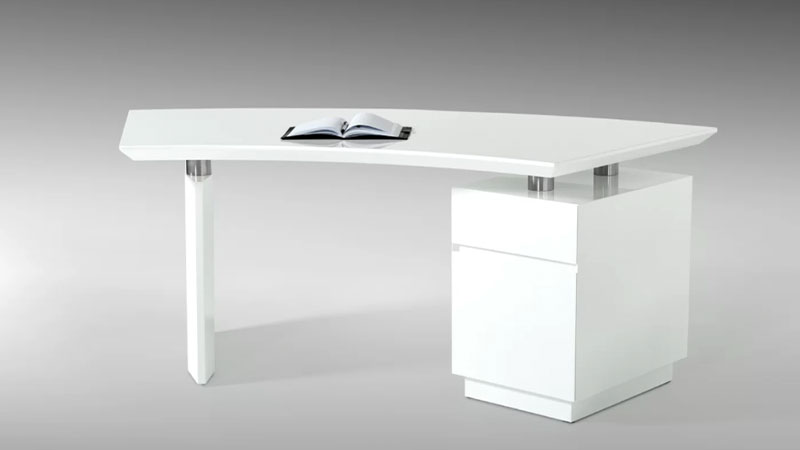 9. Aurelle Home Danielle Mid-century Modern Desk
Not all home offices have to be drab, and this desk proves that. The mid-century styling and modern wooden pattern will complement its surroundings, and the ample storage options will keep you organised. This piece of furniture will sit perfectly in any room, and inspire you to work harder than ever before.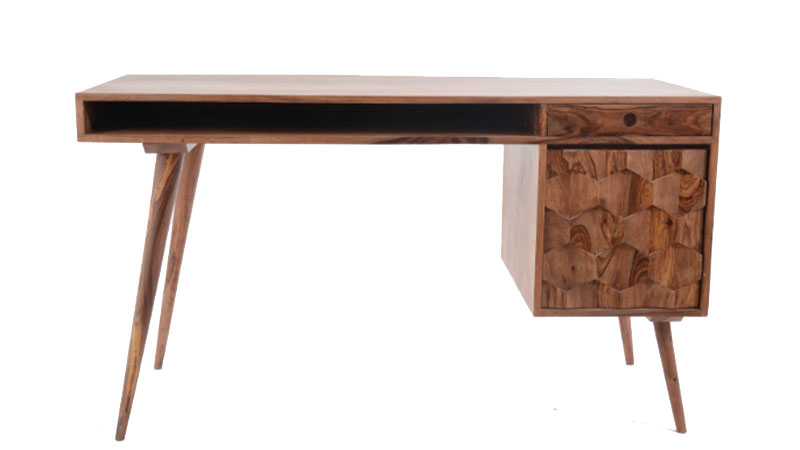 10. Carbon Loft Left or Right Facing Computer Desk
Fill your space with a functional and stylish desk. With an L-shaped design, thick floating tops and sleek metal legs, this piece of furniture is sure to make any home office complete. It's an essential option for those who require extra storage space without compromising on a handsome design.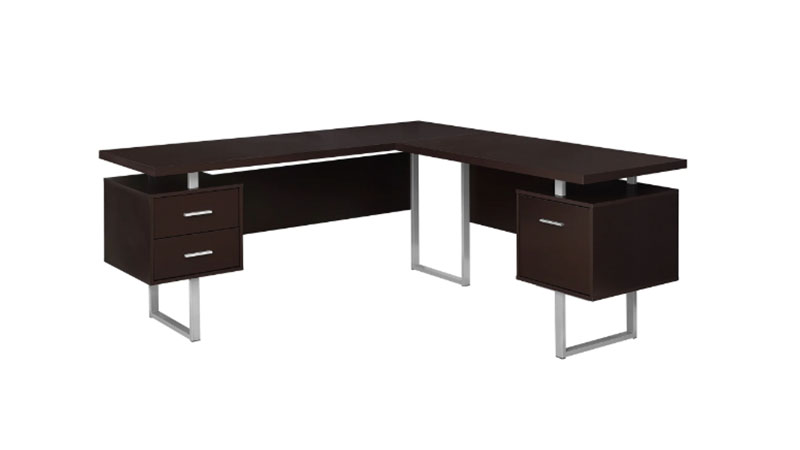 11. Belafonte Bismarck Computer Desk
Make any room in the house your office with this unique desk. The retro design captures the attention like no other, and the functionality is sure to help you get your work done. This sleek piece of furniture features an angular shape, ample storage solutions and plenty of leg room. What more could you need?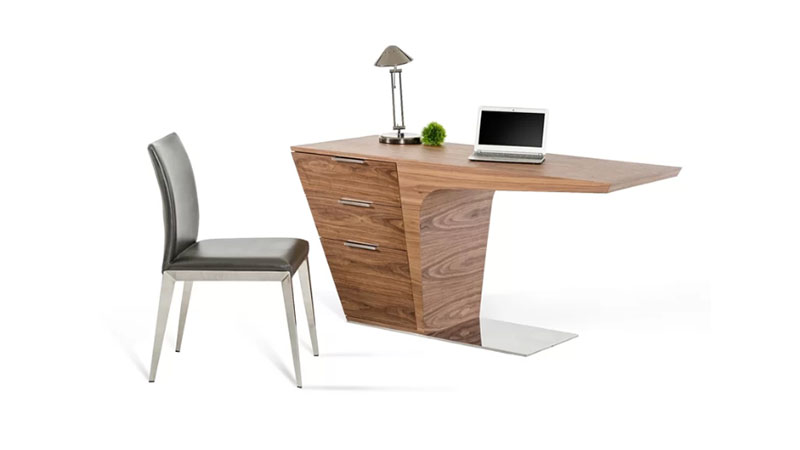 12. Lipscomb Computer Desk
Why blend in when you can stand out? This desk is the perfect solution for those in need of extra storage, and aren't afraid to step outside of the box. With a V-shaped storage area in the back and multiple drawers in the front, you can keep your books, laptop and other papers on hand without making a mess.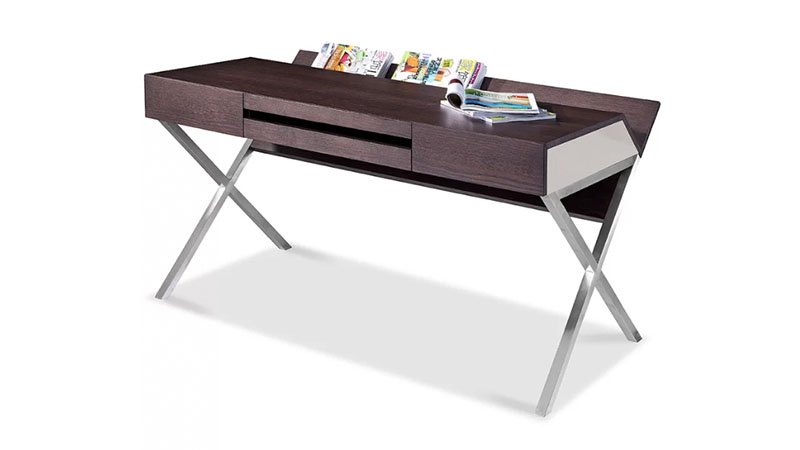 13. Furniture of America Fiora Modern Swivel Computer Desk in White
Switch things up with this modern desk. With a modern swivel design, you can use a single desktop or move the glass top to create an L-shaped work space. This is an ideal piece of furniture for those who enjoy being in a modern environment. With a table this cool, you'll never want to leave your home office again.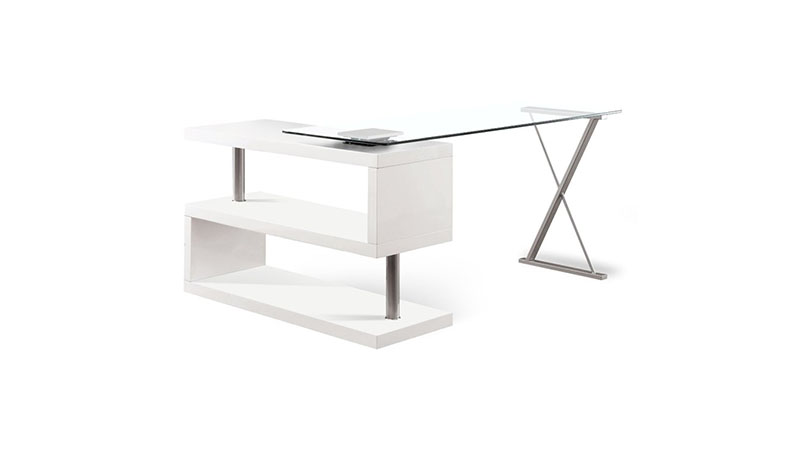 14. Universal #myRoom Veneer Wood Desk
No home office is complete without a neat desk, so why not introduce this one into the mix? This is a perfect option for students or those who are short on space. It's an ideal combination of style and functionality, with ample storage options and a killer style to boot. The white, brown and bronze combination looks fantastic in any room and is sure to make you get your work done perfectly.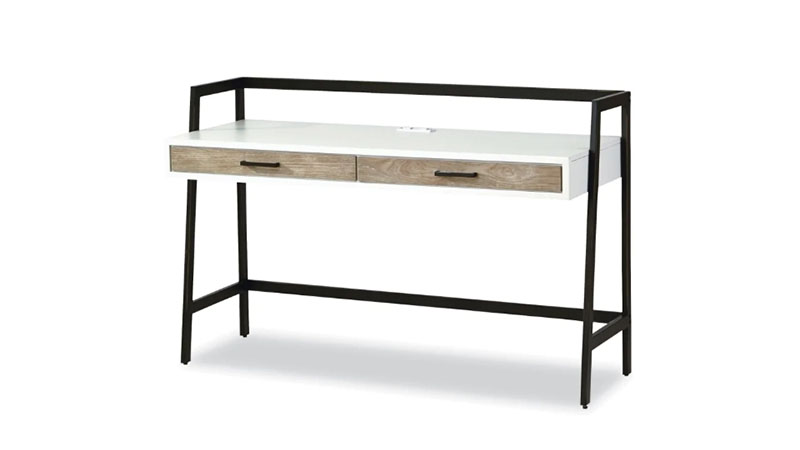 15. Simple Workspace Desk
The Desk 02 from Artifox makes simple stylish with its minimalist design and white oak frame. Functionality hasn't been forgotten either with a built-in dock for your devices, cable grid, and handy hooks.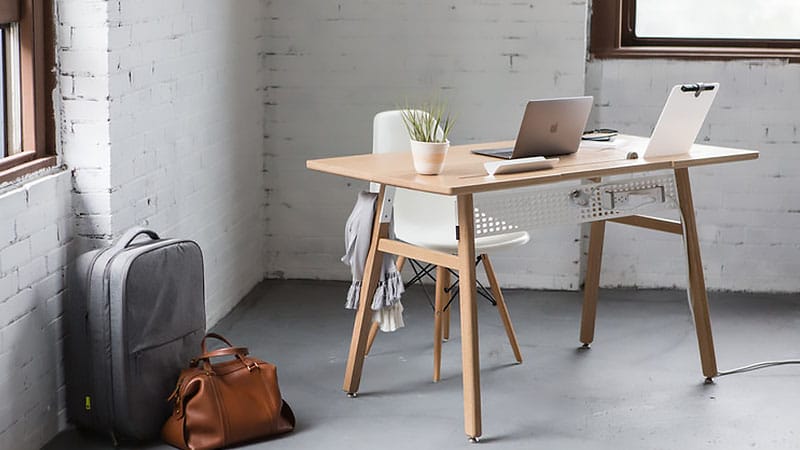 16. Minimal Wall Desk
Your home office doesn't need to be big to be impressive. This Minimal Wall Desk by Orange22 Modern boasts a sleek, floating design with just the right amount of space to be fully functional.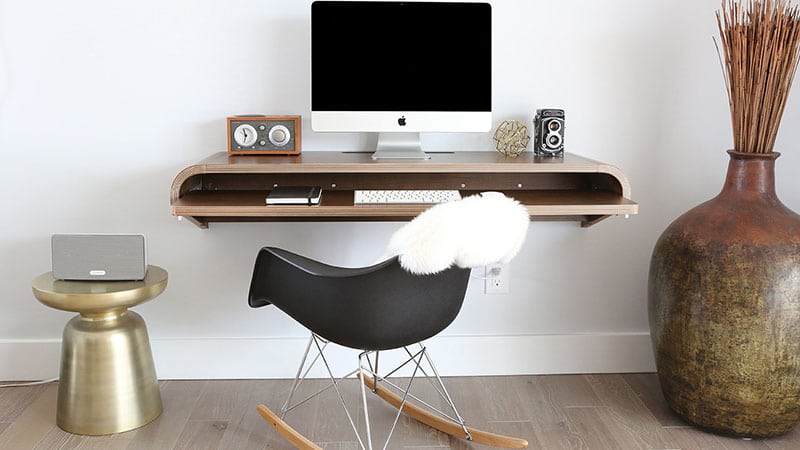 17. Large Transitional Desk
If you're looking for a large desk to suit your home office needs, the Marquetry Desk from Coco Republic may just be for you. While its simple design makes it easily transitional for different purposes, its intricate top and 'X' shaped legs keep it stylish and unique.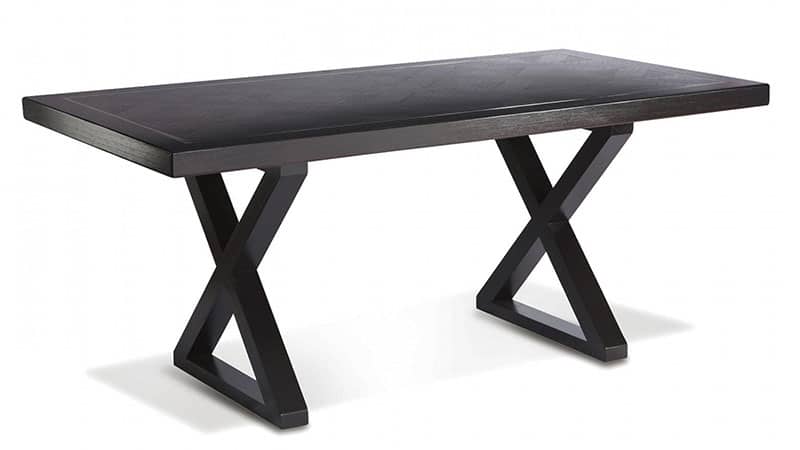 Where conventional designs fall short, Raft by Kasper Rønn and Jonas Bjerre-Poulsen succeeds. This Scandinavian style desk is an incredible two meters long and promises to fit every book, paper, device, and laptop, that you need when working from home.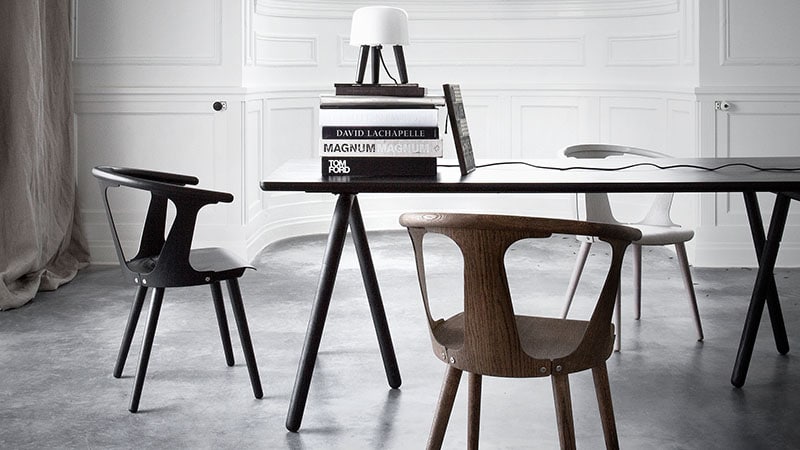 19. Modern Writing Desk
Despite being created as an homage to Carlo Mollino's original design from 1949, the Cavour is incredibly modern in appearance. The desk's sleek and stunning design features a glass top combined with an innovative oak frame, drawers, and compartment.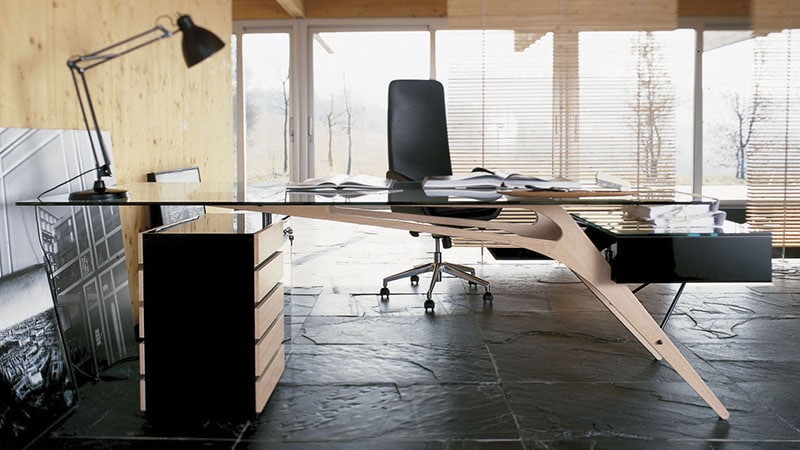 20. Treadmill Desk
For those who can't choose between a home office and a home gym, the Walkstation Desk by Steelcase will solve your problem. By combining a computer desk with a treadmill, this innovative product allows you to work and workout at the same time.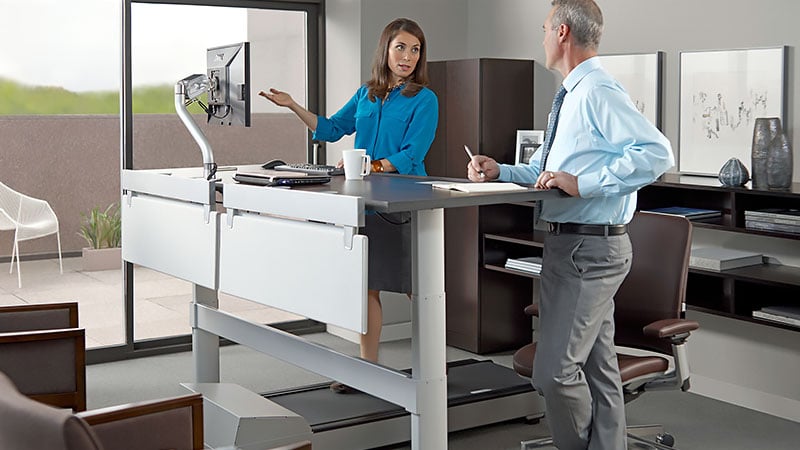 21. All-In-One Desk
The Cupertino from BoConcept has all your desk needs in one stylish package. As well as great storage space and easy cable management, it also features integrated Bluetooth enabled speakers so you can listen to your favourite tunes while working.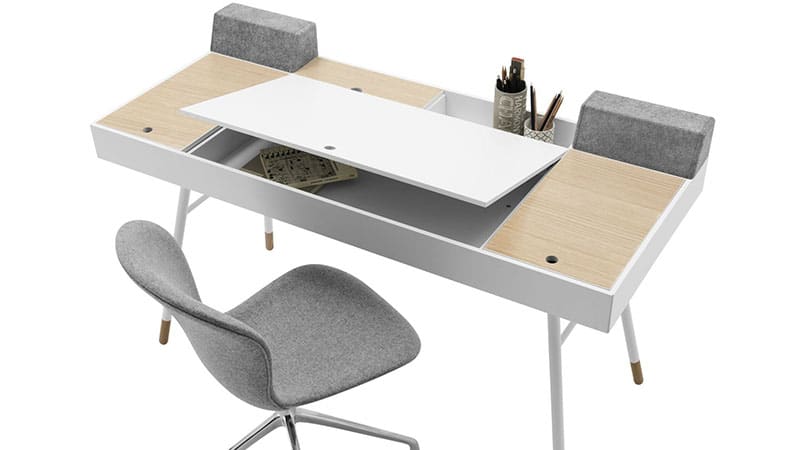 22. Space-Saving Computer Desk
The OneLess Desk by Dean Heckler is designed to help you find a stylish place for your computer while saving space. The cool, nested counters slide neatly beneath each other when not in use to help keep your room clean and organised.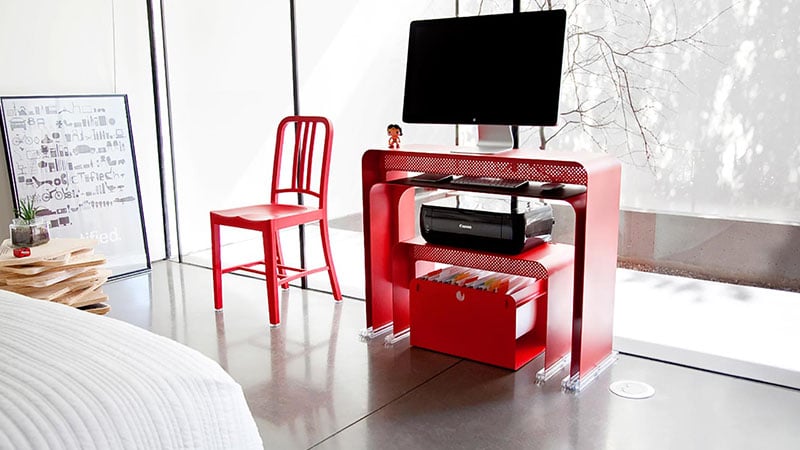 23. Executive Desk
While the Clybourn Walnut Executive Desk by Blake Tovin has everything you require regarding functionality, its design is what makes it stand out. American walnut and stainless steel combine with a unique silhouette to make the Clybourn a contemporary and sophisticated piece of furniture.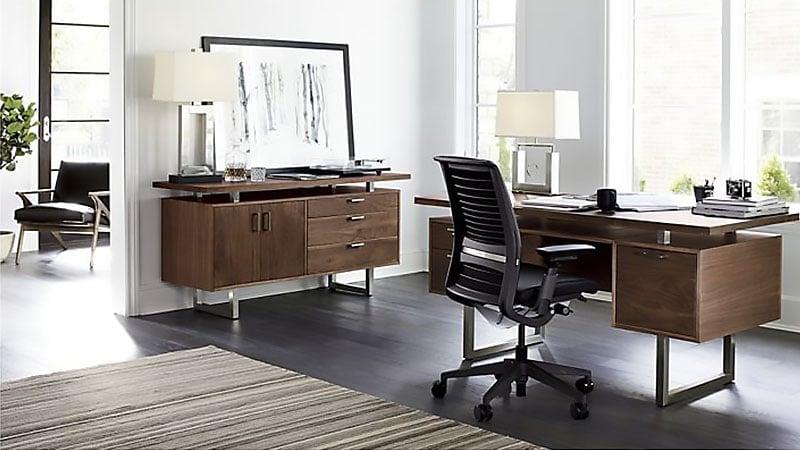 24. Sleek Contemporary Desk
The sleek, Contemporary Desk from Innova Australia is the perfect fit for the modern study. While its combination of wood and metal creates a striking appearance, its minimal structure and design add balance and simplicity.
BUY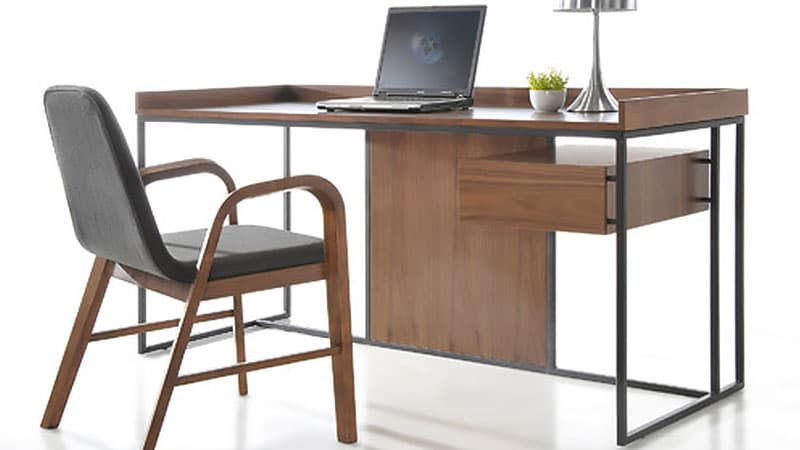 25. Minimal Home Office Desk
The Covet Desk by Shin Azumi perfectly integrates useful and practical storage without compromising any design. Along with a discreet drawer, the desk also boasts a cool storage system between the frame's legs that can act as a paper and magazine organiser.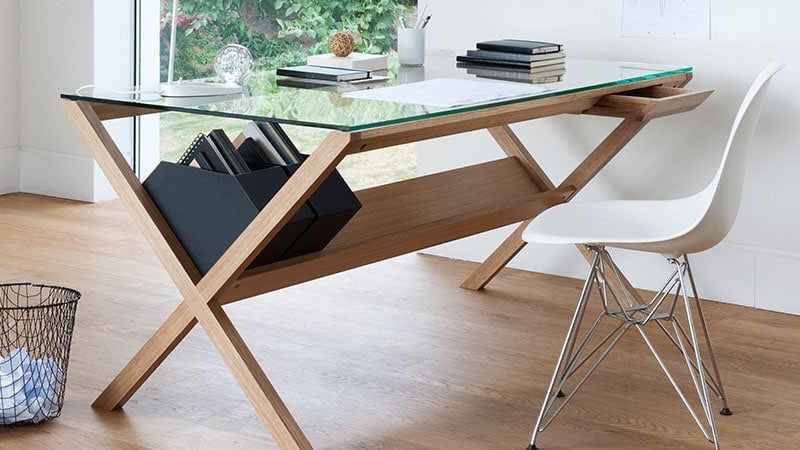 26. Modern Vintage Desk
This Jacob Pemble Modern Vintage Desk straddles two worlds of time. Its standout design has a personality of its own with clean and sharp lines and a stylish blend of materials.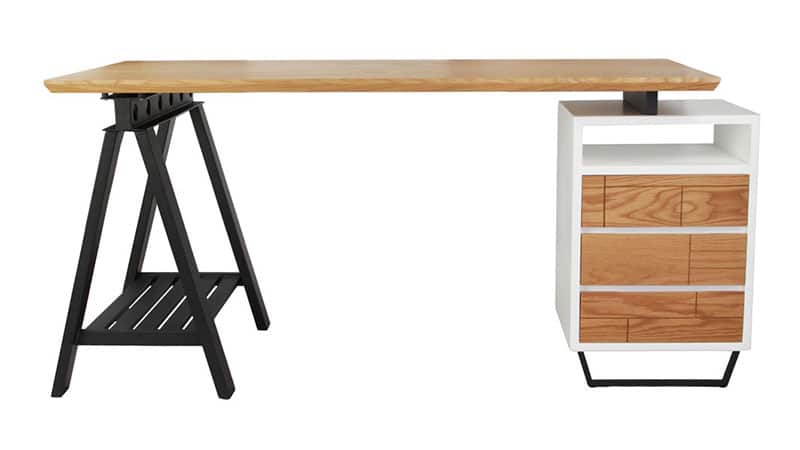 27. Unique Wooden Desk
Made from reclaimed solid timber, the Walter Desk from Coco Republic oozes style. Boasting a bold and unique appeal, this desk would be a stylish addition to any home office.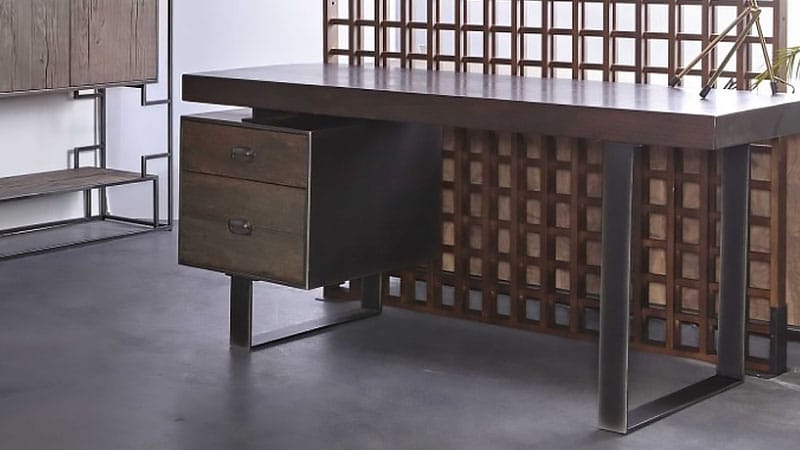 Scandinavian inspired furniture has taken over the design world and continues to dominate the interior style stakes. For those who can't get enough of the trend, this Ash Marc Desk by Milan Direct will be a worthwhile purchase.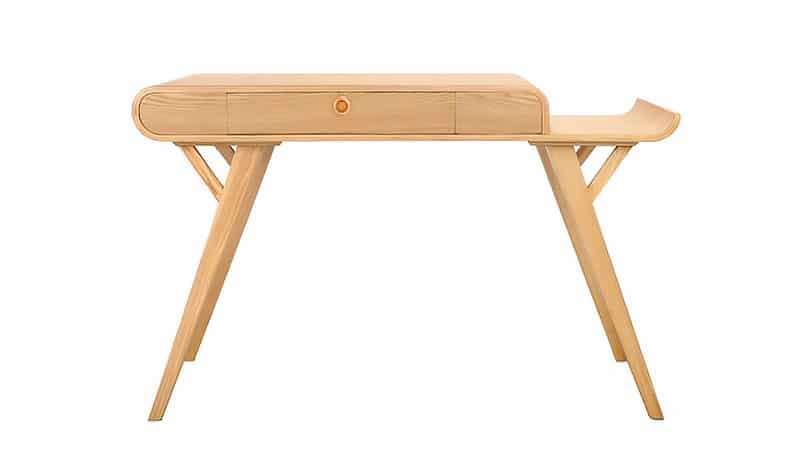 29. Reclaimed Wood Desk
The Atwood Desk from Crate and Barrel is a cool table made with reclaimed wood. Its rustic-meets-contemporary style lends a one-of-a-kind type of character to home offices while its unique, open back doubles as a shelf for books and objects.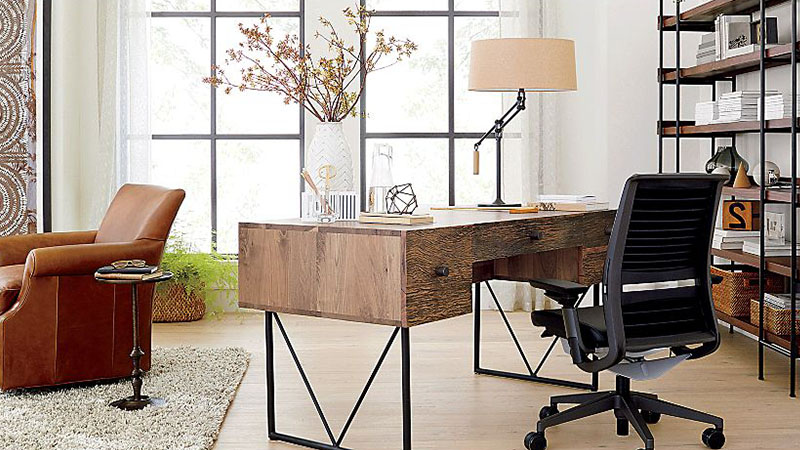 30. Handcrafted Work Desk
Not just any old piece of furniture, the Phoenix 72″ Work Table from Crate and Barrel is handcrafted from reclaimed Brazillian telephone poles. It's this history and natural ageing that gives this desk its incredible character.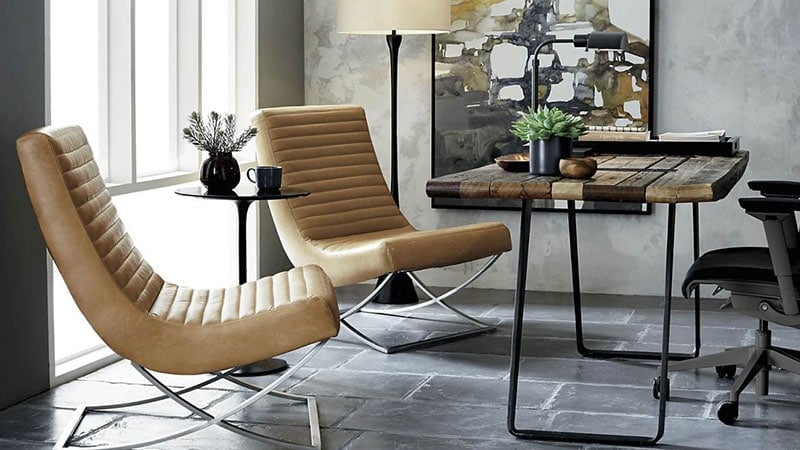 SUBSCRIBE TO OUR NEWSLETTER
Subscribe to our mailing list and get interesting stuff and updates to your email inbox.