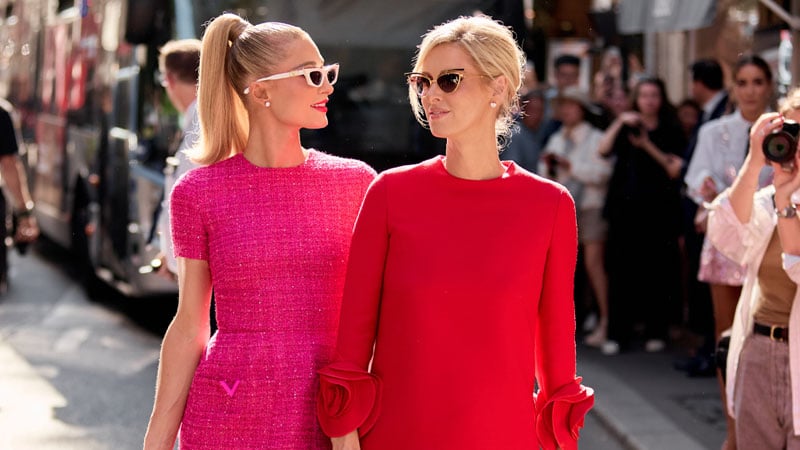 Every season welcomes new clothing and accessory choices, but if you want to look fresh without breaking the bank, we recommend turning to the most popular shades. Using these stylish combinations, you can work with your current wardrobe and give it a new breath of life. And while you're here, it's time to throw out the rule book. This season, we're playing with clashing tones complimentary hues, and throwing in a wild card or two. Whether you combine red, black, and white or stick to natural tones, these color trends of Spring/Summer 2024 will give you a fresh perspective for the upcoming season.
1. Red and Sky Blue
Although red and blue are technically opposites on the color wheel, it doesn't mean they can't create a killer combination. This bold blend of warm and cool shades is the perfect way to make a showstopping outfit, but it doesn't have to be over the top. A blue skirt and a red cardigan may sound simple, but the contrast is daring enough to give it an edge. Add a pair of white or black shoes to neutralize the ensemble, and feel free to mix and match the colors into your accessories.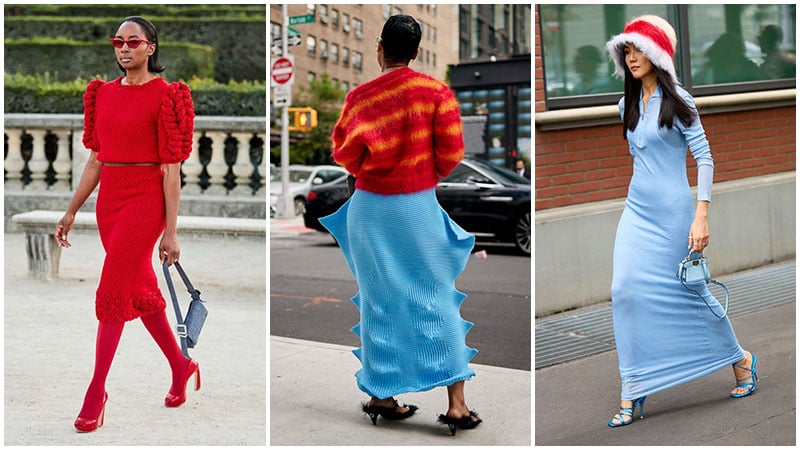 Get the Look
2. Natural Tones
Neutrals have been a staple trend for several years, but it's time for natural tones to take the spotlight. A gradient of browns is the perfect palette to work with as we enter the cooler months, and we're not joking when we say there are endless possibilities. Try a caramel skirt with a deep chocolate blouse and a tan belt that sits between the two shades to marry them together.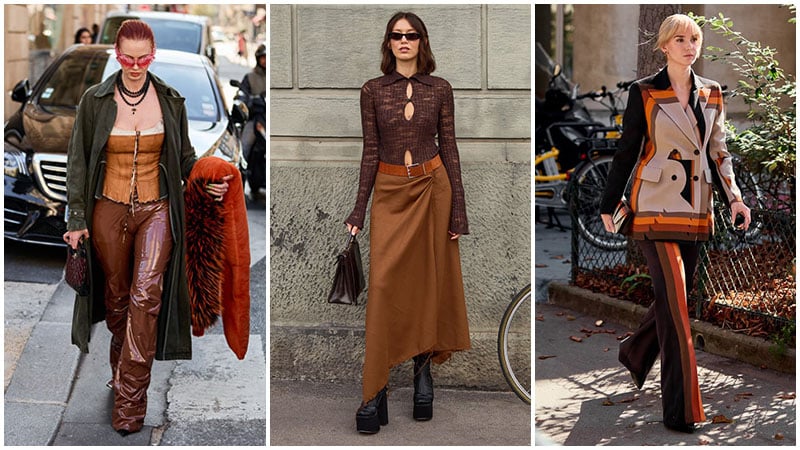 Get the Look
3. Black, White and Red
What is black, white, and red? This hot new color trend, that's what. The combination may seem simple at first glance, but it invites endless styling opportunities, making it one of the most exciting combinations of the season. Channel your inner race car driver with a leather bomber, or take it back to the '80s with a pinstripe suit and a pair of classic red pumps.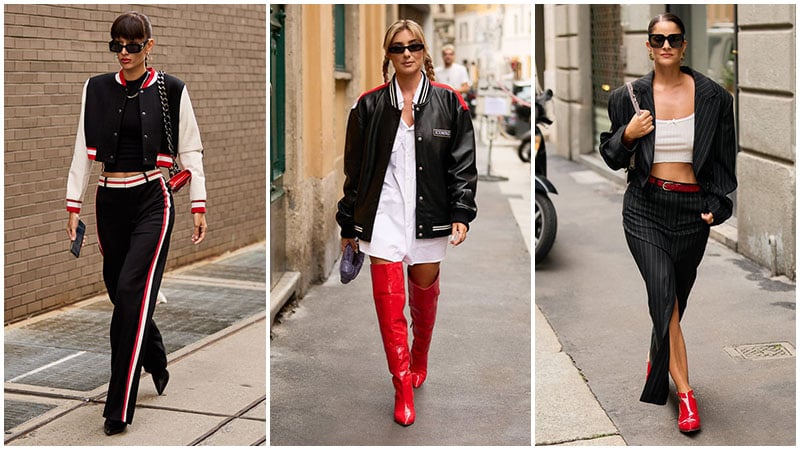 Get the Look
4. Pastel Yellow and Black
If you're looking for a fresh and fruity way to spice up your regular all-black outfit, consider adding a splash of pastel yellow. This combination may seem unusual at first, but it is a striking and energetic way to mix things up. Try a yellow dress with black accessories, or vice versa. For an office-friendly look, take a pastel blazer or button-down for a spin, throwing a black skirt or trousers into the mix for balance and sophistication.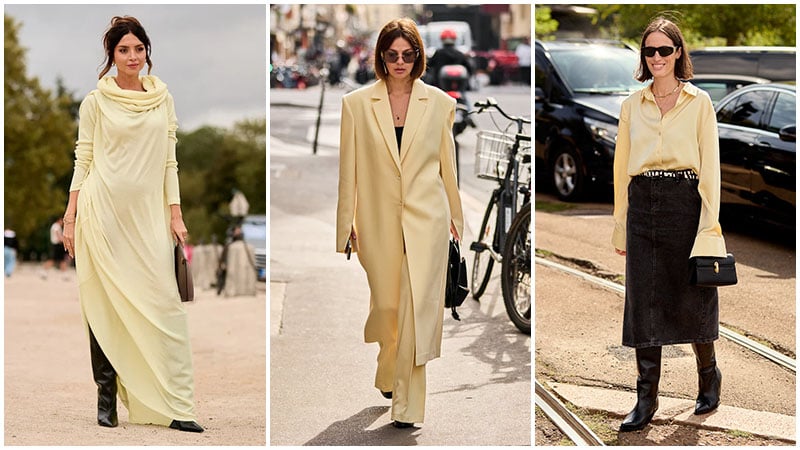 Get the Look
5. Pink and Red
For as long as I can remember, pink and red have been a big fashion faux pas. However, in recent years, we've thrown away the playbook and started appreciating the color combination for what it is – gorgeous! This flirty and feminine blend of soft shades is easy to replicate, with stunning and endless outfit possibilities. Mix a light pink shirt with a red slip dress or a deep red trench coat with pastel ballet flats for a fun twist. The key to getting this right is steering clear of other shades – this duo is dazzling enough to work alone.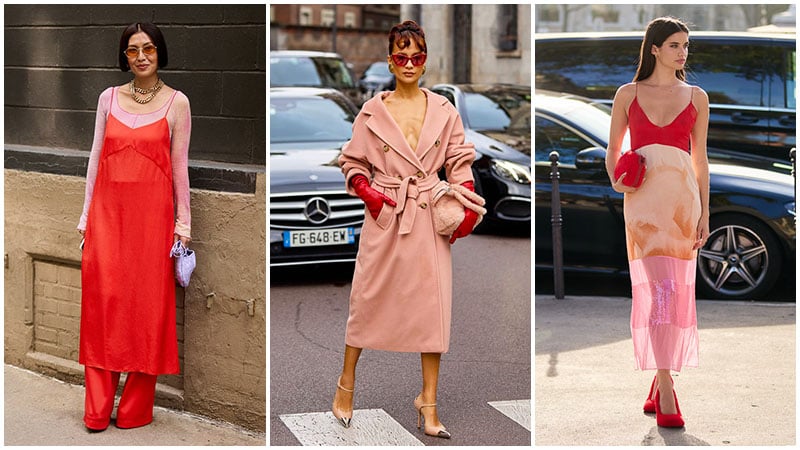 Get the Look
6. Yellow and Blue
Sitting on opposite sides of the color wheel, blue and yellow are a bold and eccentric combination that can brighten anyone's day. To make this work, you should opt for a single shade as the focus garment, such as a yellow dress or a blue suit. Then, add your accessories, such as a blue bag and shoes or a selection of multi-shade jewelry. While it may seem like a daunting trend at first, once you find the perfect shade of yellow that flatters your skin tone, the rest is a piece of cake.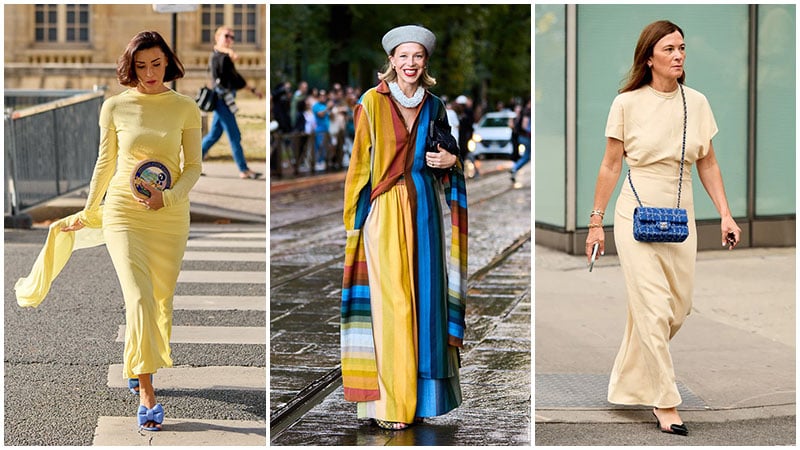 Get the Look
7. Shades of Blue
In the last few years, we've seen an array of pink, purple, and green take over the streets. But now it's all about blue. This cool-toned shade is one of the most flattering and timeless colors to wear, meaning you can rock it at any event throughout the year. From a pair of navy pants and a silk shirt, a la 1995 Gucci, a washed denim dress, or a cobalt mini skirt and pastel boots, there are many choices to try; you will never be out of ideas.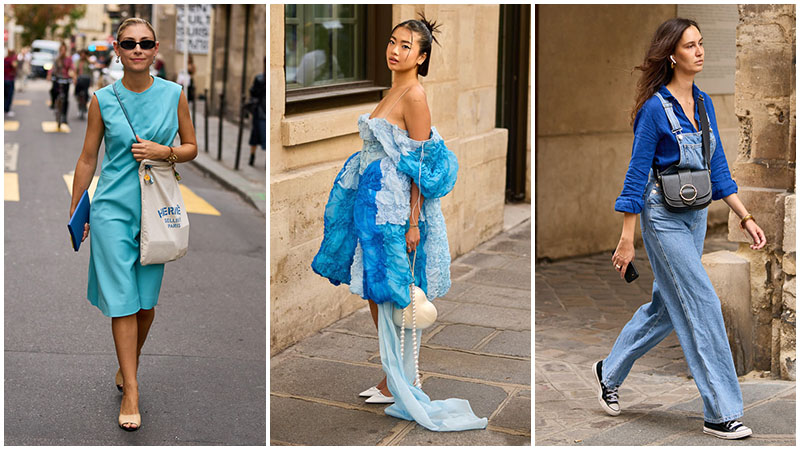 Get the Look
8. Camel and White
If quiet luxury still calls your name, look no further than this classic color combination. Effortless and elegant, camel and white give the same energy as a Hermes scarf or a Ralph Lauren polo. Take inspiration from Prada with a white circle skirt and a brown sweater, or lean into your edgy side with an all-camel shirt, tie, and skirt combination. The key to achieving this look is keeping your accessories to a minimum – it's all about the duochrome, so let it do the talking.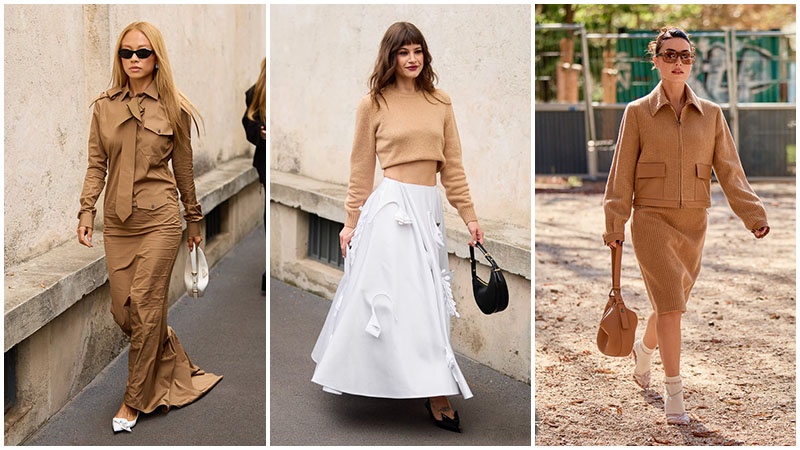 Get the Look
9. Black and Gold
From the runway of Schiaparelli to the streets of Milan, black and gold is the ultimate expression of elegance and refinement. The go-to color combination is easy to achieve and is versatile enough to wear anywhere, be it the office, a party, or just running errands. All-black outfits will instantly feel fresh and elevated with metal accessories, but nothing says bold like an all-gold ensemble with classic black pumps and a clutch. Fortune favors the bold – take a chance and try out black and gold.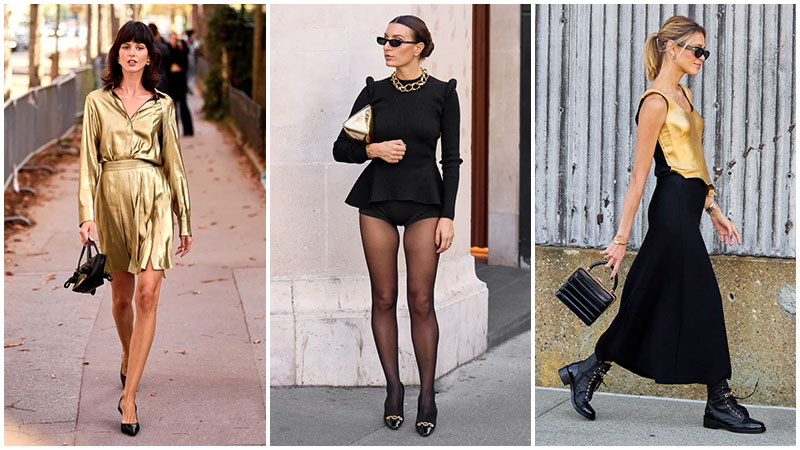 Get the Look
10. Fuchsia and Blue
As with many other color trends this season, opposite shades on the color wheel are taking over. Despite being on opposing ends of the spectrum, they work really well together and create a harmonious blend for your next outfit. An easy way to lean into it is with a pink dress and blue accessories, but if you want to go all out, try a denim jacket and a hot pink skirt, or combine the shades in a tie-dye fabric for a flawless effect.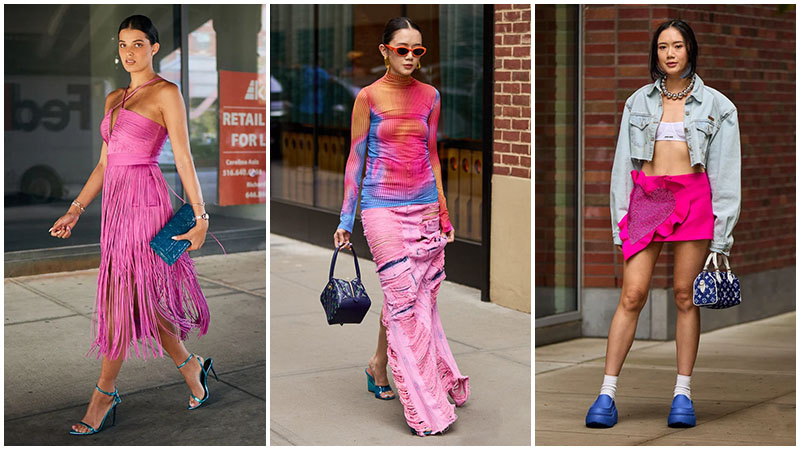 Get the Look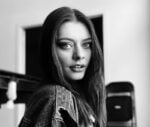 Alexandra Feiam is an experienced fashion writer who holds a degree in journalism. She has an impressive portfolio and expertise working as the Editor at Power Retail and Commercial Content Editor at Newscorp. Ally has been writing for The TrendSpotter since 2018, and her work has been featured in notable publications such as The Herald Sun, Arirang TV South Korea, Kidspot, The House of Wellness, and The Daily Telegraph.
SUBSCRIBE TO OUR NEWSLETTER
Subscribe to our mailing list and get interesting stuff and updates to your email inbox.