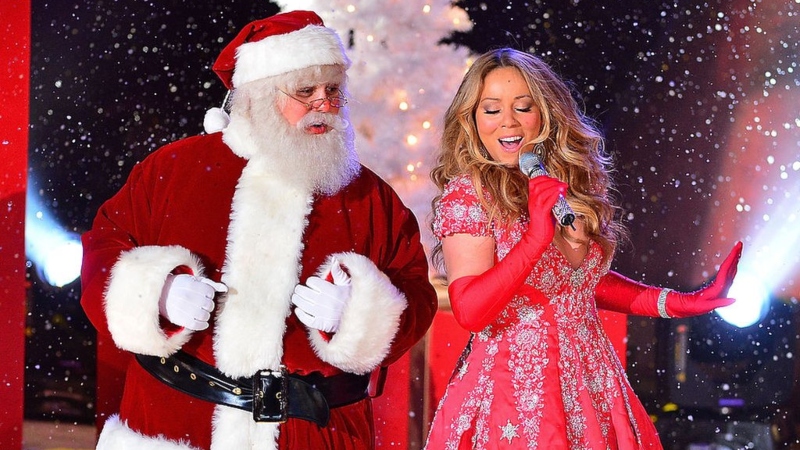 Christmas songs really help to get us into the festive spirit. We hear them on the radio, in shopping malls, and listen to our favorite tunes in the comfort of our own homes. They have the ability to make us dream; maybe we wish for a white Christmas or for our loved ones to come home. They can also bring us joy and cheer as we celebrate the end of one year and get ready to ring in the new one. From the old classics, like White Christmas and Santa Claus is Coming to Town, which has been around for decades and redone multiple times, to new offerings from pop stars like Ariana Grande, there is something for everyone. So, whether you're having dinner with friends and family or getting cozy with your partner, these are some of the best tunes to enjoy!
1. Rockin' Around the Christmas Tree by Brenda Lee
Few songs can get you into the Christmas spirit in the way that Brenda Lee's classic tune, 'Rockin' Around the Christmas Tree,' is able to do. It is hard to believe that the track was recorded in 1958 because it remains relevant today and has sold millions of copies, as well as being one of the most digitally downloaded festive tunes. Thanks to the catchy melody and simple lyrics, it's the perfect song to get you tapping your feet and singing along!
2. We Wish You a Merry Christmas by Enya
Irish singer-songwriter Enya released her fabulous festive track, 'We Wish You a Merry Christmas,' as part of her 2006 album, 'Sounds of the Season: The Enya Collection.' It is one of these songs that will bring a smile to your face and fill you with Christmas cheer. It is also not hard to learn the lyrics, so this tune is perfect for people of all ages!
3. Winter Wonderland by Ella Fitzgerald
Ella Fitzgerald is known for her jazz music, and she also released the unforgettable track, 'Winter Wonderland.' The song debuted in 1960 and remained a festive favorite for decades. Even if you don't live in the northern hemisphere and won't be experiencing a snow-filled holiday season, you can still enjoy it because it's the type of tune you want to play during your Christmas meal, while opening presents, or just relaxing on the sofa with a hot mug of cocoa.
4. The Christmas Song by Nat King Cole
Is any Christmas list complete without a song by the legendary Nat King Cole? We think not, which is why his 'The Christmas Song,' recorded in 1946, is a favorite. Cole's voice is warm, and he makes you want to pay attention to his lyrics about "chestnuts roasting on an open fire" and "folks dressed up like Eskimos." If you won't be spending the holidays in a cold climate, this wintery classic is the second-best thing.
If you want to practice your Spanish, you can do it with José Feliciano's festive track, 'Feliz Navidad.' It means Merry Christmas in Spanish for those who don't know, and Feliciano is a Puerto Rican singer and songwriter. The tune was released in 1970 and became much-loved thanks to the simple chorus and upbeat sound, which is easy to sing along to.
6. Let it Snow by Dean Martin
Listen to 'Let it Snow' by Dean Martin because this is yet another track guaranteed to bring you joy. The song was written by Sammy Cahn and Jule Styne during a heatwave in Hollywood, California, back in 1945. The duo's tune, along with Martin's smooth voice, has made this a favorite that is often heard on the radio during the Christmas holidays.
7. White Christmas by Bing Crosby
The '40s were a great time for festive music, and Bing Crosby released his album titled 'Merry Christmas' in 1945. On it was one of the most catchy tunes, 'White Christmas.' The song was written by Irving Berlin and reminisced about a previous holiday season, covered in snow. If you love when a blanket of white covers the land, and children build snowmen and ride sleighs, then this is the track for you.
8. The Jackson 5 Mommy Kissing Santa Claus
Before Michael Jackson was one of the most popular recording artists of modern times, he was part of The Jackson 5 with his siblings. The group released the track 'Mommy Kissing Santa Claus' in 1970. It was first recorded in 1952 by Jimmy Boyd, but the Jacksons' cover is the one that remains fondly in the memory of everyone who loves the festive season. The focus is on a little child singing about how he saw his mom kissing Santa, but it is just his father dressed up.
9. Driving Home for Christmas by Chris Rea
Our lives can be hectic, but most of us feel we need to spend time with our families during the holiday season. That is why 'Driving Home for Christmas' by Chris Rea remains one of the greatest Christmas songs to date. It was released in 1988 and reminded us all of how we want to travel home to our loved ones during the festive season and how we would do just about anything to make it back in time. Plus, it is fun to sing along to when you're stuck in traffic.
10. All I Want for Christmas is You by Mariah Carey
No playlist is complete without 'All I Want for Christmas is You' by Mariah Carey. Our favorite diva released the track in 1994, and it reminds us of how the festive season is not really about worldly things but about being in love. Her impressive range makes this a must-listen-to tune, although we can't all reach the high notes the way she can.
11. Santa Baby by Madonna
Even the queen of pop has tried her hand at a Christmas track, and you will be glad she did. 'Santa Baby' by Madonna was released in 1987, and her version is fun and upbeat, as she sings about all the things she wants to tick off her Christmas list.
12. What Christmas Means to Me by Stevie Wonder
'What Christmas Means to Me' is a track covered many times but was released by Stevie Wonder in 1967. It is the perfect song to listen to with your loved one and remains just as popular today as it did then. Wonder sings about all the stuff we tend to associate the festive season with; mistletoe, snow and ice, and choirs singing carols. Of all the things he loves about the holiday, the woman in his life makes him truly happy. Who doesn't want to sing along to a track like that?!
13. Please Come Home For Christmas
Not all Christmas songs are happy; take 'Please Come Home For Christmas' as an example. Released by Sharon Jones & The Dap-Kings, it is a heartfelt track, filled with real emotion. The focus is on how the singer will be missing out on spending time with his loved ones, despite all the normal festive activities going on without him. If you won't be home for the holidays this year, or you've recently gone through a breakup, turn up the volume, grab the tissues, and enjoy this classic holiday tune.
14. 8 Days of Christmas by Destiny's Child
We can count on Beyoncé, Kelly Rowland, and Michelle Williams to bring us festive cheer. Destiny's Child only ever released one Christmas collection, but luckily we only need one. The group's fourth album, '8 Days of Christmas', featured 12 songs and was released in 2001. Some of these tracks are classics like 'Little Drummer Boy' and 'White Christmas,' but there were also a few unique tunes, like 'A DC Christmas Medley.'
15. Jingle Bells by Michael Bublé
Michael Bublé is the type of singer you associate with the festive season thanks to his hugely popular album, 'Christmas.' One of the standout tracks is 'Jingle Bells,' and Bublé's rendition, featuring 'The Puppini Sisters', is catchy, fast-paced, and everything you'd expect and want from a Christmas song.
e
16. Underneath the Tree by Kelly Clarkson
Kelly Clarkson has an impressive set of pipes, and her album, 'Wrapped in Red,' is the perfect playlist when you spend time with your family this Christmas. One of the standout tracks is 'Underneath the Tree,' which focuses on how the holiday does not have the same meaning when you are not with the person you love. Like presents, materialistic things are great, but at the end of the day, all most of us want is to share a beautiful experience with those we hold dear.
17. Happy Xmas by Céline Dion
Céline Dion has created over 20 studio albums, and two of them are Christmas collections. 'Happy Xmas' was featured on the 'These Are Special Times' album, which debuted in 1998. The song is a John Lennon's original, which he worked on outside of 'The Beatles.' It was released in 1971 by John & Yoko/Plastic Ono Band. Although it has become a festive favorite, the tune is also a protest against the Vietnam War.
18. Christmas (Baby Please Come Home) by Darlene Love
Darlene Love is considered one of the greatest musical artists of all time, and we should expect nothing but the best from her track, 'Christmas (Baby Please Come Home).' It is also a classic and was released in 1963 as part of a seasonal compilation album, 'A Christmas Gift for You' from Phil Spector. Love's voice is powerful, the lyrics are moving and filled with emotion, and it is the perfect tune to remind you of the importance of spending time with your loved ones.
19. Christmas & Chill by Ariana Grande
Most Christmas playlists are composed of old classics, which we have come to love and regard as a bit of a festive tradition. That said, some new holiday tunes are just as impactful and catchy. Take Ariana Grande's Christmas & Chill album as an example. It was released in 2015 and featured six upbeat tracks, including 'Wit It This Christmas.' It may be a little more seductive and in-your-face than other Christmas songs, but that's what makes it so great.
20. Last Christmas by Wham!
Imagine giving your heart to someone, only to have them hurt you? You can think of 'Last Christmas' by Wham! as both a holiday classic and a powerful breakup ballad. It was released in 1984 and was written and produced by George Michael — although it has been covered by multiple artists since.
21. I'll Be Home for Christmas by Frank Sinatra
For all those traveling home this year, and for those who cannot but are longing to be reunited with their family and friends, I'll Be Home for Christmas by Frank Sinatra is for you. Sinatra puts his spin on the classic, but it was recorded in 1943 by Bing Crosby and is actually about soldiers in World War II and their desire to be home in time for the holidays. The track focuses on all the things the soldier wants, such as snow and presents.
22. Blue Christmas by Elvis Presley
The most famous version of 'Blue Christmas' is Elvis Presley's recording, and who doesn't love a good festive song by the king of rock-and-roll? It was released in 1957 as part of Elvis' Christmas Album and remains just as catchy and relevant now as it did back then. Presley sings about how he will be sad or blue without the one he loves during the holidays. Interestingly, this tune has been around since 1948, when Doye O'Dell first recorded it.
23. Frosty The Snowman by The Ronettes
As a child, you may have dreamt about the creations you made in the snow becoming real, but the closest you ever got to it was thanks to The Ronettes song, 'Frosty The Snowman.' This classic track was released in 1963, and the trio sings about how the jolly happy soul comes to life with his button nose and two eyes made out of coal.
24. Santa's Beard by The Beach Boys
When heading to the mall this festive season, you will likely see a man dressed up in a Santa suit, and if you do, you can think of 'Santa's Beard' by The Beach Boys. It's not a track about snow or loved ones; instead, it focuses on how kids don't get to meet the real Santa Claus, just his helpers. It is super catchy thanks to the repetitive lyrics and music, and a great tune to tap your feet.
25. Hallelujah by Pentatonix
'Hallelujah' is a song that we all associate with the Christmas season, and it has been covered by multiple artists, including Lenard Cohen and Jeff Buckley. One of the best versions is by a cappella group Pentatonix, and it is a more modern approach to the classic. The band released the track in 2016 as part of their 'A Pentatonix Christmas' album.
26. Silent Night by Carrie Underwood
When you're in the mood for relaxation and joy, then Carrie Underwood is the person who can deliver this. She proved she had some excellent skills when she made a name for herself by winning American Idol's fourth season. She has since released multiple albums, including a Christmas one in 2020 titled 'My Gift.' The collection includes our festive favorites, including 'Silent Night.'
27. Santa Claus is Coming to Town by Justin Bieber
'Santa Claus is Coming to Town' is one of the most popular Christmas songs and has been sung by multiple artists, including Justin Bieber. In 2011, he released the album, Under the Mistletoe, which featured several festive classics, but with his own twist on it. Bieber's song is everything you would expect it to be and more.
28. Oh Holy Night by Bob Sirois
'Oh, Holy Night by Bob Sirois' is a little more on the religious side than the average Christmas song, as he sings about "our savior's birth" and how the world long played in "sin and error" before that day. Unlike other festive favorites, this tune is not as overplayed and would be a welcome addition to your holiday playlist.
29. Rudolph the Red-Nosed Reindeer by The Temptations
Santa Claus's most famous reindeer, Rudolf, has a song about him, and The Temptations did a great job with it. In fact, their entire Christmas album, 'The Temptations Christmas Card,' is worth a listen. It was released in 1970 and, to date, it is still one of the best festive collections. This is a track for big and small people, young and old, and will likely bring you joy.
30. Puppies are Forever by Sia
Someone needed to make a statement about gifting pets during the holiday season, and we have Sia to thank for it. Many people think it's cute to put an adorable pet in a box and give it to a loved one, but these animals are not a toy that can be discarded after a few months and are a long-term commitment. You can hear all about it in the 2017 track; Puppies are Forever.
SUBSCRIBE TO OUR NEWSLETTER
Subscribe to our mailing list and get interesting stuff and updates to your email inbox.