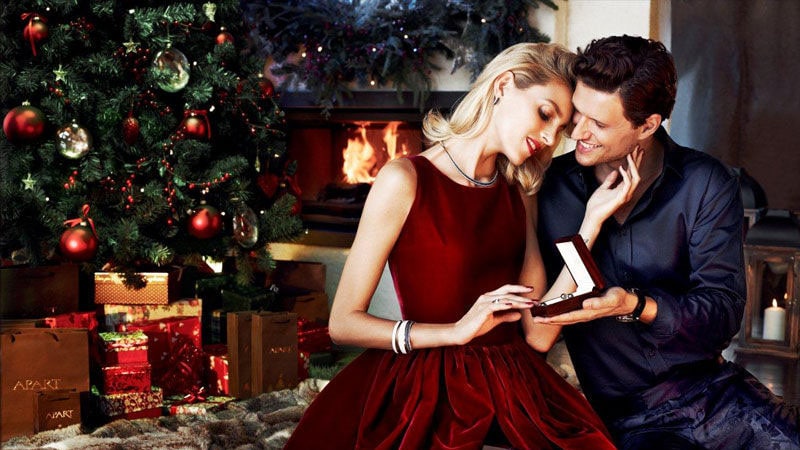 With Christmas quickly drawing closer, it's time to think about that perfect gift for your significant other. However, finding the ideal present for the one you love can sometimes present a bigger challenge than shopping for others. At this time of the year, it's not unusual to become overwhelmed by the million things on offer. Luckily, we're here to help you tackle your holiday shopping with ease. To ensure you can find the perfect gift for the special lady this festive season, we've assembled a list of incredible Christmas gift ideas for her.
Fashion
If your Queen of Hearts has a love for fashion, a chic addition to her wardrobe may be the way to go. One thing most women can never have enough of is purses and shoes, especially when they come in fun seasonal prints like the tucan mini crossbody bag from Furla. When giving clothes like the summery red dress from LIFEwithBIRD, the fun ruffle skirt from C/Meo Collective or a romantic number like this Alice McCall sheer off-the-shoulder top, make sure you know her size – or that it's exchangeable in case it doesn't fit.
TOP PICKS
Little Accessories
Let's get real; chances are your lady has lots of little things floating around in her purse every day. So, why not get something practical and fashionable at the same time to help her stay stylishly organised. Cute pouches like the ones from Kikki-K come in all kinds of varieties. Large, small, with sequins or even personalised with her name on it – the choice is yours. She'll love you for your thoughtfulness.
TOP PICKS
Gadgets
Does your lady have an affinity for tech toys? Then you should consider one of the many fun gadgets currently on the market. You could make Alexa your very own household assistant with the new Amazon Echo Dot. Or a chic rose-gold Apple watch may just be what she needs to stay connected. A new game console, on the other hand, or her very own drone can provide hours of play for the both of you.
TOP PICKS
Home
A gift for the home will make both you and your better half happy. With some nifty little home additions, you can quickly turn your home into a sanctuary of calm. The natural bath soak from the Bath Brew will let her relax after a long day without the uncomfortable feeling of residue in the tub while a unicorn float guarantees summer fun by the pool. The marble oil burner, on the other hand, will not only fill your house with lovely scents but also makes for some neat decor.
TOP PICKS
Funny Gifts
If you're the couple that's not taking yourselves too seriously, a funny gift will bring you joy for Christmas. From a Booze Bangle that will keep the wine flowing on ladies' night with her friends to lavatory literature and fun statement footwear; there's something for every sense of humour. And if you're planning on sharing a few laughs with friends, why not try a new party game like What Do You Meme?
TOP PICKS
DIY
The most amazing gifts come from the heart, and that's often best expressed through a little DIY. So, why not try and surprise her with something a little crafty this Christmas? On the other hand, if your lady is the one in the relationship with the creative gene, you could leave the joy of making something with one's own hands to her by gifting her one of the following DIY kits.
TOP PICKS
Skincare
If you're dating a beauty junkie, you can never go wrong with a professional range of rejuvenating skincare products. Tata Harper's Luminous Glow Collection will repair and nourish stressed skin while the Discover de Mamiel Kit contains a selection of luxurious face oils, cleansing balm and refreshing face mist. Pick a gift pack from one of these professional skincare products, and she'll be excited to try out her lovely gift.
TOP PICKS
Spa and Retreats
For a little escape from reality, treat your lady to a relaxing day at the spa. Whether alone, with a friend or on a romantic getaway for two; this is a gift every woman will love. Treat her to a day of beauty treatments and massages, invite her for a weekend getaway or even experience other wellness cultures, such as at the Onsen Ma Japanese bathhouse.
TOP PICKS
Personalised Gifts
Show her how much you care and how well you know her with a lovely, personalised gift. Thanks to nifty little online platforms like Etsy, you can pretty much personalise anything nowadays. You can go classy with a pretty engraved ring necklace, support her sporty New Year's resolutions with a new personalised water bottle or feed her addiction to scented candles with a customized set. Alternatively, if your lady is a food-lover, you can purchase a cheeseboard with a personal inscription. They're sure to be a hit at your next dinner party.
TOP PICKS
Experiences
The best gift of all, as they say, is making lasting memories together. With that in mind, consider gifting you and your significant other an experience you'll never forget. You could discover the iconic Sydney skyline from the deck of an authentic Tall Ship, admire the vast beauty of the Hunter Valley on a romantic sunset cruise on board of a hot air balloon, or spend a luxury weekend bathing in the natural mineral hot springs of the Mornington Peninsula.
TOP PICKS
SUBSCRIBE TO OUR NEWSLETTER
Subscribe to our mailing list and get interesting stuff and updates to your email inbox.