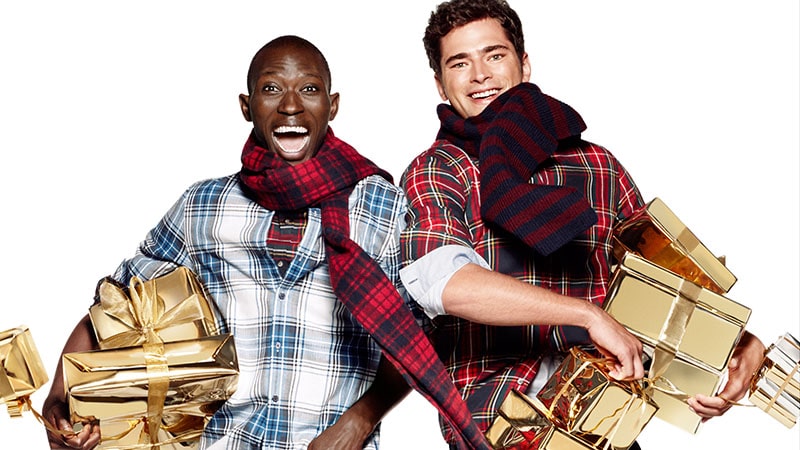 With Christmas getting closer every day, the pressure of finding the perfect gift is skyrocketing. Fortunately, we're here to save you from your shopping stress. From fashion to tech, we have something that will bring a smile to his face with our list of unique Christmas gift ideas for men.
Fashion
Even the most seasoned shopper can appreciate assistance in the style department. So, why not expand your man's wardrobe with the gift of some new fashionable garments? As opposed to the obvious socks and jocks, consider surprising him with a statement piece, such as a new stylish pair of sunnies or some new kicks. The Nike Blazers are a quality pair of everyday leather sneakers that virtually go with anything. Their vintage design instantly adds an air of ease and cool to any outfit. Alternatively, if your man would like some new arm candy, the Timex Weekender makes a sophisticated gifting option. Likewise, the Tommy Hilfiger Ranger leather wallet is a great present option as well as a quality, low-key solution to his everyday storage needs.
Recommended Fashion Gifts
Grooming
Show your partner how much you care this Christmas with grooming equipment that will enhance his regular routine. The products in the Beard Brush and Comb kit by Repsol Care, for example, are made entirely from natural materials like wood and boar bristle for a luxurious grooming experience. The Braun BT3040 beard trimmer, on the other hand, is the perfect present for the man who needs a smart tool to keep his growth in check. For radiant-looking skin, a skincare kit may be the way to go. The Aesop Intrepid Gent Essentials Kit contains a gentle face cleanser, post-shaving lotion, and coriander seed body cleanser. Alternatively, the Baxter of California Signature Set comes with moisturising cream, deodorant, hair pomade, shampoo and more daily essentials.
Recommended Grooming Gifts
Gamer
The sight of a brand-new gaming console or a high-tech screen will make the heart of any gaming enthusiast instantly beat faster. So, if your significant other has a playful side to him, consider upgrading his gaming equipment this Christmas. The new Xbox One X, for example, is currently the most powerful gaming console on the market with six teraflops of graphical processing power and a 4K Blu-ray player. Then, just add the Astro Gaming A50 Wireless Gaming Headset for an incredible non-disruptive sound experience. Likewise, the Corsair K70 Lux RGB Gaming Keyboard will make all his tech dreams come true with a USB passthrough, media controls, and LED backlights. The ultra-wide 49-inch curved gaming monitor from Samsung would certainly be the ultimate cherry on top. You might as well hand yourself the girlfriend-of-the-year award right now.
Recommended Gamer Gifts
Smart Home
Christmas is as good as any time to jump on the 'smart home' bandwagon. With one of these clever inventions, you can quickly ease his household duties while bringing your home into the 21st century. The Ambi Climate, for one, will take away the hassle of constantly adjusting the temperature on your A/C this summer. Set a time and let it choose the perfect temperature based on your preference profile through artificial intelligence. With the addition of the Echo Spot, the control of your house will be virtually on the tip of your tongue thanks to Amazon's smart home assistant Alexa. You can even clean your home via your smartphone with the iRobot Roomba vacuum cleaner. Meanwhile, the Thermomix TM5 will whip up a festive and wholesome meal at the push of the button.
Recommended Smart Home Gifts
Novelty Gifts
What do you get a man who already has everything? How about some fun and entertaining knick-knacks from the novelty department? A party game like What Do You Meme will provide hours of delight during your next social gathering. If the Bitcoin craze has taken hold of him, how about a real, gold plated version of the cryptocurrency? If he's into science-fiction, a smart-looking pair of Death Star cufflinks may be the perfect addition to his accessory collection. Or, if he hits the couch as soon as the sporting season starts up, then some game day socks should definitely find their way into his drawer.
Recommended Novelty Gifts
Outdoor Gifts
If your man loves exploring nature, some robust adventure gear may just be what he needs. The waterproof Trakk Shell backpack, for instance, provides a secure and compact storage solution for his outdoor equipment. In addition to its waterproof hard-shell cover, it features a built-in Bluetooth sound system and a power bank to charge his devices on-the-go. The 13-in-1 Emergency Survival Kit, on the other hand, will equip him with an array of useful tools during his getaway. Amongst other useful things, it contains a golden compass, folding knife, fire starter and emergency bracelet. Meanwhile, he might find a new best friend in the Suunto Ambit3 Peak HR. This little gadget will deliver accurate measurements of his surroundings, including altitude and weather. It can also be synced to and customised via his smartphone.
Recommended Outdoor Gifts
SUBSCRIBE TO OUR NEWSLETTER
Subscribe to our mailing list and get interesting stuff and updates to your email inbox.