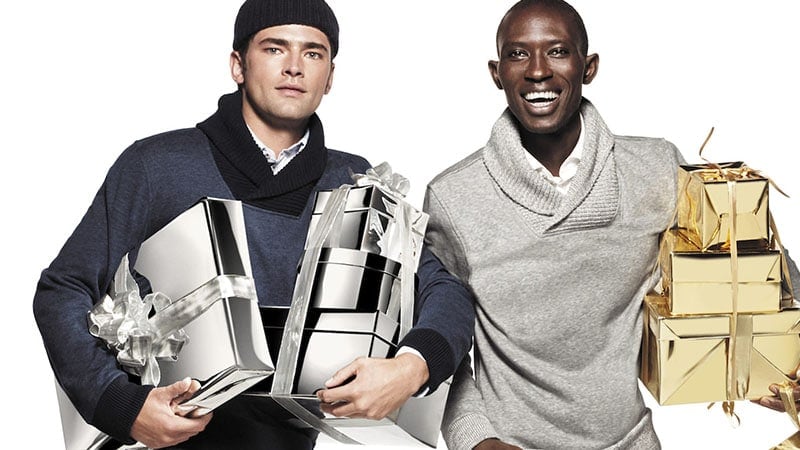 When it comes to Christmas, men can be notoriously difficult to shop for. Luckily, we're here to help with a fail-safe list of great gifts for gents. From the cool pieces of technology he's been craving to the stylish accessories that'll complete his wardrobe and even the grooming essentials he needs in his life, we have compiled some great present ideas to ensure your man has very happy holidays. All you need to do is hit the "Buy" button and prepare yourself for a wave of gratification come December 25th.
The Traveller
For the man with itchy feet, keep him fully equipped with some of the best travel gifts. It's always better to overprepare; these are the perfect ones for the man who spends all his time in the air, city hopping or just travelling for business. From Melbourne to Montreal, these pressies will keep his stuff safe and make his journey a lot more relaxing. The only thing you can't gift him is an on-time flight.
Mr Gadget
Mr Gadget is always on the lookout for the newest and most innovative tech, so why not help him out with some of these out-of-the-box ideas. If he's always wanted a smart home, then he needs an Echo Dot with a few Hue bulbs to go with it. If his smartphone is state-of-the-art, but the battery depletes fast, gift him a portable charger. These presents are perfect for the tech-head who is ready for the future, right now!
The Outdoorsman
For the man who spends more time with Mother Nature than his own mum, these gifts are sure to keep him enthralled. Whether he wants to capture every second of his trip on camera, or he needs a screwdriver on hand, there are so many fantastic gifts to suit his outdoor needs. No matter where he is, or where he's planning to go next, these presents will keep him prepared for anything and everything.
The Groomer
Keep him looking his absolute best with these grooming and face care essentials. These presents are ideal for the man who takes serious pride in his appearance, and who enjoys treating themselves. Keep his beard looking full and luscious and his skin looking fresh with these grooming gifts. Thanks to these Xmas gifts, he may just fall in love with himself.
The Watch Lover
If he has his eye on the prize and the time, these presents will only fuel his love for his watch. Whether he's a collector of Rolexes or his pride and joy is his Apple Watch, there's something for everyone. Keep his smartwatch juiced up with a sleek charging dock, or store his favourite timepieces in a smooth and secure case; the gift ideas are endless!
Boozy Man
Now and then, a glass of whiskey goes down real nice. For the man who enjoys a crisp glass of wine or a carefully crafted cocktail, these gifts will get them drunk with happiness.  Your guy will be head over heels once he's able to craft his own beer, entertain all the lads with alcohol-themed card games and master the best cocktail for the perfect night.
Fashion Lover
Finding a gift for the man who has a passion for fashion can be a bit tricky, so here are a few pressies that are sure to set his heart alight. If he already has heaps of clothes but can't organise them to save his life, opt for a pressie that pushes him in the right direction. If he's got his eye on a new piece of clothing, but you're not exactly sure what it is, a gift card is always a good idea.
Music Lover
Let him feel the rhythm with these amazing music pressies. Whether he's a muso or has every album by the Beatles, these gifts are the best way for him to up his music game. Get him to start creating some beats of his own or make the most of a heavy bassline with a state-of-the-art speaker. For those who love nothing but Fleetwood Mac or Led Zeppelin, choose vintage-style amp speakers and watch him have the best Christmas yet!
Food Lover
Don't forget to kiss the cook! If he's a sous-chef in the making or just a grill master, these treats will keep them whipping up the tastiest dishes. If he always forgets to clean the grill afterwards, give him a hint with an innovative BBQ cleaner. Watch him show off his sushi rolling skills or make mouth-watering crème brûlées with ease, thanks to these delicious Xmas gifts.
Fitness Junkie
When it comes to the guy who practically lives at the gym, buying a gift can be as tricky as mastering a single-finger push up. Luckily, these presents are perfect for the fitness junkie who has everything. Keep track of his movements with a health-focused smartwatch and lift his weight game with dumbbells. It doesn't matter if he's into yoga or F45, these Christmas goodies will keep him ready for action!
Pet Lover
If he loves his fur baby more than anything else in the world, these gifts are essential. Not only are they perfect for the pet lover, but they're also perfect for the pet. Let him keep an eye on his playful pup while he's at work and keep his curious kitten entertained while he's on holiday. These will allow your pet-lover to be immersed in the world of their little pal, and you'll be in their good books for sure!
SUBSCRIBE TO OUR NEWSLETTER
Subscribe to our mailing list and get interesting stuff and updates to your email inbox.