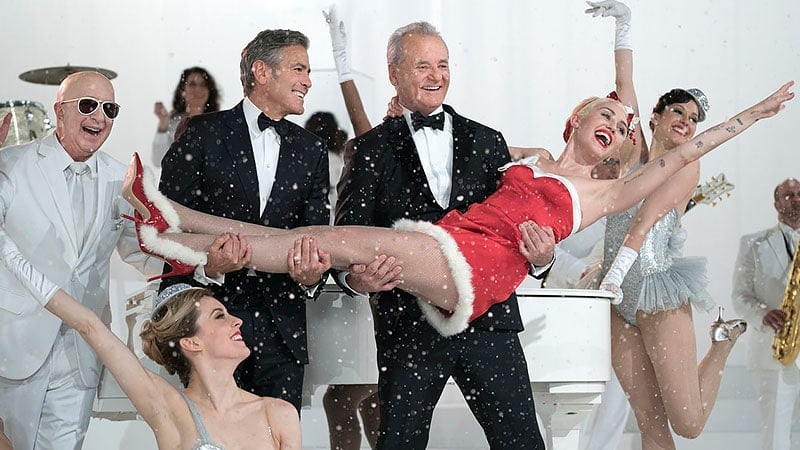 As the year comes to an end and Christmas draws near, there's no better way to get into the holiday spirit than with a festive film. While there are plenty of heart-warming classics out there, it's often the movies that make us laugh that create the most joy. So, to celebrate this merry season, we've created a list of the best Christmas comedy films to watch. From charming childhood classics to hilarious new releases, this list contains all the top comedies to have you smiling, laughing, and singing carols all month long.
RELATED: 55 Best Christmas Movies You Need to Watch
1. Office Christmas Party
While there are plenty of classic Christmas comedies around, it can often be hard to find a new one that brings about the same fits of laughter and holiday cheer. This year's offering, Office Christmas Party ticks all the boxes and is sure to become a new classic. Featuring a great comedic cast that includes Jennifer Aniston, Jason Bateman, Olivia Munn, and T.J. Miller, this newly released film is worth heading to the cinema for. As aptly named, the movie tells the story of an office Christmas party, although not your average one. In an attempt to throw an epic party to land a client, things get hilariously out of control.
2. How the Grinch Stole Christmas
We all know the tale of the Grinch, but Jim Carey brings the character to life in How the Grinch Stole Christmas. Despite being 16 years old, this Christmas classic directed by Ron Howard is one that never gets old. Funny man, Carey excels at the role of the green, revenge-seeking Grinch as he attempts to ruin Christmas for the citizens of Whoville. Creeping down from his mountaintop home to steal everything holiday-related, the Grinch encounters a hiccup to his plan in the form of Cindy Lou Who, played by the young Taylor Momsen. Based on the book by Dr. Seuss, this film is a light-hearted laugh for the whole family.
3. Bad Santa 2
In 2003, we were first introduced to Willie, a very inappropriate and un-festive department store Santa. Played by Billy Bob Thornton, Bad Santa had us laughing at everything we shouldn't as he and his "Little Helper" attempted to pull off a Christmas crime and rob the store. In 2016, the gang is back at it again, including a grown-up and hilarious Thurman Merman. This time around, Bad Santa is joined by his mother, who is played by Kathy Bates, as they attempt to rob a charity. Filled with plenty of politically incorrect jokes, foul language, and sex, these black comedy films are certainly only for an adult Christmas. We recommend a movie marathon of both films to achieve the full effect.
4. Home Alone
Home Alone is the ultimate Christmas comedy and if you haven't seen it, chances are you've been living under a rock. If you have seen it, you'll find that it's still well worth revisiting this Christmas for a good old laugh. The wacky film, which was written and produced by John Hughes, stars Macaulay Culkin as a boy who's accidentally left home alone at Christmas. As his large family jets off to Paris for the holidays, Culkin's character, Kevin, awakes to find that they are gone. Trouble then ensues when Kevin is forced to defend his house from two robbers looking to take advantage of his family's absence. What follows next is a fury of zany antics that will have you in stitches as you cheer on Kevin to defeat the bad guys.
5. Christmas with the Kranks
Starring Tim Allen, Jamie Lee Curtis, and Dan Aykroyd, Christmas with the Kranks is the hilarious film adaptation of John Grisham's novel Skipping Christmas. In this holiday comedy, the Kranks, who are generally yuletide-loving folks, decide to skip Christmas after learning that their daughter will not be home for the holidays. Trouble then ensues when the Kranks' lack of participation in Christmas celebrations causes a rift between them and the community. All of this is capped off with a sudden change of plans that will see their daughter return for the holiday and a mad rush reinstate the Christmas spirit.
6. Just Friends
Going home for the holidays inevitably means running into people from your past and that's exactly what Chris Brander finds out in this film. Played by Ryan Reynolds, Brander unexpectedly heads home for Christmas only to run into his high school crush and former best friend. Now a big success and womanizer, the formerly-overweight Brander views the meeting as a second chance to get the girl he's always wanted. Things don't quite go to plan, however, as the leading man soon finds that he's out of his element in his old hometown.
7. A Very Murray Christmas
A Very Murray Christmas is a 56-minute musical comedy that must be seen. Naturally, the film stars Bill Murray in all his comedic glory. In the movie, Bill wakes on the morning of his live holiday TV special to find that a terrible snowstorm has occurred in New York. With most means of transport shut down due to the weather, Bill worries that most of his guests will be unable to make the show. With a little help from the likes of George Clooney, Miley Cyrus, Chris Rock, and Amy Poehler, however, things start to look up.
8. Elf
Elf is a goofy holiday film starring the ever-funny Will Ferrel. In the film, Ferrel plays Buddy, a human who was accidentally transported to the North Pole as a baby and raised as an elf. After a fully-grown Buddy finds that he no longer fits in with the elves (both figuratively and literally), he heads to New York City to find his biological father. On his adventures, Buddy navigates common human issues, such as family relationships, getting a job, falling in love, and fitting in. On top of that, he also finds himself charged with saving Christmas after Santa experiences some trouble. Charming, light-hearted and festive, this film is perfect for getting you into the happy holiday spirit.
9. National Lampoon's Christmas Vacation
The National Lampoon's films may not exactly be highbrow, but they are funny and beloved by countless people. The Christmas Vacation installment of the series is no exception and delivers on the easy laughs and silly smiles. The film reunites viewers with the Griswold family with Chevy Chase once again starring as the head of the household, Clark Griswold. Despite foregoing their usual trip, in this movie the family must survive Christmas at home. With a surprise visit from the extended family on the cards, as well as the usual Griswold antics, the holiday naturally turns into a complete disaster for your entertainment.
10. Love Actually
When you're in the mood for a Christmas rom-com there's only one movie to turn to, Love Actually. Since its release in 2003, the film has become a bona fide holiday classic with viewers loving its unique brand of storytelling. Featuring plenty of humor and heart, the film tells the story of Christmas in London through nine intertwined stories about love. Amongst the tales, there's the Prime Minister who falls for a young staffer, a married man who's tempted to stray from his wife, and a grieving father connecting with his step-son. As well as a packed narrative, the film also features a cast filled with A-listers. Included in the countless names is Hugh Grant, Colin Firth, Liam Neeson, Keira Knightley, Alan Rickman, and Bill Nighy.
Fun Christmas Comedy Movies FAQs
What are the top 5 Christmas movies?
It's hard to determine a definitive list of the top 5 Christmas movies; however, the front-runners are reasonably consistent. They include Home Alone, Elf, It's a Wonderful Life, Love Actually, and A Christmas Story. Other hot contenders include Miracle on 34th Street, The Grinch, Die Hard, National Lampoon's Christmas Vacation, and The Nightmare Before Christmas.
What is the most viewed Christmas movie?
Money.co.uk researched the most searched movies around the world during the festive season in 2019. Top results include Love Actually, Elf, and The Nightmare Before Christmas.  
What should I watch for Christmas?
Ideally, a Christmas movie will have a feel-good vibe. You could go old school with a classic like It's a Wonderful Life or Miracle on 34th Street. Modern classics include Love Actually, Elf, and National Lampoon's Christmas Vacation. However, if you're looking for something a little left of field, Die Hard and Gremlins are both popular non-traditional Christmas movies. However, if you've seen all of these, most streaming services, such as Netflix, release new Christmas movies every year, such as A Christmas Prince, The Christmas Chronicles, or The Knight Before Christmas.
SUBSCRIBE TO OUR NEWSLETTER
Subscribe to our mailing list and get interesting stuff and updates to your email inbox.