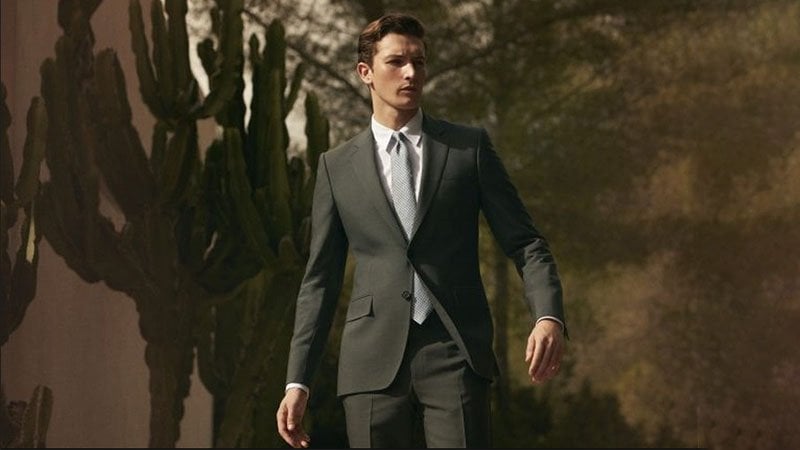 Has your heart dropped when you saw an event invitation that demands a formal dress code? Now, you have to get a suit, and you're not even sure where to start. Let alone how much you have to pay. Well-tailored outfits can often set you back a pretty penny, but this doesn't have to be the case. So many brands offer excellent quality suits, and they're stylish enough that you can keep them in your wardrobe and bring them out whenever the occasion calls. We have provided a list of the most affordable suit brands that will have you looking like a million bucks without breaking the bank.
Affordable Suit Brands
1. REISS
Thanks to Reiss, owning a great suit doesn't have to be a fantasy. These tailored pieces are stylish and timeless, making them perfect for occasions like weddings and black tie events. Reiss offers luxurious fabrics and textures without burning a hole in your pocket. You can find traditional black and gray blazers and trouser sets. Alternatively, step outside your comfort zone with checked or brushed fabrics and colors ranging from light brown or airforce blue.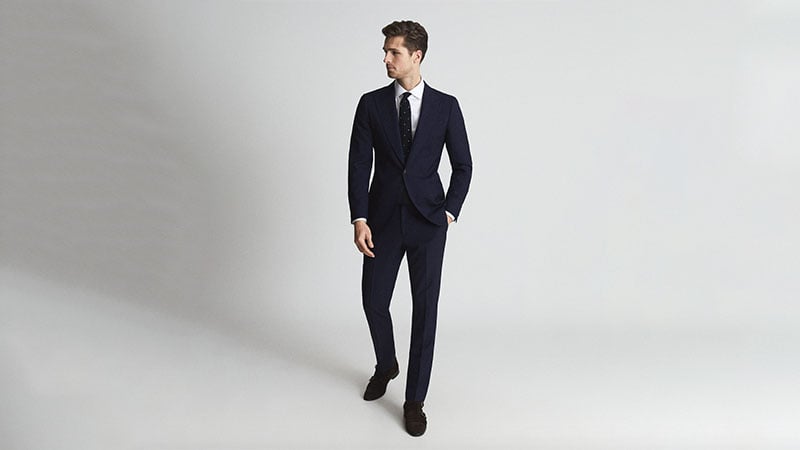 2. ASOS
ASOS is a great place to start your suit-buying journey if you're on a budget. Famous for its wide range of styles, you can find a suit that expresses your personality or fits the event theme. From a classic three-piece suit in navy or black to a funky unisex patterned set, there are endless choices available as you scroll. Some items come separately, which is great if you want to mix and match colors or fabrics. From races to weddings, these pieces will make you the most stylish guy in the room.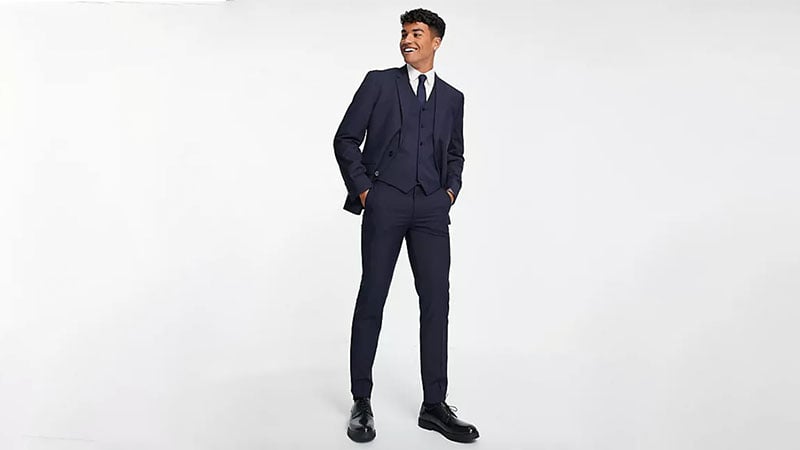 3. Nordstrom
From Topman to River Island, Nordstrom offers a huge selection of men's suits that don't break the bank. Tailored blazers, three-piece sets, and classic suits are all available on this site, varying in price to suit your budget. Whether you're after a traditional penguin suit or something a little more experimental, there is something here for you. There is an option to buy the pieces separately so that you can wear the garments to different occasions effortlessly.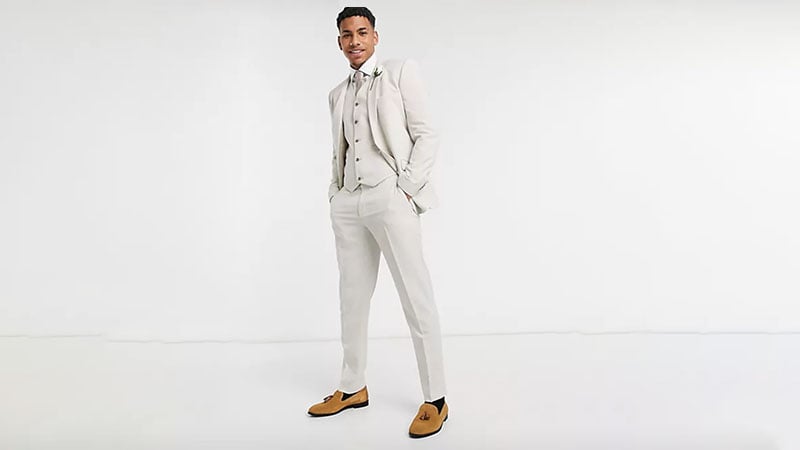 4. Nordstrom Rack
Not to be confused with Nordstrom, its Rack division offers extra discounts on stocked items. This means you can find a stunning, high-quality suit for a great price. You'll find designer and luxury brands like Savile Row, Calvin Klein, and Tommy Hilfiger, but you won't gasp when you see the price tag. In fact, you may end up paying less than $200 for a full suit! Dress pants, blazers, waistcoats, and everything in between are available on this site and range in color and styles to suit your needs.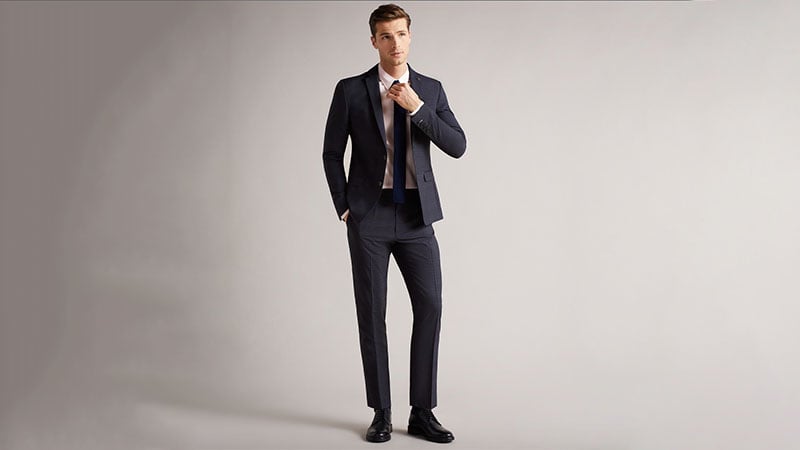 5. Target
While Target may not be your first thought when it comes to buying a suit, you should definitely consider it at the top of your mind if you're on a budget. For a low price, you can grab a set that looks great and keeps your wallet happy. Here you will find tailored pieces for all body types, heights, and budgets. From a slim-fit jacket to premium stretch blazers and trousers, there are plenty of colors to try and different fabrics. This is a great place to go if you need a suit fast but don't want to spend an arm and a leg to get one.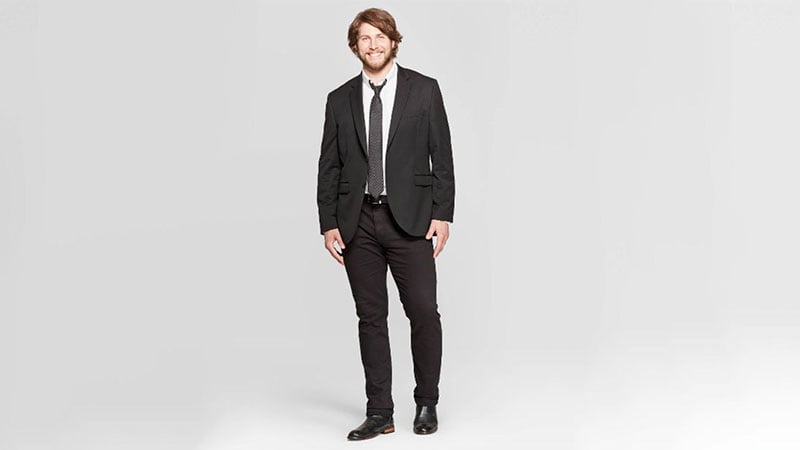 6. Amazon
Far from ordinary, Amazon is a great place to go if you're in a rush. This selection of tailored separates and suits fits every price range and taste level. If you want a purple tuxedo, slim formal jacket in black, or a gray fashion-forward ensemble, they've got you covered. You can even find options here with prints, checked fabrics, and jacquard textures – these are sure to grab attention in the best possible way.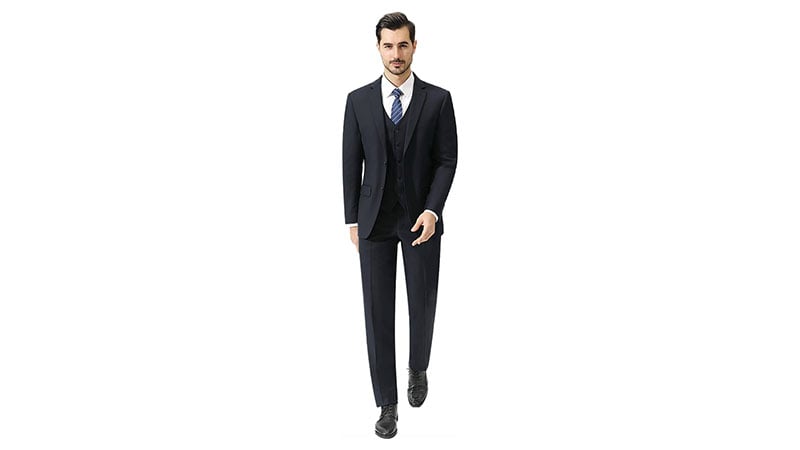 7. Macy's
When you need a suit that is stylish in nature and reasonable in price, Macy's is the place to go. With brands like Alfani and Michael Kors, you will find beautiful choices at affordable prices. This selection is far more conservative in style than other options, but they're timeless in design, so you can wear them to almost any event. Colors in this lineup include classic black, navy, gray, and cream. However, you will find alternative patterns and shades like pastels, checks, and pinstripes, which work well for outdoor and summer events.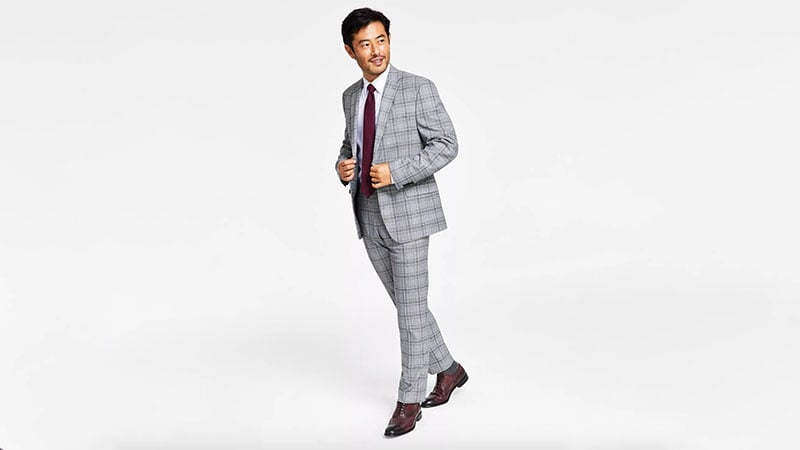 8. River Island
When the time comes, and you need to find a great suit, look no further than River Island. This iconic British brand offers a huge variety of colors and styles but continues to provide high-quality pieces for you to enjoy every season. For the days where you don't want to blend in, look to their bright-colored blazers and suit trousers – favorites include pink, blue, and rust. Alternatively, you can choose a pattern like dark leopard print for a subtle touch of flavor. For less than $200, you will find exceptional pieces that will help you stand out for all the right reasons.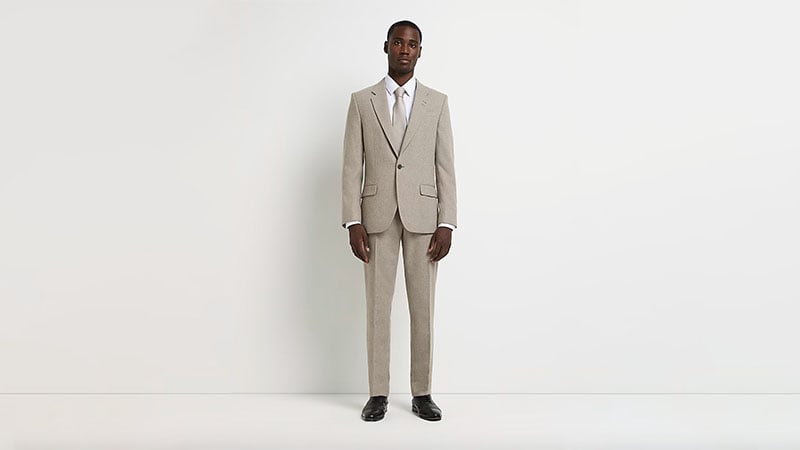 9. boohooMan
Another famous British brand, boohoo is exclusively online – this gives them the chance to give you cheaper products but maintains great design and good quality. The suits areare stylish and look as if they're straight off the runway. Here you will find a wide range of colors, sizes, and fabric choices, from wool to faux leather. This is also a great place to start if you want a fashion-forward design. You'll stand out in their two-toned ensembles, collarless blazers, and bold pinstriped trousers. Of course, they also offer traditional pieces for events where blending in is key. No matter what, you'll look great in a get-up from this site.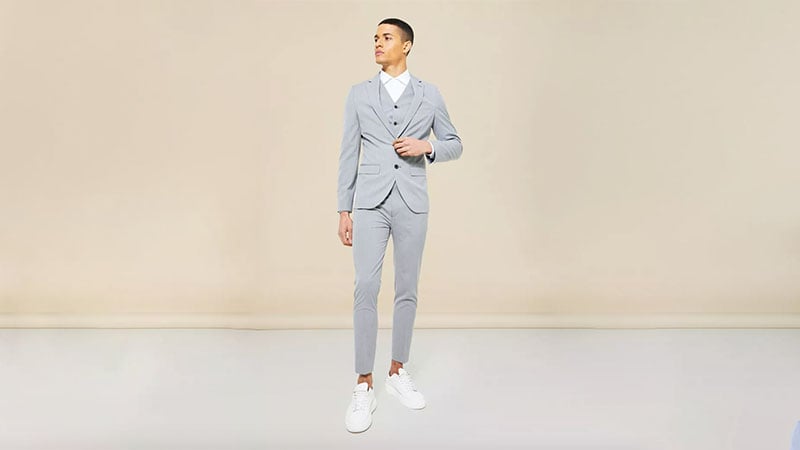 10. Walmart
Affordable suits have never looked so good. Walmart is the place to go if you want a classic suit that won't break the bank. Here you can find premium pieces at a fraction of the price, including three-piece suits starting at less than $80. No matter the season or the event you're planning to attend, there's something here to suit your taste and budget. The traditional narrow-fit suits stand the test of time, and they're worthy of wearing again and again. Experiment with different colors and styles and find what matches your personality best.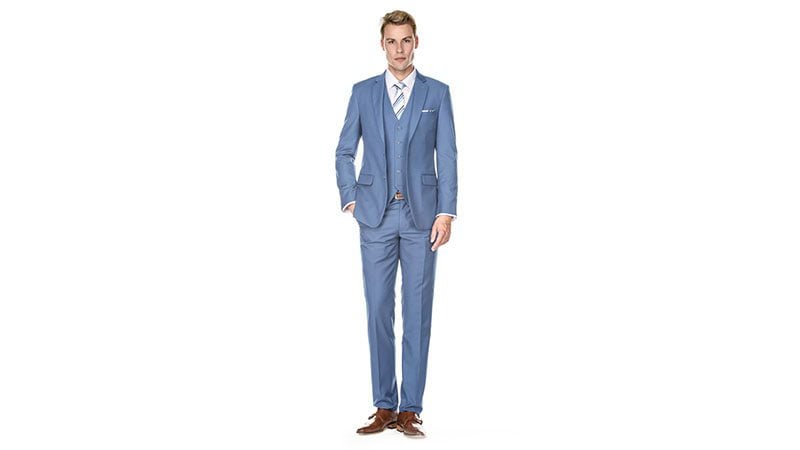 11. Ministry of Supply
From a simple blazer for work events to a tux you can wear to weddings for years to come, Ministry of Supply is the place to go for an affordable and timeless suit. The beauty behind this brand is its innovation. While you may look like you're wearing a standard suit, many of their pieces, such as the Kinetic, actually move with your body and provide superior comfort to their traditional counterparts. You can also try the Velocity line, which is the world's first washable suit. Plus, they come in a great range of timeless shades, so you can wear them over and over again. What more could you want?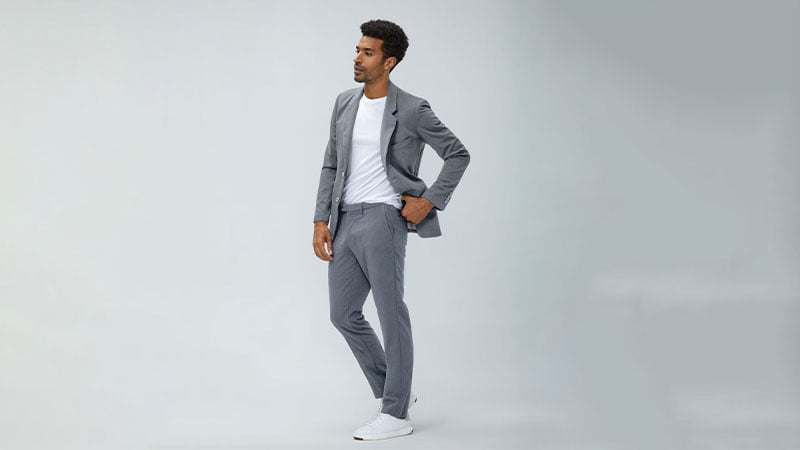 12. THE ICONIC
Australian marketplace, THE ICONIC, is the ultimate go-to destination for designer and affordable clothing. With trusted brands like Politix, Tarocash, and yd., you can find exceptional garments without burning a smashing your piggy bank. There are hundreds of options available, and they're great choices for all seasons of the year, such as linen for summer events, wool and blend fabric for cooler months or evening events. While you're likely to find more traditional styles here, there are some great color options for a fun occasion, too.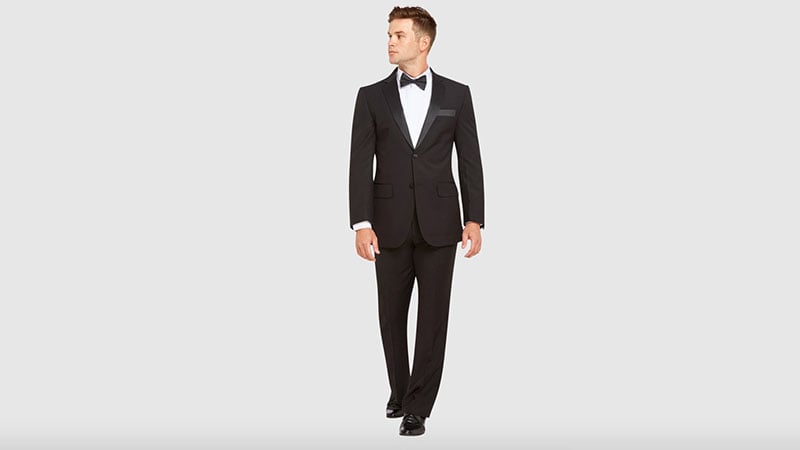 13. M&S
Understanding the dress code just got a whole lot easier, thanks to M&S. This classic British retailer is the ultimate shopping destination for all of your suiting needs, and they won't hurt your budget. From work suits to garments you can throw in the washing machine, there are so many choices available that you may want to pick up more than one! Here you will find a full suit from $30 to $400 – designs ranging from the basic blazer to a full wool suit in a wide range of colors and patterns. With this shop available online, you'll instantly be the best-dressed man in the room.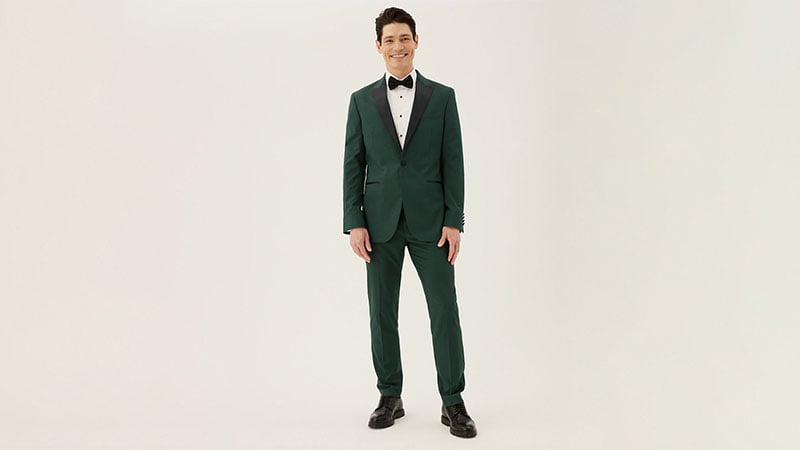 14. Ted Baker
Known for its exceptional suiting and timeless style, Ted Baker is a go-to place for men to buy their suits. This brand is mid-range in its pricing, but the quality is so good that people expect you've paid thousands to get your hands on these garments. The timeless silhouettes and shades available work for any event, and they're so well-made that you can wear them for years to come. If you want something a little more outlandish, have no fear – they also offer quirky and modern shades, such as burnt red, powder blue, and sage green. Micro-patterns and prints make for subtle alternatives to block colors if that's more your thing, or you can instead opt for a bold shirt to help make the outfit pop.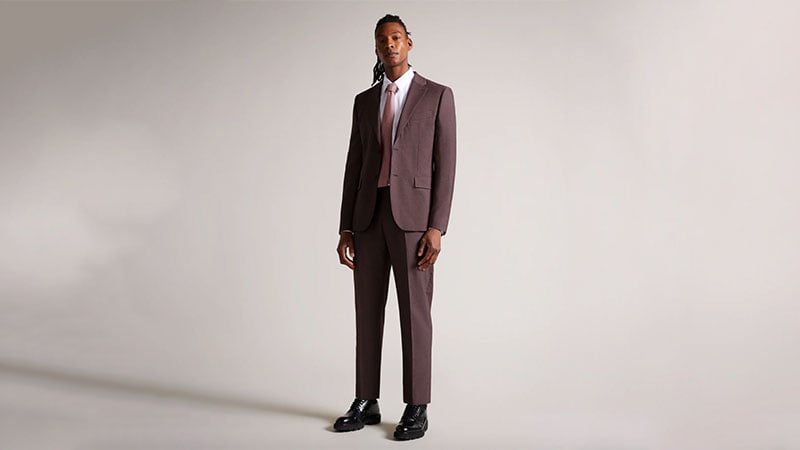 15. J.Crew
Shopping for a new suit has never been so easy. J.Crew understands what makes a guy look great, and they offer signature pieces and trendy alternatives for the modern man. Laidback suiting in soft Italian wool is perfect for formal events, but their selection of corduroy and moleskin look amazing for more unconventional occasions. Prices here are on the higher side of the spectrum, but the quality is so exceptional that you can expect to wear them for years. Plus, it doesn't hurt to have a few investment pieces in your closet that will last the test of time.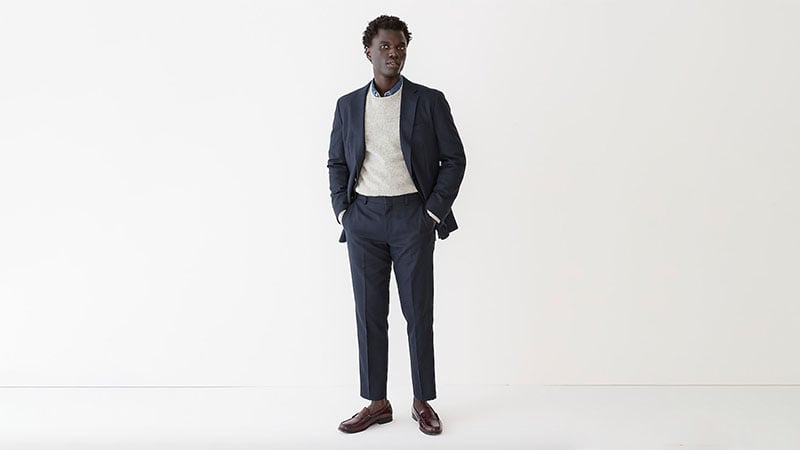 16. Bonobos
Bonobos are unlike any other menswear brand. They understand how it feels to buy ill-fitting clothing, so they've taken steps to make the process perfect every time. From full suits to blazers and separates, you can look your best without breaking the bank. With sizes for all body types and colors to flatter any type of style preference, there is something here for everyone. You can find linen, stretch wool, knit, and chambray in various colors – perfect for all seasons and occasions. Bonobos offers free shipping and returns on their orders so that you can save even more cash along the way.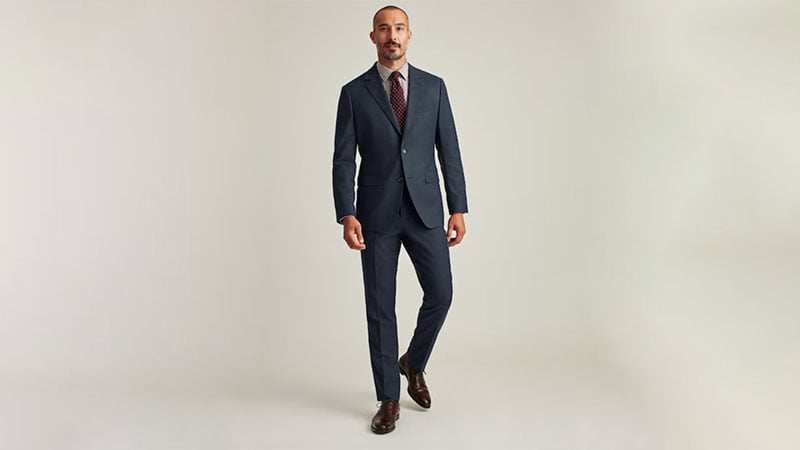 17. MNG
Take your suiting to the next level with MNG. With classic designs and modern interpretations of the traditional silhouette, you can get all of the elements in a three-piece suit for less than $1000. Moreover, the quality is so exceptional that it looks like you're wearing a designer suit. Whether you're attending a wedding or a corporate event, you will look the part without feeling uncomfortable or underdressed. These dapper choices come in a huge range of colors and patterns, such as micro pinstripes and checks.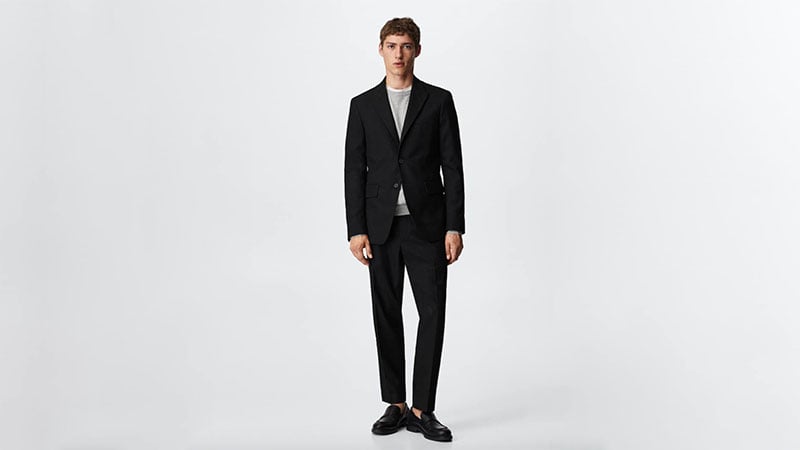 18. Lands' End
Get the suit of your dreams without going over your budget at Land's End. This formalwear selection is timeless and effortless, with a wide selection of shades and fabrics to choose from. While they look traditional in their silhouette, many of these suits are machine washable or can withstand ranging temperatures. You will also find the 'year-rounder' option, which is great for any event type throughout the year (as the name suggests). What's more, you can get even better prices by adding discount codes at checkout.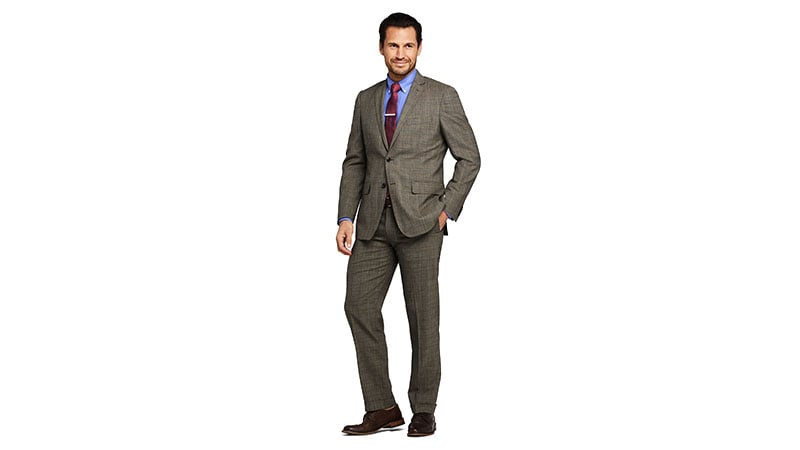 19. Men's Warehouse
Never get confused by a dress code ever again. At Men's Warehouse, you will find the biggest range of suits and separates for all of your formal needs. Whether it's a wedding, a work event, or just a formal dinner, you need to look sharp. You can choose from fits such as classic, executive, modern or slim in a huge selection of colors. Not sure where to start? This retailer offers packages to choose from, depending on the event you're attending. With designers such as Calvin Klein and Ralph Lauren, you may be surprised that the prices are so affordable. Not only that, they're modern, sophisticated, and timeless all at once.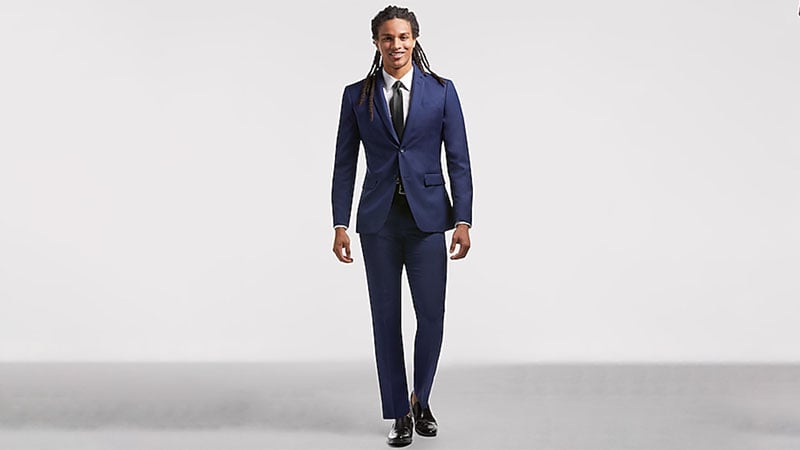 20. Myer
Iconic retailer, Myer, is an institution in Australia – and for a good reason. With thousands of choices available online and in-store, you are sure to get your hands on a stellar suit for less. Choose from luxury brands like Calvin Klein and Ralph Lauren and stay within your budget. There is a huge variety of price ranges here, so there is something to fit your budget and needs. Whether you need a blazer, trousers, or a full suit, this place has it all. They also offer 30 days returns, so you can feel secure if you change your mind.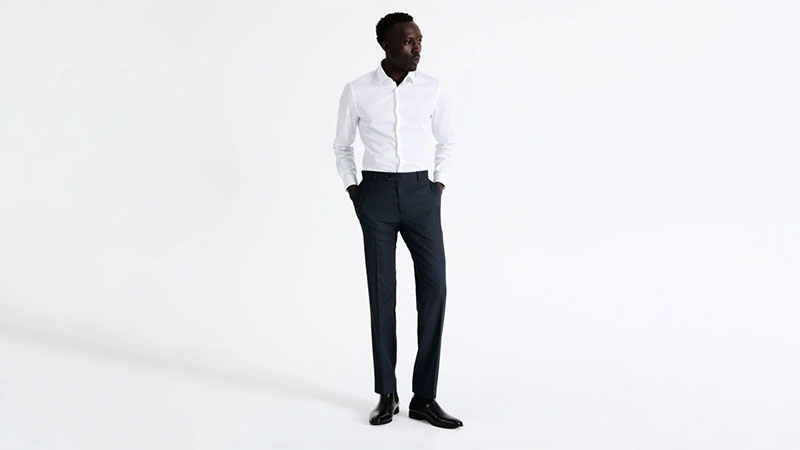 How to Get a Cheap Suit
Suit shopping can be daunting, not to mention pricey. Finding a suit that fits you well and looks luxurious may seem like an impossible task when you're on a tight budget, but this doesn't have to be the case. Here are the best ways you can select a suit that gives you the feeling of executive power without breaking the bank along the way.
Choose The Right Fit
To look like a million bucks, you have to make sure you're wearing a suit that fits properly. Of course, we can't all go to the tailor to get a custom-fit suit, but there are a few pointers to make it appear as if you've just put on a custom design. Make sure the blazer isn't too big or too tight. While it may seem like a good idea to buy one size up, it may appear that you're swimming in the fabric rather than wearing it. Your shoulder pads should go past the width of your actual shoulders, and your trouser length shouldn't have more than one crease when it hits the shoe.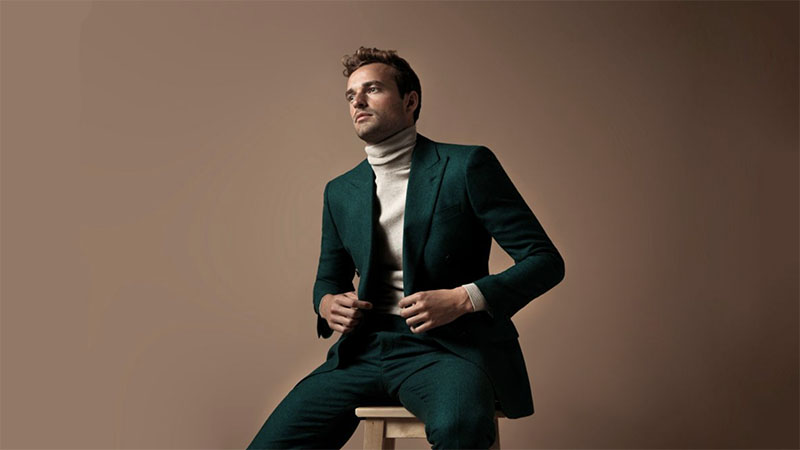 Know Your Fabrics
Another key to owning the perfect suit is by understanding your fabric choices. The classic choice is stretch wool, which is lightweight enough to wear at any point of the year. However, if you want something a little lighter for summer months or tropical conditions, opt for linen as it breaths and comes in a wider variety of shades. For brands that offer a more affordable suit, you may find yourself opting for a synthetic fabric – this is a good choice if you want fun fabrics or colors, but it may not sit the same way as a heavier wool option.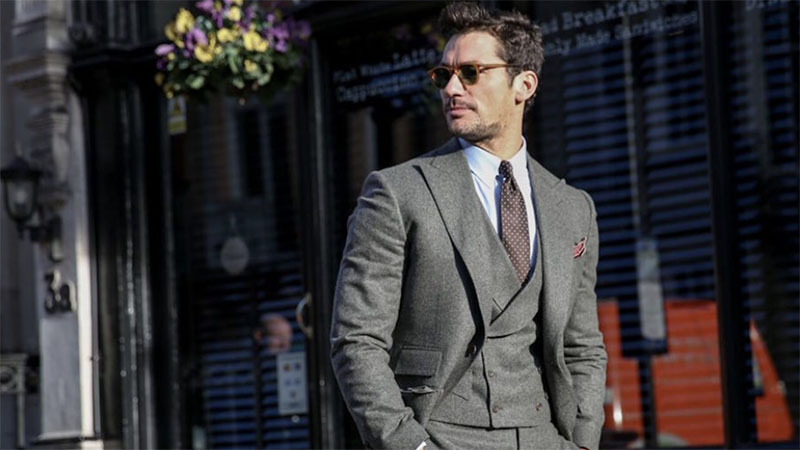 Get the Suit Tailored
One of the best ways to make a cheap suit look more expensive is by getting it tailored to fit you. It is worth noting that you won't get a suit tailored for free (unless your friend does it for a living), so you can expect to pay a pretty penny to get the suit to fit you properly. However, it can be worth the price, as you will have a custom-fit suit to sit perfectly on your body. One thing to note is that it's extremely difficult, sometimes impossible, to make a suit larger than smaller, so be wary of this when you see a professional to get it altered.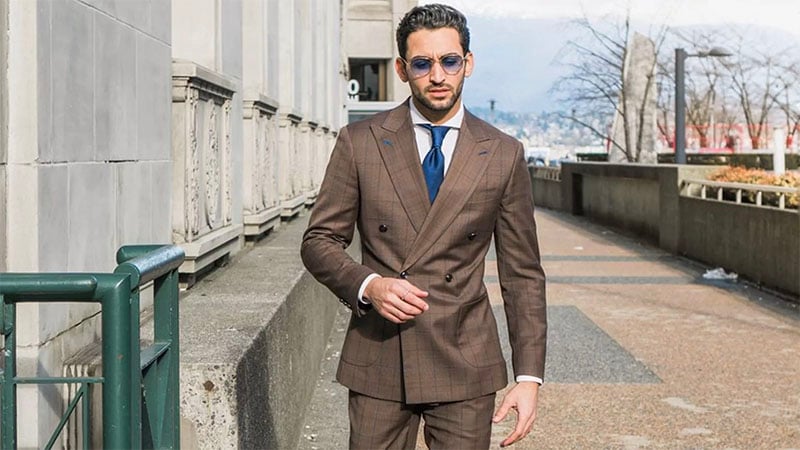 Treat Your Suit Carefully
Now you have a suit that is worth showing off; you have to take care of it well. It's one thing to keep a suit clean while you have it on your body, but it's quite another to make sure it is stored properly afterward. This means hanging the jacket on a hanger – be sure it is not a plastic hanger, as it may cause the shoulder pads to sag over time. Another important step is to ensure your trousers are hanging as well. A great way to do this is by laying the trousers on a flat surface – slide the hanger between one leg and fold the fabric of the leg underneath until the hem hits the crotch areas. Lay the hanger down on the surface, fold the other through and rest it against the first leg. Keep it protected in a breathable garment bag, located in a dark and cool temperature space- this will prevent dust, moisture, and other nasties from touching the fabric. You don't need to dry clean it very often, as this can cause further harm to cheaper fabrics.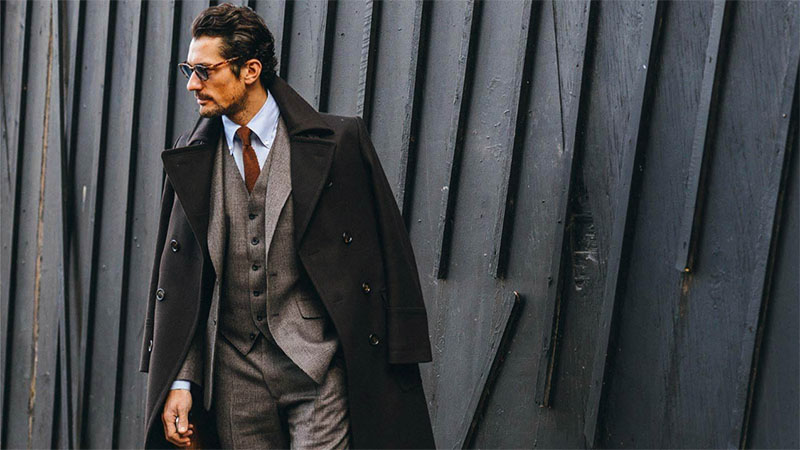 Wear Quality Accessories and Shoes
A great way to make a cheap suit look more expensive is by adding accessories that enhance your overall look. Whether you choose a leather belt, silk tie, or classic watch, there are many ways you can upgrade your look instantly. The classic choice is a pocket square – a piece of square fabric that features a similar shade to your suit but will add an extra element of sophistication to your look. If you prefer a tie, opt for one that is eye-catching but doesn't draw attention away from your ensemble. If you are wearing a block color shirt, try a tie that is also a single shade or something similar. Patterns like paisley look great if they're subtle in color – try one that matches the suit to enhance it but not overpower your attire. However, if you are attending a formal event, swap out the classic tie for a bowtie – it is a small change that has a drastic impact.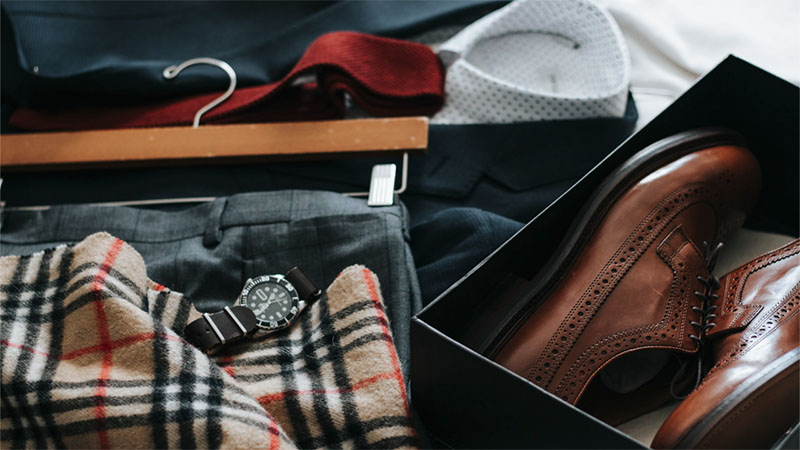 Cheap Suits FAQs
What is a good affordable suit brand?
There are plenty of affordable suit brands that offer great tailoring. It's best to do your research before you buy one, and the best places to start include Nordstrom, Macy's, and THE ICONIC. If you want something that is unique in style but affordable in price, ASOS and boohoo are also great places to explore suits. 
What to look for in a cheap suit?
Before buying a cheap suit, look at the following. What fabric is it made from? Synthetic fabrics are okay to wear, but they will not last long and can be ill-fitting. Instead, opt for stretch wool or synthetic blend. Another important factor to consider is the fit - be sure to measure your inseam, shoulder width, chest, and arm length before you commit to buying a suit online. 
What is the average cost of suits?
A nice suit will set you back quite a bit of money. Typically, a suit will cost anywhere from $500 to $800, but you can find them that far exceed this price range. A high-quality suit from a luxury brand can cost anywhere from $900 to $3,000, whereas a middle-of-the-range suit will cost anywhere from $200-$500. 
What's the difference between cheap and expensive suits?
Other than price differences, there are quite a few disparities between a cheap and expensive suit. The first is the difference in fabrics. A premium suit will likely feature Italian wool, whereas you will likely find stretch wool or synthetic fabrics with affordable options. Another key contrast between the two is the fit - you will likely find a more expensive option has a better hang on the shoulders and in the waist compared to a cheaper choice. However, you can always see a tailor to ensure they fit you properly. 
SUBSCRIBE TO OUR NEWSLETTER
Subscribe to our mailing list and get interesting stuff and updates to your email inbox.