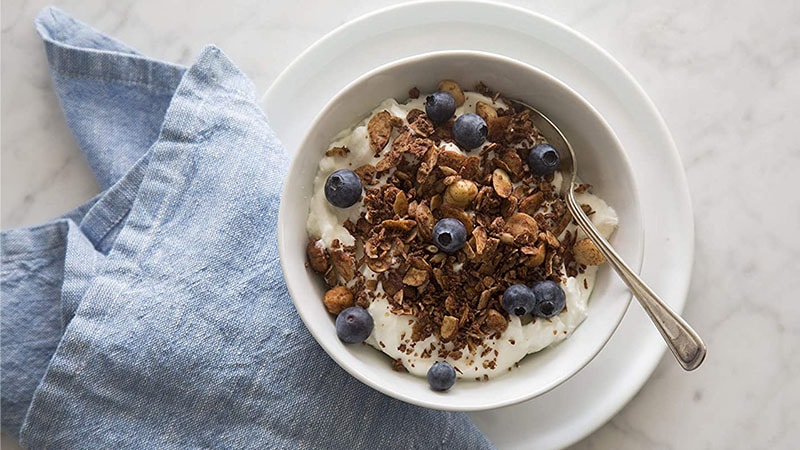 Start your day feeling great with these healthy cereal brands. There are plenty of choices, from multi-national conglomerates to local, family-owned-and-run businesses. All offer various cereal styles, from classics like oats and corn flakes to nutrient-dense mueslis and granola. Mix them with your favorite milk, whether it's cow, nut, or seed; a creamy Greek Yoghurt and fresh fruit; or an overnight, activated bircher style bowl. They can also make great additions to smoothie bowls, and inventive cooking like oaty eggs or tasty cookies.
Cereal Brands
Be Natural
Take care of your body with a simple and nutritious plant-based breakfast. In addition to the plant-based ingredients, Be Natural doesn't include any artificial colors, flavors, or preservatives. There's a large selection of cereals to choose from that is sure to suit every palate. Opt for a bowl of 5 Whole Grain Flakes, Nutty Granola, or Mini Bites. Alternatively, try something different with the Pink Lady Apple and Flame Raisin flakes and clusters or the Coco-Nutty granola that's designed to be enjoyed with coconut water rather than milk.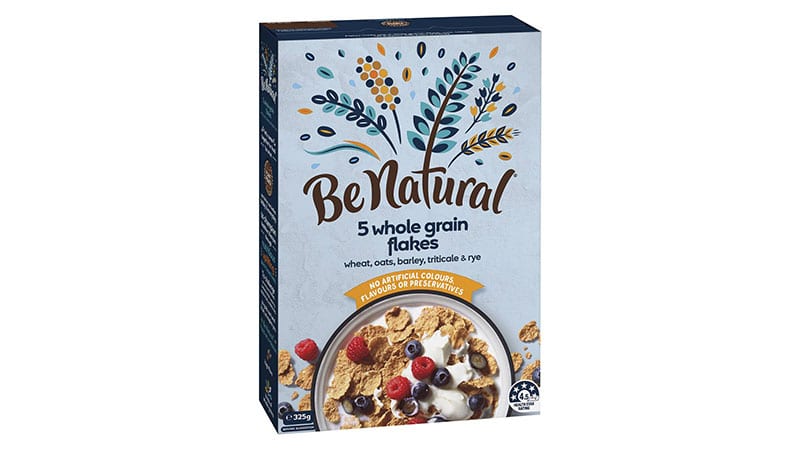 Bob Red Mills
Get spoilt for choice with Bob Red Mills. There are dozens of cereals to choose from, with all kinds of steel-cut oats to warm your soul in winter or crunchy granola that pairs perfectly with natural yogurt and fresh fruit. If you're on the go, there is even a range of Classic Oatmeal cups that are perfect for work or travel. Various dietary requirements are also covered, with Gluten-free, Paleo, and Organic options available. The Bob Red Mills story started in the 1960s, but it wasn't until 1978 that the brand as we know it came into existence. Today, the brand is 100% employee-owned and works closely with farmers and suppliers to bring their customers food you can feel good eating.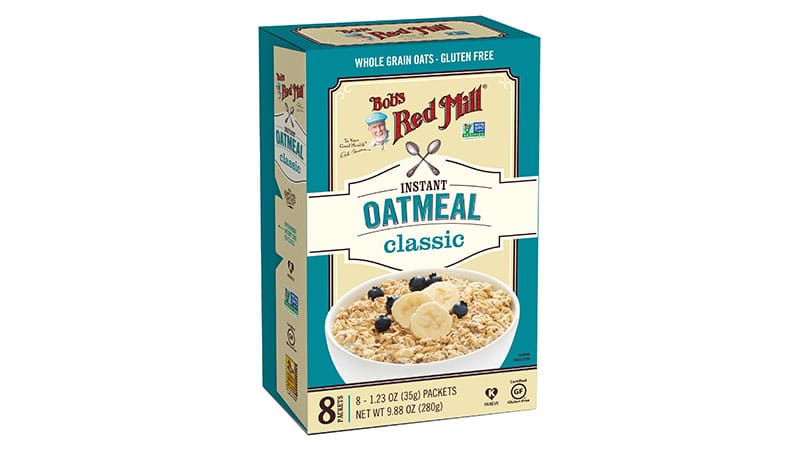 Brookfarm
Support a multi-generational Australian family business when you buy from Brookfarm. Based in beautiful Byron Bay, the brand boasts a large macadamia farm surrounded by regenerated sub-tropical rainforest and eucalyptus forest. They're a leading producer of gourmet foods, including muesli, macadamia oil, granola, porridge, muesli bars, and even corn snacks. Try the Cranberry Macadamia Toasted Muesli for a delicious, crunchy start to the day, or warm up in winter with Power Porrij that contains a mix of grains including oats, amaranth, quinoa, and flaxseed. There are also varieties that cater to keto, paleo, gluten-free, grain-free, fruit-free, and sugar-free diets. Finally, the brand has launched a world-first trial of recyclable soft plastic with the Roll 'N' Recycle packaging.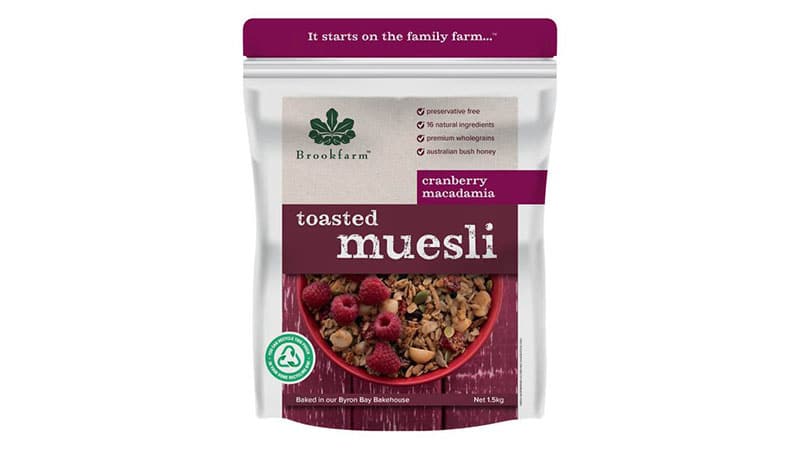 Byron Bay Muesli
Byron Bay Museli has been made in Australia's iconic seaside town of Byron Bay since 2001. The brand boasts a passion for real food, with natural cereals that are GMO-free, preservative-free, and don't contain added refined sugar or other nasties. Plus, they use locally grown macadamia nuts. Try the Classic Style Museli, with honey-roasted macadamias and organic sultanas, or the grain-free and vegan Paleo Mix, which combines seeds, nuts, and organic fruit. There are also gluten-free, wheat-free, and fruit-free options for anyone with dietary requirements. Finally, a number of the mueslis are also award-winning, taking home gold, silver, and bronze at various food shows around Australia.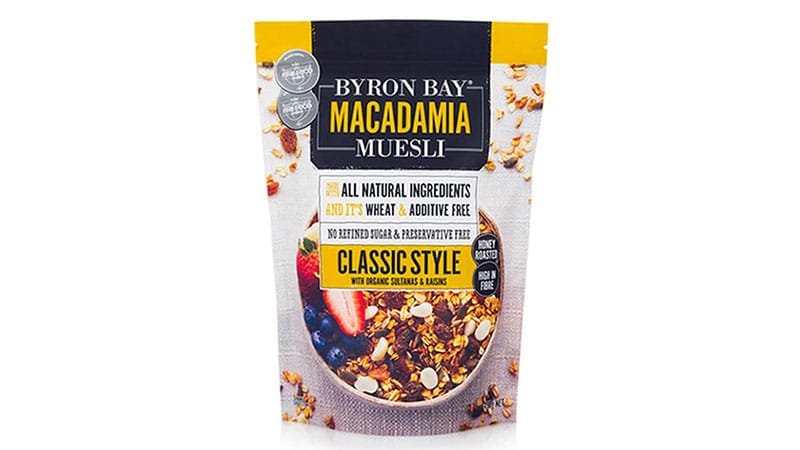 Carman's
Carolyn Creswell founded Carman's in 1992, at just 18 years old. She bought the muesli business she worked at for $1000, growing it into an internationally successful brand, exporting from Australia to 32 countries globally. The choices for breakfast are extensive. Indulge in a hot bowl of porridge, start the day right with some crunchy clusters, opt for classic muesli, choose a light option with the grain flakes, or add some granola to your favorite yogurt. Busy folk can also opt for breakfast-on-the-go with a range of muesli, nut, or oat bars that make eating on the run delicious and easy.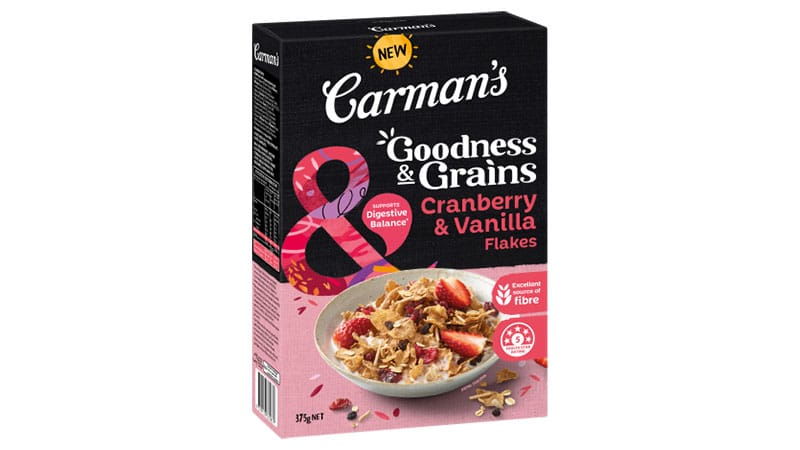 Cascadian Farm
Cascadian Farm is a brand that hails from the Northern Cascades in Washington State and produces organic cereals and cereal bars, frozen fruits, and vegetables. The original home farm on the Skagit River grows blueberries, raspberries, strawberries, sweet corn, and pumpkins. However, the brand also works with other organic farms across the country to source the highest quality ingredients. Start your day right with a bowl of fun Berry Vanilla Puffs, Graham Crunch squares, Vanilla Chia Crunch flakes, or an indulgent Dark Chocolate Almond granola. There are nearly two dozen varieties to choose from, depending on the mood you wake up in.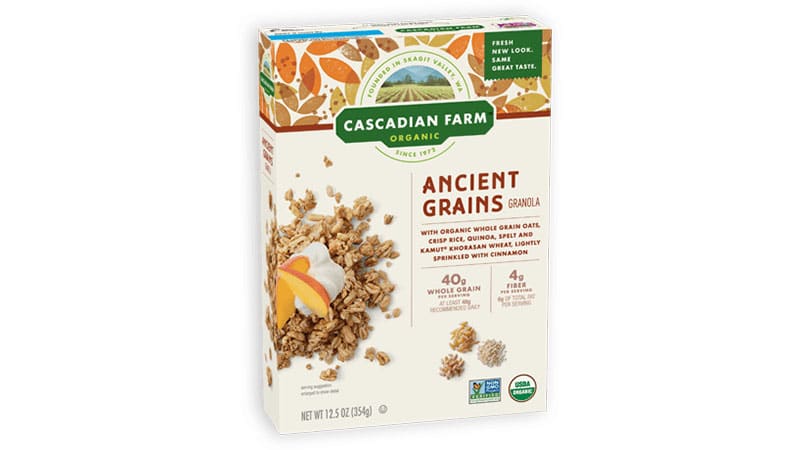 Catalina Crunch
Eggs, bacon, and avocado for breakfast can get a bit repetitive for adherents to the Keto diet. Consequently, if you're looking for a crunchy option that satisfies a cereal craving while allowing you to maintain your macros, Catalina Crunch is the ideal choice. All the cereals are keto-friendly, grain and gluten-free, contain zero sugar, use plant protein, and boast only 5 grams of net carbs. They're also long-baked for a satisfying crunch that holds up in your almond milk. Try delicious options like Chocolate Peanut Butter, Maple Waffle, Honey Graham, Fruity, Chocolate Banana, or even Mint Choc chip. If you can't decide, you can also opt for an eight, six, or four flavor variety pack to give a few a go and find your favorite.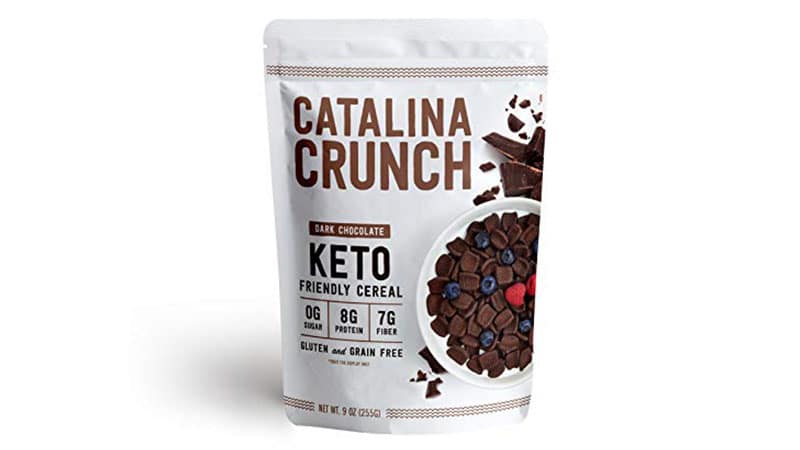 Eros Love & Vitality
Eros Love & Vitality is just as pretty as it is tasty. This delicious cereal is from Mindful Foods, based in Byron Bay, Australia. The activated formula contains cranberries, pomegranate, cacao butter, macadamia, pecans, vanilla, ginger, buckwheat, pepitas, and coconut chips – an epic combination made in heaven. Plus, it's gluten-free and vegan. Eat it as granola with some coconut yogurt and fresh berries, top off a smoothie, or enjoy it as a snack. You can also choose to get it in a compostable bag or reusable jar. Finally, if this blend sounds a little too sensual for first thing in the morning, there are other options from Mindful Foods. Look for Cacao Brain Power for a chocolate hit, Golden Granola with chai and turmeric, or Birchia Paleo Prebiotic that's excellent for gut health.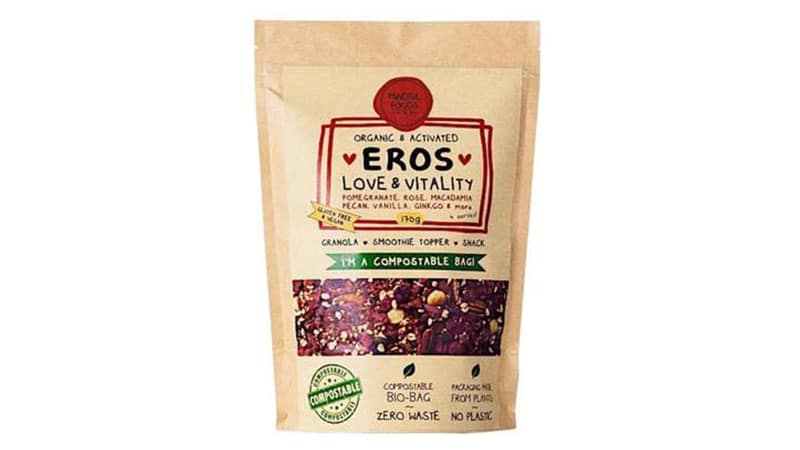 Farmer Jo
Indulge in some really fancy granola for breakfast with the range from Australian brand Farmer Jo. Founders Sally and Scott started this venture at farmer's markets in Sydney, taking on feedback from customers to perfect every recipe, so it not only looks and tastes fantastic but is also good for you. They boast some innovative and unique flavor combinations like Maple with Almonds and Sea Salt, Burnt Fig and Almond, or Pear and Pecan. If muesli or more your thing, the Green Apple is excellent for making bircher, the Smashed Berry is perfect with extra fruit, and the Coconut Porridge is great for warming up. There's also a selection of Paleo options in Original, Cinnamon, Cacao, and Raw variations.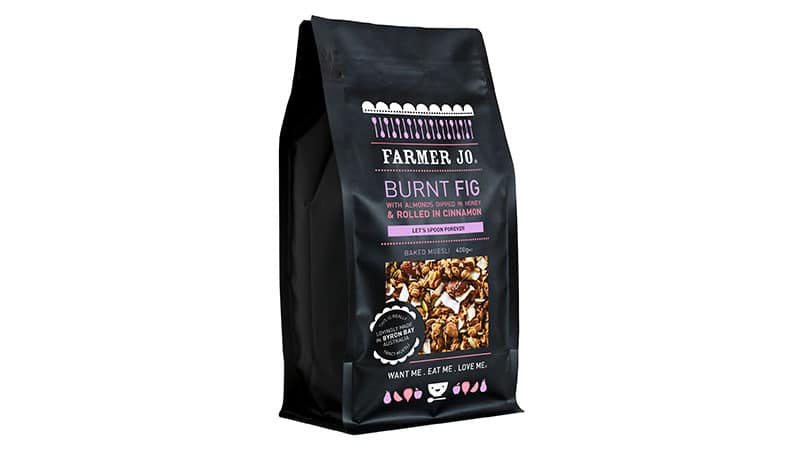 Forager Project
Plant-based and organic living is central to the ethos of the Forager Project. Founded in California in 2013, the brand's mission is to improve the planet and human health. The range of foods they offer is extensive, with yogurt, cheese, frozen dessert, milk, shakes, chips, and, of course, cereals. The Organic Grain-free Os come in four flavors — Lightly Sweetened, Cinnamon, Strawberry, and Chocolate. Each contains plenty of gut-healthy fiber and filling amounts of protein with ingredients like cassava root, navy bean, and pea protein. Plus, they're low in sugar, so you don't need to worry about a mid-morning energy crash.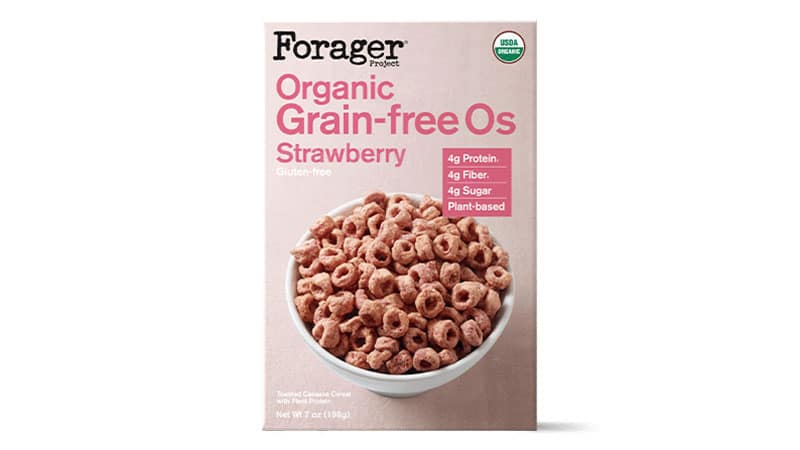 Freedom Foods
Eating with allergies and intolerances can be challenging. That's where Freedom Foods come in. The brand has a range of sub-brands that are free from various ingredients such as wheat, nuts, gluten, dairy, GMOs, and artificial colors and flavors. Active Balance cereals are nut and wheat-free, while Barley+ and the Prebiotic Museli are both great for gut health. Heritage Mill is a more traditional and crunchy granola, while for little ones, the Brekky Heros and Messy Monkeys make eating fun. Best of all, you can shop with confidence, that when something is labeled as "free from," it will be. The brand has rigorous sourcing, restrictions, and testing methods to ensure all claims are correct.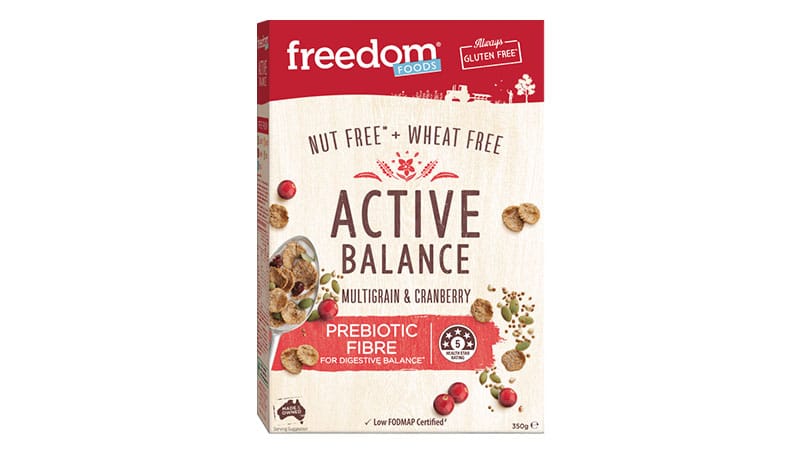 goodMix
Jeanie McClymont is the naturopath behind the Australian cereal brand goodMix. She put years of health and nutrition expertise into the range of products that include cereal and smoothie boosters, bliss ball mix, and superfood powder. The Blend 11 and Blend 13 are ideal for keeping you both satiated and regular. Blend 11 is the original formula and is low-carb, keto-friendly, low-FODMAP, and IBS-suitable. Meanwhile, Blend 13 is a grain-free paleo option with a perfect balance of fruits, seeds, and nuts. Both formulas need to be activated, with soaking overnight using a ratio of half a cup water to a full cup of mix. You can pre-soak it, as the wet blend will keep for up to three days in the fridge. You can mix in milk, yogurt, and fresh fruit or add it to your favorite smoothie for a nutritional boost.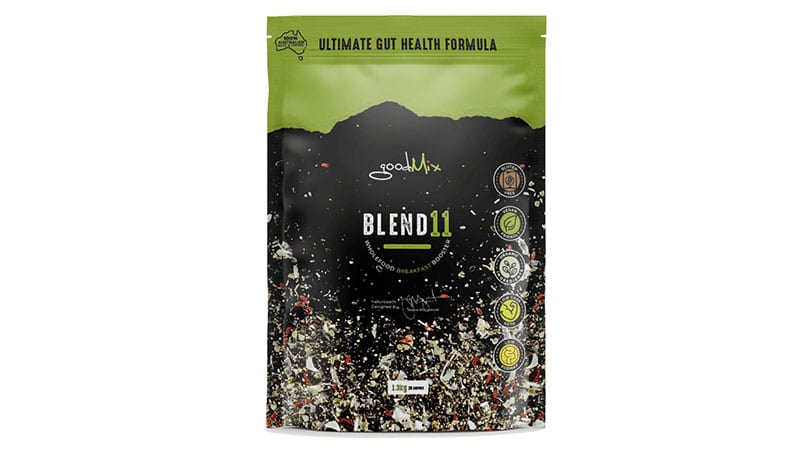 Jordans
Eat healthy with Jordans. The Jordans family, former farmers, opened their mill in Eaton Ford, England, in 1855. Today, the brand is based in Biggleswade in Bedfordshire, England. The range of cereals includes muesli, granola, crispy oat clusters, clusters bites, and low-sugar granola. Each uses simple, good-quality ingredients like whole grains, oats, nuts, seeds, fruits, and berries while leaving out artificial colors and preservatives. Look for delicious flavor combinations like Maple & Pecan, Blueberry & Coconut, Truly Fruity, and Honey Nut.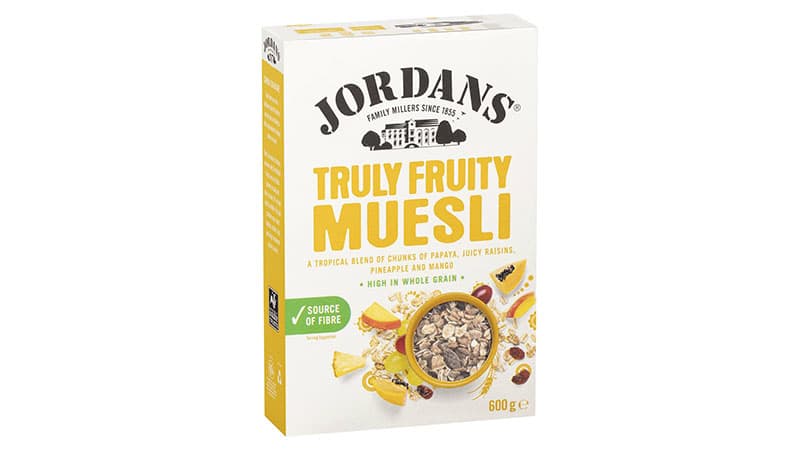 Kashi
Get the most out of your day with a cereal bowl full of fiber and protein. Kashi is all about innovation and whole foods, embracing a plant-based philosophy focusing on sustainable and ethical farming. The products on offer include Whole Wheat Biscuits, which are crispy bundles of goodness; Oat Cereal, in various flavors; and light, fruit-sweetened flakes. Little ones will love the Kashi By Kids range – cereal loops in appealing flavors like chocolate, berry, and cinnamon that won't feel like healthy eating. Lastly, the Kashi Go range is high in protein, with a couple of Keto-friendly options for anyone embracing the high-fat-low-carb lifestyle.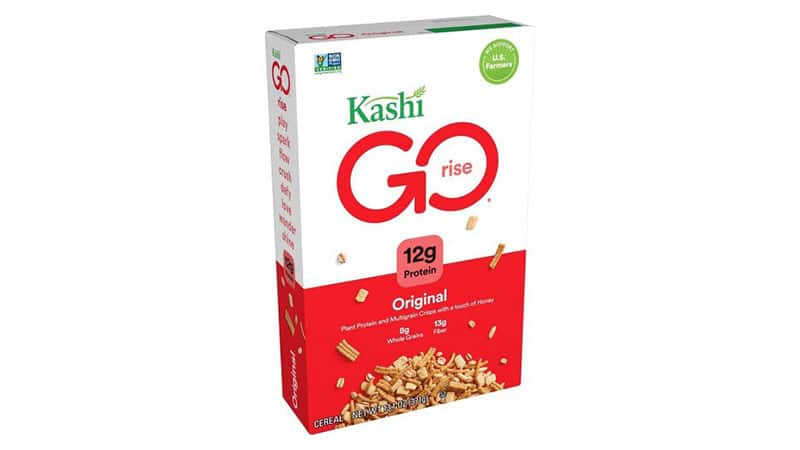 Kellogg's
You'd have to be living under a rock not to recognize cereal behemoth Kellogg's. The company redefined the breakfast food industry through innovative marketing such as cereal box prizes, mascots, merchandising, and sports sponsorship. They're also widely accredited with coming up with the traditional food pyramid that emphasized grains. Will Keith Kellogg founded the business in 1906 in Battle Creek, Michigan, under the name Battle Creek Toasted Corn Flake Company. Now, the company has over a dozen brands in its portfolio, including Corn Flakes, Rice Krispies, Special K, Froot Loops, Coco Pops, All-Bran, Nutri Grain, and Frosted Flakes.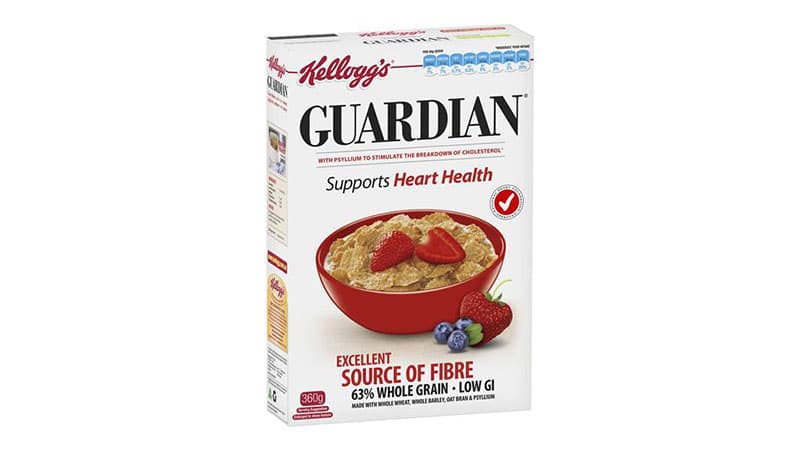 Livlo
Dig into a delicious bowl of Livlo Granolo. This keto-friendly product is gluten-free, grain-free, contains no added sugar, is high in protein, and comes in three great flavors. Pick from Cinnamon Almond Pecan, Chocolate Hazelnut, or Frosted Blueberry. The first two only have one gram of net carbs per serving, while the Frosted Blueberry only has two, meaning it's easy to stick to your macros without sacrificing flavor and enjoyment. If the cereal doesn't quite satisfy a craving for carb-like sugar, the brand also makes a selection of keto baking mixes that includes brownies, biscuits, and bread.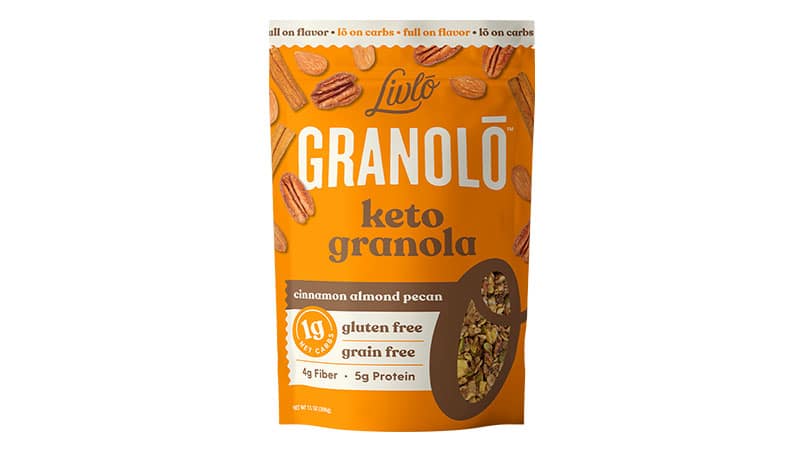 Loving Earth
Loving Earth is an Australian brand that makes vegan, plant-based, and certified organic chocolate using cocoa grown by the Ashaninka community of the Peruvian Amazon. Not that chocolate (even the plant-based kind) is an excellent choice for breakfast. However, the brand also makes a range of tasty cereals to start your day off right. The core ingredient to the cereals is Buckinis, or activated buckwheat seeds (which, despite the name, is not a grain). They're crunchy, tasty, and packed full of satiating protein. You can get them on their own or in blends such as Nut & Seed Cereal, Deluxe Clusters, Chocolate Clusters, Caramelised Clusters, or Berry and Cacao Cereal. If you're into Paleo, there are still options, including the Berry Choc Mix and Protein Power mix.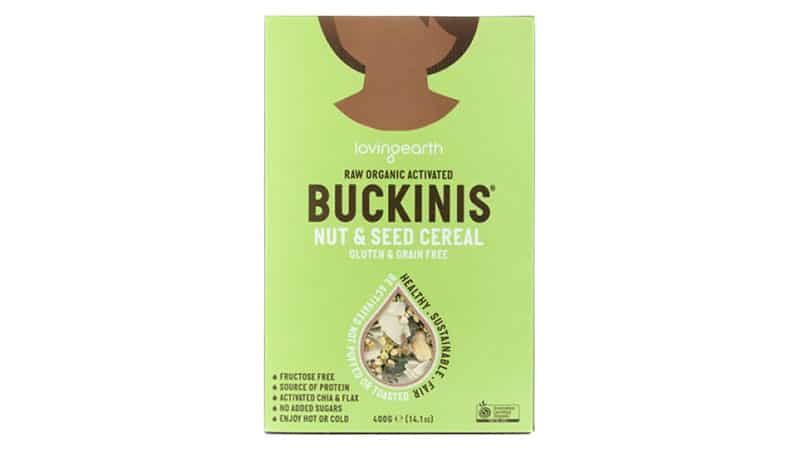 Nature's Path
Nature's Path is passionate about protecting the planet and leaving it better than we found it. The family-owned brand focuses on sustainability and nourishing communities with donations to food banks and other charities. Plus, one percent of EnviroKidz sales support endangered animals. Choose from a variety of different breakfast products, with several dozen styles. The EnviroKidz cereals target little ones, while the Sunrise Crunch combines flakes, puffs, and crispies. If oats are more your vibe, try the Old Fashioned Oats or Golden Tumeric Superfood Oatmeal. Finally, there are also decadent granola options such as Love Crunch Dark Chocolate and Red Berries, Pumpkin Seed & Flax, and Coconut Chia.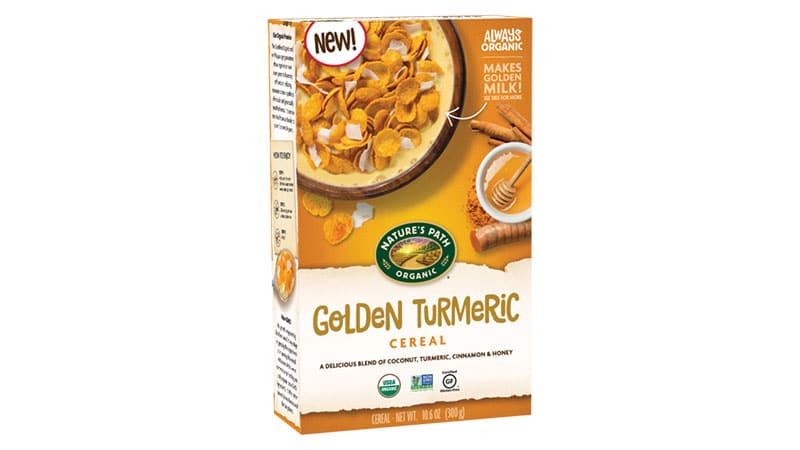 Purely Elizabeth
Embark on your wellness journey with the range of cereals from Purely Elizabeth. Created by Elizabeth Stein, the brand encourages a focus on whole, plant-based foods, balancing life with the 80/20 rule, understanding that health is more than just diet, and living your best life through good intentions, innovation, and gratitude. Pick from an extensive range of granola that includes flavored like Chocolate Sea Salt Probiotic, Pumpkin Cinnamon Ancient Grain, and Blueberry Hemp. There are also various oatmeals, such as Raspberry Dragonfruit Cups, Banana Nut 5 Grain + Seed, and Blueberry Walnut Collagen Protein Oats. When shopping online, you can sort the products by need, including Keto, Paleo, Grain-Free, Protein, and Probiotic.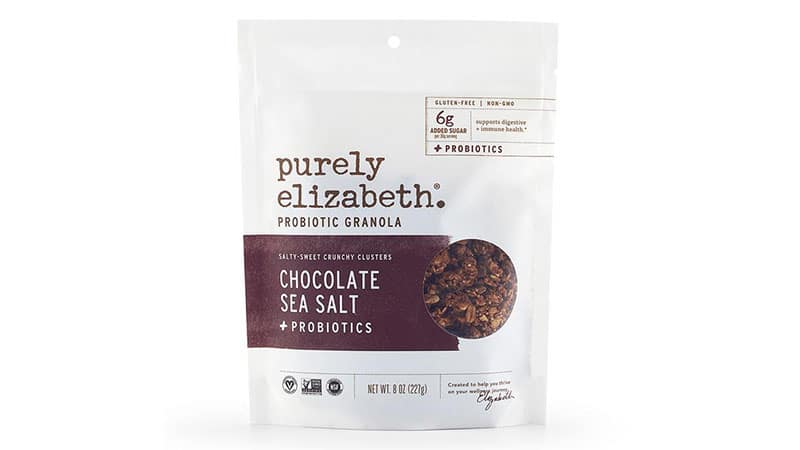 Orgran
Orgran is a pioneer in the world of "free from" foods. Brothers Frank and Max Buontempo launched the brand in 1984 in Australia and is still family-owned. It's also one of the largest multi-category allergen-friendly food producers in the world. All their products are gluten, dairy, and egg-free, as well as vegan. As such, if you're allergic, have intolerances, or choose to avoid certain ingredients, this is a great option. In the breakfast collection, you'll find sugar-free coconut cereals, porridge, O-cereals, flakes, and puffs.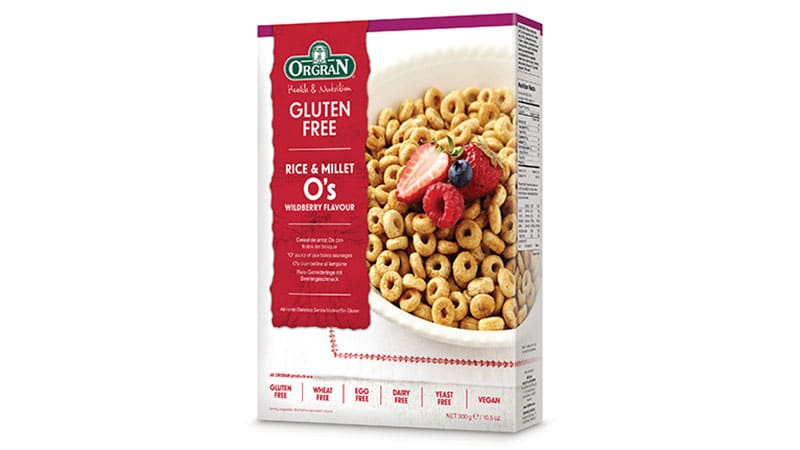 Quaker
It's all about the humble oat at Quaker. Despite this, the brand is also a pioneer, achieving several firsts, including the first trademark for breakfast cereal, the first national magazine advertising program for breakfast cereal, the first to do trial-size samples, and the first to feature a recipe on the box. The innovation continues with plenty of recipes available on the website for those wanting to get creative with their cooking. Currently, the product line includes oats and oatmeal, cereals, and overnight oats, plus snacks, grits, and other grain-based items. Why not try some oatmeal squares; granola with oats, honey, and almonds; or the Real Medleys SuperGrains Granola. Then for hot oats, it's hard to go past classics like Maple & Brown Sugar, Apple & Cinnamon, or Strawberries & Cream.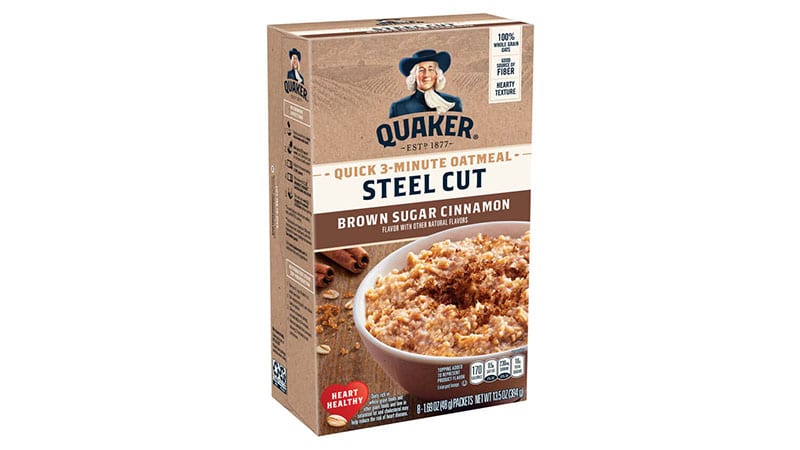 The Granola Bakery
Support a small business that's passionate about healthy, natural granola. Look for varieties like the Grain-Free Chocolate Macadamia Granola, which is low in sugar and Paleo-friendly, while the Low Carb Granola is gluten-free and perfect for Keto. For something different, try the Ancient Grain Sweet Potato, which also uses quinoa, amaranth, and Kaniwa. There are also other paleo, keto, and low-carb options, plus a range of delicious nuts.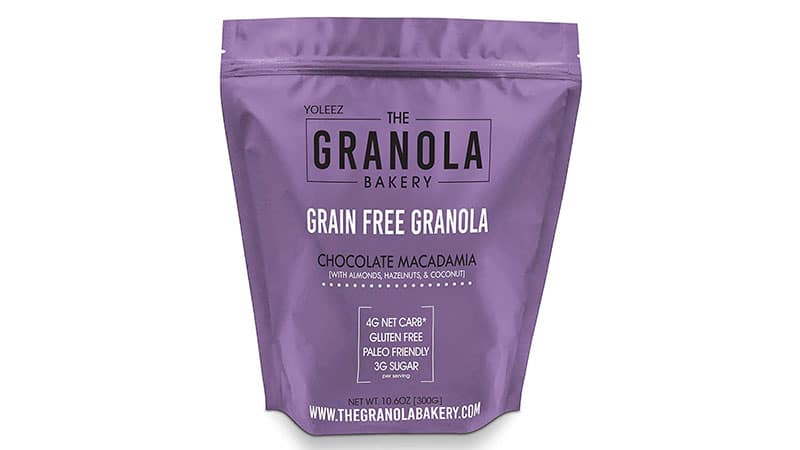 Three Sisters
Three Sisters is the amalgamation of three different companies into one to provide customers with nutritious, sustainable breakfast options. The portfolio includes MOM's Best, Barbara's, Puffins, Weetabix, Alpen, Uncle Sam, Erewhon, Sweet Home Farm, and Peace. Honesty about ingredients, treating our bodies and planet with kindness, and constant improvements guide the company's decisions. Of course, balancing health with great taste is also a cornerstone of success. Check out the recipe section of the website for lots of creative cooking and breakfast ideas.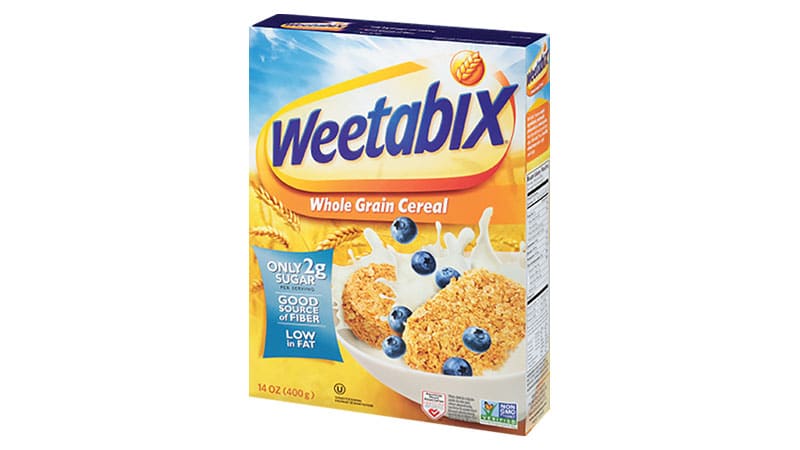 Uncle Tobys
Uncle Tobys is a quintessentially Australian brand focussing on oats. Enjoy a soul-warming bowl of porridge using the Traditional Rolled Oats, or if you're short on time, the quick sachets in classic flavors like Creamy Honey or Apple & Cinnamon are always a hit. If you prefer cold cereal, try the Shredded Wheat, Wholegrain Flakes, Cheerios, Fruity Bites, the Plus range, or the Goodness Bowl Low Sugar Museli. Alternatively, take breakfast to go with a cereal bar like the Breakfast Bakes, classic muesli bars, or Oat Slices. All the oats are sourced from expert farmers in the Riverina region in New South Wales and Indigo Shire in Victoria. That way, you know you're getting the highest quality product with the best health benefits.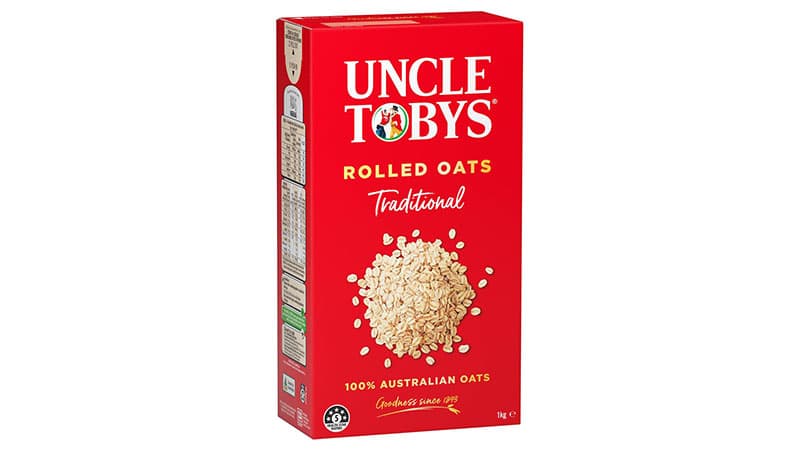 How to Choose the Best Cereal
Just like many manufactured foods, choosing the healthiest cereal for yourself and your family can be confusing. However, there are some tips to help you make the most informed decision. Health Star Ratings are a great place to start, as are high-fiber and low saturated fat cereals. Learn how to check up on claims such as "no added sugar" or "gluten-free" by reading the nutritional label to differentiate fact from marketing.

Compare Health Star Ratings
The Health Star Rating is an Australian system that evaluates foods to help consumers make healthier choices. The rating system is 0.5 to 5, with five being the highest. It considers 'bad' nutrients like sugar, fat, and sodium, plus 'good' nutrients like fiber and protein. As such, the higher the star rating, the better the choice is health-wise for you. However, it's not mandatory for manufacturers to display the rating, and they can opt in or out at any point. In the absence of this, though, there are other things you can look for when making a consciously healthier choice.
Nutrition Claims
Some brands make bold claims that can be misleading, so it's critical to check the nutritional label and ingredients for the whole story. For example, just because cereal has "no added sugar" doesn't necessarily mean it's low in sugar, as the native ingredients, such as fruit, can still have high levels. Other claims, such a gluten-free, should also be verified on the nutrition label, especially if you have severe allergies. Check the label for allergen advice, as some factories use the same production lines, which can lead to cross-contamination, even with stringent controls.

High Fibre
Cereals that are high in fiber will generally be better for you. Fiber helps maintain a healthy digestive tract, keeps you regular, and can decrease the risk of bowel cancer. The average adult needs around 30 grams of fiber per day, so check the label for cereals that offer between four to seven grams per serve, or ten grams per 100 grams. It's also a great way to start your day, as you'll feel satiated for much longer, especially when matched with a high level of protein. Again, verify any marketing claims by checking the nutritional values of the item you choose.
Good Fat
Cereals wouldn't usually be front of mind when thinking about fatty foods. However, ingredients like palm or coconut oil and seeds or nuts have high levels of fats. Palm and coconut oil are more common in cluster-style cereals and are forms of saturated fats, which are not so great. However, seeds and nuts contain good oils and amazing nutrients, so eating them in moderation can benefit your health. When looking at the nutrition label, aim for a product that has three percent or less fat.
What to Avoid in Breakfast Cereal
There are a couple of things to avoid in breakfast cereal if you can. These include high levels of sodium (salt), sugar, and saturated fats. All are commonly considered less desirable nutrients that should be consumed in moderation across your day to maintain a healthy lifestyle. While they often add flavor, they can have negative health impacts such as the increased risk of heart disease, stroke, and high cholesterol.
High Sodium (Salt)
Foods that are high in sodium can increase the risk of heart disease and elevate blood pressure. As such, it's preferable to maintain moderate levels of salt consumption, with an adult requiring just 460–920mg, with the upper limit recommended as 2300mg/day. Reducing your intake across all meals, including breakfast, is the easiest way to reduce this number. Look for cereals that have 400mg or less per 100 grams. However, if you already have high blood pressure or heart issues, aim for 120mg per 100 grams.
High Sugar
Sugar should be avoided if you're tracking macros, prediabetic, counting calories, or just generally being aware of your health. Some cereals, such as muesli, that seem "healthy," can have hidden sugars in the form of dried fruit, honey, or syrups, so always check the label. Aim for around 5 grams of sugar per 100 grams of cereal as a guide. Also, be wary of "no added sugar" claims because that doesn't necessarily mean the same as "low sugar." If you opt for a really low sugar option, you can always add your own sweetness with low GI fruit such as cherries or strawberries making it much easier to control your consumption.
High Saturated Fat
Saturated fats can increase your bad (LDL) cholesterol, which in turn increases your risk of heart disease and stroke. Cereals are generally not the biggest culprits for saturated fats; however, there are a couple of common ingredients to keep an eye on. These are palm oil and coconut oil, which are often found in cluster-style cereals or toasted mueslis. A low level of saturated fat is 1.5g or less per 100g.
FAQs
What should I look for when buying cereal?
When looking for a healthy cereal for the whole family, look for one that is high in fiber and protein yet low in sugar, saturated fat, and sodium. Of course, you'll also need to consider any other factors such as allergens, macro-targets, and other dietary requirements such as vegan or paleo.
Do I need low-GI breakfast cereal?
Low-GI (glycemic index) foods take longer to digest and help prevent blood sugar spikes. They're generally recommended as the better option for people with diabetes and can be beneficial for other consumers. However, whether you need one or not will depend on your overall health, goals, and activities for the day.
SUBSCRIBE TO OUR NEWSLETTER
Subscribe to our mailing list and get interesting stuff and updates to your email inbox.