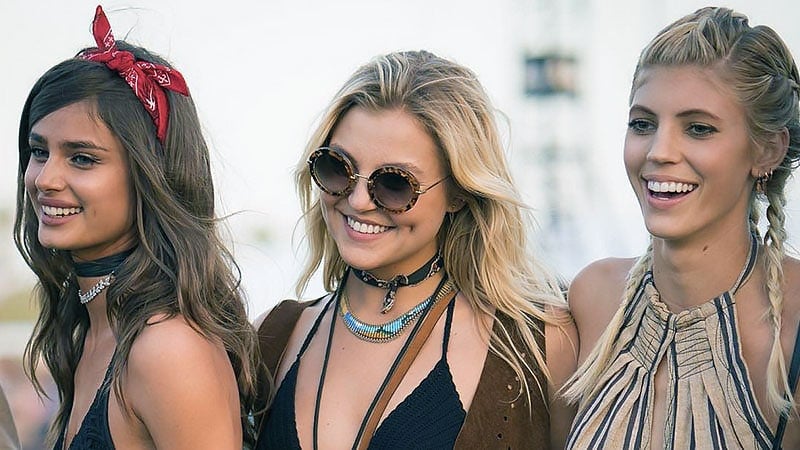 Fresh, on-trend accessories can update and elevate an outfit with complete ease. Nobody knows this piece of styling wisdom better than celebrities which is why we are looking to them for inspiration. This season, celebs have taken the 90's revival off the runway and worked it into their everyday wardrobes. Chokers, hoop earrings and hair accessories are all back and have brought that 90's attitude with them. A touch more modern, but still packed with attitude, celebrities have updated their footwear and are having fun with bag decorations. Be inspired by these five accessory trends that celebrities are currently loving and give them a try for yourself.
1. Chokers
Whether they are made of leather, suede or just a simple piece of ribbon, choker necklaces are back in a big way. The 90's trend is continually gaining momentum and won't be going anywhere anytime soon, so invest in some new jewellery to suit. Whether you want to look glamorous like Ariana Grande or a little grunge like Fernanda Ly, there is a choker to suit every style. If you still can't find what you want, get a little crafty and DIY your own, such as Lily-Rose Depp's style.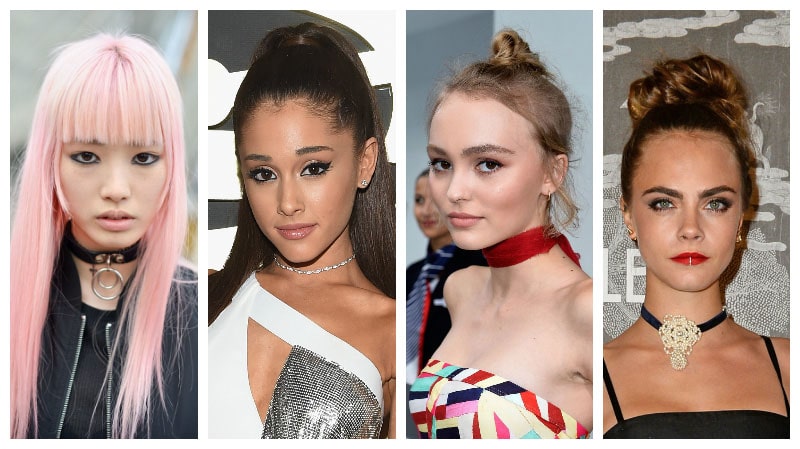 TOP PICKS
2. Hoop Earrings
It's been a long wait but hoop earrings are finally back! These full-of-attitude accessory gems are riding the wave of 90's revival and celebs couldn't be more on board. Try a modern and minimal approach like Jessica Alba to warm yourself back into the trend. Once you're feeling confident and a little sassy, try a statement pair such as Rosie Huntington-Whiteley's. Keep hair sleek and tucked behind your ears to show off your new earrings. No necklace required, just a killer outfit.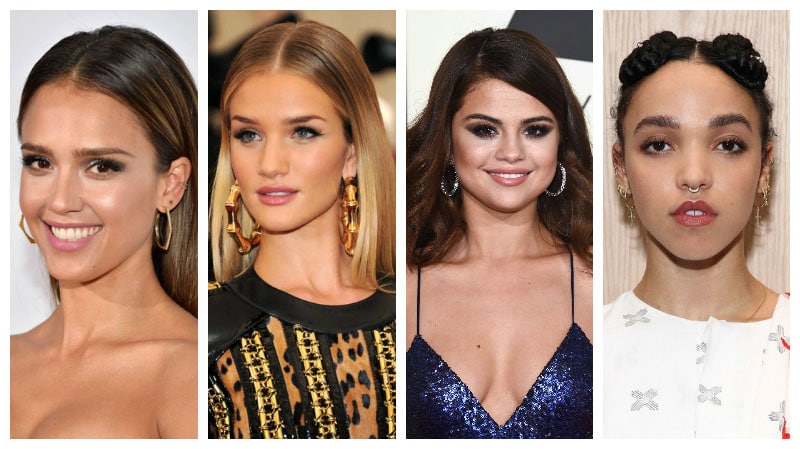 TOP PICKS
3. Pom Pom Bag Decorations
Pom pom bag decorations are one trend that has been persisting for months and is still going strong. Fun, happy and stylish, why wouldn't you try this trend in 2016? Whether it's the original Fendi version or another brand which has caught on to this trend, celebrities are constantly being spotted sporting these furry keychains. Kendall Jenner is a big fan, using pom poms to add interest and colour to many of her handbags. Pick a few up for yourself in different colours and sizes so that you're ready to perfectly accessorise any outfit in 2016.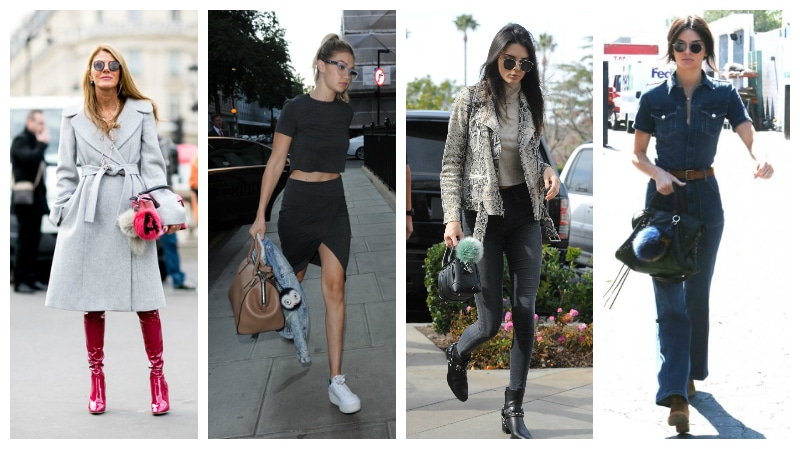 TOP PICKS
4. Over-the-Knee Boots
Over-the-knee boots are the chicest shoe trend of the moment. Perfect for the chilly weather, now is the right time to invest in this trend. After all, if Gigi Hadid, the Jenner sisters and Olivia Palermo are all wearing it, you know it's going to be huge! Choose a suede style over leather varieties to keep your look more on-trend and polished. Over-the-knee boots are surprisingly versatile, meaning that you will be wearing them all year long. Simply pair with a thigh-high dress for warmer weather or denim and knitwear when the mercury drops.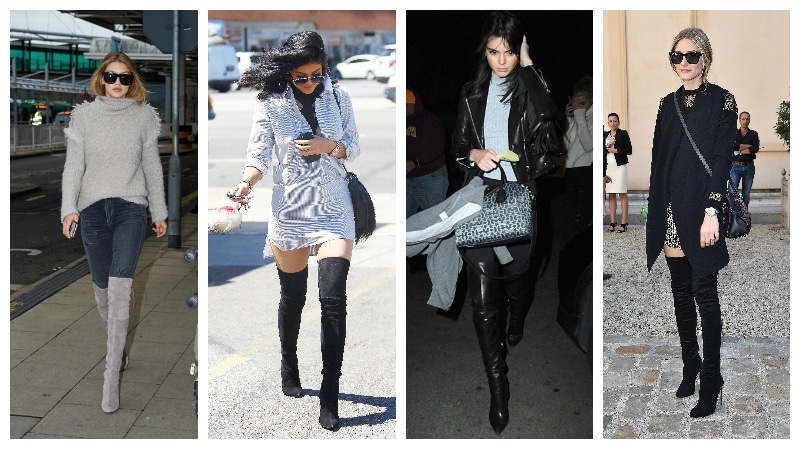 TOP PICKS
5. Bejewelled Hair Accessories
Like chokers and hoops, hair accessories have jumped straight from the 90's to 2016. This year, however, they are bejewelled, chic and the perfect match for evening wear. Whether it's a headband or slide, these new on-trend hair accessories look more like jewellery than ever before. Necklaces, brooches and rings are all being worn in the hair of celebrities to elevate their looks. Add this look to your wardrobe in 2016 with a glamorous headband like Jamie King, earrings like Anna Kendrick or brooches like Diane Kruger. Just be sure to securely attach any heavy pieces with hairpins.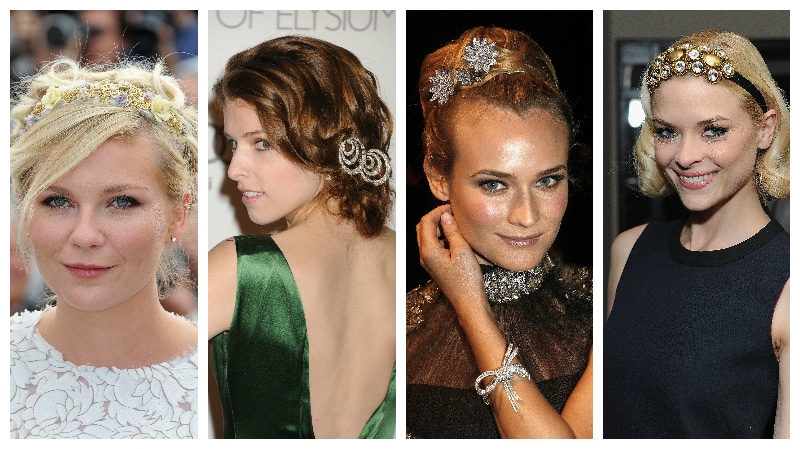 TOP PICKS
SUBSCRIBE TO OUR NEWSLETTER
Subscribe to our mailing list and get interesting stuff and updates to your email inbox.