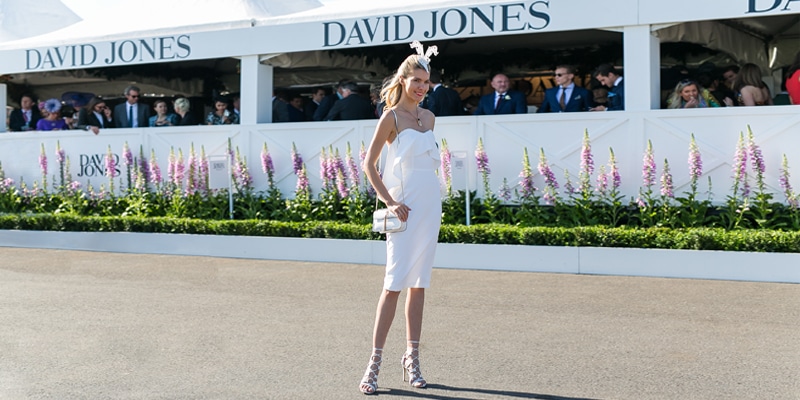 The Heath Enclosure at Caulfield Racecourse for one day turned into a live runway, for the elegant women and dapper men that paraded in their racing finery vying to see and be seen.
It was the 2015 running of the prestigious Caulfield Cup. On the track, Mongolian Khan may have taken the prize, but trackside, in the fashion stakes there was many who were deserving contenders for the gong of 'best dressed'.
The style set as has been usual for the past eight years, congregated in the elegant mint-walled and Wisteria-bedecked enclave of the David Jones Marquee. Sipping on cocktails provided by The Everleigh, flowing Laurent-Perrier and delicious dainty morsels by Titan of the culinary world, Guillaume Brahimi, the great, the good, the powerful, the moneyed and the cream of the creative world idled the pleasant afternoon away.
TheTrendSpotter Team, headed by founders Dasha and Colin Gold were seen in deep tete-a-tete with a host of David Jones ambassadors including; Jessica Gomes, Montana Cox, Emma Freeman, Jason Dundas and new special associate of the brand, Jesinta Campbell who were all seen in a coterie of the house's in-store brands.
Other luminaries included glowing mum-to-be, Nadia Bartel, Marc Freeman one half of the dynamic creative force behind fashion label, Camilla & Marc, Bianca Spender, Helen O' Connor of Thurley, whose designs were worn by a least 15 attendees, and stylist designate to the Melbourne Racing Club, Lana Wilkinson. Crown Golden Ale entertained Delta Goodrem and Michael Clarke in their own separate enclave.
Trends for the day alluded to softer, flowing silhouettes in dresses that sat in hemlines; slightly longer then seen in previous years. Colour palettes also reflected a softer and more pastel range of hues with white the overriding favourite amongst the fashion cognoscenti. Pretty dresses in beguiling lace were also popular choice and was probable best demonstrated in the dresses worn by David Jones ambassador and scion of racing royalty, Emma Freeman and Thurley's creative head, Helen O Connor.
Freshness it seems is the 2015 race-goers mantra, and this flowed on to millinery, make-up and hair dressing choices. The tiara, once reserved for royalty and nobles, is now reinvented in various metals hues, lace and laser-cut Perspex to becoming the headpiece of choice for the style conscious. Worn as a wreath of flowers, leaves or bold geometric shapes and spikes, the headpiece frames the face flatteringly. Make up tended to natural shades with the once choice for a bold tan, seemingly given in for a natural glow. Hair styles were predominantly worn in soft cascades of curls, in neat ponytails or herringbone braided.
With more race days looming including the impending Derby, where white and black rule supreme, look to TheTrendSpotter for beauty, grooming and style inspiration. Dasha Gold's all white ensemble for the Caulfield Cup include; Cooper Street dress, Asilio jacket, lace headpiece by Christine Millinery and worn with Kookai jewellery and Wanted shoes. Colin Gold is wearing outfit by Dom Bagnato.
Photos by Robert Anthony and Colin Gold
SUBSCRIBE TO OUR NEWSLETTER
Subscribe to our mailing list and get interesting stuff and updates to your email inbox.