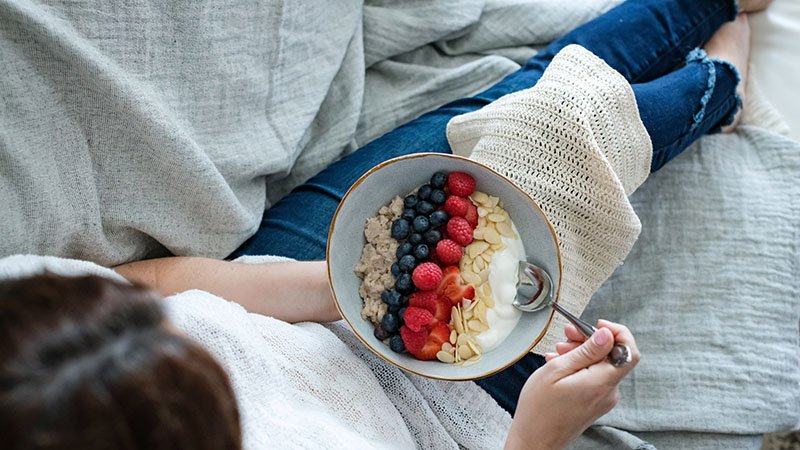 It's one of the oldest treats that humans have enjoyed, with its history spanning thousands of years, and we still love it to this day. Of course, it has transformed beyond plain yogurt and now includes a wide range of flavors and strains. It's not just that it tastes great, but it's also very nutritious. Healthy bacteria and live cultures can help improve heart health and decrease bloating, plus the calcium and minerals help with strong teeth and bones. It's also a convenient snack in the afternoon or breakfast on your way to work. But not all brands were born equal, so we've compiled the best yogurts that will help your gut healthy.
What are the Benefits of Yogurt?
Yogurt is an excellent option to add to your breakfast routine, thanks to its many benefits. The popular dairy product is rich in important nutrients, including vitamin B, daily phosphorus, magnesium, and potassium. Importantly, one cup can provide you with 49 percent of your daily calcium needs – a mineral that you need to maintain healthy bones and teeth. Some can even assist in your digestive health with probiotics, depending on the type you prefer. Some of these probiotics include Bifidobacteria and Lactobacillus, which may reduce signs of IBS. Of course, this all depends on the type of product you buy. Many yogurts have added sugar and artificial flavors, reducing helpful bacteria, minerals, and vitamins.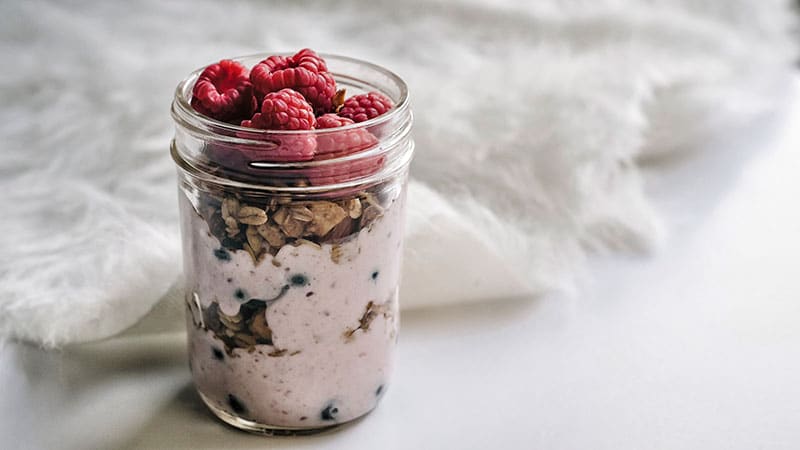 How to Choose the Healthiest Yogurt
While there are many health benefits in a cup of yogurt, not all products are built the same. While all dairy options start out with probiotics and minerals needed, adding sugar and pasteurization can remove these helpful elements altogether. It's best to choose something with only a few ingredients – this includes milk, bacterial cultures, and perhaps fresh fruit if you want something sweeter. Ingredient labels are often listed by weight – avoid options with sugar near the top of the list.

Check the Ingredients
Before adding the product to your cart, make sure you read the ingredient list. If you're looking for the healthiest option, your best bet is to choose something with very few ingredients listed in order of weight. This includes milk, or a day alternative, and the beneficial live bacteria and probiotics. If you want something a bit sweeter, you can add fresh fruit or chia – this makes for an excellent breakfast option. It's best to steer clear of options with sugar close to the top of the list.
Limit Added Sugar
Sugar is one of the most popular ingredients in our daily diet, and some of us may not even realize it. Added to many sodas, fruit juices, processed foods, and even yogurt – extra flavors and sugar is an easy way to turn a nutritious snack into something unhealthy. In fact, increased sugar intake can lead to the risk of heart disease, obesity, liver disease, and diabetes. Yogurt contains 9-12 grams of natural sugar, which forms as lactose, but this may not be sweet enough for some. In comparison, some sweetened options can include up to 30 grams of sugar in a single cup, so try and stick to the lower amount.
Low Fat vs. Full Fat
Whether you like full-fat, skim, or fat-free, each type of milk has its own benefits and disadvantages. Starting with whole, this is filled with CLA, an acid that may help reduce the risk of heart disease and reduce inflammation. It's also plentiful in calcium, which is great for bone and tooth health. It's typically higher in calories, but that doesn't make it necessarily the unhealthy option. Low fat and fat-free options are a popular choice for those cautious of their calorie intake. However, to balance the flavor taken with the fat, it's not uncommon to find added sugar in the ingredient list. It's recommended that if you prefer lower fat alternatives, seek one without added sweetener.
Look for Live Cultures
All dairy milk starts with probiotics, which are one of the tools required to create yogurt. The healthy bacteria transform the milk sugar into lactic acid, which gives it its sour taste. These live cultures have many health benefits, such as stimulating the immune system and decreasing IBS symptoms, but you won't find them in all dairy products. Due to many factors, such as storage conditions, these cultures can die from the heat associated with pasteurization. Stay on the lookout for an option with higher levels of probiotics or labels that say 'heat-treated after culturing.'

Choosing Between Greek, Non-Dairy, or Regular Yogurt
Yogurt has been enjoyed for thousands of years, and today you can find a wide range of varying flavors, alternatives, and renditions of the snack. So which is best? The most popular options include Greek, which is a bit different from the traditional method. The development of this yogurt requires more straining, which removes some of the natural lactose and whey. It's become increasingly popular in the last few years, thanks to its high protein content and low carbs – however, it remains higher in fat and offers less calcium. A regular yogurt is a healthy option that offers a myriad of benefits, but it can also feature many artificial flavors and sugar. An excellent alternative for non-dairy consumers is soy or coconut yogurts, which are plant-based. These options typically don't contain much calcium, but you can find a brand with added minerals and vitamins.
Check Fruit is Real
Many yogurts add fruit to the recipe for added sweetness or flavor. Before you grab a tub, make sure you check the ingredients and see that the fruit is real. Some manufacturers will use artificial fruit extracts to give the same flavor – real fruit will contain natural sugars and offer far more nutrition than its alternative. If you're unsure, buy plain flavored yogurt and add the fruit yourself – we recommend bananas, strawberries, blueberries, or raspberries.

Best Yogurt Brands in 2021
1. Chobani
Chobani is one of the tastiest options on the market, thanks to its flavors, added fruit, and snacks. These Greek yogurts are strained to perfection and include tasty natural ingredients like raspberries, bananas, and blueberries. Treat yourself to some brown sugar and oatmeal for added taste and protein. You can find them in on-the-go packaging to fuel you for the big day ahead.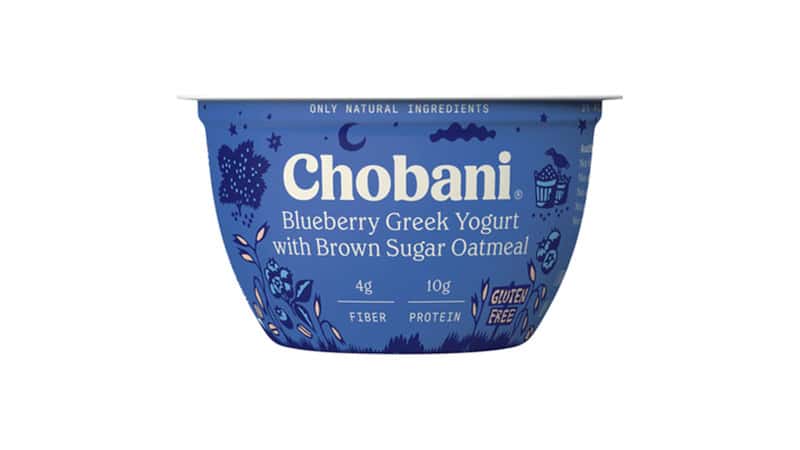 2. Great Value
As its name suggests, this yogurt gives you excellent value and can help improve your health. From plain to Greek yogurt and everything in between, there's an option for everyone. Many of these options include nutritious and beneficial bacteria like L. Acidophilus, which may help stimulate your immune system and reduce bloating and IBS. With different sizes and flavors, you and your whole family can enjoy the tasty treats.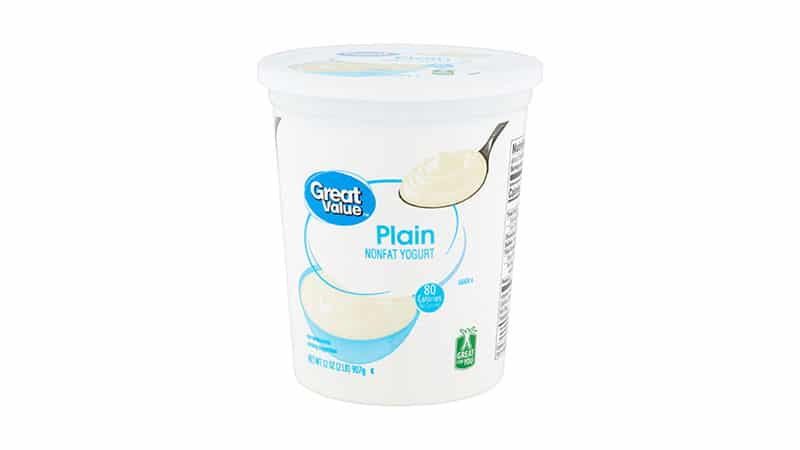 3. OUI
Take yourself to the countryside in France, all with a single tub of yogurt. Oui is inspired by a traditional French recipe; it features whole milk and natural ingredients for a smooth taste. They're also filled with live healthy cultures that can aid digestion and regulate your stomach and intestines.
4. So Delicious
It can be hard to find a dairy alternative that tastes as good as the real thing, but So Delicious has perfected the recipe. Coconut milk contains no dairy, lactose, or soy, giving you a natural flavor and healthy kick, thanks to its added live bacteria. This is a great option for vegans or non-dairy consumers who want to start their day the right way.
5. Yoplait
Yoplait is one of the oldest yogurt brands in the world. For more than 50 years, it has taken its inspiration from French recipes and dairy, creating a rich and healthy option. Added fruit and flavors like plum, strawberry, and chia seeds give you plenty of choices for a nutritious snack. There are plenty of low-fat, full fat, protein, and calcium-rich flavors – make sure you check the ingredients list before purchasing.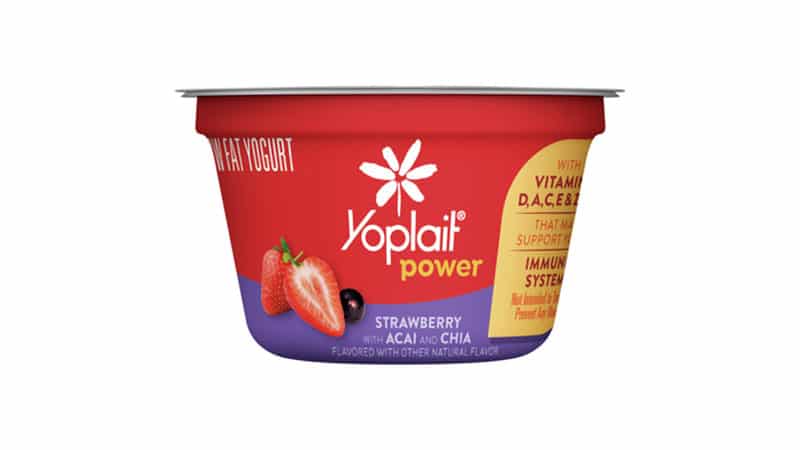 6. Five AM
Sometimes you need to go back to basics. This organic yogurt from Five AM is the best start for your day, thanks to its natural taste and nutritious ingredients. Without any added sugar, it contains plenty of calcium and probiotics for your gut. You can choose a wide range of flavors that suit you, without compromising your wellbeing.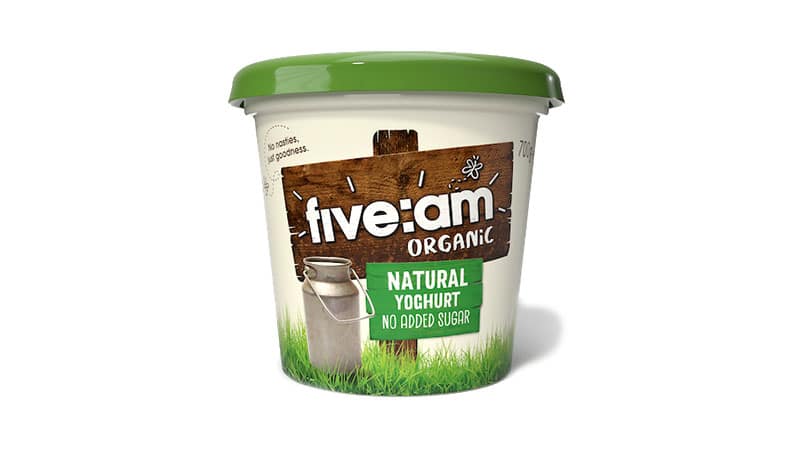 7. Danone
Greek yogurt is a popular choice right now, and we can see why. Brands like Danone, and their smaller brands like Oikos, provide delicious yogurts without the superficial nasties of some competitors. Many of their choices include added protein, reduced sugar, real fruit, and fat-free milk so that you can enjoy yourself without any guilt.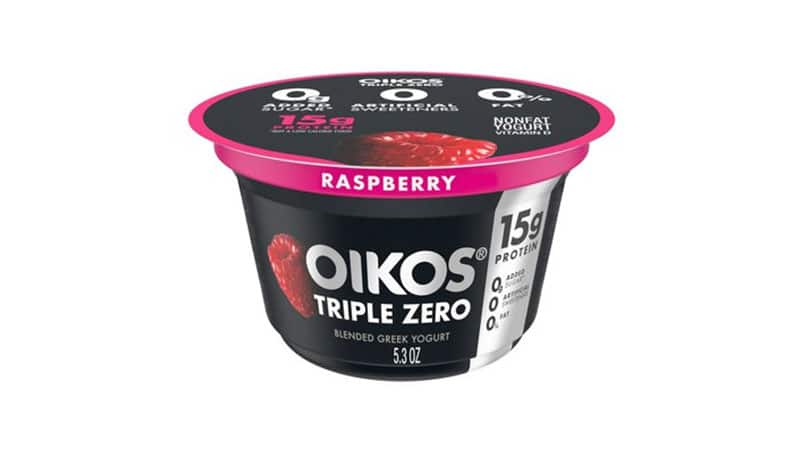 8. Activia
Likely best known for its probiotics, Activia isn't messing around when it comes to gut health. This brand takes its bacteria seriously, providing live culture to aid in digestion and reduce bloating. There are billions of good bacteria in every tub, alongside fresh fruit and added vitamins like B and B3. It's a great new addition to your active lifestyle.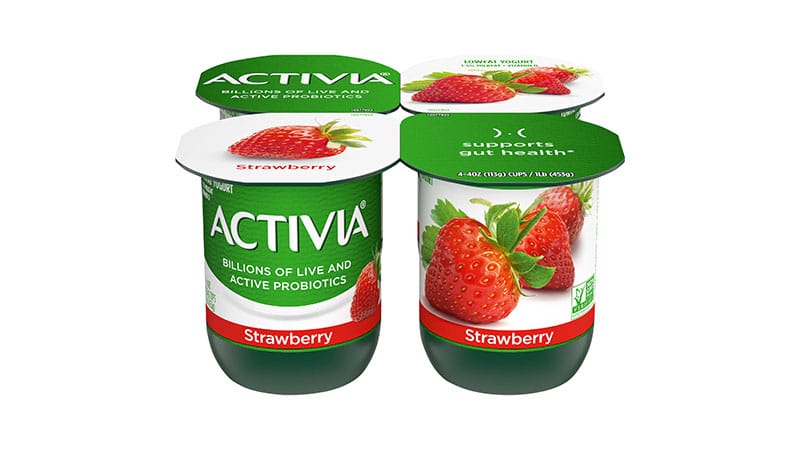 9. La Yogurt
Boost your immunity and reduce bloating with a probiotic-filled tub from La Yogurt. These dairy snacks include plenty of healthy bacteria, which can improve your digestive system and give you a boost of energy. Plus, many options are kosher, making it a perfect option for Passover.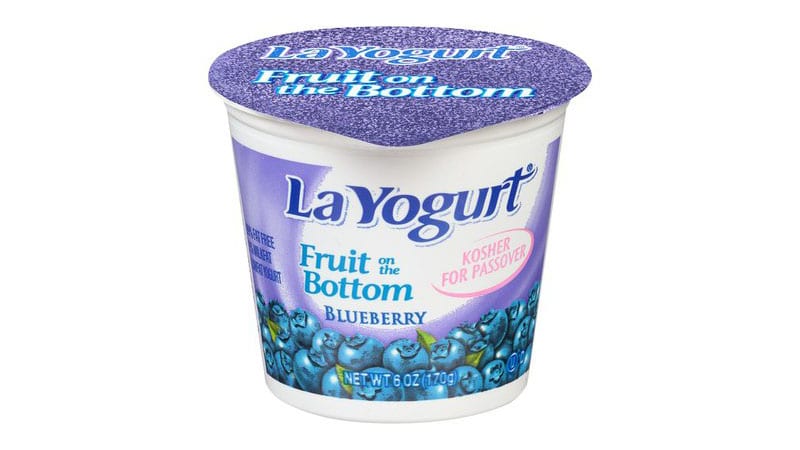 10. Dannon
Sometimes all you want is a really great-tasting yogurt – Dannons is here to take the test. This brand offers many flavors, from traditional strawberry and peach to summery fruits like apple and mango. With non-fat ingredients and Vitamin D, it's great for an afternoon treat or morning snack on your way to work.
11. Fage
While some Greek yogurts need a load of sugar for taste, the options by Fage are delicious and great for your health. This brand features no sweeteners or artificial flavors, just fresh fruit and natural flavors. Lactose-free options are also available if you prefer them. No wonder it's the leading brand in Greece!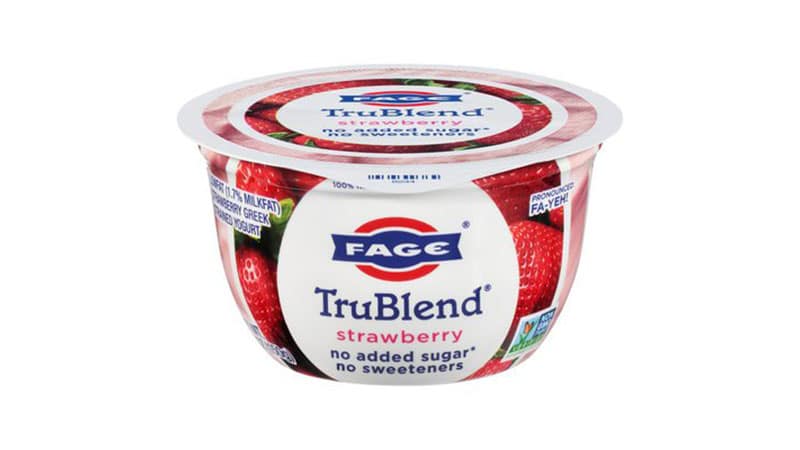 12. LALA
Love the taste of yogurt but want real bits of fruit for an extra kick? Lala provides a blend of real fruit and low-fat milk to provide a healthy breakfast alternative for someone on the go. Thanks to natural probiotics, live cultures, and vitamins, many of these products are high in proteins and can support your immunity.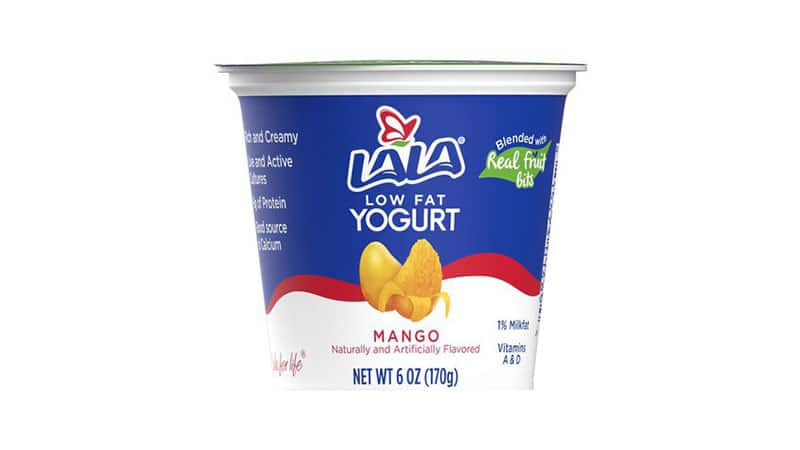 13. Light and Fit
In order to improve your health, you need to make sure you're investing in nutritious food. Wake up the right way by adding Light & Fit to your routine. With non-fat milk and plenty of low-sugar options, these dairy products can enrich your gut with live cultures and boost your energy with added protein. Choose from delicious banana and strawberry flavors, or treat yourself to a vanilla or cherry tub.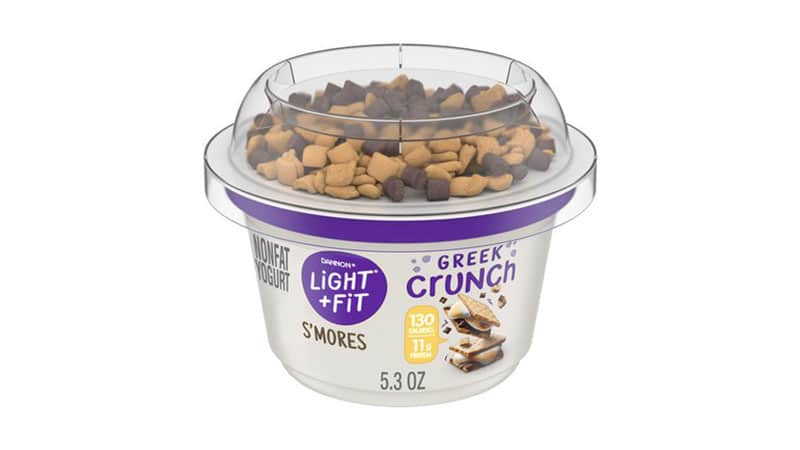 14. Stonyfield
If you're on the search for organic yogurt, Stonyfield is an excellent choice. As all of their products are created using organic ingredients, you can rest easy knowing they're filled with healthy ingredients. Each tub is also packed with probiotics and live culture such as Bifidus, supporting immune and gut health. There's a wide range of flavors to choose from, and there's something for the whole family.
SHOP: Stonyfield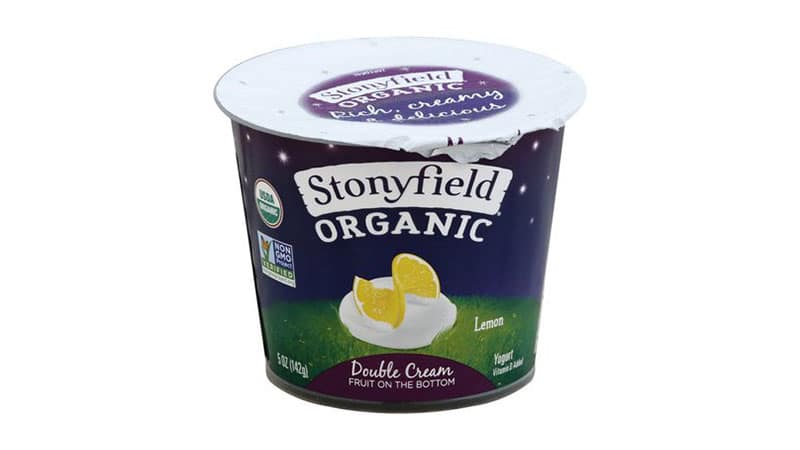 15. Lifeway
Lifeway is best-known for its kefir, a fermented drink that's similar to yogurt. While the two both classify as dairy products, kefir contains kefir grain colonies of yeast and lactic acid, resembling a cauliflower. These products are jam-packed with protein, calcium, vitamins, and probiotics, with many suggesting it may be healthier for your digestive system than yogurt. Lifeway offers a huge selection of flavors sizes and dairy options, giving your stomach some much-needed love.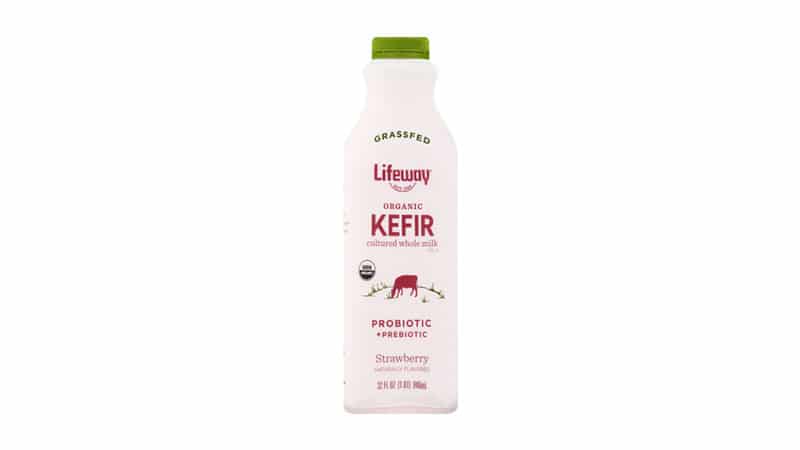 FAQs
What yogurt is healthiest?
The healthiest yogurt is one with the fewest number of ingredients and the lowest sugar. All yogurts begin with high probiotics, calcium, and vitamins, but many brands strip away the nutrients when they add sugar, flavors, and artificial sweeteners. Choose an option that is limited in sugar, high in probiotics, and live cultures  - your gut will thank you. 
Is it good to eat yogurt every day?
You can eat yogurt every day and see some serious health benefits from it. However, this entirely depends on the type of product you are consuming. It is only good for your health to eat the snack every day if it's rich in vitamins, minerals, and bacteria and is low in sugar or artificial flavors. Daily consumption can help reduce your symptoms of IBS, bloating and increase your needed calcium levels for healthy teeth and bones. 
Should I buy organic Yogurt?
While there is a common connotation that organic automatically means healthier, there is no real proof that organic yogurt offers any benefits over non-organic alternatives. Typically, organic dairy is richer in vitamin E, iron, and beta carotene but is often lower in minerals like iodine and selenium. Non-organic options contain other nutrients that organic may lack, but both offer great overall benefits to your gut health. 
What are the worst yogurts to eat?
This is entirely up to your preferences. In terms of flavor, plain and unsweetened products can sometimes taste sour or tangy due to the lactic acid. In this case, you'll often find tubs with added sweeteners and flavors. You can find many healthy options that include bits of fruit, natural sugars, or oats, but you should be careful of the sugar content. Unfortunately, many brands use artificial ingredients, which are bad for you, and are not recommended to consume on a daily basis. 
SUBSCRIBE TO OUR NEWSLETTER
Subscribe to our mailing list and get interesting stuff and updates to your email inbox.