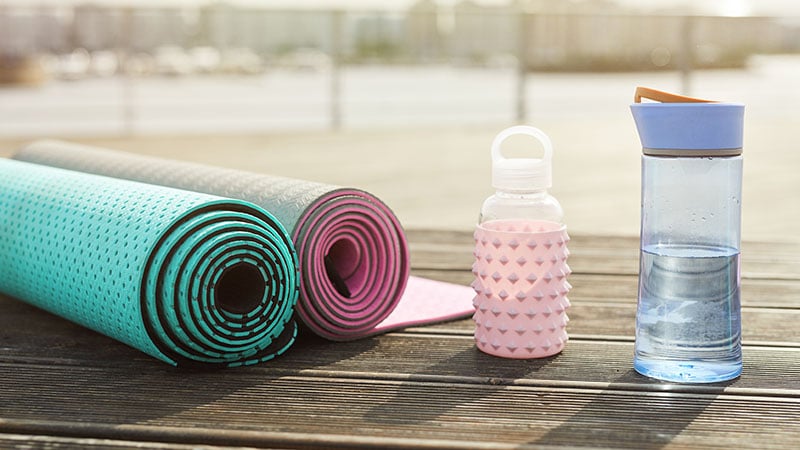 Stretching and exercising are fantastic ways to keep your body looking and feeling its best. To reach new goals, it's important to practice regularly and keep your body supported. Whether you enjoy pilates, yoga, or working on your split, you should support your joints and prevent injury. Feel the ground beneath you, and embrace your fitness journey with one of these yoga mats.
1. Warrior Yoga Mat
Stretch and support your body with the Warrior yoga mat. This slip-free, anti-odor design is perfect for different room temperatures and is moisture-wicking. It's constructed using ethical and all-natural materials and is PVC-free, so you can relax and unwind without any worry. Choose a cool color that suits you, or stick to classic black for a timeless feel.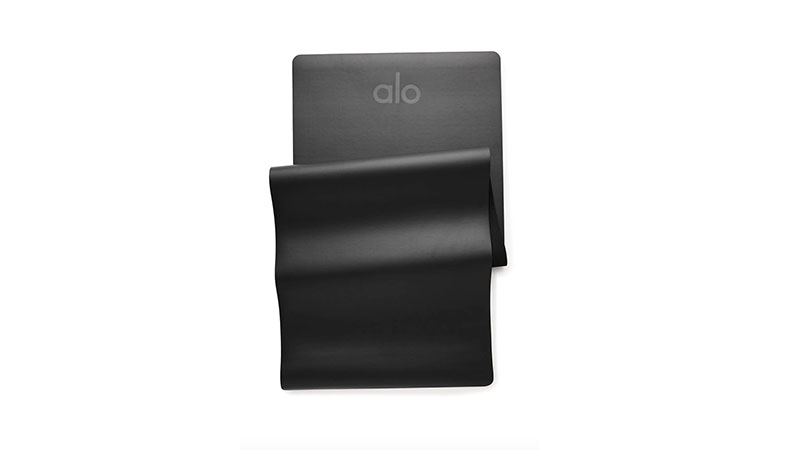 2. No Ka' Oi Debossed-Logo Yoga Mat
Enjoy your Shavasana with absolute luxury, thanks to this yoga mat by No Ka' Oi. It features a debossed logo with a pebbled texture, and a spandex composition and polyamide, making it super comfortable for your exercise needs. Whether you're working on your split or trying a new yoga pose, this is the right accessory to get you there.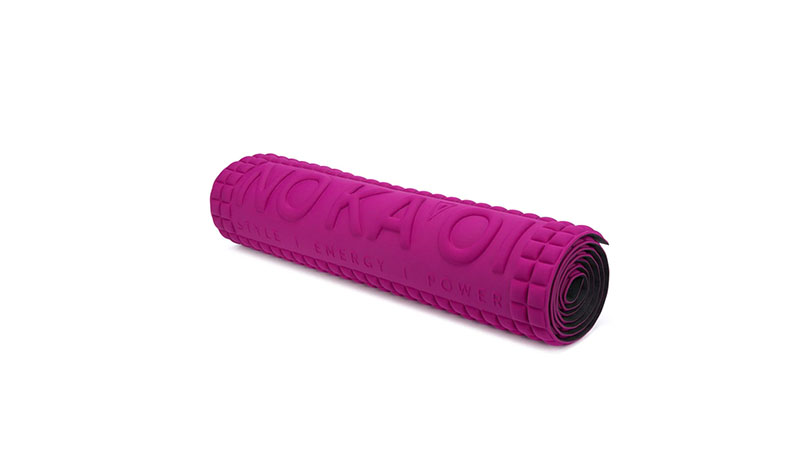 3. Balance From GoYoga Mat in Gray
This gray yoga mat is the perfect option for those who enjoy working up a sweat. The accessory from Balance From provides premium support for your joints and is lightweight enough to carry anywhere you need. The straps offer easy transportation, and the cool shade suits many tastes and settings.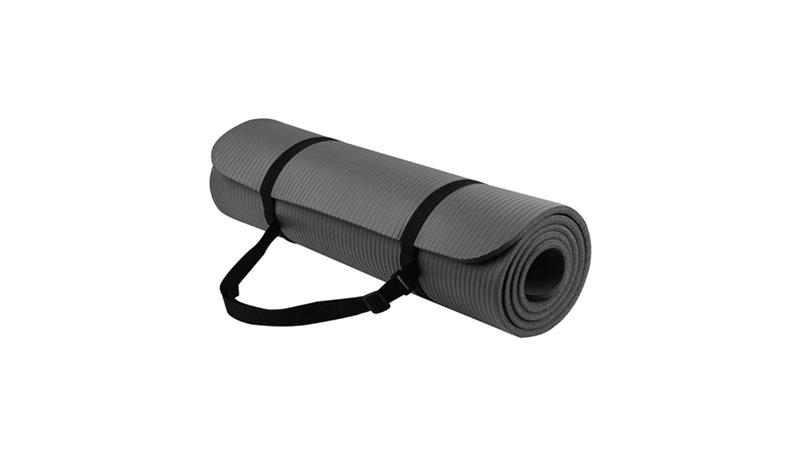 4. ProsourceFit Extra Thick Yoga Mat
Take your fitness game to the next level with this ultra-soft yoga mat. The multipurpose mat is perfect for a wide range of exercises, such as pilates or stretches. The high-density foam is comfortable for your joints and can be easily rolled up to carry around. It's large in size, so you can move around without worrying about falling over the edge.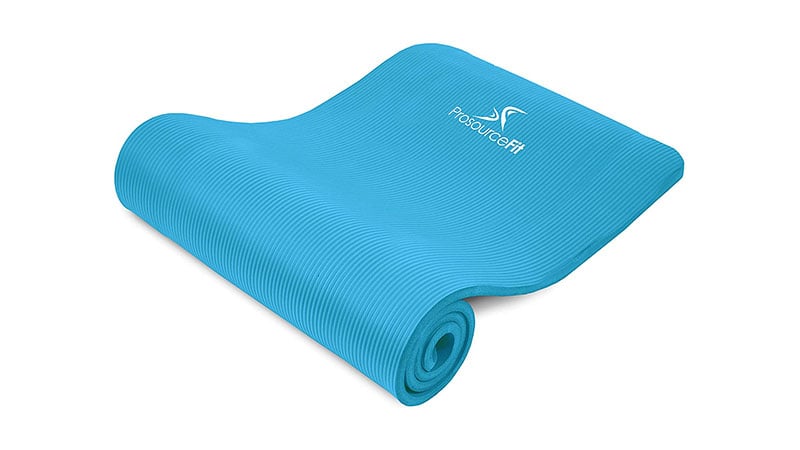 5. Retrospec Solana Yoga Mat
Alleviate stress on your body and enjoy the pure comfort of high-density foam with this yoga mat by Retrospec. The moisture-wicking, non-slip surface is soft and spongey, so it's perfect for your pressure joints and can help prevent injury. You can easily clean it between uses, and the durable material is ideal for daily use.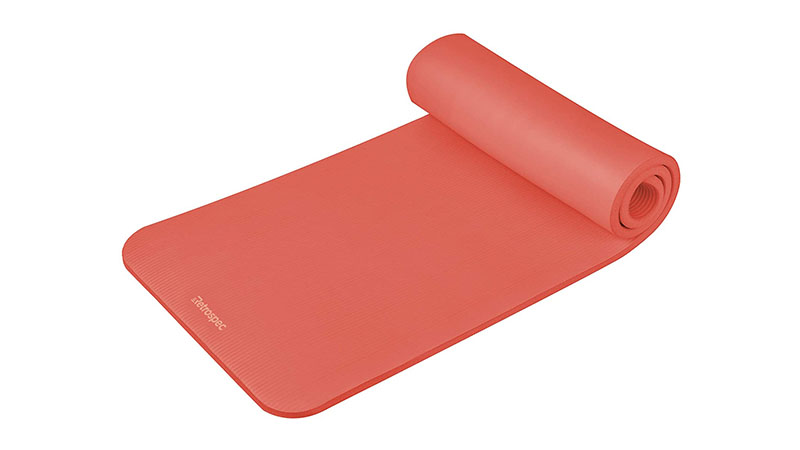 6. HIIT Yoga Mat in Black
Whether you're stretching it out or working up a sweat, HIIT is the ultimate companion. The design is streetwear-inspired, with a woven style and non-slip materials, so you can reach new limits and feel your best. You can use this mat every day and feel the soft support across your hips and joints.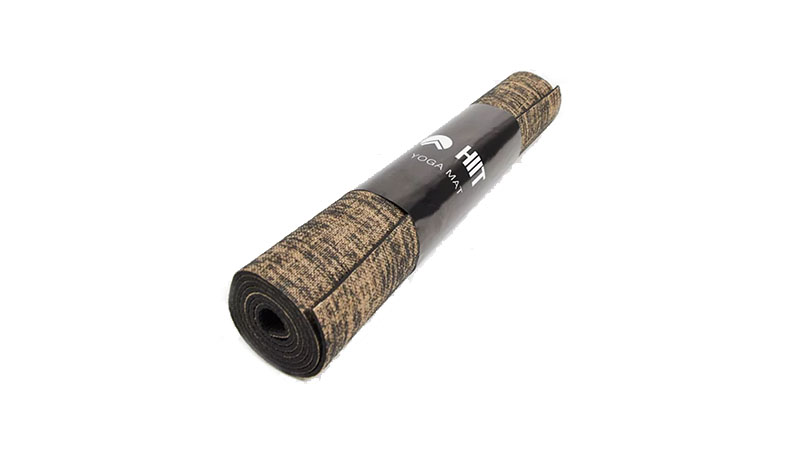 7. Chakra Warrior Mat
Elevate your workout and feel your best with this Chakra mat. The cushioned rubber backing is non-slip and wicks away moisture so that you can enjoy a solid stretch session without a sticky feeling. The textured grid helps guide your alignment, so you can perform better every time you roll it out.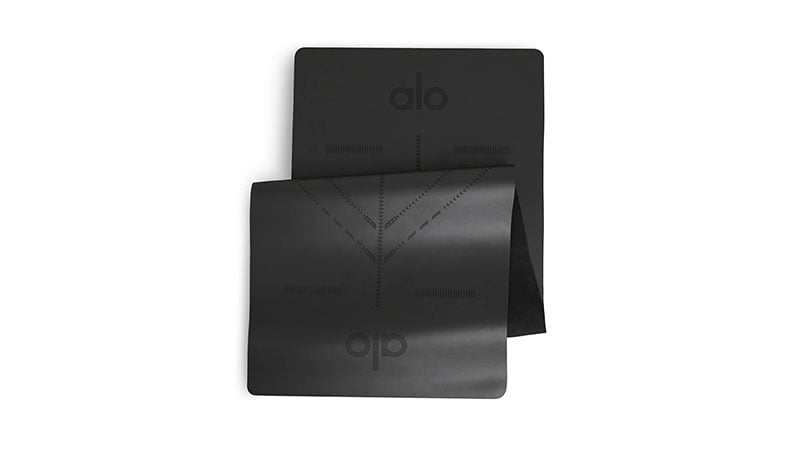 8. Lululemon The Reversible Yoga Mat
Increase your flexibility and warm up your muscles with this reversible yoga mat from Lululemon. Smooth on one side and textured on the other, it features a non-slip material that will last for years. The anti-bacterial finish stops odors and is comfortable enough for your joints and pressure points. Whether you prefer Bikram yoga or a post-workout stretch, this is the right item for the job.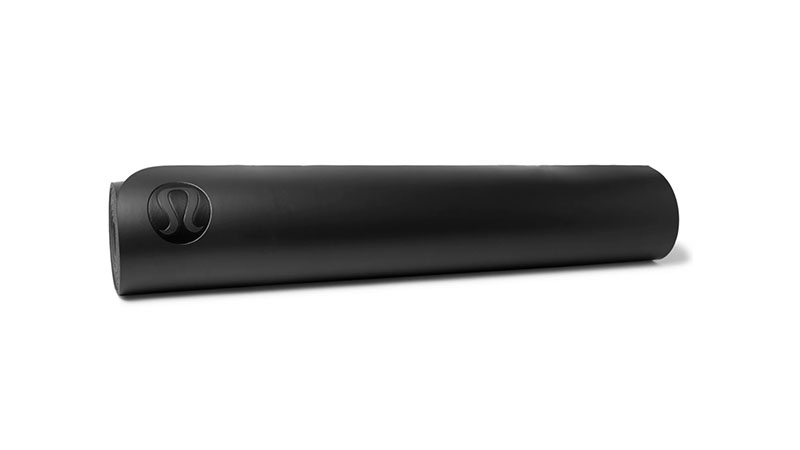 9. June & Juniper Travel Yoga Mat
This June & Juniper yoga mat is super lightweight and is perfect for travel. It's six feet in size, so you can stretch out, touch your toes and practice Shevasana with ease. The ultra-thin material is comfortable enough for daily use and is environmentally friendly, meaning you can take care of yourself and the planet all at once.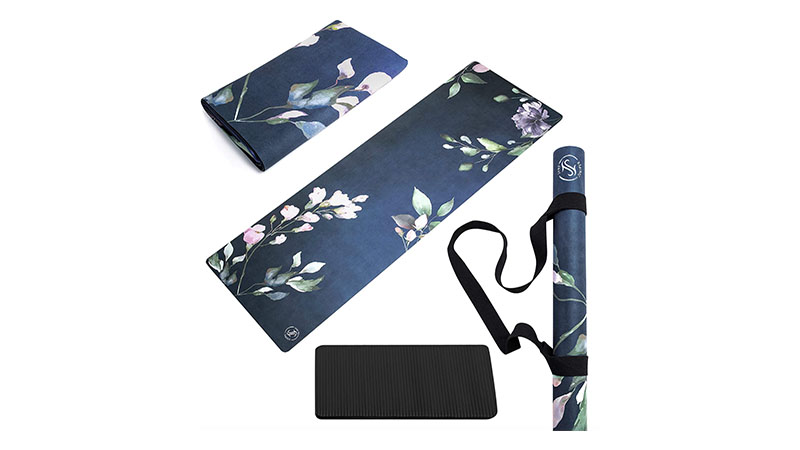 10. Amazon Basics Yoga Mat
Extend and lumbar up with this mat from Amazon. This is the perfect option to have in your car, wardrobe, or gym bag, and it is ideal for a quick yoga session or a cool down after a workout. It's made from lightweight and durable foam, so you can cushion your joints and prevent injuries. The textured surface is non-slip for you to relax with ease.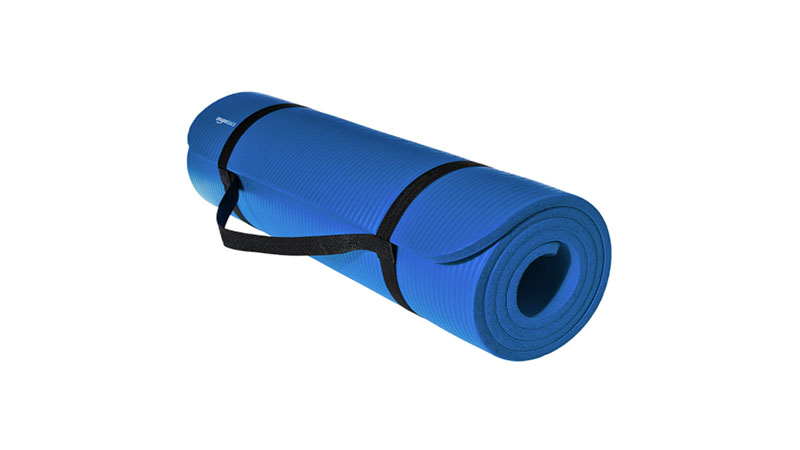 11. NewMe Fitness Instructional Yoga Mat
Are you new to yoga and unsure of the best pose for you and your body? This instructional yoga mat may be your new best friend. Featuring 70 clear illustrations of the basic and best positions, including the side plank, pigeon, and so many more. The mat is non-slip and easy to roll up and travel with you. Take it to your next lesson or keep it at home to help you unwind – it's the ideal tool for beginners.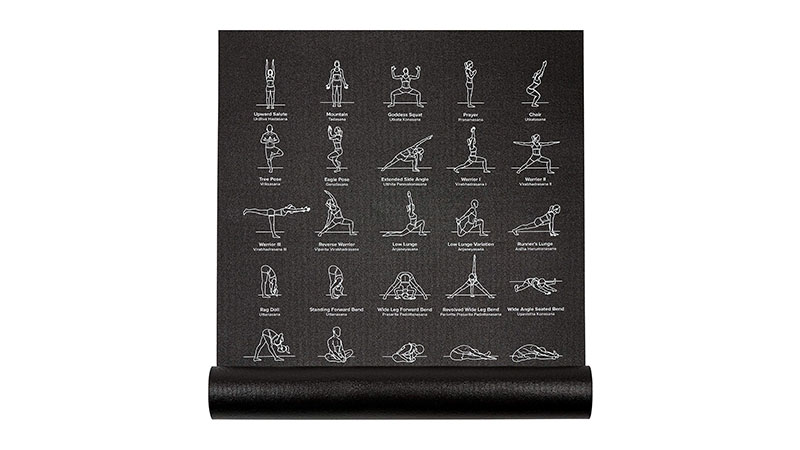 12. Gaiam Yoga Mat
Brighten your day with this classic orange yoga mat. The stylish and sleek exercise tool is the ideal accessory for pilates, yoga, and dance lovers. You can perform a plank without hurting your joints and stretch after a long workout with comfort and ease. Made with soft and spongey materials, it's easy to roll up and take with you anywhere – what more could you want?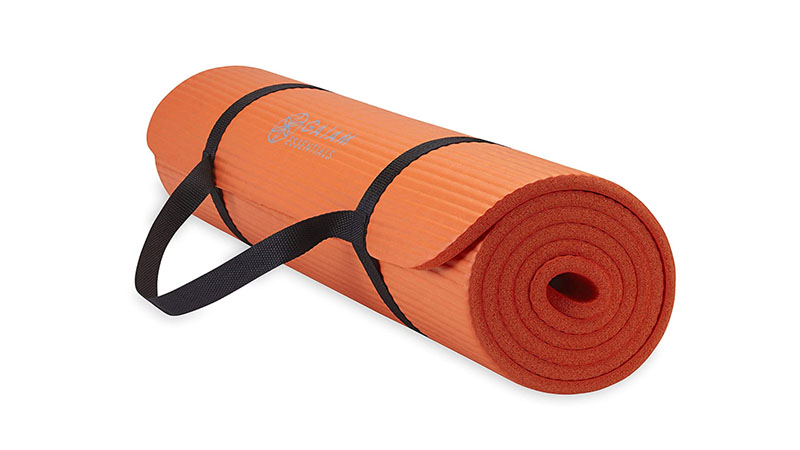 13. HemingWeigh Yoga Mat
The HemingWeigh yoga mat is the perfect companion for your joints and stretching your muscles. The durable and classic design is perfect for indoor and outdoor exercise and helps prevent sprains. It's also extra-long, so you won't fall off the mat when completing your end of workout cool-down or warm-up. Use the carry straps to take it to and from your lessons, and store it away with ease.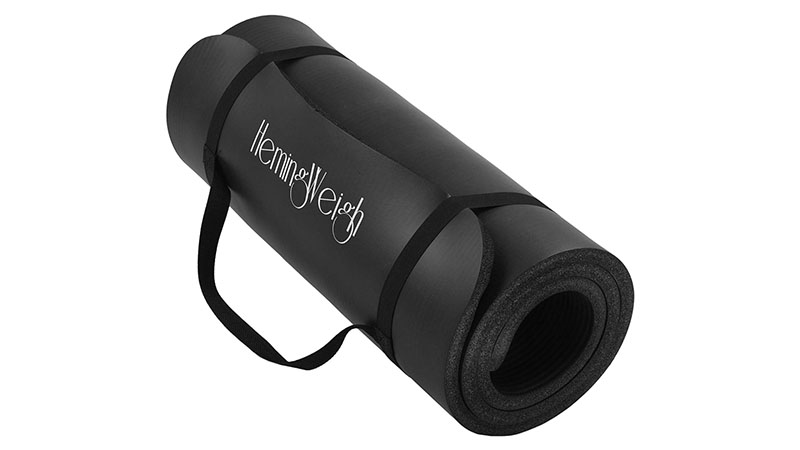 14. Retrospec Solana Yoga Mat in Blue
Take the stress out of your body and fully relax into this mat from Retrospec. The Solana yoga mat is thick and provides a non-slip surface to prevent injuries and support your joints. You can work your way through the entire body without falling over the edge, thanks to its 72″ length. You can easily clean it, roll it up and travel anywhere – it's an excellent accessory for those who love to work up a sweat.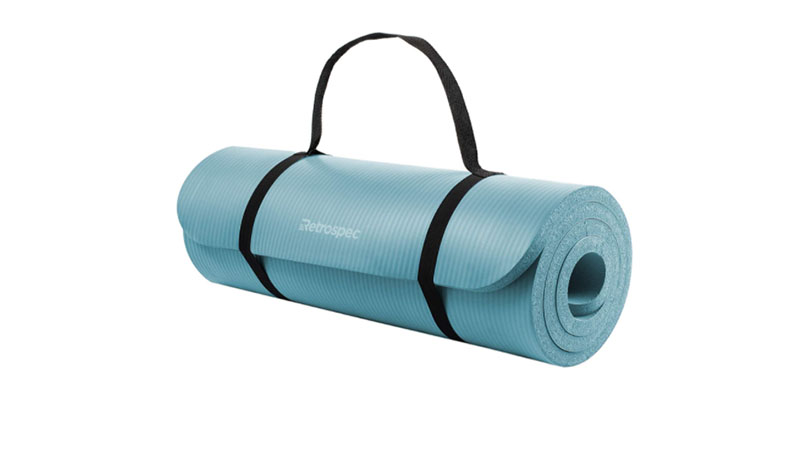 15. Reebok Training Yoga Mat in Black
Take total control of your body and stretch it out with the training yoga mat from Reebok. This trusty mat is designed to work with you, allowing optimum flexibility without moving underneath you. You can protect your joints thanks to its spongey and non-slip texture. Once you're done, roll it up and go.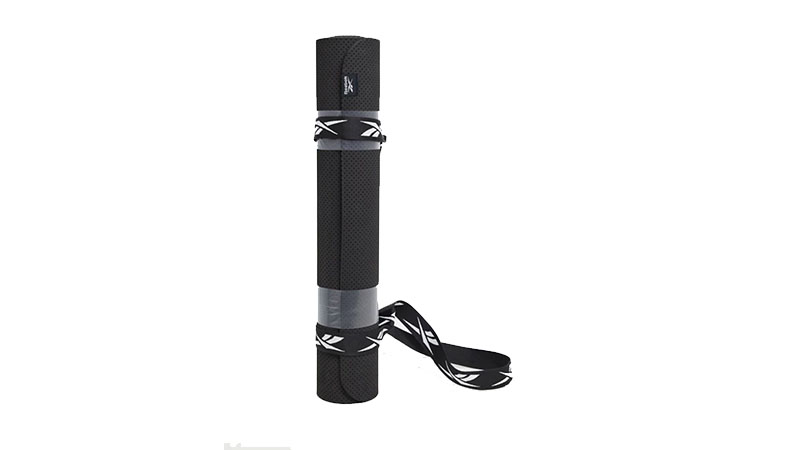 16. Liforme Original Yoga Mat
Optimize and maximize your at-home or gym workout with this sturdy and innovative yoga mat. This comfortable tool features eco-polyurethane, allowing you to move freely without harming the planet. The 'AlignForMe' system helps guide our body and prevent any injuries or sprains while training. It's the mat made by Yogis, for Yogis around the world, no matter your skillset.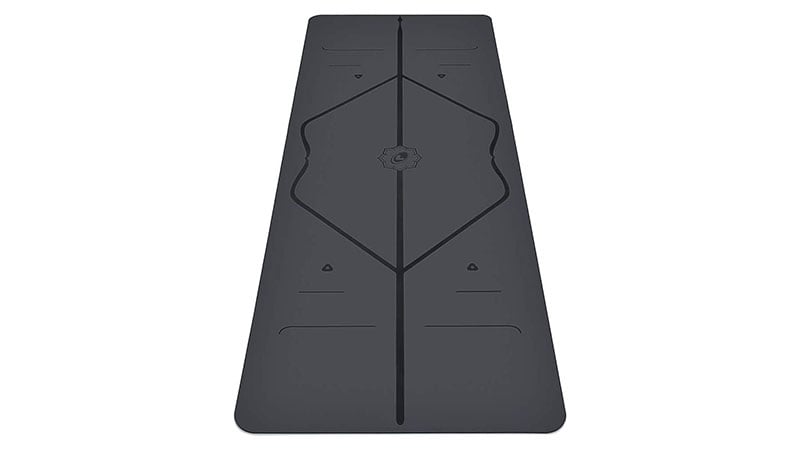 17. Jade Yoga Harmony Yoga Mat
Hold your pose for that extra time and feel the burn with this Jade Yoga Harmony mat. The tough and sturdy design allows you to prevent injury and stop slipping from your position. The cushioned padding will support your pressure points and can help you reach your goals faster. What's more, for every mat that's sold, Jade Yoga will give back to the Earth – they've planted over a million trees since 2006.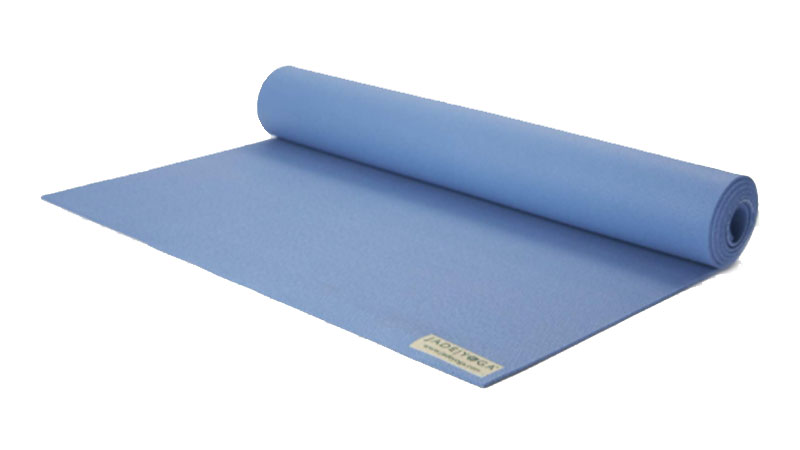 18. Manduka eKOlite Yoga Mat
Why have a regular yoga mat when you can have one that is cute and superior in comfort? This Manduka yoga accessory is an excellent tool to have when stretching, doing a plank, or working on your Chi. If you start to slip, have no fear, it will keep you feeling safe and secure, thanks to its natural rubber grip and ultra-soft cushioning. Once you've finished your session, roll it up and be on your way – you'll want to take this mat everywhere you go.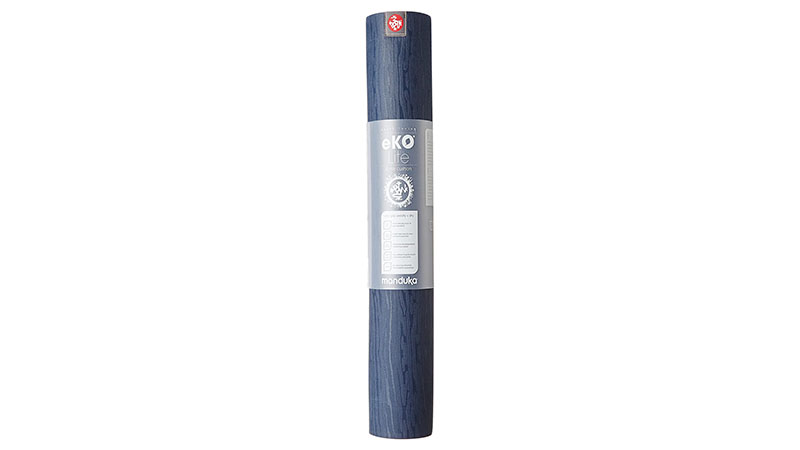 19. Lorna Jane Non-Slip Yoga Mat in Gray Tie-Dye
Align your body and perform at your best with the Lorna jane non-slip yoga mat. This cute and sleek tie-dye design is fashionable and perfect for your next workout session. Thanks to its super grip, you can enhance your poses and feel more connected to your muscles. If you prefer a more basic style, reverse it over and use the other side – you can't get better than that.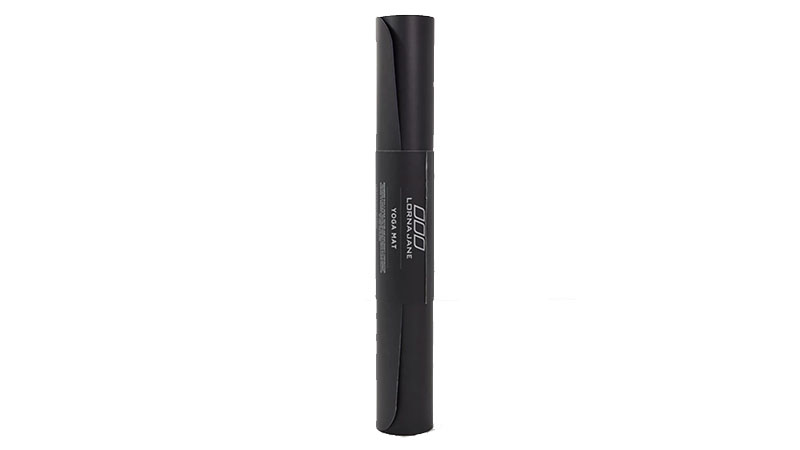 20. Premium Large Exercise Mat
For the days where you need to make a big impact on your body, this oversized workout mat is here for you. The large and in charge yoga mat offers a non-slip and durable performance, meaning you can stretch, crunch, and plank as much as you require. Your joints and muscles will thank you once you try this out – it's the perfect answer for anyone aiming to increase their fitness level.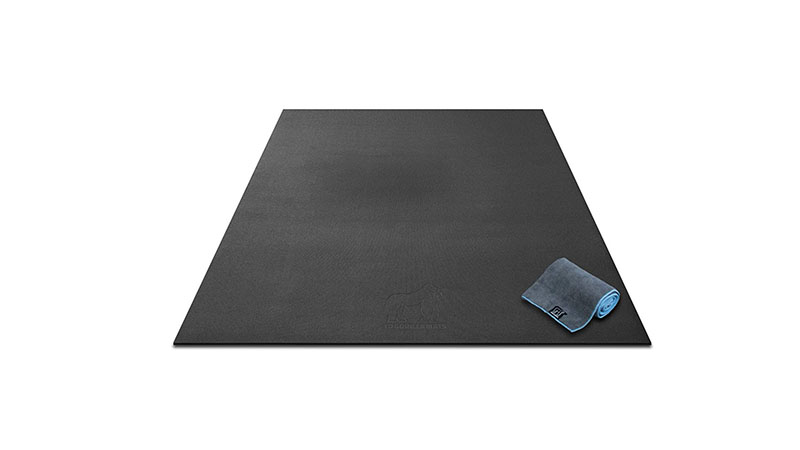 21. Gaiam Cork Yoga Mat
Stop the spread of germs and focus on your body with this funky cork yoga mat from Gaiam. This nifty mat offers superior protection for your joints and features an all-natural cork material on one side, with natural rubber on the other. You can stretch, lean, and jump all over it – it will offer support and traction for your joints and pressure points.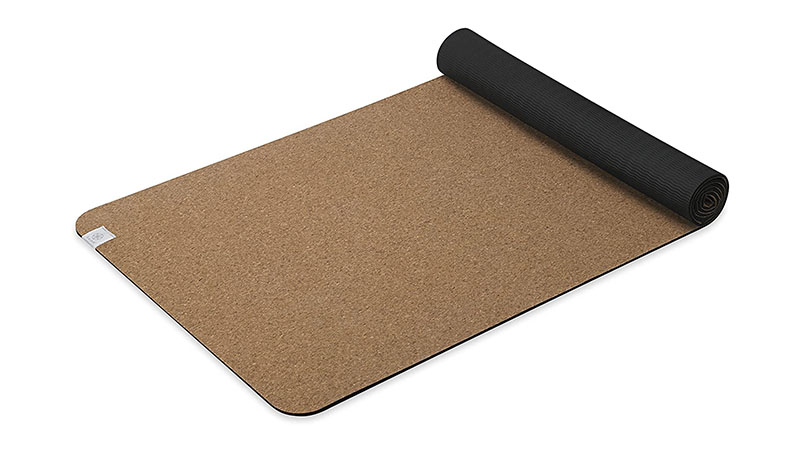 22. Everyday Essentials Yoga Mat in Blue
No matter your skillset, every fitness journey begins with a yoga mat. This essential item is perfect for beginners and offers a great amount of support for your body, even in the funkiest positions. The anti-tear and flexible rubber construction is perfect for every exercise type and is easy to roll up and store away. Choose from a wide array of colors to best flatter your needs – it's the ultimate accessory for your next workout.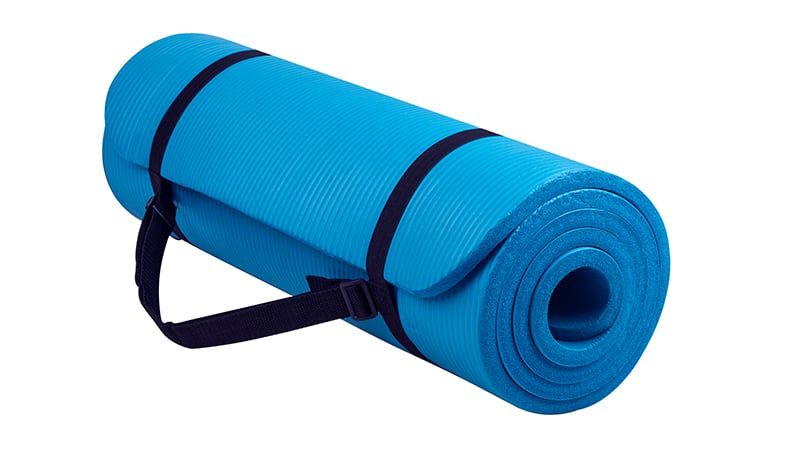 23. Jil Sander Logo Print Yoga Mat
Enjoy your surroundings and truly connect with your body – let the Jil Sander yoga mat do the rest. This stylish and sustainable accessory is the ultimate tool for your next workout. It offers soft and comfortable support for your body and will keep you feeling and looking great while working out. The crisp white design is perfect for minimalist lovers, complete with a delightful logo print.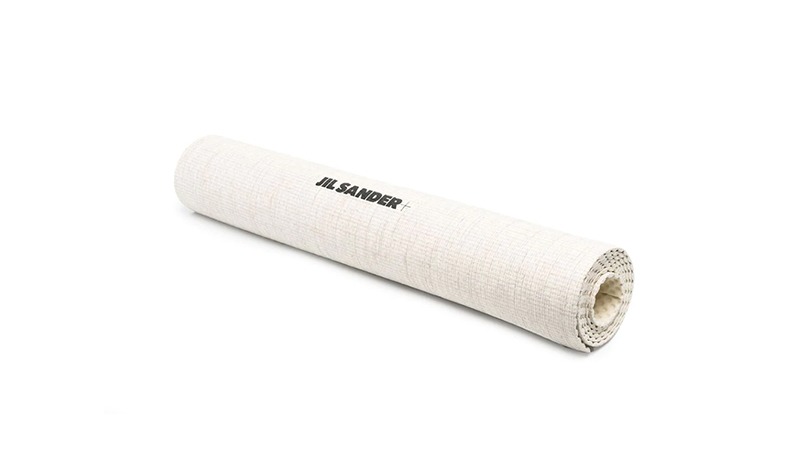 24. Pogamat Extra Large Workout Mat
Take your fitness game to the next level with this huge mat. It's the perfect option for a home gym, dance studio, or an outdoor session. The thick padding works well with bare feet or shoes and is durable enough for daily use. The large size allows you to stretch, move and jump without falling off the sides, and the comfortable support is perfect for your joints, and it prevents injuries.
25. Dralegend Yoga Mat
Say goodbye to traditional yoga mats that have you slipping and sliding, and embrace the brilliance from Dralegend. This non-slip, eco-friendly accessory is ideal for people who enjoy yoga, dancing, or a simple stretch. It provides ample support for your pressure points, is odorless, and can be used on almost any surface. Whether you sit on tiles, grass, or a wooden floor, you can stop bruises and keep focussing on your core.
How to choose a fitness mat?
Thickness
The thickness of your yoga mat is an important one to consider before you make a purchase. This is an excellent way to tell how comfortable you will be while performing on the mat and stop any bruises or discomfort at the same time. However, make sure that it's not too thick – as this can cause some trouble holding the right position. If you plan to travel with one of these accessories, opt for something that isn't too dense, as it will be harder to roll up and store away. If you enjoy feeling connected to the floor beneath you, choose something that is slightly thinner, but if you enjoy a soft and secure hold, a thicker mat may be perfect for you.
Material
When purchasing a yoga mat, you should consider the material it is made from. This can help determine the stickiness, texture, and overall security that the mat offers. If you prefer a standard feel with a good grip, you can find something made from standard PVC or vinyl. However, there are alternative options such as natural rubber, organic cotton, or natural cotton. If you have a latex allergy, your safest bet is to avoid natural rubber.
Texture
There is a yoga mat that suits everyone – you just have to find it. There are different types, including raised bumps, smooth and rough. For those who enjoy a smooth feel, opt for a rubber, jute, or cotton material. It's best to go for anything with a pattern or raised texture if you prefer a more sticky feel and grip.
Stickiness
The beauty behind a sticky yoga mat is that it prevents you from slipping over the edge. Yoga mats are their sickest when they're clean, so be sure to keep it nice and fresh for optimum performance. Opt for PVC materials – they provide the best grip to help you stay in the position for as long as you require.
Eco-Friendliness
Eco-friendliness can be a significant factor when choosing your mat. The most environmentally friendly options include organic cotton, natural rubber, or jute. It's best to avoid human-made alternatives, such as PVC, latex, or polyurethane, as it typically won't break down when it reaches a landfill and is expensive and hard to recycle.
Price Range
Depending on the type of yoga mat you wish to purchase, prices will vary. If you're looking for an eco-friendly accessory, you may end up paying a little bit more. However, for a basic and easy mat to use every day, you can choose something that fits within a budget and performs well. There will usually be an extra fee for a raised texture, prominent brand logo, or antibacterial treatments within the materials.
Style
Before you consider the style, you should always look at the thickness, materials, and texture. Once you've found the perfect option for you, you should then decide how you'd like it to look. For a classic feel, you can choose something minimal like black, gray, or navy. There's a myriad of patterns, colors, and styles to choose from, and they can truly reflect your personality. If you're a beginner at yoga, why not try a mat with an instructional print on it? There are so many options to choose from; you can find something that perfectly suits you and your preferences.


Best Yoga Mats FAQs
What is the best exercise mat to buy?
There are so many mats to choose from - finding the best mat is all about your preference. If you're concerned about your joints and pressure points, opt for something with a lot of cushion and support. Alternatively, you can find something with a lot of grip, so you don't slip out of your favorite positions and perform to your best ability.
How do I choose a yoga mat?
When choosing a yoga mat, be sure to pay attention to certain aspects. These include thickness, texture, materials, and the overall style of the mat. If you would like something eco-friendly, opt for organic or recycled material, such as rubber or cotton. If you wish to perform a new yoga pose and connect with the floor, opt for a thinner style - alternatively, a thicker rubber will support your joints, which is ideal for stretching and cooling down after a workout.
How thick should an exercise mat be?
There is no standard mat thickness, as it all depends on how you wish to connect with your body. For those who enjoy feeling the ground beneath their toes or want to improve their yoga poses, it's best to try a mat that is 1/8 inch thick. This offers enough protection for your joints without being too spongey. Alternatively, you can try something a bit thicker, at around 1/4 inch thickness - these are the thickest available and offer premium support for your pressure points and can prevent any injuries or sprains. For travel, the thinnest available are the wafer-thin mats, which are approximately 1/16 inch thick.
How much should I spend on a yoga mat?
While there is no best price for a yoga mat, you can expect to pay anywhere from $50 to $100 on a good quality option. If you're interested in something basic for beginners, you can find them cheaper in stores and online, such as Amazon and Walmart. Mor expensive options often tout eco-friendly materials, better support for your joints, and stylish patterns and designs. It all depends on the support and performance you're looking for.
Is there a difference between a yoga mat and an exercise mat?
Typically, exercise mats are thicker than the traditional yoga mat. This is because yogis typically work with specific poses and feel connected to the ground below them. This requires a thinner material that offers stability and lets you feel the pose. Thicker mats are more suited towards stretching, planks, and cardio exercises- they're also good for providing support on your joints and pressure points.
Can I use a yoga mat for HIIT?
You can definitely use a yoga mat for a HIIT session. The mats are versatile, and with varied thickness comes different levels of support for your joints and muscles. If you plan to work up a real sweat, opt for a thicker mat that protects against sprains and injuries. You can use these mats for almost any workout - from cardio, weight lifting, planks, and stretches, they're the best option for your next workout.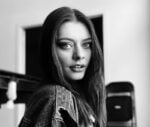 Alexandra Feiam is an experienced fashion writer who holds a degree in journalism. She has an impressive portfolio and expertise working as the Editor at Power Retail and Commercial Content Editor at Newscorp. Ally has been writing for The TrendSpotter since 2018, and her work has been featured in notable publications such as The Herald Sun, Arirang TV South Korea, Kidspot, The House of Wellness, and The Daily Telegraph.
SUBSCRIBE TO OUR NEWSLETTER
Subscribe to our mailing list and get interesting stuff and updates to your email inbox.