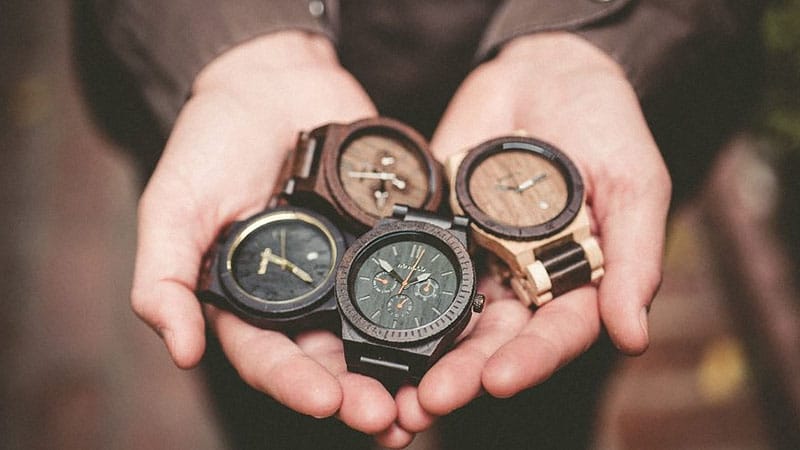 If you're the kind of man who likes to feel connected to the outdoors, even when you're stuck inside, then a wood watch may be your ideal accessory. Not only do these timepieces have the ability to add a little nature into your everyday life, but they're also completely stylish and unique. The unusual watch material is sure to add an edge to any of your outfits, making these wooden styles a great addition to your wardrobe. On top of that, these unbeatable wood watches also tend to be lightweight, eco-friendly, and affordable!
1. WeWood Kappa Nut Watch
The team at WeWood are masters of creating stylish and functional eco wood watches, and the Kappa Nut is one of their best. Made from Walnut, this good-looking timepiece can vary in color from light brown to rich chocolate hues. Utilizing a multi-function Miyota movement, the Kappa Nut features military hours, days of the week, and date displays set into its bold woodgrain face. The beautifully-crafted, large, round case measures 46mm in diameter and features a matching bezel, making it a stylish option for your wrist. For those who like to be a part of the action, it also features hardened, scratch-proof glass.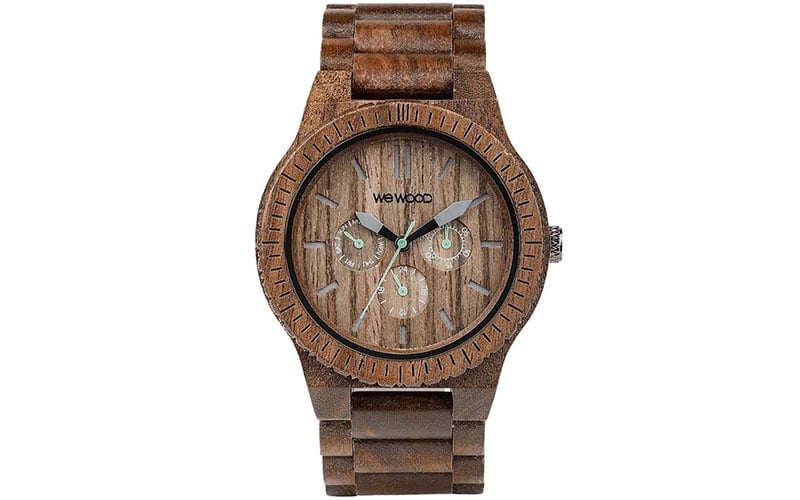 2. CUCOL Wood Watch
Out of a gent's whole wardrobe, his watch may just be the most important piece. After all, what other single accessory or item of clothing is worn as frequently and can make as big of a statement as a watch? So, making sure yours is both stylish and functional is a must. This wooden watch by CUCOL ticks both those boxes and more. The rugged yet minimal design features a real bamboo case and authentic, brown leather strap. Its modern design isn't the only thing going for it; however, this top timepiece also features a Japanese Miyota 2035 movement and long-lasting battery for usage up to 12-24 months.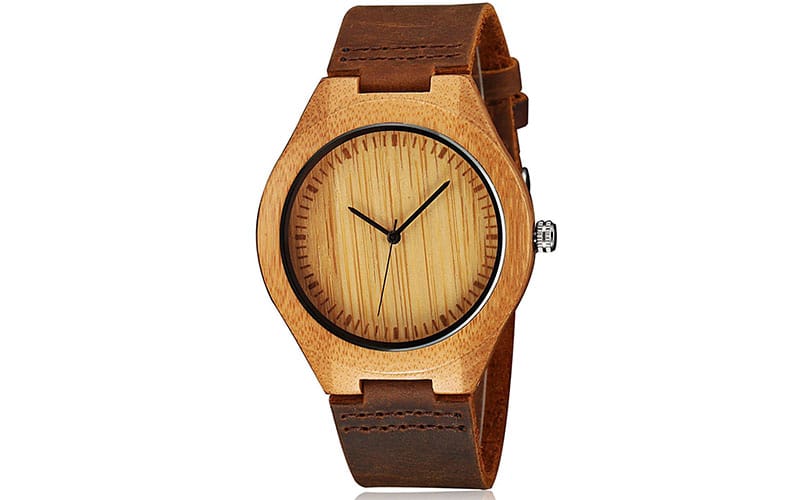 3. Bymax Handmade Vintage Analog Quartz Wooden Wrist Watch
A wooden watch can certainly be a statement accessory. However, for a gent who prefers a subtler look, this sophisticated watch from Bymax is an excellent option. It's a simple, attractive timepiece made from masculine ebony wood. Featuring a black leather band and simple face, it exudes understated style. In addition, this striking watch has a reliable Miyota quartz movement. You can add custom engraving to make it a personalized gift.
4. BOBO BIRD Men's Wooden Watch
BOBO BIRD design and create unique eco-wooden watches for the modern man. The watches are made from sustainably sourced, reclaimed, and recycled wood. As such, you can feel good about owning this attractive timepiece. The modern design, mainly made from ebony wood, features subtly contrasting colors of deep black and textured chocolate brown. The functionality of this watch is excellent. Firstly, enjoy the convenient multi-function face, which shows military time, the date, & also has a chronograph. Secondly, a Sony battery powers the watch, and the quartz movement reliably keeps the time. Finally, the wrist band is conveniently adjustable, coming with a tool and additional links to make amending it to the perfect length easy.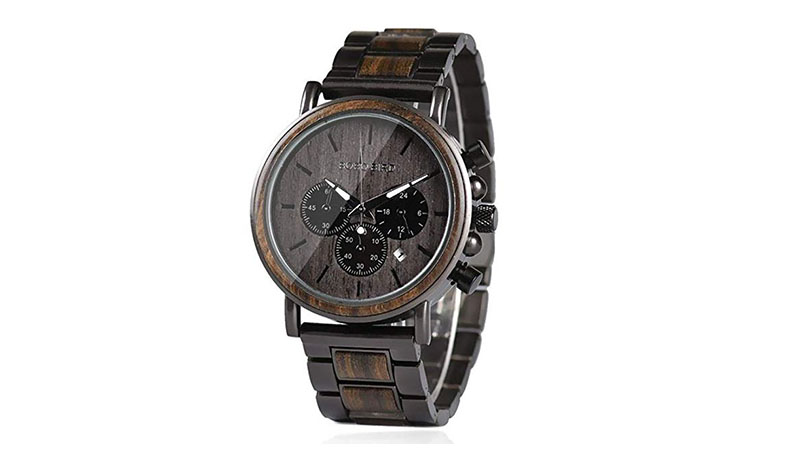 5. TJW Men's Natural Wooden Analog Quartz Watch
Classic looks and traditional style are at the forefront of the design of this watch from TJW. The striking contrast between the black sandalwood of the strap and bezel, and the light face, makes a bold statement. The casual feel of the lighter face also makes it the perfect accessory for your weekend wardrobe. As with many wooden watches, its lightweight, meaning it is comfortable easy to wear. If your wardrobe calls for a watch that's not so dark, this same model comes in other colors. Choose from the earthy tones of walnut or the remarkable pattern of zebrawood.
6. Guanke Men's Wood Quartz Watch
Weighing in at only 54 grams, this is a remarkably light watch. If it weren't for the endless compliments rolling in, you'd almost forget you were wearing it. The diversity of wood types and colors available to manufacturers means there are nearly limitless variations on design and style. This watch is a classic style that's amped-up by the contrast between the black sandalwood face and the unique zebra wood bezel. Additionally, the band, also made from eco-friendly wood, continues the contrast theme. This handmade timepiece runs on a Japanese quartz movement, with a battery life of 12-24 months. Scratch-proof mineral glass protects the dial, which is perfect for an active life.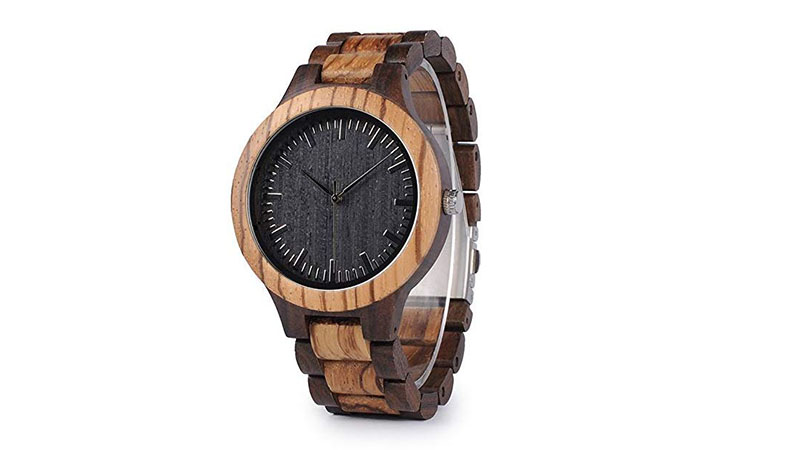 7. Treehut Men's Zebrawood and Ebony Wooden Watch
Never settle for ordinary with this exceptional timepiece from Treehut. Combining zebrawood and ebony wood, this rugged design takes contrasting to the next level. The simple dial pares it back, with just sleek black hands, and the Treehut's minimal logo, tastefully placed at 12 o'clock. This minimal dial lets the natural grain of the wood speak for itself. Enjoy reliable timekeeping, with a Japanese Miyota quartz movement. While it's best not to go for a swim with the watch on, the watch is water-resistant up to 3mm. That means if you splash it while washing your hands, or get caught in light rain, it won't be the end of the world. However, do dry it off as soon as you can.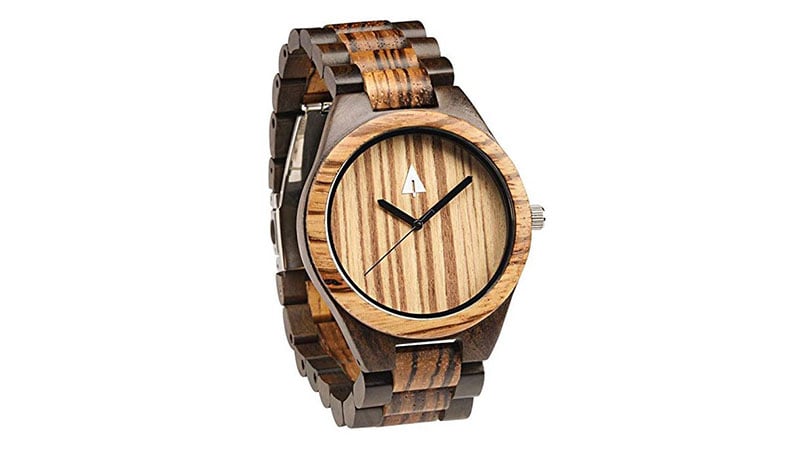 8. Original Grain Wood Watch
The Barrel Collection watches from Original Grain showcase a remarkable level of originality. Made from exotic Hawaiian Koa wood and stonewashed surgical steel, these rugged timepieces are both stylish and masculine. While they are on the more expensive side for wooden watches, it's worth it for both the functional and eco-benefits. Functionally, the watches are water-resistant to 5ATM, meaning they're very life-proof, though shouldn't be submerged for long periods. Then, from an eco-perspective, the company is committed to planting one tree for every watch sold. As such, you can feel good knowing you look great with elevated style, and the planet and community also benefit.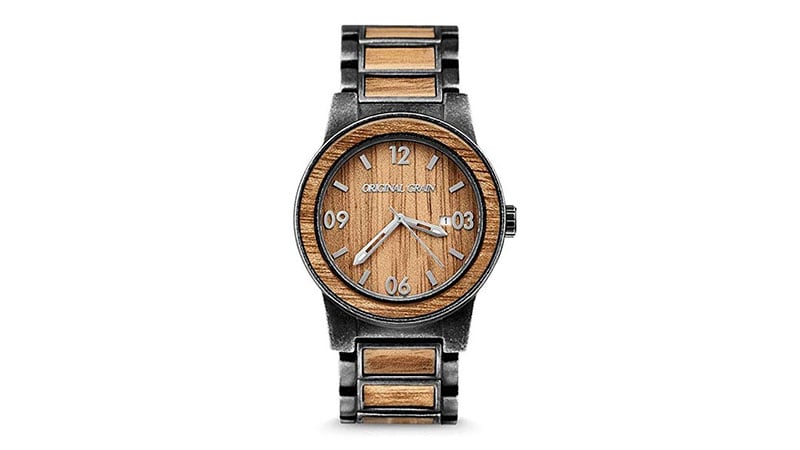 9. Bewell W086B Men's Wooden Watch
One of the significant benefits of wood watches is that they're often light and easy to wear. This timepiece by Bewell certainly is, and it's also smooth and completely comfortable on the wrist. While its lightweight may make you almost forget you're wearing it, its unique and vintage style will not easily be forgotten by those who see you sporting it. Made from Sandalwood, this stylish watch, which features a Japan 2035 quartz movement, makes the perfect accessory addition to your weekend wardrobe. Although you may not be able to get it wet or leave it sitting in the sun too long, its affordable price more than makes up for its lesser durability.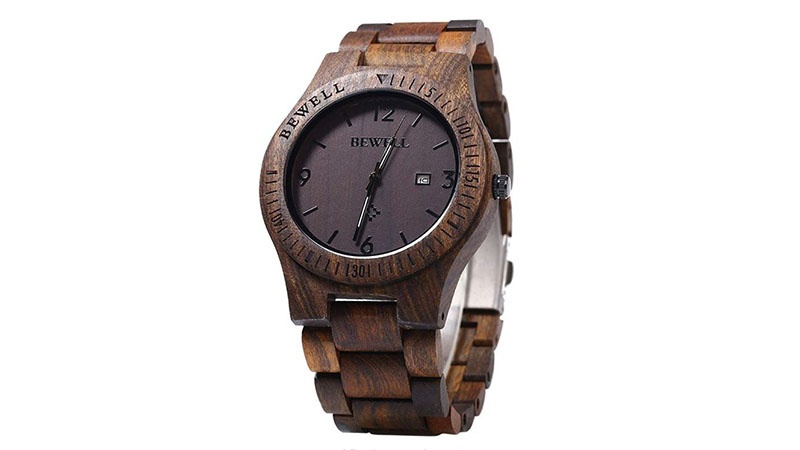 10. Wood Watch by Gassen James
Weighing a mere 86 grams, this wooden watch by Gassen James is one of the lightest timepieces on the market. Not only is it easy and comfortable to wear, but it's also well-designed and attractive. Plenty of gents have shared their experiences with this watch online and boasted about how many compliments they received when wearing it. While the number of compliments would naturally stem from this watch's unique, solid Rosewood construction, it may also be partially due to its vintage style, square face. Perfect for a night out, this unique design will undoubtedly bring you plenty of attention.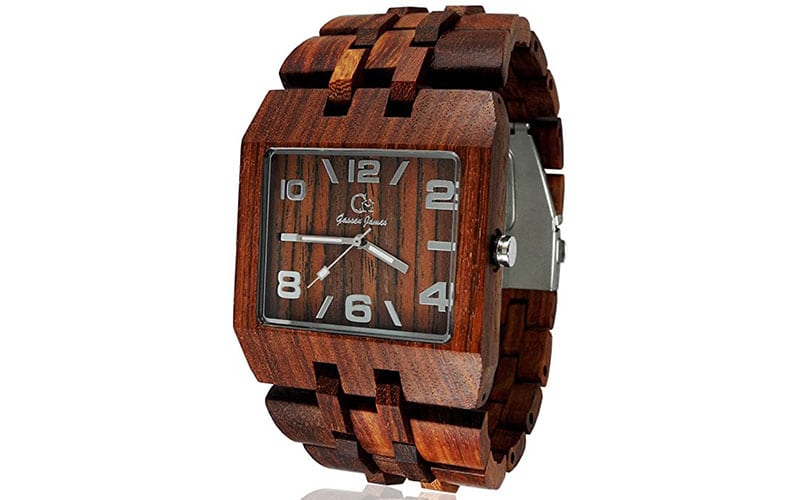 11. Uwood Wood Watch
While a lot of wood watches maintain that you shouldn't get them wet, this timepiece from Uwood is water-resistant for daily activities. That means if you accidentally splash it while washing your hands, you haven't just ruined your new watch. Handmade from 100% natural Sandalwood, this stylish piece of craftsmanship is certainly not something you'd want to ruin. Ideal for the modern gent, this dark and sophisticated timepiece features a Japanese Miyota 2035 movement and 47.5mm case.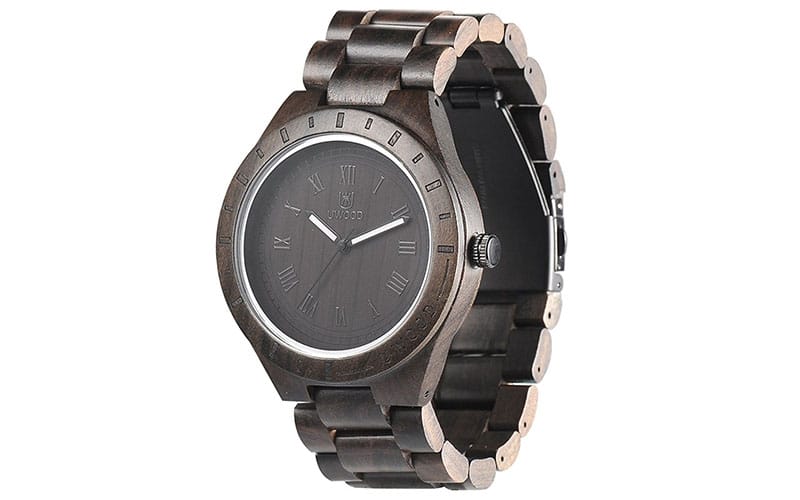 12. Momentum Logic SS 42 Watch
Momentum has taken a more traditional approach to wood watches than other brands, making it an easy transition from your regular watch to the Logic SS 42 Steel. Featuring a wood face with a stainless-steel case and band, the Logic SS has a polished and sophisticated appearance. Engineered from a block of 316L stainless steel, this simple and elegant timepiece is also durable and strong. Designed to look good and play hard, the Logic SS is ready for any adventure, even if there's a little water involved. The 100 meter-rated watch is one of the slimmest in the world with a thickness of just 8.5mm.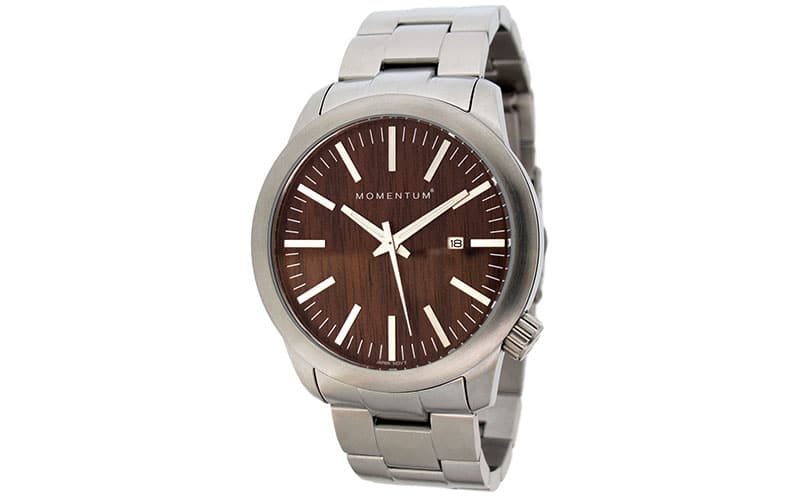 13. Rip Curl Men's A2785 Analog Display Black Watch
While many wooden watches rely on a vintage aesthetic for their style, the A2785 Analog Display Black Watch from Rip Curl is distinctly modern. Featuring a black stainless steel 50mm case and band, the appearance is sleek and sharp. The woodgrain laminate dial also adds the polished masculine aesthetic and features two subdials for tracking the date and military hours. On top of that, this impressive timepiece features a quartz movement and is water-resistant to 100 meters.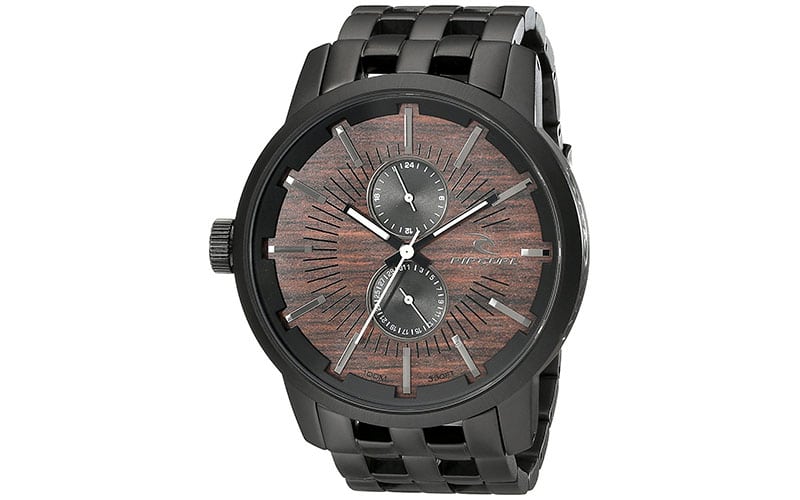 14. Morrivoe Wood Watch
Whether you're shopping for yourself or for a gift for someone else, wood watches make a great purchase. Not only are they unique, stylish, and functional, but they also tend to be very affordable. With a price tag that's well below $100, this impressive natural wood watch is a purchase you don't have to think twice about. Its lightweight and comfortable design make it ideal for all-day wear while its casual and retro appearance means that it pairs perfectly with your weekend favorites, such as chino shorts and printed shirts.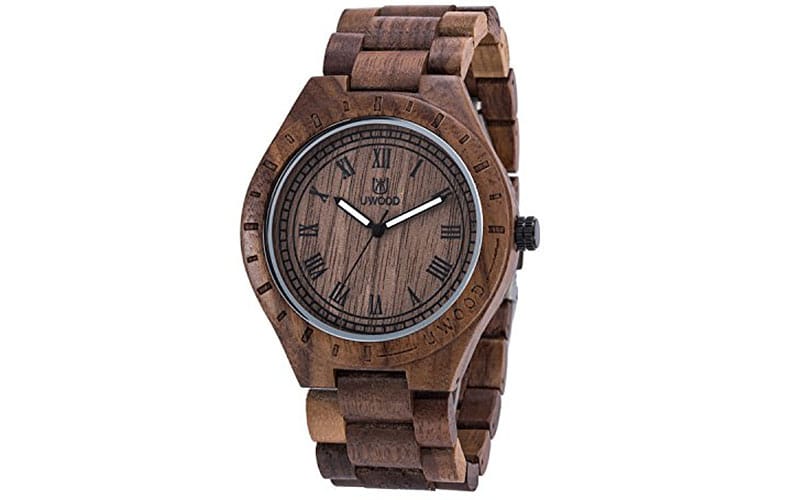 15. Svenn Wood Watch
Svenn wood watches began in 2017 by four friends who sought to create high-quality, sustainable, and eco-friendly timepieces. The range for men includes two series – Atlas and Romeo. The Atlas designs feature a larger, 45mm dial and come in four colors, including jet black and zebrawood. Meanwhile, the Romeo series has a smaller dial at 41mm, with colored metallic faces in a choice of blue, gold, or black. All are incredibly lightweight, and in honor of sustainability, for each watch sold, the company plants a tree. These wood watches also make a unique gift, whether for yourself or someone else. You can even engrave the back in your own handwriting, for that extra special detail. Simply write your note, take a photo, and include it with your order. Plus, all watches come shipped in a stunning handmade wooden box.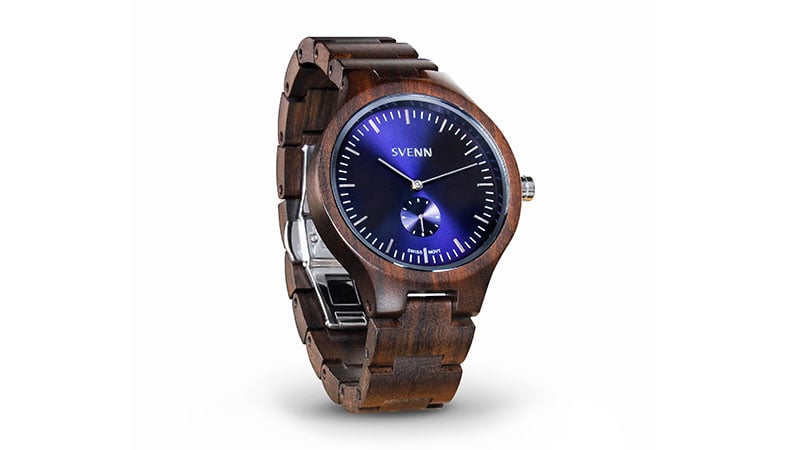 If you enjoyed reading this article, you may like our best watches for men roundup.
FAQs
What is a wooden watch made of?
Wooden watches are made of real bamboo wood or sandal wood in different colors.
Are wooden watches any good?
Wooden watches have several benefits over traditional metal-and-leather watches. They are kinder to the environment, make a bold style statement, and are lightweight and comfortable to wear. However, they are not waterproof and even the best-maintained wooden watch will only last a maximum of about 10 years – whereas metal watches can last forever if regularly serviced.
What are the best wooden watches?
The best wooden watches are sustainably-made and eco-friendly, as well as durable, reliable, and comfortable to wear. While there are many great wooden watch brands on the market, some of the best-known for their quality and aesthetic are Svenn and TreeHut.
Are wooden watches waterproof?
Wooden watches are treated with heat and oil to be resistant to water, so you won't need to worry about taking your watch off to walk in the rain or wash your hands. However, as they are made from organic material, there is no way to make them completely waterproof. Therefore, you can't wear a wooden watch to go swimming or diving.
SUBSCRIBE TO OUR NEWSLETTER
Subscribe to our mailing list and get interesting stuff and updates to your email inbox.