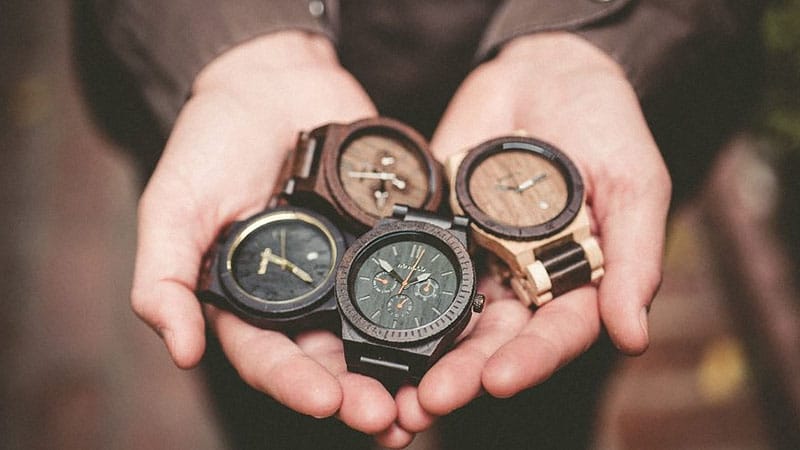 If you're the kind of man who likes to feel connected to the outdoors even when you're stuck inside, then a wood watch may just be your ideal accessory. Not only do these timepieces have the ability to add a little nature into your everyday life but they're also completely stylish and unique. The unusual watch material is sure to add an edge to any of your outfits, making these wooden styles a great addition to your wardrobe. On top of that, these unbeatable wood watches also tend to be lightweight, eco-friendly, and affordable!
1. WeWood Kappa Nut Watch
The team at WeWood are masters of creating stylish and functional eco wood watches and the Kappa Nut is one of their best. Made from Walnut, this good-looking timepiece can vary in colour from light brown to rich chocolate hues. Utilising a multi-function Miyota movement, the Kappa Nut features military hours, days of the week, and date displays set into its bold woodgrain face. The beautifully-crafted, large, round case measures 46mm in diameter, and features a matching bezel, making it a stylish option for your wrist. For those who like to be a part of the action, it also features hardened, scratch-proof glass.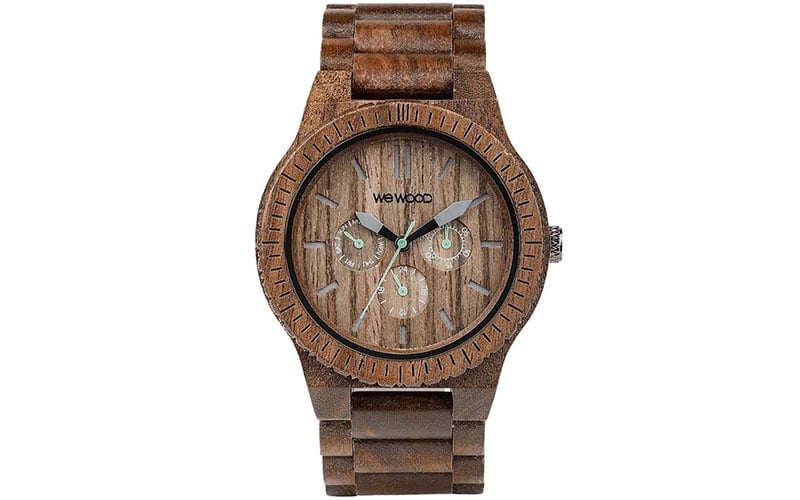 2. Nixon Rotolog Watch
For the gent who likes to do things a little differently, the Nixon Rotolog makes a fantastic choice. While its functionality is top-notch with a Miyota custom direct drive quartz movement, it's the Rotolog's design that makes it worth your hard-earned dollars. Inspired by mid-century modern furniture and style, this unique timepiece is designed with a stainless steel, two-link bracelet with wood or bamboo inlays. While the band is created in a retro fashion, the face is kept minimal and modern, making the overall appearance contemporary and somewhat jewellery-like. Also made from stainless steel, the face features a small hours/minutes rotating disc dial with LED light.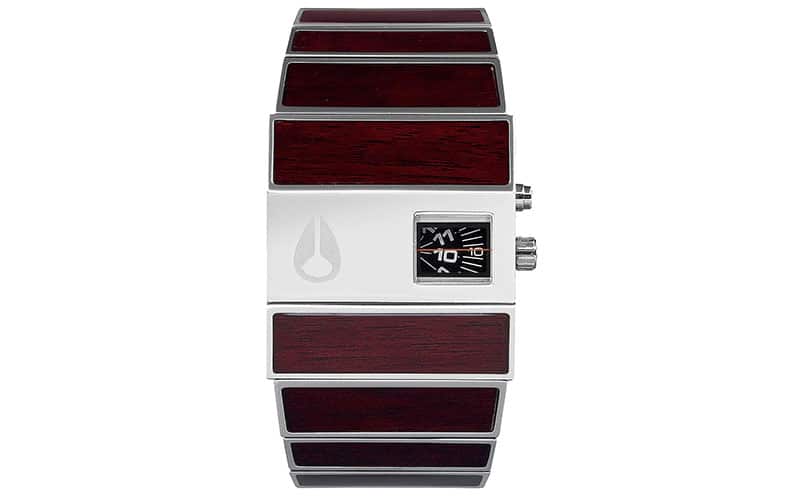 3. Wood In Philosophy – Narrows Chronograph Wood Watch
The Narrows Chronograph Wood Watch is the perfect timepiece for day to nighttime events. Where practicality meets design, it is a favourite both for its style and its additional timekeeping functions. Featuring a dark sandalwood wood watch case and 316L stainless steel spring buckle, this timepiece is equal parts style and sophistication. The durable watch features sapphire crystal glass and Seiko VD54B Quartz movement for added protection. It is also splash-proof but should not be submerged in water.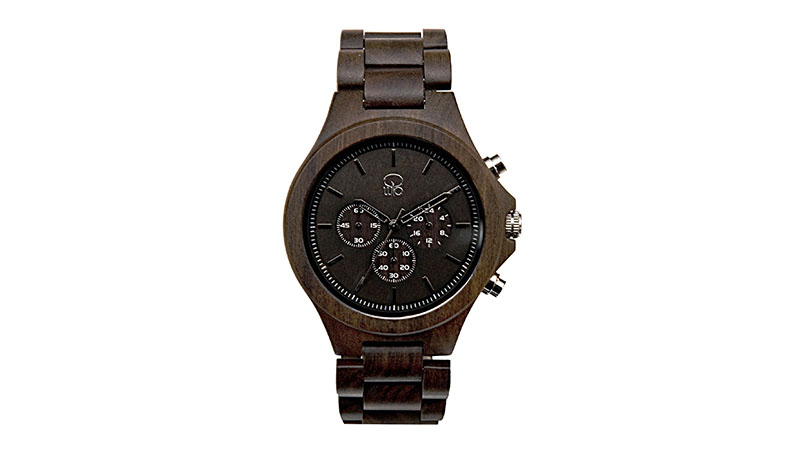 4. Wood Grain Watch
Made from all-natural, hypoallergenic materials, this Wood Grain handmade watch is as friendly as it is fashionable. Artisan crafted by professional watchmakers, each distinct timepiece is subtly unique and one-of-a-kind with a polished wood grain face made from 100% natural Black Sandalwood. As for the band, that's made of genuine, soft, cow leather and features a stainless-steel silver buckle for a comfortable fit on your wrist and stylishly casual appearance. The long-lasting and ultra-quiet movement is a high-quality Miyota quartz design and the well-sized round case measures 46mm in diameter.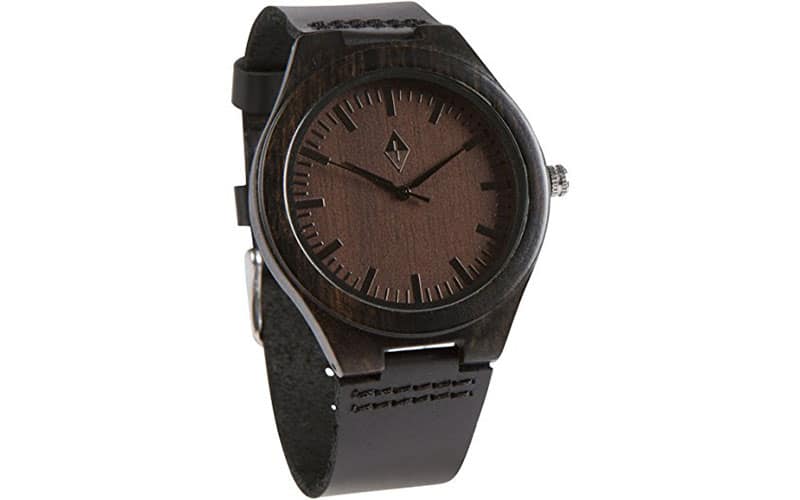 5. GBlife Bewell ZS Watch
One of the major benefits of wood watches is that they're often light and easy to wear. This timepiece by Bewell certainly is and it's also smooth and completely comfortable on the wrist. While its light weight may make you almost forget you're wearing it, its unique and vintage style will not easily be forgotten by those who see you sporting it. Made from Sandalwood, this stylish watch, which features a Japan 2035 quartz movement, makes the perfect accessory addition to your weekend wardrobe. Although you may not be able to get it wet or leave it sitting in the sun too long, its affordable price more than makes up for its lesser durability.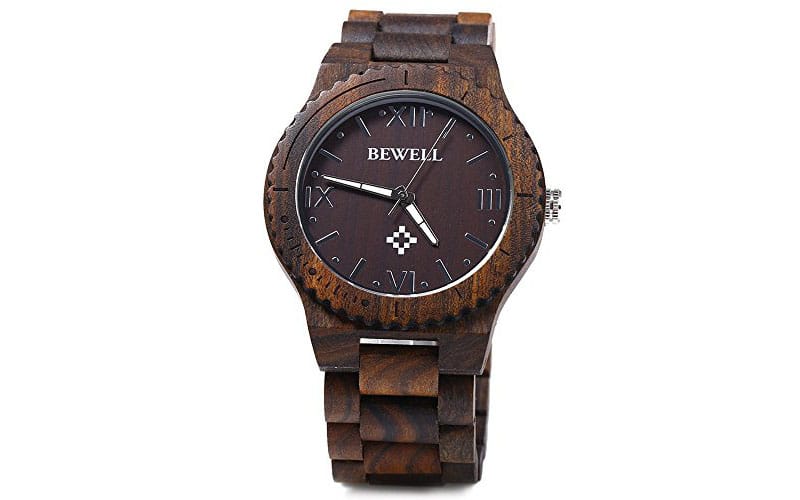 6. Morrivoe Wood Watch
Whether you're shopping for yourself or a for a gift for someone else, wood watches make a great purchase. Not only are they unique, stylish and functional, but they also tend to be very affordable. With a price tag that's well below $100, this impressive natural wood watch is a purchase you don't have to think twice about. Its lightweight and comfortable design makes it ideal for all-day wear while its casual and retro appearance mean that it pairs perfectly with your weekend favourites, such as chino shorts and printed shirts.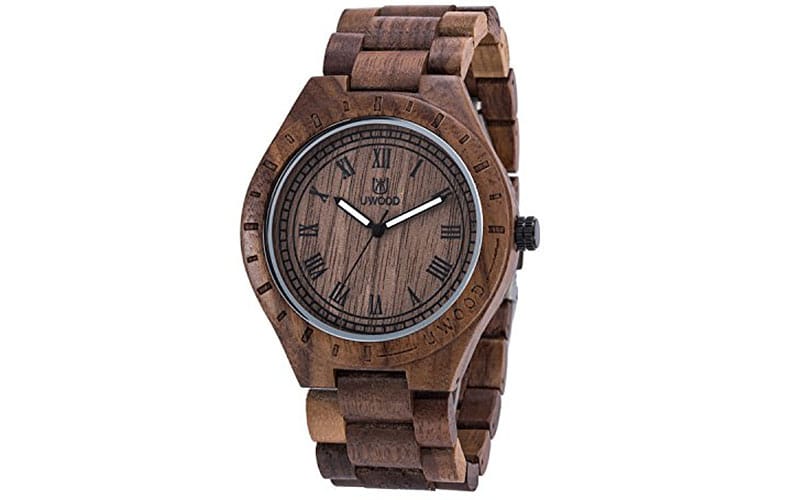 7. Wood Watch by Gassen James
Weighing a mere 86 grams, this wooden watch by Gassen James is one of the lightest timepieces on the market. Not only is it easy and comfortable to wear, but it's also well-designed and attractive. Plenty of gents have shared their experiences with this watch online and boasted about how many compliments they received when wearing it. While the number of compliments would naturally stem from this watch's unique, solid Rosewood construction, it may also be partially due to its vintage style, square face. Perfect for a night out, this special design will undoubtedly bring you plenty of attention.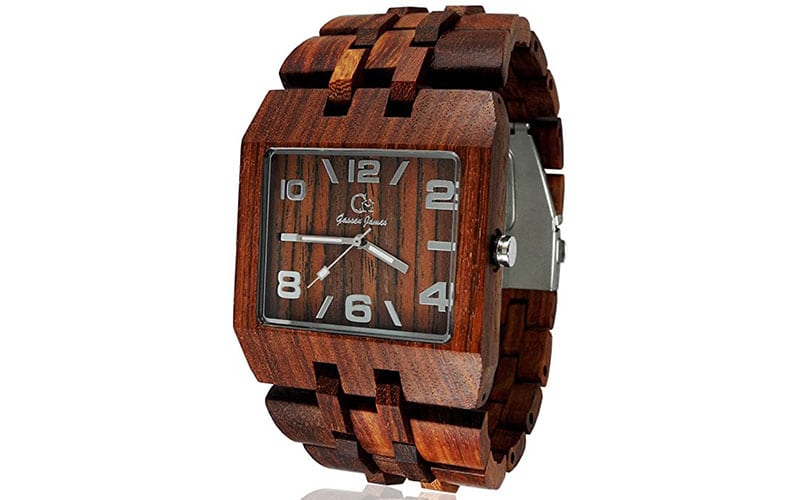 8. CUCOL Wood Watch
Out of a gent's whole wardrobe, his watch may just be the most important piece. After all, what other single accessory or item of clothing is worn as frequently and can make as big of a statement as a watch? So, making sure yours is both stylish and functional is a must. This wooden watch by CUCOL ticks both those boxes and more. The rugged yet minimal design features a real bamboo case and authentic, brown leather strap. Its modern design isn't the only thing going for it, however, this top timepiece also features a Japanese Miyota 2035 movement and long-lasting battery for usage up to 12-24 months.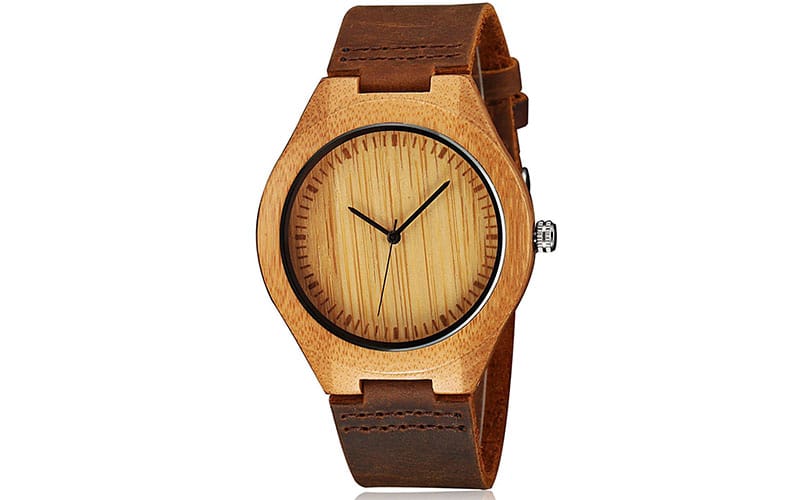 9. Uwood Wood Watch
While a lot of wood watches maintain that you shouldn't get them wet, this timepiece from Uwood is water resistant for daily activities. That means if you accidentally splash it while washing your hands, you haven't just ruined your new watch. Handmade from 100% natural Sandalwood, this stylish piece of craftsmanship is certainly not something you'd want to ruin. Ideal for the modern gent, this dark and sophisticated timepiece features a Japanese Miyota 2035 movement and 47.5mm case.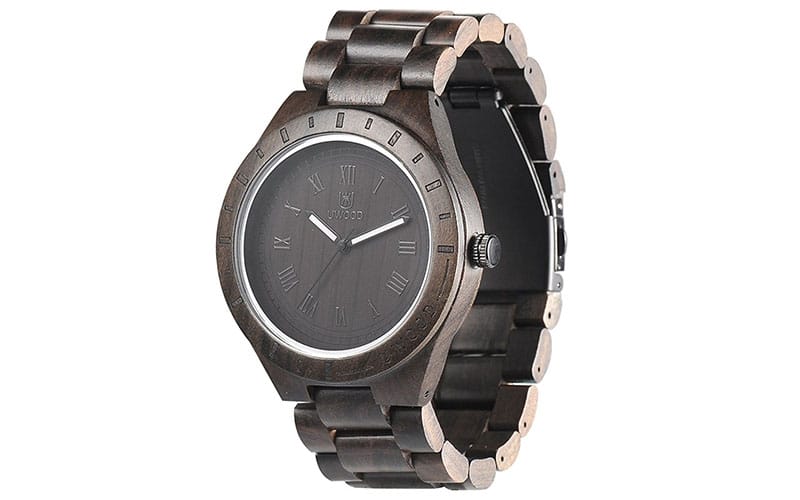 10. Momentum Logic SS 42 Watch
Momentum has taken a more traditional approach to wood watches than other brands, making it an easy transition from your regular watch to the Logic SS 42 Steel. Featuring a wood face with a stainless-steel case and band, the Logic SS has a polished and sophisticated appearance. Engineered from a block of 316L stainless steel, this simple and elegant timepiece is also durable and strong. Designed to look good and play hard, the Logic SS is ready for any adventure, even if there's a little water involved. The 100 meter-rated watch is one of the slimmest in the world with a thickness of just 8.5mm.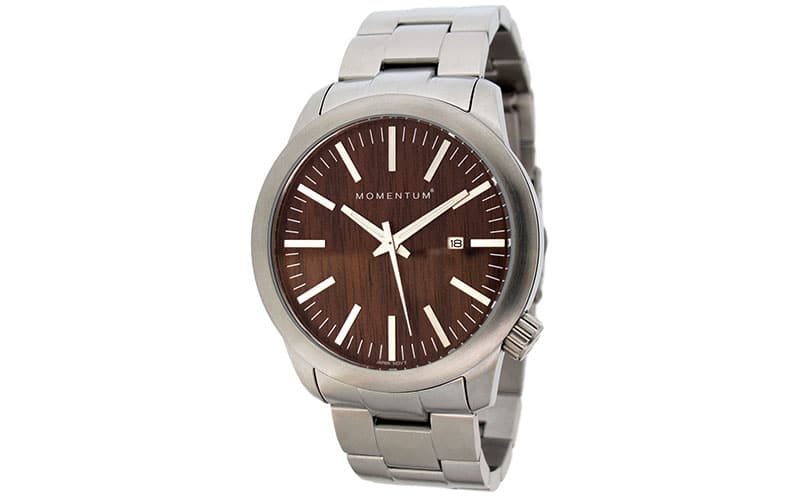 11. Rip Curl Men's A2785 Analog Display Black Watch
While many wooden watches rely on a vintage aesthetic for their style, the A2785 Analog Display Black Watch from Rip Curl is distinctly modern. Featuring a black stainless steel 50mm case and band, the appearance is sleek and sharp. The woodgrain laminate dial also adds the polished masculine aesthetic and features two subdials for tracking the date and military hours. On top of that, this impressive timepiece features a quartz movement and is water resistant to 100 meters.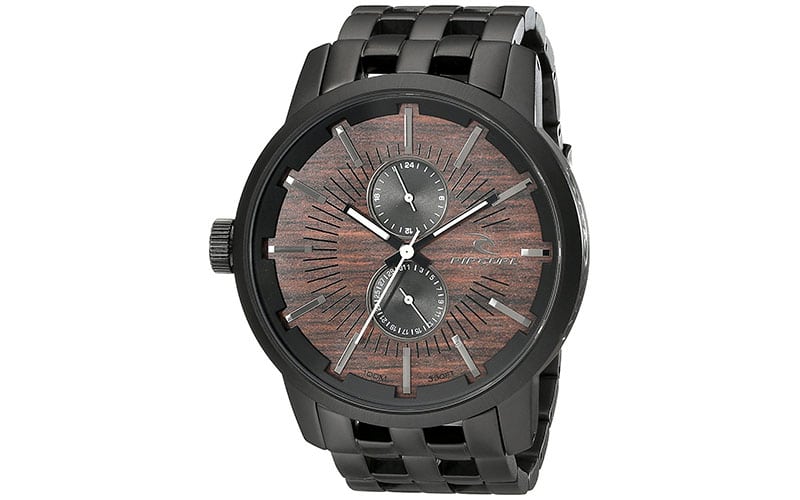 SUBSCRIBE TO OUR NEWSLETTER
Subscribe to our mailing list and get interesting stuff and updates to your email inbox.