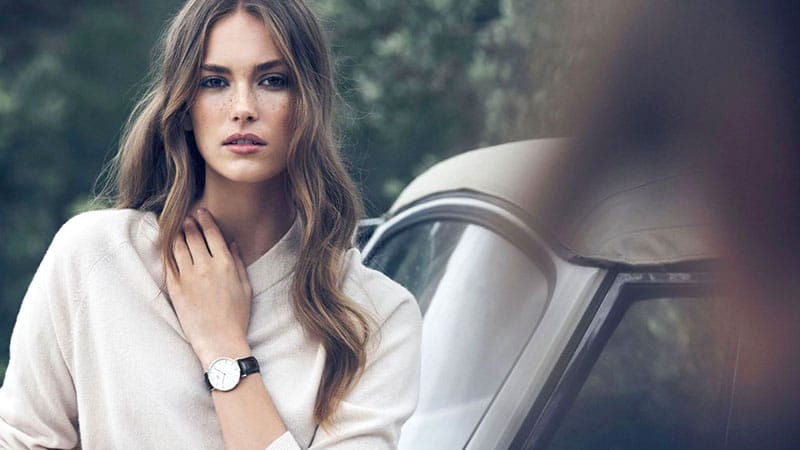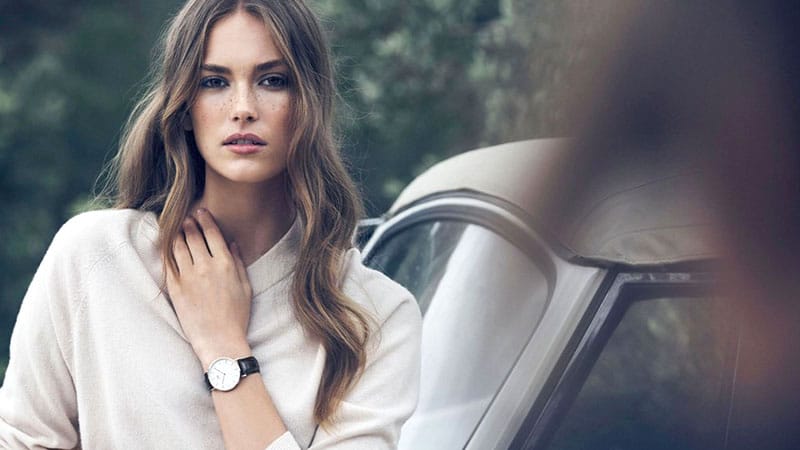 Who says you need to spend big to get a great watch? Sometimes, the best timepieces can set you back less than $500 USD. While they may not be as elaborate or bejeweled as some of the more pricey pieces, these watches are still incredibly stylish. Most importantly, they're also functional and ideal for regular use. So, whether you need a new watch to wear to the office or a chic design to suit your weekend wardrobe, you'll find the perfect women's watches under $500 below.
1. Nixon Time Teller Watch
The Time Teller from Nixon is a unisex watch that blends the line between traditional men's watch designs and modern women's styles. While the minimalistic aesthetics of this timepiece are understated and classic, Nixon offers four color choices to suit your personal tastes. Made from stainless steel, the Time Teller is available in silver-tone, gold-tone, black, and chic rose gold-tone styles.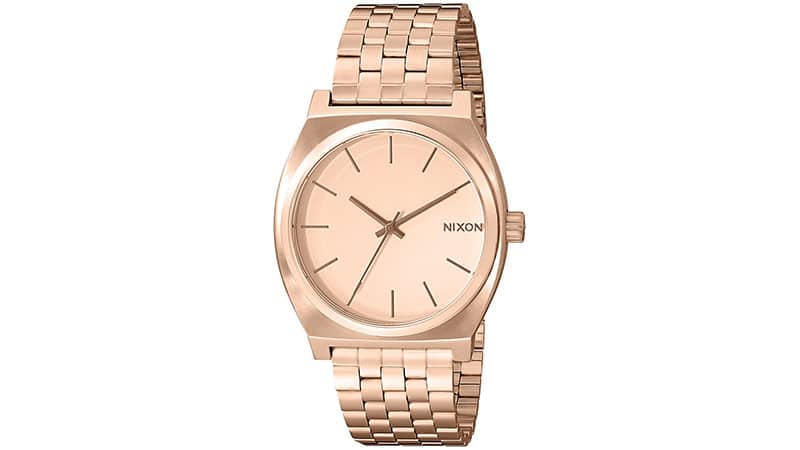 2. Skagen Women's Mesh and Glitz Watch
The Women's Mesh and Glitz watch from Skagen boasts an understated yet glamorous appearance. The stylish design features the brand's signature mesh band as well as a slim, 28mm stainless steel case with mirror border. The dial is made from vertically brushed chrome and features 12 crystallized indicators that add to the luxury style of this timepiece. Although this watch appears as if it would be expensive, the price is incredibly affordable and budget-friendly.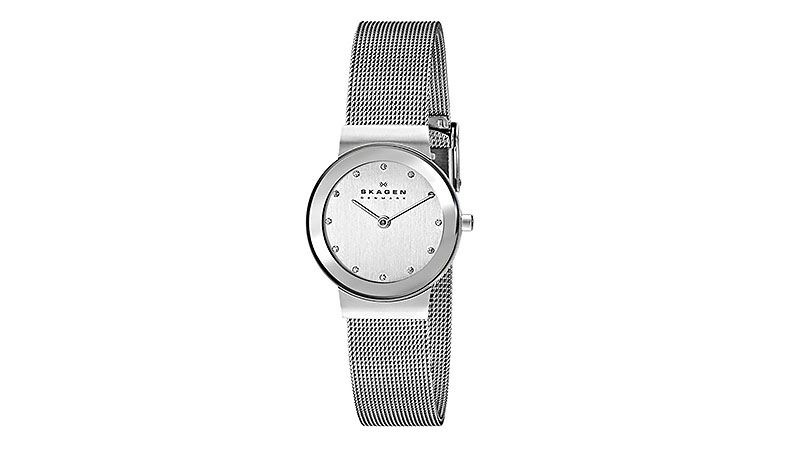 3. Timex Women's Easy Reader Watch
While the Women's Easy Reader from Timex may not be sleek or modern, its classic appearance provides it with a charming personality. A direct descendant from the brand's 1960's models, this timepiece is both durable and classically cool. As the name suggests, the Easy Reader watch is also easy to read. Thanks to its white dial, full Arabic numerals, and Indiglo light-up display, you'll never have a problem telling the time again.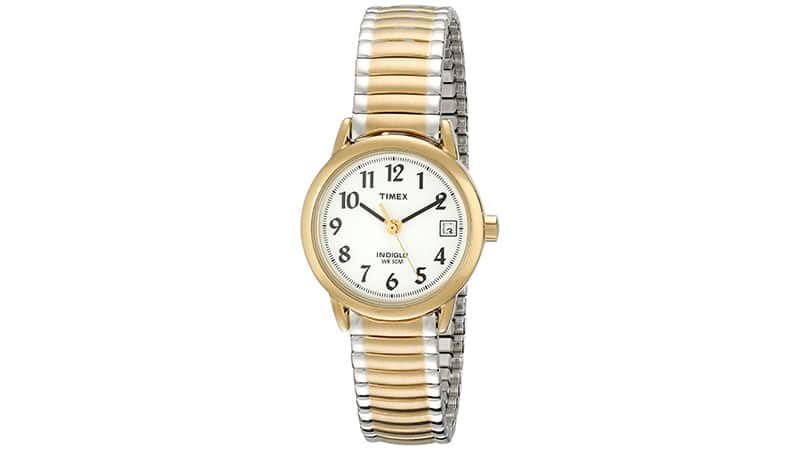 4. Michael Kors Women's Darci Watch
While the Darci watch from Michael Kors does boast a quartz movement and is water-resistant to 50m, it's the stylish design that'll make you fall in love with this timepiece. Crafted from gorgeous rose gold-tone stainless steel, this bracelet watch is chic, feminine and sophisticated. The large, 39mm case features a glamorous glitz bezel, tonal dial, and contemporary stick hour markers.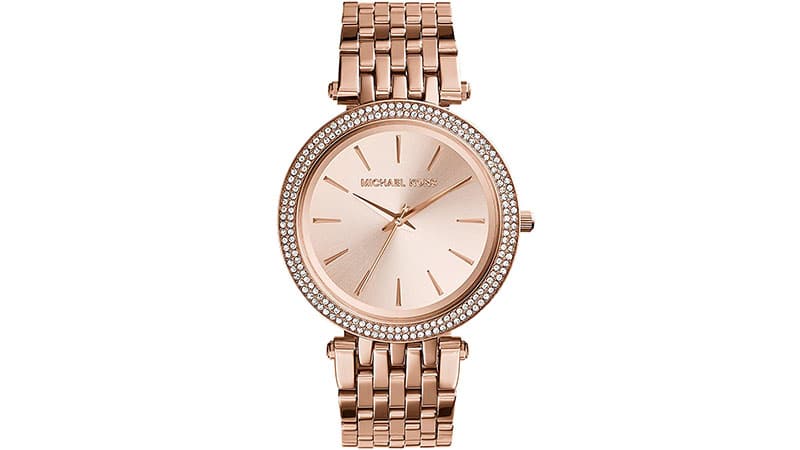 5.

Daniel Wellington Petite Bondi Watch
A chic, minimalistic watch has become a style staple, and no one does this type of understated elegance better than Daniel Wellington's Petite Bondi Watch. Featuring a 32mm round stainless steel case and fresh white leather strap, this timepiece is simplistic yet utterly stylish. You can wear it to work for a sleek office look or on the weekend for a refined casual style.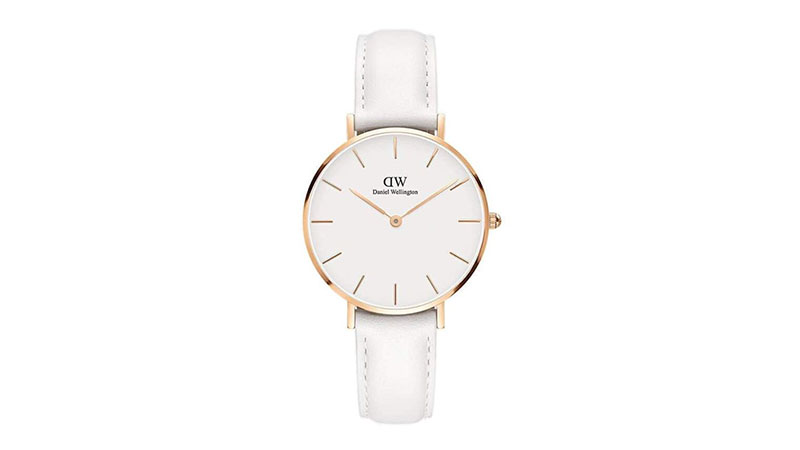 6. Citizen Women's Eco-Drive Two-Tone Watch
Perfect for daily wear, the Citizen Women's Eco-Drive Two-Tone offers minimalist style and high functionality. The impressive timepiece features a simple and classic design combined with a precision-quality, Japanese quartz movement. Additionally, the movement is fuelled by natural and artificial light, meaning that the watch does not require a battery. The Eco-Drive Two-Tone is also water-resistant to 100m and suitable for swimming and snorkeling.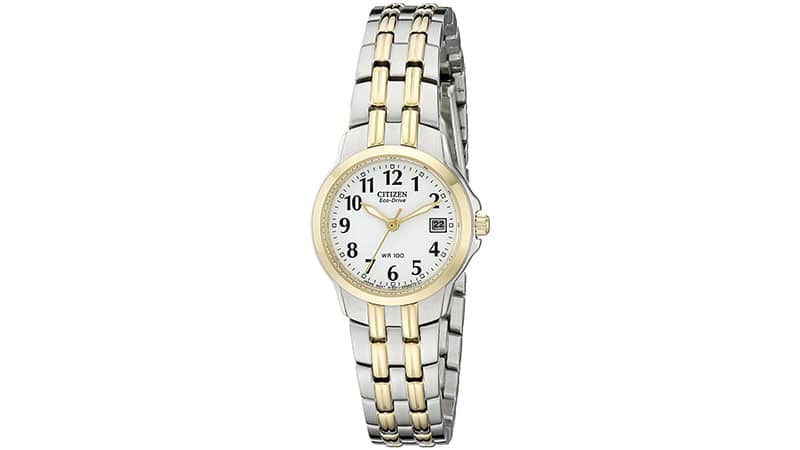 7. Tissot Women's T-Race Watch
Tissot has been a leader in watch innovation since 1853 and continues to create good quality and elegantly designed timepieces to this day. The brand, which is known to offer high-quality products at attractive prices, is the perfect place to shop when you're in need of a high-performance watch at an affordable price. In particular, the label's T-Race watch is incredibly good value and offers wearers a sleek, quartz movement timepiece with a stainless steel case, black chronograph dial, and 100m of water resistance.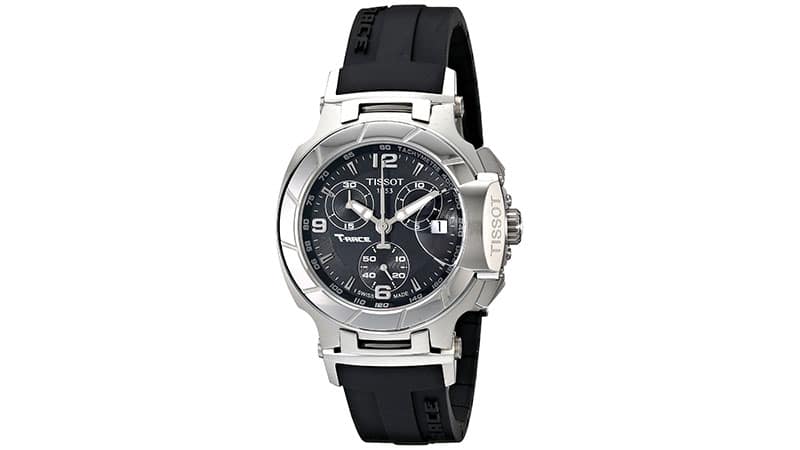 8. Samsung Gear S2 Smartwatch
When it comes to the best timepieces for under $500, you can't forget about smartwatches. While they may not be traditional, these timepieces are filled with technology and offer great value for your money. As for which smartwatch to choose, try the Samsung Gear S2 Smartwatch. Not only is this watch entirely practical (you can send and receive texts as well as get calendar notifications and news updates), but it's also incredibly stylish and available in 18K rose gold and platinum models with genuine leather straps.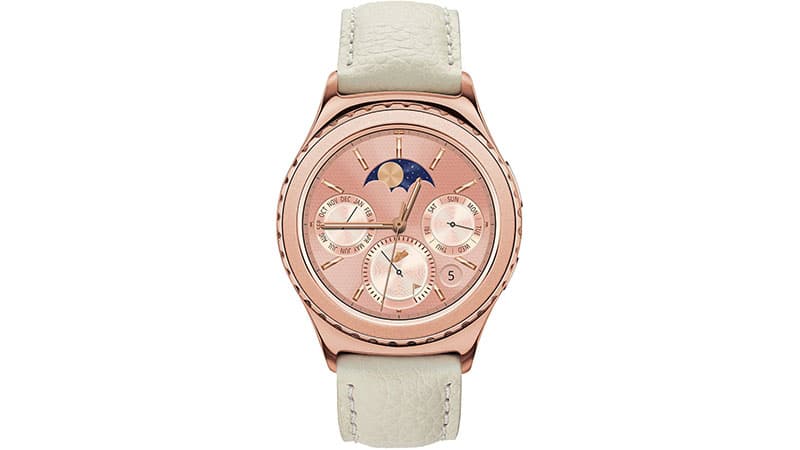 9. Tissot Women's Cera Black Dial Diamond-Accented Ceramic Watch
Good watches don't have to cost a small fortune, and the Tissot Women's Cera Black Dial Diamond-Accented Ceramic Watch is a stunning design for a low price. The combination of the Black ceramic and stainless steel bracelet with the black dial makes this timepiece stand out. The watch also makes use of a Quartz movement function and is water-resistant up to 30 meters.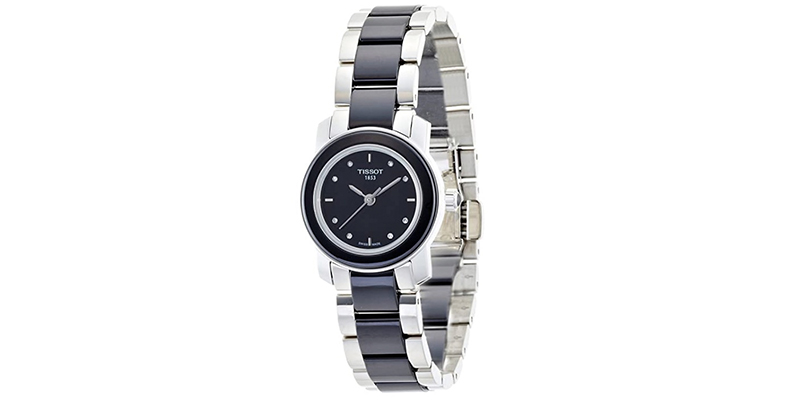 10. Victorinox Swiss Army Women's Maverick Small Watch
The combination of black dial and fine-grain, refined leather strap, on the Women's Maverick Stainless Steel Watch makes it a very appealing design. It lends itself well to a variety of different settings that can be worn with casual wear, or even to more sophisticated events. What makes this timepiece so appealing is not just the look, but also the high-quality Swiss design, which uses analog Quartz movement. The matte black finish helps protect against scratches, and the case is crafted using hypoallergenic stainless steel.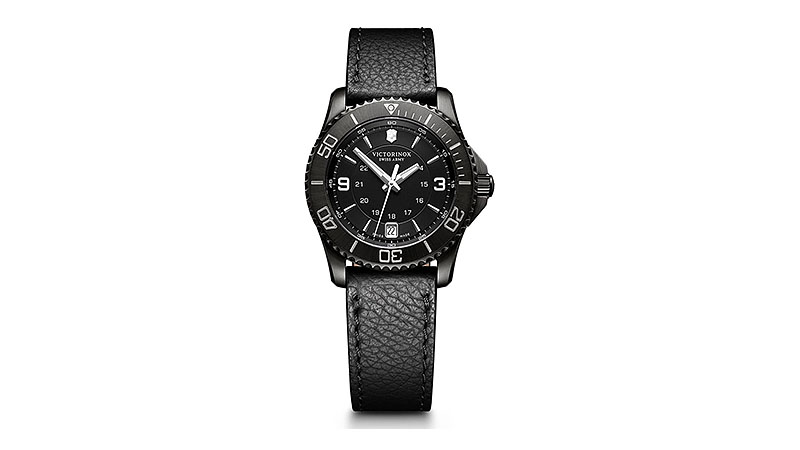 11. Gucci G-Frame Watch
Gucci is a brand that is much loved and respected in the fashion industry, and its G-Frame design is just as stylish as you would expect. The bright canvas strap makes the watch unmissable, and pearl dial continues this color scheme of blue, white, and red. Swiss-made, the timepiece is of the most exceptional quality and is true to Gucci's reputation.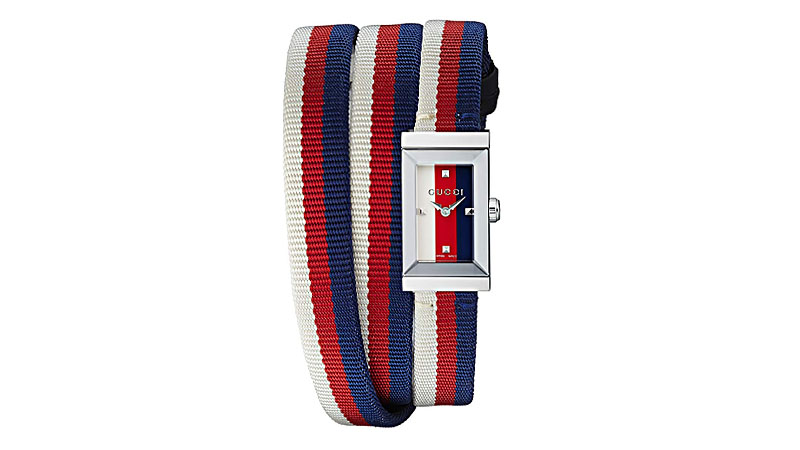 12. Hamilton Women's H32325131 Jazzmaster Viewmatic
Coming in just under $500, the Hamilton Women's H32325131 Jazzmaster Viewmatic is one of the most luxurious watches on this list. Featuring a Swiss mechanical automatic movement, this timepiece is as efficient as it is stylish. When it comes to appearance, a sharp blackface and chic stainless steel case and bracelet will have you hooked. As a bonus, the Jazzmaster Viewmatic is also water-resistant to 50m, meaning that it's suitable for showering and swimming.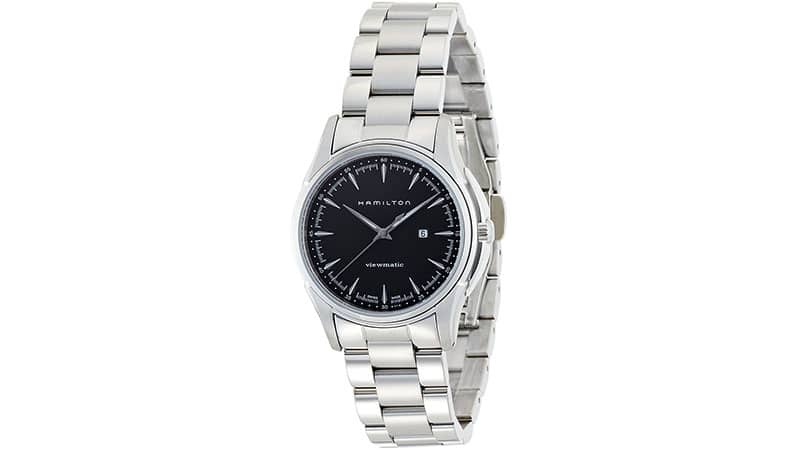 13. Victorinox Swiss Army Women's 241307 Alliance Sport
Style and function combine in this chic sports watch from Victorinox Swiss Army. As well as a sharp stainless steel case and beautiful blue dial, this watch is also water-resistant to 100m. This impressive feature, which can sometimes be difficult to find in fashion and affordable timepieces, means that the Alliance Sport is suitable for both swimming and snorkeling. So, whether you're spotting fish in the ocean or doing some laps in the pool, this watch and its Swiss quartz movement will continue to keep perfect time.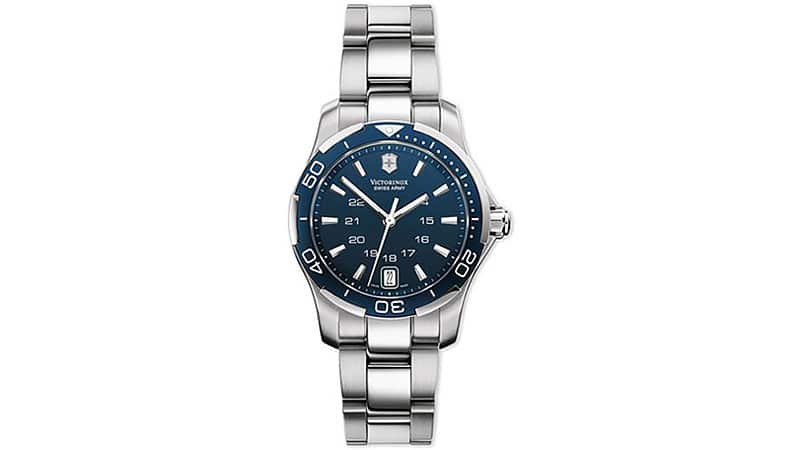 14. Seiko Women's SUP028
Designed for precision timekeeping, the SUP028 from Seiko features the brand's solar-powered quartz movement. It's thanks to this unique mechanism that the watch requires no battery, meaning that as long as it sees sufficient sunlight, it'll keep ticking along. Like the movement, the design of the SUP028 is also impressive. The timepiece, which features a traditional appearance, boasts an elegant stainless steel bracelet with gold-tone striping.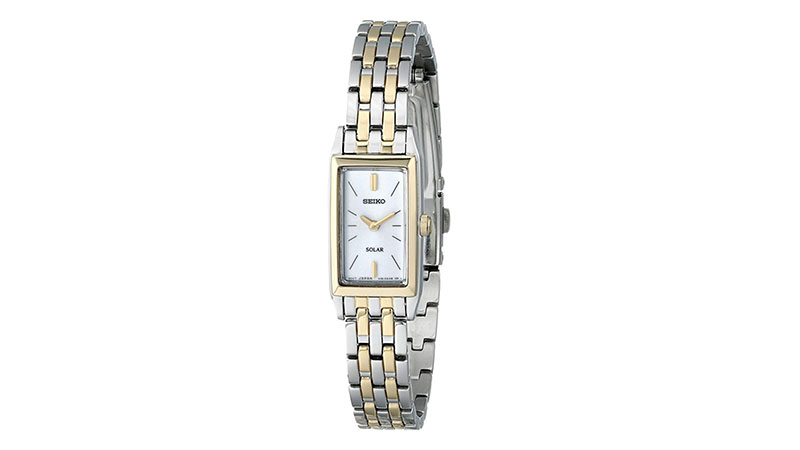 15. Bulova Women's Highbridge Substantial Ceramic + Stainless Steel Construction Watch
Think you can't get a diamond-encrusted watch for under $500? Think again. This Highbridge watch from Bulova features eight diamonds individually hand-set on a white mother-of-pearl dial. Featuring stainless steel and ceramic design as well as a Japanese quartz movement and date display, this luxurious yet affordable watch is as chic as it is practical.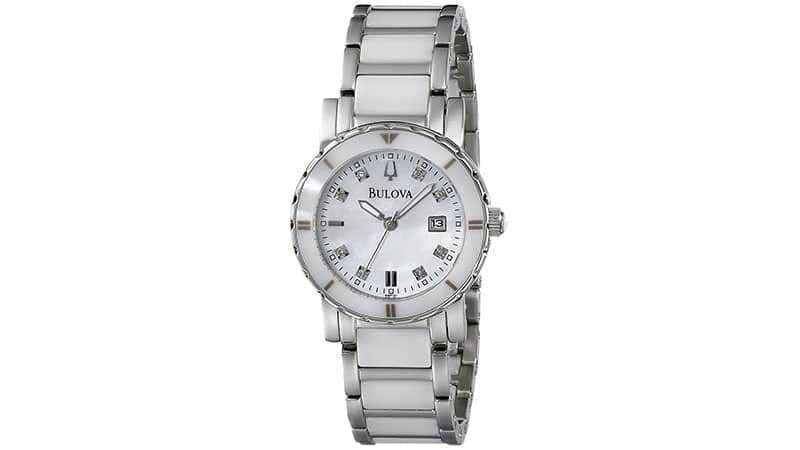 16. Casio Women's LTP1237D-7A
Casio has long been associated with high-quality, affordable watches, and the brand's LTP1237D-7A watch is no exception. This stylish watch, which costs less than $50, is an excellent bargain. While its unique style is somewhat understated, this timepiece's silver-tone stainless steel design adds a degree of opulence. Together, the two elements create a chic and elegant watch that's simultaneously classical and contemporary.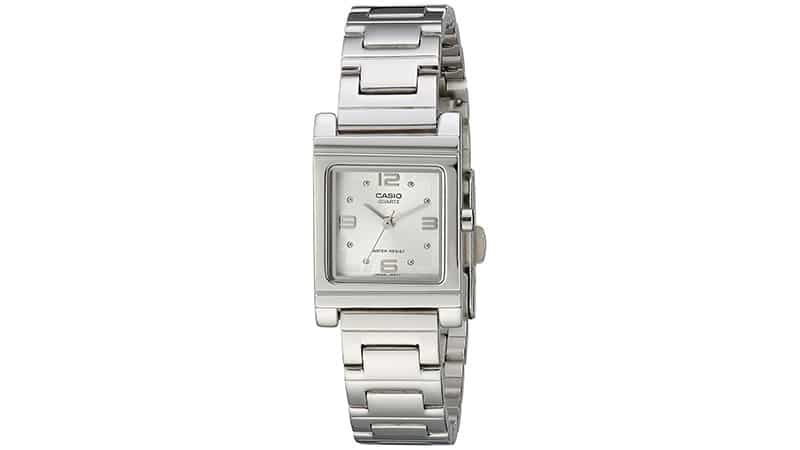 17. Kate Spade New York Silvertone Holland
A unique, slim strap makes this Holland watch from Kate Spade New York a chic, must-have accessory. As well as its stylish grey leather band, this timepiece also features a sophisticated silver sunray dial housed within a 34mm metal case. The contemporary appearance isn't the only thing to love about this watch. A Japanese quartz movement, 30m water resistance, and a price tag under $200 are all additional reasons as to why you should make this timepiece your own.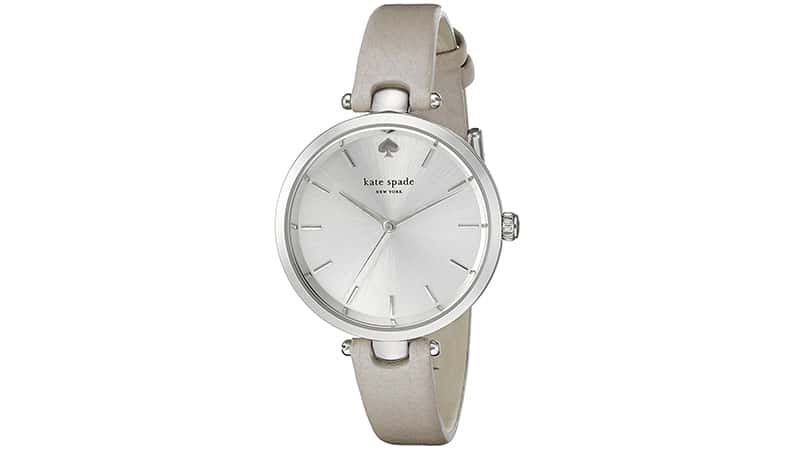 18. Marc by Marc Jacobs Women's MBM3242 Baker
If you're shopping for a designer brand watch on a budget, then Marc by Marc Jacobs' is where you should look. Specifically, the label's Baker watch is a wonderful option that's both stylish and affordable. The timepiece features a modern, round 36.5mm stainless steel case and minimal white dial. As well as a chic aesthetic, the dial also boasts "MARC" hour markers and features a chronographic subdial.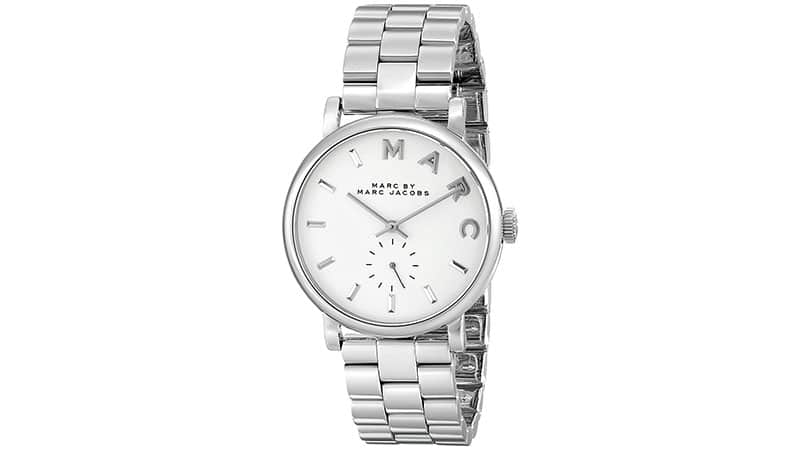 Women's Watches Under $500 FAQs
What is the best watch under 500?
There are several great watches for under $500, proving that you do not need to send a small fortune on something stylish, functional, and perfect for everyday use. Some of the top picks include The Women's Mesh and Glitz watch from Skagen, which is both understated yet chic, and the Timex Women's Easy Reader, which is, as the name suggests, incredibly easy to read thanks to the white dial, Arabic numerals, and Indiglo light-up display. Other choices include the Daniel Wellington Petite Bondi Watch, Citizen Women's Eco-Drive Two-Tone, and Samsung Gear S2 Smartwatch.
What is the most popular women's watch?
Among the most popular watch brands is Cartier, which is known for its excellence. The French luxury goods company was founded by Louis-François Cartier in Paris in 1847 and has been making stylish timepieces for over a century. They are positioned at the top of the market and are high-end and highly sought-after designs.
Which brand of watches is best for Lady?
Determining which brand of watches is best for a woman is based on several factors, including personal preference and taste, budget, and what you want from a timepiece. That said, among the top picks for women include Cartier, Chopard, Breitling, and Rolex.
What are the best women's luxury watches?
If you want to own a high-end watch that you can treasure for decades, it will help familiarize yourself with some of the top luxury brands in the market. These include Rolex, Cartier, Van Cleef and Arpels, Jaeger-LeCoultre, Omega Seamaster, and Audemars Piguet. These companies are well-established and known for creating classic timepieces that will never go out of style and often retain their value.
SUBSCRIBE TO OUR NEWSLETTER
Subscribe to our mailing list and get interesting stuff and updates to your email inbox.