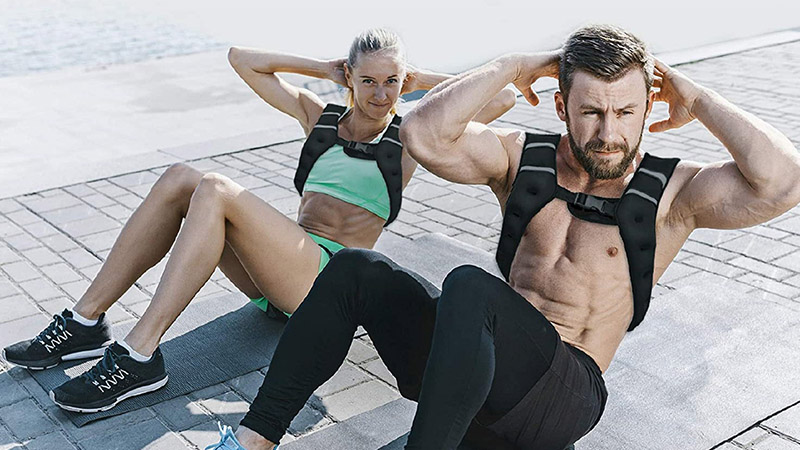 Take your sweat session to another level by incorporating a weight vest into your gym wardrobe. These vests are designed to be worn comfortably across your upper body and add increased resistance to your workout. The benefits are enormous. Not only does it elevate your heart rate faster, therefore improving your cardiovascular fitness, but it can also make you stronger, faster and improve your endurance. Plus, it's a great way to mix things up so you don't get bored and your muscles are constantly challenged.
1. RUNFast/Max Weighted Vest
Increase the resistance on your workout with the RUNFast/Max Weighted Vest. The vest is one size fits most thanks to the adjustable belt, and it also includes shoulder pads for extra cushioning where you bear most of the load. You can change the number of weights as you need, depending on the activity, as they're easily removable. Load it up to a max of 140 pounds for a gym lifting session, or carry as little as 12 pounds on a long-distance run. Take some water with you in the convenient carry pocket. Plus, there's also room for your phone and headphone so you can drown out the sound of your muscles screaming.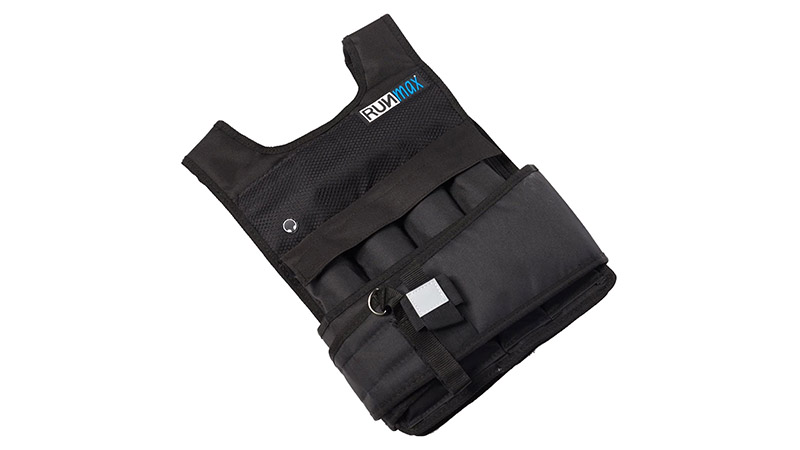 2. RUNmax Pro Weighted Vest
The slim profile and even weight distribution make the RUNmax Pro Weighted Vest an excellent option for anyone, anywhere. It has convenient extras such as a phone pocket, water bottle holder, and optional shoulder pads. You can add or remove weights to both the front and back pockets as you need, with options up to 60 pounds or a low as 12 pounds. Best of all, it's incredibly durable to withstand the toughest workouts. The design is unisex, so both men and women can incorporate this added resistance into their cross-training, strength sessions, or cardio days.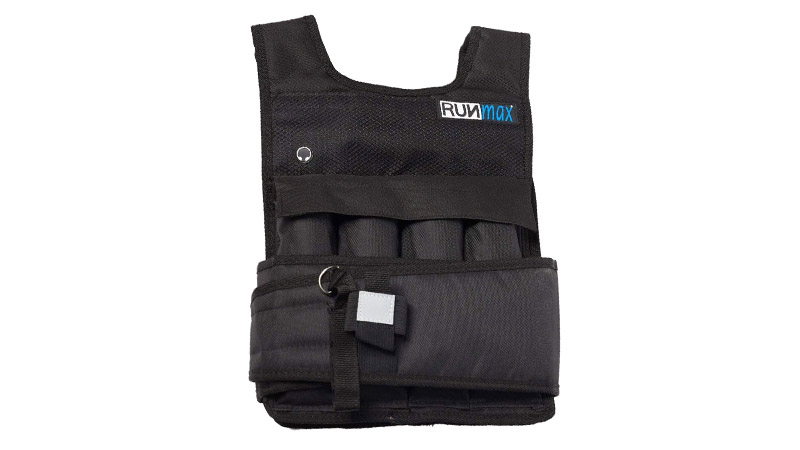 3. CAP Barbell 20-150 Lb Adjustable Weighted Vest
Enjoy a snug and secure fit on the CAP Barbell weighted vest. It's got a fully adjustable waist belt and padded shoulder straps, plus an even distribution of the iron weights around the front and back to keep you balanced. You can add even more resistance during training runs with the parachute anchors on the shoulders. Finally, the nylon and polyester construction is robust and durable and built to withstand the fiercest workouts. You'll increase your strength and endurance, burn more calories, and benefit from cardio and muscle development.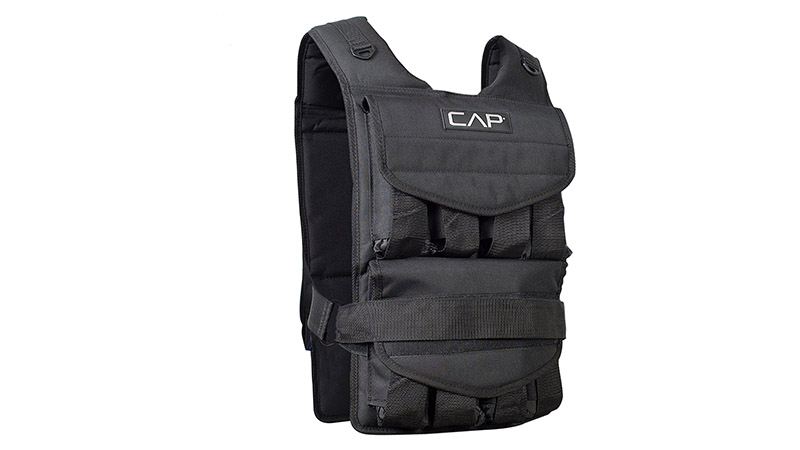 4. CROSS101 Weighted Vest
You'll be looking and feeling tough in this weighted vest from CROSS101. Select from a range of weight options, including 20, 40, 60, and 80 pounds. All the weights are removable, so don't be afraid to go heavier, as you can always take some out to start lighter, working your way up. You've got storage for your phone and a water bottle for longer sessions. Plus, you can also choose to add optional shoulder pads. The waist belt secures firmly around your middle, so it's a snug fit for most bodies. Finally, the manufacturer is so confident in its durability that it comes with a warranty as well.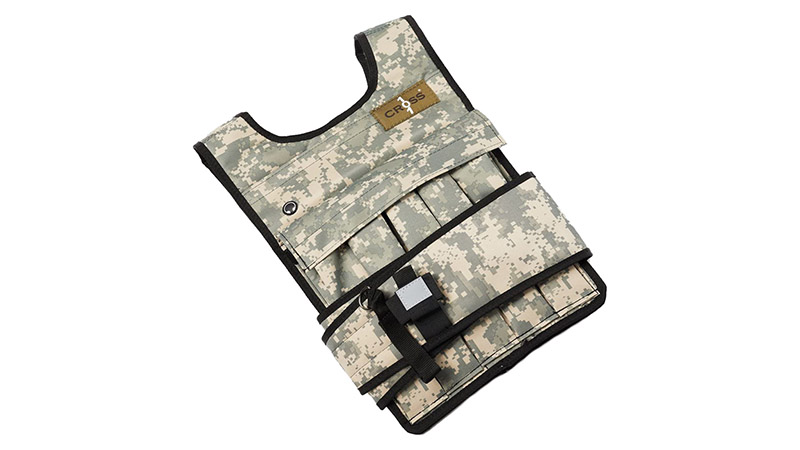 5. LEKÄRO Adjustable Weighted Vest
Push yourself to your limits with the 44-pound adjustable weighted vest from LEKÄRO. It's designed with the human body in mind. Firstly, the shoulder straps are angled down to more evenly distribute the pressure across your shoulders. Then, there's a soft cushioning layer to reduce impact against the body in high-intensity workouts. Plus, the easy-to-use waist straps ensure a perfect, snug fit. The weights come as 200-gram electroplated steel plates that fit securely into the velcro-sealed pockets on the front and back. Each pocket can hold three plates, so the weight is easily adjustable and simple to distribute evenly around your body. Finally, the anti-wear webbing is abrasion-resistant, while the nylon mesh improves breathability.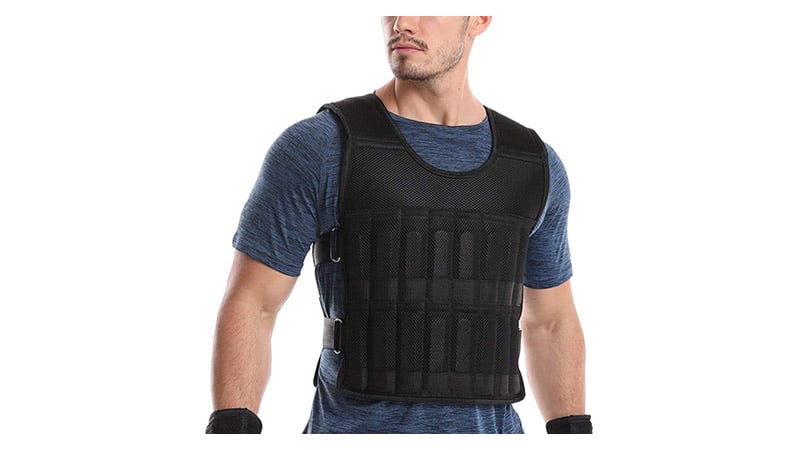 6. ZELUS Weighted Vest
Durable neoprene is the main fabric used in this weighted vest from ZELUS. It's comfortable, non-chafing, and allows maximum flexibility and movement. Plus, it's double-stitched and weighted with sand for extra robustness. The unit secures to your upper body, much like a backpack, clipping across the chest for minimal movement. Enjoy the convenience of dual storage pockets, so you can keep your phone and keys handy while out and about. It also has reflective stripes on the front and back for added safety and visibility if you're training outdoors in low light. Finally, you can choose weights ranging from four pounds up to 20 pounds, depending on your needs.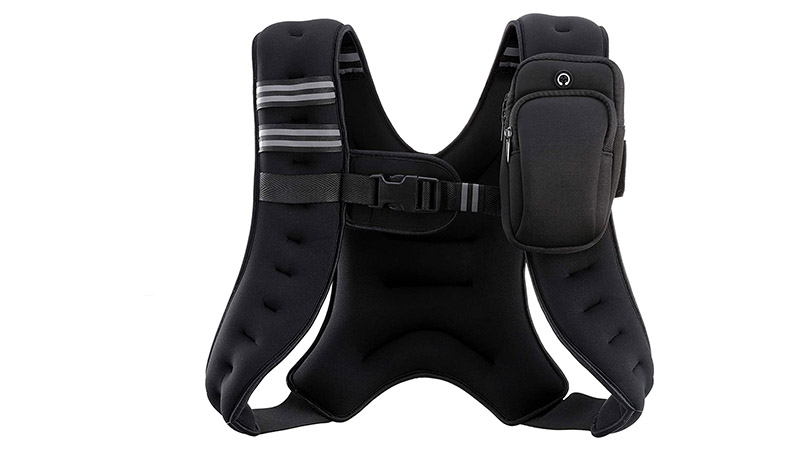 7. SurmountWay Adjustable Weighted Vest
Make tailoring your workout simple with the SurmountWay Adjustable Weighted Vest. The unit itself is about 4 pounds but comes with six extra removable weight bags that can make it up to ten pounds. These weights sit in the easy-access pockets on the front and back of the vest. That means you can add and remove them quickly and efficiently as you move through the different exercises in your workout. It's a great way to challenge yourself without overdoing it. Additionally, there's a convenient storage pocket that's perfect for your phone, earphones, keys, or wallet. There are also reflective strips for your safety if you're out running in the dark. Finally, the neoprene fabric is comfortable and breathable.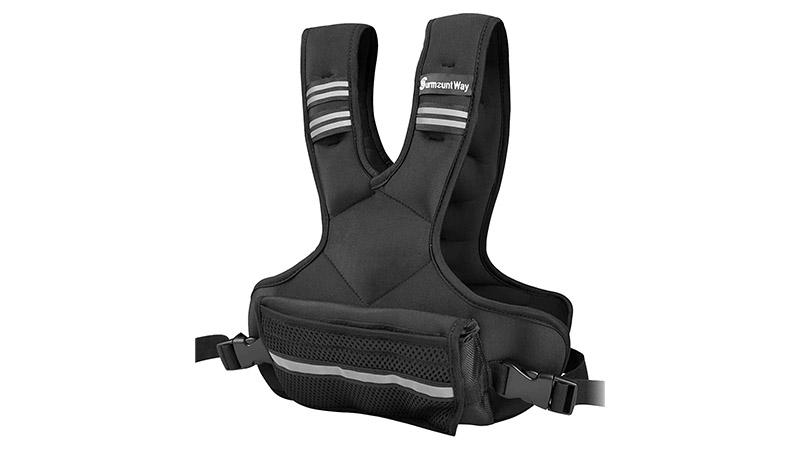 8. Yes4All Weighted Vest
The Yes4All Weighted Vest helps you increase your athletic endurance, strength, and cardiovascular fitness. Thick shoulder straps and two buckle straps keep the vest secure around your upper body, with the weight evenly distributed. Meanwhile, the soft neoprene shell is comfortable, sweat-absorbing, and filled with iron pellets to avoid the unwanted smells that can come from sand filling. Stash your cash, keys, and phone in the elasticated storage pocket on the rear of the vest during your sweat session. Best of all, this combo set also comes with two two-pound ankle weights to add extra resistance to your lower half as well.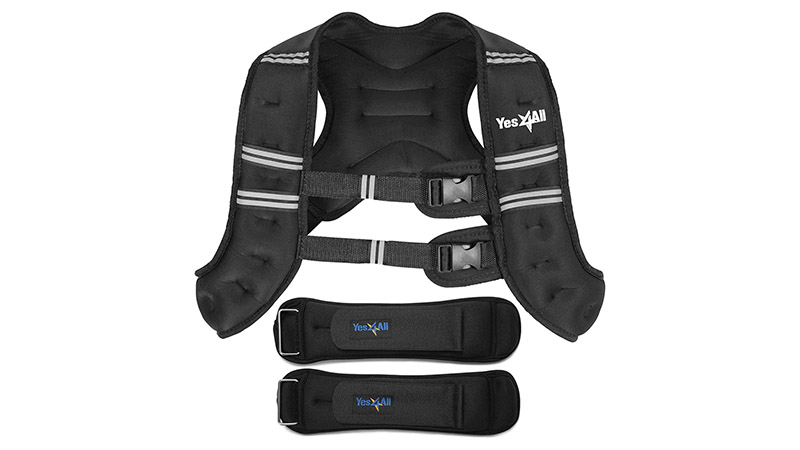 9. Aduro Sport Weighted Vest
You'll barely notice the presence of the minimalist-designed Aduro Sport Weighted Vest. Its comfortable neoprene shell is filled with iron pellets rather than sand. This reduces any undesired odors while still allowing an even and comfortable distribution of weight throughout the unit. Secure it effortlessly with the chest straps, and keep your valuables close in the back mesh pocket. You can select a vest as light as four pounds or as heavy as 30 pounds. You'll gain strength, burn more calories, and improve your overall sports performance.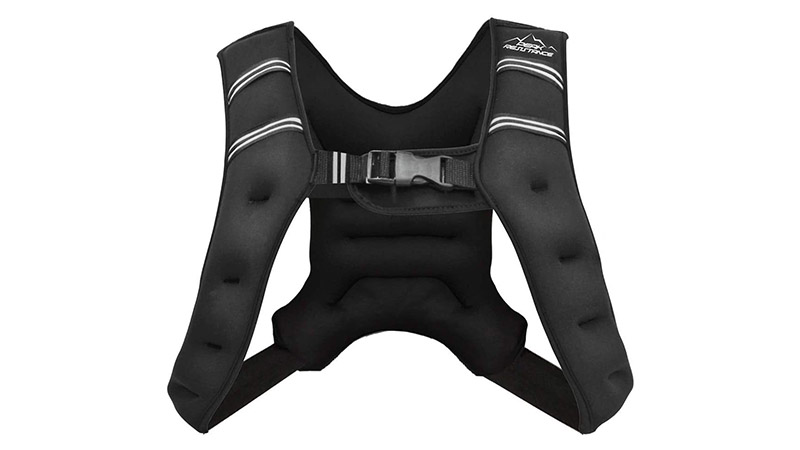 10. Aduro Sport Adjustable Weighted Vest
Enjoy the benefits of adjustable weights in your vest so that you can use them no matter your chosen workout for the day. This option from Aduro Sport is excellent. Pick your preferred weight range, with options from four to ten pounds, up to 26-46 pounds. The vest weighs the minimum amount, and then it comes with additional weight packs that sit in specially designed pockets. There are also extra storage pockets — a velcro one on the front and a mesh stretch one on the back. Finally, the X-shaped vest is designed to comfortably fit both women and men and elevate your workout regardless of gender.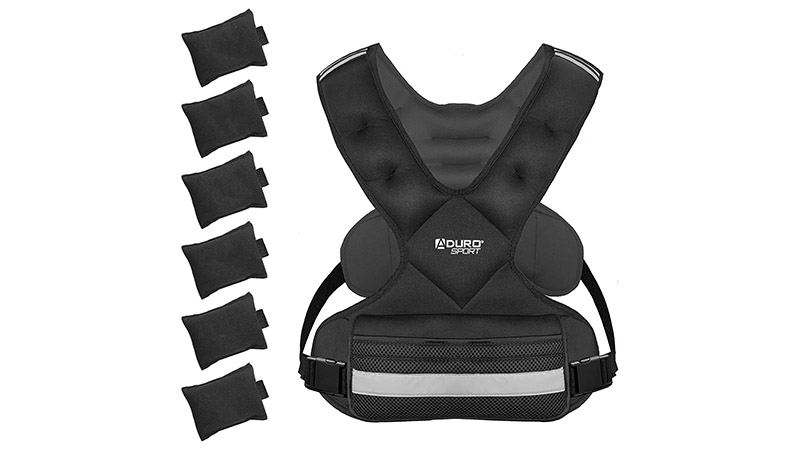 11. Henkelion Weighted Vest
The ergonomic design and balanced weight of the Henkelion Weighted Vest will have you regularly beating your personal best. It's filled with non-odorous iron pellets and metal rock, which won't have lingering smells. The shell is a soft neoprene, with a mesh pocket on the back for storage and reflective strips for low-light visibility. Additionally, the center strap across your chest is adjustable to ensure the ideal fit for your frame. Best of all, if basic black is not your cup of tea, you can also choose other color options, including grey, blue, pink, and purple.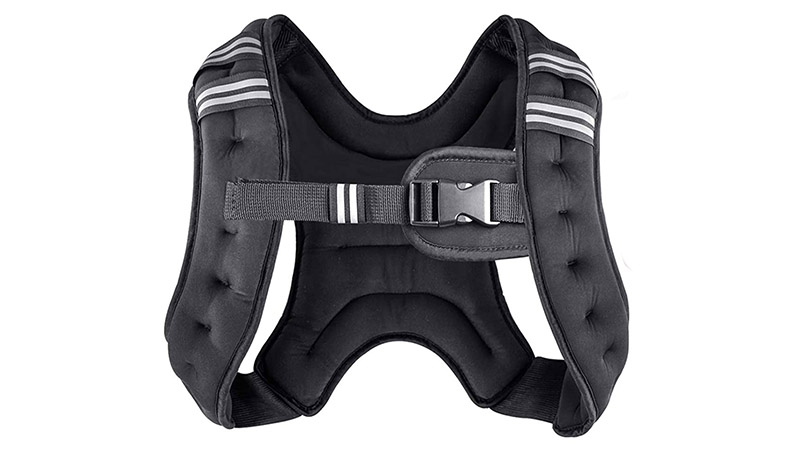 12. ATIVAFIT Sport Weighted Vest
Invest in your body by investing in this weighted vest from ATIVAFIT. It's perfect for taking your weights or cardio workout to the next level by building your endurance and strength. The soft neoprene shell is filled with chemical-free, odorless iron sand. Adding extra convenience is the handy velcro pocket to store your essentials and the reflective tape that lets people see you better in low light. The adjustable chest straps ensure a snug and firm fit that won't move or chafe during any activity.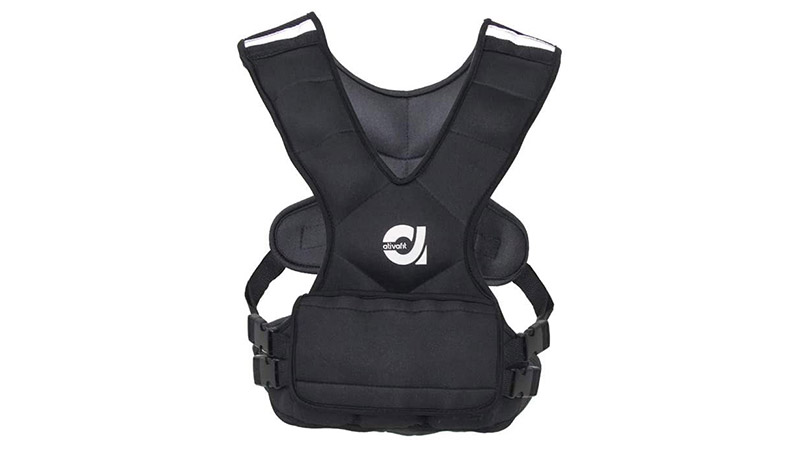 13. Empower Weighted Vest for Women
While many weighted vests are designed to be unisex, this option from Empower is specifically made for women. The X-shaped design fits better around the bust without putting unnecessary pressure on the girls. Plus, the strap around the waists adjusts to sizes between 24 to 48 inches for a snug and secure fit. Beyond that, it performs the same as men's and unisex styles. Iron pellets fill the neoprene casing for even weight distribution, while the reflective accents also keep you safer at night if you're out running. Wear this eight-pound vest when exercising or working out for added resistance to increase your aerobic health, strength, and endurance.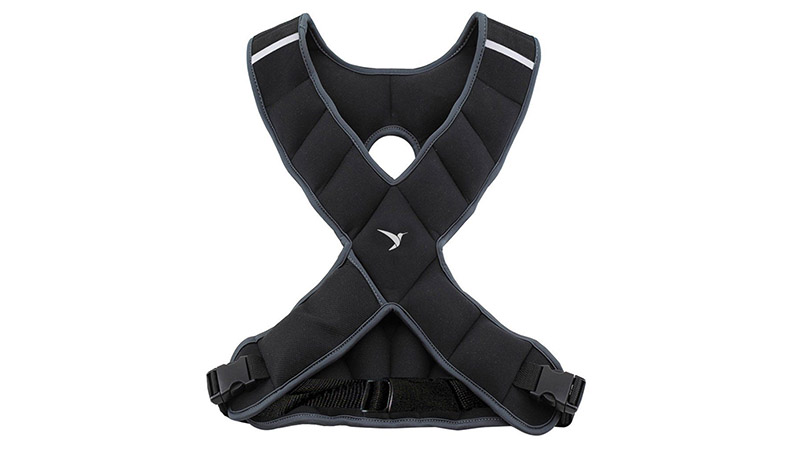 14. Jolitac Weight Vest for Men
Add ten pounds to your daily training regime and increase your metabolic rate, strength, and endurance. This Jolitac Weight Vest is comfortable and durable. It features high-quality fabric outers filled with zinc-iron sand for odorless and even weight distribution across your frame. It's stitched into segments to ensure the load doesn't displace over time and that nothing will fall out. Adjust to the perfect fit with the chest strap, and feel confident running in low light with the reflective stripes. Lastly, you can also take essentials like your keys, phone, and headphones out with you, thanks to the handy mesh pocket on the rear.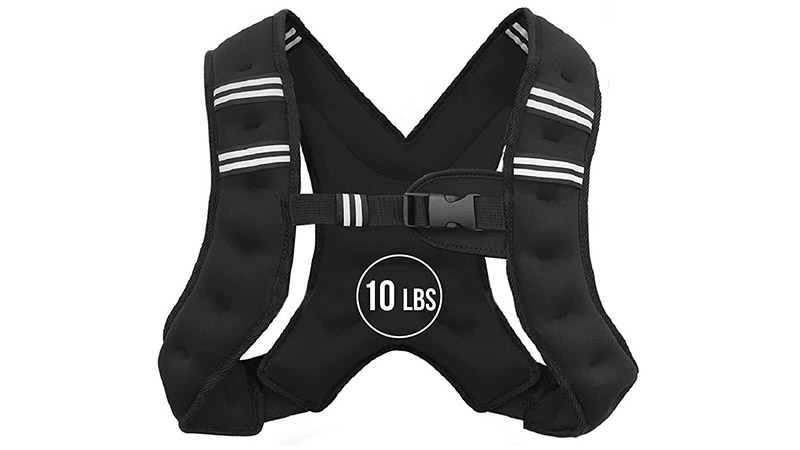 15. dimok Sport Weighted Vest
The simple design of the dimok Sport Weighted Vest makes it easy to add to any workout. It has a slim profile, padded shoulders, and adjustable chest strap to fit most body types and sizes. Keep your keys and phone close by with the rear pocket, and stay safe with the reflective strips. Meanwhile, the weight comes from iron pellets that don't have an odor and are kept in place by strong, segmented stitching. You'll burn more calories, improve your speed, and increase the intensity of every workout.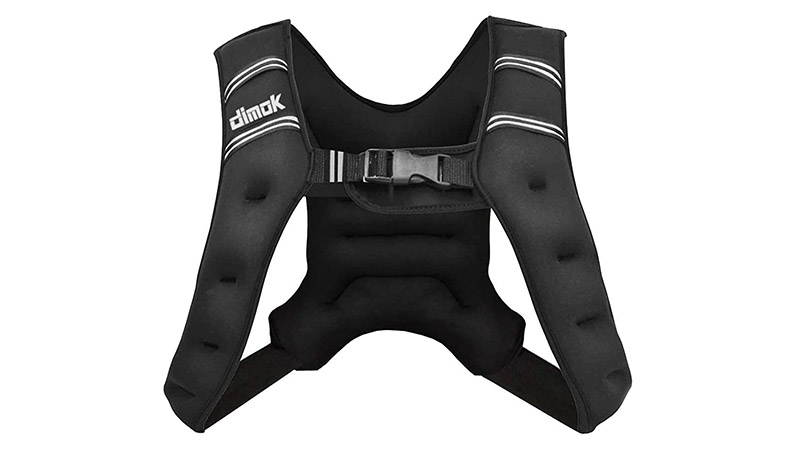 16. MOVSTAR Weighted Vest
The sleek and slimline styling of the MOVSTAR Weighted Vest makes it easy to hide under your workout gear if you want to be subtle about your training. It comes in two great sizes. Choose 12 pounds for a lighter, easier session, or opt for 20 pounds for a more intense workout. The exterior shell is a durable polyester that you can clean with a damp cloth, while the interior features iron sand sealed in plastic. There are also three layers of padding at the shoulder to prevent pain and chafing. Finally, you can also run more safely at night with the reflective strip.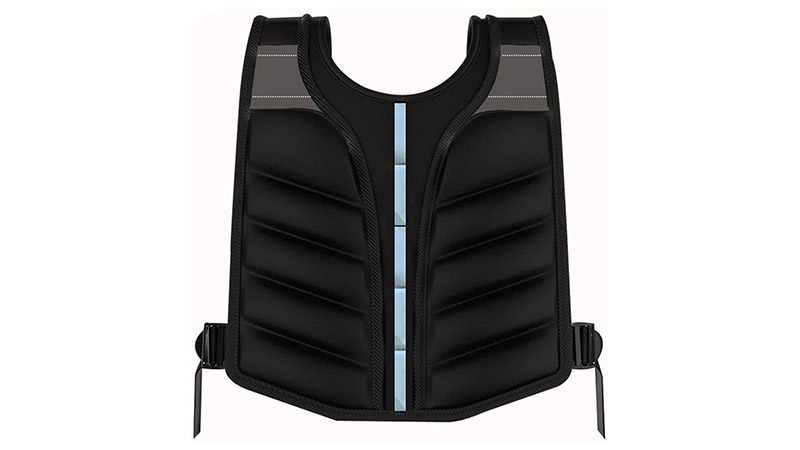 17. VIEFIN Weighted Vest
VIEFIN's weighted vest fits effortlessly into your workout routine, no matter if you're going running, doing a weights session, or joining a class. You'll be able to increase the resistance, improve your cardio and get stronger. The backpack-style vest allows freedom of movement yet has a firm fit. Wide-set shoulders also allow better distribution of the weight, which comes from iron sand. The exterior is made with sturdy neoprene and reflective strips. Plus, there's a storage pocket on the front so you can keep your phone handy and easily listen to your workout beats for extra motivation.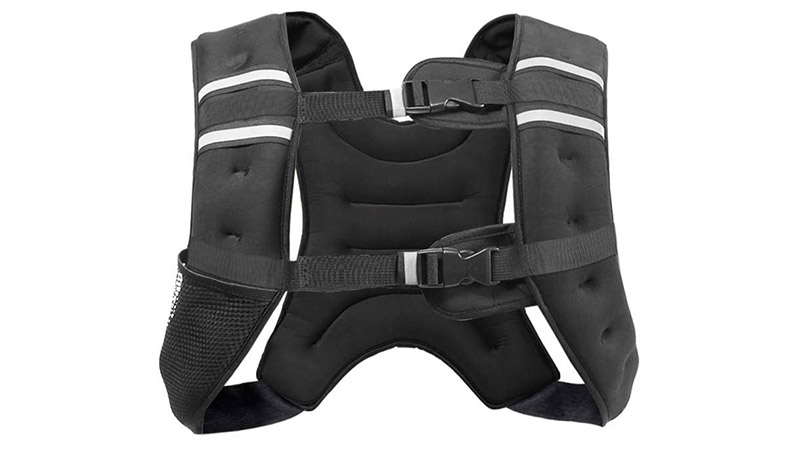 18. Adurance Weighted Vest
Enjoy the benefits of a lifetime guarantee and 24/7 customer service with Adurance. Their weighted vests come in four sizes, including six, ten, 14, and 18 pounds. They're made from sweat-resistant and comfortable neoprene, with safety reflective trips and an adjustable buckle for the ideal fit. The weight is evenly distributed throughout and stitched into segments to prevent shifting and movement throughout your workout. Plus, there's a rear pocket so you can take your phone to track your progress or to hold other valuables like keys.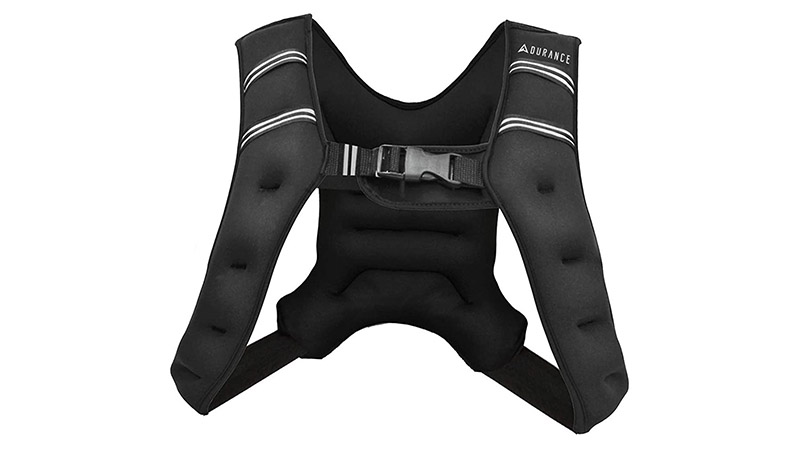 19. SGODDE Weighted Vest with Ankle Weights
Take a holistic approach to increase your workout intensity with this set from SGODDE. It comes with both a weighted vest and ankle weights. This lets you improve your endurance, strength, and speed even more. The vest features an adjustable strap, so it fits most physiques, as well as a mesh pocket for storage. Both the ankle weights and vest are made from elastic nylon lycra and are filled with chemical-free, non-odorous iron sand. Plus, the vest also features reflective strips to keep you extra visible and safe in low light. It is the perfect addition to any workout that you want to take to the next level.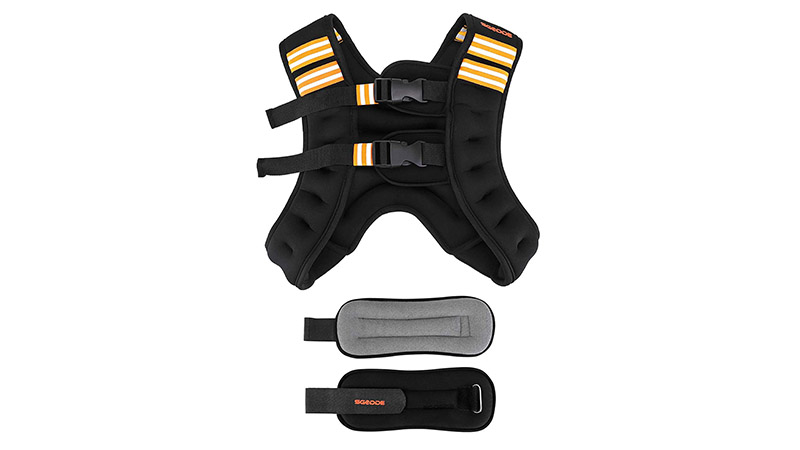 20. RBX Performance Fitness Weighted Vest
Improve your posture and balance with this lightweight, four-pound vest from RBX Performance. It's ideal for cardio, running, and walking. The cross-shape fits both men and women, while the adjustable sides ensure it sits firmly but comfortably throughout your workout. Plus, it guarantees even distribution of the weight across your frame. Neoprene on the outers is soft on the skin, while the reflective strips keep you visible at night.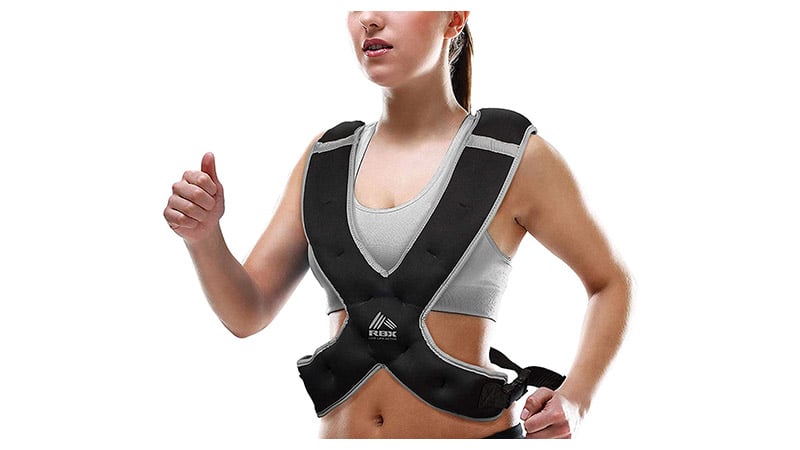 Best Weight Vests FAQs
Do Weighted Vests Work?
Weighted vests can have many benefits for your workout, so long as they're used correctly. They're great for adding resistance, getting your heart rate elevated, and improving speed. However, you need to have a proper form in your exercises before taking on a weighted vest. Otherwise, you can cause yourself an injury.
What are the benefits of a weighted vest?
Incorporating a weighted vest into your workout has many benefits. These include increased strength and endurance, improves cardiovascular health, and musculoskeletal benefits. It can help you lose weight, improve your speed, and train your body to last longer and go further. It's also excellent for adding variation to your routine, which can be the catalyst for taking your fitness to the next level.
How heavy should my weight vest be?
The weight of your vest will depend on the activity you want it for. If your goal is to use it during cardio activities such as running or HITT, then a lighter vest is sufficient. Start around 10 pounds, and go up from there if you need. However, if you want to use it for weight sessions, you can go heavier but not more than 10% of your total body weight. Adjustable vests are a great option, as you can add more weight as you get stronger and fitter. Regardless of the activity, ensure your weight vest doesn't affect your posture or form, causing injury.
Does walking with a weighted vest build muscle?
Walking with a weighted vest is more likely to improve your calorie-burning capacity and cardiovascular health than build muscle. Building muscle mass requires hypertrophy, which is best achieved by lifting heavy weights.
What muscles do weighted vest work?
A weighted vest sits across your shoulders and upper torso, which will work your upper body muscles, such as shoulders, back, and chest, more directly. However, depending on what you're using the vest for, the general increase in weight forces the rest of your body to work harder overall.
How long should a weighted vest be worn?
The goal should be to wear your weighted vest for 30 minutes to an hour. It can be a good idea to begin with shorter periods such as ten minutes when you start. You can also try interval training with your vest, doing some sets with and without it on. It is crucial that you don't wear it for too long, as this can affect your form and cause injury, which is the opposite effect of what you're aiming for.
Is a weighted vest good for losing weight?
A weighted vest can help you lose weight because it increases your heart rate faster and helps burn calories more quickly. Keep in mind that you do need correct posture and form in your exercises before adding a vest. As such, if you're brand new to working out, it can be best to work on your form first; otherwise, you risk injury. You also need to remember that weight loss only comes from a calorie deficit, so you still need to be burning more energy than you're consuming, which may require checking-in on your diet as well.
Are weighted vests bad for your spine?
Weight vests can be bad for your spine if misused. The added mass to your upper body will shift your center of gravity and can compress your spine. As such, it's vital to ensure the weight is evenly distributed, the vest is snug and not moving around, and that your form is correct. Ideally, you should avoid high-impact activities or at least make sure your vest fits well. If you start to experience any spinal pain, take the vest off immediately and seek professional advice. Finally, if you already have back and spine issues, it'd be better to seek a different method to increase your performance.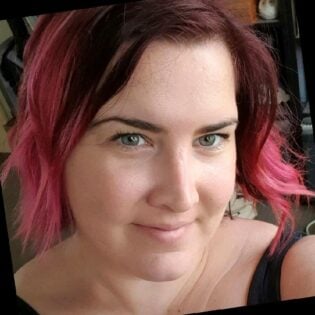 Alexandra Linde is an experienced writer holding a bachelor's degree in Journalism. She is the owner of Alexandra McKiterick Creative and has expertise in travel, fashion, fitness and lifestyle. Alex has previously written for Flightcenter, Travello, and Backpacker Deals.
SUBSCRIBE TO OUR NEWSLETTER
Subscribe to our mailing list and get interesting stuff and updates to your email inbox.