So you've made it past the awkward first date, meetings with the in-laws, and the heart-stopping proposal. Now, all that's left is planning the wedding of your dreams. But, where do you begin? Rome wasn't built in a day, and as it turns out, the planning of a fairytale wedding can be a mission for any bride. Ultimately, choosing where to exchange your vows and tie the knot is one of the biggest decisions. As a result, we're here to make that journey towards your big day, and choosing your dream venue, just that little bit easier. Across Australia, there is no shortage of stunning wedding venue destinations. Whether you're dreaming of a magical rainforest wedding, a harbour cruise, or a decadent ballroom reception, there is truly something for every couple. Therefore, to help you narrow down these choices, we've uncovered the most unforgettable wedding venues across Australia.
Wedding Venues Melbourne
Tatra
If your wedding dreams involve walking through lush fairytale gardens and canopies of flowers, Tatra is the venue you've been searching for. There, escape the city's hustle and bustle in the stunning township of Mount Dandenong. To ensure your fantasies become reality on your special day, Tatra offers three dreamy locations within the venue to tie the knot. Spoilt for choice, couples may choose between a traditional chapel, a stunning wrought iron cupola, or a charming gazebo. As the sun sets, guests and newlyweds then make their way to a decadent, chandelier-lit ballroom for the reception. With seating available for up to 250 guests, there is plenty of space to share your special day with all those close to your heart.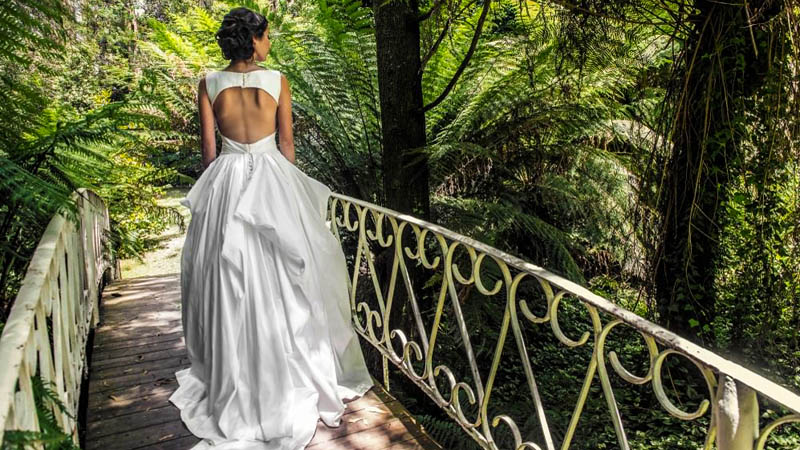 San Remo Ballroom
Escape for a day and a night into a fantasy world of mystical ceiling draping, crystal chandeliers, fresh, fragrant flowers, and world-class international cuisine. Did we mention you'll be saying 'I do' in this surreal setting? For over 60 years, the San Remo Ballroom has been a favourite wedding destination for couples in Melbourne. This timeless, elegant location is alive with romance and allure, and with the help of a personal wedding coordinator, it can be tailored to make your special day unique. With seating capacity ranging from 150 – 480 guests, a wedding at San Remo Ballroom is a truly decadent, grand, and unforgettable event.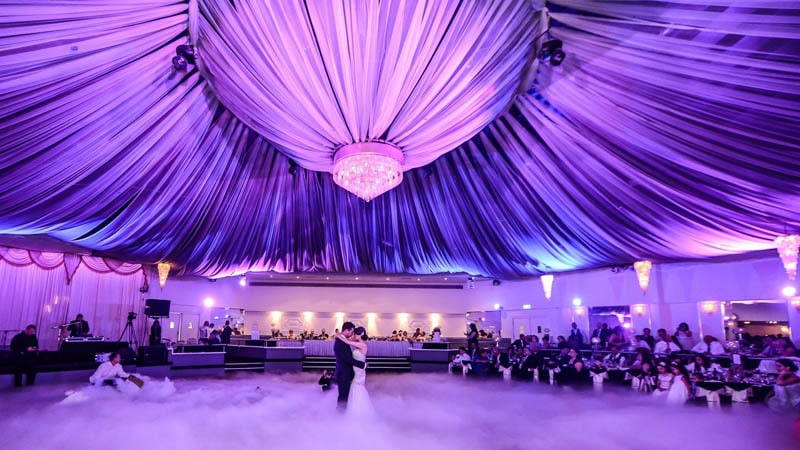 Ballara Receptions
For an exquisite wedding that exceeds all expectations, book a date at Ballara Receptions. This family owned and operated business offers everything you need to make your special day unique. From live bands and expert florists to world-class photographers and more, the team can take care of all of your wishes so your engagement period feels like a relaxing honeymoon. With a range of packages on offer including seated celebrations, cocktail wedding receptions, and high tea weddings, Ballara caters to all tastes. When it comes to exchanging vows, couples may choose between the stunning, Victorian chapel, or the tranquil, lakeside gazebo. Surrounded by breathtaking gardens, a waterfall, as well as romantic rose arbours, this venue offers picturesque backdrops to capture those first photos of newlyweds.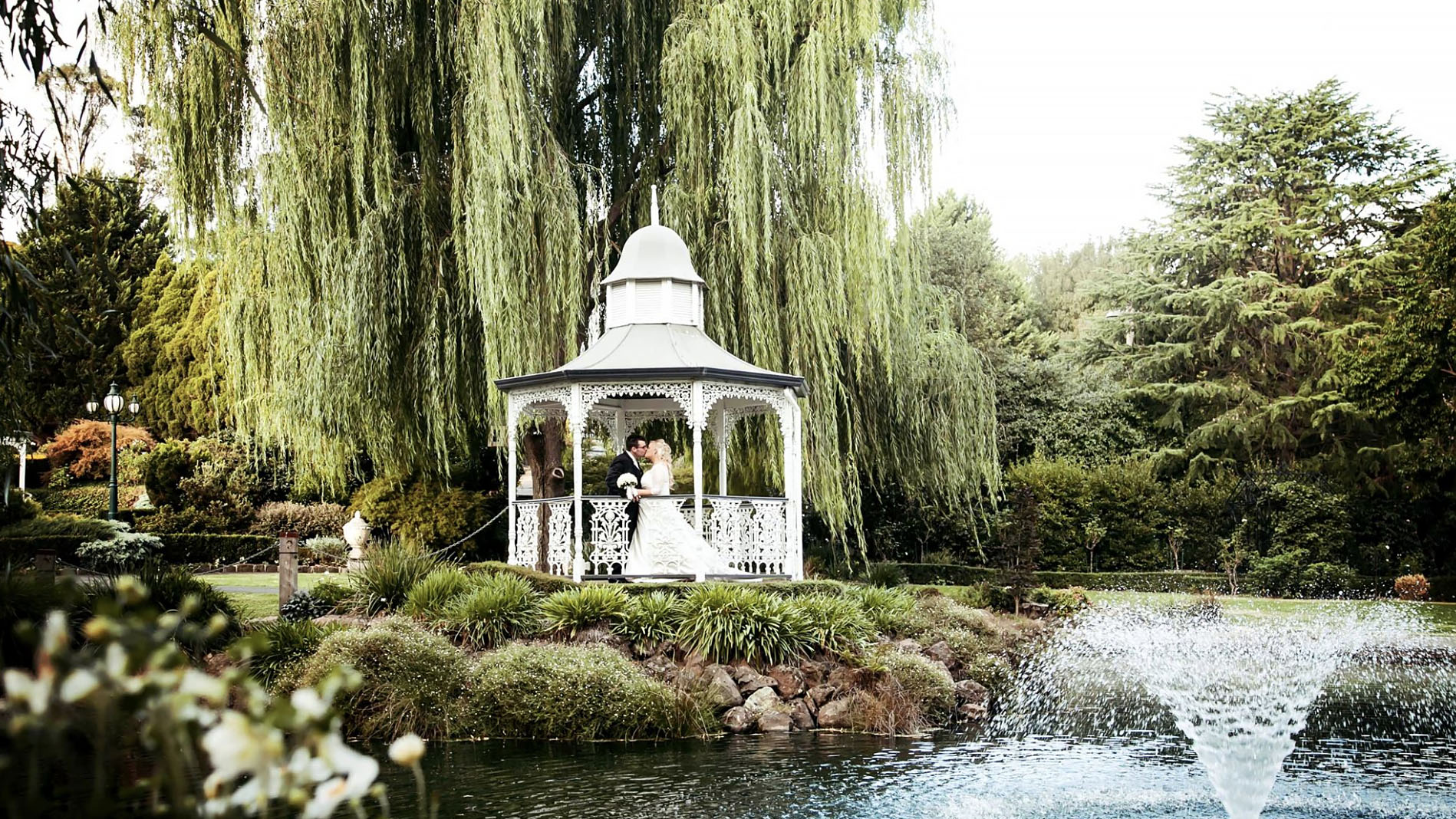 Wedding Venues Sydney
L'Aqua
Upon a rooftop of Cockle Bay Wharf you will find one of Syndey's most prestigious event venues, L'Aqua. There, decadent floor to ceiling windows offer stunning views of the harbour while bathing the interior with light. When it comes time for the reception, L'Aqua presents two magnificent options, each featuring private harbourside balconies. The first is the aptly titled Gold Room. This space features a gold-leaf octagonal ceiling, Swarovski crystal floral chandelier and luxurious leather and timber walls. Alternatively, there is the Terrace Room. Described as chic and contemporary, this open space includes beautiful silk feature walls and breathtaking, panoramic views. If the choice is too difficult, or your guest list is extra long, simply select both. Catering to all ranges of weddings, L'Aqua offers the option to open these rooms into one, magical space.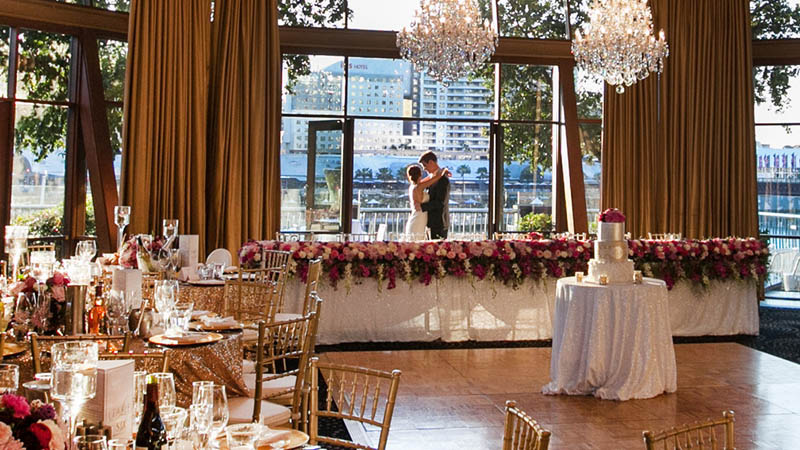 Cruise Bar
Celebrate an iconic moment in your life with Sydney's famous Opera House shining in the background. Not only does Cruise Bar offer a beautiful open-air rooftop venue to say "I do", but it will also take care of every little detail leading up to, and following this moment. With the help of a devoted, talented wedding planner, you can rest assured that the flowers, music, menu and more will align with your dreams. Finally spread the love far and wide in this harbourside setting, as Cruise Bar can hold up to 400 guests.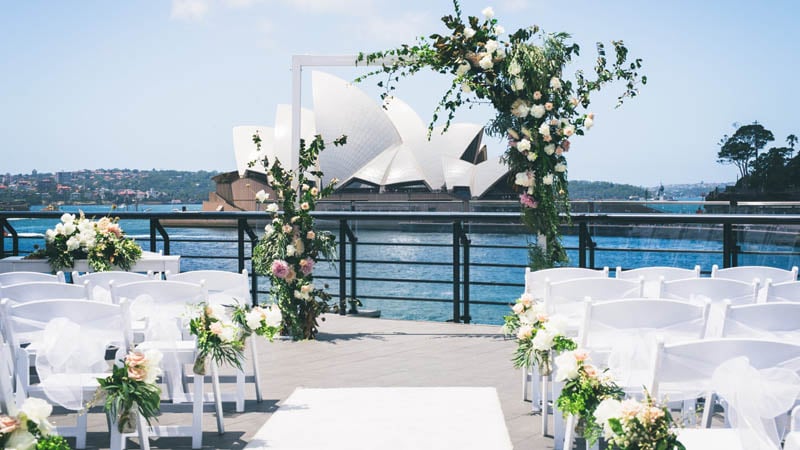 Seadeck
On your special day, head out into the ocean beyond as you step aboard the glamorous Seadeck. This luxurious yacht allows you and your guests to celebrate in style as you cruise Sydney's sparkling harbour. Radiating elegance and allure, this inspiration for this beautiful vessel comes from Hollywood's Golden Age and vintage cruise ships. Exotic plants and towering palms create a tropical oasis on board, while five-star service will transport you to paradise.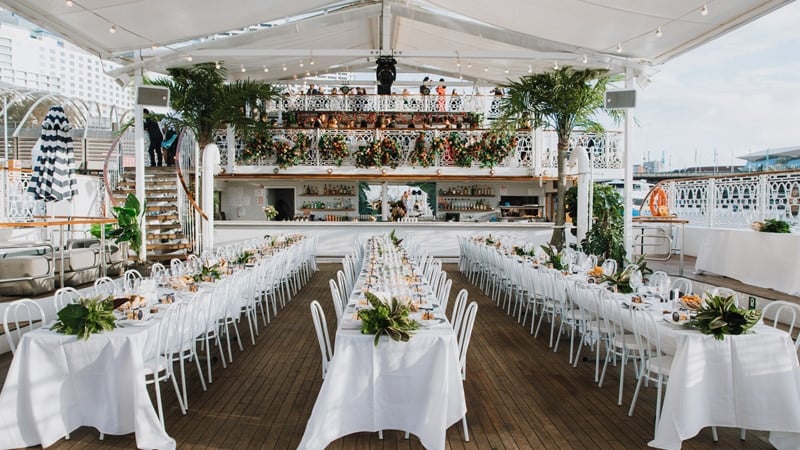 Wedding Venues Brisbane
Cedar Creek Lodges
Located on a lush 112-hectare rainforest property, on the breathtaking Tamborine Mountain, lies Cedar Creek Lodges. There, equally dazzling wedding ceremony options are available to cater to your every desire. The first of these takes lovers to The Rainforest Amphitheatre. Feel pure bliss and serenity as you say your vows surrounded by jasmine adorned pillars, with a backdrop of a cascading waterfall and the vast rainforest. The next location on offer will take you lakeside to a verdant, green peninsula surrounded by clear waters and fragrant water lilies. Finally, last but not least, there is The Outlook. This manicured, garden location is surrounded by native lilly pilly hedges, the Thunderbird Park rainforest, and the flowing sounds of Cedar Creek.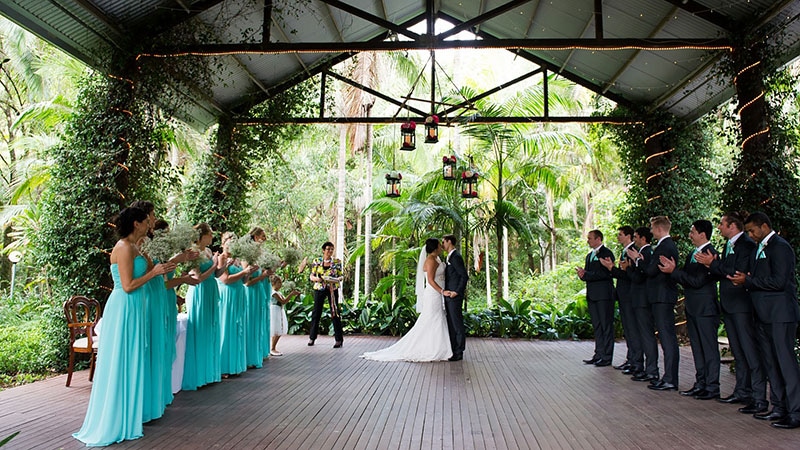 Victoria Park
Located on the leafy green Northern side of Brisbane, Victoria Park offers five exclusive venues to host your dream wedding. Say your vows amidst the natural surroundings, with the cities gorgeous skyline sparkling on the horizon. When it comes time for the reception, Victoria Park's wide range of options caters for wedding parties of all sizes. Whether you have an intimate 60 person party or share the love with up to 380 of your friends and family, the talented team will ensure each guest is treated like royalty. From the marquee to the ballroom, the quartz room, and more, each space features its own private bar and outdoor terrace. Additionally, if you manage to take your eyes off your new husband or wife, the floor-to-ceiling windows will allow you to admire the views beyond.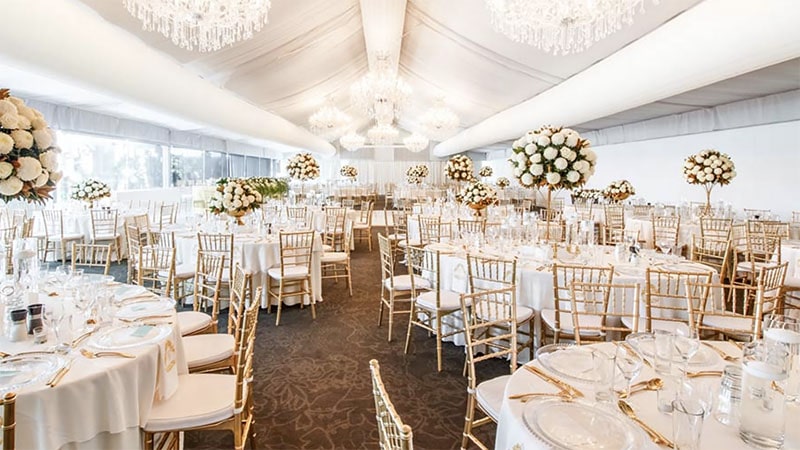 The Landing at Dockside
Located at the Dockside Marine is the famous 'The Landing at Dockside'. There, happy couples exchange vows by the riverside, before making their way to the gorgeous riverfront terrace where the champagne and canapes flow. With the ability to cater 40-1500 guests, The Landing is renowned for creating beautifully intimate weddings as well as magnificently grand ones. As the light turns golden upon the waterfront, newlyweds and their guests then retreat to one of three stunning reception rooms. Does the idea of a sweeping roof, elegant chandelier, wooden style bar, and private lounge spaces entice you? If the answer is yes, then the large Harbour Room may be for you. Alternatively, for uninterrupted views of the Brisbane River, we recommend the River Room. Finally, for smaller celebrations, there is the Garden Room. This venue features a beautiful timber dance floor and is nestled amongst the romantic gardens.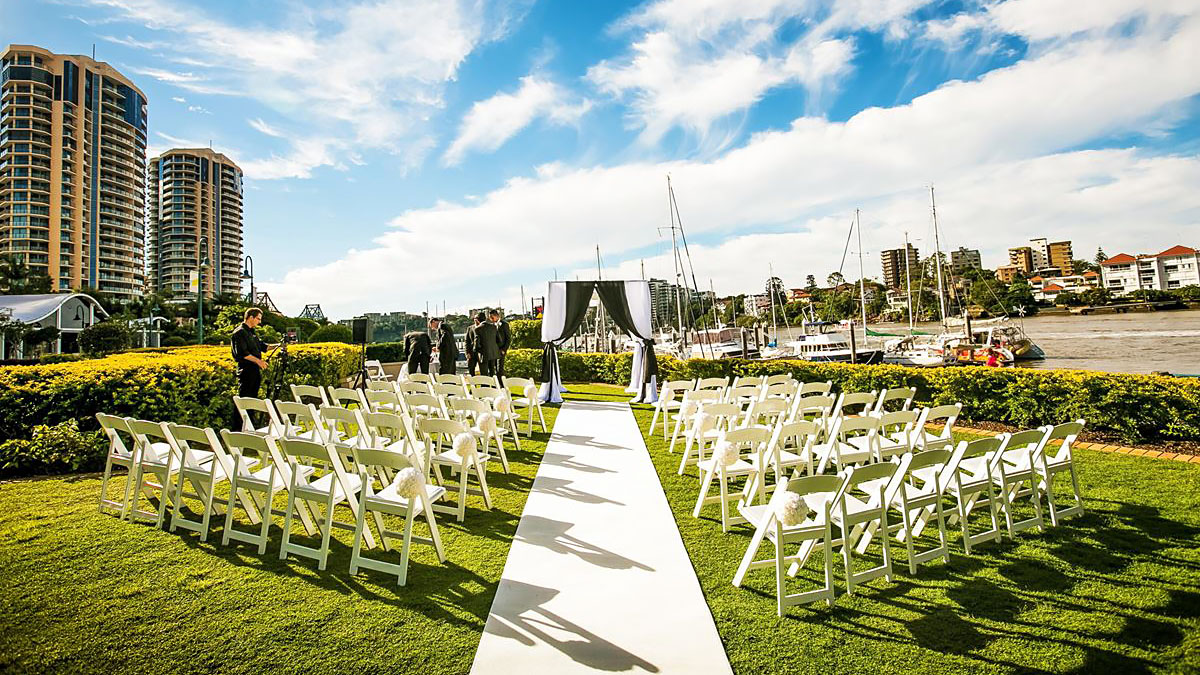 Wedding Venues Perth
Matilda Bay
While planning your wedding, the dedicated team at Matilda Bay will make it their mission to ensure that your personality as a couple shines. As a result, they are experts in bringing to life countless, unique wedding dreams. From small to large ceremonies, sit-down dinners to cocktail soirees, this venue offers a variety of options. If you find yourself sending out over 100 invitations, then the Roe Room may be for you. Located on Level 1, this romantic space overlooks Matilda Bay, the Swan River, Kings Park, and the city of Perth. There, skilled chefs await to serve up to 140 seated guests or 250 guests at a cocktail event. Alternatively, if you've decided to share your celebrations with only your nearest and dearest, then the Catalina Room calls. This ground floor space, with an adjoining patio, allows up to 50 seated guests or 100 cocktail-party attendees.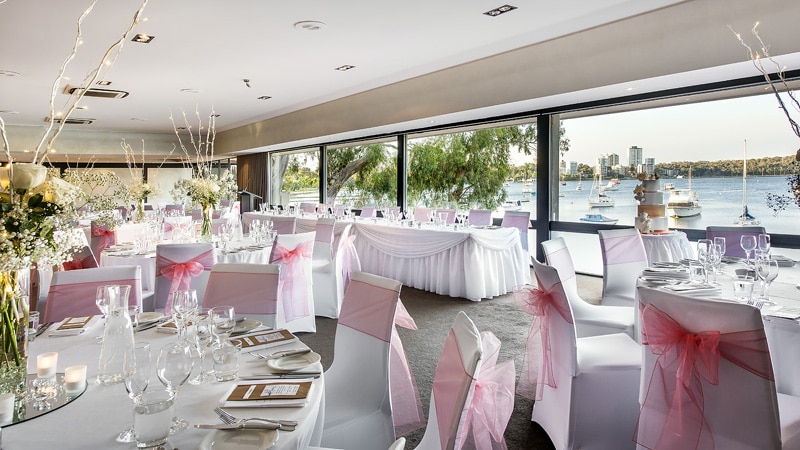 Sandalford
If you venture into the heart of Perth's stunning Swan Valley, you will encounter the rustic charms of Sandalford Winery. In the purity of the open air, begin the start of the rest of your lives with your beloved. There, two ceremony venues are on offer. Firstly, there is the Verdelho Lawn, which is enclosed within gorgeous, historic trellised vines and looks out upon Swan Valley. The choice of this lawn is accompanied by a wedding reception in the atmospheric Oak Room. There, the walls are created with stained oak panels and barrels filled with Sandalford's signature Sandalera wine. In addition to this, candelabras, gold Tiffany chairs, and a wrought iron chandelier add to the allure. Secondly, there is the manicured Merlot Lawn, which gazes out upon the panoramic vineyards and lake. From there, make your way to the unique Underground Cellar or the tranquil Durack Room for your reception.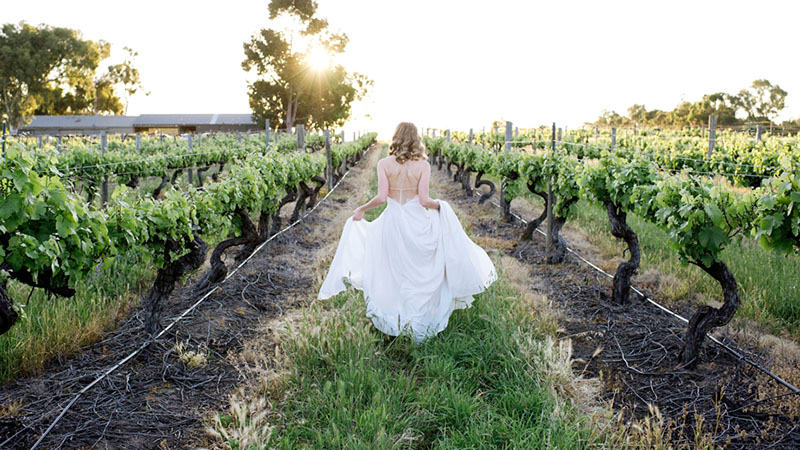 Margaret River's Secret Garden
Enter a world of magic and allure at Margaret River's Secret Garden. In this enchanting venue, dreamy wisteria drapes the walkways, flowers bloom, and serene ponds flow. Exchange your special vows to the rhythmic sounds of a cascading waterfall, surrounded by the exquisite beauty of Australia's nature. Found in a pristine peppermint forest, alongside the Wilyabrup Brook, this mystical garden was designed by one of the world's leading landscape architects, Paul Bangay. Catering to up to 120 guests, this is one secret you will want to share with all of your family and friends.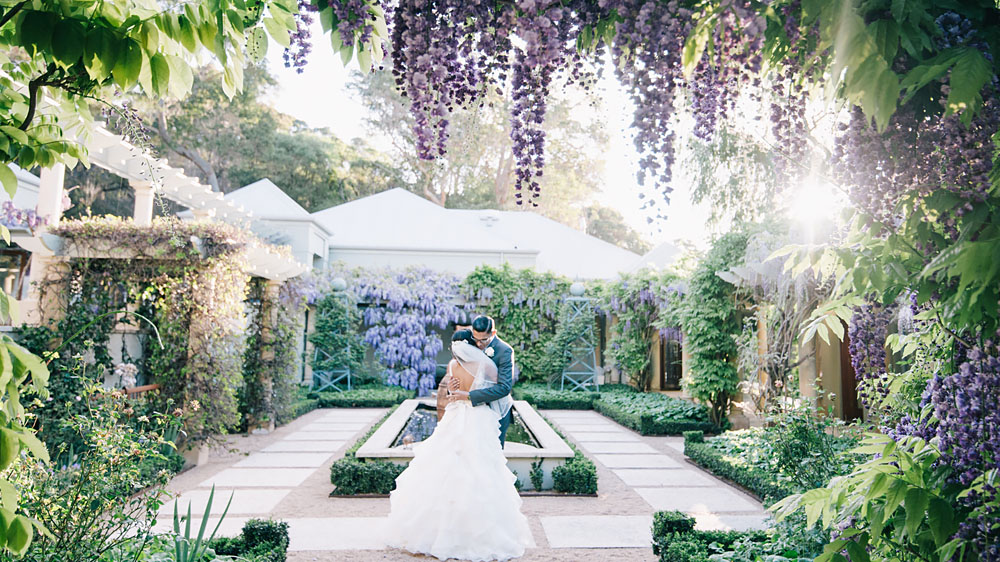 Wedding Venues Adelaide
Ayers House
If beauty, elegance, and history are words that epitomise your dream wedding venue, then Adelaide's Ayers House will tick all of your matrimonial boxes. Located on Adelaide's vibrant main boulevard, this grand mansion is a relic of colonial regency and Victorian opulence. There, crystal chandeliers illuminate the majestically restored vintage rooms, each rich in a lively history. When it comes to the ceremony, select from two unforgettable options within the mansion. The first, is the grand ballroom, with its shimmering gold-leaf ceiling and decadent chandeliers. The second enchanting space is found in the lush natural setting of The Conservatory. As a result of these stunning options, creating your own historical moment at Ayers house is a memory you will cherish. With over 25 years of experience, the wedding planners there live, breathe and love creating fantasy weddings.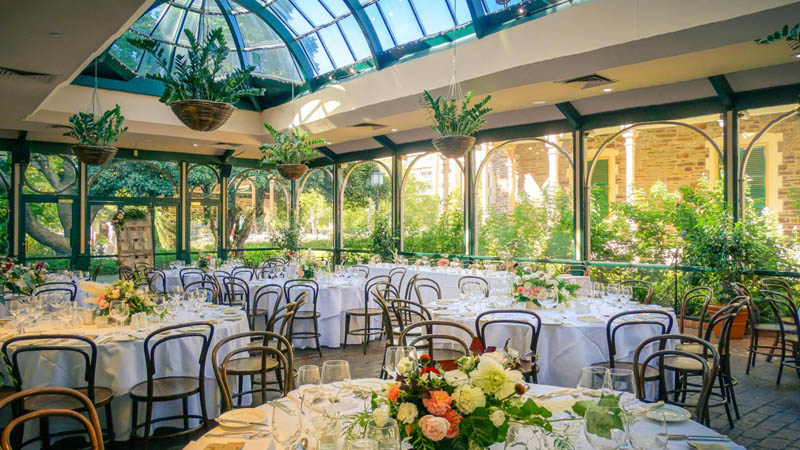 Serafino McLaren Vale
In the serene parklands of McLaren Vale, one may find the award-winning Serafino vineyards. There, a tranquil lake, grand 200-year-old gum tree, and delicate rose gardens provide three unique wedding ceremony settings. With seating space for up to 180 guests, the Serafino Courtyard provides a relaxed, atmospheric space for your reception. If, however, you seek a more formal ambiance, the beautiful McLaren's Room offers a stage as well as a dance floor. In addition to this, this formal option also caters to a large wedding party of up to 220 guests. Finally, extend the party all night and to the following morning with a stay at the boutique on-site accommodation. With 30 gorgeous rooms available, there will be no excuse for anyone to be leaving the celebrations early.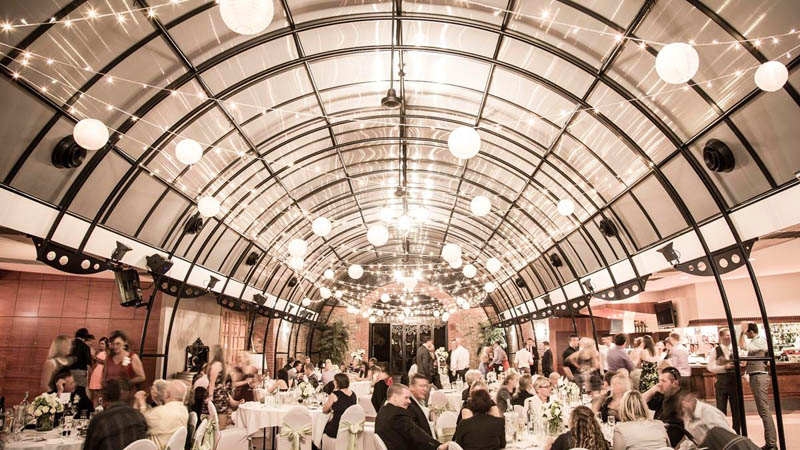 Glen Ewin Estate
In 1843, horticulturist George McEwin took ownership of the Glen Ewin Estate and created what would become one of South Australia's first vineyards. Now, the buildings and factories that formed this estate 175 years ago have been transformed into one of the state's premier wedding venues. Picture this: walking down the aisle amongst beautiful gardens, surrounded by weeping willows and mature trees. As you say your vows, the crystal waters of the nearby lake shine. From intimate dinners to grand 300 guest sit-down receptions, the award-winning heritage-listed property strives to ensure your post-ceremony celebrations exceed expectations. Dance the night away in the converted, 100-year-old 'Pulpshed', looking out upon the lawns, woodlands, and lake. Alternatively, relax in the charmingly rustic, 'Gatehouse', which boasts panoramic views of the countryside and surrounding lakes.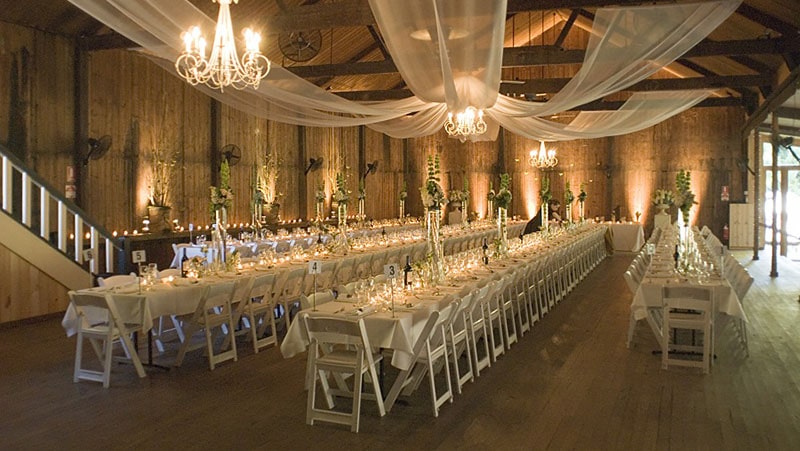 FAQs
How much does a nice wedding venue cost?
The cost of your wedding venue really depends on where it is. If you are choosing to rent a barn or a 5-star hotel, the price can differ significantly. It will also depend on the country you wish to have your wedding in. Some great options for wedding venues in Australia include Tatra, San Remo Ballroom, Ballara Receptions, and Sydney's Seadeck.
What is a good budget for a wedding?
Some people want to have a very lavish wedding celebration, while others prefer to keep it small and low-key, and several things impact cost on your wedding day. Your chosen venue, wedding dress, food options, entertainment, flower arrangements, cake, and how many guests you intend to invite will determine your budget. On average, people spend more than $30,000 on a wedding.
What to look for when choosing a wedding venue?
When picking your wedding venue, you want to ensure that it is in keeping with your wedding theme. Know your budget and an outline of what you want before shopping around for venues. Know what is included in the costs, what is extra, and how much of a deposit you have to put down before securing it. If you have a dream date in mind and your chosen spot is booked, then consider other options, or be flexible with the date. When choosing your perfect location, do not be afraid to ask questions and make sure that the venue can accommodate your needs.
SUBSCRIBE TO OUR NEWSLETTER
Subscribe to our mailing list and get interesting stuff and updates to your email inbox.