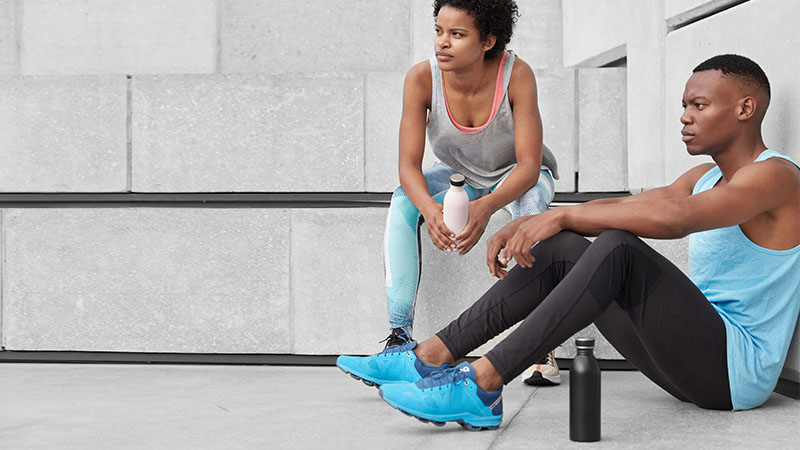 The human body is made up of 75% water, and we need it to fuel energy to help us function better. But it may surprise you that most people don't get the hydration they need to work effectively. Keeping a drink nearby is excellent – however, there are plenty of downsides to having something non-reusable. Single-use plastics are a real threat to the planet, and they can harbor nasty toxins. If you lead an active lifestyle, you must regain the water lost from the workout. Even if you sit at a desk all day, you need to take a sip at least whenever you feel thirsty. Motivate yourself to reach your daily goal, and be kinder to the environment with one of the best water bottles to help you up your hydration game.
Types of Water Bottles
BPA Free Water Bottles
Staying hydrated is an essential part of being healthy, so you'd want to be drinking water that is safe for the body. Bisphenol A, better known as BPA, is a colorless industrial material that has often found in plastic containers, CDs, and sports equipment, dating back to the '50s. It has raised concerns in recent years about its long-term effect on the human body due to its hormone-like properties and widespread use. Now, you can find reusable plastic water bottles free from the chemical, which can reduce harm to your body. There are many places to find BPA-free bottles that are stylish and reusable so you can protect yourself on the go.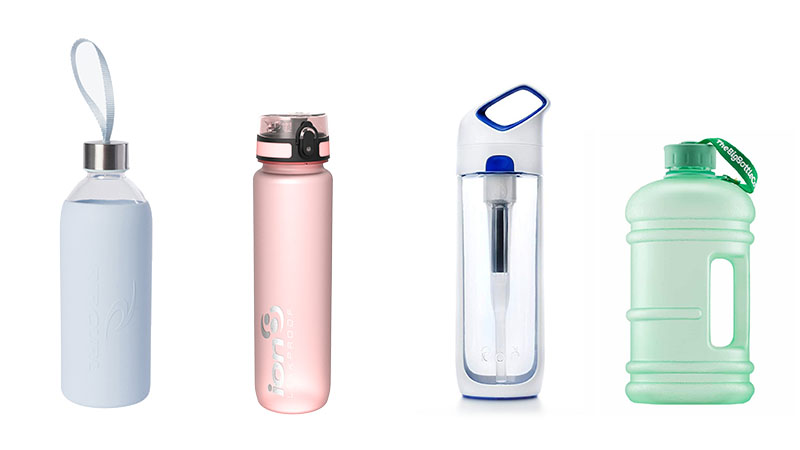 Glass Water Bottles
A reusable bottle is a great way to protect the planet from further damage. An even better way to limit your waste is by choosing something made of glass – it breaks down quickly and can be recycled. These sleek alternatives are eco-friendly and don't include any toxic chemicals that appear with some plastics. In fact, this is one of the safest ways to store your beverages – it can preserve the minerals in the water, keeping it fresh, so it's beneficial to your body. Plus, many believe it tastes better, so it's a win-win. You can find many stylish designs that best suit you, and they make for the perfect desk companion at work or at home.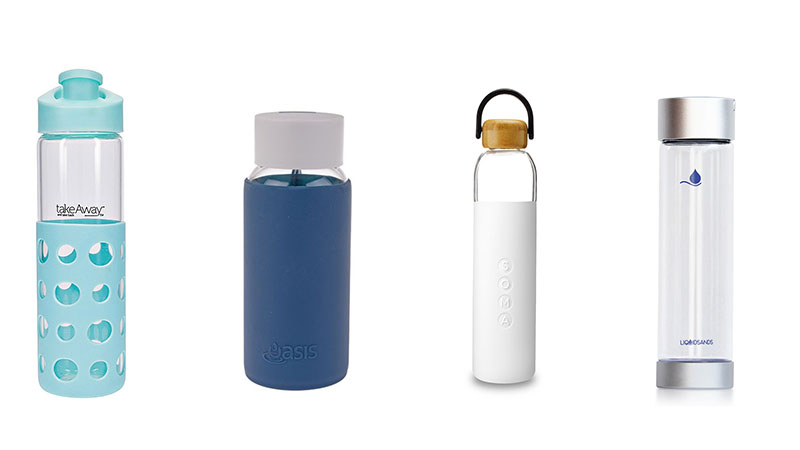 Insulated Water Bottles
There's nothing more refreshing than an ice-cold drink of water on a hot day, but why keep adding blocks of ice to your bottle when you could find something insulated? These nifty alternatives feature a thermal conductivity protective layer and stainless steel construction, which traps the cool temperatures inside. It can also keep your tea, coffee, or hot chocolate warm, thanks to its technology. Some brands offer bottles that can keep your drinks hot for up to 38 hours or chilled for 135 hours. If you prefer to have hot coffee in the morning but don't want it cold by the time you've reached the office, then this is the perfect option for you.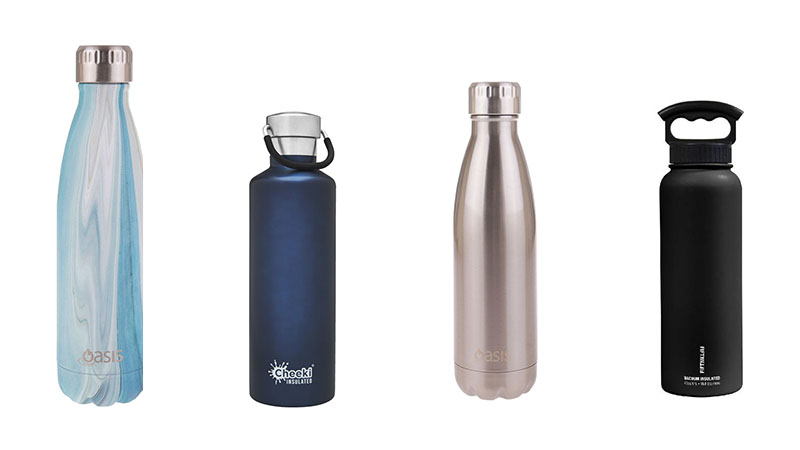 Stainless Steel Water Bottles
As one of the safest water bottle options, stainless steel boasts many benefits to you and the planet. Not only is it reusable and dishwasher-safe, but it also uses less energy to create and is recyclable, plus they often last for years. Another advantage of these bottles is to the human body – they're free from nasty chemicals and toxic materials so that you can take better care of your body. What's more, many of these beverage holders feature double-walled construction, so you can keep your drinks cold or hot for hours. The material doesn't retain odors, meaning you can indulge in some coffee, followed by lemon water without taste residue.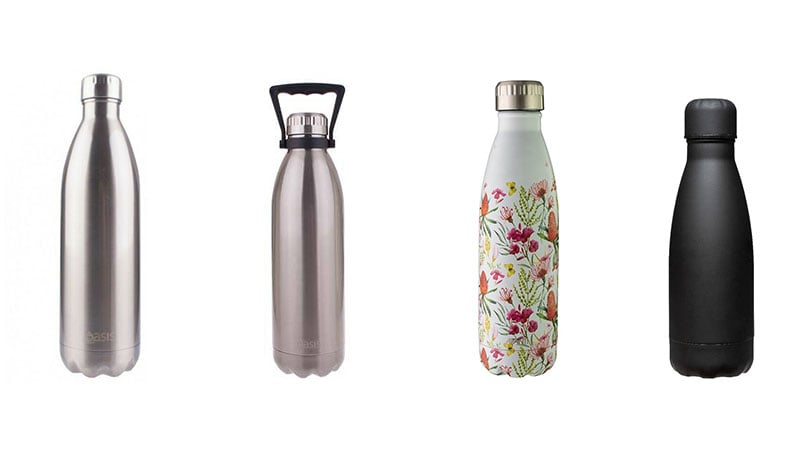 Crystal Water Bottles
Infuse your water with positive power with the help of a crystal water bottle. These hydration boosters may be no more than an Instagram trend, but the crystals inside the bottles may benefit the body. There are many stones to choose from, each with its own advantages. Clear quartz invites clarity, citrine increases motivation and self-expression, and amethyst promotes a calming feeling. While this may be up for debate, it could be the perfect incentive for staying hydrated. You can find beautiful options around, and there are many colors available. It's the perfect excuse to invite better spirits into your soul.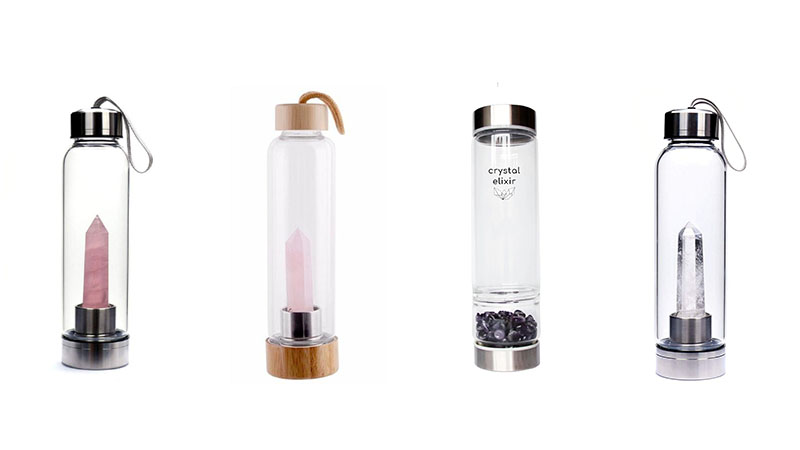 Smart Water Bottles
We should all be drinking more water, but often we become too busy to remember how many glasses we've had in the day. It can also be hard to track how much you've had, even if you've been trying to pay attention. That's where these smart bottles come in. They actively let you know when you need to quench your thirst, and you can sync it directly to your phone. How does it work? Essentially, they track how much you've had to drink in that day, and using an app, determines how much you should have to remain healthy. You can even find an option with a built-in Bluetooth speaker and that monitors your fitness level – the future is here.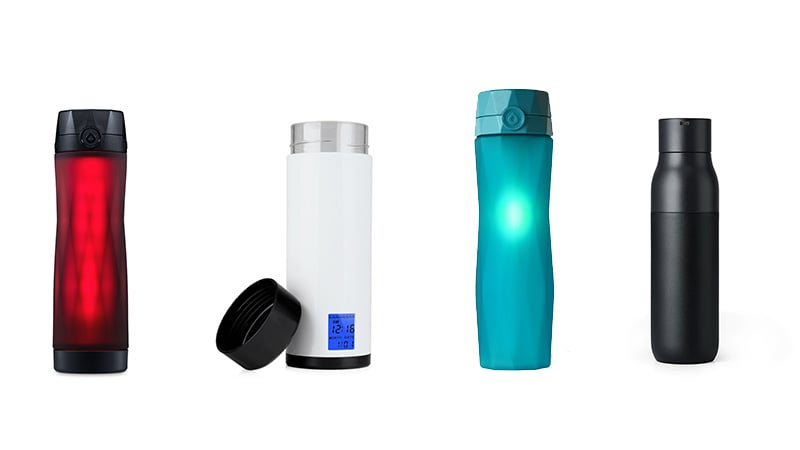 Plastic Water Bottles
Plastic water bottles are often touted as single-use, but you can find safe and reusable options that look great and keep you healthy. When looking for a new one, it's a good idea to search for something free from BPA, so you can be sure they are no nasties in your beverage. These are great for active people, as they're resilient and don't shatter if dropped. They're also less likely to leak or burst, meaning you can take it with you anywhere with ease.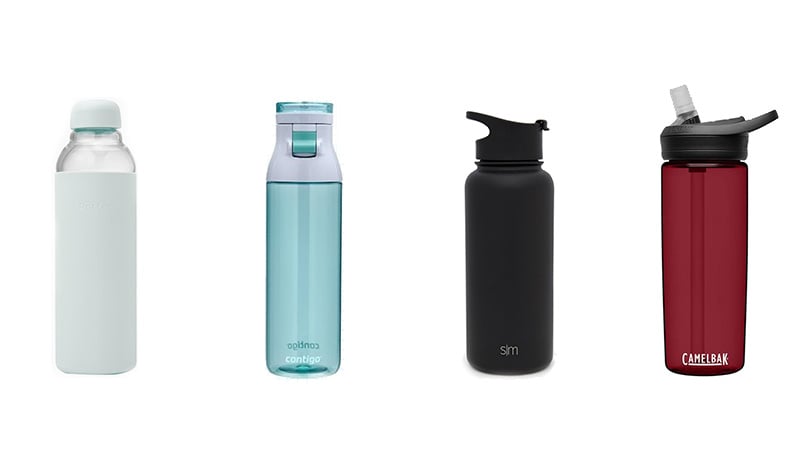 Best Water Bottles
1. BOTTLED JOY 1 Gallon Water Bottle
Motivate yourself to up your hydration game. This inspirational water bottle can hold a gallon of liquid, with time markers printed on the side to remind you to increase your H2O intake. The nifty handle on the side makes it easy to hold and is leak-proof so that you can use it during a hike, a workout at the gym, or while you go camping. It's also BPA-free, so you don't have to worry about nasty toxins entering your body. The wide-mouth opening allows you to add ice cubes and is easily refillable, keeping you feeling your best all day long.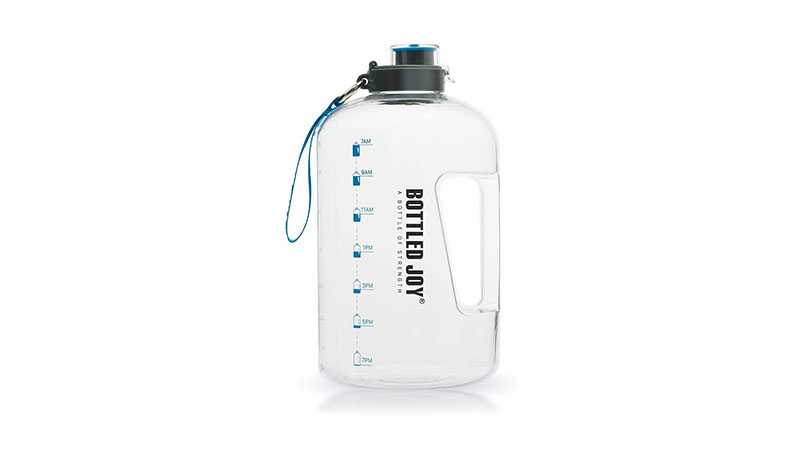 2. LARQ Terra Edition Sets
Ensure your body is gaining all of the benefits of water with this purifying water bottle. In just 60 seconds, it uses UV-C LED technology to remove any harmful toxins and chemicals, leaving behind pure and safe H2O to drink on the go. Not only that, but it also re-actives every two hours, leaving your bottle bacteria and odor-free. You can also store hot drinks for 12 hours or cold beverages inside for up to 24 hours, thanks to its thermal technology. To top it all off, its lightweight design is so stunning that it will have you reaching for it at every chance you get.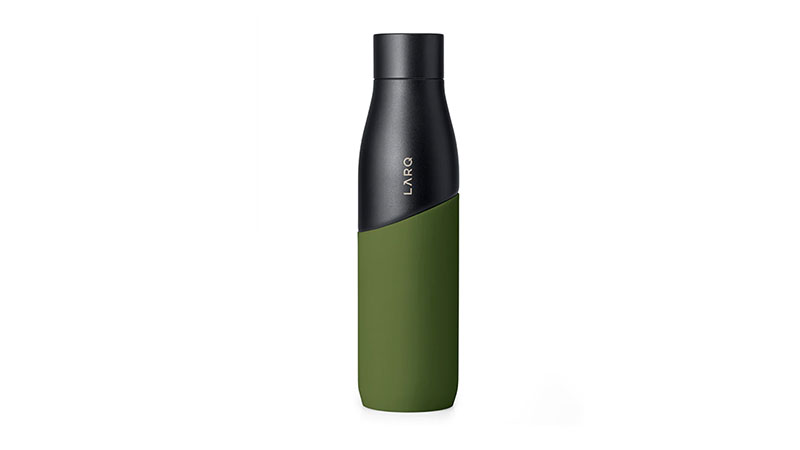 3. Nalgene Tritan Water BPA Free Bottle
Keep nasty toxins out of your body and away from the planet with this handy water bottle. The BPA-free reusable container can hold hot or cold drinks and is almost indestructible, making it the perfect companion for your next big adventure at the camping ground or at the office. Its leak-proof narrow mouth size is more comfortable to chug the beverage and flows more efficiently than traditional designs. You can also track how much H2O you're consuming with the milliliter and ounce markings on the side.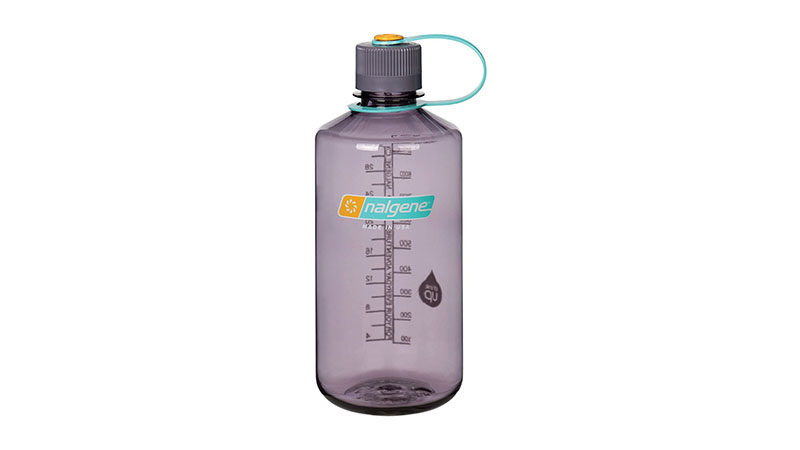 4. BuildLife Motivational 1 Gallon Water Bottle
Inspire yourself to take another sip with this motivational water bottle. With aspirational quotes on the side every hour, you can reach your goals faster and get healthier with every chug. It holds a gallon, making it an excellent choice if you are working out or need to encourage yourself to drink more aqua. It's also BPA-free, so there are no toxic chemicals that could make their way into your beverage – you will feel better about yourself and remind yourself of the importance of hydration.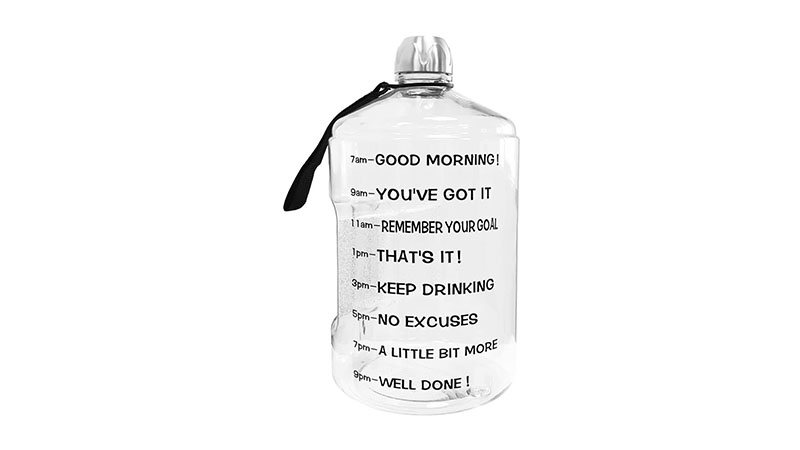 5. Iron Flask Sports Water Bottle
Keep your cold drinks chilled while you work out, and let this Iron Flaks bottle do the work for you. The double-walled insulation retains icy temperatures for a full day and is also great for hot beverages – it can keep them warm for up to 12 hours. The 18/8 stainless steel construction is toxin-free and will never leave a metal taste to your drink or rust over time. Plus, the stylish exterior is worth showing off, and it comes with three varying covers so you can enjoy a refreshing sip with a straw, flip or stainless steel lid.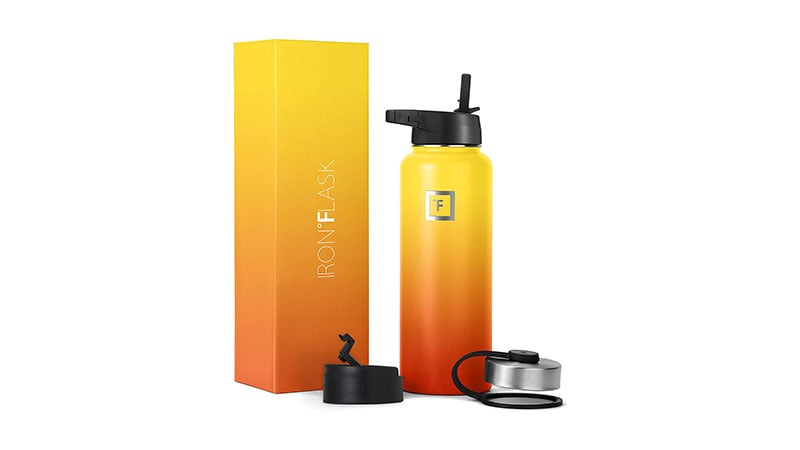 6. Hydro Flask Water Bottle
The humble Hydro Flask has become a favorite online, and it's easy to see why. These are swish and eco-friendly alternatives to single-use plastics, plus they're super cute. With its thermal technology, you can keep your icy cold or piping hot beverages at just the right temperature for hours. This bottle includes a stainless steel Mouth Flex Cap, which is leakproof and features a carry strap. It's easy to find something perfect for school, the office, or at home with multiple colors to try.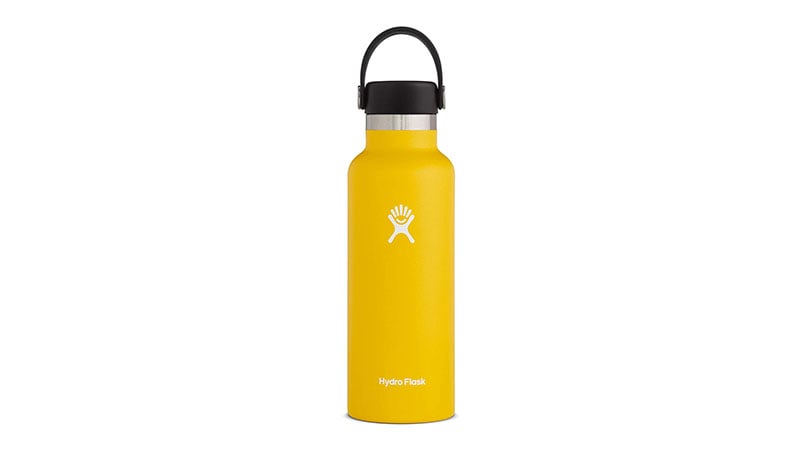 7. Simple Modern Insulated Water Bottle
Seal the temperature of your favorite beverage for hours with this insulated water bottle. The double-walled and vacuumed lid combo prevents any leaks and will retain the heat or chill to your drinks for hours. The smooth coated finish is easy to hold, and the bottle is durable, so you can take it with you while you're on the go. Choose from a wide variety of colors and patterns – they deserve a spot on your desk or at the gym.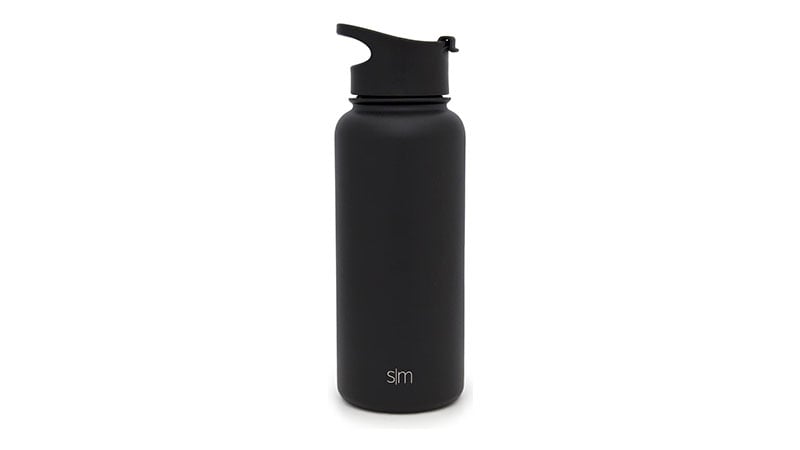 8. Under Armour Sideline 64 Ounce Water Jug
Athletes need to keep hydrated to perform at their best but drinking while they are mid-workout can often prove tricky. That's where this Under Armour bottle comes in. Based on feedback from sportspeople, this jug features a flip lid that only requires a single hand. It also offers an easy-to-hold carrying handle with integrated fence hooks, making it easy to store. The BPA-free and double-walled foam isolated construction keeps your drinks cold for up to 12 hours and is free from toxic chemicals.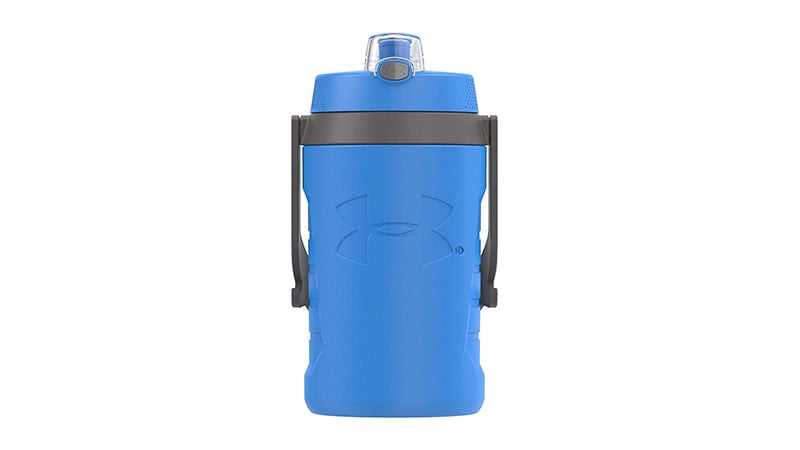 9. Contigo Autoseal Trekker Kids Water Bottle
Keeping your children healthy is extremely important, but it can be a challenging task. Make the job a bit easier with these Contigo water bottles. With a BPA-free and dishwasher-safe construction, the auto seal lids are spill and leakproof, meaning less to clean up and safer water. It is available in two colors, so you can easily distinguish the difference and prevent arguments. Having kids can be messy, but these can help stop further slips.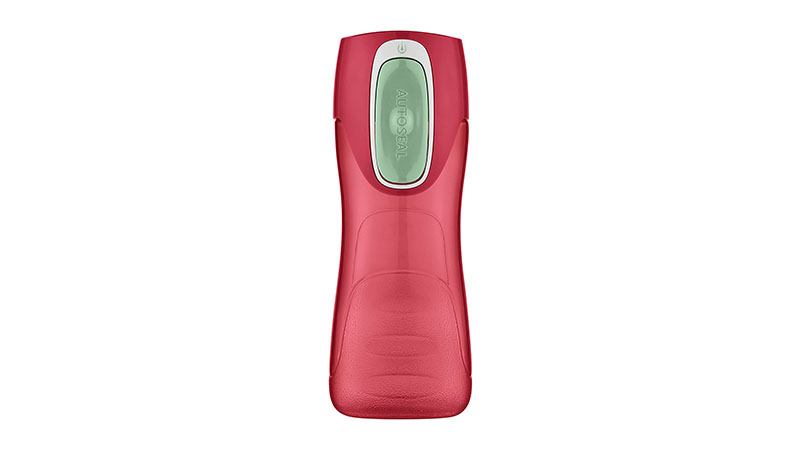 10. Takeya Originals Vacuum-Insulated Water Bottle
Vacuum seal the temperature of your beverage with this sleek insulated bottle. The BPA-free double-walled construction doesn't sweat or transfer flavors. You can drink with one hand and carry it with you, thanks to the leak-proof twist cap and handle. It also includes a hinge lock, which keeps the lid out of your face while you take a sip. It's the perfect option for those with an active lifestyle and who wish to stay hydrated on the go.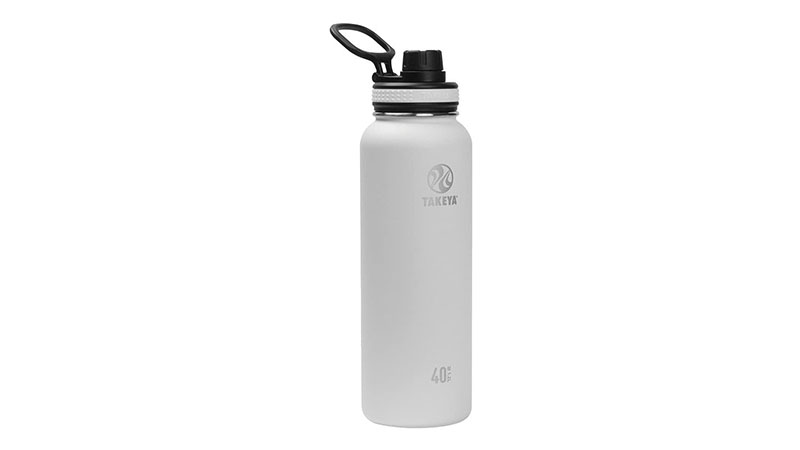 11. CamelBak Eddy+ BPA Free Water Bottle
Perfect for the person on the go, the CamelBak Eddy+ is designed to move with you. Update your hydration game with its enhanced bite valve, which produces 25% more water in a single sip. These bottles are designed to be light and durable and feature a straw so you can take a chug with a single hand. They're strong and leak-proof, acting as a fantastic accessory for your next big adventure.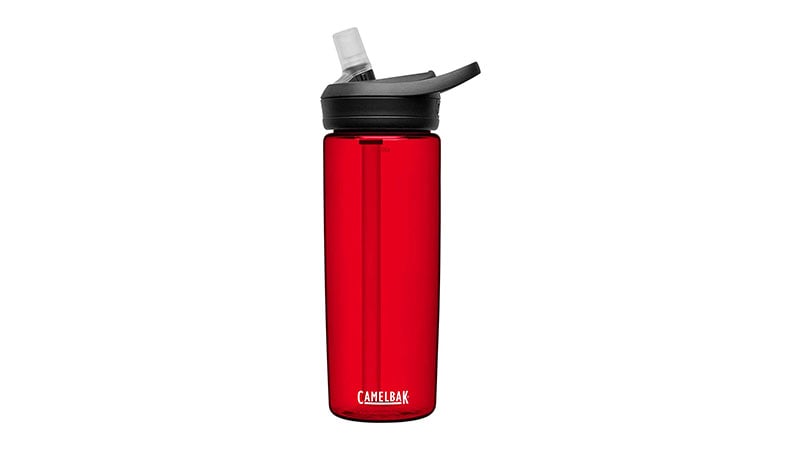 12. CamelBak Eddy+ Kids Water Bottle with Straw
Make sure your kids are keeping their fluids up by making the drinking process easier and more fun. The CamelBak Eddy+ kid's edition features everything you love about the original but is the perfect size for small hands. Say goodbye to accidents out and about – it's leak-proof when closed, and spill-proof while it's open, and it is easy to carry. Find the right match for your children with the wide range of designs, and keep them safe thanks to its BPA-free construction.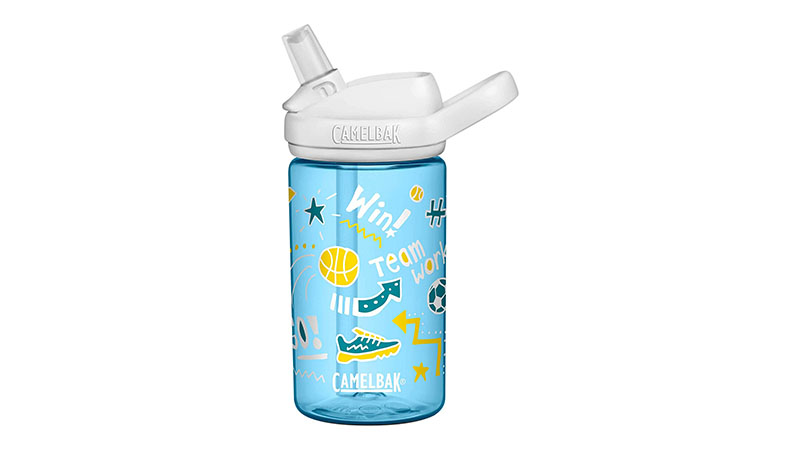 13. Ello Syndicate Glass Water Bottle
Say 'ello to this gorgeous water bottle. It's well-known that beverages taste better in glass and are often the prettiest option for thirst-quenchers. The single-touch flip lid is perfect for those on the move, and the sleek silicone outer layer offers an excellent grip and prevents any chips or cracks. The construction is free from BPA and any nasty chemicals, leaving nothing but refreshment with every sip.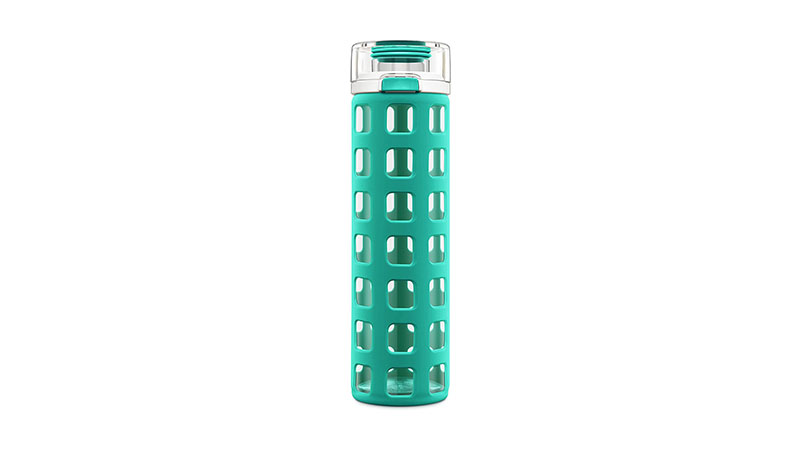 14. Thermoflask Stainless Steel Insulated Water Bottle
Chug and sip your favorite beverage with ease with this Thermoflask water bottle. There are two lids to choose from, providing a comfortable drinking experience that easily slots into a cup holder or the palm of your hand. The innovative and newly-improved Chug lid offers enhanced water flow. Choose from a wide variety of colors to suit your style. The rust-proof and BPA-free stainless steel construction doesn't transfer flavors and keeps the inside hot or cold for hours.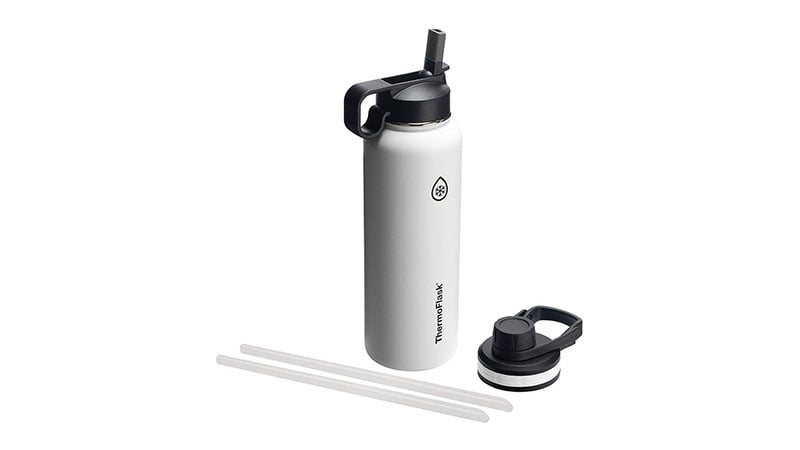 15. S'well Stainless Steel Traveler
Take your favorite drinks with you everywhere you go, and store them in style. The S'well triple-layered bottles offer hours of insulation and feature a vacuum-sealed lid, which is perfect for both hot or cold beverages from changing temperature or leaking. You can carry this with you to work, keep it at the office or take it with you on a hike; plus, the company is also Certified B Corp, so you know you're doing your bit for the planet.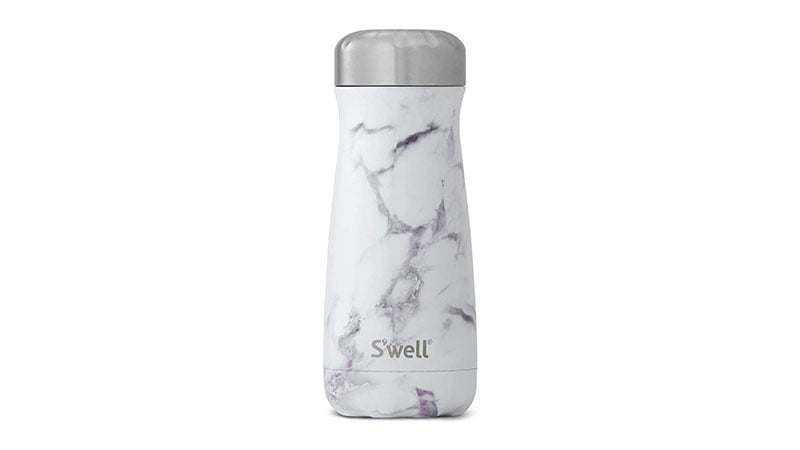 16. Tronco Glass Water Bottle with Straw
Why have a regular water bottle when you can have something this stunning? The sleek design from Tonco features a glass tumbler with a bamboo lid, protective silicone cover, and straw. The non-slip grip of the layering and friction-fit wooden cover will protect the beverage inside and works well with hot or cold drinks, including coffee. The entire construction is BPA-free and super cute, so you'll want to have it with you everywhere.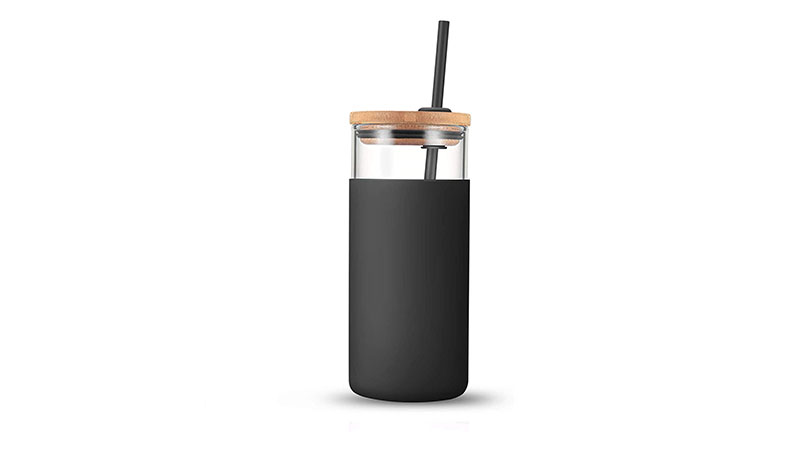 17. S'well Stainless Steel Water Bottle
The future of insulated technology is here, thanks to S'well. This triple-layered and BPA-free design is ideal for anyone who enjoys a hot tea or an iced coffee. Keep your beverages cold for up to 41 hours and retain the heat inside for up to 18 – the copper wall layer eliminates condensation and prevents sweat. There are plenty of cute patterns and colors to choose from, and they would make a great addition to your daily routine.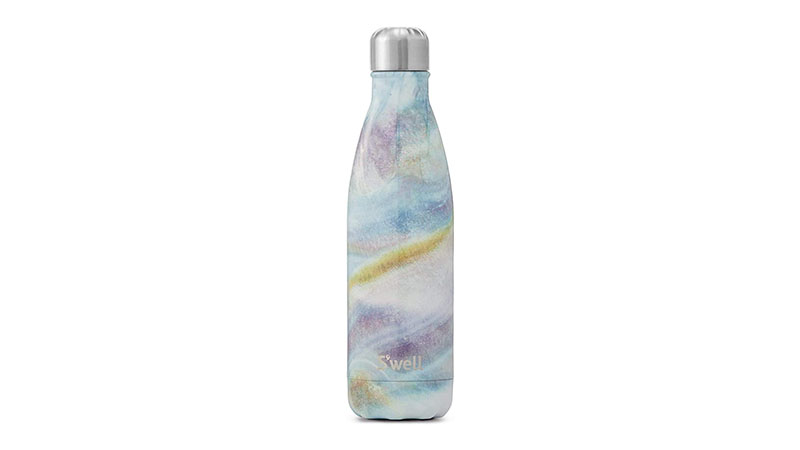 18. Brita Plastic Water Filter Bottle
Cut out single-use plastics and stay on top of your hydration game all at once. This Brita bottle filters out the nasties in your water and saves more than 1,800 disposable containers a year. Your drinks will taste better than ever with its BPA-free body and Premium Filter – it reduces chlorine and improves your beverage quality. Keeping yourself healthy has never felt so easy!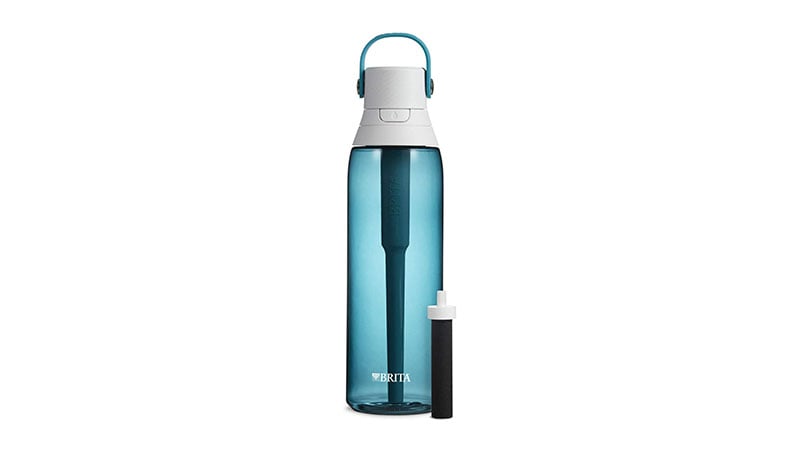 19. CamelBak Chute Mag Water Bottle
When working out, it's essential to keep your liquids up to perform to the top of your game. For athletes, in particular, regaining the fluids lost through sweat can be hard to regulate. Let the CamelBak Cute bottle help along the way. Its stainless steel design is sturdy and sustainable, plus its magnet top secures the drinks when closed. The double-walled insulation also regulates the temperature of your drink for hours, and its handle loop makes it easy to carry, even with a single finger.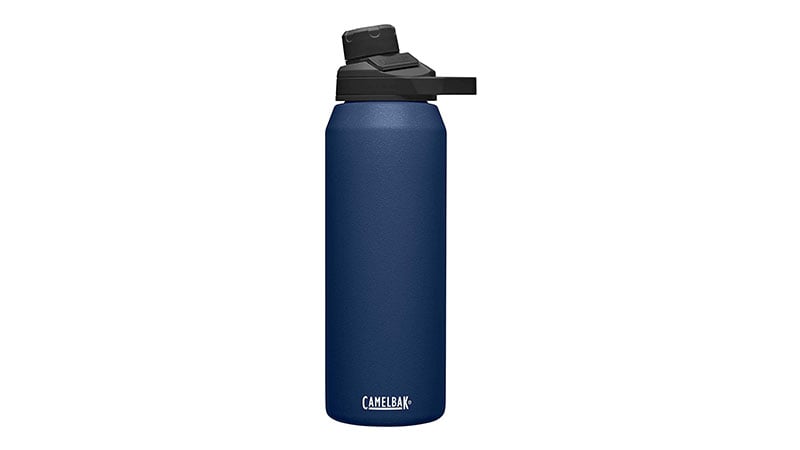 20. Corkcicle Marble Canteen Origins Collection
Staying hydrated is something we can all easily forget to do, but this marble bottle will make it easier. The simple and modern style is worth showing off, and the insulated design keeps your drinks at the perfect temperature for hours on end. It features a screw-on cap too, which will stop you from spilling the drink on yourself or your belongings. To top it all off, they come in a wide range of sizes and colors, so you can find something that will perfectly match your healthy lifestyle.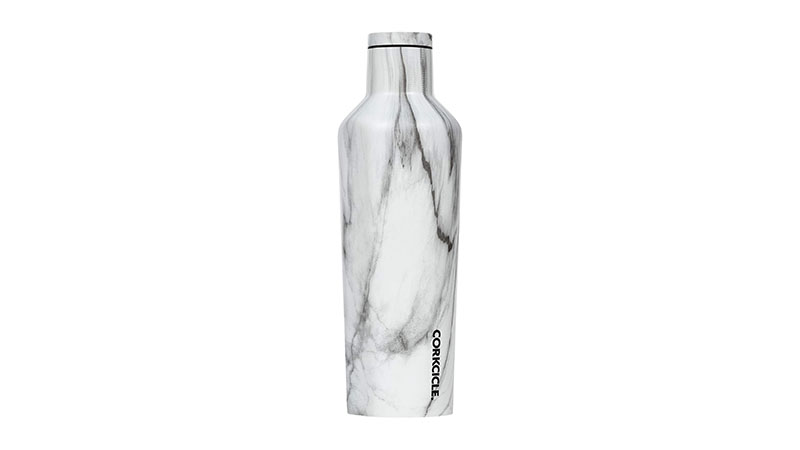 21. Coleman Autoseal FreeFlow Insulated Water Bottle
Enjoy the refreshing taste of water with the FreeFlow bottle from Coleman. The easy-to-operate auto seal helps eliminate any leaks or spillages and features a nifty lock to stop it from flipping while you're on the go. You can get a bigger chug whenever you're thirsty, thanks to its high-flow spout, which will have you feeling hydrated faster than ever.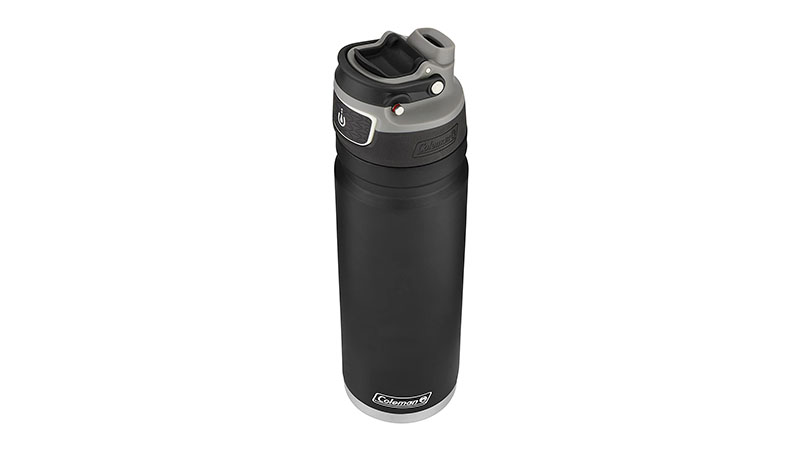 22. Gatorade Squeeze Bottle
If you often hit the gym or you need a permanent addition for your car, you can't go wrong with this nifty bottle from Gatorade. The High-Flow valve offers an easy flow of water and seals it in place to prevent spillages. The handy Hydro-View strip will show you how much water you've consumed – get more out of your chug with its squeezable design. It can hold up to 28 ounces of liquid and fits perfectly on the side of a backpack.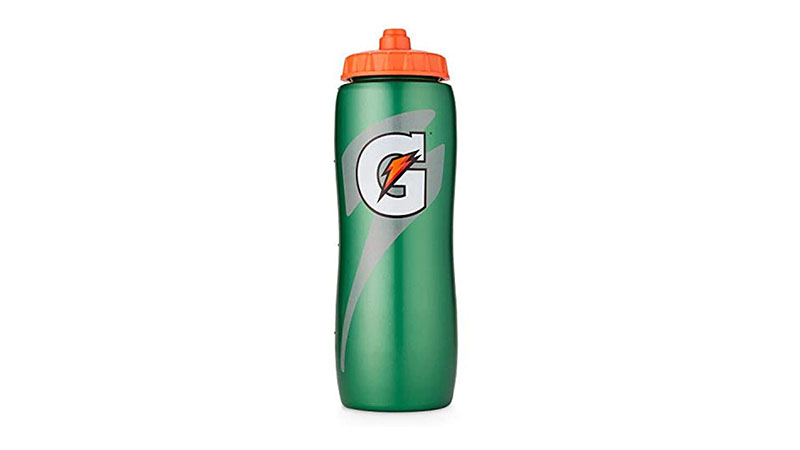 23. Contigo Jackson Reusable Water Bottle
This water bottle does it all. You can carry, chug and enjoy a healthy lifestyle, thanks to Contigo. It features a split body, so you can add some ice cubes on a scorching day, and it is easily kept clean with a dishwasher. The leak-proof lid will help prevent spillages and can easily be opened with the push of a button. Don't worry about nasty chemicals in your water – it is made from BPA-free materials so that you can focus on the task ahead.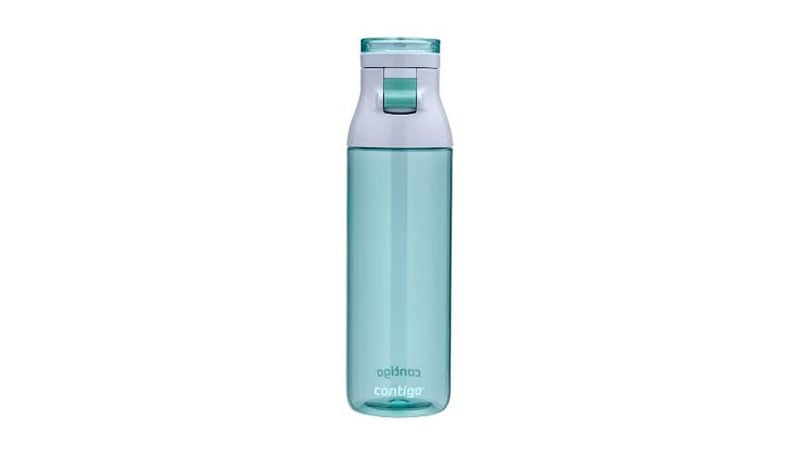 24. Contigo AutoSeal Chill Water Bottle
Not all water bottles are equal – the Contigo AutoSeal Chill is in a league of its own. The stainless steel construction keeps your beverages cold for up to 28 hours, and the one-hand lid button is perfect for those on the go. Its protective mouth cover stops germs from touching the spout and features a carrying handle for effortless transportation. What more could you want?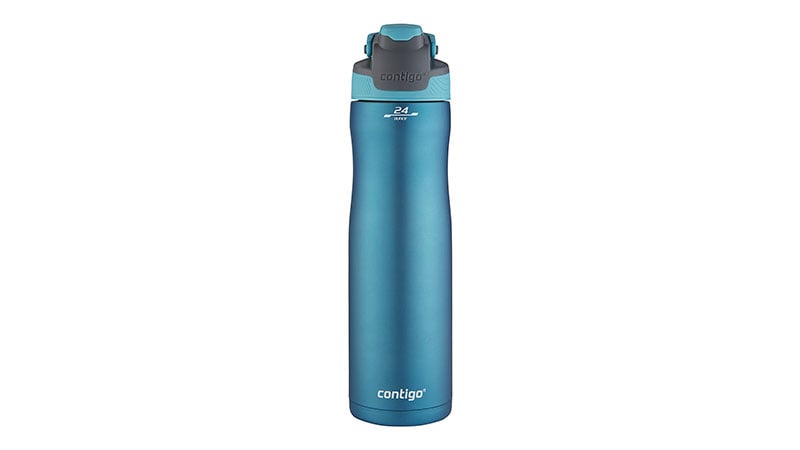 25. Embrava Best Sports Water Bottle
Active people require a lot of water in their daily routines – let the Embrava water bottle reach your goals faster. The eco-friendly alternative to traditional containers is BPA-free, impact-resistant, dust and leakproof, and it offers the same taste as glass. The longer handle is comfortable to wear around the wrist or in the palm of your hand, and it is durable enough for years of use.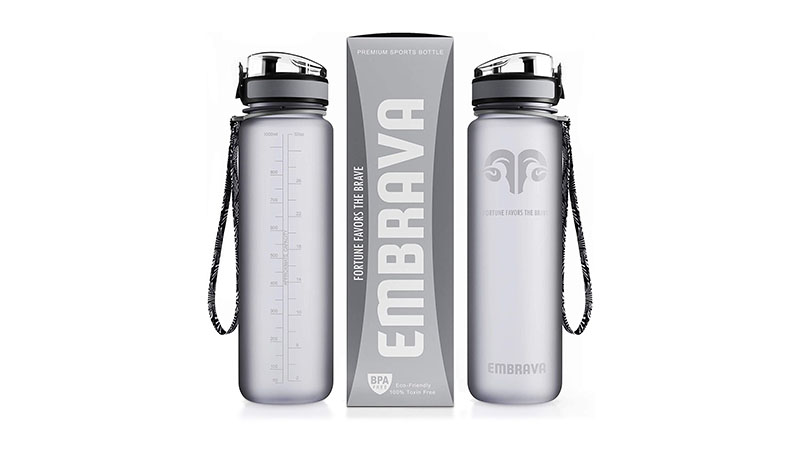 Best Water Bottles FAQs
What is the best water bottle to buy?
The best water bottle to buy is something that suits your needs. When looking for a new bottle, make sure it is BPA-free. If you are leading an active lifestyle, it's best to get something that you can open with a single hand and offers a wrist strap. If you struggle remembering to drink throughout the day, find a bottle with printed reminders by the hour on the side or some motivational messaging to get you to your daily goal. 
Which water bottle is the healthiest?
The most healthy type of water bottle is one made from glass - this is for multiple reasons, including the natural construction of the material, which is also beneficial for the planet. Because they're non-permeable, they won't change the water's flavor, making your beverage taste even better. Without any nasty or toxic chemicals like BPA inside, you cant rust that you are enjoying safe and pure water with every sip. 
What is the best alternative to the plastic water bottle?
If you're looking out for a reusable water bottle to replace your single-use plastic, there are a few options to try. A stainless steel type will keep your drinks cold or hot for hours on end, and they're free from chemicals like BPA. One of the safest options for a water bottle is something made from glass. They're better for the planet, make the drink taste its best, and are very pretty. Alternatively, you can find a BPA-free plastic bottle that is refillable and safe to use for years. 
Is glass or stainless steel better for a water bottle?
There are pros and cons to both glass and stainless steel bottles. Neither one run the risk of BPA, and they are durable and great fr the planet. Glass is the safer option out of the two and offers a purer taste. However, they're harder to hold hot beverages without the help of a protective cover. For those who enjoy icy cold drinks or piping hot coffee, stainless steel should be your choice. The S'well bottle can keep your drinks warm for up to 18 hours.  
Is Refilling Plastic Water Bottle a Good Idea?
Most disposable plastic bottles don't contain BPA-free materials, so they may not be the healthiest option for your body. While re-filling the same bottle may seem like a better alternative for the planet, they're not actually designed for multiple uses. Aside from the harsh chemicals that make their way into the water, they're hard to clean, leading to sprouts of harmful bacteria under the lid and inside. If you're looking to re-fill a plastic bottle over and over, opt for something reusable. 
What is the Best and Safest Material for a Water Bottle?
There are a few types of materials that are best for water bottles. The most popular option is glass, and it's not just for its aesthetic quality. This material is eco-friendly, has no secret chemicals inside, and is made from natural sources - it also makes the water taste better. As it's non-permeable, it retains the pure flavor of the beverage and doesn't impart flavors or break down in the liquid. An alternative option is stainless steel - they're free from toxic substances and are more energy-sensitive, which is better for the planet. 
SUBSCRIBE TO OUR NEWSLETTER
Subscribe to our mailing list and get interesting stuff and updates to your email inbox.