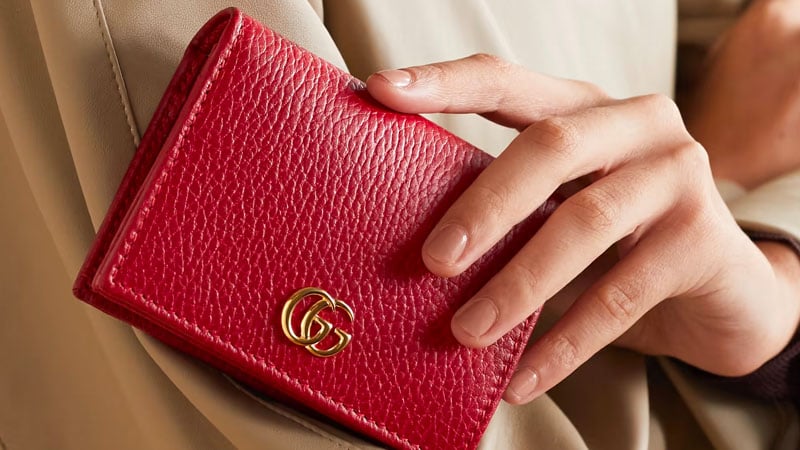 A wallet is one of the most useful accessories you will ever own. They are needed to keep cash, cards, and other important documents safe, but wallets are also an extension of your outfit and a great way to show off your style. When it comes to women's wallets, we are spoiled for choice, with a wide range of designs, from sleek and sophisticated pieces crafted from the highest quality materials to bold, bright designs that demand attention and let you have fun. If you want to show off with a designer brand or prefer something affordable that you can change regularly, there is something to suit every budget and size requirement. We have all the information you need to find out more about what to look for when choosing a wallet, including construction and material.
Best Wallets for Women
1. Saint Laurent Small Envelope Wallet
Saint Laurent is a brand that needs little introduction and is celebrated for its luxury goods. This simple and stylish monogrammed envelope wallet is ideal for all occasions. It is small, well-made, and built to last, with the outer composition crafted using 100 percent calf leather. The wallet has enough space for several cards, is made in Italy, and comes in a range of neutral colors, including black, which is complemented by the gold tone of the iconic YSL logo plaque.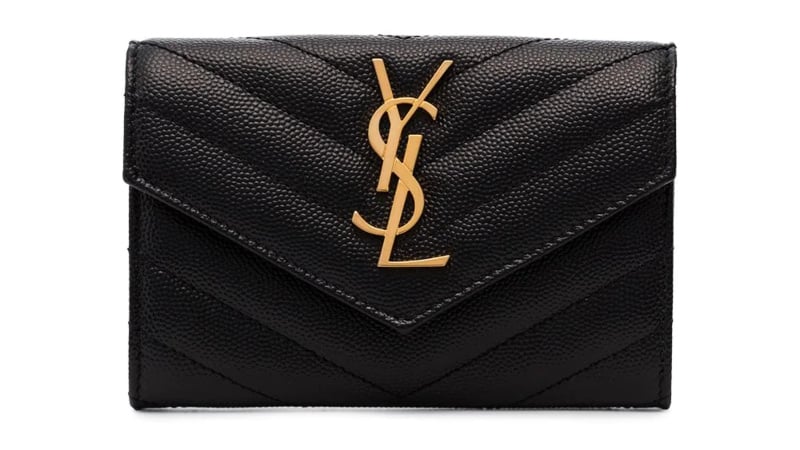 2. Balmain Monogram-Plaque Purse
The Balmain monogram-plaque purse is crafted from black calf leather, and features debossed details and gold-tone hardware, completed with a monogram plaque. The simplicity of this design makes it appealing because it is a versatile and stylish wallet, small enough that it is easy to carry with you everywhere but large enough to fit your cards; it includes rear card slots.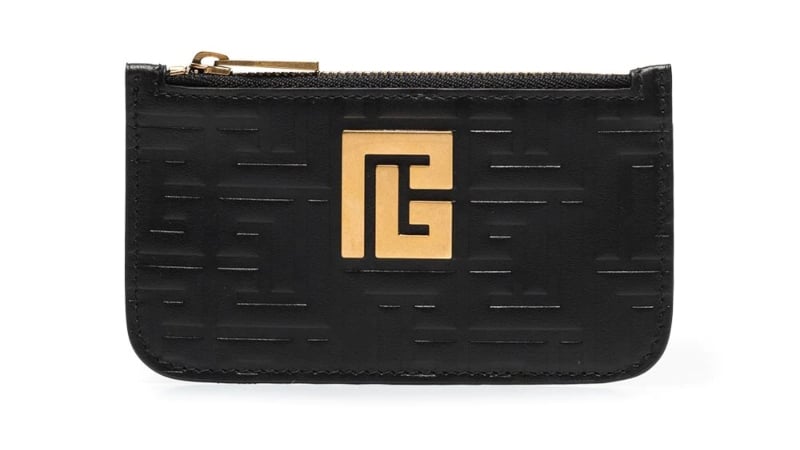 3. Balenciaga Hourglass Crocodile-Effect Wallet
Balenciaga is a tried and trusted brand, making some of the most stylish accessories that money can buy. The Hourglass crocodile-effect chain wallet comes with a hefty price tag, but the idea is that it should last you for many years to come. The classic combination of black and gold makes the design timeless, lasting for more than one season. The crocodile-effect adds to the appeal, and the wallet is made in Italy using 100 percent leather. Other details include the magnetic fastening, front flap closure, and the internal card slots and zip pocket.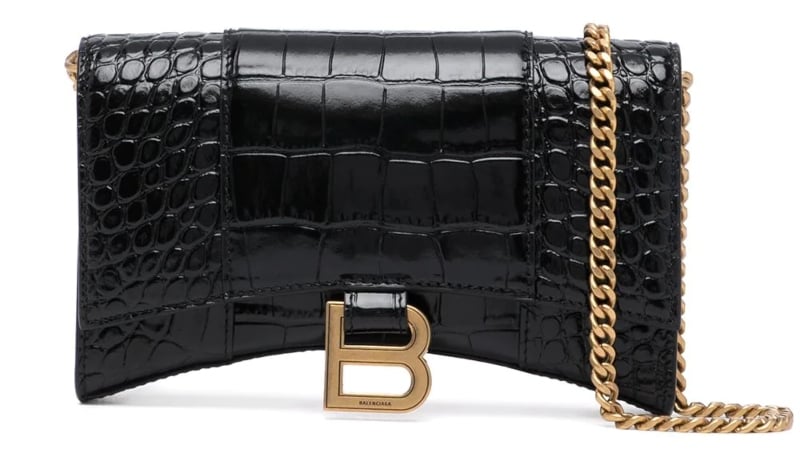 4. Toughergun Women's Small Compact Bifold
Toughergu's compact billfold is a slim wallet that is great for everyday use; it can easily fit into your pocket or a larger bag. Lightweight, easy to transport, and crafted from leather, the Toughergun brand looks high-quality, but it is also functional. There are six card slots, one cash slot, and a zipper pocket for your coins. In addition, the wallet makes use of RFID blocking technology to protect your cards from scanners and readers. A wide range of colors is available, letting you find the one that appeals to you best, or you can purchase several.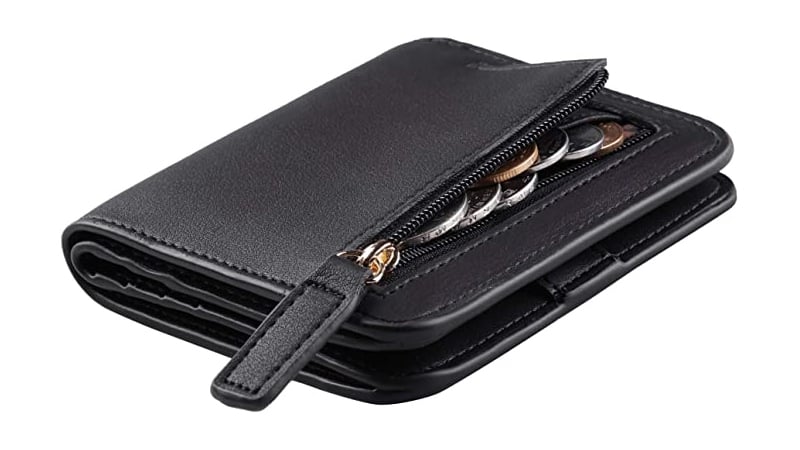 5. Valentino Garavani VLogo Signature Chain Wallet
The Valentino Garavani VLogo signature wallet is an eye-catching piece because of the gorgeous silver color. The wallet is crafted using leather and completed with silver-tone hardware for the logo and a stylish detachable chain-link shoulder strap; this adds to the versatility of the wallet, making it easy to carry with you. Other highlights include the internal card slots, internal zip-fastening, and magnetic fastening on the top. This Valentino Garavani wallet is everything you will ever want and more.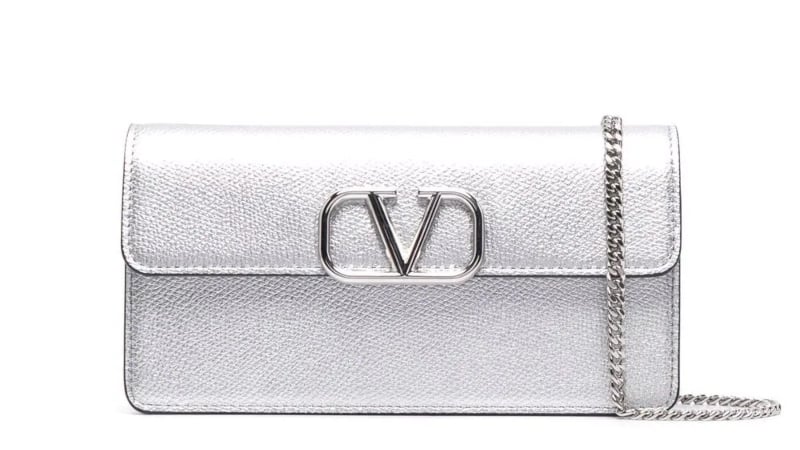 6. Saint Laurent Monogram Compact Wallet
What is not to like about Saint Laurent? The French luxury house is celebrated for its high-quality products and sleek designs, including this compact monogram wallet. It is simple and timeless, cut from grained leather and featuring the iconic logo in gold tone. It has a foldover top with snap closure and will provide you with enough space for your cards without being oversized, making this a practical and functional choice. It is also the ideal wallet for women of all ages and will make a fantastic gift for a loved one or for yourself.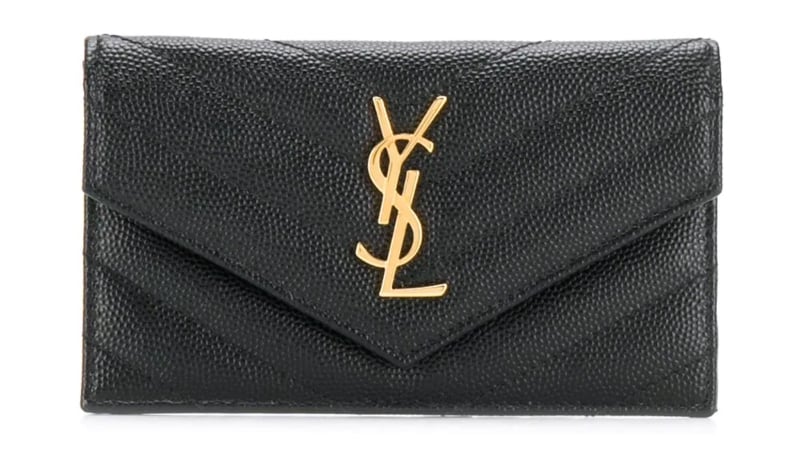 7. Gucci GG-Canvas Logo-Plaque Purse
Gucci is a fun brand that is instantly recognizable by its logo, which features all over the canvas outer of this purse. The beige color is versatile, mixing and matching with everything you own, while the signature web-stripe trim gives it a pop of color; the combination feels modern yet classic. There is a top zip fastening and keyring attachment, and the purse is made from canvas and leather trim.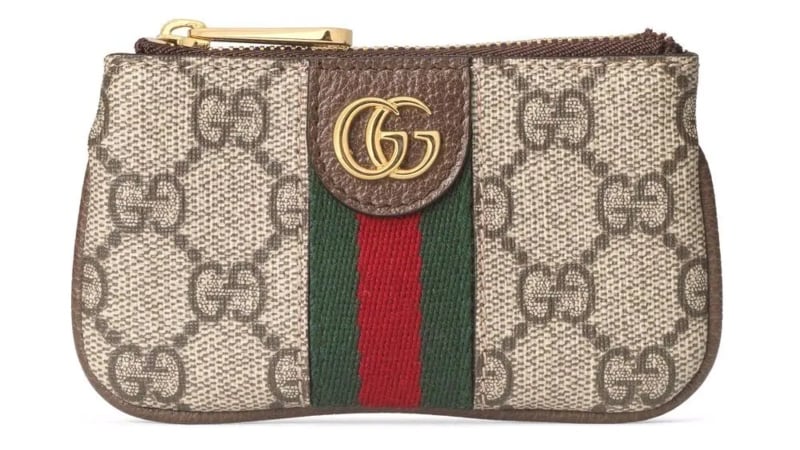 8. Imeetu RFID Credit Card Holder
If you are looking for a slim, versatile wallet, the Imeetu RFID credit card holder could be just what you have been searching for. It is lightweight, designed with leather and fabric lining, and features a zipper closure. There are 12 card slots for your cards, two wide slots for bills and folded cash, and a zipper pocket for coins. The RFID-Blocking feature is incredibly useful, ensuring that your cards are safe. There is a wide range of colors to choose from, including classics like black, but also bright and colorful options for those who prefer something more vibrant. Lastly, the bee detail in the center of the cardholder is a nice touch.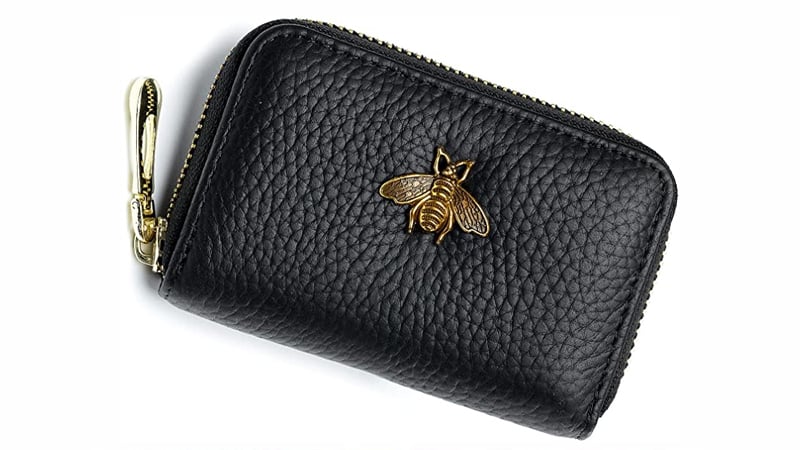 9. Givenchy 4G-Plaque Small Wallet
Understated elegance is how you could describe this small wallet from Givenchy. It is crafted in Italy using 100 percent leather, and the camel brown color is versatile and stylish. The wallet features a foldover top and coin pocket, but the defining feature is the 4G Givenchy motif. Measuring just 11cm in length and 7cm in width with a 2cm depth, this is a wallet that can be taken with you anywhere.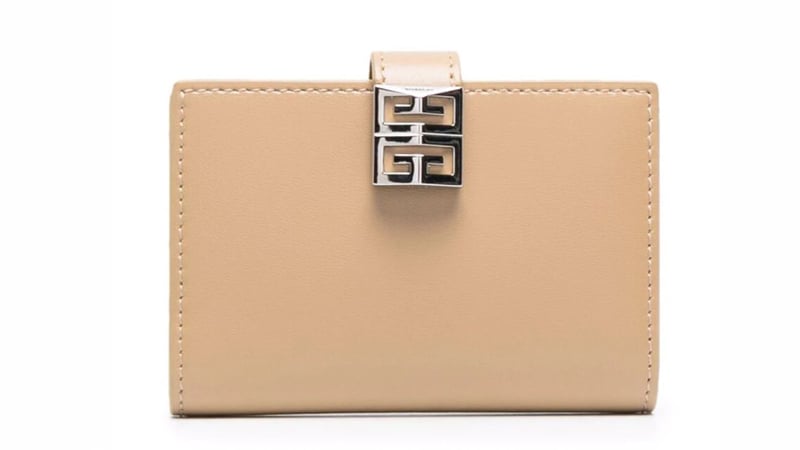 10. Kate Spade New York Large Continental Leather Wallet
Kate Spade New York is a brand known for its accessories, and this large leather wallet is both stylish and practical. The warm beige is a versatile color that will mix and match with everything you own, and the design is sleek and simple. The pebbled leather also features a jacquard lining interior and front zip closure, while inside is space for two slip pockets, 12 credit card slots, and a zippered compartment for coins.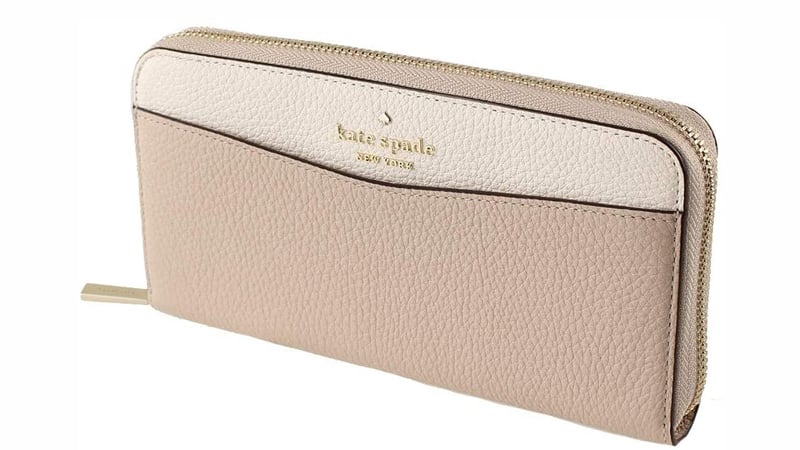 11. Issey Miyake Geometric Folded Wallet
If you are looking for something different, the Issey Miyake geometric folded wallet is it. This modern wallet features a geometric paneled design that is incredibly eye-catching and will demand attention, which is enhanced by the black and vivid pink colors used in its construction. The folded design has a press-stud fastening, and in the interior, there is space for card slots and a slip pocket. The composition is a mixture of polyester and PVC with nylon lining.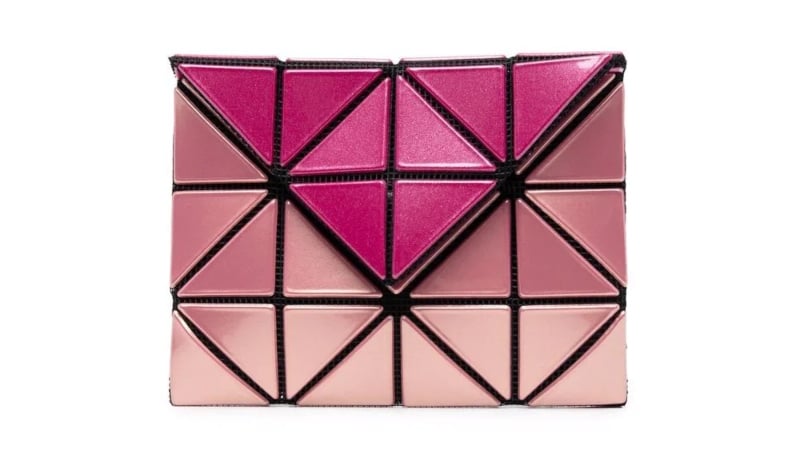 12. Jimmy Choo Madeline Cardholder
The Jimmy Choo Madeline cardholder is made in Italy and created with calf leather for the outer and a combination of brass and crystal to form the decorative buckle. This bi-fold design is gorgeous and will demand attention in the pretty blossom pink hue, which features a grained texture, embossed logo, and, of course, the standout feature, which is the buckle. There is also a keyring attachment, snap button fastening, and a place for your cards to be kept safe with internal card slots.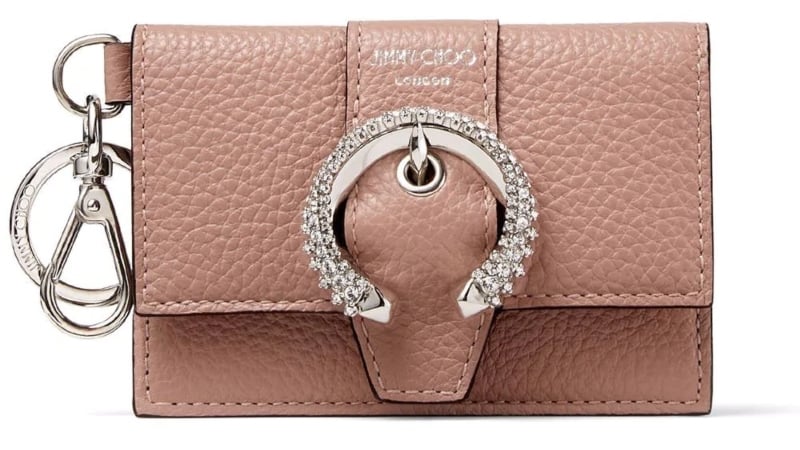 13. Itslife Women's Wallet
A great wallet does more than look good; it should also be functional and long-lasting, and the Itslife wallet is a great choice. It is a large design with a clasp closure and crafted with vegan leather that is durable and lightweight. Among the highlights are the 16 card slots, three pockets for cash, and a zippered pocket for coins. Available in a large range of colors, including champagne pink, Fuschia, dark green, and bright blue, buy it as a gift for a loved one or yourself. The wallet also has RFID blocking to give your cards added protection.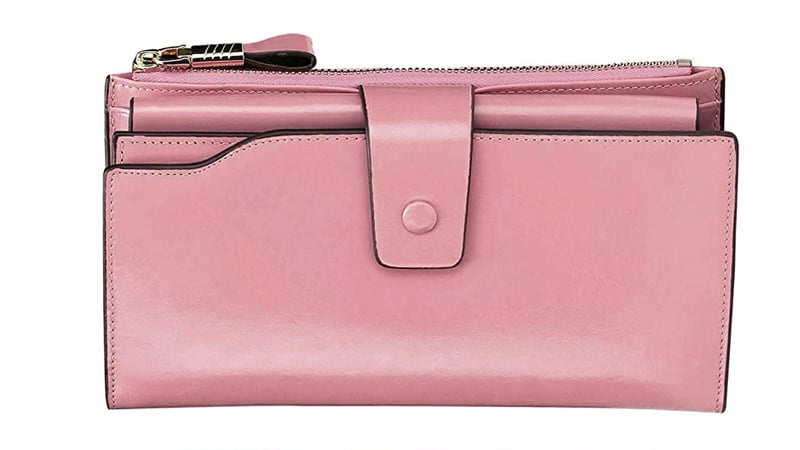 14. Karl Lagerfeld Small Croc-Embossed Wallet
This small calfskin leather wallet by Karl Lagerfeld is portable and versatile and can be carried with you wherever you go. The appeal of this wallet is that it is embossed with a crocodile effect which makes it visually interesting. The outer is complemented by the silver-tone logo plaque on the front and a logo stamp on the back. The foldover top with press stud fastening is a classic design, and at just 10cm wide and 10 cm in length with 2cm depth, this is a tiny wallet that is just big enough to fit your cards or cash.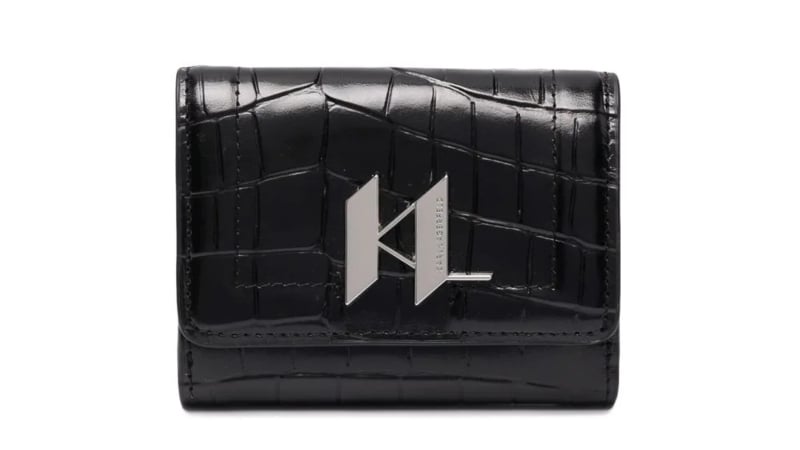 15. GUESS Women's Naya Large Zip Around Wallet
If you are looking for a wallet with a decent amount of space for your cash and cards, consider the GUESS Naya wallet. Guess is an American clothing brand that makes trendy pieces that are more affordable than luxury fashion houses. This design has a zip-around closure and features two slip pockets, one zip pocket, and space for eight cards in the interior. There is also a wrist strap to make it easier to carry. You can choose from a wide range of colors, with classics like black, which is complemented by the gold logo stamp, to bright, bold hues like jade and blue; there is something to suit every preference.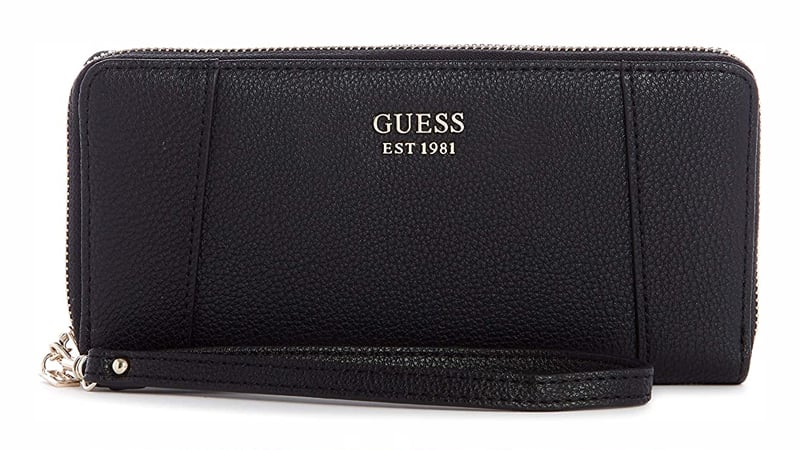 16. Lanvin Logo Print Wallet
Stylish and eye-catching but created with the utmost quality, say hello to the Lanvin logo print wallet. Lanvin is one of the oldest fashion houses and has established itself as a brand to choose for luxury products that will withstand the test of time; let this wallet be an example. The combination of light pink and brown logo prints over 100 percent grained leather outer gives the wallet a modern feel. It features a top zip fastening, internal zip pockets, and space for your cards.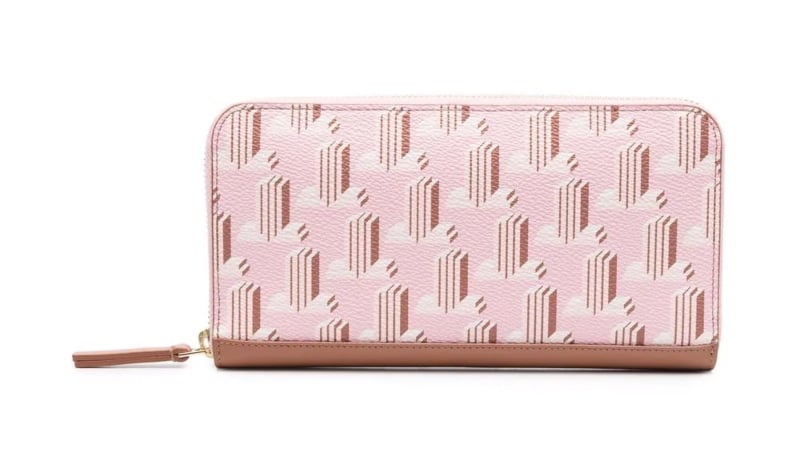 17. Love Moschino Embroidered Logo Stud Wallet
The Love Moschino range is a little more affordable as far as luxury fashion brands go. It is also a label that is synonymous with bold, bright, and fun designs, and this wallet is a little bit of both. The combination of black leather with the studded detailing and red embroidered logo makes for a striking finish. The outer is made from polyurethane and features an all-around zip fastening. Inside you will find internal card slots and an internal zip pocket to keep coins.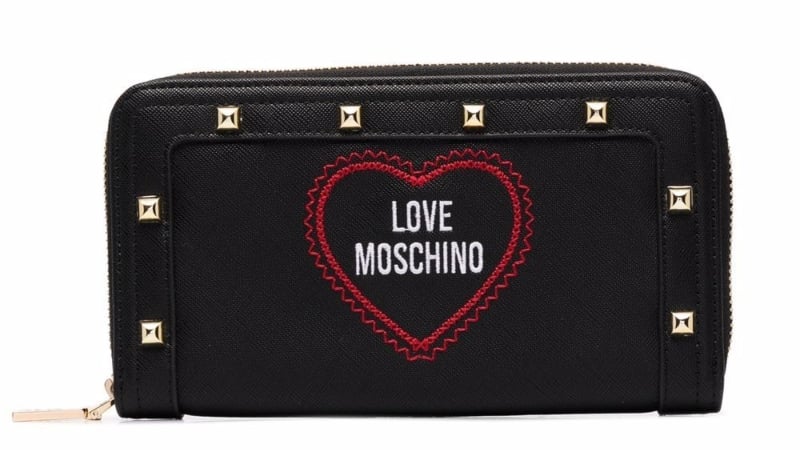 18. Burberry Icon Stripe Continental Wallet
The iconic stripe design from Burberry is instantly recognizable and is synonymous with luxury. The British fashion house is sought-after all around the globe for its stylish designs with high-quality execution, and this wallet should be no different. Standout features of the wallet include gold-tone hardware, gold-tone logo lettering, and a press stud closure. There is also space for cards with internal card slots, and the wallet features a coin pocket.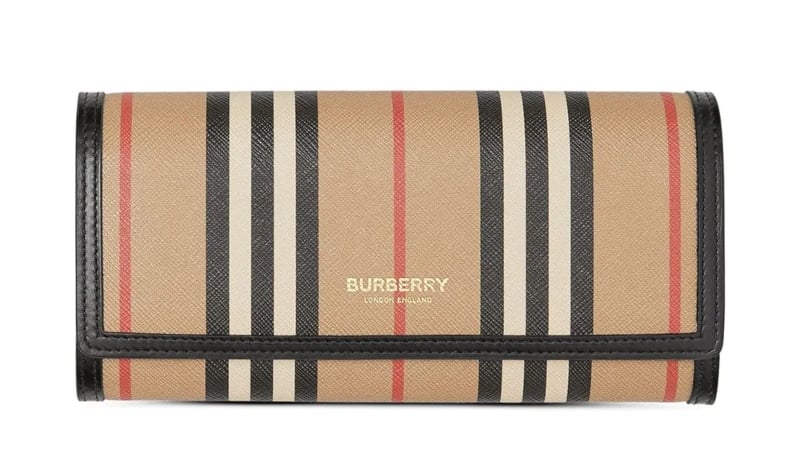 19. Timberland Women's Leather RFID Flap Wallet
Timberland has garnered a legion of loyal fans because of its practical and stylish footwear, but the brand also makes clothing and accessories, including this leather envelope wallet. It is crafted from 100 percent leather and features a snap closure, three slip pockets, a back zipper coin pocket, and a place for 15 credit cards, so all of your essentials will fit comfortably. There is also Radio Frequency Identification (RFID) protection, designed to stop the theft of RFID-enabled cards.
20. Chiara Ferragni Logo-Plaque Purse
If you want a quirky and fun purse, then look no further than the Chiara Ferragni logo-plaque zipped purse. The appeal of this design is the coloring, which is baby blue and complemented by the gold-tone logo, zipper, and chain. The chain-link strap makes the purse more versatile and easy to use while also giving it a standout finish. It is made from Polyurethane and synthetic resin.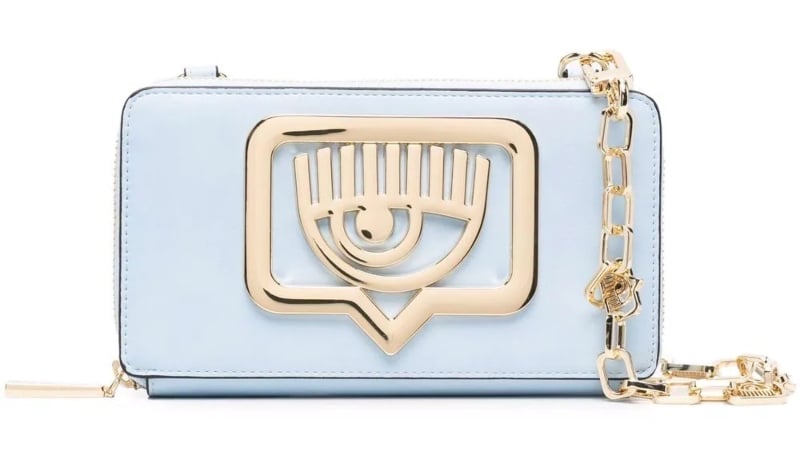 21. Dolce & Gabbana Devotion Wallet
If you are looking for a gorgeous wallet perfect for all occasions, look no further than the Dolce & Gabbana Devotion zipped wallet. The classic black lambskin leather design is complemented by a quilted effect and the bejeweled branded heart, which features in the center of the wallet. The brand has taken inspiration from the Catholic church and romanticism for this piece. It also features card slots, a zippered pouch, and a top zip fastening.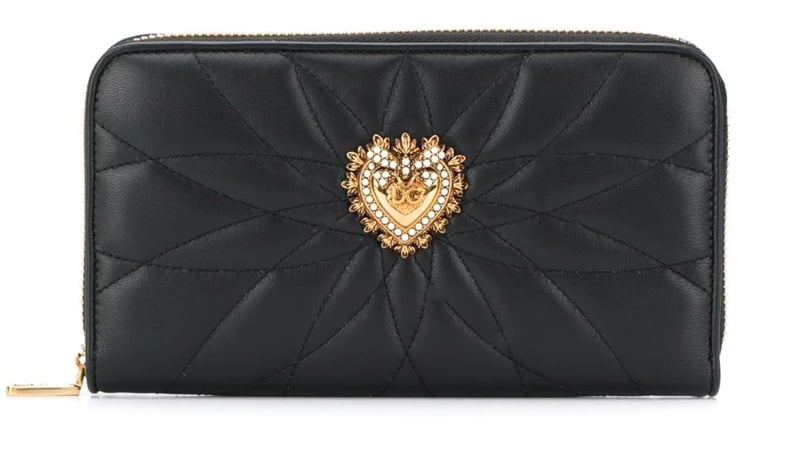 22. Versace La Medusa Long Wallet
What is not to like about the Versace La Medusa long wallet? It is an incredibly stylish design, crafted in Italy from leather with a grained texture. There are several colors to choose from, but black is a firm favorite because it is versatile and can mix and match with everything. It is also a color that looks sleek and sophisticated. The standout feature of this wallet is the Medusa-head and debossed logo. For ease of use and a feminine finish, the wallet comes with an adjustable shoulder strap; it is also detachable for times you prefer to carry your wallet in your hand like a clutch.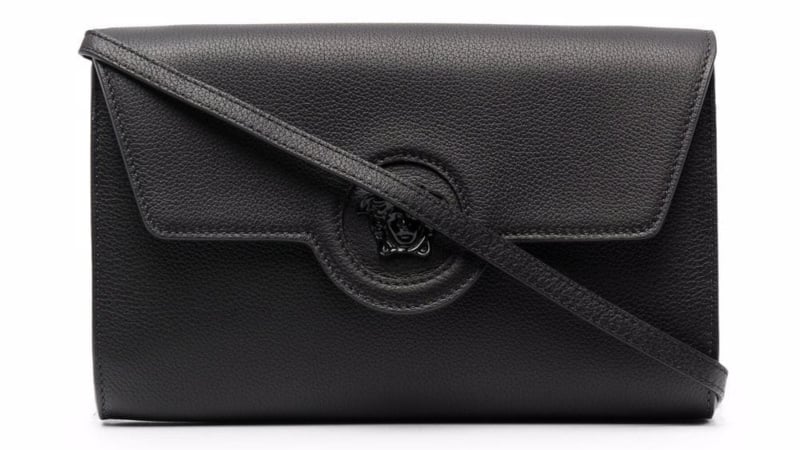 23. 3.1 Phillip Lim Alix Mini Cardholder
3.1 Phillip Lim is a luxurious brand, but they are also dedicated to bringing its creations to the "global citizen." If you want to own your little piece of luxury, you can start with the Alix mini cardholder, a compact and stylish design crafted using 100 percent calf leather. The black leather is complemented by silver-tone hardware and a decorative silver plaque. It features a front flap clasp and a press stud fastening, making this cardholder as practical as it is stylish. The silver chain-link shoulder strap adds a feminine finish and makes it easier to carry.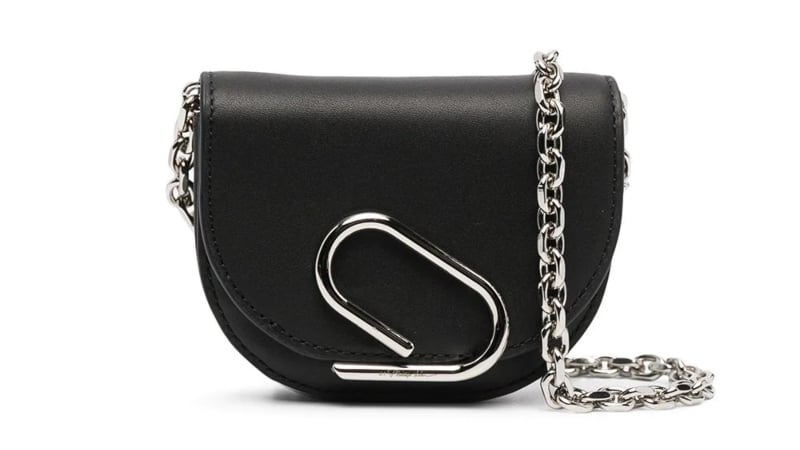 24. Zadig & Voltaire Mini ZV Wallet
If you prefer wallets on a smaller scale, then the Zadig & Voltaire mini ZV matelassé design is exactly what you have been looking for. Thanks to its textured appearance and silver-tone logo plaque, it is simple but edgy and cool. The zipper goes all around, and at 9cm width, 10cm length, and 2cm depth, this wallet is big enough to fit your essentials. It is crafted from 100 percent calf leather.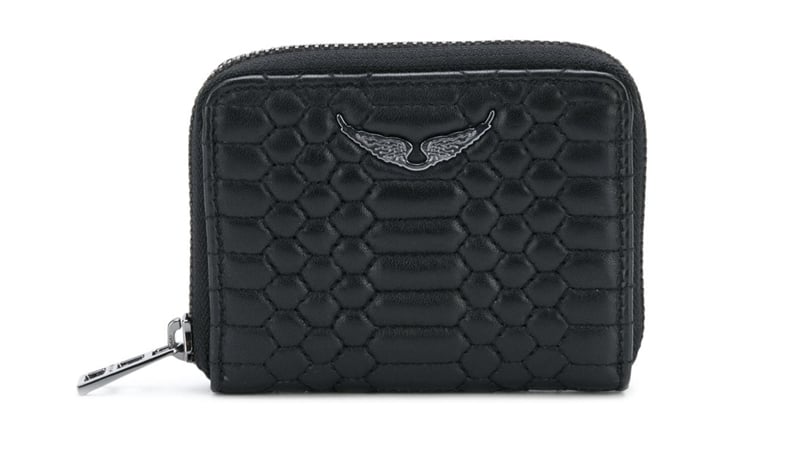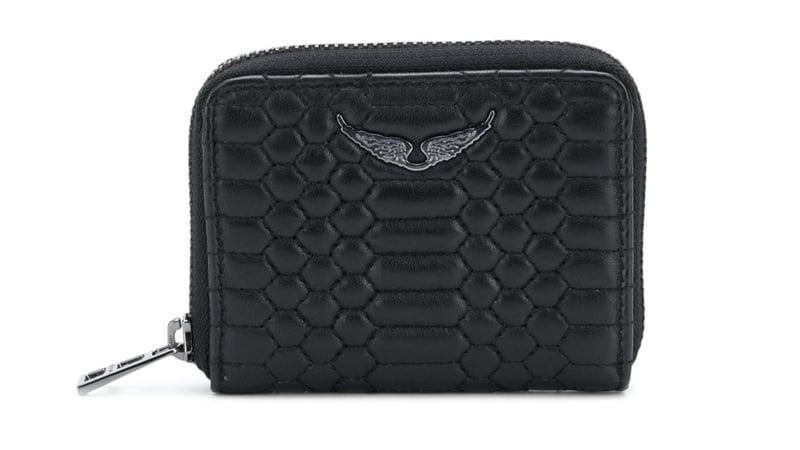 25. Versace La Medusa Wallet in Red
The Versace La Medusa long wallet comes in various colors, letting you choose your favorite. From sleek colors like black to hues that demand attention, like this gorgeous, bold red. The red leather makes a statement and will be the feature of any outfit. The red is complemented by the iconic Medusa head logo and a grained leather finish. The foldover top has a magnetic fastening, and the interior offers ample space for important cards and cash. You can also detach the strap if you prefer to hold your wallet, but the shoulder strap does offer more versatility.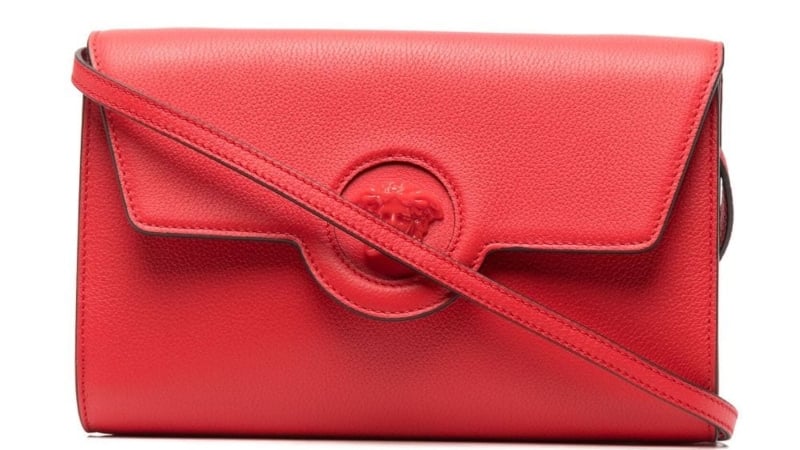 26. Prada Logo Foldover Wallet
Any item from Prada will be appealing because they are crafted with attention to detail and use the highest quality materials. This wallet should be no exception and will be a design that you will want to show off. Made from 100 percent calf leather, the foldover wallet is a classic design, and it is kept simple here. Highlights include the gold logo stamp and press stud fastening. The interior has two note slots and space for several cards.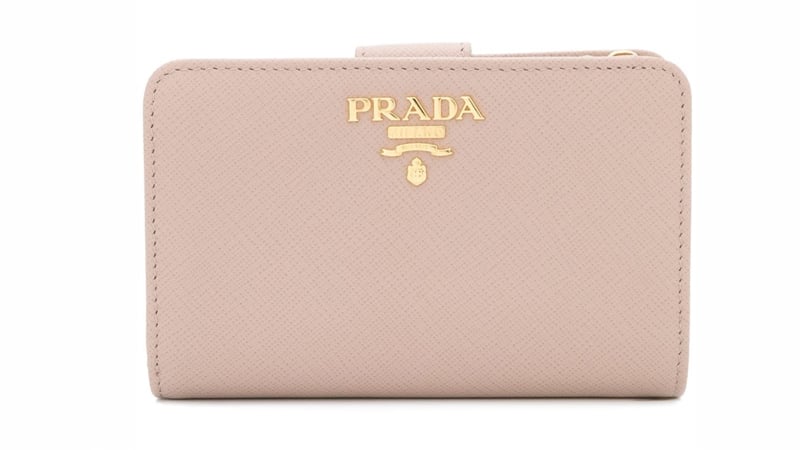 27. PGXT Women's Long Card Holder
The PGXT bifold is crafted from synthetic material with a leather-look and is designed to be lightweight and versatile. The wallet offers a lot of space; with a zippered pocket, card slots, and concealed compartments, you will be able to carry all of your essentials and then some, including coins, cards, cash, and your smartphone. It has a buckle closure completed with a tiny leaf decal. The front of the wallet also features gold leaf cutouts, which add to the design. This is an affordable option that is ideal for daily use.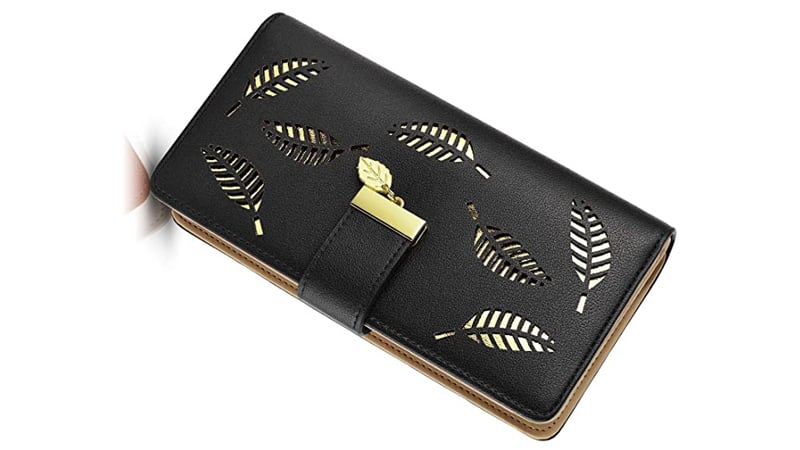 28. Roberto Cavalli Tiger Tooth Wallet
Roberto Cavalli's designs are often youthful and made to stand out. The fashion house was founded by famed Italian designer Robert Cavali in 1972 and has become synonymous with energetic and colorful designs. The Tiger Tooth wallet is this, but it is also a versatile wallet that will lend itself well to various occasions. The outer is constructed with 100 percent leather, which has a matte finish and is dyed a brilliant red. The red looks impressive against the gold-tone hardware, which resembles the shape of a tooth on either side of the wallet. This is a wallet you will want to show off!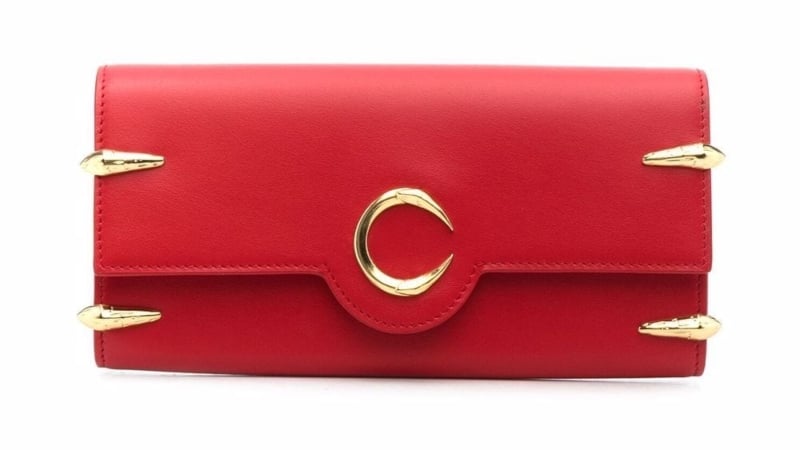 29. Stella McCartney Falabella Wallet
Stella McCartney's Falabella wallet is a striking design crafted from faux leather; the brand is strictly against the use of animals in its products. The wallet is made in Italy and features chevron-quilted details and tonal stitching and is completed with a diamond-cut chain-link trim and chain-link shoulder strap. This is a stylish and practical design that is ideal for all occasions.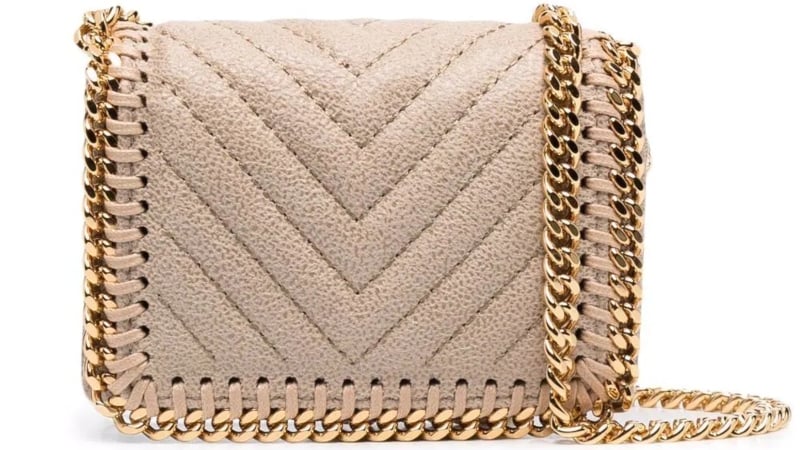 30. Vivienne Westwood Orb-Plaque Cardholder
English fashion designer and founder of the eponymous brand, Vivienne Westwood, is known for her punk-inspired designs, which can feel rebellious. There are more classic options, like this leather cardholder, which features the brand's iconic orb on a plaque at the front of the wallet; there is no mistaking which brand this wallet is. Other highlights include the foldover top, button fastening, and color complemented by silver hardware. It is a small wallet, making it easy to transport and ideal for everyday use.
31. Tory Burch Mini Miller Leather Wallet
If you prefer wallets that are on a smaller scale, you will love the Tory Burch mini Miller leather wallet. It is crafted using brown-colored top grain bovine leather on the outer, with the lining a combination of polyester and rayon. The exterior has a pebbled texture and visible stitching, showing the exceptional quality. However, the highlight of the design is the gold logo plaque featured in the center and complementing the design, which has a foldover with magnetic fastening.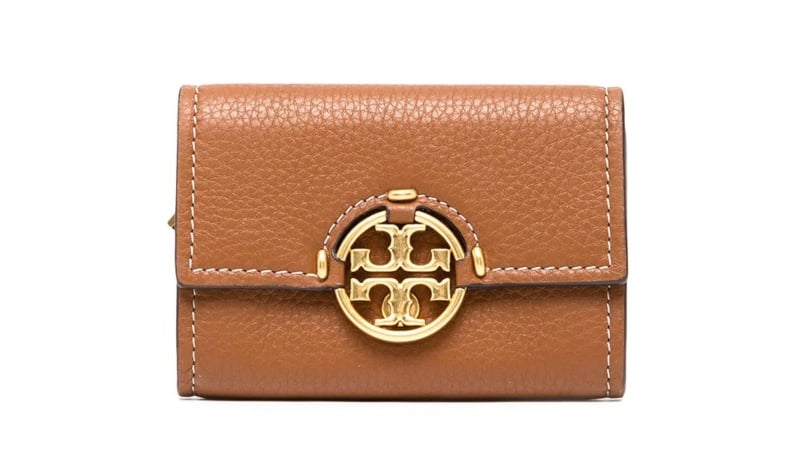 32. Tommy Hilfiger Poppy Logo-Plaque Wallet
American brand Tommy Hilfiger is a premium brand that feels sporty and preppy. The Poppy logo-plaque wallet is from their new season and features the iconic navy blue, red, and white color scheme with trimming down the center of the wallet. Over it is the logo in gold-tone hardware. The rest of the wallet is crafted using nylon. This is a great design for someone who wants a wallet that has a laid-back aesthetic but is still stylish.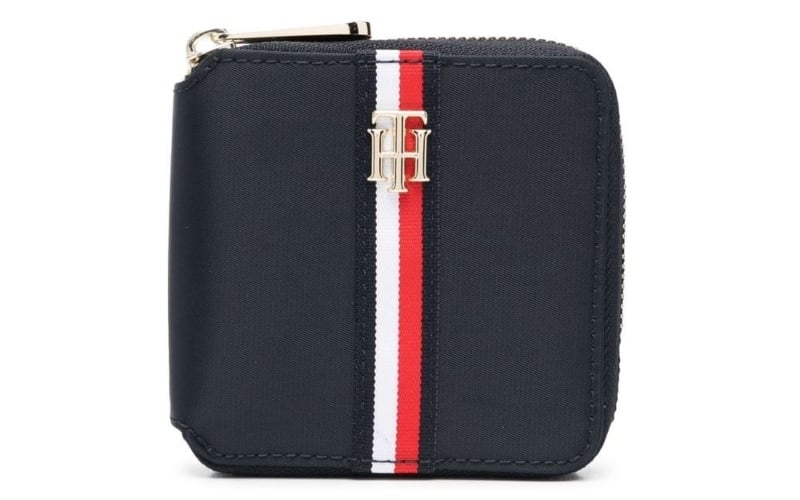 33. Tod's Logo-Stamp Leather Wallet
Look no further than the soft pink Tod's logo-stamp leather design for a pretty, feminine wallet. The color is gorgeous, but it is not the only standout feature of this mini waller, as other highlights include a logo stamp on the front. It is crafted with 100 percent leather and is complemented by silver-tone hardware and a zipper. Inside, you will have enough space for your cards and cash with internal compartments.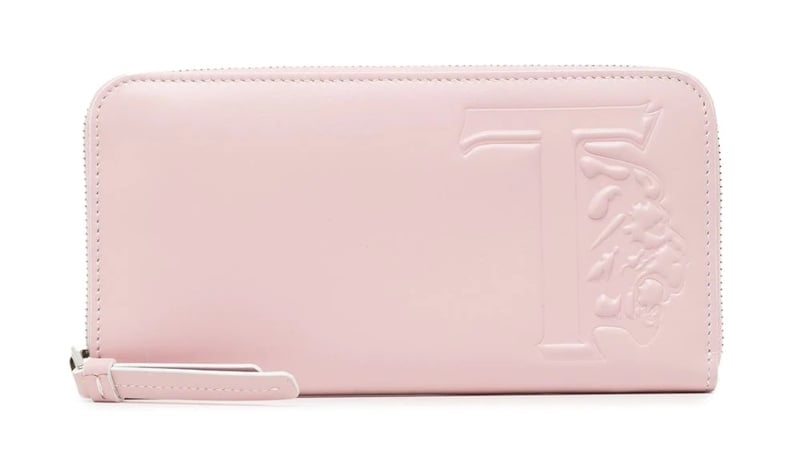 34. Thom Browne Floral-Print Wallet
Thom Browne is an expensive brand, but it is also a luxury one, and designs should be built to last. They can also have a very distinct appearance; take the floral-print wallet as an example. The pretty combination of grey with white florals makes for a striking design, complemented by the stripe trim. The wallet is crafted from 100 percent leather on the outer and has a grained texture and gold-tone zip fastening. The interior is large enough to fit several cards and cash, and it also includes a zippered pocket in the middle, ideal for coins or important notes.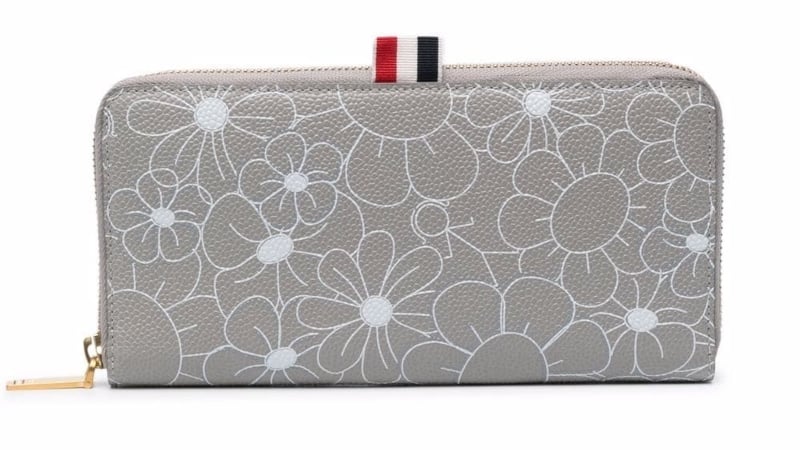 35. PAUL SMITH Logo Stripe-Print Wallet
Paul Smith's designs are celebrated for their bold use of colors and prints, and each piece feels youthful and energetic. This logo stripe-print wallet is excellent for those who want a fun and expressive wallet, and the multicolored finish is striking. The wallet is crafted from leather and features an embossed logo on the front. Another highlight is the classic foldover top with snap fastening, making it easy to access your cards and other important documents.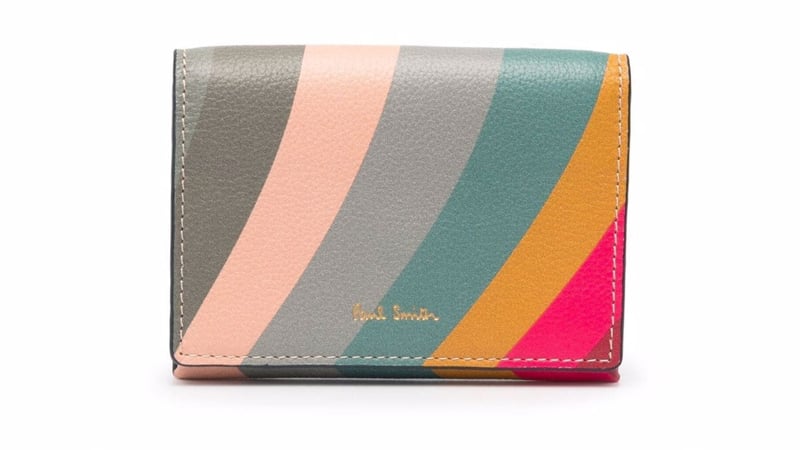 36. Off-White Arrows Quilted Wallet
Off-White was founded in 2012 by American designer Virgil Abloh. It is celebrated for its cutting-edge designs, which often feel modern. This Arrows quilted wallet is one of the simpler pieces, making it ideal for all occasions, and it will not feel dated in the years to come. The quilted exterior creates a texturally interesting finish, complemented by the gold-tone hardware. The interior features a cardholder, which is removable.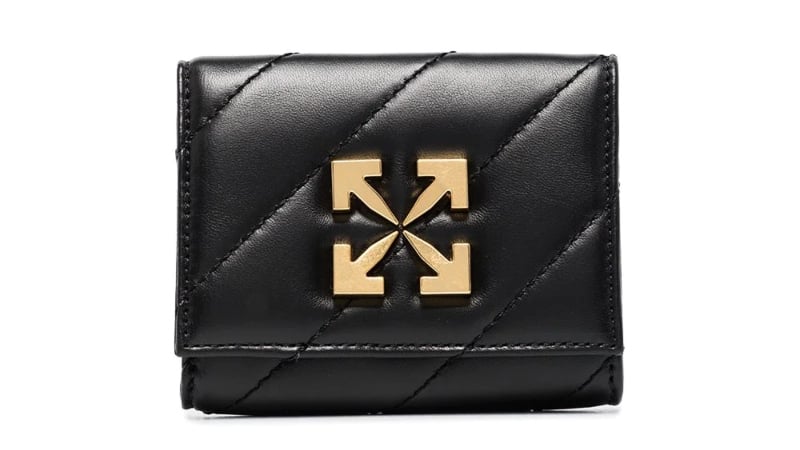 37. Miu Miu Matelassé Leather Wallet
For a pretty wallet that demands attention, consider a matelassé leather wallet. Miu Miu has one of the best on offer, crafted using 100 percent Nappa leather and designed in a soft, light blue color that is perfect for all occasions. The texturally interesting wallet is small and complemented by the simple gold-tone logo plaque on the bottom front. You will find card slots, a flap pocket, and a note compartment in the interior.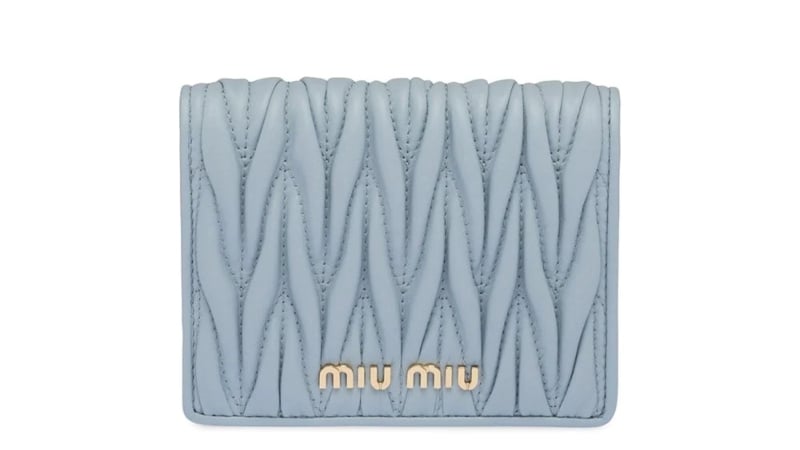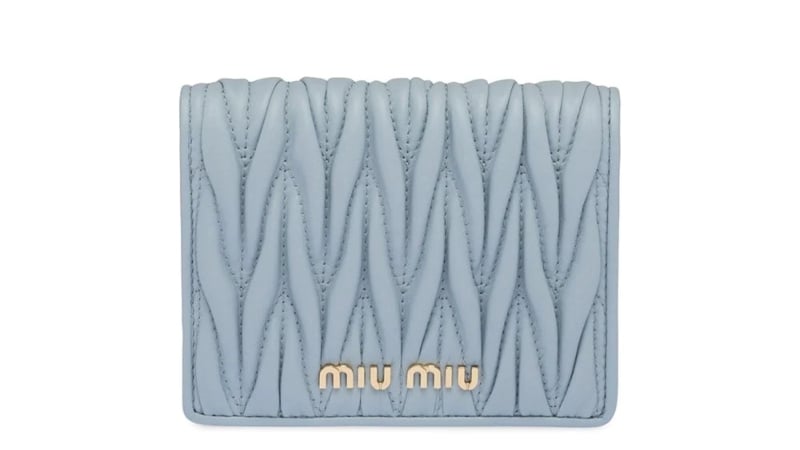 38. Mulberry Envelope Leather Wallet
If you are looking for a wallet that will last for years to come, Mulberry should be your go-to spot. This envelope-style leather wallet is crafted from leather and finished to produce a grained texture. The envelope design feels sophisticated, and the logo on the front is understated. The light grey color is versatile, lends itself well to various occasions, and is easy to mix and match your outfits.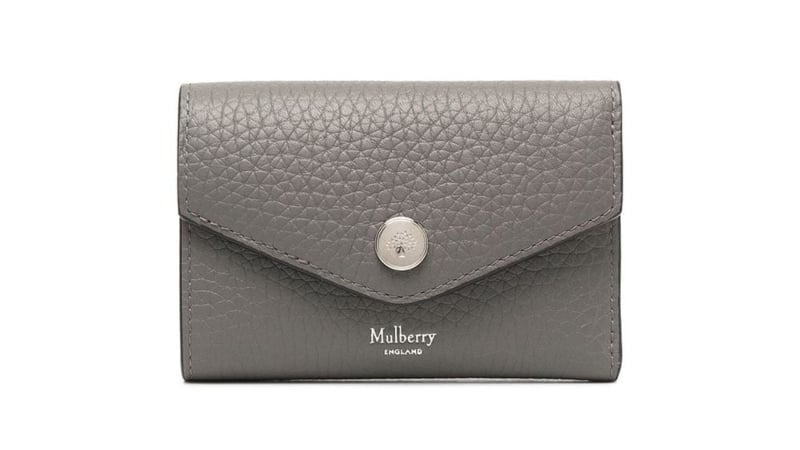 39. Tory Burch Robinson Chain-Strap Bag
American mid-luxury fashion brand Tory Burch is celebrated for its stylish and sophisticated designs, and the Robinson chain-strap crossbody bag is no exception. The construction feels classic with the black leather and simple foldover top design with snap fastening; however, the gold-tone logo plaque adds a modern element. There is an adjustable leather and chain-link strap, which looks great but also serves a functional purpose, making it easier to transport. This is an excellent option for all your cards and important documents and is perfect for everyday use.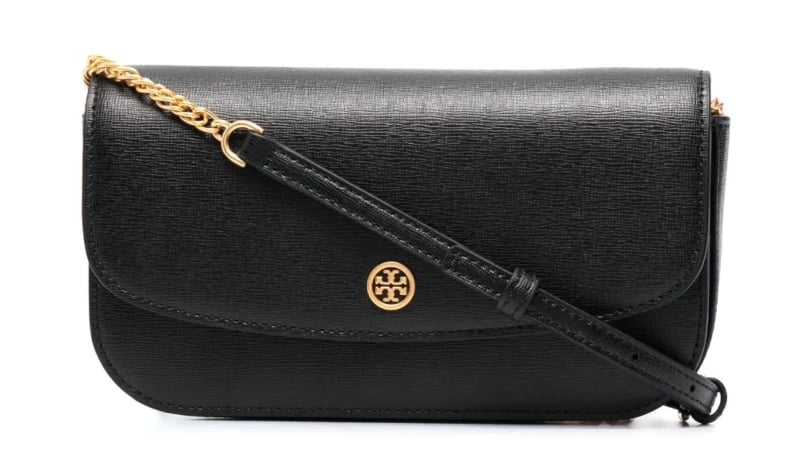 40. Valextra Zipped Continental Wallet
Sleek, simple, and classic are just three ways to describe the Valextra zipped continental wallet. The outer is created from 100 percent calf leather, ensuring the wallet is excellent quality and durable, and it should last for years to come. The white color is crisp and clean and will mix and match with everything you own, making this the ideal wallet, no matter what the occasion. The piece is crafted in Italy and features a top zip fastening, a slot compartment for cards and notes, and a zipper in the interior.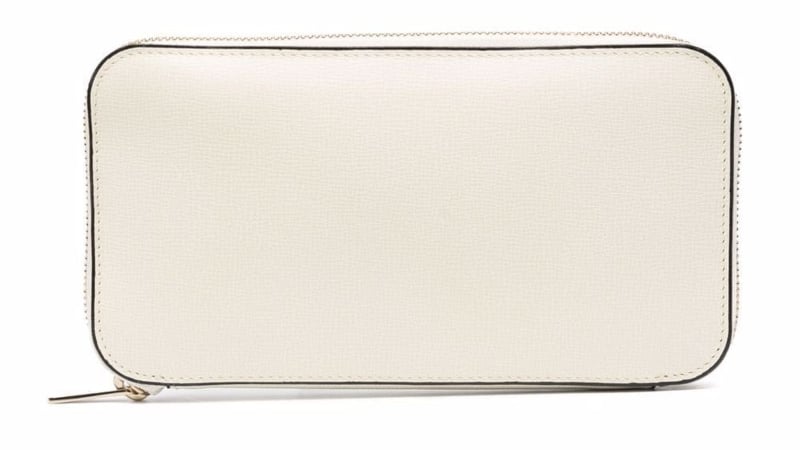 Woman's Wallet Buying Guide
There is a wide range of styles, sizes, and materials used in the construction of women's wallets, and what you choose will depend on your preference and needs. A wallet is one of the most useful accessories and something you will use every day, and as such, it needs to be constructed well so that it is easy to use. If you want it to last, invest in good-quality craftsmanship and materials, like leather, and consider the size. If it is a wallet for everyday use, you can probably use something small that is easy to transport and stylish. For those who travel often or prefer oversized designs, this is also something to consider.
Wallet Size
Wallets come in a range of different sizes, depending on your preference. There are larger designs that feature multiple compartments to small wallets that are reserved for only the essentials like a few credit cards and identification documents. To determine which size is best for you, you want to consider how much stuff you carry with you normally. If you have more than two to three important cards, you should opt for something bigger. It would be best to consider how easy your wallet would be to transport; larger wallets can be bulky and too big to fit in your pocket comfortably. These designs would benefit from an adjustable shoulder or wrist strap.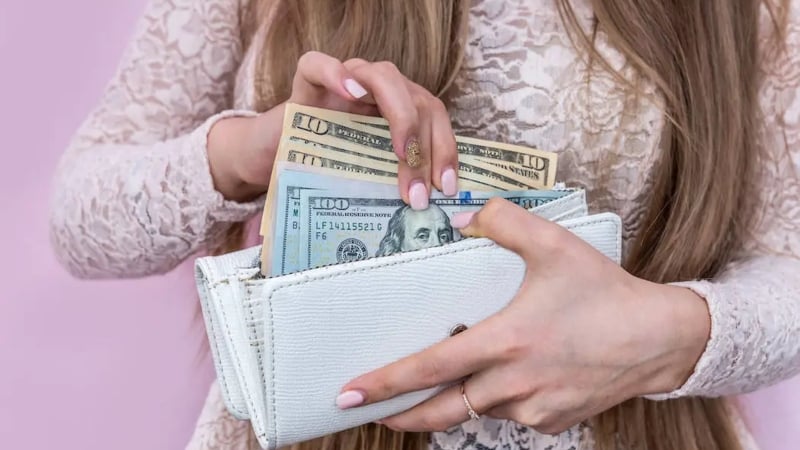 Wallet Construction
One of the most important things to consider when choosing your wallet design is the construction. You will use this accessory every day, and you do not want it to fall apart. This is why most people do not mind paying extra for designs that use high-quality materials and have expert craftsmanship. You need a design that is practical, functional, and easy to use. The zippers or other closures should be good-quality and open and close without issue.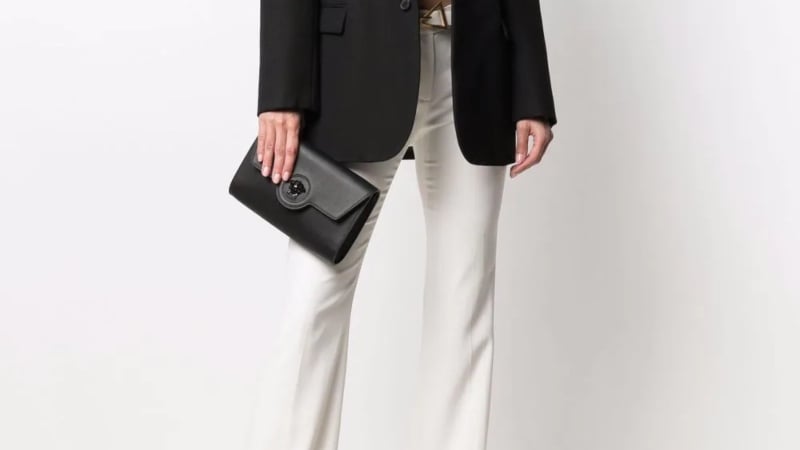 Wallet Material
Most wallets are crafted using leather which tends to age better than synthetic fabrics. Leather also responds to wear and tear and is an incredibly durable material; a good quality leather wallet will last for years. It also gets softer with age. Synthetic wallets may be more affordable, but they will not last as long. Canvas can be a popular alternative to leather, and these wallets are strong and sturdy. They are also lightweight and versatile. When deciding on the material for your wallet, you should also consider the hardware on your wallet, as you do not want it to rust or discolor.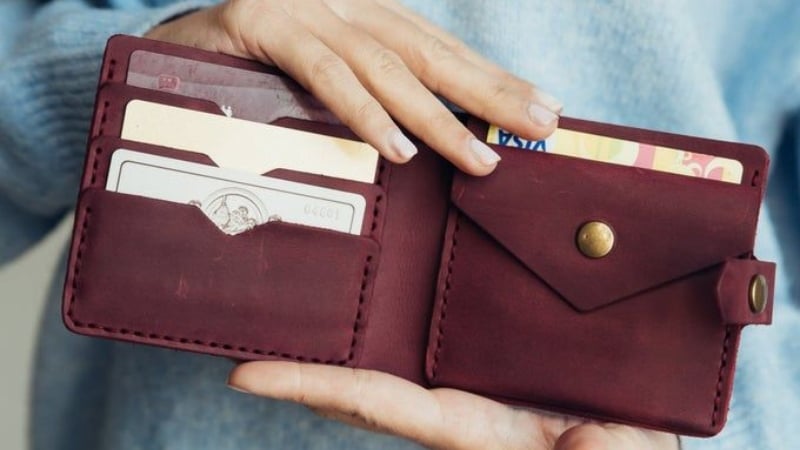 Best Wallets for Women FAQs
What are women's wallets called?
Women's wallets can be called several names depending on the size and shape of the design; these include a purse, bifold, slim wallet, envelope-style, and much more.
Which brand of wallet is the best?
If you want a brand that is celebrated for expert craftsmanship and good quality designs, you should consider luxury fashion brands like Prada, Balenciaga, Saint Laurent, and Gucci. If these brands are too expensive, there are also high street alternatives that may not last as long but will look stylish and do their intended job.
What wallets do celebrities use?
Celebrities are known to favor some of the world's most expensive and luxurious brands, including Saint Laurent, Balenciaga, Gucci, Versace, and Dolce & Gabbana.
What's the difference between a purse and wallet?
A purse is a small bag that women use to carry money. Wallets are often flat designs with card slots and zipper pockets designed to carry cards, cash, and other important documents like an ID card. Both come in different sizes, but a purse is often bigger and can fit a wallet inside it.
SUBSCRIBE TO OUR NEWSLETTER
Subscribe to our mailing list and get interesting stuff and updates to your email inbox.