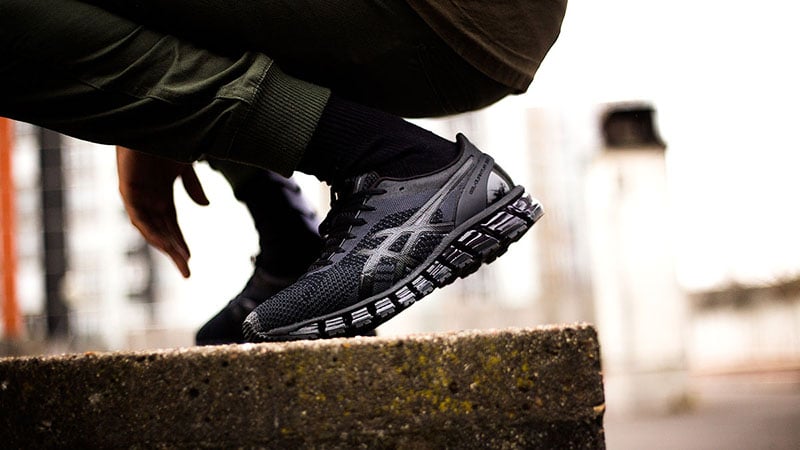 Walk around in comfort and style with these best walking shoes for men. Choose from something ultra-sporty and modern, or go for vintage classics that ooze street appeal. Either way, casual walking shoes are a great addition to any stylish man's wardrobe. They're versatile and can take you from the gym to the office or the weekend with ease. Plus, they're designed with support and cushioning in mind, so you feel comfortable all day long.
1. New Balance 990v5
The New Balance 990V5 is the perfect combination of lifestyle and action. The classic profile of this walking shoe, with suede and mesh, is both visually appealing and provides excellent breathability keeping your feet cool and fresh as you go about your day. Enjoy quality cushioning, an Ortholite® premium footbed, and mid-foot support, as well as a plush tongue to protect your arch. It's a versatile style that you can pair with your activewear, casual shorts, or dressier chinos.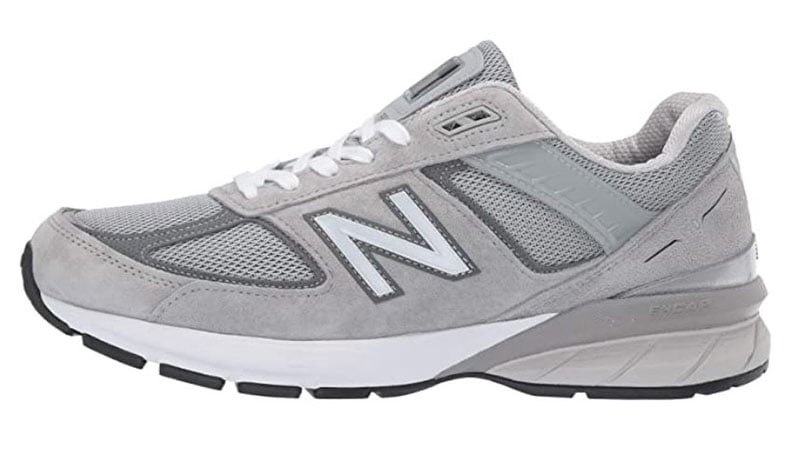 2. Asics Gel-Quantum 360 6
There'll be no jelly legs with a pair of Asics Gel-Quantum 360 5. Decades of running development have gone into this walking shoe, making a great addition to any man's wardrobe. The 360-degree gel technology cushions the entire underfoot, so you won't get fatigued. Then, most of the forefront of the shoe features no-sew uppers made from breathable textiles, which ensures a comfortable and secure fit. Lastly, the midfoot has Trusstic System® making the design light but stable.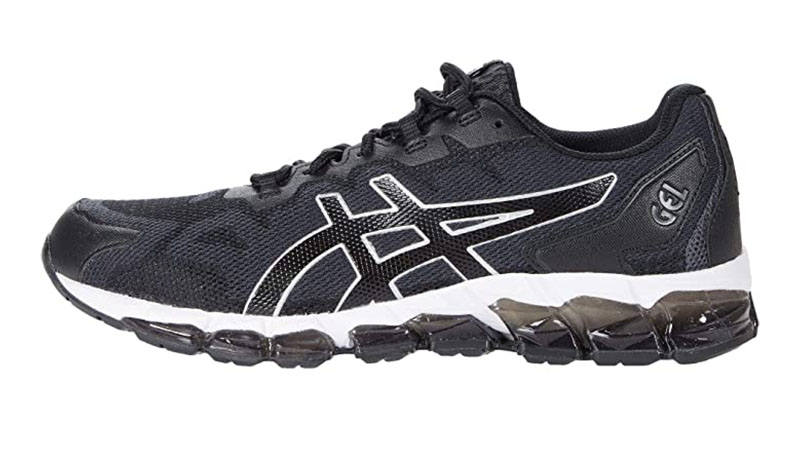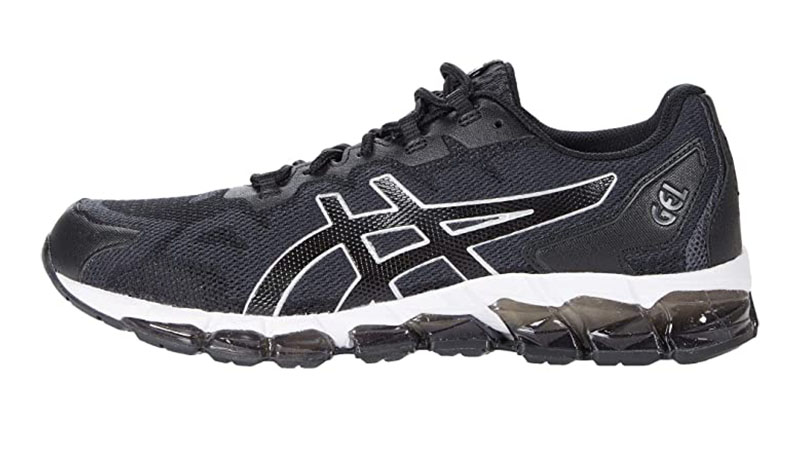 3. Brooks Addiction Walker 2
These bright white walkers from Brooks are sure to make you stand out from the crowd. The leather uppers have had a makeover, and the shoe is now roomier, yet still supportive. It's also packed full of Brooks' leading footwear technology. There's BioMoGo DNA midsole cushioning, an Extended Progressive Diagonal Rollbar (PDRB®) for pronation control, and engineered MC Pod Configuration for balanced control and flexibility. The outsole is slip-resistant to prevent any mishaps, and the mesh lining is incredibly breathable for that all-day fresh feel. This is a great style to add to your outfit, whether you're walking for exercise or just making your way through your day.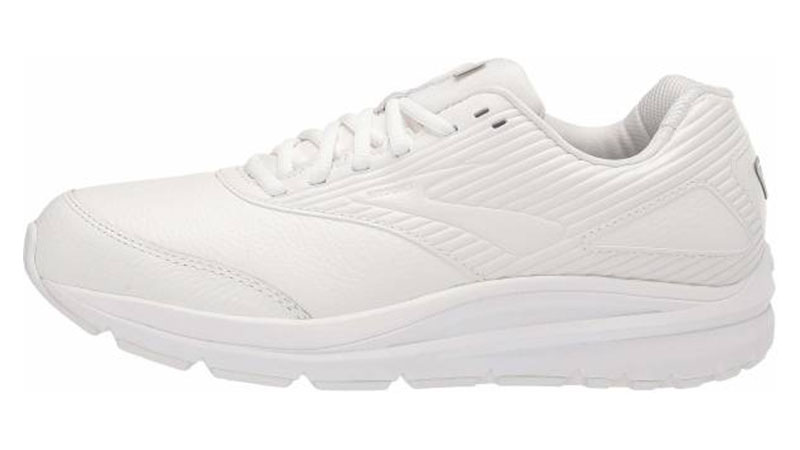 4. Adidas Ultraboost 20
Adidas is one of the world's leading sportswear brands. Their Ultraboost 20 is a high-performance shoe made for both walking and running. The foot-hugging Primeknit+ textile upper is incredibly comfortable and supportive, with reinforced stitching where you need it most. Meanwhile, the responsive cushioning ensures an efficient run, and the Continental™ Rubber outsole provides added traction and reduced slip. When you're looking to add this to your daily wardrobe, you can choose from 38 colors, so there's sure to be a design that fits easily into your existing aesthetic.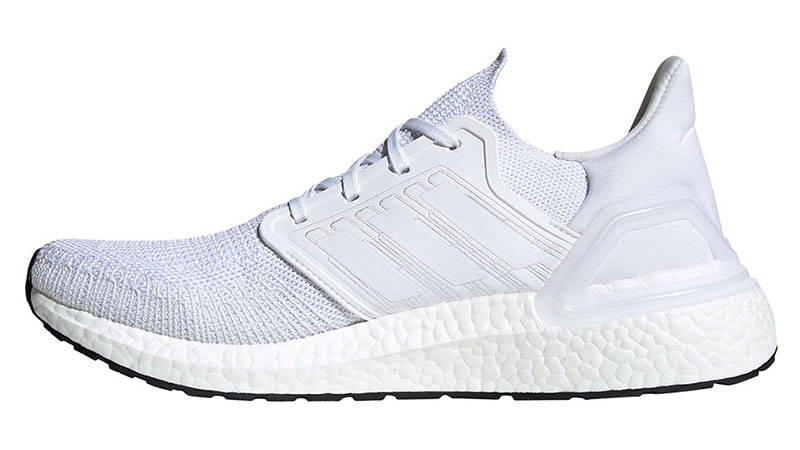 5. Skechers Men's Energy Afterburn Lace-Up Sneaker
Choose a walking shoe that's both stylish and innovative. Skechers have been creating quality footwear for the whole family since 1992, and the Men's Energy Afterburn Lace-Up Sneaker is perfect for everyday wear. The leather uppers, which comes in eight colors, incorporate easily into your daily wardrobe, beyond just your athleticwear. In terms of functionality, the rubber sole is grippy, and the padded heel provides quality shock absorption. You'll also be comfortable for hours thanks to the padded midsole, so no matter how hectic your day is, you'll breeze through it with ease.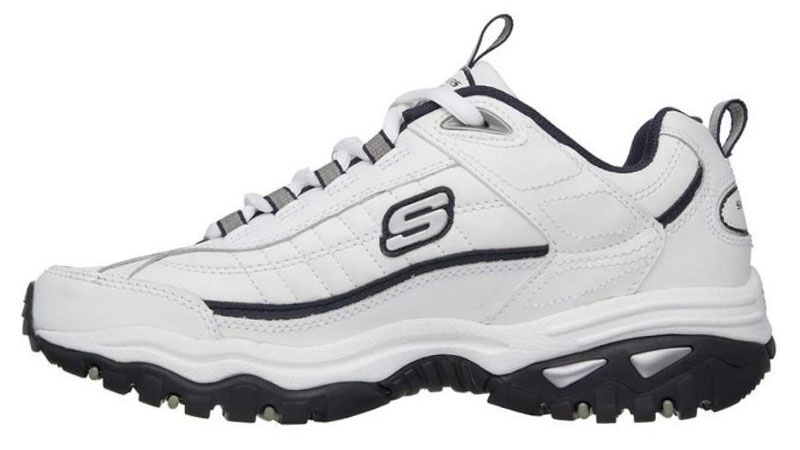 6. Veja Condor Rubber-Trimmed Mesh Sneakers
If you're looking for an ethical walking shoe, then this Condor style from Veja is an excellent choice. The French company focuses on using ecological materials, including organic cotton, wild rubber, ecological leather tanned with vegetable dye, and recycled plastic bottles. They also manufacture in Brazil, using fair trade working conditions for all employees. In terms of the shoe, it's a great option for daily walking and exercise. The lightweight uppers are made with Alveomesh and are incredibly breathable. The lining is made from cotton and recycled plastic for durability, while the rubber sole provides excellent support. It's a sleek profile that is easily incorporated into a fashion-forward wardrobe.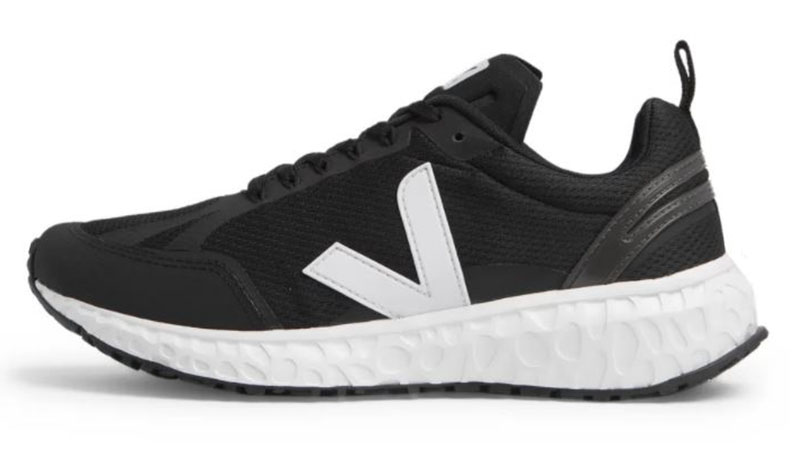 7. Nike Air Monarch IV
The Nike Air Monarch IV is both a great walking shoe and a cross-trainer. The durable leather uppers last and provide superior support. They also feature paneling and perforation for an ergonomic fit and cooling airflow. You'll enjoy maximum comfort with lightweight foam and Nike Air cushioning, as well as rubber outsoles for grip and traction. Plus, you can choose from a range of colors, including variations of fresh white, bold blacks, and grey.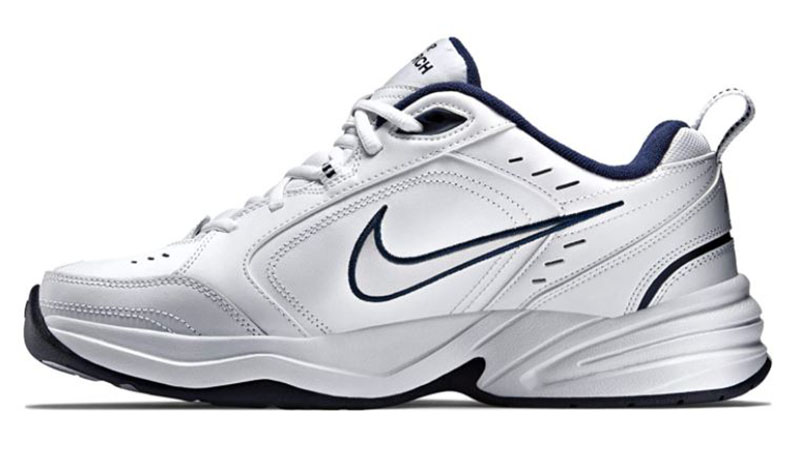 8. Altra Footwear Lone Peak 4.5
Altra Footwear Lone Peak 4.5 is a robust shoe that's designed for trail running but also suits a hard day's walking just as well. You'll enjoy balanced cushioning for a low-impact journey and a FootShape™ toe box that doesn't cramp or restrict your feet. The mesh uppers are quick-drying and abrasion-resistant, making it very durable. If you do head off-road on your walk, the gusseted tongue and four-point Gaiter Trap™ stops debris building up, and the StoneGuard™ protects your toes. Finally, you'll feel sure-footed on every surface with the MaxTrac™ rubber outsole and TrailClaw™ for extra grip. If the rugged black style is not your preference, you can also choose from bright red, deep burgundy, or light grey.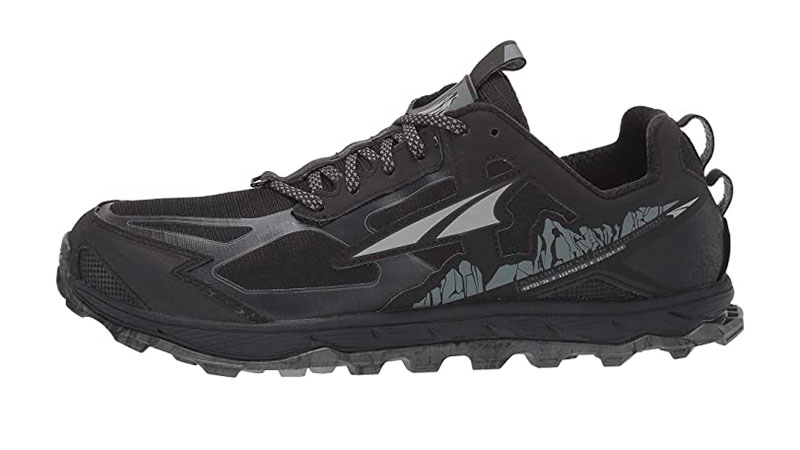 9. Saucony Grid Omni Walker
Walk on with the Saucony Grid Omni Walker. The fit is similar to the popular Omni 5 running shoe but adapted for walking. Your heel is centered on impact, with extra cushioning due to the rearfoot grid system, while EVA/rubber protects the forefoot. This means you can comfortably walk for miles. There's also support through your midfoot, and a high rebound compound Strobel board running the length to provide shock absorption and flexibility. Lastly, the soft leather uppers not only feel nice but look great and provide excellent longevity and durability.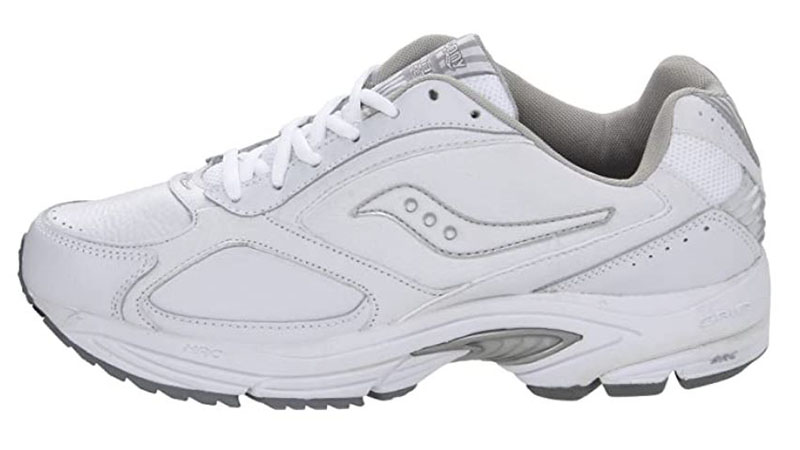 10. Nike React Infinity Run Flyknit By You
You'll be feeling supported and fashionable with a pair of the Nike React Infinity Run Flyknit By You. The design incorporates the latest tech, including React foam padding, lightweight Flyknit uppers, and zonal support throughout your stride. This means a lighter, more supportive, and intuitive runner. However, the greatest feature of this shoe is that it's fully customizable. Complete your own design, adapting the colors for everything from the outsole, and laces to the heel clip and uppers. Alternatively, you can choose from the existing range of inspired designs that Nike has already created.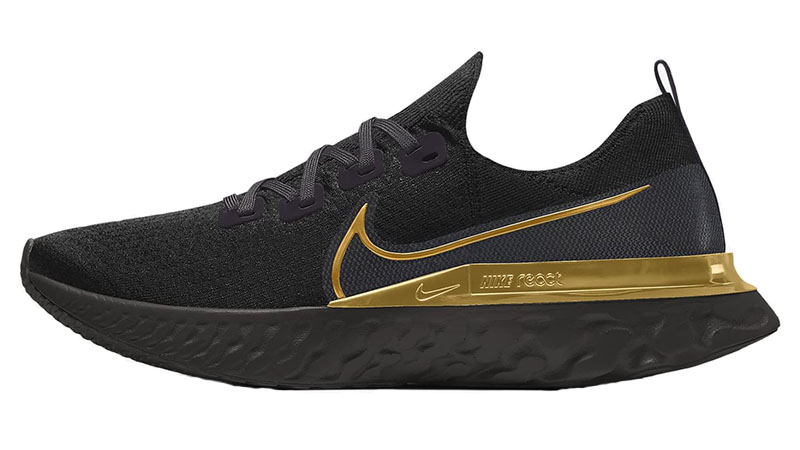 11. Merrell Nova Traveler
Merrell is a workhorse in the footwear industry. They make a range of rugged and durable shoes that are perfect for walking, hiking, trail running, or just wearing casually. Plus, their shoes contain at least 20% recycled material. Merrell's Nova Traveler is perfect for everyday adventures as well as getting off the beaten track. The Vibram® EcoDura™ outsole is ergonomic, durable, and is made with 30% recycled rubber. Enjoy breathability with the mesh lining and supported padding thanks to the Air Cushion, EVA midsole, and removable EVA insole. Its visual design is inspired by hiking boots, combining mesh with suede to create a brawny look. Choose this walking shoe if you're after a style that will last.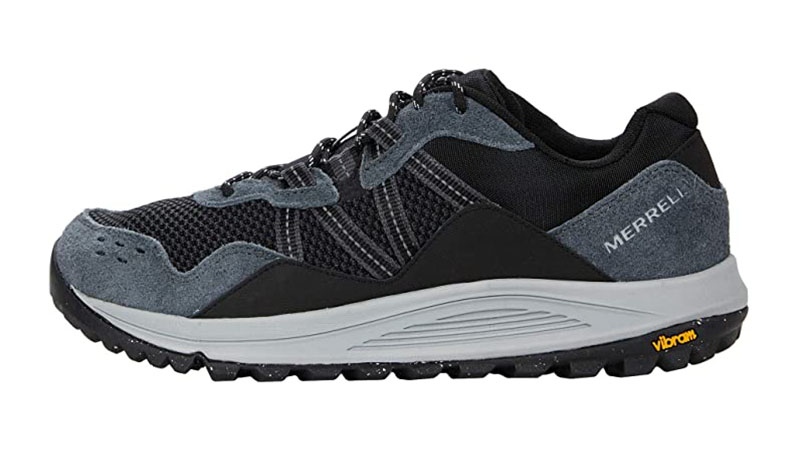 12. Skechers Flex Advantage 2.0 The Happs
Opt for a sleek walking shoe with this design from Skechers. The sporty style works well with a more casual look, such as shorts and tees or athletic wear. Keep your feet comfortable with the Air Cooled Memory Foam insole, shock-absorbing midsole, and flexible rubber outsole. Together they produce excellent support and padding, as well as traction. Lastly, the knit uppers breathe well, and the lace closure ensures a snug fit.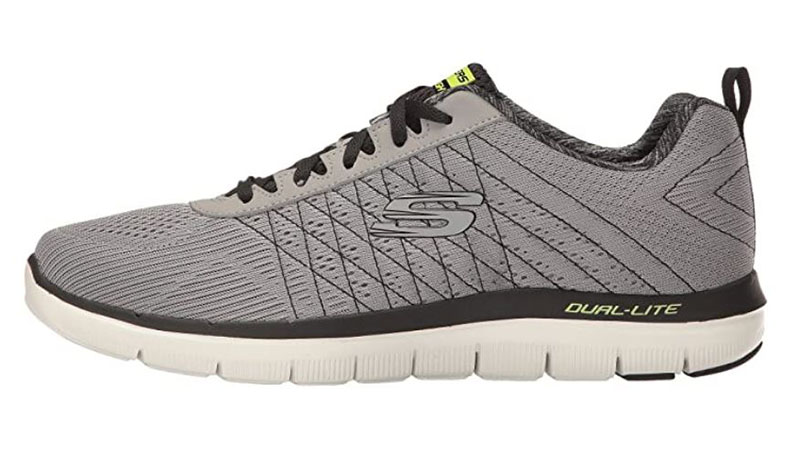 13. Asics Novablast
If you're in the market for a lightweight runner that you can happily wear all day, the Asics Novablast is a brilliant option. It's lightweight and flexible, with a low-profile shape and pleasing detail. The jacquard mesh uppers allow airflow to keep your feet fresh, as does the fabric lining. You'll feel both supported and cushioned with the mid-foot cage, Ortholite® sockliner, and padded tongue and collar. In terms of the outers, the AHAR® Plus outsole is incredibly durable and reinforced in strategic areas. Plus, FLYTEFOAM BLAST™ technology energizes your movement with a "trampoline" effect to propel your forward. Lastly, it comes in a range of vibrant and interesting colors, including icy blue, fresh green, and black with bright accents.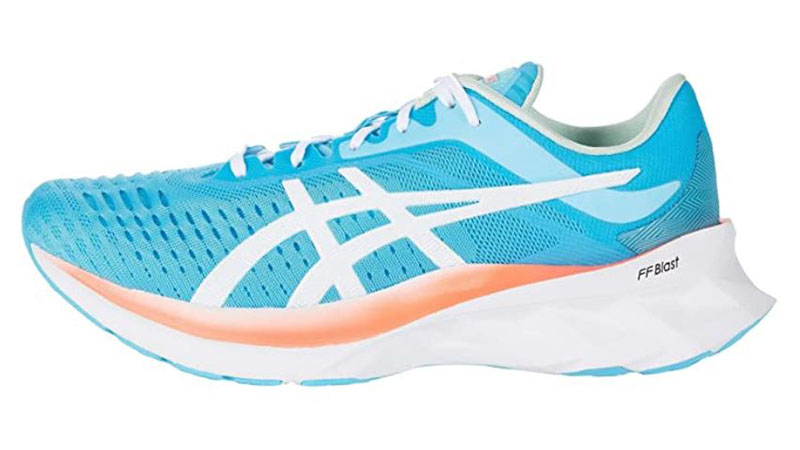 14. Topo Athletic Vibe
Assist your post-workout recovery by donning a pair of Topo Athletic Vibe shoes for the walk home. They slip on easily, and the Ortholite® 3D Wave Sense footbed gently massages the nerves in the base of your foot, promoting a speedier recovery. The roomy toe box also allows plenty of space without feeling oversized, while the mid-section and heel fit securely. Plus, your feet will breathe easy with the antimicrobial mesh uppers, so you don't have to worry about sweat or odors. Lastly, the Vibram® outsole is perfect for good traction and durability.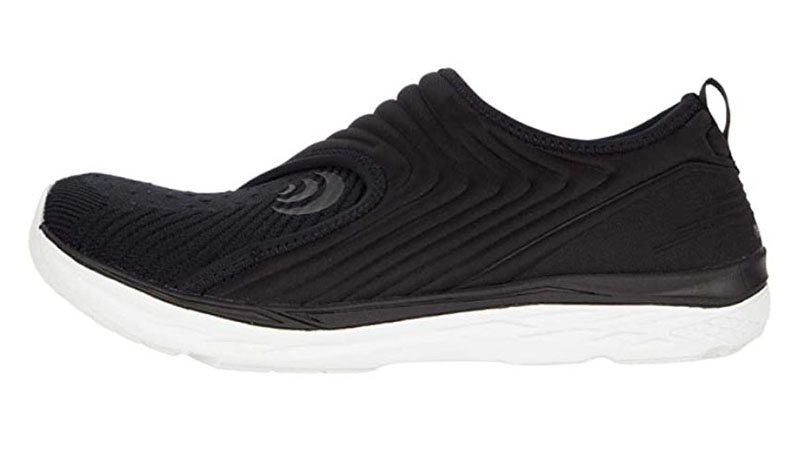 15. Reebok Workout Plus Shoes
Embrace a more traditional street style walking shoe and choose the Reebok Workout Plus. It's a modern shoe with a retro vibe. The leather uppers are durable and stylish, with minimal detail and mid-arch support. The rubber outsole is also hard-wearing, while the EVA foam midsole cushions each step for the ultimate comfortable walk. Wear this sneaker with your favorite shorts, cuffed chinos, and blazer, or even level up your suit game with these as an edgy twist. You can choose from white and black styles, with matching rubber soles, or contrasting tan.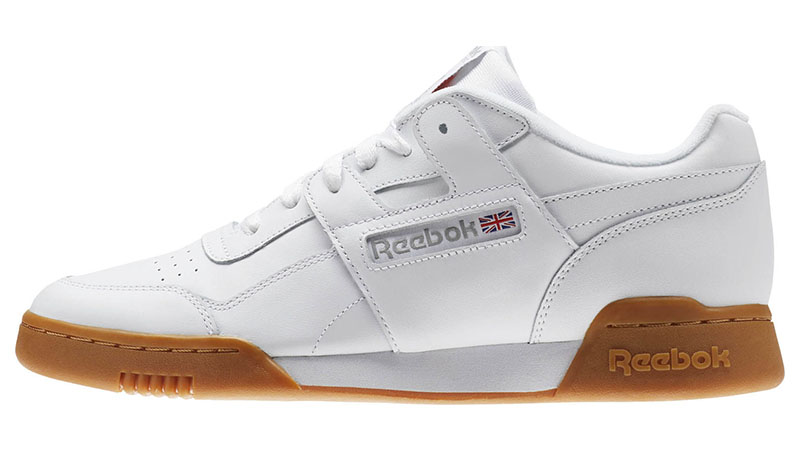 16. Nike Revolution 5
The Nike Revolution 5 is a minimalist walking shoe that's also perfect for running. The low profile allows ankle mobility, and the lightweight knit is breathable yet supportive. You'll feel confident on most surfaces with the grippy rubber sole and soft foam cushioning. It's also an excellent option for men with broader feet, as you can choose a regular or extra wide fit. Select one of the 13 colorways to best suit your look. The colors range from sleek black to fiery red and light grey with bright orange features.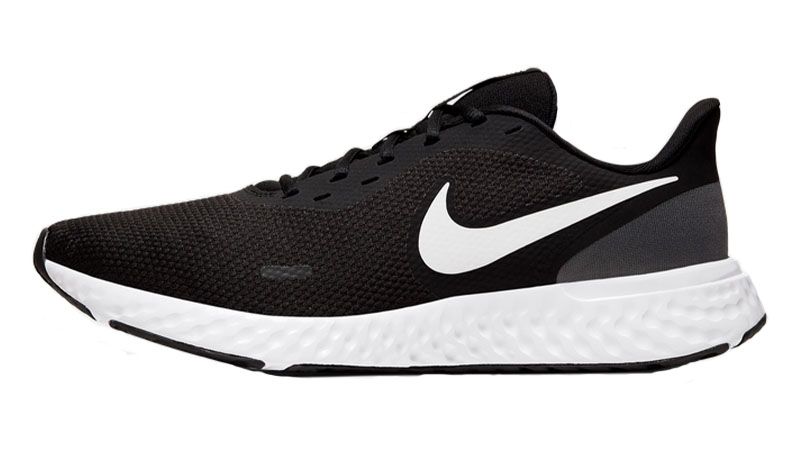 17. Skechers Performance Go Walk Air – Nitro
The Performance Go Walk Air – Nitro is another sleek design from Skechers. It's perfect for walking all day long and looks great with shorts, jeans, and casual trousers. Expert cushioning is a result of the Air-Cooled Goga Mat™ and GOwalk Air™ heel pad. The dual-density outsole is perfect for stability and support so that you can feel confident in your stride. Lastly, the fabric lining and mesh uppers are great for breathability, meaning you feel fresh with every step. When it comes to colors, you can choose from all black, black and green, blue on blue, or blue with red.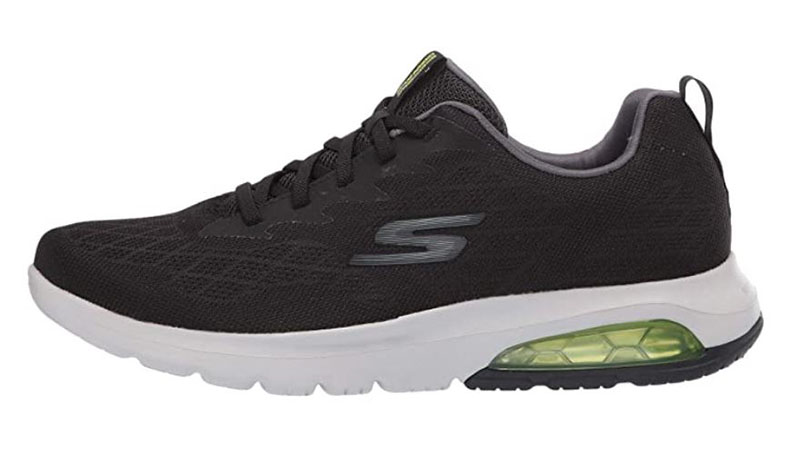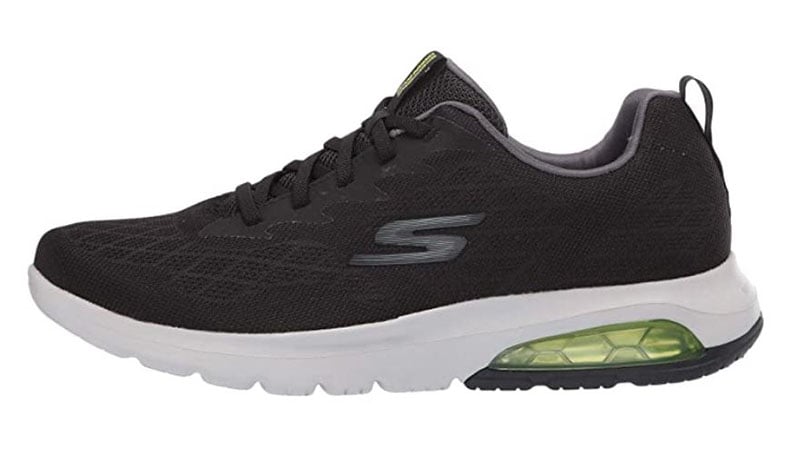 18. Salomon Black & Grey Limited Edition XT-4 ADV Sneakers
Salomon is known for its quality ski equipment, hiking gear, and trail running shoes. However, the brand has recently shifted into more fashion-forward territory with its range of footwear that's perfect for walking. The Black & Grey Limited Edition XT-4 ADV Sneaker is a sleek design that boasts a graphic pattern and low-top profile. A quick-lace closure gets you out the door quicker, and the rubber toe cap keeps your feet protected, especially if you're out on the trails. Additional rubber midsole, outsole, and reinforcements make it incredibly durable. This style is the ideal blend of form and function.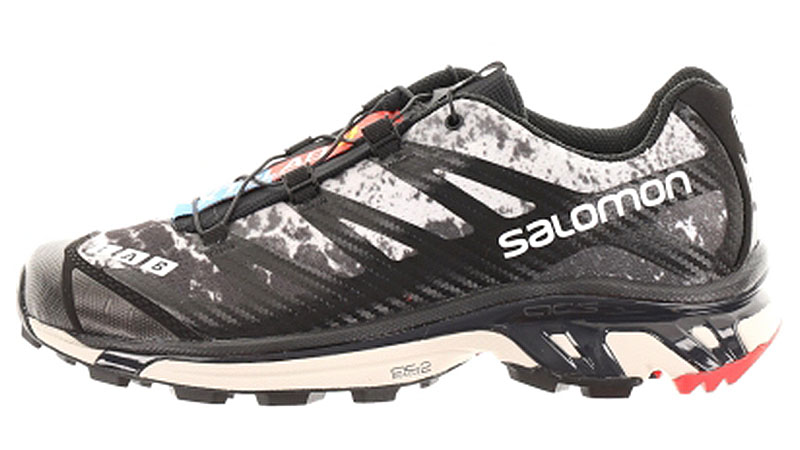 19. Adidas Stan Smith Lace-Up Sneakers
Keep it simple with this classic tennis shoe from Adidas. The vintage styling makes this a great everyday walking shoe that is just as legendary as the tennis star himself, Stan Smith. Leather uppers are durable and stylish, with minimal detailing. Next, the OrthoLite® sockliner delivers performance and comfort, while the rubber sole is hard-wearing and practical. Pair this shoe with any number of outfits. It looks great with a pair of jeans or chinos, it suits shorts and a polo, or with the right mindset, you can pull this style off with your office suit.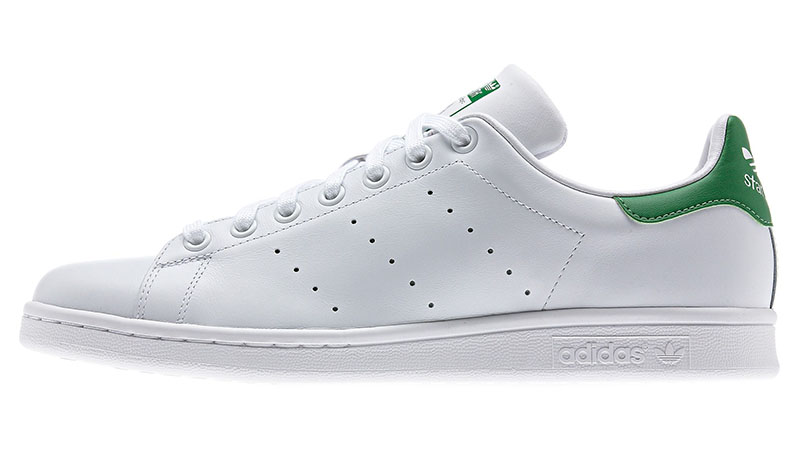 20. Converse One Star Vintage Suede
Channel the ultimate retro vibes with a pair of Converse One Star Vintage Suede walking shoes. The simple yet strong styling of this design is the reason it made the transition from the basketball court to the street quickly and easily. The low profile is great for flexibility as well as style, while the suede finish is durable and looks great. Enjoy the cushioned comfort of the OrthoLite® insole and traction of the rubber outsole. Plus, you can choose from beige, black, and navy, or even create your own custom look. Just remember to waterproof your suede to help prevent dirt and water damage, and keep them looking fresh.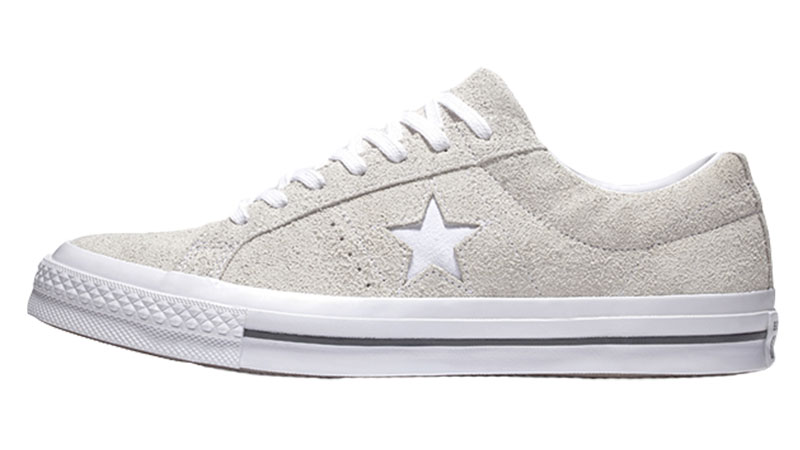 FAQs
What are the best walking shoes for men?
The best walking shoes for men will provide stability, cushioning, and support, as well as durability. Look for styles such as New Balance 990v5, Skechers Performance Go Walk Air – Nitro, or the Altra Footwear Lone Peak 4.5. Just make sure to select the right style of shoe for the right terrain.
What are the most comfortable walking shoes for men?
Supportive and padded styles will be the most comfortable walking shoes for all-day wear. Try styles such as Brooks Addiction Walker 2, Skechers Men's Energy Afterburn Lace-Up Sneaker, or the Saucony Grid Omni Walker. Additionally, the Topo Athletic Vibe massages your feet as you walk, which can feel great.
What running shoes are good for walking?
Running shoes have a lot of technology in them that support your gait, provide stability, improve performance, and cushion each stride. As such, they can also be great for walking. Choose styles like the Asics Novablast, Adidas Ultraboost 20, or Nike React Infinity Run Flyknit By You. Each of these designs is lightweight and provides all the best benefits of a running shoe.
What are the best tennis shoes for walking?
Tennis shoes are best suited for casual walking, as they don't always have the same technology as shoes specifically designed for exercise. However, they can look a lot more stylish with certain outfits than the more athletic aesthetic. The Adidas Stan Smith Lace-Up Sneakers and Reebok Workout Plus Shoes are two great options. The Converse One Star Vintage Suede, while technically evolved from a basketball shoe, will also fit the bill for a more street-styled men's walking shoe.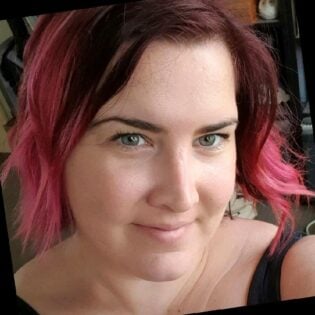 Alexandra Linde is an experienced writer holding a bachelor's degree in Journalism. She is the owner of Alexandra McKiterick Creative and has expertise in travel, fashion, fitness and lifestyle. Alex has previously written for Flightcenter, Travello, and Backpacker Deals.
SUBSCRIBE TO OUR NEWSLETTER
Subscribe to our mailing list and get interesting stuff and updates to your email inbox.