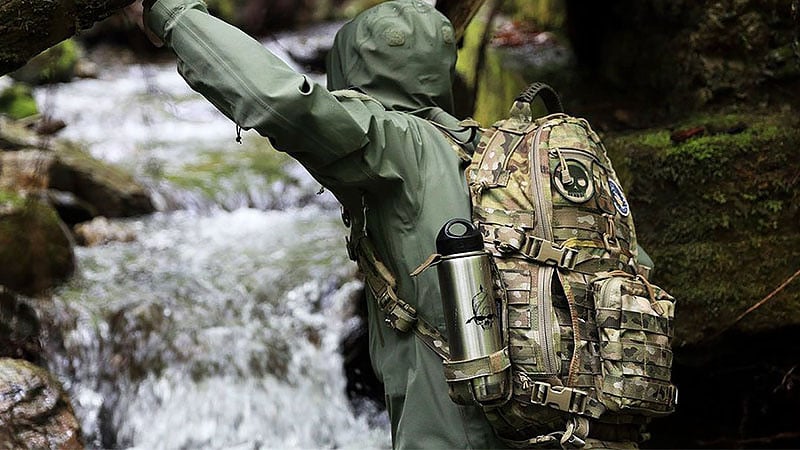 Outdoor adventures require more than just a regular backpack. That's where tactical bags come in. They're hardwearing, made of quality components, and come equipped with all the storage space and facilities you need for up to three days off the grid. Inspired by the military, there's a range of designs and styles to suits all activities, from hiking and camping, to hunting, fishing, and survival expeditions. Next time you're looking for a new kit, check out these best tactical backpacks for the active man.
1. Tacticon 24BattlePack Tactical Backpack
Pack everything you need for one to three days of adventure in this tactical backpack from Tacticon. A combat veteran owns the US-based company, so all their products come soldier-approved. The pack carries up to 100 pounds of gear, making it perfect for heading out on a hiking, fishing, climbing, or hunting trip. Features include waterproof lining, oversized zippers, double stitching for durability, and padded, breathable mesh for comfort. Plus, you can stay hydrated with water bladder compatibility and drink tube access. There's also an insulated compartment for keeping cold supplies chilled. Rounding out the features are a universal handgun holder, padded 17-inch laptop compartment, and polymer D-rings for convenient storage.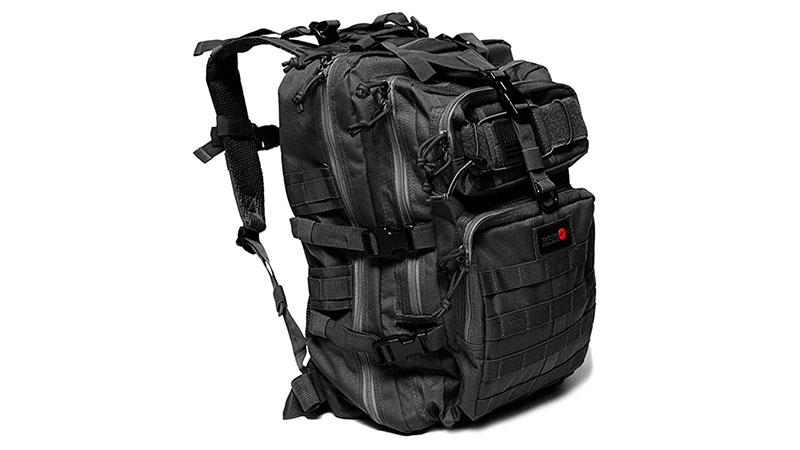 2. Reebow Gear Military Tactical Backpack
Survive the toughest conditions with this tactical backpack from Reebow Gear. Durable, high-density fabric combines with water-resistant materials to keep your belongings safe and dry out in the field. Heavy-duty zippers, double-stitching, and a compression system ensure your bag will last. Meanwhile, the breathable, padded shoulder straps, and back panel ensure carrying the load is easy. The multiple compartments help keep things organized and separate, plus the bag utilizes the molle webbing system for attaching additional gear. It's also compatible with different brands of water bladders so you can stay hydrated. This bag is perfect for up to three days off the grid camping, fishing, hunting, or trekking, plus it works well for daily use.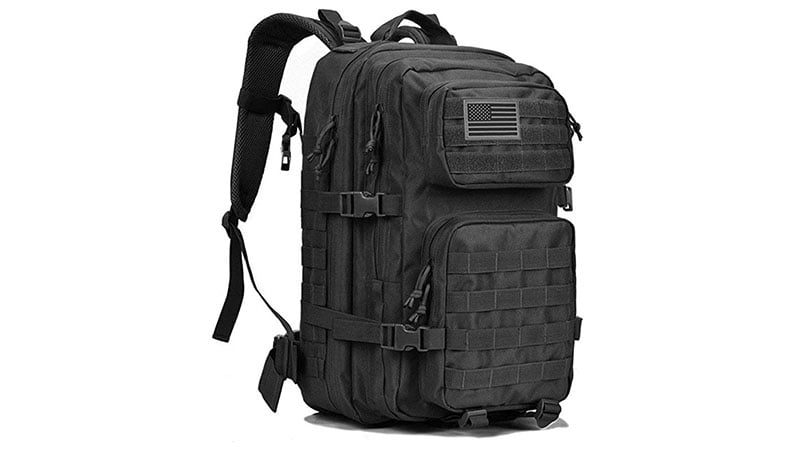 3. Hannibal Tactical 36L Molle Assault Pack
Hannibal Tatical's 36-liter Molle Assult Pack is perfect for heading into the wild. The four compartments come decked out with internal pockets, elastic straps, and d-rings to keep your gear organized and secure. Double-zip access makes getting to your equipment quick and straightforward, and the largest compartment opens fully like a suitcase. The top Y-strap and side straps can also be used to secure a jacket, sleeping bag, or tent. Plus, if the built-in storage isn't sufficient, use the molle webbing to attach extra pouches and equipment. Lastly, the padded, adjustable shoulder straps, combined with a waist belt, ensure that wearing the bag is comfortable and safe.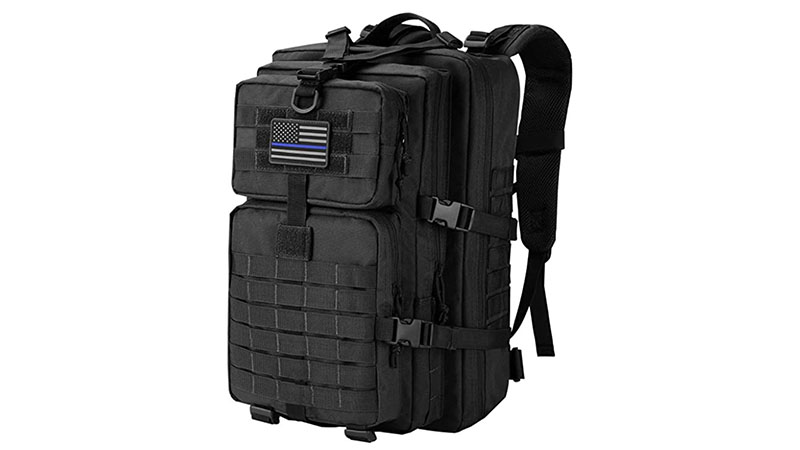 4. GZ XINXING 43L Large 3-Day Molle Assault Pack
Secure your gear safely and securely for any adventure. This 34-liter tactical backpack comes with reinforced stitching, a load compression system, molle webbing, and a waterproof rain cover. Fit your laptop and tablet in the two padded pockets, then store smaller items in the front compartments. There is also room for a 2.5-liter hydration bladder in the specially designed pocket. The back panel and shoulder straps are vented and padded, ensuring you stay cool and comfortable, while the chest and waist straps provide extra support, yet are also removable. Plus, you'll get bonus extras, including six D-rings, a USA flag patch, a hydration clip tube, and a water bottle pouch. Lastly, you can also choose from a range of colors. There's tan, black multi-cam, black, green, grey, and woodland, so you can blend into the surroundings wherever you are.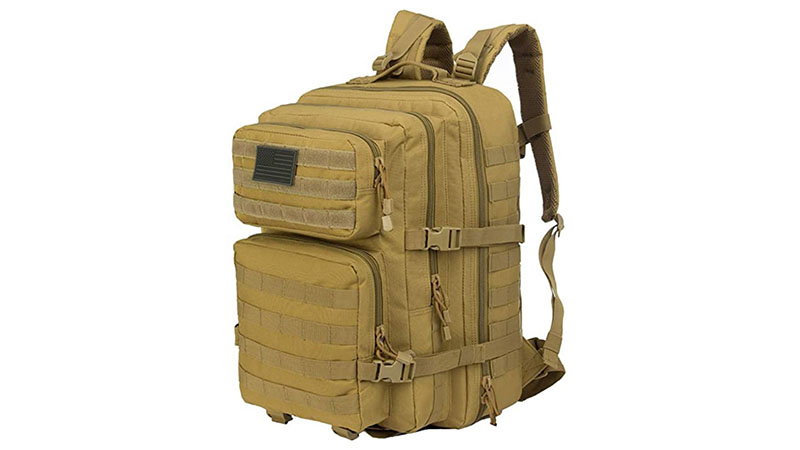 5. Monoki Tactical Sling Backpack
Choose an alternative fit to a traditional assault bag with the Monoki Tactical Sling Backpack. It's a stylish bag that's perfect for daily use, camping, hiking, or the gun range. It features a single padded strap that crosses your chest, as well as a breathable mesh rear panel. Four compartments make storage simple, with a padded case perfect for fragile items. Bottom-fixed compression straps allow you to adjust and tighten the bag, keeping your contents secure. The side and front panels also feature molle webbing for adding additional pouches and gear. You'll also get to enjoy the added inclusions of a water bottle pouch, paracord keychain, USA flag patch, and four D-rings.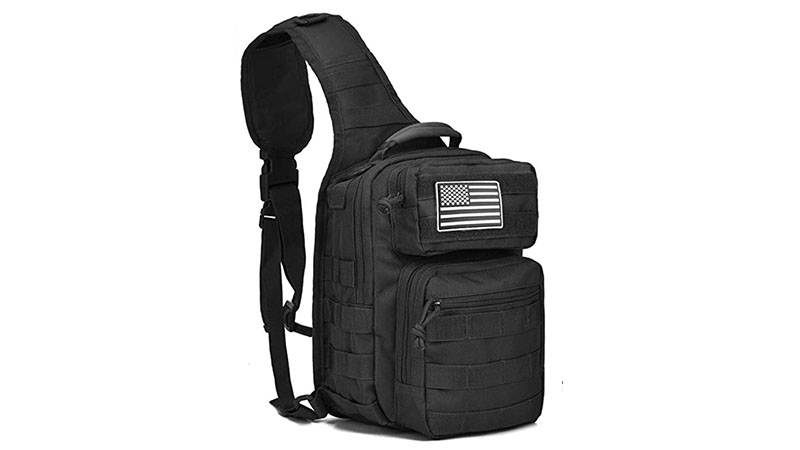 6. Oakley Men's Kitchen Sink Backpack
This heavy-duty backpack from Oakley features versatile storage options and serious hardware. Some of the many assets include a hard media-player compartment, a 17-inch padded laptop case, an accessory organization panel, and a separate shoe compartment at the bag's base. The storage capacity is 34 liters, so can you can pack everything except the kitchen sink. When it comes to comfort, the adjustable shoulder straps are padded with mesh lining for breathability, as is the back panel. You can add extra support with the chest and waist straps. Finally, the materials used in construction are hard-wearing, with an abrasion-resistant base so that you can place your pack on the ground without worries.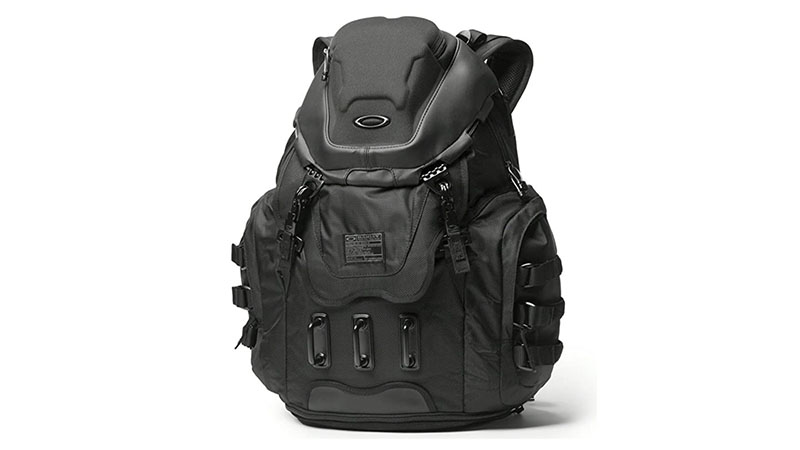 7. Samurai Tactical Wakizashi Tactical Backpack
The Wakizashi Tactical Backpack from Samurai Tactical is a compact yet efficient choice for an adventure bag. It has multiple compartments, including a central section, protective sleeve, two front pockets, and extra mesh-zipped pockets for storing small items. The sides and front have molle webbing for additional storage, while the side straps also allow for compression. Keep water in the bottle holder, or the padded compartment that fits a hydration bladder. Plus, you'll stay comfy as you trek with the padded back and straps, with extra supports across the chest. This army-style backpack is perfect for everyday use or camping, hiking, and traveling adventures.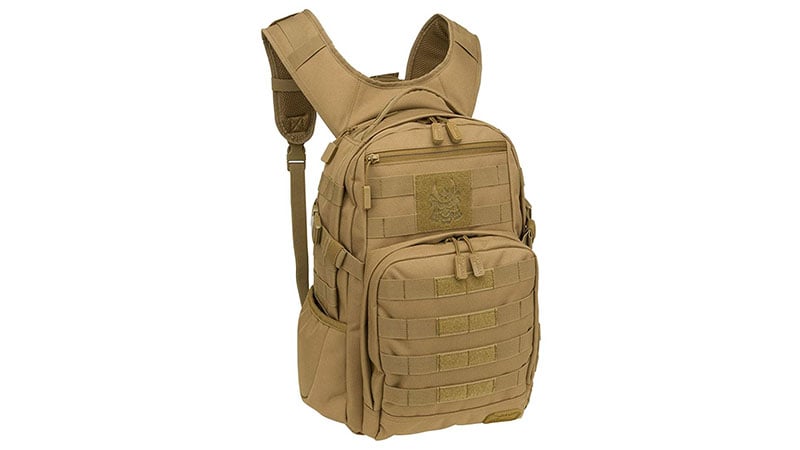 8. Mardingtop 28L Tactical Backpack
If you're looking for a more slimline option for a day pack, then this tactical backpack from Mardingtop is an excellent choice. It features four compartments and a side pocket, plus molle webbing. The main compartment has a water bladder compatible section, room for a laptop, and mesh inner pockets. The top and front sections are great for storing smaller items, a first aid kit, or even a lightweight jacket. Lastly, the bottom pocket is perfect for tools like a flashlight. All sections are easily accessed with YKK zippers and are made from water-resistant polyester. Enjoy extra support thanks to a chest and waist strap. Best of all, it comes in a choice of colors so you can match whatever activity you have planned. There's khaki, army green, black, black cam, multi-cam, and woodland.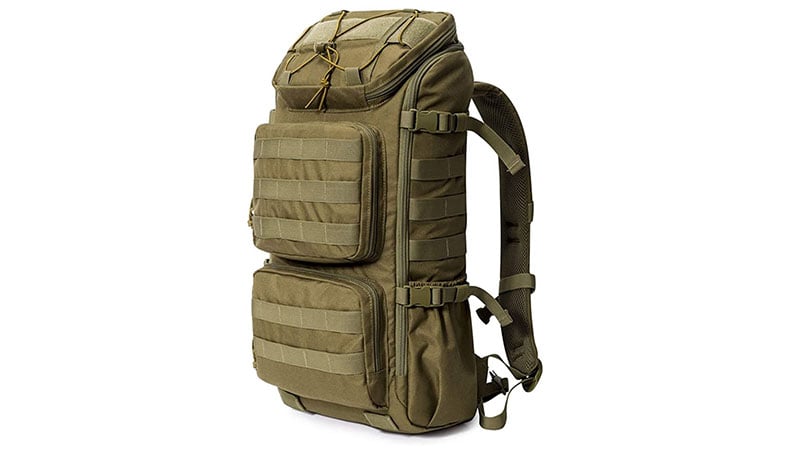 9. Osszefut Military Tactical Backpack
Pack all you need, thanks to the enormous capacity of this tactical backpack from Osszefut. Its 80-liter storage makes it an ideal choice for multi-day camping, hiking, hunting, or fishing trips. The main compartment is large enough to fit a sleeping bag and hammock and features a laptop section. The side pockets are then perfect for a water bottle or umbrella, while the top and front compartments are well suited for smaller items and tools. Additionally, water-resistant 600D oxford fabric ensures the elements don't damage your gear. The padded straps and back also protect your shoulders from injury and pain.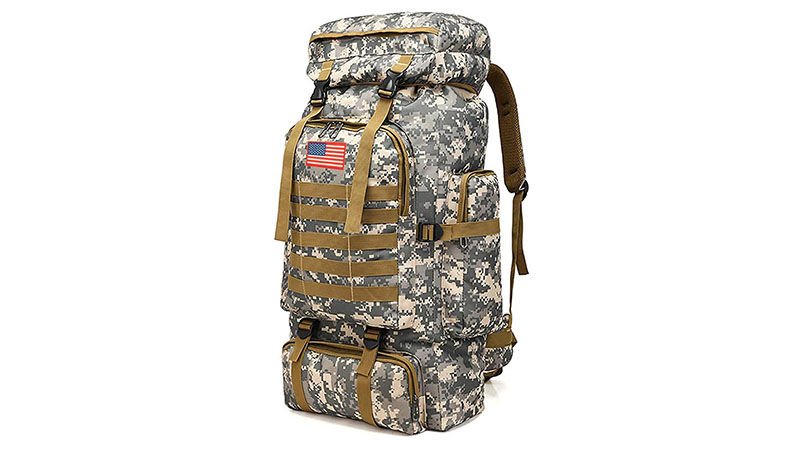 10. Blisswill Fishing Backpack
Serious anglers will appreciate this tactical fishing backpack from Blisswill. Its versatile design and removable straps allow it to be carried as a backpack, cross-body bag, or handbag, depending on your needs. The high-density nylon and double zippers ensure the bag is durable, water-resistant, and will withstand extended use. Internal and external storage space allows you to take everything you need, from a tablet and water bottle to lures, pliers, and a rod. Plus, the buckles are reinforced, and the unique Y-shaped strapping distributes the weight evenly.
11. Pans Backpack for Men
Opt for more classic backpack styling, with all the amenities of a tactical bag. Pans bring the best of both worlds together with this design. Four separate compartments allow you to pack everything you need for a three-day adventure, including a hydration bladder, laptop, and tools. There's also external storage, including a mesh water bottle pocket, carabiner, molle webbing, and a bundle band for attaching a jacket. A side zip allows you to expand the bag, increasing the capacity up to 64-liters. The shoulder straps are padded and backed-up with a chest strap and removable waist strap for extra help carrying the weight. Finally, you can also choose from a range of colors to suit work, hiking, camping, survival expeditions, or hunting.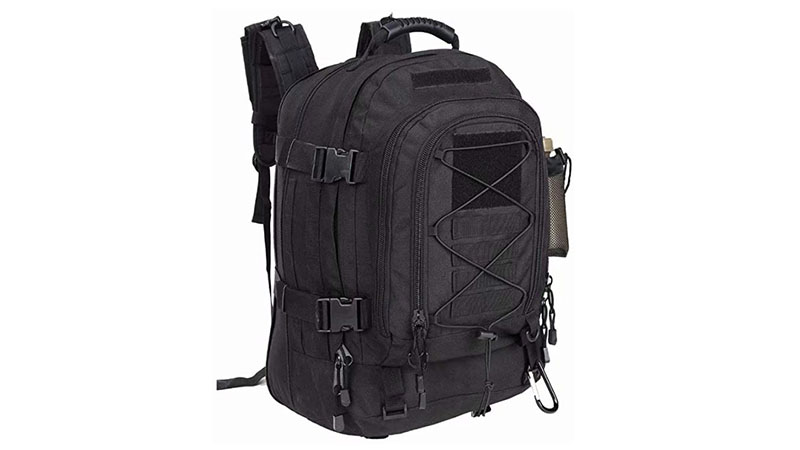 12. 5.11 Tactical Military Backpack
This backpack comes from 5.11, a company founded by pioneering rock climber Royal Robbins. As such, it's packed with practicality and durability, perfect for climbing as well as other activities like hiking, camping, and survival training. The fabric is durable 1050D nylon, which is also water-resistant. There are 16 separate storage compartments to keep all your gear safe, secure, and easy to find. These storage sections also include a roomy main pocket, as well as space for a hydration bladder. Plus, the backpack is covered in molle webbing for all your additional needs. Stay comfortable with contoured yoke shoulder straps and adjustable chest support. Lastly, the pull tabs are glove-friendly, and there are two compression straps to keep everything fixed in place.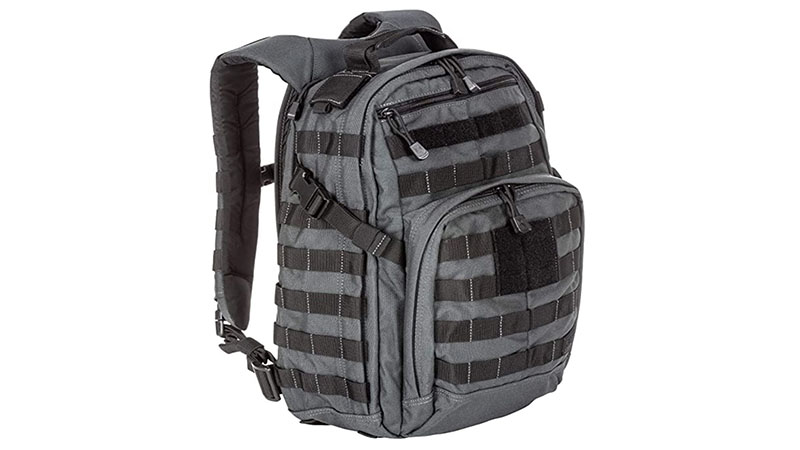 13. ArmyCamo Small Military Tactical Backpack
Enjoy plenty of room for all your gear in this compact yet well designed tactical backpack. The straps adjust at both the top and bottom, making it suitable for most heights. Meanwhile, the large compartments hold three days worth of equipment, including a laptop, water bladder, shoes, tools, and knick-knacks. It's rain and water-resistant thanks to 600D polyester construction, so it's great for getting out into the wild, no matter the weather. Molle webbing, heavy-duty zippers, compression straps, cushioned back panel, and chest and waist straps add to the design's utility. Lastly, choose from eight colors, including different camouflage shades, plain black, grey, or even a bright red.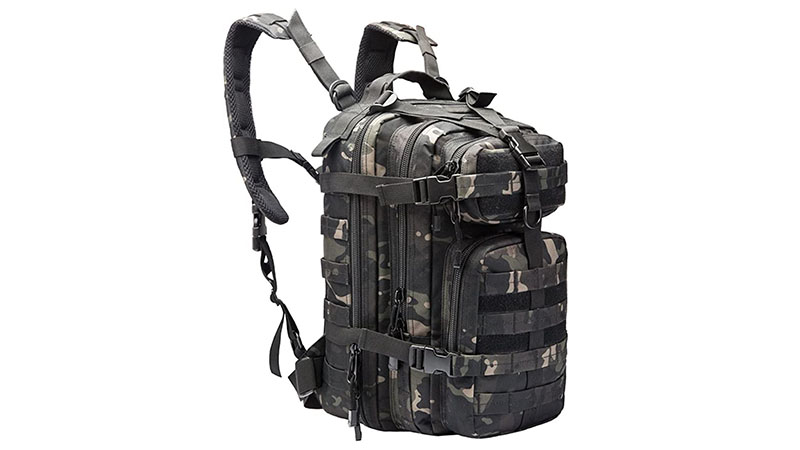 14. DIGBUG Military Tactical Backpack
The sleek design of this tactical backpack will have you well prepared and looking good. It's also incredibly durable, thanks to the 1000D polyester fabric, double stitching, heavy-duty zips, and utility cord pulls. Plus, it comes with a rain cover so you can keep everything dry in any weather. The side pockets hold water bottles, a camera tripod, or an umbrella, while the back compartment fits a laptop or hydration bladder. You'll stay comfortable with the padded back panel and ventilated mesh on the shoulder straps, which also features cross-body support at the chest and waist. Whether you're heading to school, work, the range, or the woods, you'll be set and ready to go with this backpack.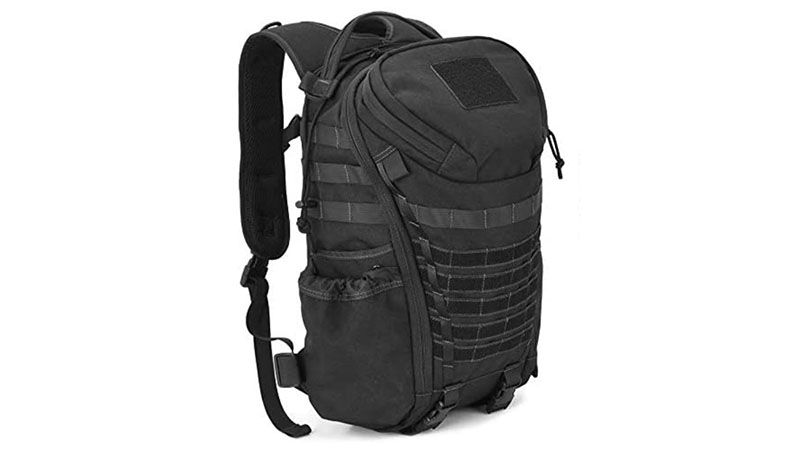 15. Crazy Ants Military Tactical Backpack
This tactical backpack from Crazy Ants will keep you adventuring for longer. The 37-liter capacity makes it perfect for hiking, camping, and even everyday use. It features waterproof and durable 900D polyester fabric, as well as padded and contoured shoulder straps. Meanwhile, the storage compartments include room for a laptop or hydration bladder, separate front pockets for smaller items, and plenty of molle webbing for extra kit. Plus, you'll also receive two additional side packs that easily strap on with adjustable lines, making it ample storage for a raincoat, water bottle, or jacket.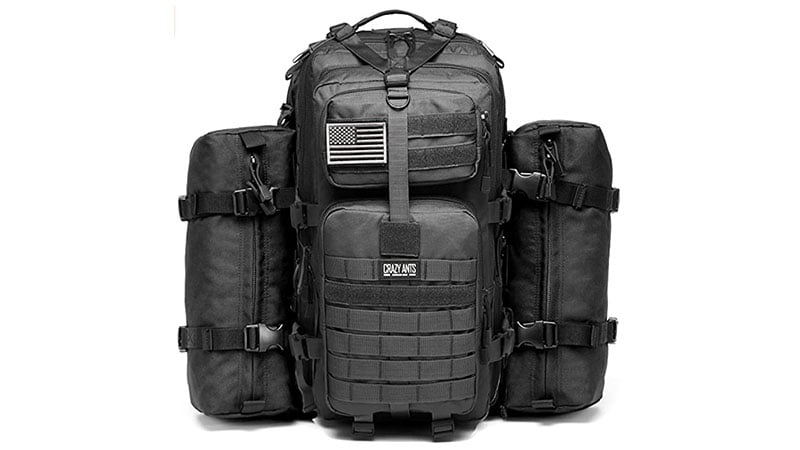 FAQs
What makes a backpack tactical?
Tactical backpacks are made from more durable fabric and hardware than regular bags and are designed to be comfortable for long durations. As such, they're better suited to outdoor and extended activities like camping, hiking, hunting, and survival training. Additionally, they often have other features such as extra pockets and modular storage, specially designed hydration bladders, and perhaps, most iconically, molle webbing to add additional gear. 
Who makes the best tactical backpack?
The best tactical backpacks come from brands like Tacticon, Reebow Gear, Hannibal Tactical, and 5.11. These companies balance quality and cost, producing excellent bags for a reasonable price. 
What is the best military backpack?
The best military backpacks come from brands like Mystery Ranch, Matbock, and 5.11. The ALICE pack is another classic armed forces backpack that can be sourced from military surplus stores. 
The backpacks used by the Navy Seals vary depending on the mission and tactical requirements. However, over the years, they have used Matbock Mr. Dry 2.0 and styles from Mystery Ranch.
What should be in a tactical backpack?
A tactical backpack should contain different storage compartments, water-resistant construction, good shoulder pads, and molle webbing. By having this, you'll be able to pack it with all your essentials. These include a first-aid kit, calorie-dense food, water or water filters, basic toiletries, toilet paper, and tools such as a leatherman, cords, flint lighter, and navigation equipment. Other items can include shelter, extra clothing, socks, a torch or headlamp, and communication equipment. 
What does 5.11 mean?
This number is a recreational climbing difficulty rating from the Yosemite Decimal System, developed by climber Royal Robbins. There are five basic levels of difficulty in climbing, ranging from trail walking to Mission Impossible-style climbs. Within that, there are sub-levels, with 5.10 being the most difficult. As such, a 5.11 is considered basically impossible, yet still aspirational. 5.11 is also the name of Royal Robbins' clothing company, which started supplying climbing pants but has moved into a range of tactical gear. 
What goes in a 3-day assault pack?
A three-day assault bag should contain supplies that will keep you going for 72 hours off-grid. This should include emergency shelter, navigation equipment, tools such as a leatherman, torch, extra water or filters, cords, a lighter or flint, calorie-dense food, a first-aid kit, basic toiletries including toilet paper, and extra clothing including socks. Of course, you'd also want additional equipment specific to your activity. As such, the military would need extra ammunition and communication devices, climbers would require climbing apparatus, and hunters would need a weapon and ammunition. 
SUBSCRIBE TO OUR NEWSLETTER
Subscribe to our mailing list and get interesting stuff and updates to your email inbox.