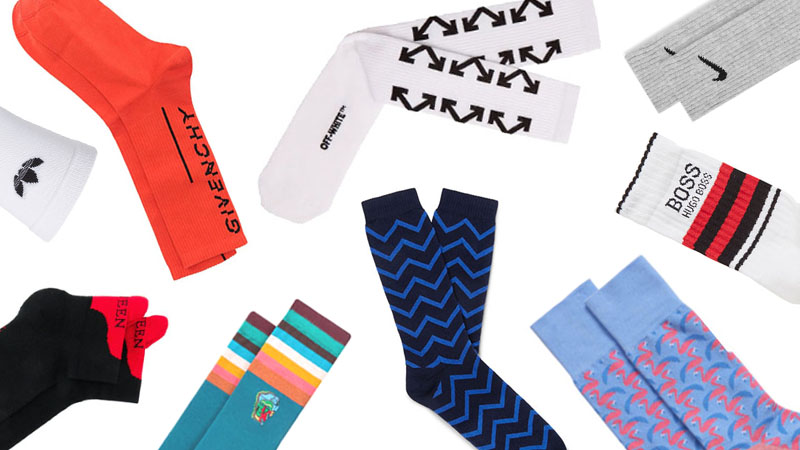 When it comes to men's fashion choices, socks are either the very first or very last clothing item that comes to mind. Some men enjoy wearing unique and patterned socks that can make a classic suit stand out from the crowd, while others wear plain socks to work or gym and enjoy the simple and functional designs. Whatever the occasion, we have curated a list of the best sock brands for men.
1. Nike
Simplicity, bold, and functional designs are some of the characteristics of Nike socks. As a world-wide recognized sports brand, Nike can innovate and provide sustainability through both its products and its mission statement. For all of your recreational needs, Nike socks will have you sorted, and you will remain on-trend as well.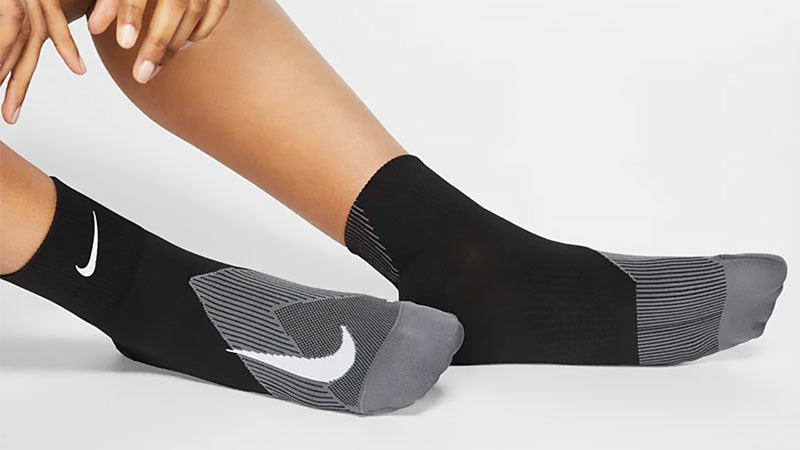 2. Adidas
Adidas is a sporting fashion brand that has been providing its services across the world for over 70 years. The Adidas logo is such a recognizable symbol, and it looks great on clothing, accessories, and socks. Find the classic three stripes on your socks and feel the sudden boost of confidence when taking part in sports or casual activities.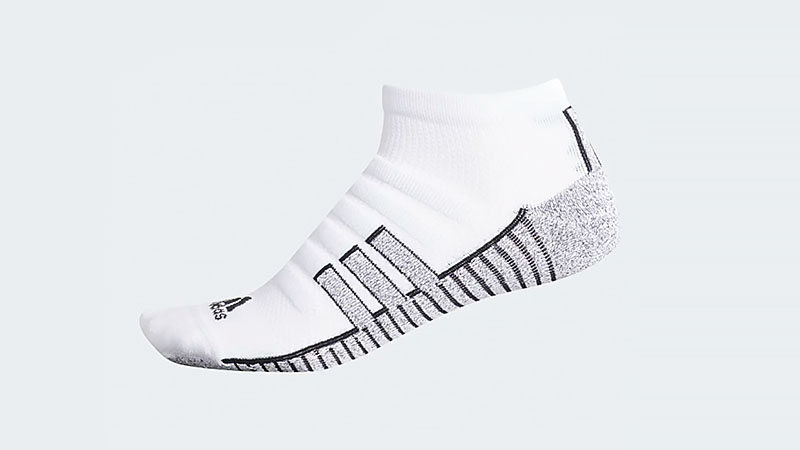 3. Missoni
Missoni provides the ultimate sock collection for any event or occasion. Every man can find their perfect choice of cotton-blend or knit-blend socks with Missoni's patterned and colorful selections. Vibrant colors and unique shapes are the essence of Missoni's sock designs, which is why many men can find a perfect pair.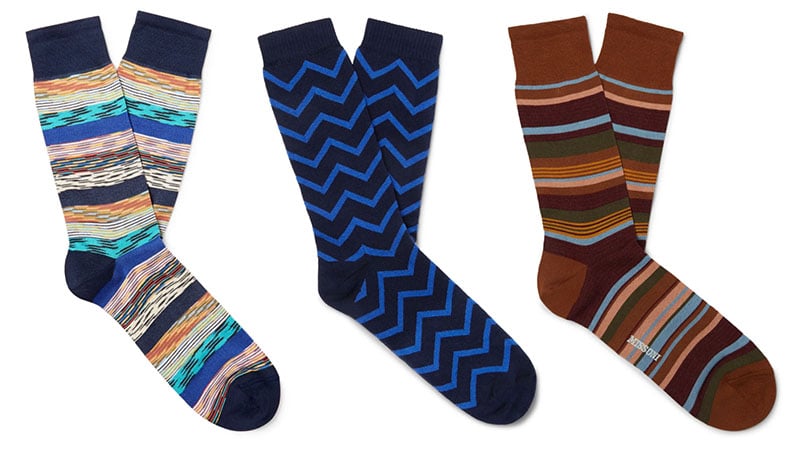 4. Happy Socks
As the brand name suggests, Happy Socks provides the perfect collection of bold colored socks that are sure to brighten up anyone's day. Happy Socks create their designs with the motive of being able to express yourself and your personality. You can make a statement with your new pair of vibrant, bold, and uniquely patterned socks that will encourage others to feel happy too.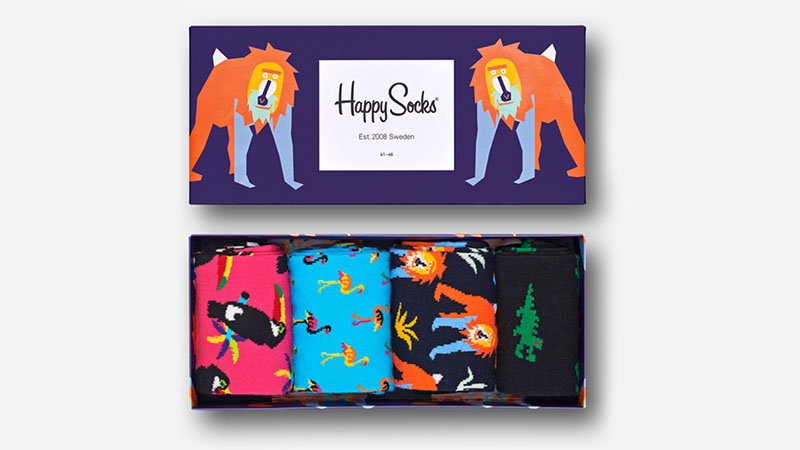 5. Givenchy
If you're after sleek, classy, and simple socks, then Givenchy is the brand for you. This high-end label offers comfort and class across all the products. Givenchy channels an elegant and sophisticated vibe and provides a selection of socks for different occasions.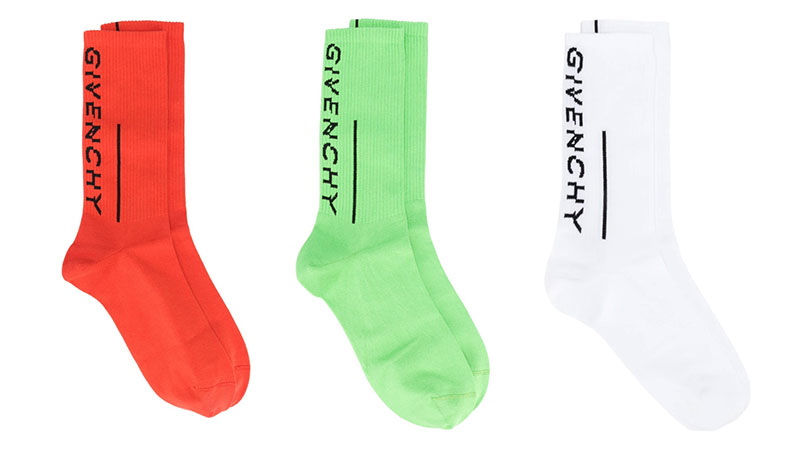 6. Gucci
If you are after trendy and statement-making designs, Gucci is for you. Their unique patterns are striking and unforgettable. Quality craftsmanship paired with innovative and bold ideas is Gucci's identity, which is reflected in their sock designs.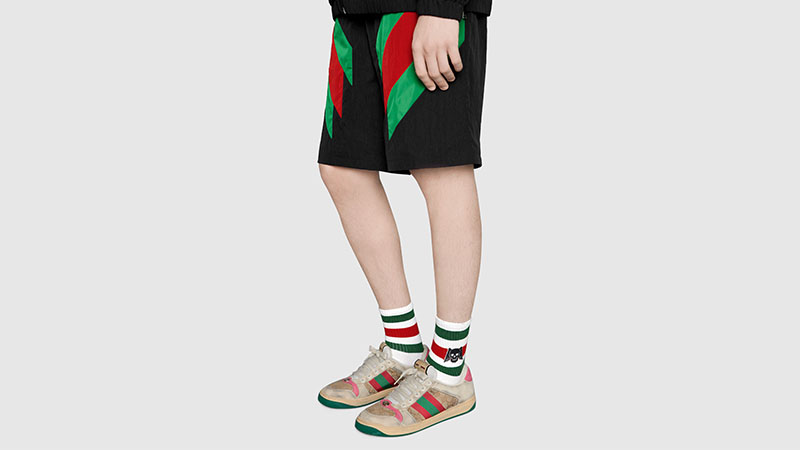 7. Alexander McQueen
If you enjoy casual and cool sock designs, then Alexander McQueen is the perfect brand for you. With a forward-looking approach, Alexander McQueen's latest sock collection is trendy, stylish, and suitable for everyday activities.
8. Calvin Klein
If you are after sleek comfort and trendy sock designs, then look no further than Calvin Klein. The Calvin Klein brand thrives on bold, seductive, and minimal aesthetics, which have been the base foundation since 1968 when the brand was established. Express your individuality through Calvin Klein socks with many unique or simple designs on offer.

9. Hugo Boss
For those of you who enjoy a brand with a great heritage and unique designs, Hugo Boss is the one for you. Whether you're an old soul or genuinely prefer much more vibrant yet casual designs, Hugo Boss will have the right selection for you.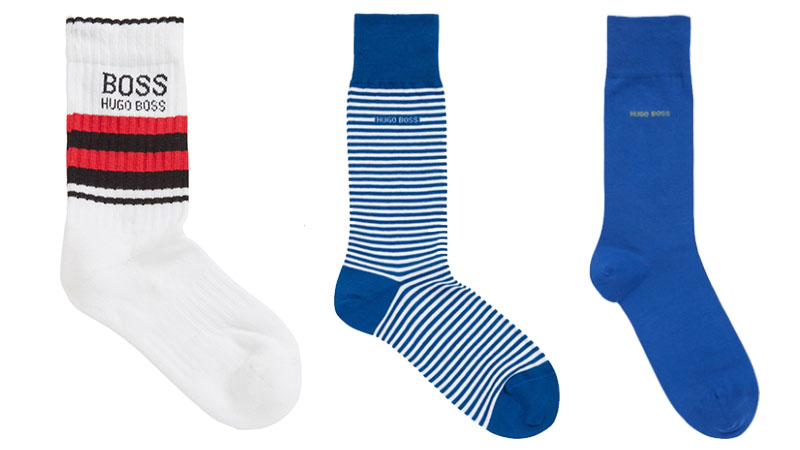 10. Off-White
The Off-White brand channels street-wear and couture all in one. Offering casual designs that have an extra touch of out-of-the-ordinary magic, you can be assured that this brand will only offer the very best. Striking graphic prints are displayed throughout their clothing items and can be seen on their collection of socks. Step out of your comfort zone and try some vibrant, unique, and abstract pairs of socks with the Off-White brand.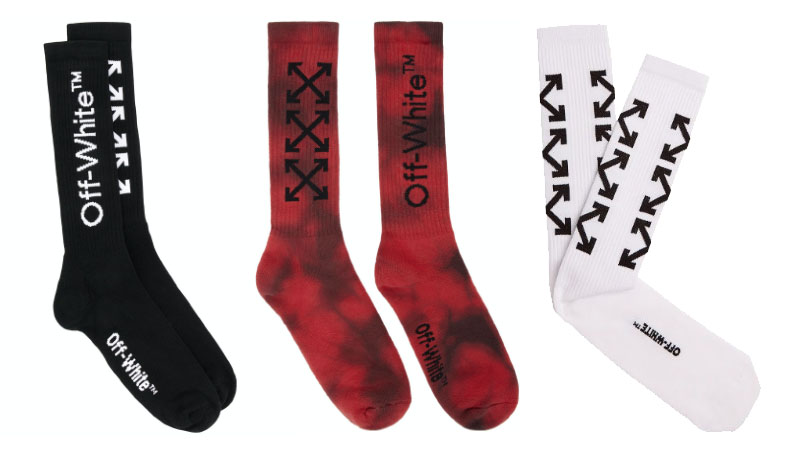 11. Thom Browne
Thom Browne is an American-based fashion company that has inspired men's fashion for many years. Located in the heart of New York City, the brand captures the lifestyle of those around them, which is incorporated into the sock designs. Ranging from stripes, symbols, and basic logo socks, there is a selection of items that can suit everyone's needs. Find comfort and effortless statement pieces with Thom Browne's sock collection.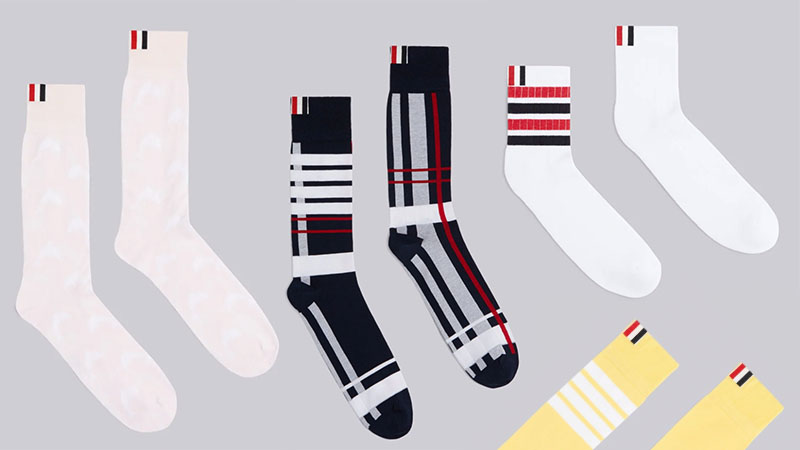 12. Ted Baker
Being a fashion brand located in London, you can be assured that Ted Baker knows how to spice up your sock drawer and add a flash of color and texture to any outfit you pull together. Let your socks be the first thing people notice as they witness you expressing yourself through the brand's bright and unique patterns. If you enjoy adding an unusual touch to your outfit, then these socks are perfect for you as there is a wide range of whacky designs on offer.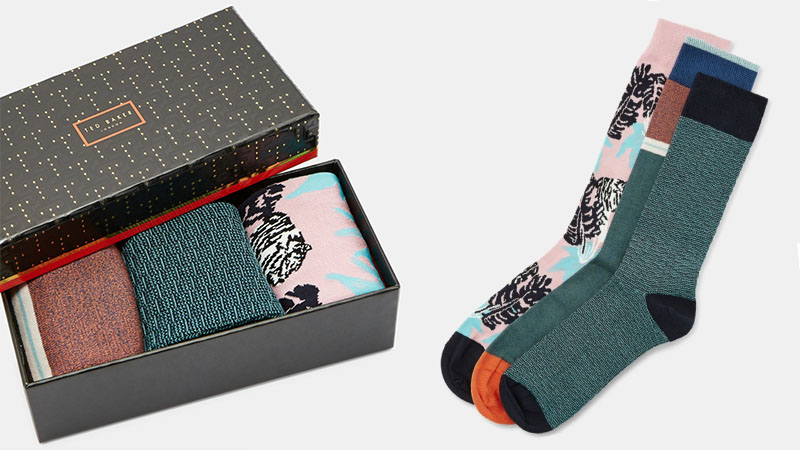 13. Paul Smith
Paul Smith is a UK-based fashion company which had its very own retail store first open up in London in 1979. Providing men with a range of fashionable clothing and accessories, you can be sure to find a stylish pair of socks to boost any outfit.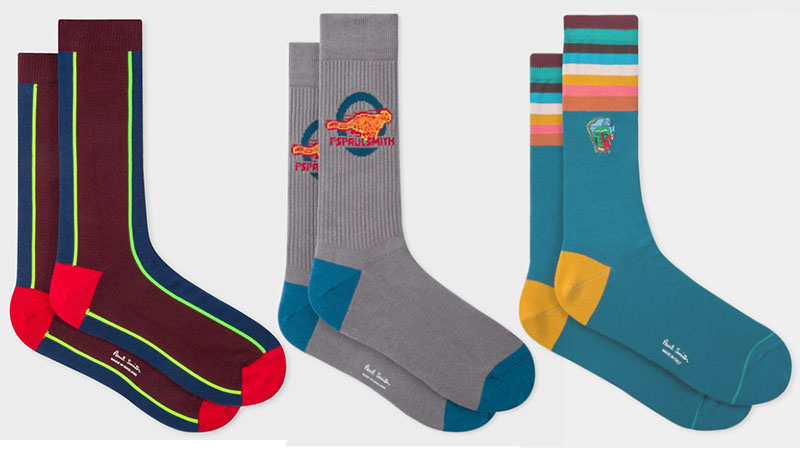 14. Bugatchi
Bugatchi is an American-based men's fashion company that strives to create classic and timeless pieces for any occasion. Whether it be work, casual activities, or downtime in bed, Bugatchi has the perfect pair of socks for you. Keeping innovation, elegance, and resilience at the core of their designs, the brand provides a great variety of options for every man.
16. Bonobos
Bonobos is a modern men's fashion brand that provides innovation and class. Their range of socks offers a selection for work or special occasions and a variety of fun and cool designs.
FAQs
What is the best sock brand?
The best sock brands combine comfort with quality and style. For guys who want to make a designer fashion statement, it's hard to go past Missoni's iconic patterns. Thom Browne offers a classic and luxurious option for business socks, while streetwear fans should consider Off-White or Gucci. In the gym, Nike and Adidas lead the way, while Swedish brand Happy Socks are affordable and full of personality. 
What are good quality socks?
Good quality socks keep your feet warm and dry, hold their shape over time – and after washing – and don't tear or wear through at the heel or toe seam. The material is the most important factor in determining a sock's quality. Depending on your needs – whether it be the gym or a black-tie event – look for socks that are blended with merino wool, bamboo, cashmere, and silk, as well as high-performance synthetic fibres like acrylic and nylon.
What brand of socks last the longest?
There are several sock brands which offer a lifetime replacement guarantee, including Darn Tough, Bombas, Feetures, and Ice Breaker. Their high-density knit and long merino wool fibres make these socks especially durable and long-lasting. Darn Tough and Ice Breaker are designed for work wear and outdoor activities like hiking, hunting, and skiing. Meanwhile, Feetures socks are ideal for running and other exercise, while Bombas offers a wide range of fashion socks. 
What socks compare to Bombas?
While Darn Tough doesn't offer the same range of designs as Bombas, both are equally durable and both offer lifetime replacement guarantees for their full range. Happy Socks rivals Bombas for fun and fresh designs, but they are not as durable.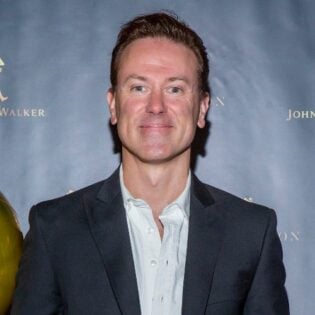 Roger Grinstead is a senior apparel designer for X2U with over 25 years of expertise in the fashion industry. He has expertise in menswear and womenswear trends and product development. When Roger is not designing the latest fashion garments, he enjoys writing about men's fashion, hairstyles, and grooming.
SUBSCRIBE TO OUR NEWSLETTER
Subscribe to our mailing list and get interesting stuff and updates to your email inbox.