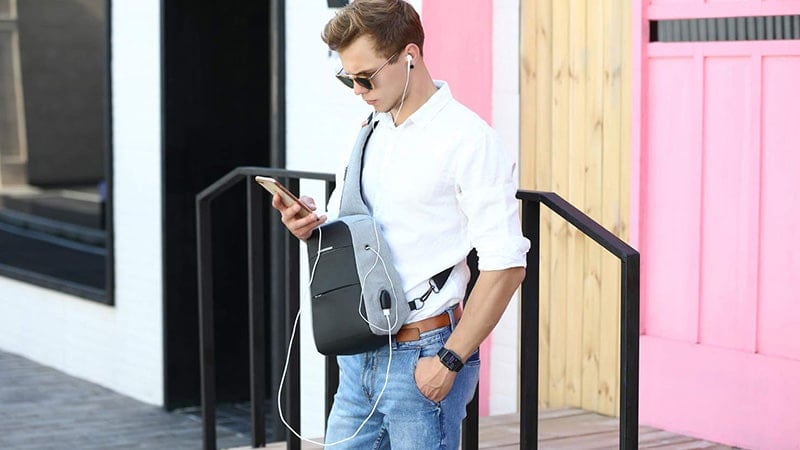 Sling bags are a great alternative to backpacks or waist bags, making it easy to transport your essentials and gear. They're a versatile style that you can often wear more than one way. Many also boast various practical features like USB ports, waterproof material, anti-theft zips, and RFID protection. You'll enjoy access to a host of pockets and compartments that let you organize your belongings without losing the small things like keys. Plus, sling bags come in a range of sporty, refined, tactical, and technical styles that are sure to suit every use and aesthetic.
Best Sling Bags for Men
1. Nixon Bandit Backpack
With style and utility at its helm, the Bandit backpack provides an ideal solution for any on-the-go lifestyle. Constructed with a 600D polyester exterior made from REPREVE® Our Ocean™ recycled ocean plastics and a 70D interior crafted from Repreve® recycled plastic materials, this lightweight sling bag offers 2L of storage space in addition to breathable mesh back paneling that keeps you cool while ensuring your essentials stay safe and secure.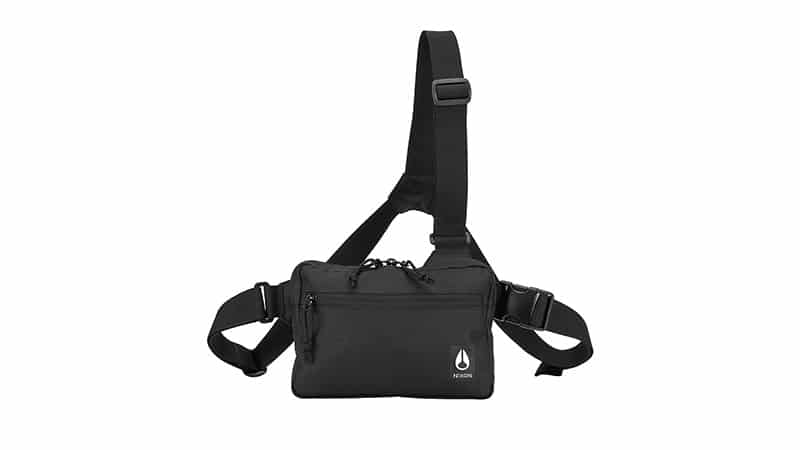 2. Troubadour Compact Vegan Leather Sling
The Troubadour Compact Vegan Leather Sling is designed with performance in mind. It is lightweight and has a large main compartment to fit essentials, including a 500ml water bottle. There is a front zip compartment, slip pockets, quick-release magnetic buckle, and easy strap adjustment. You can also expect comfort, and this is because of the padded paneling. The sling is made using waterproof recycled fabric and vegan leather.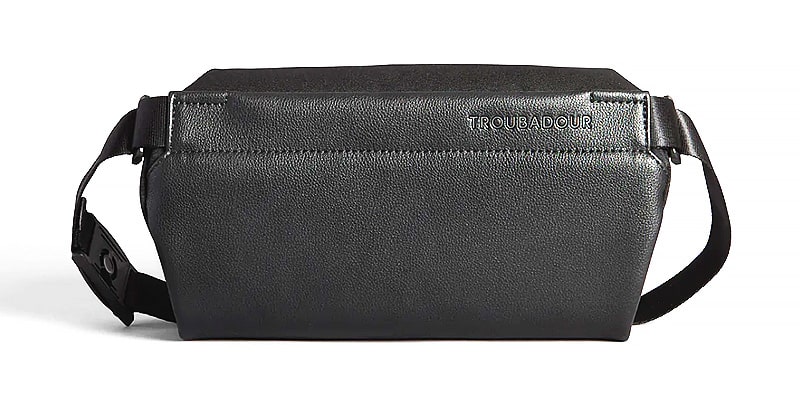 3. Everlane Renew Transit Fanny Pack
The Renew Transit Fanny Pack from Everlane is a sling design that you will want to familiarize yourself with because it is stylish and practical. It can be worn cross-body like a true sling or around the waist like a fanny pack, giving you versatility with styling. Some of the stand-out features include an adjustable strap and two external zip pockets. You can choose one of three neutral colors. Knowing it is made from 100% recycled polyester, you can purchase this sling in good conscience.

4. Gion Cross-Body M Waterproof Tarpaulin
The Gion Cross-Body M is a waterproof design. It is created with long-lasting tarpaulin materials to maintain its shape and color over time. It is also UV-resistant. There is a wide range of colors to choose from, making it easy to find a design to suit your preference. Some of the highlights of the design include rear padding for comfort, a two-way adjustable strap, and zippered main, front, and back compartments. When purchasing a Gion bag, you should rest easy knowing that it should last for years to come.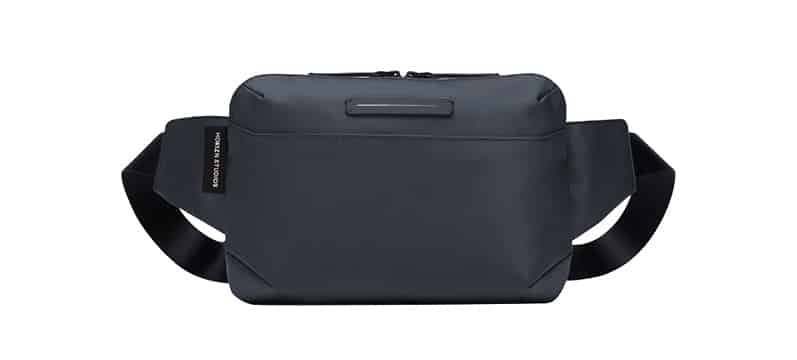 5. Chrome Industries Kadet Sling Messenger Bag
The Chrome Industries Kadet Sling Messenger Bag is a sleek and functional design. It will appeal to men who are on the go and is a lightweight design focusing on comfort and functionality. There is enough space to fit essentials, including a jacket. The closure is tough and durable. There is a quick-access front for ease of use and a padded rear U-lock holster (the lock is not included). Another appealing feature is the built-in bottle opener for convenience. This bag has you covered for all situations.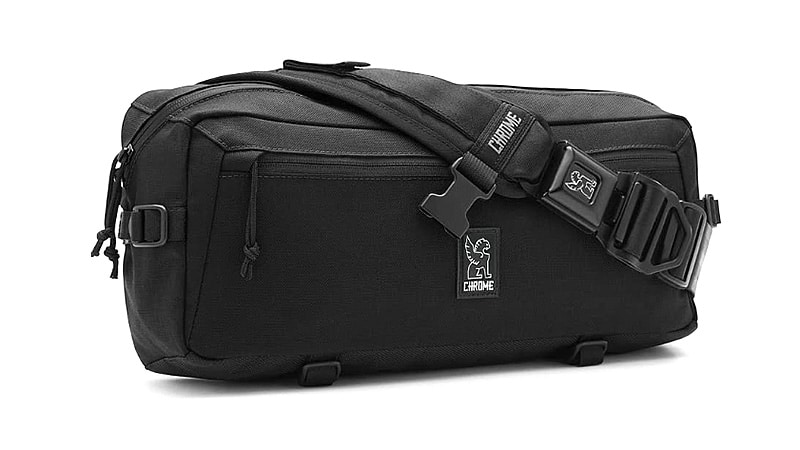 6. BANGE Sling Bag
The BANGE Sling Bag combines modern technology with a practical design to bring you one of the best sling bangs on the market. Standout features include the interesting geometric shape and appearance, hardshell protection, seal YKK zipper, USB charging system, and anti-sweat and breathable fabrics used for comfort and functionality. The waterproof material will ensure that light rain does not harm your devices. There are several colors to choose from, including classics like black to bold hues like red and yellow.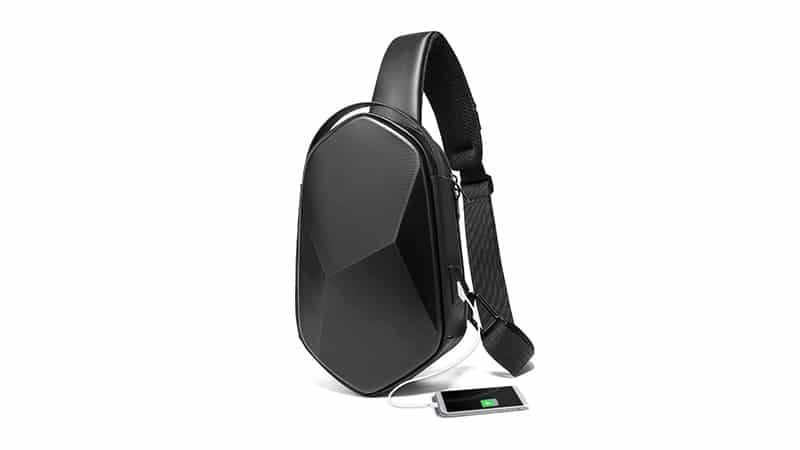 7. Away The Packable Sling Bag
If you are a man who loves simple designs, the Away The Packable Sling Bag is for you. The clean design and neutral color combination make this a bag that will lend itself well to all settings. It is lightweight, created using recycled materials, and water-resistant. The compact pouch will fit all your daily essentials and allow you to keep them close at all times.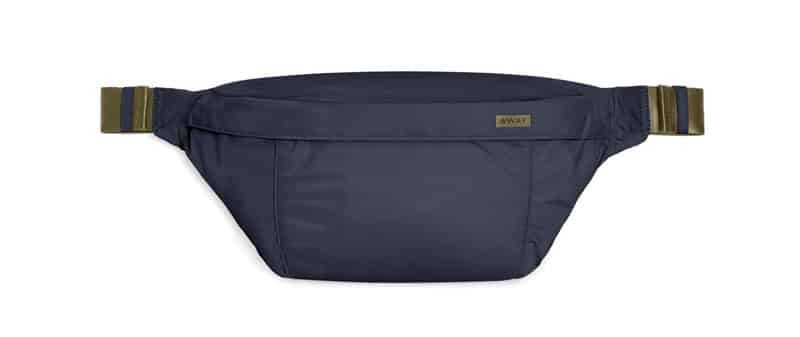 8. KL928 Store Canvas Sling Bag
For those who spend a lot of time outdoors, a sling bag is a great choice because it is functional and lightweight. This canvas sling bag from the KL928 Store is no exception. The shape makes it ideal for a wide range of activities and uses. You can wear it as a small backpack or chest bag, depending on the adventure you will be partaking in. The fabric is water-resistant and durable, and the design features adjustable straps and multiple zippered pockets and compartments. There is an extensive range of colors to choose from to make it easy to find the color combination you love.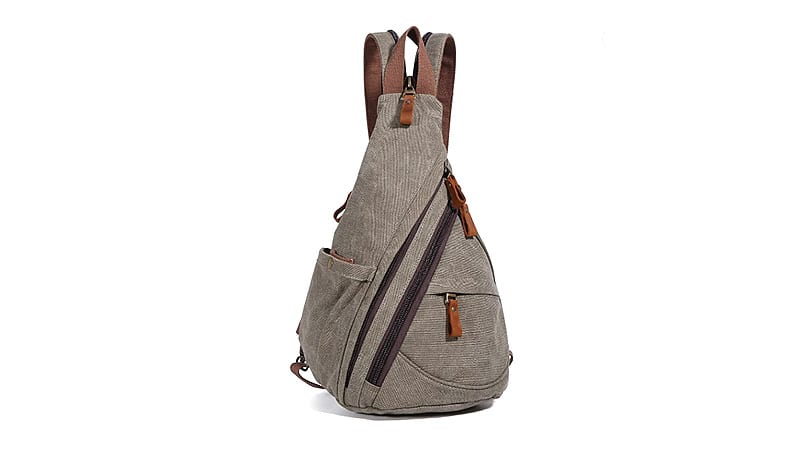 9. Reebow Gear Tactical Sling Bag
Get off the beaten track with the Reebow Gear Tactical Sling Bag. This small pack is perfect for day adventures, with sufficient room to pack the essentials. Make use of the multiple sections to keep your belongings organized, including the large main compartment, which is big enough to fit a 9.7-inch iPad. Plus, the molle webbing on the outside lets you attach extra gear if there's insufficient space. Stay comfy with a padded shoulder strap and two smaller straps that reduce movement while you walk or run. It's perfect for traveling, day trips, as a diaper bag, or even as a pistol range bag.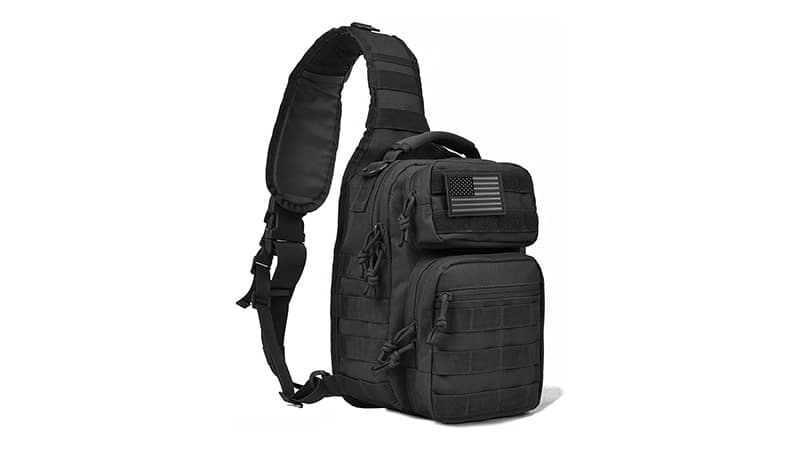 10. Lecxci Outdoor Chest Backpack
Travel light and comfortable with the convenience of a sling bag. This style from Lecxci Outdoor is perfect because it uses lightweight, waterproof nylon that is durable, scratch-resistant, and machine-washable. It features multiple pockets for easy and organized storage of your items. This includes a small pocket for keys and cards, a water bottle and phone pouch, and a side zippered pocket for a foldable umbrella. Meanwhile, the main compartment fits an iPad mini, and the back panel is breathable mesh so that you won't get sweaty. Best of all, you can choose from various fun and vibrant colors. Check out orange, blue, pink, cyan, purple, or even just classic black.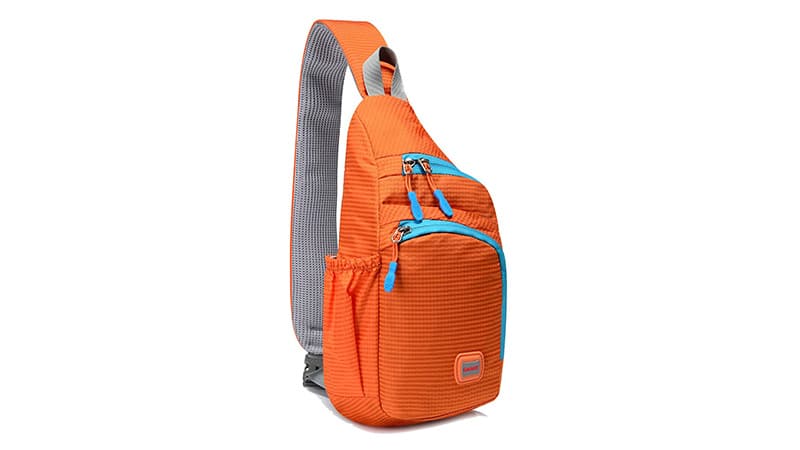 11. PUMA Sling Bag
PUMA lets you keep your streetwear aesthetic. This sling bag is simple and neat, with an adjustable strap, a large main compartment, and a smaller front pocket. The latter lets you keep items like your phone and keys both easily accessible and prevents them from getting lost among your other gear. Of course, it also features PUMA branding, with pull tabs, a silicone patch, and a large logo across the top. The compact size is perfect for your daily urban adventures.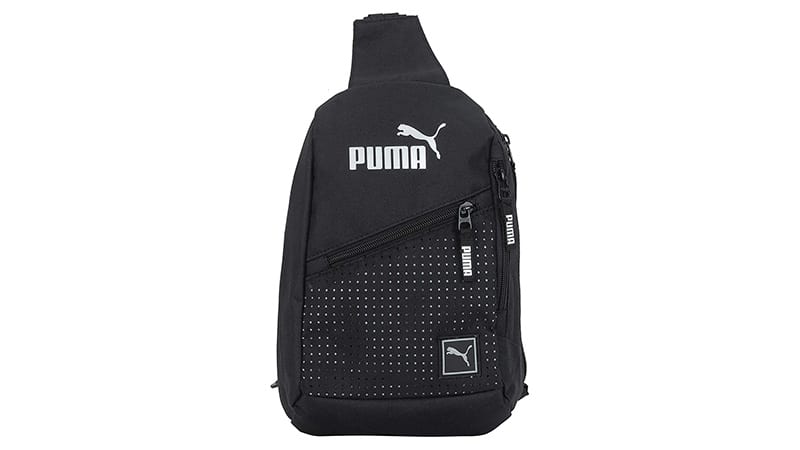 12. Under Armour Unisex Compel Sling 2.0
If you're looking for a slightly larger sling bag, this design from Under Armour is ideal. It's 19 inches tall by 13 inches wide, so it can fit up to a 15-inch laptop, making it perfect for the work commute. The laptop sleeve is also lined for extra protection, while the outers feature UA Storm technology to repel water yet remain breathable. Choose from one of the multiple front pockets to keep your smaller items separated and organized. Finally, the strap is padded and employs UA Heatgear fabric that helps keep you cool and dry, even in the hottest conditions.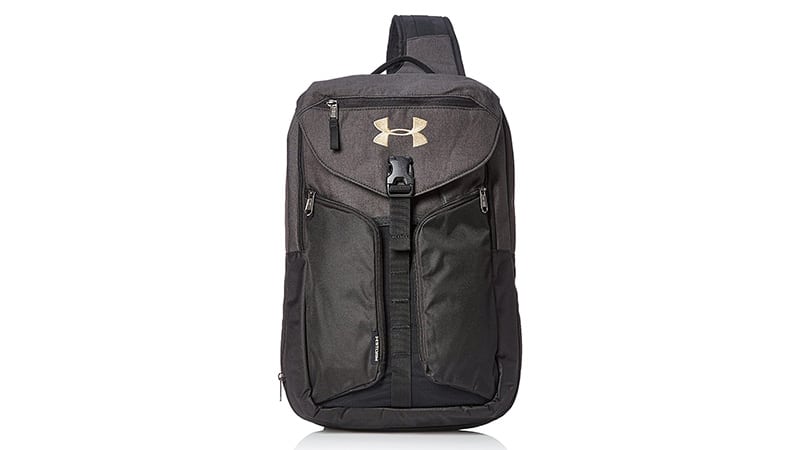 13. TOPNICE Sling Chest Bag
TOPNICE's sling bag is stylish and innovative. The unique, multi-pocket design keeps things handy, accessible, and organized. The main compartment sits underneath the others and has enough space for an iPad mini. Meanwhile, there's an additional inner pocket with RFID blocking, then three more outer pockets. They all have concealed, anti-theft zip access and easily accessible angles. Plus, a clip keeps your phone secure in the top pocket. Best of all, this design is small and compact, so it's ideal for daily use, work, or travel.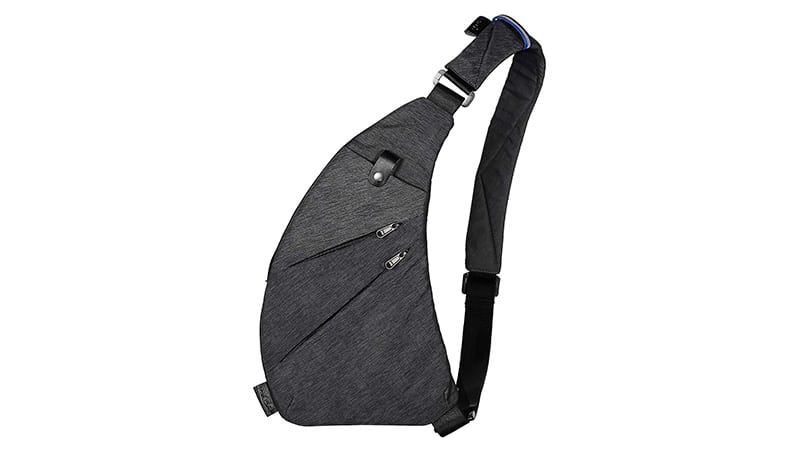 14. OutdoorMaster Sling Bag
OutdoorMaster's Sling Bag is compact yet spacious. The lightweight design has plenty of room for a tablet, with an anti-theft pocket for valuables and a water bottle pouch to stay hydrated on the move. Other features include a strap pocket to keep cash and cards close by, a breathable mesh panel at the back, and a choice of colors, including black, grey, navy, blue, and teal. However, one of the best features of this bag is the reversible shoulder strap. That way, regardless if you're left or right-handed, have a preferred side, are getting tired, or want to keep things balanced, you can switch it up with the easy-to-move clip.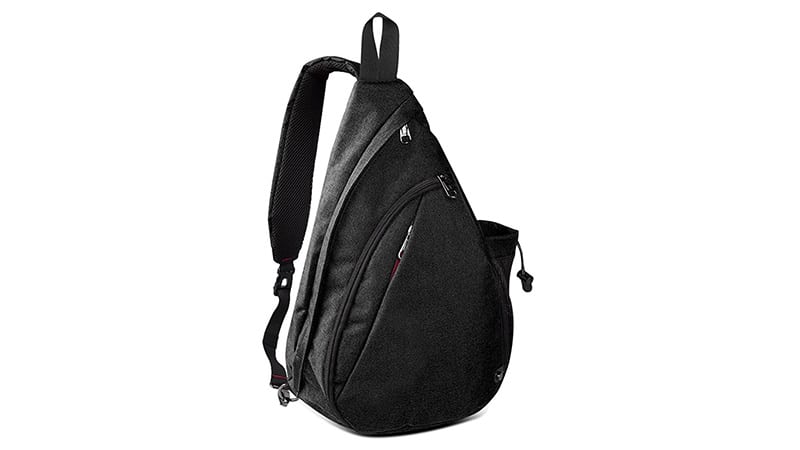 15. OZUKO Sling Backpack
Stay safe and charged on the go with the Sling Backpack from OZUKO. It's a stylish and minimal design with anti-theft capabilities. This includes a lockable zipper design and a hidden compartment on the back of the bag. Plus, it also has other safety details, like a reflective surface, making it easier to see in low light. Choose from plenty of pockets, including an inner pouch, strap, and side pockets. The USB charging port also lets you keep your electronics at full power throughout the day. Finally, the exteriors use a durable and waterproof high-density Oxford fabric so that this bag will stand the test of time.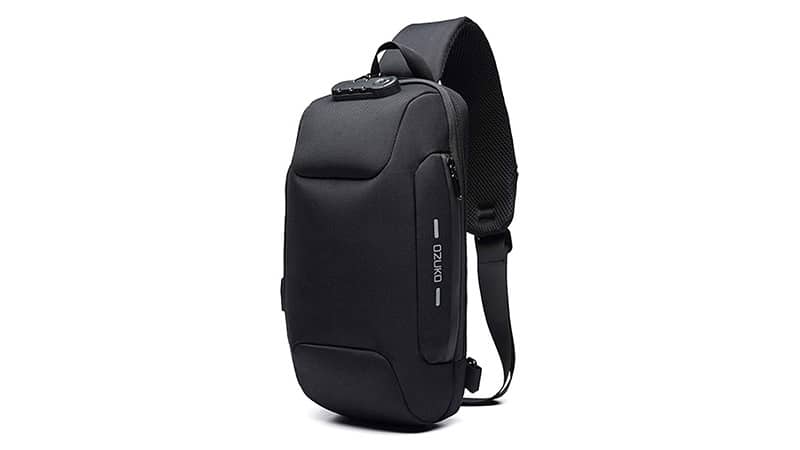 16. Magreel Fishing Tackle Bag
If you enjoy throwing a line in occasionally (or regularly), then this fishing tackle sling bag makes a great sidekick. To start, it has a considerable capacity. The main pocket can hold a #3600 tackle box, which comes included, while the front two pockets can hold smaller tackle boxes. Keep your rods or pliers in the side pocket, which comes with extra straps to help keep everything secure. Alternatively, the bottom pocket can also hold your equipment. In terms of comfort, the back mesh panel is breathable, while the strap can be converted between the sides or even made into a regular backpack. Lastly, the exteriors are wear-resistant and water-repellant, with dual-way zippers and molle webbing for extra convenience.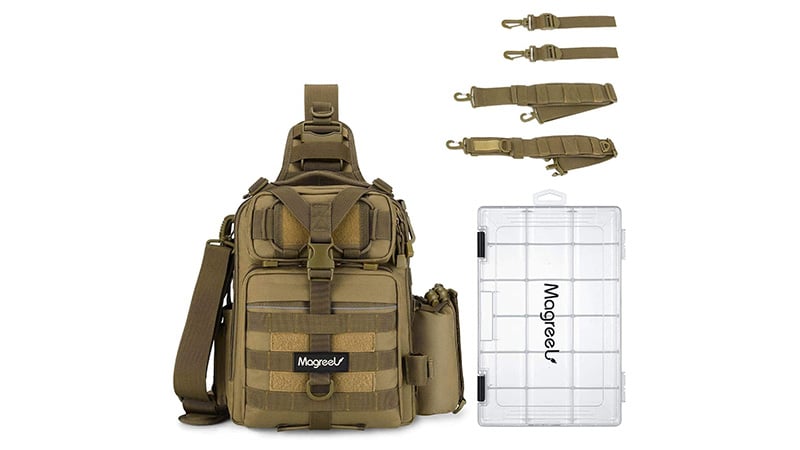 17. Mouteenoo Sling Backpack
Minimalism is the cornerstone of this sling backpack from Mouteenoo. The sleek lines make it the ideal choice for the office, although it's just as suited for weekend activities and travel. There's plenty of room to fit a laptop in the main compartment, as well as notepads and an umbrella. Your water bottle fits in the mesh pocket, while there are smaller pockets on the front, side and straps to keep items like your phone and cash conveniently close. Water-proof exteriors protect your gear if you get caught in the rain.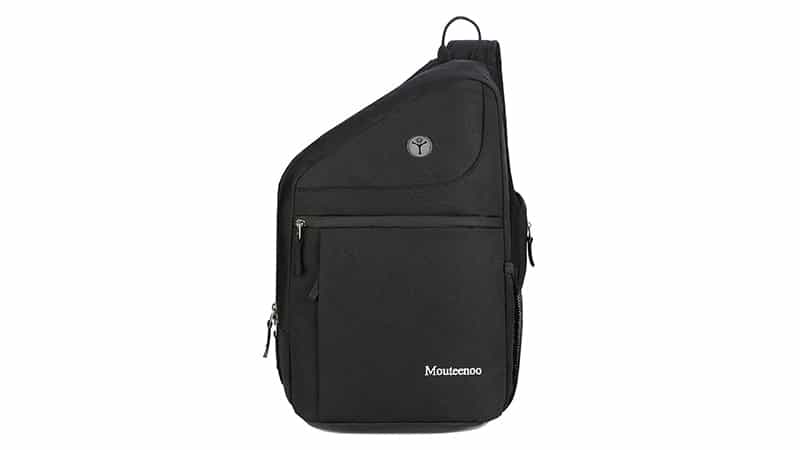 18. NeatPack Versatile Canvas Sling Bag
Make the most of the ample storage for all your gear in this sling bag from NeatPack. It boasts many pockets, including a hidden RFID-protected one and a convenient pouch on the strap for your cellphone. The main compartment will fit a tablet, plus a variety of other items. Stay comfortable with the padded shoulder strap that's ergonomically designed so you don't fatigue or start to ache. Lastly, the material is a durable, water-resistant polyester canvas with a reflective strip for visibility in low light.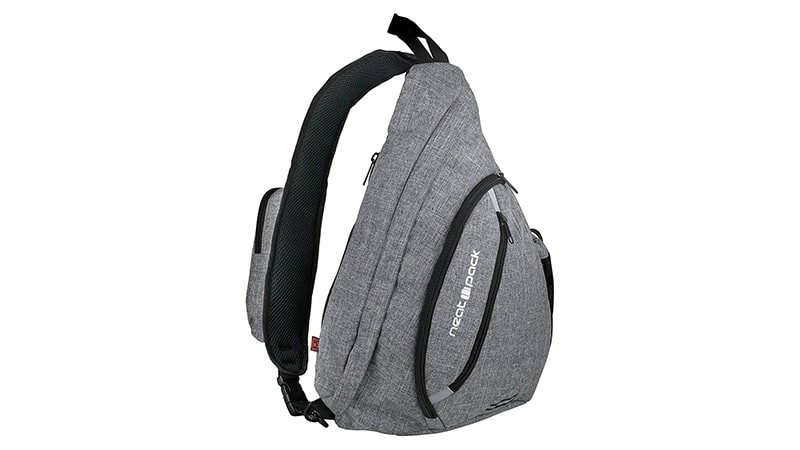 19. Texbo Store Full Grain Leather Crossbody Sling Bag
Opt for a more refined look when choosing a sling bag. This design from Texbo is elegant and stylish, featuring full-grain Italian leather. There are multiple compartments, including a large main one and concealed, zippered pocket on the back. A front clip panel closes over the zippers for a clean finish. The strap is adjustable for the perfect fit, while the exteriors benefit from waterproofing. Plus, depending on your needs, you can choose two sizes — large or small, and two colors — black or coffee. This bag is a brilliant addition to a corporate wardrobe.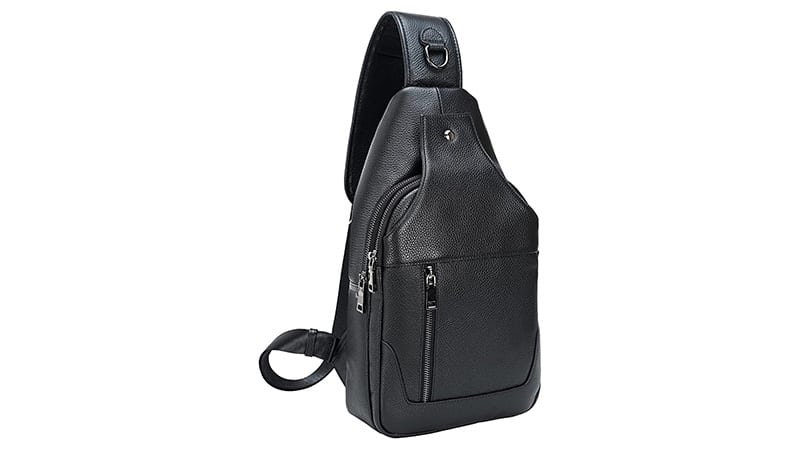 20. Leaper Retro Messenger Bag
Go old school when you choose this retro messenger sling bag from Leaper. It's made with soft and durable washed canvas with a worn-in aesthetic. It also comes in various colors, from neutrals like black, gray, and tan to vibrant pink, purple, and green shades. The flap-front keeps the main compartments extra secure, while plenty of smaller pockets let you keep things organized. Finally, you can adjust the comfortable and padded strap to either side so it suits both left and right-handed people.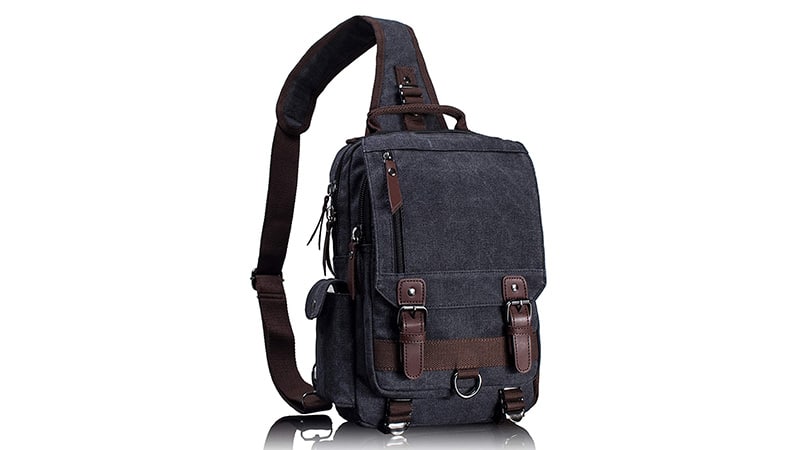 21. WATERFLY Sling Backpack
The WATERFLY Sling Backpack is lightweight, stylish, and made with a unique material that's both water-resistant and anti-friction to help prevent wear. Pick from various shades, including black, blue, grey, yellow, purple, and red. Combined with a large central section, multiple compartments make organizing your gear easy, keeping everything safe and secure. Other great details include a sunglasses hook, padded and breathable back panel, card pocket, and earphone hole to prevent tangled cords. Finally, the pared-back styling is incredibly versatile, working for both corporate and casual wardrobes.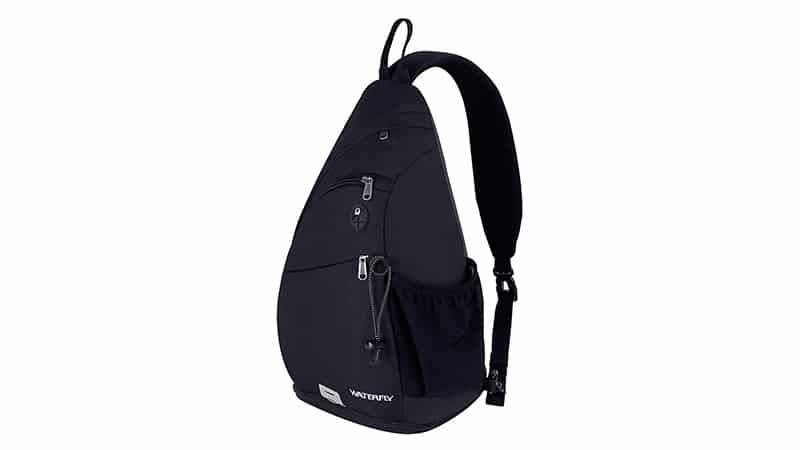 22. Metrosafe LS150 Anti-Theft Sling Backpack
Protect your gear from theft with this special design sling bag. It features lockable zips and cut-resistance fabrics, making it more difficult for thieves to access your belongings. Plus, you get extra security through an RFID-blocking pocket to protect documents like your passport and credit and building access cards. The slim profile is unobtrusive and minimalist yet still large enough to fit a ten-inch tablet in the padded sleeve. Use the internal pockets for additional organization, and keep your keys accessible with the internal hook.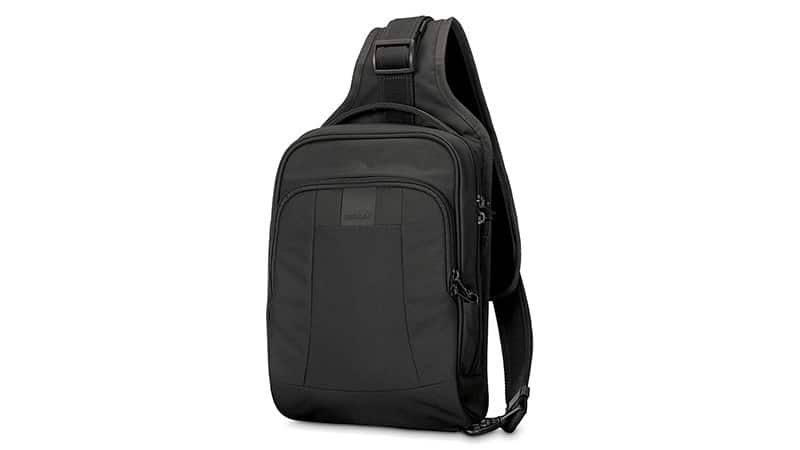 23. Peak Design Everyday Sling 10L
This urban-inspired sling bag from Peak Design is sleek, stylish, and perfect for everyday use. With a 10-liter capacity, it's large enough for all the essentials and has various pockets inside and out for small items, plus a laptop or tablet sleeve. This bag is also the ideal choice for photographers. Customizable, padded separators ensure your camera and lenses stay safe and protected. Wear it as a shoulder bag or cross-body sling, adjusting the straps easily and quickly, giving you the freedom to get the perfect shot. Finally, the exterior boasts weatherproof, 100 percent recycled nylon material and extra straps for securing additional items.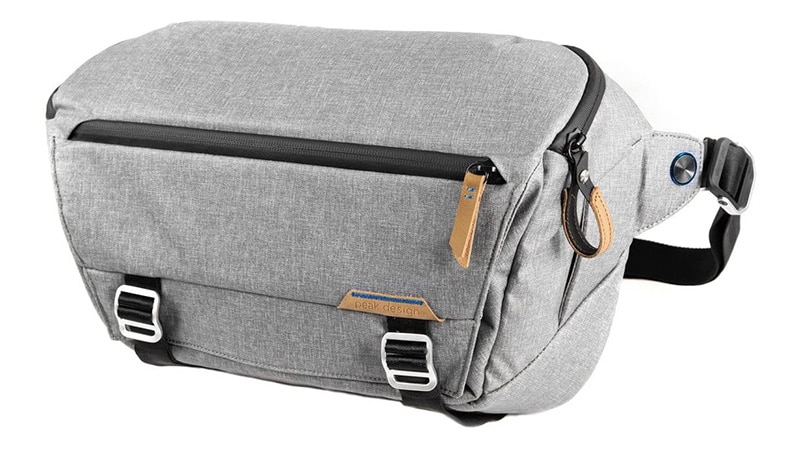 24. Nicgid Sling Bag
Pick one of three sizes in the Nicgid Sling Bag. There are 22.4-inch, 16-inch, and 14.5-inch options. All feature adjustable and padded shoulder straps, high-quality zippers, water-resistant material, internal and external pockets, and a hidden anti-theft pocket for anything extra valuable. It's a great alternative to traditional backpacks, giving enough space for the essentials without overburdening you or weighing too heavily. Once you've chosen the right size for you, the only other decision is color. There's army green, dark green, and black.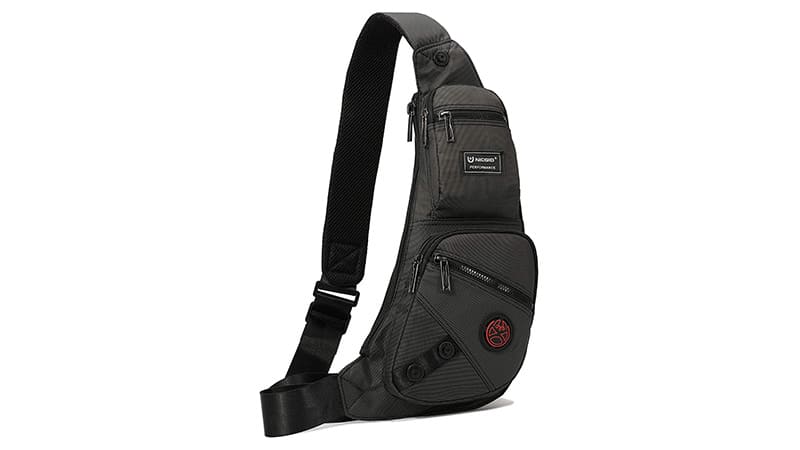 25. G4Free Sling Bag
The bright and vibrant pattern of this G4Free Sling Bag is sure to add some color to your life. The thick, padded shoulder strap is not only very comfortable but is also easily adjustable. Meanwhile, the nylon exteriors are durable and lightweight, with reinforced stitching. Enjoy the convenience of a large main compartment, plus a side mesh pocket for water bottles, a front exterior pocket, and internal pouches.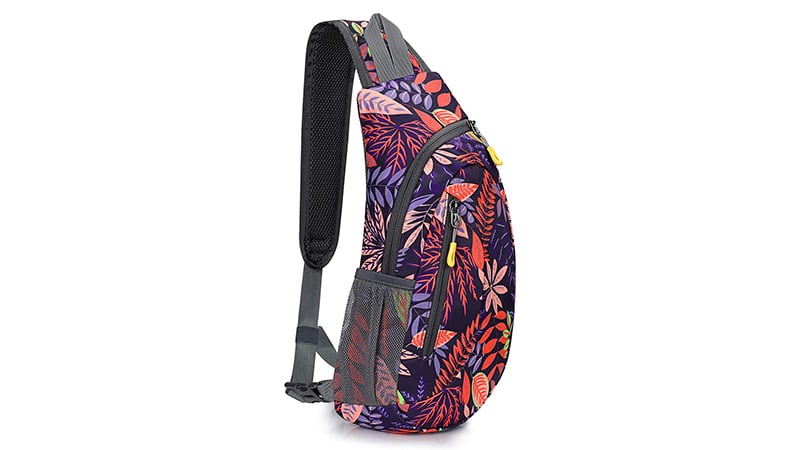 26. Nicgid Sling Bag for Outdoor Hiking
Nicgid has another great design with this spacious, functional sling bag that's perfect for outdoor and hiking adventures. Storage-wise, there's a large main compartment, three front zippered pockets, an outer mesh side pocket, and a convenient headphone slot. Enjoy the ability to switch the strap side using the hook while adjusting the length for the perfect fit. The exteriors are water-resistant nylon, so you won't have soggy gear if caught in the rain.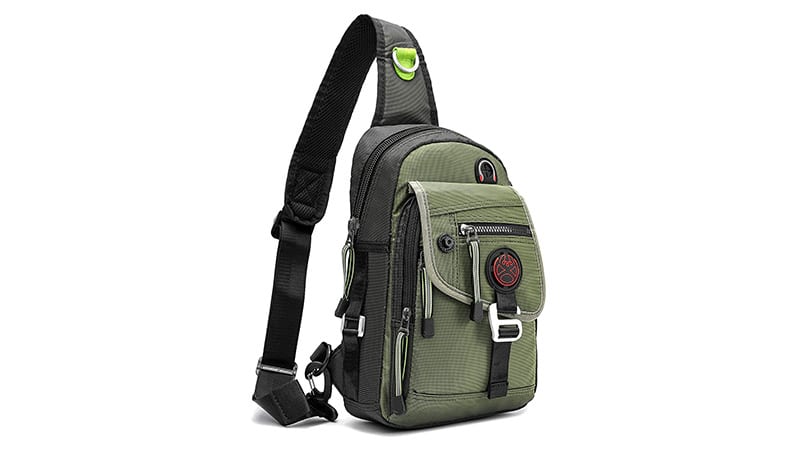 Sling Bag Buying Guide
Just like buying a backpack or luggage, there are many elements to consider when buying a sling bag, especially as it's likely to play a significant role in your daily life. Things to consider include design, material, comfort, straps, organization, security, water resistance, and other tech features such as USB ports. Read on to get more detail on each of these elements.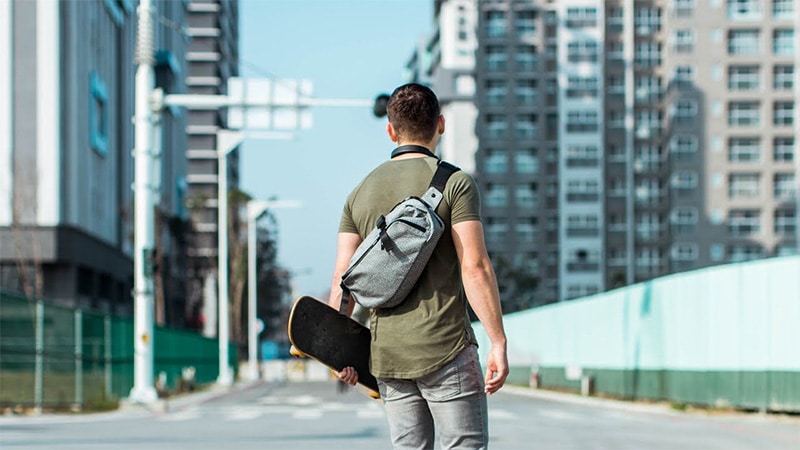 Design
One of the first decisions to make when buying a sling bag is what kind of style you like. Some designs look very similar to a backpack or a waist bag, while others resemble classic satchels or messenger bags. Moving away from looks, you'll also need to consider other design elements such as size, color, versatility, and practicality.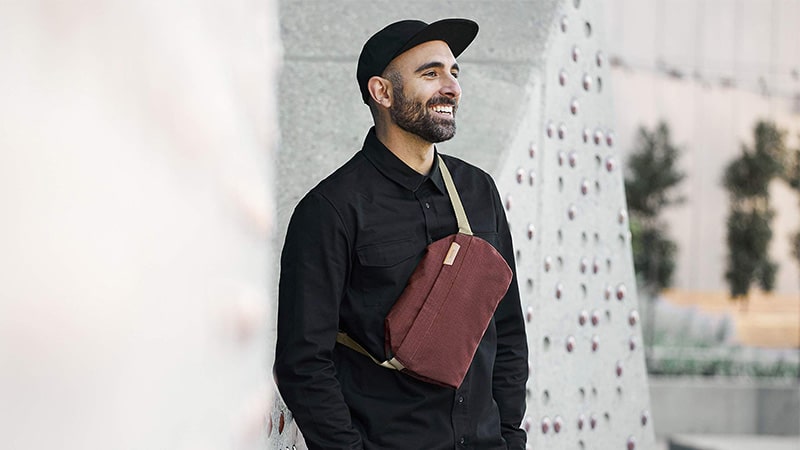 Material
Sling bags come in various materials; however, nylon tends to be the more common. Its many benefits include water resistance, durability, wear resistance, and lightweight. Plus, manufacturers can make it in almost any color. However, leather is another excellent option if you're looking for something a little more refined for the office or because you like a more elegant aesthetic. Like nylon, it's incredibly durable. It also has a small amount of water resistance and wears well, developing more character over time and use.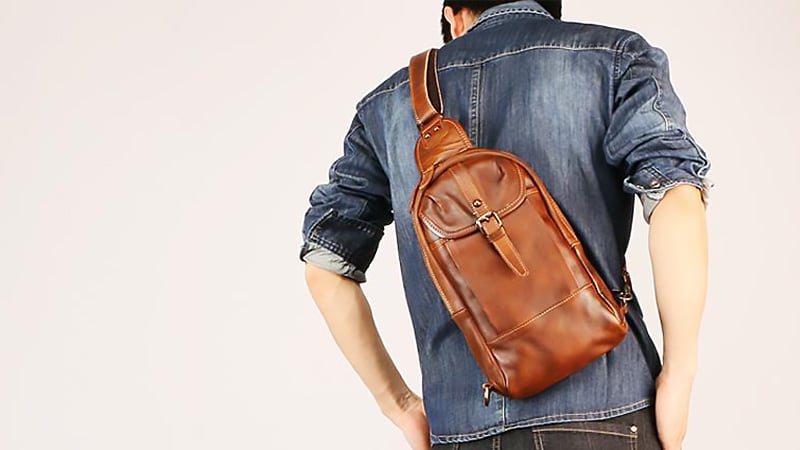 Comfort
Comfort is an important factor in choosing a sling bag. After all, you're likely to wear it for long periods as you go about your day. Comfort features can include breathable mesh panels on the back that keep you cool and sweat-free. Other things to look for are padded, adjustable straps for the perfect fit. It's even better to switch which side it attaches to, so you can change it if you get tired or achy. Lastly, a good pocket design that is easy to access is critical for use comfort — there's nothing more frustrating than weirdly positioned pockets that are difficult to get into.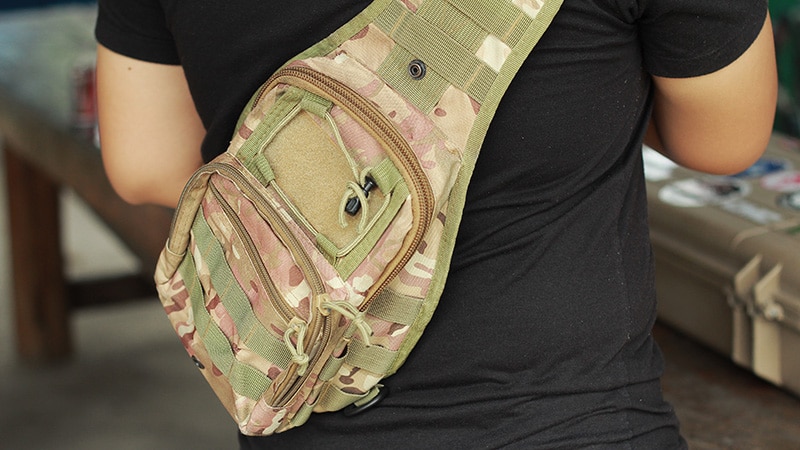 Adjustable Straps
Get the perfect fit for your height and body with adjustable straps. You want to be able to adjust the straps from the default so the bag sits at the right height for you. The weight of your load will also affect this, and you might need to pull things tighter for a heavier carry. Plus, you can wear most sling bags in a couple of ways, so you want to be able to change the strap length whenever you change the bag position.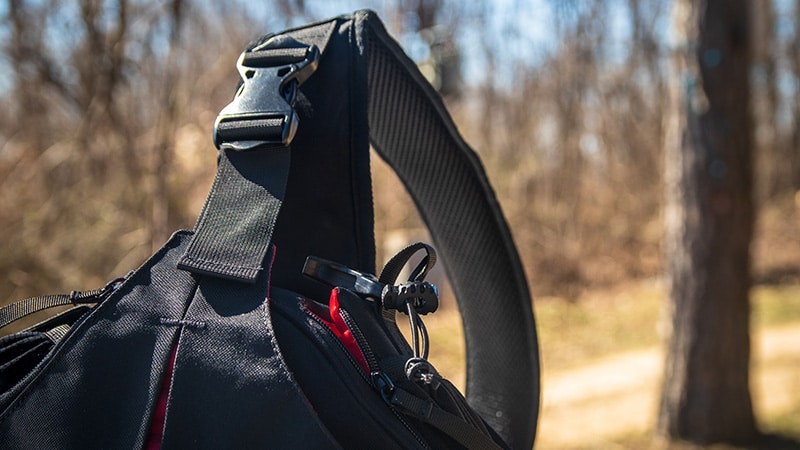 Organized Compartments
Different-sized compartments make sling bags very versatile. Most designs will have a large main compartment that's ideal for big or bulky items like a laptop, change of clothes, or books. Then, they'll also have a selection of other smaller pockets. These let you organize things into logical groupings to make accessing things simpler and prevent small items like pens or your keys from getting lost. Also, keep an eye out for extra details like RFID protection, easy-access strap pockets for cash and cards, or mesh pockets for water bottles.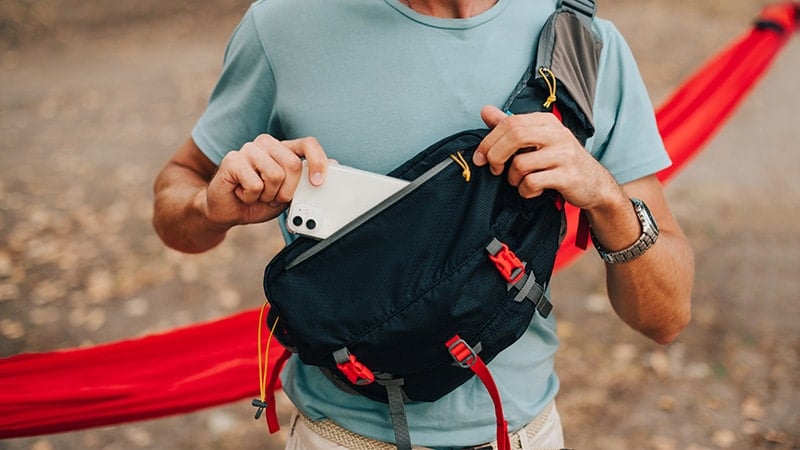 Security Details
It's always good to have personal security in mind when purchasing a bag, especially for traveling (because tourists make good targets for pickpockets). However, there are a few security details you can look for in your next sling bag. The first is hard to access or lockable zips. These make it more difficult for people to sneakily get into your bag without you noticing. Another feature is cut-proof fabric, which can't be sliced open with a blade (or, at a minimum, requires a lot of effort). Hidden pockets make it easier to keep valuables safe, especially as many of these kinds sit on the back of the bag, so they're against your body. Finally, digital protection in the form of RFID blocking will keep building access cards from being cloned, passport details copied, or funds getting stolen from credit card skimming.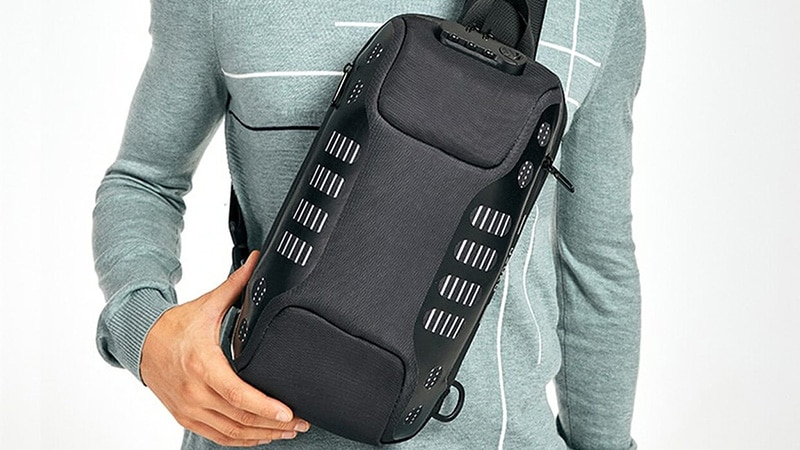 Waterproof/Water-Resistant
The best way to avoid soggy belongings if you get caught in the rain is to buy a waterproof or at least water-resistant bag. Many nylons used in sling bags will be, at minimum water-resistant, meaning moisture won't penetrate the fabric unless exposed for an extended period. Waterproof materials won't let any water in, even with prolonged exposure. These fabrics cause water to bead up and roll off rather than penetrate. However, if your bag isn't waterproof, you can use a spray-on water repellent that coats the material in an invisible but effective layer that recreates the beading effect. It's best to reapply this every three to six months for maximum protection.
USB Ports
Keeping your electronics powered can be a challenge if you're spending a big day out of the house and on the go. However, sling bags with built-in USB ports solve this problem easily and conveniently. The port sits outside the bag, and you plug your phone, tablet, or earphone's charging cable into it. Then, on the inside of the bag, the other end of the port plugs into a rechargeable power bank, so you've got a battery on the go that's also easily accessible.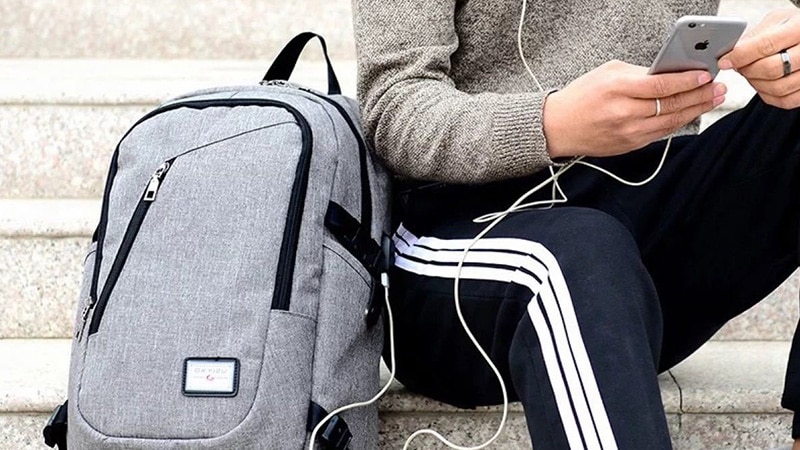 Sling Bags for Men FAQs
What is a sling bag used for?
A sling bag is used as an alternative to backpacks, satchels, waist bags, or other designs to carry your essentials around throughout the day.
What are sling bags called?
Sling bags have a few different names, including one-sholder backpacks, crossbody bags, and chest bags.
Why are sling bags popular?
Sling bags are popular for a few reasons. They're very versatile in that you can wear them a few different ways, including just on your shoulder, across your body, or even as a handbag. Secondly, they're straightforward to use and make accessing your gear more manageable than a traditional backpack. They also have good ergonomics that distribute the weight over your trunk, not just on your shoulders. Plus, they look stylish and come in different styles, designs, colors, and materials.
Are sling bags good for travel?
Sling bags are great for travel because they fit the essentials without tempting you to overpack for the day. They also make access simple and are ergonomically designed for comfort and maximum mobility. Many also feature breathable mesh panels and are designed to prevent sweating as you're taking in all the sights. The only word of caution is to look for an anti-theft design that will deter pickpockets. Tourists are often a prime target for thieves, so be wary on your travels or wear the bag across your front.
Are sling backpacks bad for your back?
If you wear your sling bag correctly and don't overload it with weight, they're not bad for your back. Generally, they distribute the weight more evenly through your trunk rather than your shoulders. However, if you're wearing one for a long time, it can put pressure on your neck and upper back, especially if it's really heavy.
What should you carry in a sling bag?
Sling bags are generally not as large as traditional backpacks, so they're perfect for the essentials like your phone, wallet, keys, and a water bottle. However, most still have generous enough room to fit either laptops or tablets, plus a few writing pads and pens, snacks, a camera, or an umbrella.
Why should I choose a sling bag over a backpack?
Sling bags are great because they're ergonomically designed, roomy without being excessively large, provide excellent mobility, and make access simple and easy. On the other hand, backpacks are larger, so if you need more gear, they might be the way to go; however, they won't have the same flexibility as sling bags.
What is the best sling bag brand?
Some of the best sling bag brands include Reebow Gear, Under Armour, OZUKO, Peak Design, and Nicgid. 
SUBSCRIBE TO OUR NEWSLETTER
Subscribe to our mailing list and get interesting stuff and updates to your email inbox.