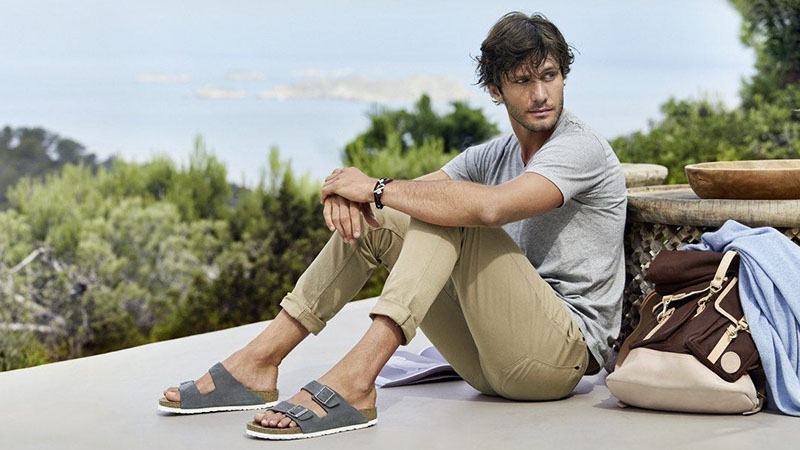 Slides are, without a doubt, one of the most convenient styles of shoes a man can have in his wardrobe. They're exceptionally comfortable, featuring molded footbeds and rubber soles. Plus, they're oh-so-easy to slip on as you head out the door to run errands, after a hectic training session at the gym, or for a leisurely day at the beach. You can also style them in a variety of ways. Wear them casually with shorts and a t-shirt, channel a yacht vibe with cropped slacks and a linen button-up, or embrace an athleisurewear aesthetic with basketball shorts and a tank. There's so much going for them; you should invest in a pair immediately!
1. Nike Men's Benassi Just Do It Athletic Sandal
If you're after a huge range of color options when it comes to slides, check out the Nike Men's Benassi Just Do It Athletic Sandal. It's available in over 20 colors, including classic neutrals like black and white, as well as vibrant options such as red and fluoro multicolor. The flex grooves in the sole help it move naturally with your motion, and the footbed is very well cushioned. When it comes to the upper, it features the Nike name and swoosh and has jersey lining for a soft feel and additional comfort.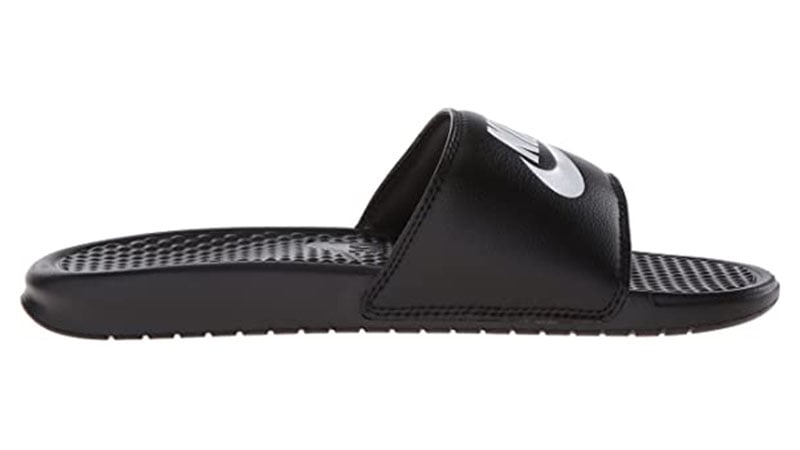 2. Gucci '72 Sport Slide
Gucci brings an element of luxury to men's slides with this tri-color offering. The premium materials mean you're not only looking fly but feeling great as well. Made in Italy, the shoe features a rubber cole and contoured footbed for the ultimate in cushioned comfort and safe traction. Then, the upper features the green and red Gucci stripes paired with your choice of white or black for the design's main body.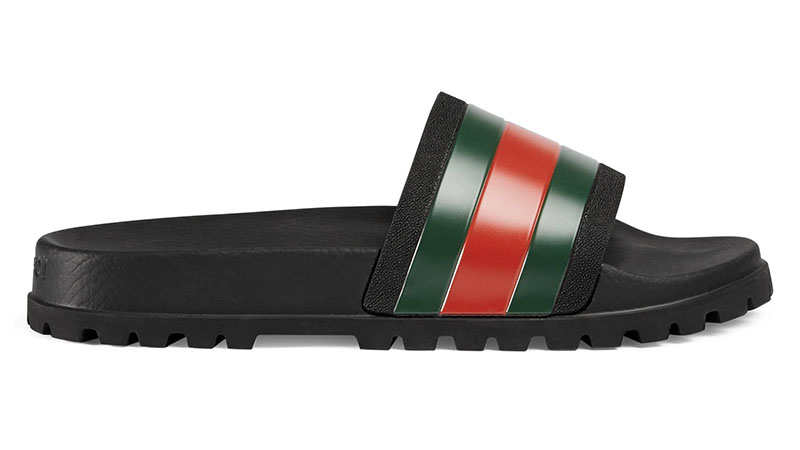 3. Under Armour Men's Fat Tire Slide Sneaker
The Fat Tire slide sneaker from Under Armor is like a mountain bike version of a men's slide. The outsole is made from a unique Micheline Wild Gripper compound with traction lugs for extra grip. It also makes it incredibly tough and durable. Enjoy plenty of cushioning through the midsole, which is designed to harness the energy of each foot's impact to improve your gait. Lastly, the faux leather strap is adjustable with velcro closure for a customized fit for any foot shape.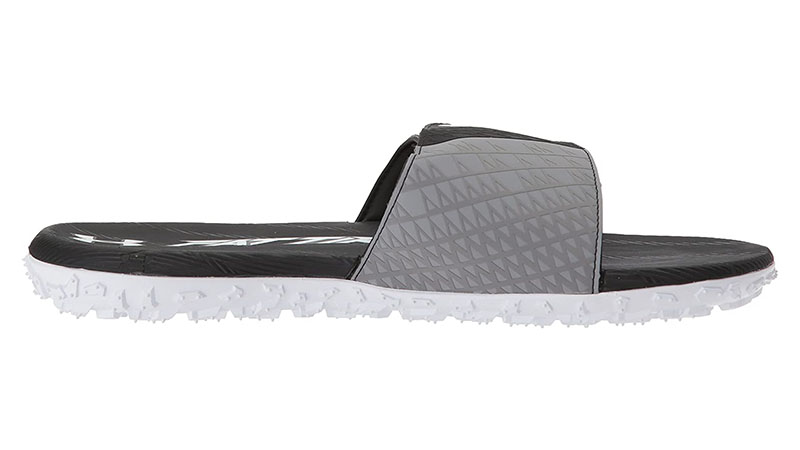 4. Fila Men's Drifter Sport Sandal
Fila's Drifter Sport Sandal is all about lightweight comfort. It's a classic design from the Italian brand that has been producing premium sportswear since 1911. The EVA outsole and contoured footbed are exceptionally cushioned and waterproof, making it great for wearing to the pool or beach. Meanwhile, the upper band is made from a microfiber-synthetic and features the Fila logo across the top. Wear these slides with your favorite pair of shorts, or complete the trip home from sports practice comfortably and conveniently.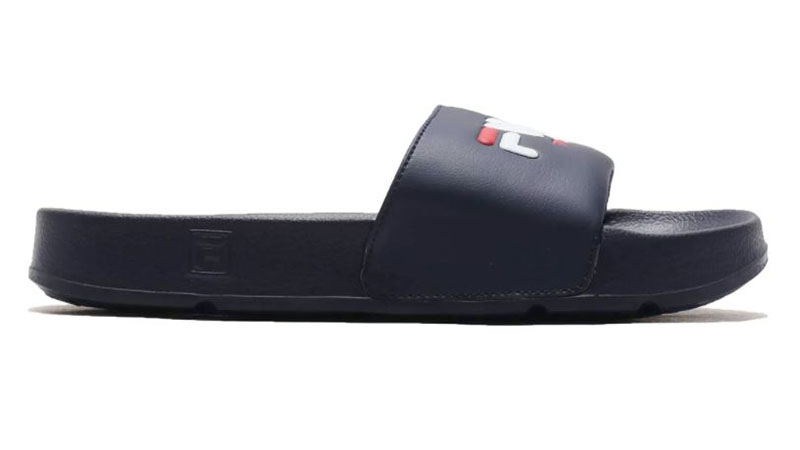 5. Suicoke Black Siv Sandals
Suicoke's Black Siv Sandals are one of the most stylish options on the market. The double-layer upper straps feature a soft neoprene layer with adjustable velcro closure. On top of that is a transparent polyurethane layer with a cross-hatch pattern and press-stud detail. The molded sole is comfy and has a round toe for universal appeal and a rubber outsole for grip and cushioning. It's a bold and trendy style that reached beyond the sporty feel of other options. Pair it with an oversized hoodie or t-shirt and pair of loose cropped trousers.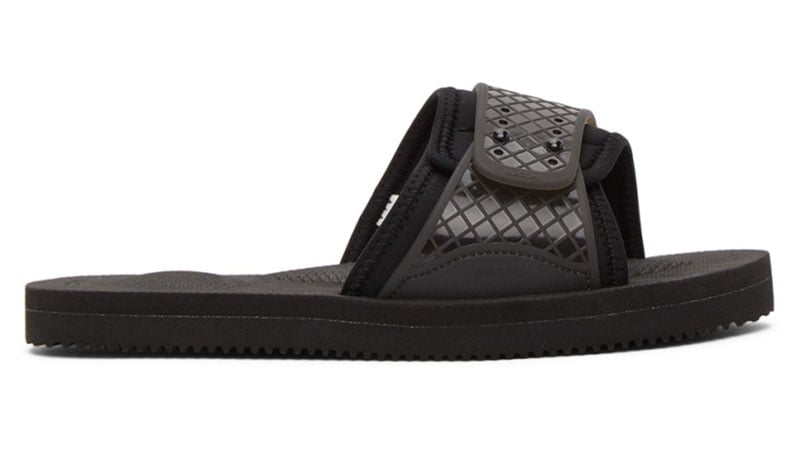 6. Adidas Men's Adilette Shower Slides
Whether you're at the beach, in the gym locker room, or running errands, these Adilette Shower Slides from Adidas are a great option for protecting your feet. The Cloudfoam footbed is molded to hold your foot securely and ergonomically, and the sole is rubber, giving excellent grip. They're made explicitly from waterproof synthetic, so if they get wet, there's no need to stress — they'll dry in no time. Choose from over 40 color combinations, with some featuring the three-stripe detail and linear side logo, while others have the mountain logo.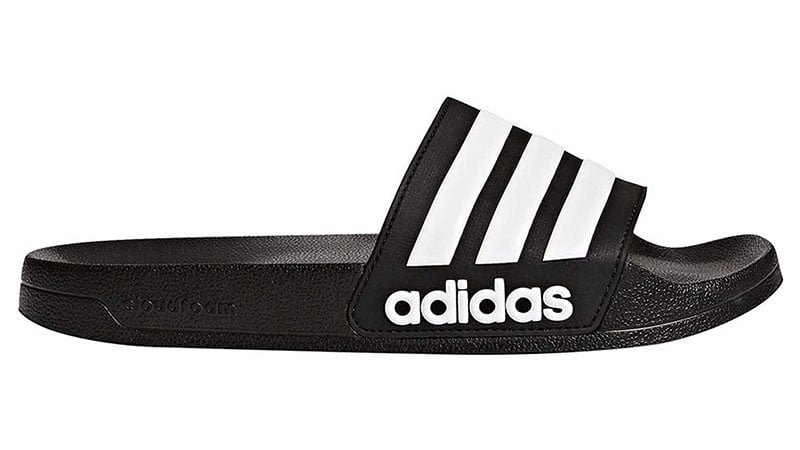 7. Adidas Originals Men's Adilette Slide Sandal
The Original Adilette slide sandals from Adidas are a classic footwear option and a great investment for casual styling. Wear them with a pair of skinny jeans, pop them on with your favorite shorts, or keep your toes warm in the colder months by rocking them with socks. The design made it's debut in 1972 and has been globally popular ever since. It's lightweight, making it perfect for recreation and relaxation. Plus, the contoured footbed cushions every step, while the jelly bandage upper, with fabric lining, holds your foot securely yet comfortably.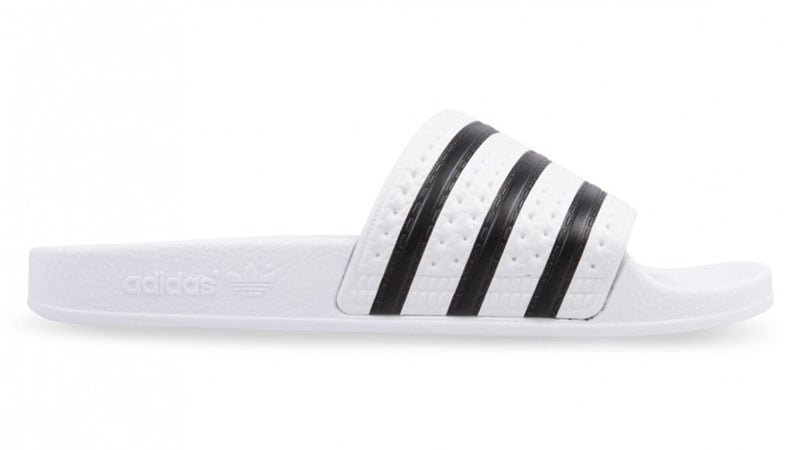 8. Thom Browne Black Flag Pool Slides
Choose a more stylish option for a comfy slide with this design from Thom Browne. The monochromatic styling is simple, with a black and white upper, signature tri-color grosgrain flag, and tonal footbed and sole. An open rounded toe makes it perfect for most men's feet, and the molded footbed provides support and cushioning. These slides look best when worn with cropped trousers and a crisp white shirt.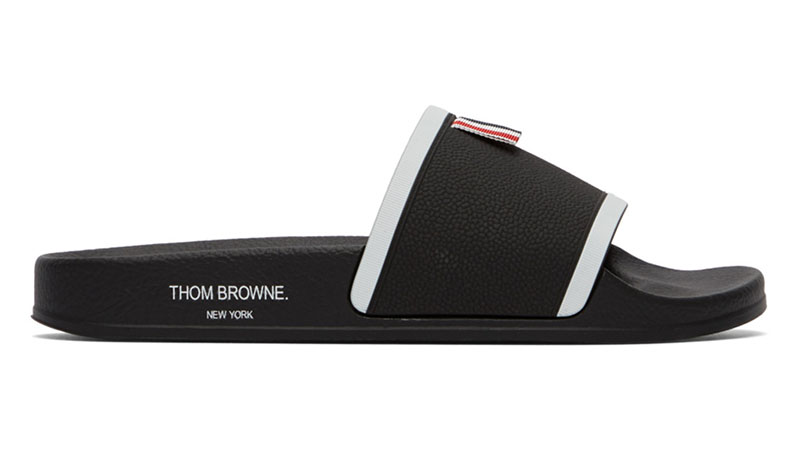 9. Nike Men's Ultra Comfort 3 Slide Sandal
If walking on a pillow sounds like your jam, then the Nike Men's Ultra Comfort 3 Slide Sandal is a perfect choice for you. The contoured footbed has stacked memory foam padding that provides excellent arch support, as well as general shock absorption and cushioning. Meanwhile, it's stylish and patterned outsole is ideal for most terrains. There's an extra stretchy gore panel for added support when it comes to the uppers, meaning you can wear it with or without socks, depending on your style preferences. Finally, the Nike name features prominently across the top, accompanied by the swoosh along the outside.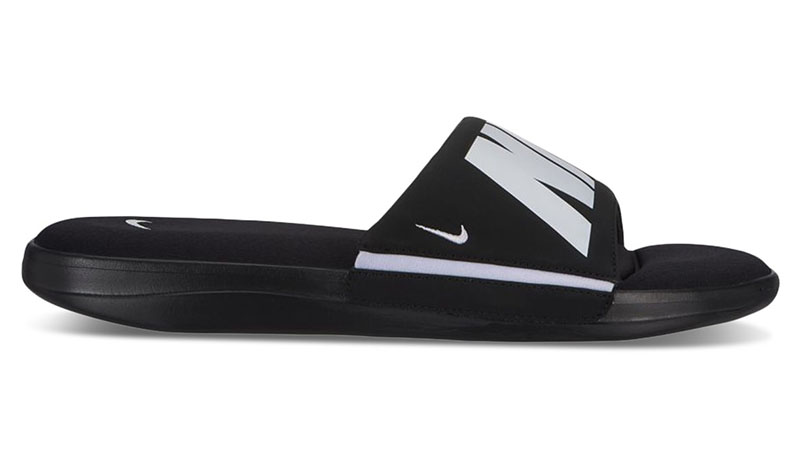 10. Givenchy Slide Sandal
Givenchy keeps it simple with this luxurious slide for men. The black base and uppers allow the white Givenchy branding to standout. More subtle branding also appears on the outer edge of the sole. It's a lightweight design made from premium rubber and textiles that feels as good as it looks. Pair it with some light wash jeans and a loose-fitting t-shirt to fully embrace the refined yet casual vibe.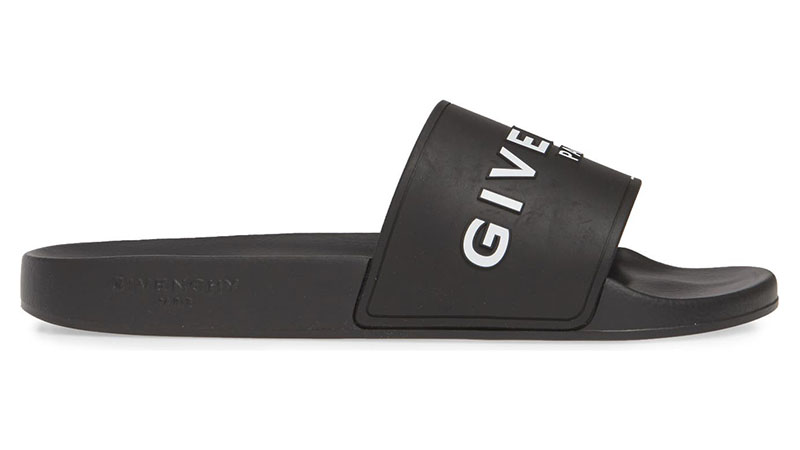 11. adidas Adissage Sport Slide
Why not enjoy an invigorating foot massage with every step you take? That's exactly what you'll get with the iconic Adissage slides from Adidas. The nubs on the footbed act to stimulate the muscles and blood flow in your feet, promoting circulation and recovery, especially after a vigorous training session. Beneath the nubs lies a Cloudfoam base, which provides extra comfort and cushioning. The top strap is also adjustable for all foot shapes and is made from a durable synthetic, so you'll get a lifetime of wear.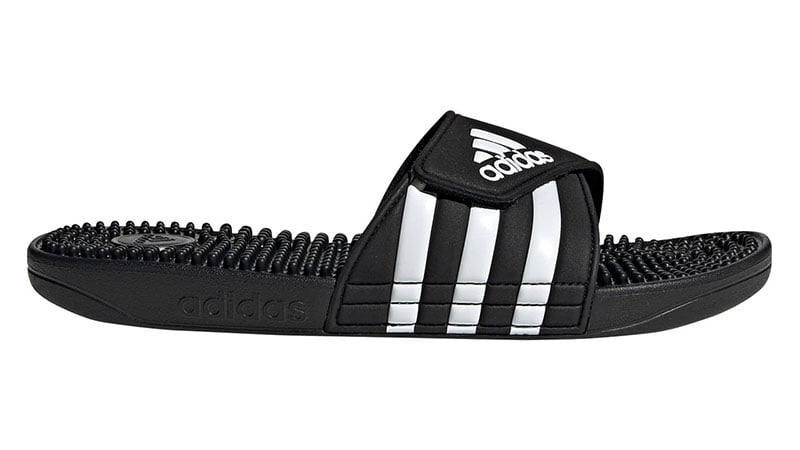 12. Polo Ralph Lauren Cayson Slide
The Cayson Slide boasts unmistakable Polo Ralph Lauren styling to really up the ante on your waterside style. These cushioned slides have a knit-lined upper for the ultimate in soft foot security, as well as the iconic pony logo. Then, the rubber sole is suitably grippy to keep you safe, and the footbed is cushioned for additional comfort. Match this shoe with a pair of white shorts and a navy linen button-up, and you'll be looking ready to step foot on a yacht in the Mediterranean in no time.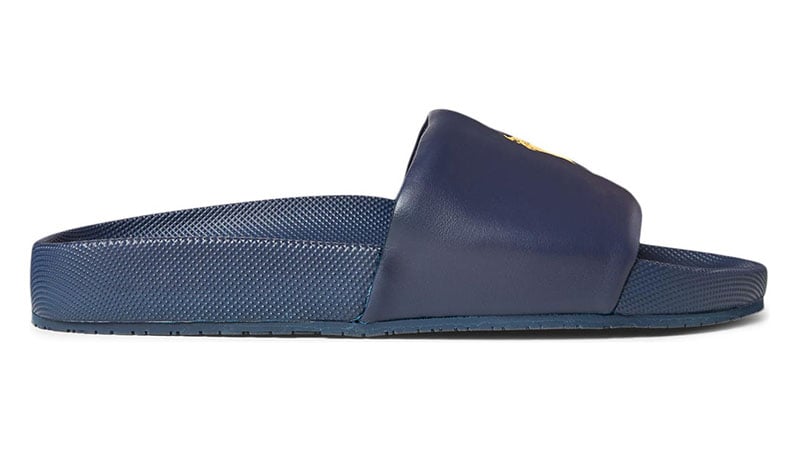 13. Moschino Black Logo Slides
Moschino easily brings its bold and confident styling to these black logo slides. They slip-on with ease and hug your foot thanks to the molded footbed and rubber treaded soles. The logo itself is debossed for an elegant feel, making them a stylish choice for all occasions, including poolside parties or a grocery store trip. Upgrade your look further with other colorways that include black and gold, white and gold, and even slides featuring metal Moschino hardware.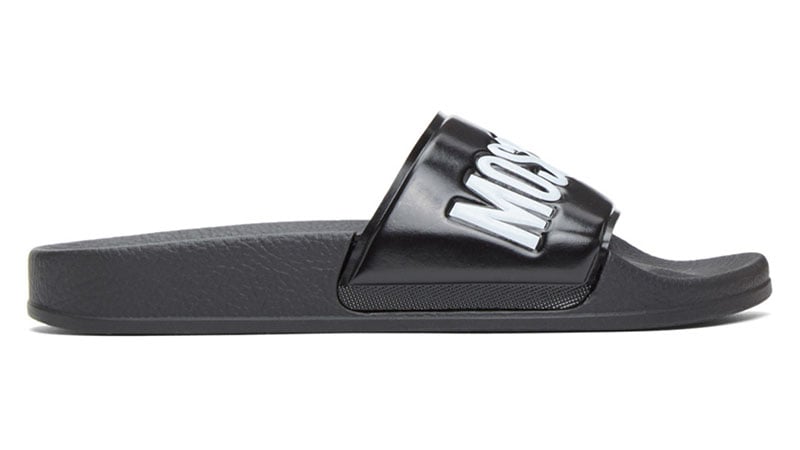 14. Hugo Logo Sport Slide
Add a pop of color to your wardrobe with this pair of slides from Hugo. They're super comfy and look ever-so-sharp with a crip debossed logo in lime green adorning the front. The contoured footbed hugs the soles of your feet, while the monogrammed rubber tread adds extra grip to every step. Lastly, they are made in Italy from the premium materials and high-quality craftsmanship that Hugo Boss is so famous for.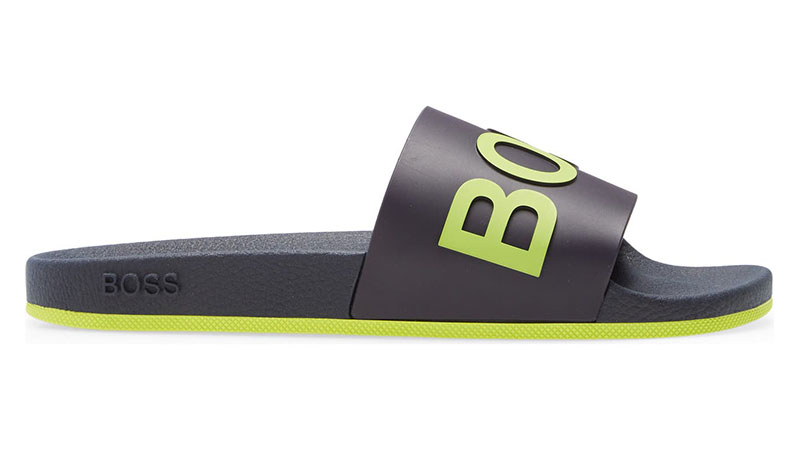 15. OluKai Nalu Slide Sandal
Coming out of Hawaii is OluKai, a quality footwear brand that focuses on durability, comfort, and craftsmanship. They're designed for an ocean-lifestyle while leaving the smallest footprint possible on the planet. The Nalu style features the signature anatomically contoured footbed for balance and support. At the same time, the uppers are adjustable and made from premium faux leather, while the sole is rubber for extra traction. Choose from a sleek all-black option, or embrace the ocean-inspiration and choose the trench-blue and charcoal combination.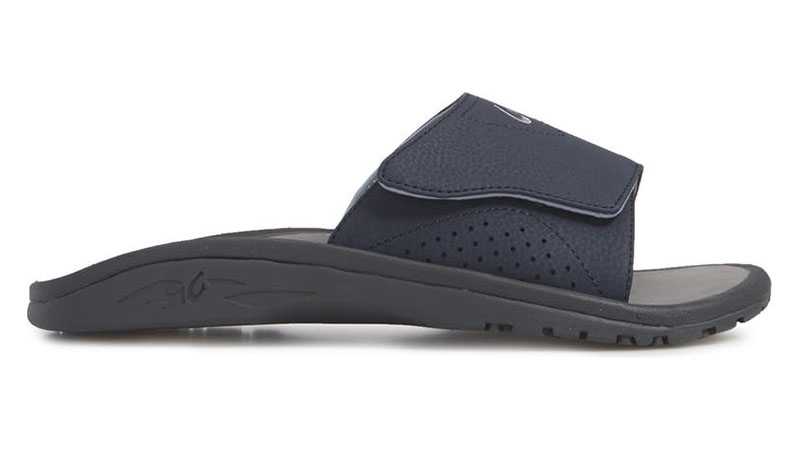 16. Salvatore Ferragamo Groove 6 Sport Slide Sandal
Choose a statement slide with the Groove 6 sport slide from Italian fashion powerhouse Salvatore Ferragamo. The bold styling features embossing across the segmented Gancio bit uppers to create additional interest. It's a classic sport slide silhouette that's perfect for between gym sessions, shopping for groceries, or heading to the beach. Plus, the footbed is also contoured for additional comfort, while the upper, lining and sole are all made from rubber for extra cushioning.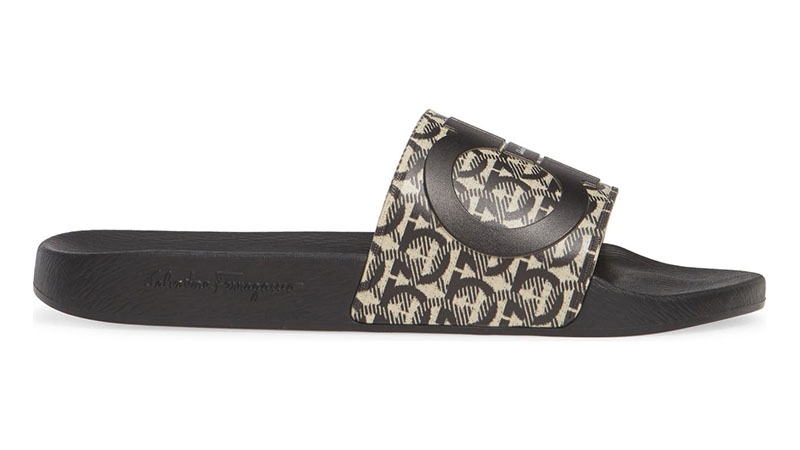 17. Birkenstock Arizona Slide Sandal
Birkenstocks are some of the trailblazers when it comes to exceptionally comfortable footwear. Their classic slide styles, including the Arizona, all feature the legendary footbeds that are molded to support your foot. Leather uppers provide durability and breathability, while the double straps are both easily adjusted with the buckles. As such, they're a fantastic style if you're looking for practicality as well as looks. Wear these with shorts, a tee, and a tropical-inspired overshirt, or rock them with a pair of cuffed chinos and your favorite sunnies.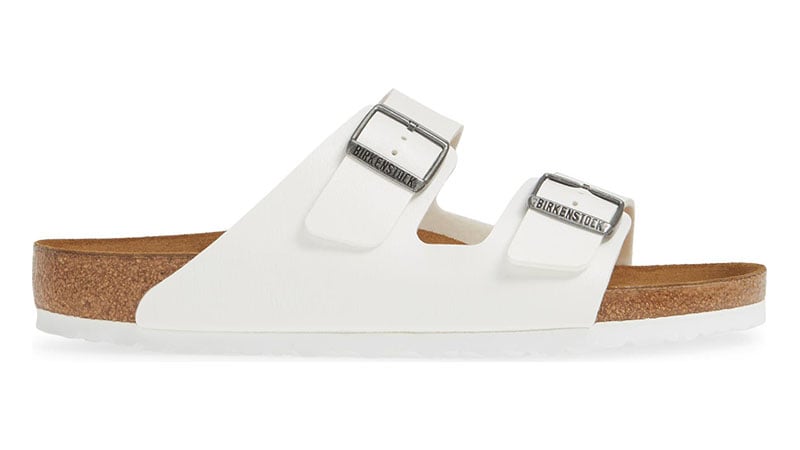 18. Allsaints Sunland Slide Sandal
Express your individuality with this slightly more formal slide from London brand Allsaints. The molded footbed and rubber sole provide similar cushioning and traction to other slide styles; however, it's the luxury suede uppers that made this style stand out. It's soft, plush and features a subtle embroidered logo. Plus, you can choose from three excellent neutral tones to suit any number of outfits. There's black, charcoal grey, and khaki green.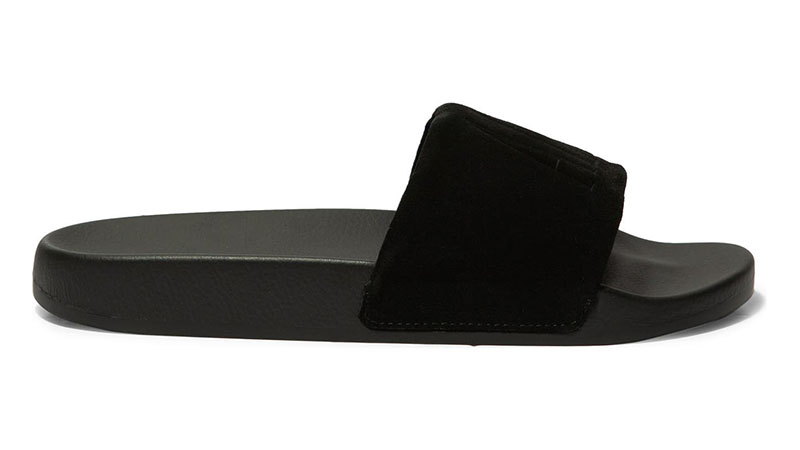 19. Nike Asuna Slide Sandal
Chunky is the name of the game with the Asuna slides from Nike. It combines a street-savvy style with athleisurewear aesthetics. The lacing that tightens the strap not only adds visual interest but it allows premium support for your foot, ensuring an excellent fit. The thick foam tread has plenty of grip, lifts you up just a little bit extra, and adds versatility to the look. Finally, the footbed is also contoured, ensuring an even more comfortable fit. Match this edgy slide with different length top layers over a pair of loose shorts.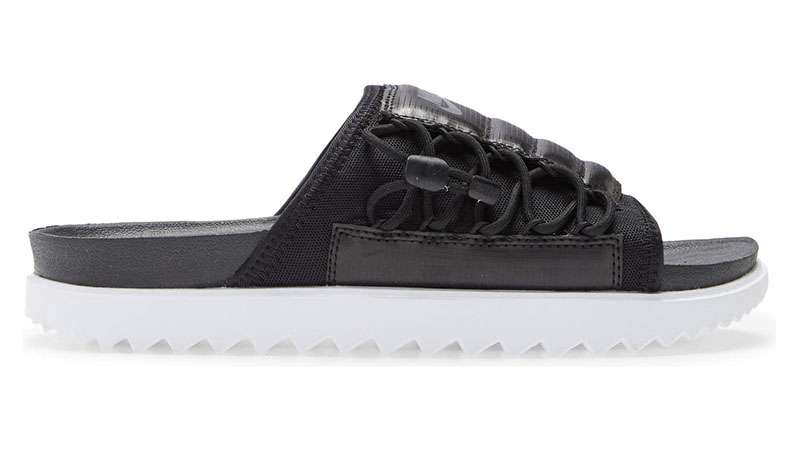 20. Keen Targhee III Slide Sandal
Take yourself offroad with these rugged slides from Keen. The Targhee III Slide Sandal has excellent traction for outdoor use thanks to the rubber sole with additional lugs. The uppers' unique design has a pull-cord closure that brings the sides firm and supportive across your arch and toes, while the straps still allow plenty of breathability. Then, when it comes to the footbed, you'll enjoy extra arch support here with the ergonomically molded base. These make a great alternative to joggers when you're getting out and about but still want to look stylish.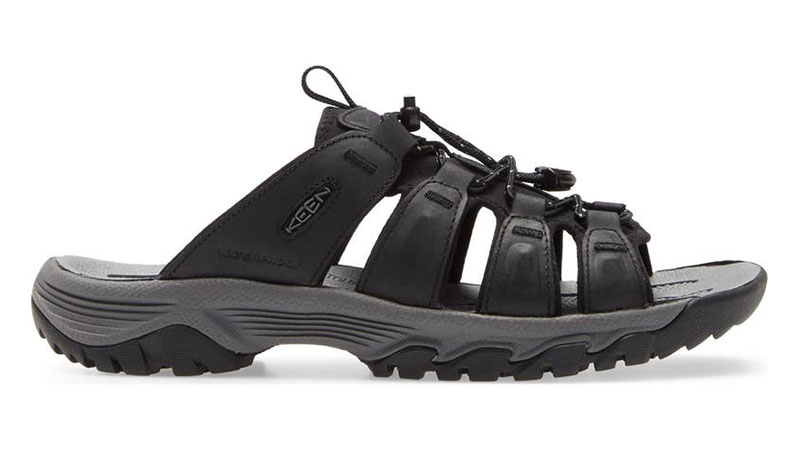 21. PS by Paul Smith Black Summit Slides
Welcome to the jungle! The Black Summit Slides from PS by Paul Smith channel a safari adventure with their styling. The uppers feature embossed animal stripes, which are enhanced further with the multi-colored zebras that adorn each shoe's outer edge. It's a fun take on slides from the less formal diffusion line of British designer Paul Smith. The rubber tread adds useful traction, while the molded rubber footbed is both supportive and comfortable.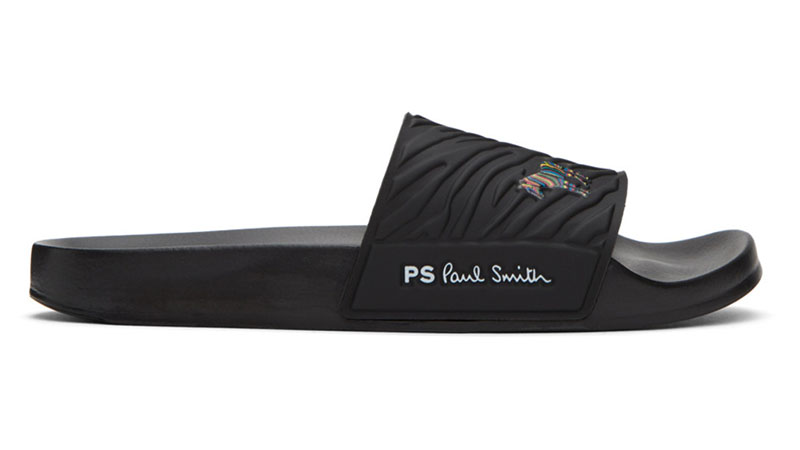 22. Off-White Black Towel Slides
Off-White brings its own spin to men's slides, using terry toweling for the uppers. It boasts white stripes and a yellow embroidered logo, which is in stark and stunning contrast to the black fabric. Enjoy the ultimate comfort for the soles of your feet with the molded rubber footbed, which provides excellent arch support.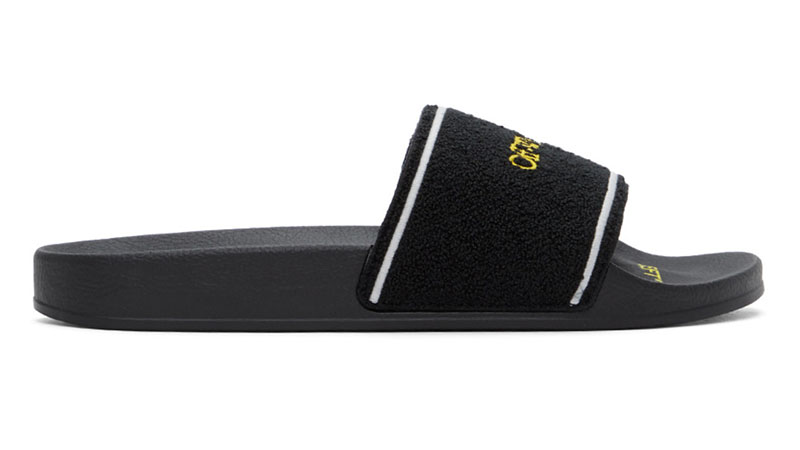 23. Birkenstock Arizona Soft Slide Sandal
This style is the same as the regular Birkenstock Arizona but is leveled up by using even an even softer footbed that features an extra layer of foam cushioning. Consequently, they're a better investment if you're planning long days exploring new places or adventuring around town. Like the regular Arizonas, they have a rubber sole, double-strapped adjustable uppers, and molded arch support. Finally, select from a range of earthy colors, including black suede, Habana, iron, jade green, and tobacco.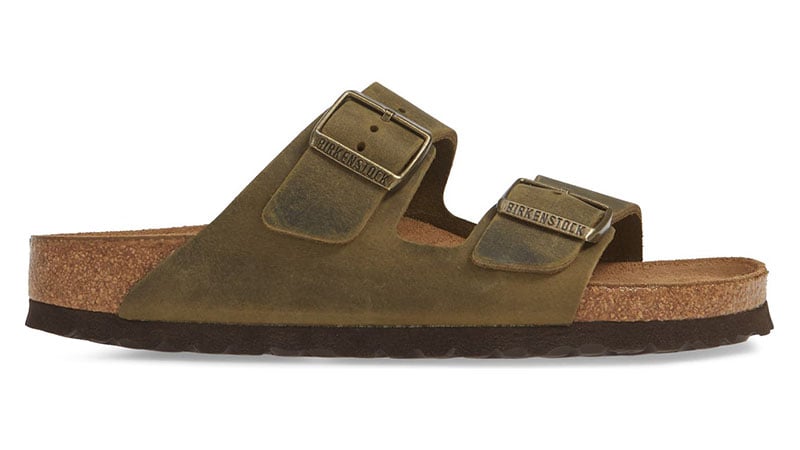 24. Adidas Adilette Comfort Sport Slides
The Adidas Adilette Comfort Sport Slides is another variation of the Adilette range that differs slightly from the Shower and Original options. Like the other two, the design is exceptionally comfortable, with a contoured Cloudfoam Plus sole that puts the energy of impact back into your stride. The uppers are a combination of fabric and synthetic, making them water-resistant. Plus, this design also features indulgent gold branding across the arch for extra dimension.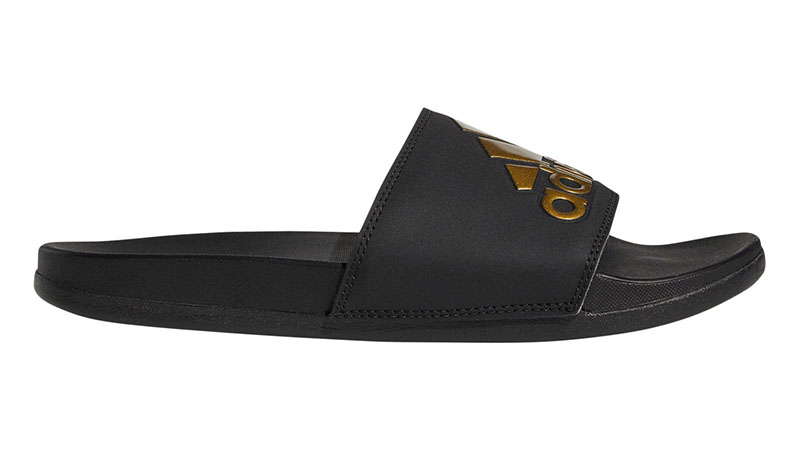 25. Christian Louboutin Pool Fun Sport Slide
Choose a show-stopping option for your slides with this bright design from Christian Louboutin. Nothing says glamorous pool party quite like a pair of fluorescent, studded flatforms. The footbed is contoured for comfort, while the rubber sole features the signature Louboutin red. The optic white accentuates the vibrance of the yellow and red, creating a genuinely eye-popping shoe. Of course, fluoro isn't everyone's cup of tea, so there is a burly black option available, which features contrast silver studs for a punk-rock feel.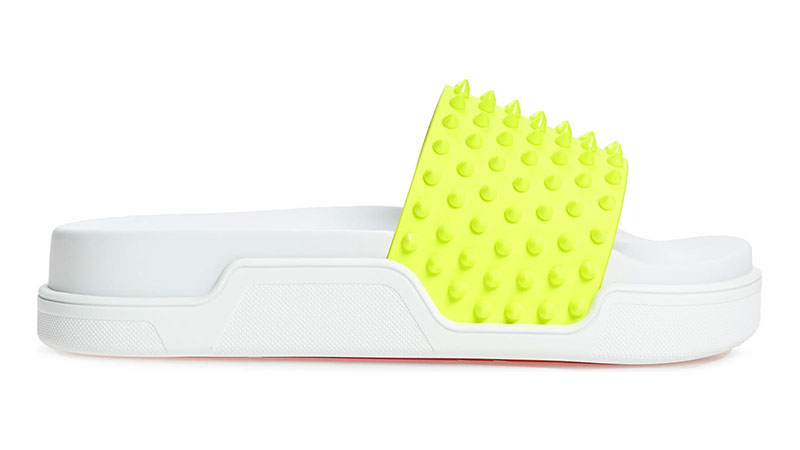 FAQs
Are slides back in fashion?
Slides are an excellent and stylish alternative to regular, cheap flip flops and more intricate sandals. As such, they're still very much in fashion. They're easy to wear, look great with a variety of outfits, and are comfortable. 
Are flip flops and slides the same thing?
Flip flops and slides are different types of shoes. They both classify as sandals; however, flip flops are distinguished by their Y-shaped strap that anchors between the toes and on either side of the foot. Plus, they make a distinctive "flip flop" noise as you walk. Meanwhile, slides are typified by the single, broad strap that sits directly across the front of the foot. 
Which brand has the best slides?
Some of the best brands for slides include Adidas, Nike, and Birkenstock. Each has distinctive styles that are very popular, balancing form, function, and price. 
Are slides unisex?
Slides as a style are unisex. Some designs will be more masculine or feminine than others; however, most sporty styles are targeted to all genders and look great on everyone. Just keep in mind that you're choosing the right size when purchasing, especially when online shopping. 
Are you supposed to wear socks with slides?
You don't have to wear socks with your slides, but you can if you want. It can be a style choice, as seen on various catwalks, celebrities, and style icons. Alternatively, it can be a practical choice, such as keeping your toes warm or preventing your home socks from getting dirty when you take the trash out. 
How to wear slides?
Slides are super easy to wear. In the warmer months, pair them with shorts and a t-shirt, or opt for an athleisurewear vibe by pairing it with basketball shorts and a tank. If you're looking for a dressier vibe, try combining cropped jeans or chinos and a button-up or loose-fitting tee for an oh-so-casual yet stylish look. Of course, during the colder months, feel free to throw on your matching branded tube socks for home-casual vibes.
Are slides good for your feet?
Slides, for the most part, aren't bad for your feet. Many designs have a lot of arch support and padding for long, comfortable wear. However, you do need to make sure your slides are fit for purpose. You'll be fine wearing them about town or to the beach, but if you decide to go on a hike, you're probably going to get into some mischief. Keep in mind that if you have issues such as plantar fasciitis or back problems, you might be better off choosing a style that has more comprehensive and ergonomic support for the whole foot.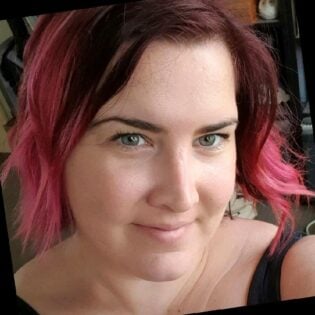 Alexandra Linde is an experienced writer holding a bachelor's degree in Journalism. She is the owner of Alexandra McKiterick Creative and has expertise in travel, fashion, fitness and lifestyle. Alex has previously written for Flightcenter, Travello, and Backpacker Deals.
SUBSCRIBE TO OUR NEWSLETTER
Subscribe to our mailing list and get interesting stuff and updates to your email inbox.