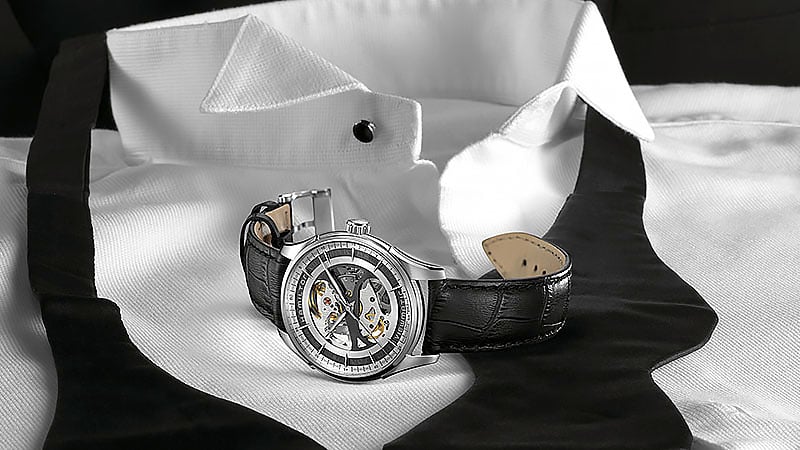 Skeleton watches have a unique ability to bring the art of watchmaking into plain sight. Not only does their open construction reveal the mechanism behind the timepiece, but it also allows the wearer to admire the intricate, inner workings of his watch. Perfect for gents who both appreciate the appearance of stylish watches and the craftsmanship that goes into making them, skeleton watches merge functionality with fashion. In revealing the heart or the watch, these distinct timepieces turn ordinary into extraordinary while blending classic and contemporary aesthetics. If you're in the market for a good-looking, highly-technological skeleton watch then we have you covered.
1. Maurice Lacroix Masterpiece Chronograph Skeleton
Maurice Lacroix's Chronograph Skeleton watch is part of the brand's Masterpiece collection and fits right in with that description. The perfect embodiment of the brand's approach to watchmaking, this timepiece is impressive in both functionality and appearance. While other watches tend to be either good-looking or highly technological, the Masterpiece Chronograph Skeleton is both. Overall stylish and masculine, this watch has a detailed, avant-garde design that features a 45mm stainless steel case and diamond-cut hour and minute hands. On the technical side of things, the Masterpiece Chronograph Skeleton watch boasts a 30-minute chronograph counter and 48-hour power reserve.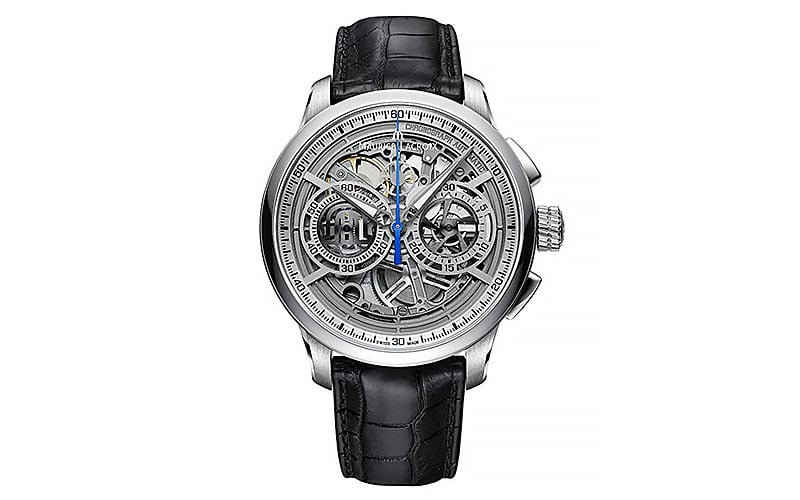 2. Tissot T-Complication Squelette
The Tissot T-Complication Squelette marries sleek, modern design with meticulous craftsmanship. The hand-wound, mechanical skeleton movement is visible through the dial and allows the wearer to appreciate the intricacy of watchmaking without sacrificing a stylish, contemporary design. This luxurious looking watch is made to the highest caliber with sharp finishes and magnificent design details. Featuring a stainless steel case, the Swiss-made, T-Complication Squelette is 43mm in diameter. Complete with a black, leather strap, this great timepiece also has the added bonus of being versatile enough to go with just about any outfit.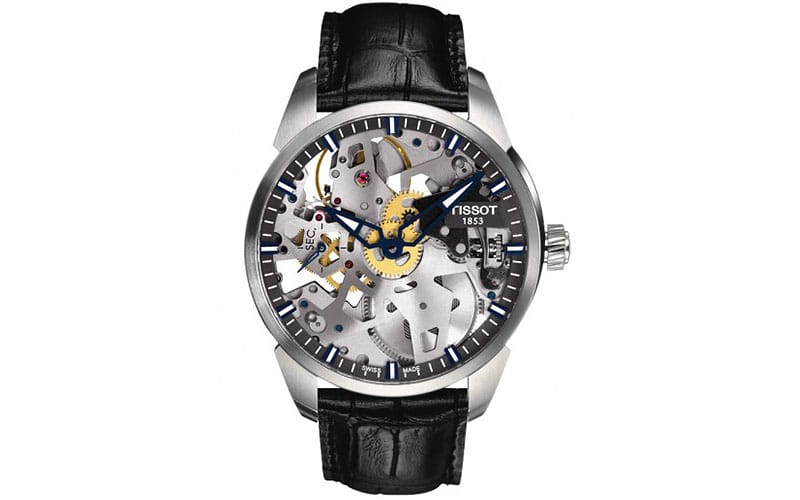 3. Tag Heuer Carrera Calibre Heuer 01 Skeleton Watch
The Tag Heuer Carrera Calibre Heuer-01 is truly a one-of-a-kind type of watch conceived from a thirst for mechanical precision and an affinity for high-performance motor racing. The skeletonized dial reveals the 39 jewel movement through a complex aesthetic design using black, white, and silver with flashes of red. Like a window into the mind of a Swiss watchmaker who moonlights as a street racer, the skeletonized dial reveals the 39 jewel movement through a complex aesthetic design using black, white, and silver with flashes of red. The modular case is made of several different materials layered together in their construction. The black titanium coated stainless steel has a fine brush finish on the middle case, ends of the lugs, and case back. The same material and finish are used on the bezel which features an engraved gray tachymetric scale.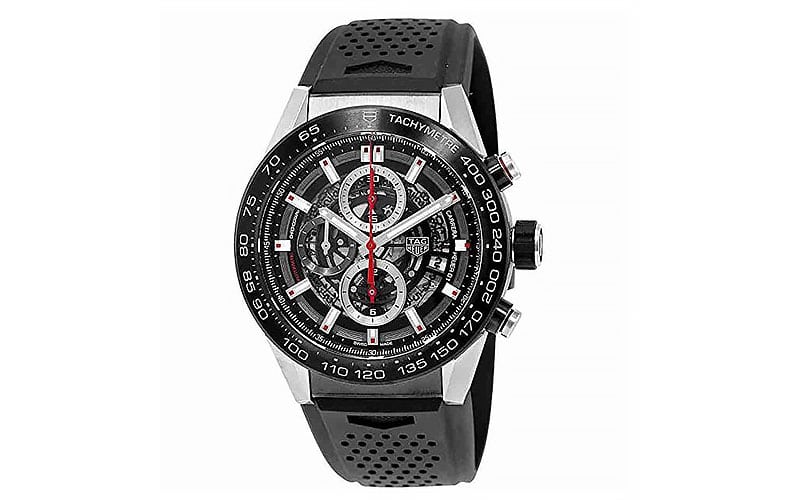 4. Hamilton Jazzmaster Viewmatic Skeleton Gent Auto
The skeletonization theme of the Hamilton Jazzmaster Viewmatic Skeleton Gent Auto shows off the brand's proven craftsmanship and relentless accuracy. Displaying components such as the escapement, hairspring, and barrel, this watch exhibits just how tirelessly it works to keep precise time. Keeping with the brand's commitment to design, this Hamilton timepiece features stainless steel, 40mm case with an open back. The sophisticated and contemporary look makes it a perfect option for modern men searching for a sleek and stylish watch. In addition, this polished piece also boasts a water resistance of 50m for any gents who often find themselves around the water.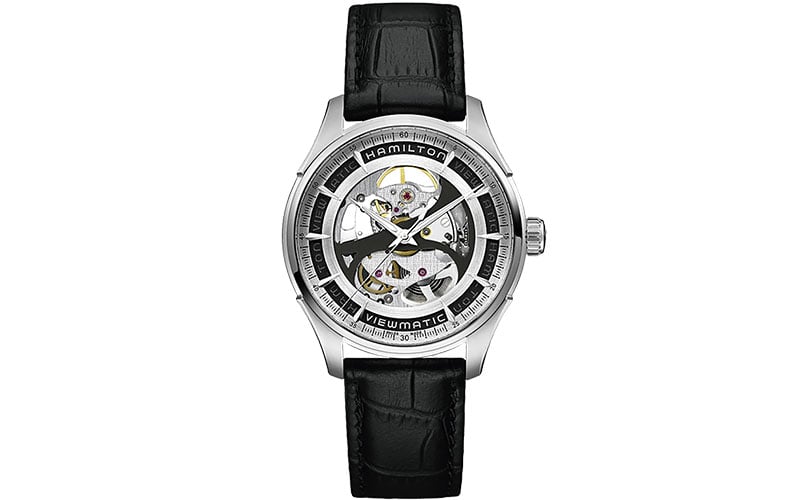 5. Cartier Santos-Dumont Skeleton Watch
Cartier is a name synonymous with luxury and tradition. The brand's Santos-Dumont Skeleton Watch is no exception to this rule and carries these themes with pride. While it may set you back a cool, $75,00, this timepiece is as grand as it gets. Not only will you buy into luxury and tradition when you buy this watch, but you'll also receive an added dose of contemporary styling and magnificent craftsmanship. Boasting a unique design, this indulgent watch features a square-shaped, 18-karat white gold face, blued steel, sword-shaped hands, and Roman numerals formed by movement bridges. Finished with a black, alligator-skin strap, this watch is as elegant as it is different.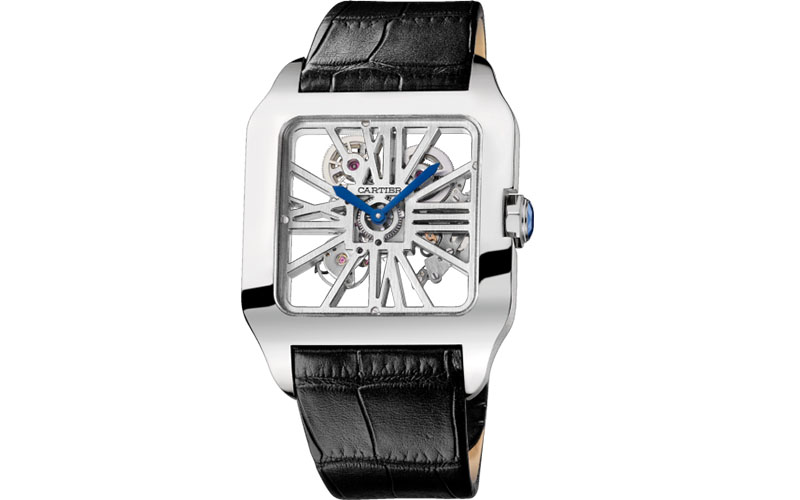 6. Audemars Piguet Millenary 4101
For the avant-garde gentleman, the Audemars Piguet Millenary 4101 is the perfect skeleton watch. Featuring a unique and interesting design, this highly-refined watch is a lesson in combining aesthetics with functionality in the art of watchmaking. Featuring a three-dimensional, architectural appearance, this extraordinary watch abstractly reveals the heart within its 47mm, 18-karat, pink gold case. Also boasting anthracite and silver-toned dial with an off-centered disc, a self-winding movement with a small second display, and a 60-hour power reserve, the Millenary 4101 has all your time-telling needs covered in style.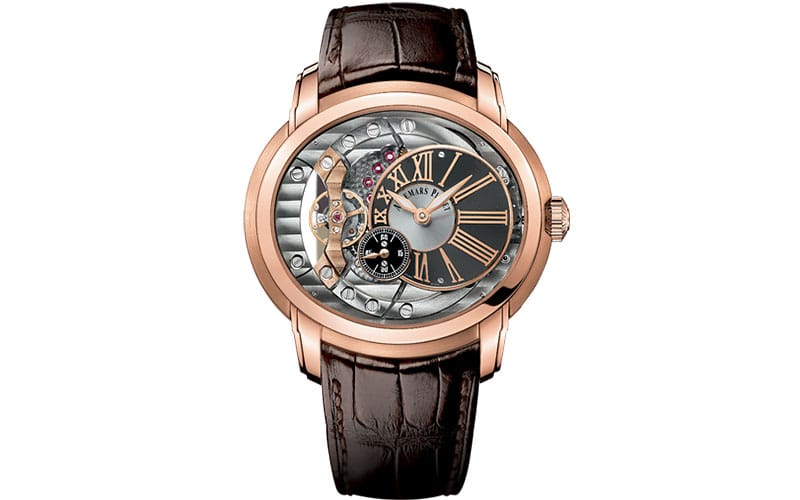 7. Hublot Classic Fusion Ultra-Thin Skeleton Titanium
The Hublot Classic Fusion Ultra-Thin Skeleton Titanium watch brings the traditional art of watchmaking into the 21st century. Featuring a unique, modern, architectural aesthetic, this stylish timepiece creates a sleek and masculine look to take its wearer from the office to after-hours functions with ease. The attractive and sharp case is 45mm in diameter and made from polished and satin-finished titanium. While this takes care of creating a contemporary style for the watch, the alligator strap adds a classic touch and air of sophistication. If the appearance alone isn't enough to sell you on this Hublot timepiece, note that it also features an impressive 90-hour power reserve.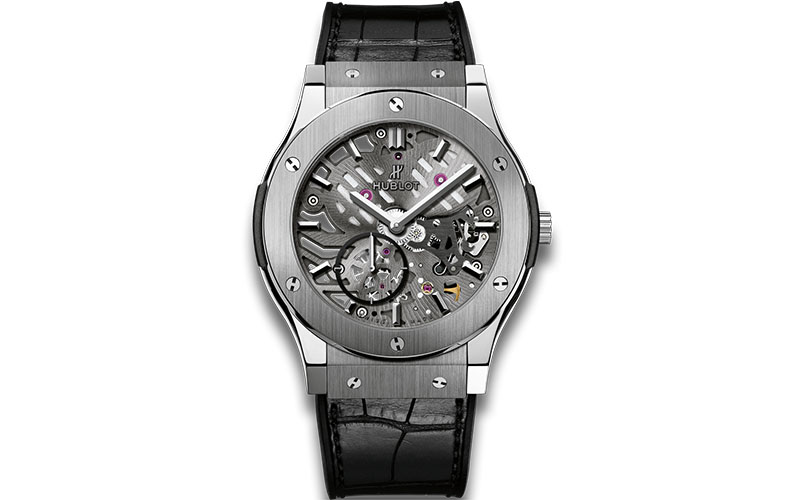 8. Zenith El Primero: Lightweight
The Zenith El Primero: Lightweight is the perfect watch for gents who feel off with large, heavy, and traditional timepieces. At a mere 15.9 grams, the El Primero: Lightweight features the lightest chronograph calibre (or movement) on the market. In addition to not weighing you down, this watch will also make you feel seriously modern. It features a 45mm, ceramicised aluminum and carbon case, as well as a stylish and contemporary, fabric-coated, black rubber strap. Comprised of some incredible 328 parts and 31 jewels, this watch is one to be admired. Best of all, you can also choose from three different colorways in order to find one that suits your personal style.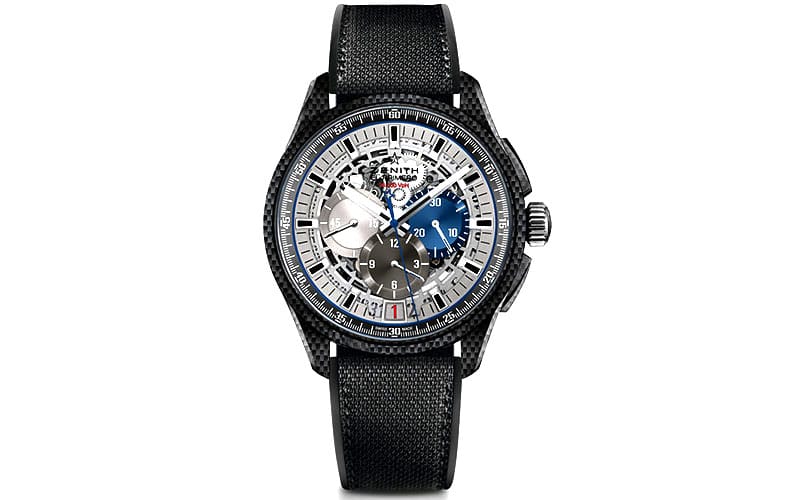 9. Piaget Altiplano White Gold Ultra-Thin Skeleton Watch
The Piaget Altiplano White Gold Ultra-Thin Skeleton Watch is, at 5.34mm, the thinnest self-winding skeleton watch in the world. At just 2.4mm, it also features the thinnest mechanical skeleton movement in the world. It's not surprising then to find out that some serious craftsmanship went into making this innovative design. Delicately engraved and hollowed by highly-skilled watchmakers, this watch is as impressively constructed as it is well-designed. Featuring a 38mm, 18-karat white gold case, and silvered dial, this timepiece is stylishly refined and modern. Also offering white gold with black alligator straps, it mixes classic and contemporary design for a timeless and sleek look.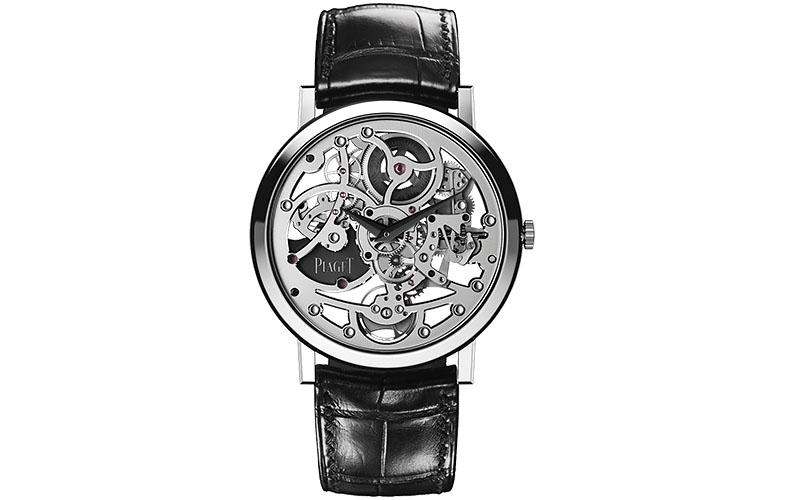 10. Vacheron Constantin Métiers d'Art Mécaniques Ajourées
An incredibly intricate skeleton design reveals the inner workings of the Vacheron Constantin Métiers d'Art Mécaniques Ajourées. The impressive construction, which contains 127 parts and 21 jewels, promises to have you getting lost, staring into its complex design whenever you wear it. Somewhat magical and mystic in appearance, this watch also offers a piece of old-world charm with a Roman numeral display and manual winding functionality. 40mm in diameter, the round case is made of 18-karat white gold, as is the dial. Power reserves for this noteworthy watch are approximately 65 hours.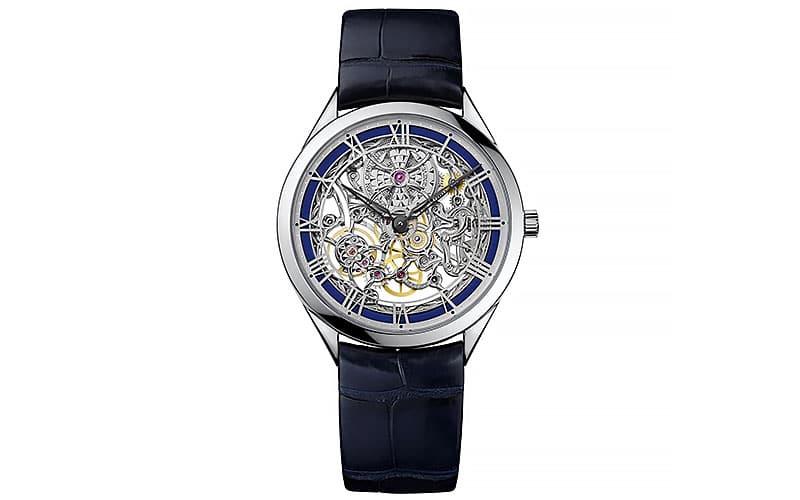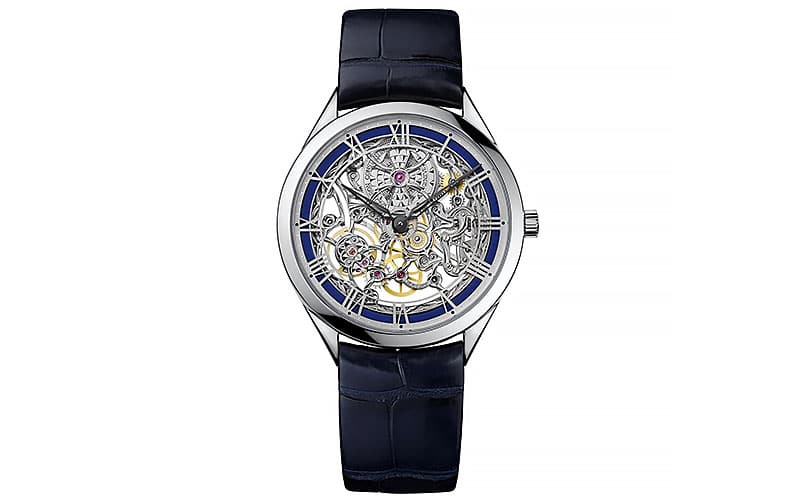 FAQs
What is a skeleton watch?
Skeleton watches have an open construction without a covered dial that lets you see the inner workings of the watch. They're generally mechanical, rather than quartz movement, as there are many more moving parts, and it can be fascinating to watch time happen as the seconds tick by. They were originally invented in the 18th century but have recently gained mainstream popularity.
What is the best skeleton watch?
Some of the best skeleton watches include the Maurice Lacroix Masterpiece Chronograph Skeleton, Tissot T-Complication Squelette, and Tag Heuer Carrera Calibre Heuer 01 Skeleton Watch.
Are skeleton watches fashionable?
Skeleton watches are very fashionable, mainly because they just look incredible. It's also an excellent way for brands to show off the craftsmanship and engineering that goes into a luxury timepiece. High-end watchmaking brands such as Patek Philippe, Vacheron Constantin, and Audemars Piguet invest a lot of time and money into creating these incredible timepieces.
Why are skeleton watches expensive?
Skeleton watches are pricier because they tend to be mechanical movements, which are more expensive. There's also a lot of fine detail and craftsmanship that goes into the designs, which is reflected in the intricate and alluring inner workings of the watch. However, some affordable designs from economical brands such as Stuhrling look incredible without a price tag worth thousands.
SUBSCRIBE TO OUR NEWSLETTER
Subscribe to our mailing list and get interesting stuff and updates to your email inbox.