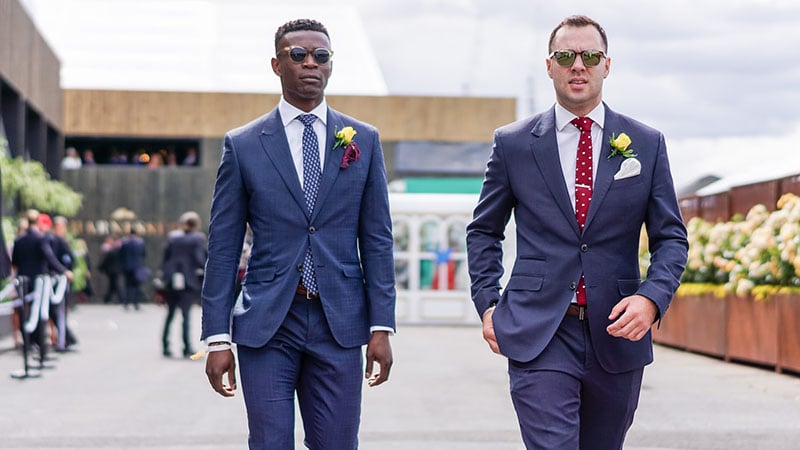 A blue suit is a classic menswear item that has long been a staple in every gent's wardrobe. Its timeless appeal and neutral colour make it an enduring style that can be worn time and time again. Not only suitable for the office, but a blue suit can work for any occasion. Whether you're off to a business meeting, wedding or cocktail function, a blue suit can make a smart choice, so long as you pair it with the right shirt. While opting for a suit means that your pants and jacket are already coordinated, it's up to you to pick the perfect shirt. That means, selecting a colour that'll create your ideal look and complement instead of clash.
RELATED: How to Wear Blue Suits for Every Occasion
Best Shirts to Wear With a Blue Suit
The beauty of a blue suit is that it's versatile. Not only does this mean that you can wear it for countless occasions, but it also means that you can match it with a broad range of shirts. Of course, certain styles will always look better than others. In particular, five key shirts are a cut above the rest. Be sure to keep them on hand in your wardrobe to ensure your blue suit always makes you look stylish.
Blue Suit / White Shirt
If you're unsure what shirt to wear with your blue suit, white is a failsafe option. The combination is so simple that anyone can pull it off. The clean and crisp shade of white is classic and looks seriously stylish when paired with cool, blue tones. The partnership is perfect for formal occasions, particularly if the suit is navy and classic accessories are added. Don't be afraid to wear a bold tie, either. A pop of colour against a neutral white shirt and blue suit will create a sharp edge. For gents off to a more casual setting, try a lighter blue suit with your white shirt and wear it sans tie with sneakers.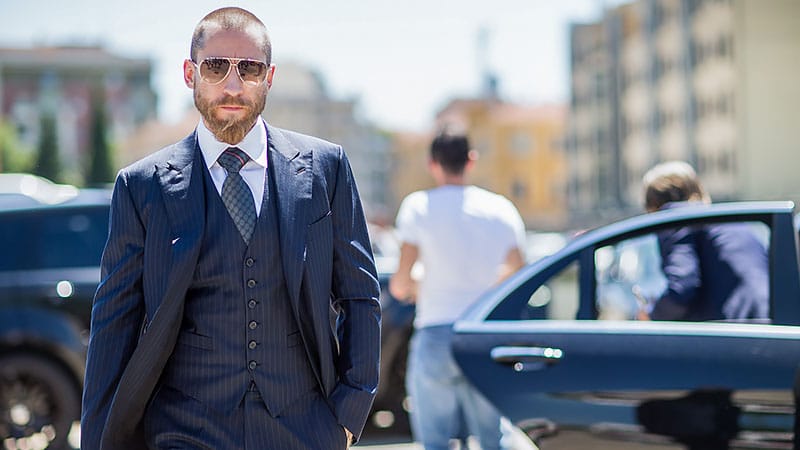 TOP PRODUCTS
Blue Suit / Pale Blue Shirt
The combination of a blue suit with a pale blue shirt works surprisingly well and should be added to your list of regular outfits. A great alternative to a traditional white shirt, a light blue style carries the same classic feel while appearing softer when paired with more blue. While the contrast is less stark than it is with a white shirt, a few shades of distinction between your suit and shirt is needed to create a clean look. As a light blue suit with a pale blue shirt can easily clash, be sure only to pair this shirt with navy or mid blue suits.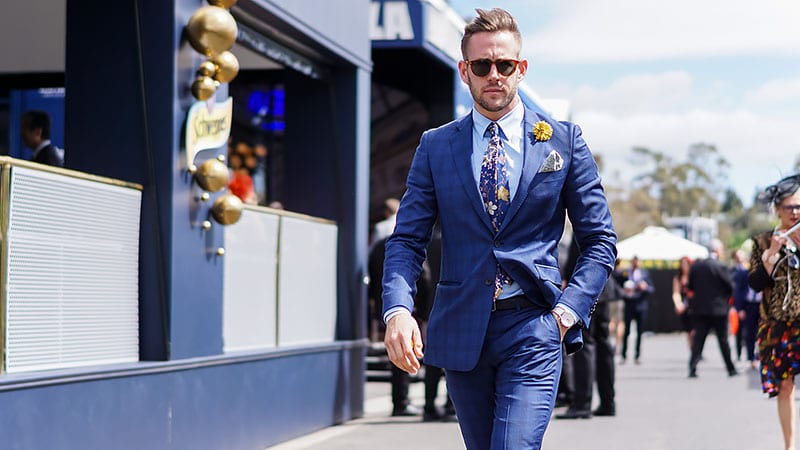 TOP PRODUCTS
Blue Suit / Pink Shirt
Gents are embracing pink shirts more and more, and the results are sophisticated and stylish. While pink shirts look great with grey suits, they also produce a seriously sharp appearance when paired with blue. The colour combination, which offers a nice contrast, is ideal for creating a modern look. While the partnership can be worn on countless occasions, it works particularly well for times when you want to look smart and fashionable but not traditionally formal. To ensure you pull off this look, stick to lighter shades of pink and pastel hues. These tones will match with any shade of blue without the risk of colour clashing.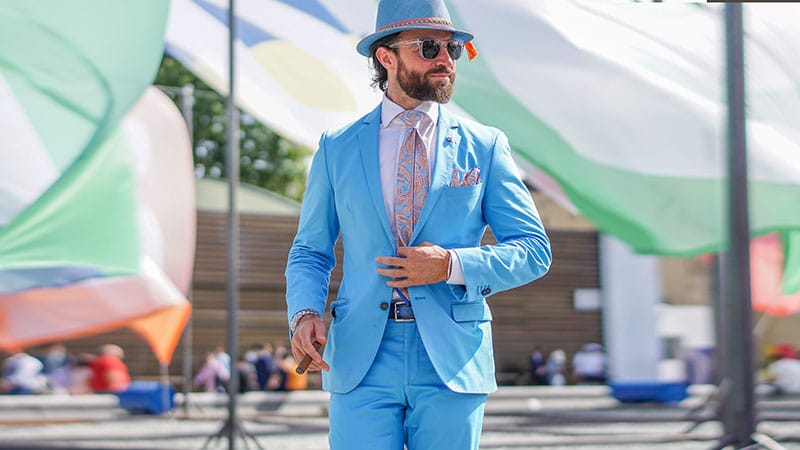 TOP PRODUCTS
Blue Suit / Grey Shirt
If you're after an effortlessly smart look for your blue suit, how about trying it with a grey shirt? The combination, which is decidedly more contemporary than a white shirt, breaks from tradition while remaining stylish and sophisticated. The cool tone of grey creates a soft contrast with blue hues, achieving an elegant yet understated vibe. To make the most of this dapper pair, choose accessories in similar tones to the muted hues. Doing so will create a sleek and suave style without any harsh colour clashes. If you do want to wear bold accessories, such as a vibrant tie, it's best to opt for a plain white shirt instead of grey.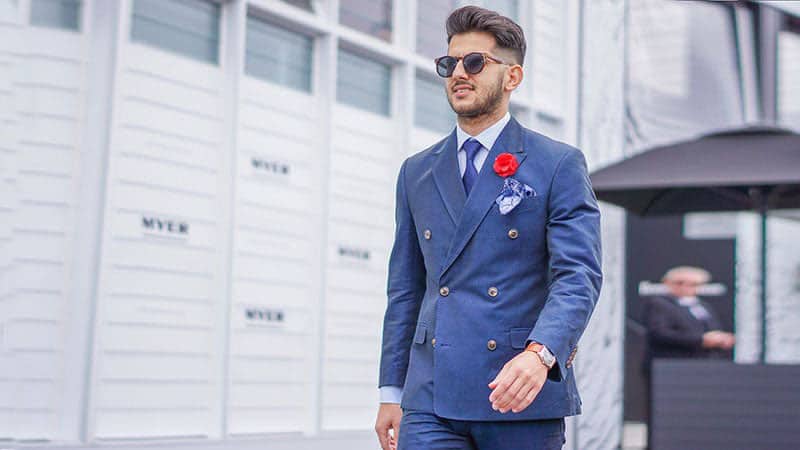 TOP PRODUCTS
Blue Suit / Printed Shirt
While blue suits make a great classic option, their traditional tone can sometimes appear a little underwhelming. If you feel like you want to make a bigger statement with your blue suit, try pairing it with a printed shirt. A printed shirt can be just the feature your outfit needs to give it a fashionable twist. Choose between stripes, checks, gingham, polka dots, paisley and more to find the perfect print for you. Just be careful about what colours you choose as they may clash with your suit. A simple way to ensure your shirt will match is to choose one with a white base colour and a softly toned print.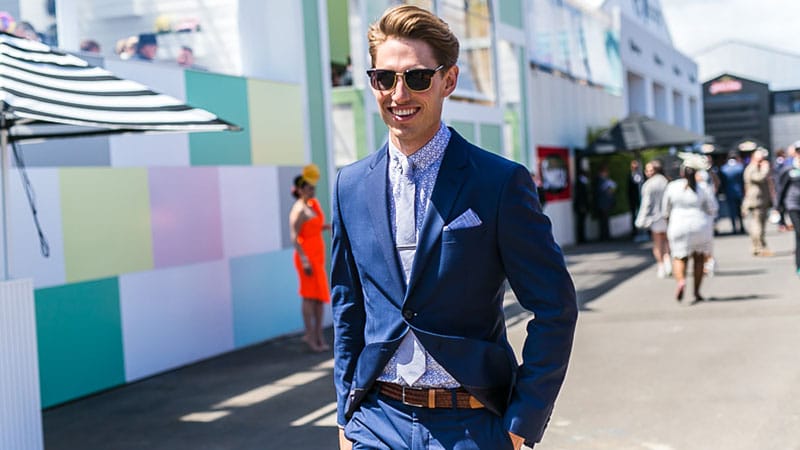 TOP PRODUCTS
Blue Suit Color Options
Rather than just a single type of suit, a blue suit refers to a whole category of options. As the colour blue is not just one shade, but rather a whole variety of hues within a family, it can refer to any number of tones. As such, what type of blue suit you choose can affect how and where you wear it. To ensure you select the right blue suit for you, be sure to look out for the three main categories when shopping: light blue, mid blue, and navy. Ideally, gents should own at least one suit in each of these categories to ensure a well-rounded wardrobe. Of course, there are then further shades within these three categories, but they're a good place to start.
Light Blue Suit
The light blue suit is the most casual of all blue suit types. While navy tones appear traditional and formal, soft tones project a fresh, casual, and contemporary feeling. This feeling makes them perfect for semi-formal and cocktail occasions. On top of that, light blue suits are also a fantastic choice for the summer months when dark hues, such as navy, appear too heavy and dull. While this light colour is something to appreciate, it's also something of which to be wary. To avoid clashing with your shirt, stick to light contrasting colours, such as white and soft pink.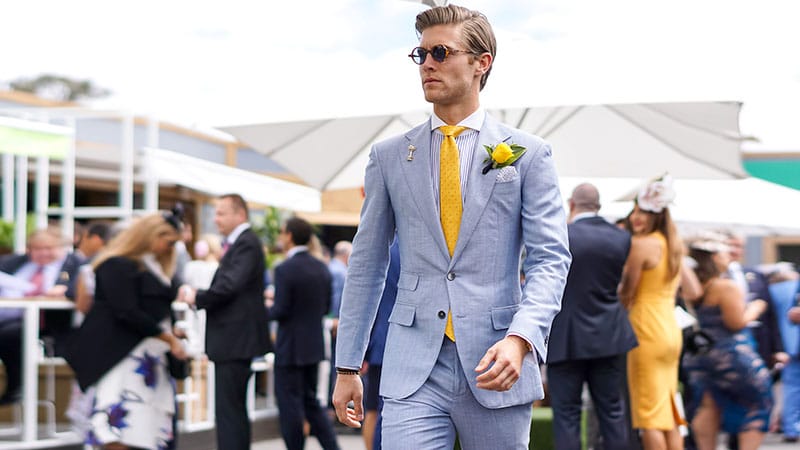 TOP PRODUCTS
Mid Blue Suit
Mid blue suits have become exceedingly popular in recent years with gents donning them more and more. The brighter hue is less formal than traditional navy suits and carries a fantastic, contemporary feel. The unique tone also pairs particularly well with crisp, white shirts and light blue styles. To wear a mid blue suit for more formal occasions, such as weddings, partner it with a pair of brown leather derby shoes. For less formal events, consider trying some loafers.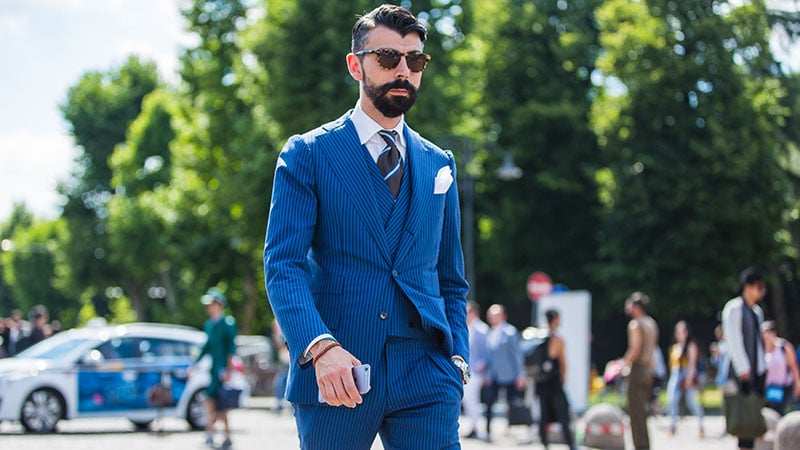 TOP PRODUCTS
Navy suits are the most traditional type of blue suit. As such, they're perfect for formal and business occasions, including work in an office and business meetings along with formal dinners and functions. Wearing your navy suit with a classic white shirt will create the ultimate sophisticated style. The combination can even be used as a stylish replacement to a classic black suit. Just ensure that your accessories are suitably formal. A leather belt and Oxford shoes in either brown or black will do the trick. For a more casual look, try softly coloured shirts, such as a pink design.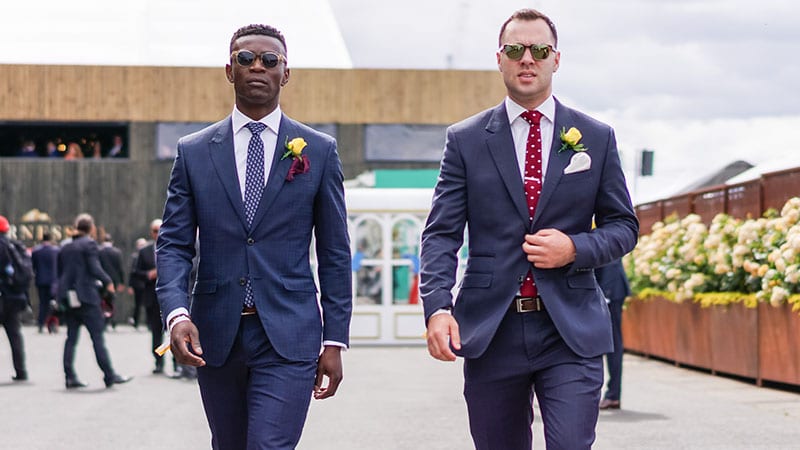 TOP PRODUCTS
Shirt and Tie Combinations with a Blue Suit
A white shirt is a failsafe option to pair with a blue suit and always creates a classic look.
A pale blue shirt makes a surprisingly good pair to a blue suit and creates a neat contrast.
For a contemporary and semi-formal style wear your blue suit with a pink shirt.
Pairing your blue suit with a grey shirt will create a muted contrast with understated elegance.
To make your shirt the feature of your outfit, opt for patterns, such as stripes or gingham.
Ensure the shirt you choose suits the shade of blue of your suit.
SUBSCRIBE TO OUR NEWSLETTER
Subscribe to our mailing list and get interesting stuff and updates to your email inbox.